As someone obsessed with all things fitness and nutrition (a wellness nerd, if you will), I have to make one thing clear. There is no quick way to "boost" your metabolism. There are plenty of metabolism misconceptions out there, but the most science-backed methods to improving your metabolism are simple: resistance training and eating enough protein. The good news? This delicious pre workout smoothie takes care of the latter and sets you up perfectly for the former. Keep reading for a recipe that will satisfy your peanut butter and chocolate craving. And to satisfy my own need to dive into the nutrition science, I'm also sharing some metabolism myth-busting facts for you and your pilates besties.
This article is for informational purposes only. It is not, nor is it intended to be, a substitute for professional medical advice, diagnosis, or treatment and we recommend that you always consult with your healthcare provider.
Featured image by Michelle Nash.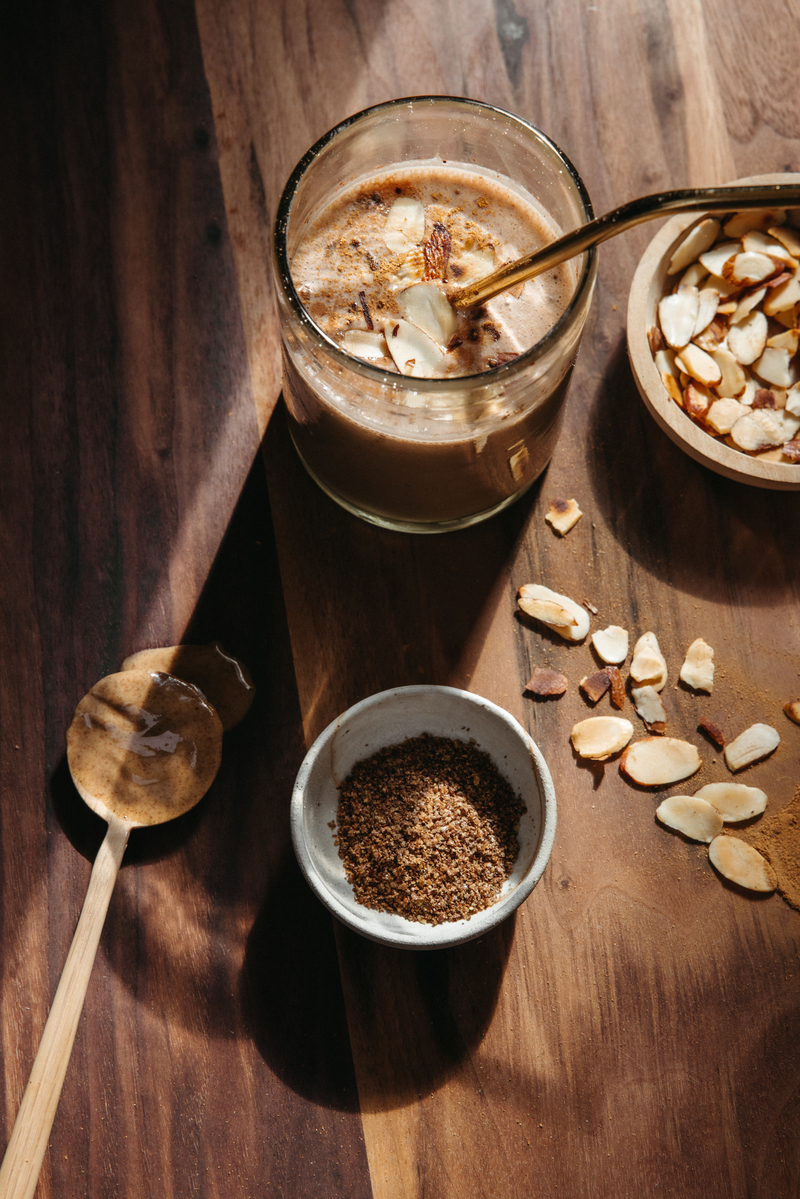 Myth or Fact: Metabolism Slows Down as You Age
Contrary to popular belief, metabolism doesn't decline as we age. To clarify, metabolism declines as we lose muscle. A recent study showed that adults who maintained a healthy amount of skeletal muscle did not suffer from a decline in metabolism. Best. news. ever. The key to living a long and healthy life full of adventure is building muscle and designing a lifestyle that helps you keep it as long as possible.
The Importance of Pre-Workout Protein
Protein is key for before and after a workout because it helps build and repair skeletal muscle. Protein also helps balance blood sugar, supports longevity, and reduces cravings. The current recommendation is to consume .8 g of protein per 1 kg of body weight. However, some health professionals argue that it should be much higher.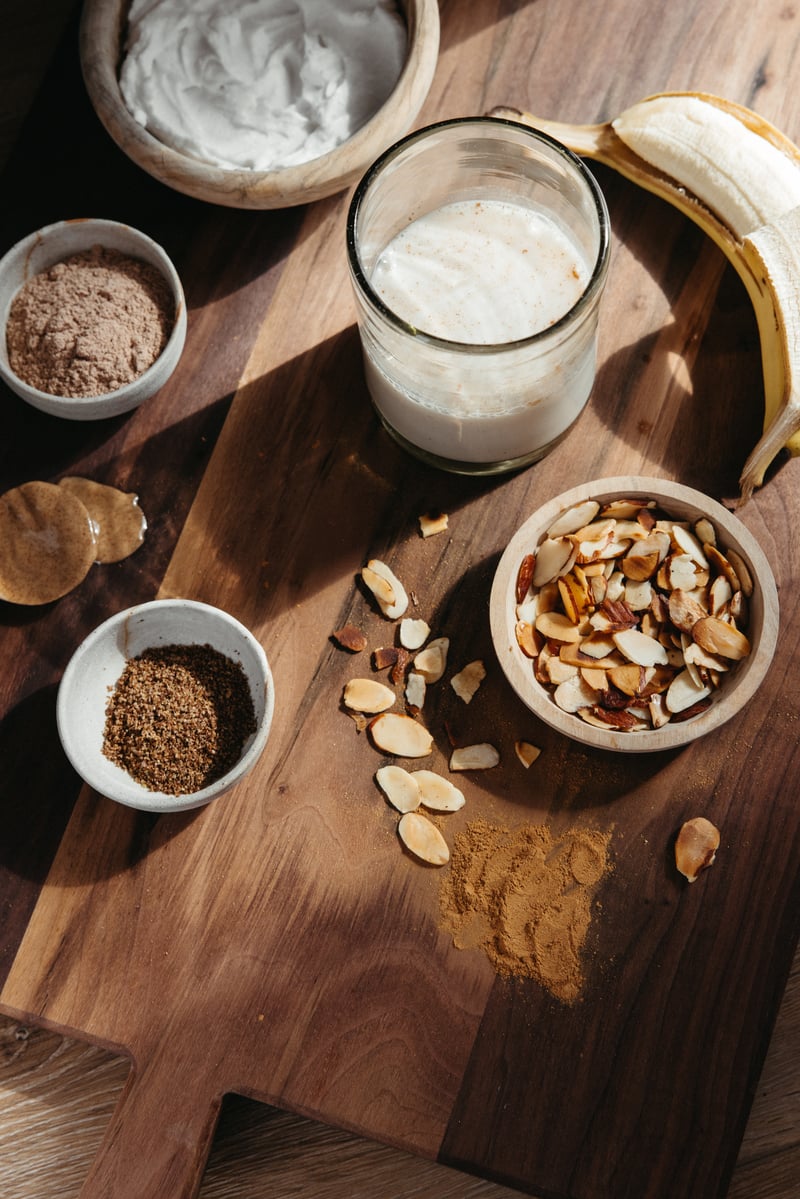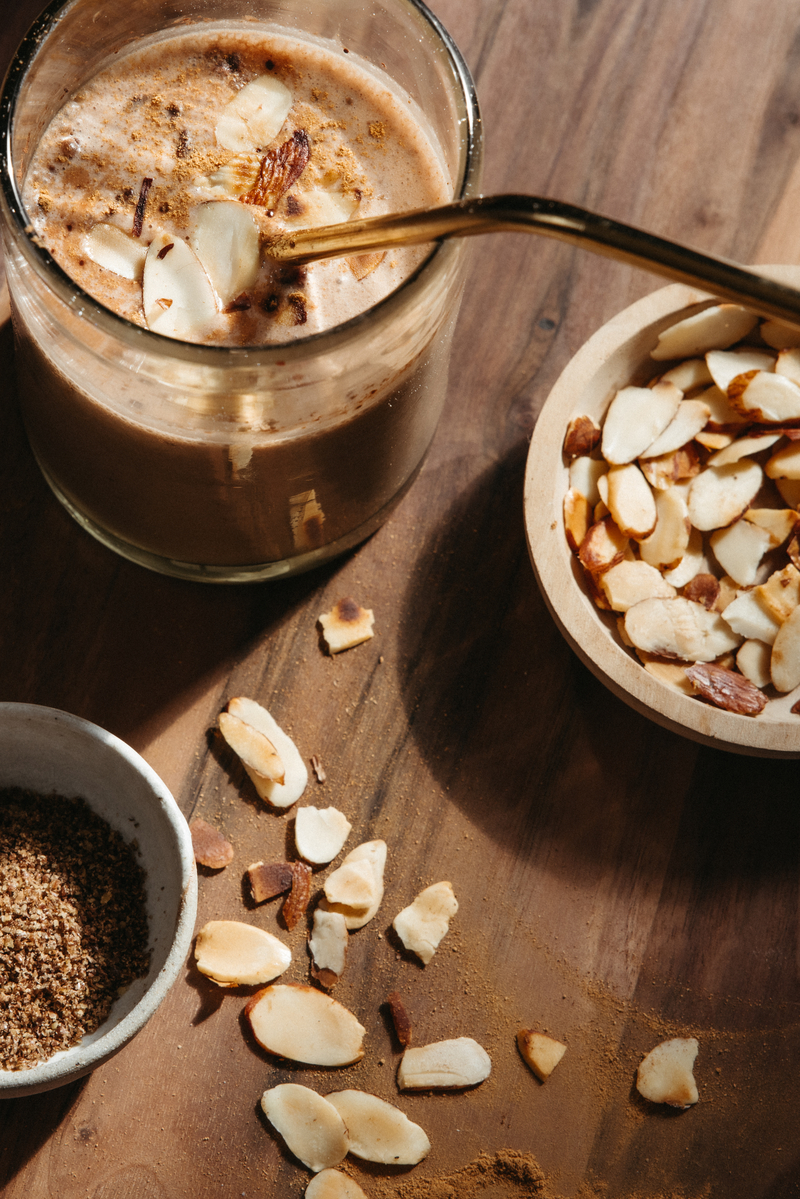 Are smoothies good to drink before a workout?
Yes! Smoothies are a great pre-workout meal because they give you the macronutrients you need to feel strong during your workout while also hydrating you. Every pre workout smoothie should contain a good mix of carbohydrates, protein, fat, and fiber.
When should I drink a pre-workout smoothie?
The answer depends on the kind of workout you're doing and the ingredients in your smoothie. After you ingest food, your body re-directs blood flow away from your muscles and into your gut. This helps ensure proper digestion and absorption of nutrients. But it's important to wait for your blood flow to return to your muscles before working out. It's best to consume a pre workout smoothie 1-3 hours before exercising.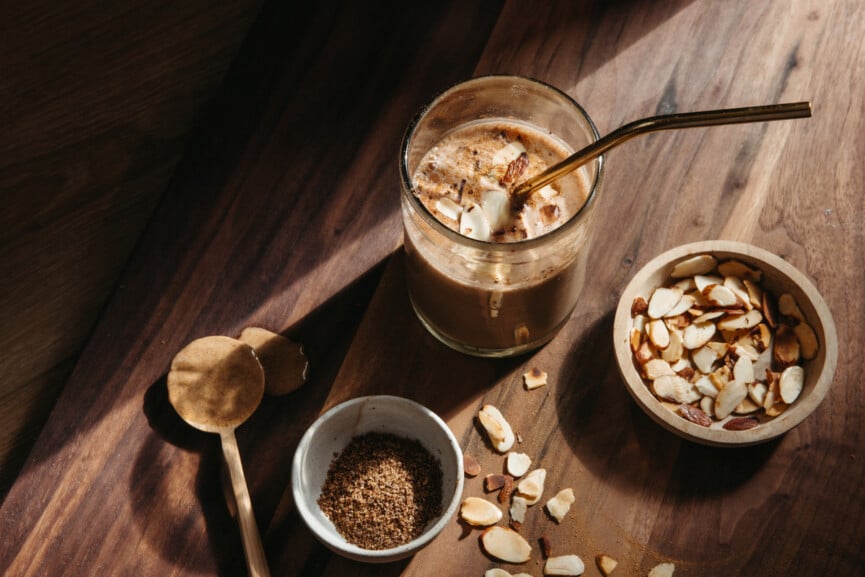 What's the best smoothie to drink after a workout?
If you prefer early morning workout routines, it's totally fine to skip the pre workout smoothie and drink one after your workout instead. Unless you're a competitive athlete, both your pre and post-workout smoothies don't have to be super complicated. Focus on enjoying a healthy mix of carbs and protein with as much added nutrients as possible. Experiment with your smoothie recipes by adding chia seeds, berries, kale, spinach, oats and even coconut water. And if you are trying to train for a professional or semi-professional athletic event like a marathon, I highly recommend working with a sports dietitian to advise your nutrition intake based on your needs.
How to Customize Your Pre Workout Smoothie
This smoothie recipe can be easily adjusted for flavor, consistency, and ingredients. Some substitution options include the following.
Greek yogurt is added for extra protein, but it can also be replaced with an extra scoop of protein powder.
For any dairy allergies, substitute milk and yogurt for a dairy-free, high-protein option.
For nut allergies, try using tahini instead of almonds or peanut butter.
If you are vegan or plant-based, add a plant-based protein powder to your pre workout smoothie recipe.
For added sweetness and flavor, blend in honey, vanilla, or cinnamon.
Be sure to rate and leave a comment, and tag us on Instagram so we can see your smoothie creations!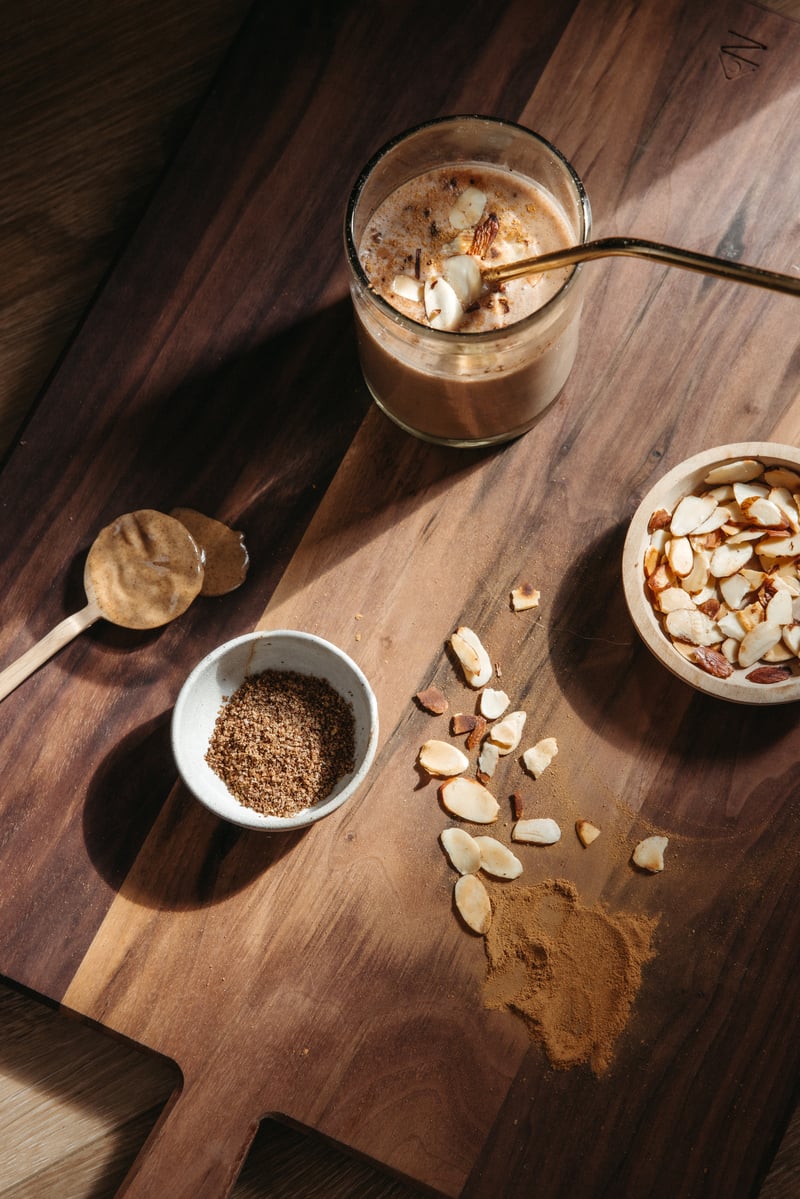 Taking a rest day?
Psst… for rest days or mornings when you're just not feeling your workout, watch how Camille structures her own intentional morning routine. No workout, no problem—let your smoothie energize your other rituals instead.
Chocolate Banana Almond Butter Smoothie
Serves 1
This decadent smoothie will satisfy your chocolate-peanut butter craving.
Ingredients
1 cup unsweetened almond milk
1 scoop of chocolate protein powder
1/2 cup plain Greek yogurt or skyr
1 tablespoon almond butter
1/2 banana
1 tablespoon flax seeds
1 teaspoon vanilla
pinch of cinnamon
ice (optional)
Instructions
Add all ingredients to the blender and blend until mixture reaches desired consistency.