Admittedly, I'm a sucker for all the pumpkin bread, cakes, and PSL's that abound this time of year—but I also don't want to neglect pumpkin's savory side. Its inherent sweetness means that pumpkin balances out spice and salt in the perfect way, making it a great blank canvas to build upon in soups, salads, and as a sauce. Meet my favorite cozy recipe that is defining my fall this year: a sweet, savory, and herbal pumpkin gnocchi.
Imagine all the goodness of pumpkin in a creamy and warming savory sauce on little pillows of fluffy gnocchi. Yup, this is a one-pot creamy pumpkin gnocchi that comes together in 30 minutes. And I guarantee: it's the most satisfying fall recipe you'll find this season.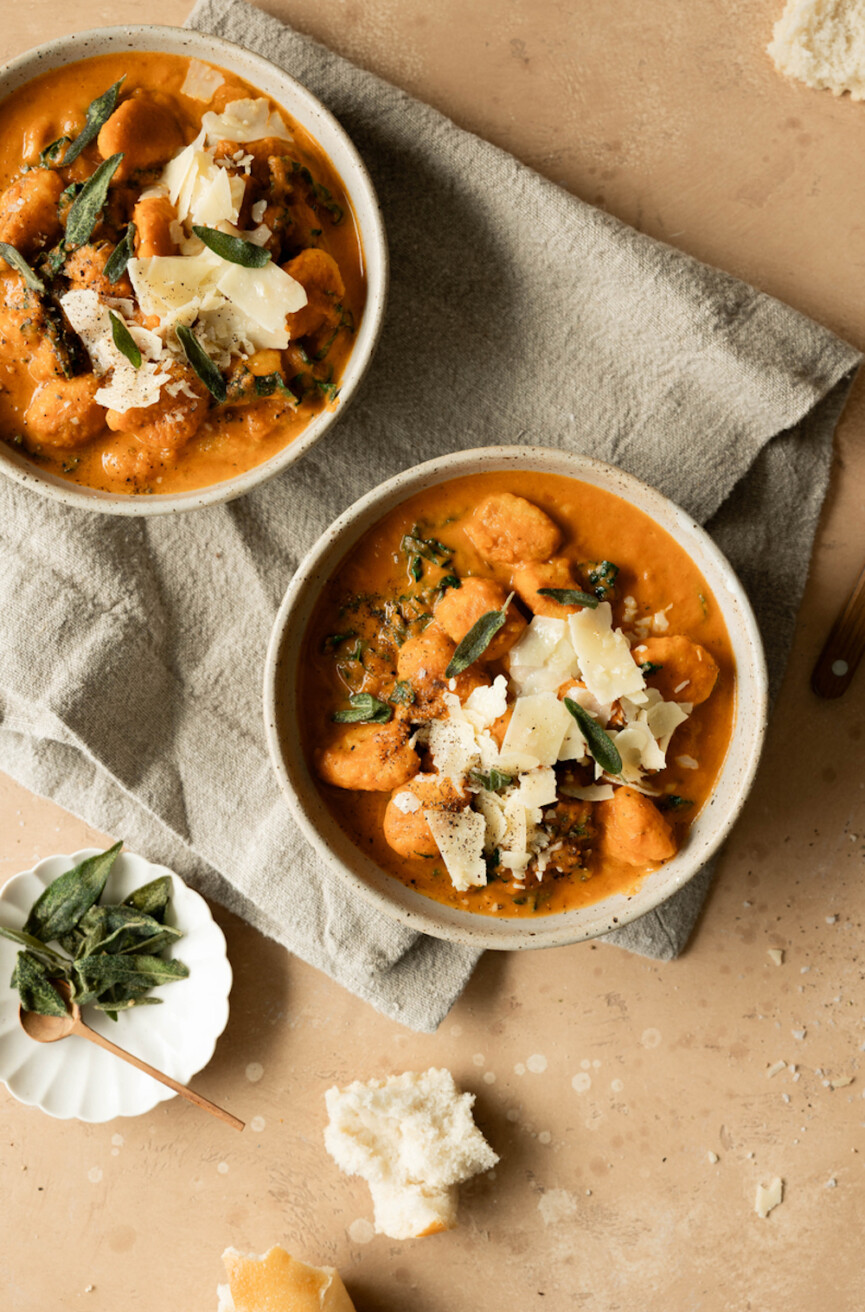 Ingredients for Creamy Pumpkin Gnocchi
Onions. The delicious base for any good recipe.
Garlic. You know the rule, measure garlic with your heart.
Cumin. I like the warmth that cumin adds to recipes. As always, we want to activate the flavor by cooking this with the onions and oil at the beginning.
Nutmeg. Entirely optional, but a little freshly grated nutmeg works so well for fall recipes. Plus, it's a perfect pairing for pumpkin.
Thyme. Dried thyme adds a bit of warmth and savory flavor to the recipe. This pumpkin gnocchi tastes incomplete without it.
Tomato paste. The slightly sweet and savory flavor of tomato paste is the perfect way to round out the flavor of the pumpkin. Think of it like a pumpkin à la vodka sauce.
Pumpkin puree. While I consider this recipe foolproof, there's one thing you could do that would completely mess it up. Do NOT use pumpkin pie mix. Just regular pumpkin purée. Not only is it the most iconic flavor of the season, but it's packed with nutrients.
Vegetable broth. Pre-packaged broth will work great here. Opt for your favorite and use it to adjust the texture of the sauce.
Heavy cream. Sub with coconut milk if you prefer to keep your pumpkin gnocchi dairy-free or your favorite milk of choice. Personally, I love the silky texture that a splash of heavy cream adds to this sauce.
Lacinto kale. As always, this is a sneaky way to get in some extra greens while adding a bit of texture to the pasta.
Gnocchi. I'm going to be picky and tell you to use shelf-stable gnocchi. I find that when pan-fried instead of boiled, this version gets a crispy exterior that is much better than frozen or refrigerated gnocchi.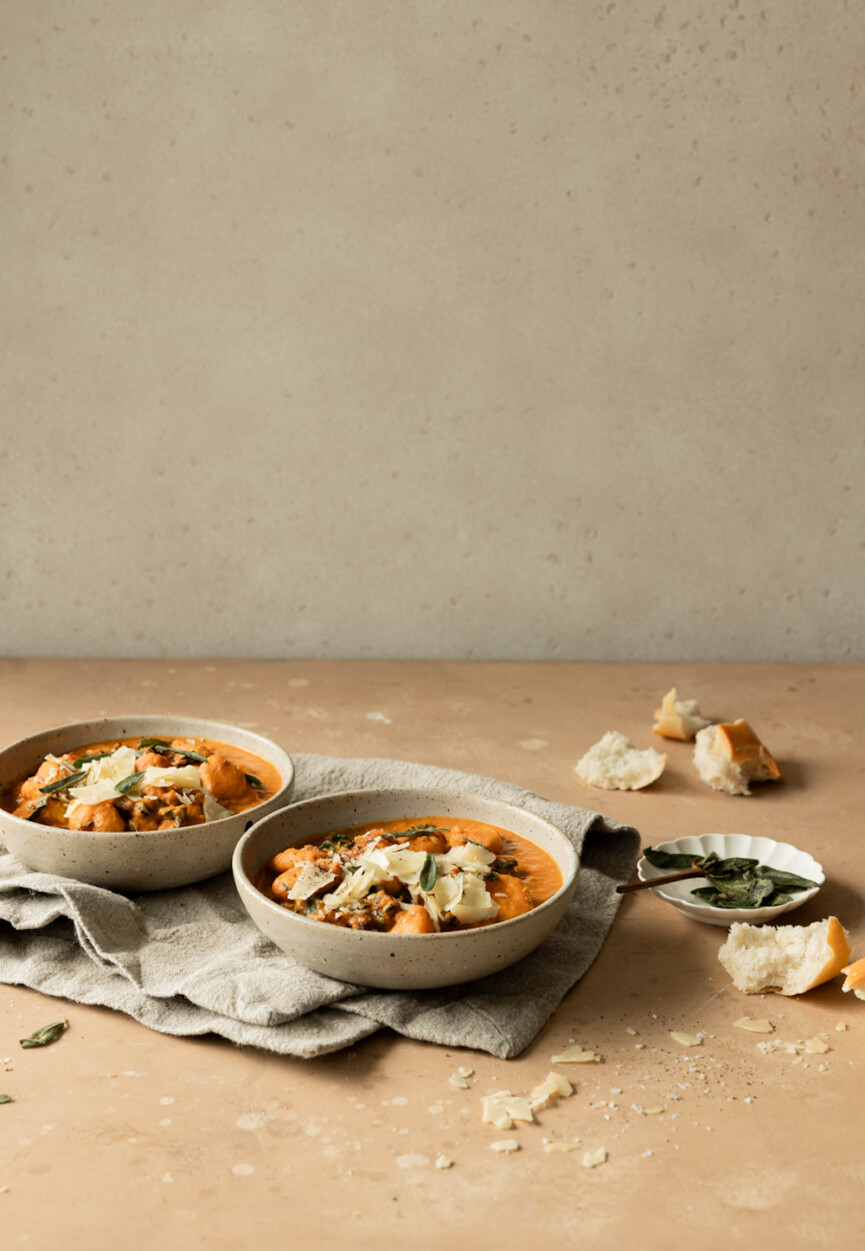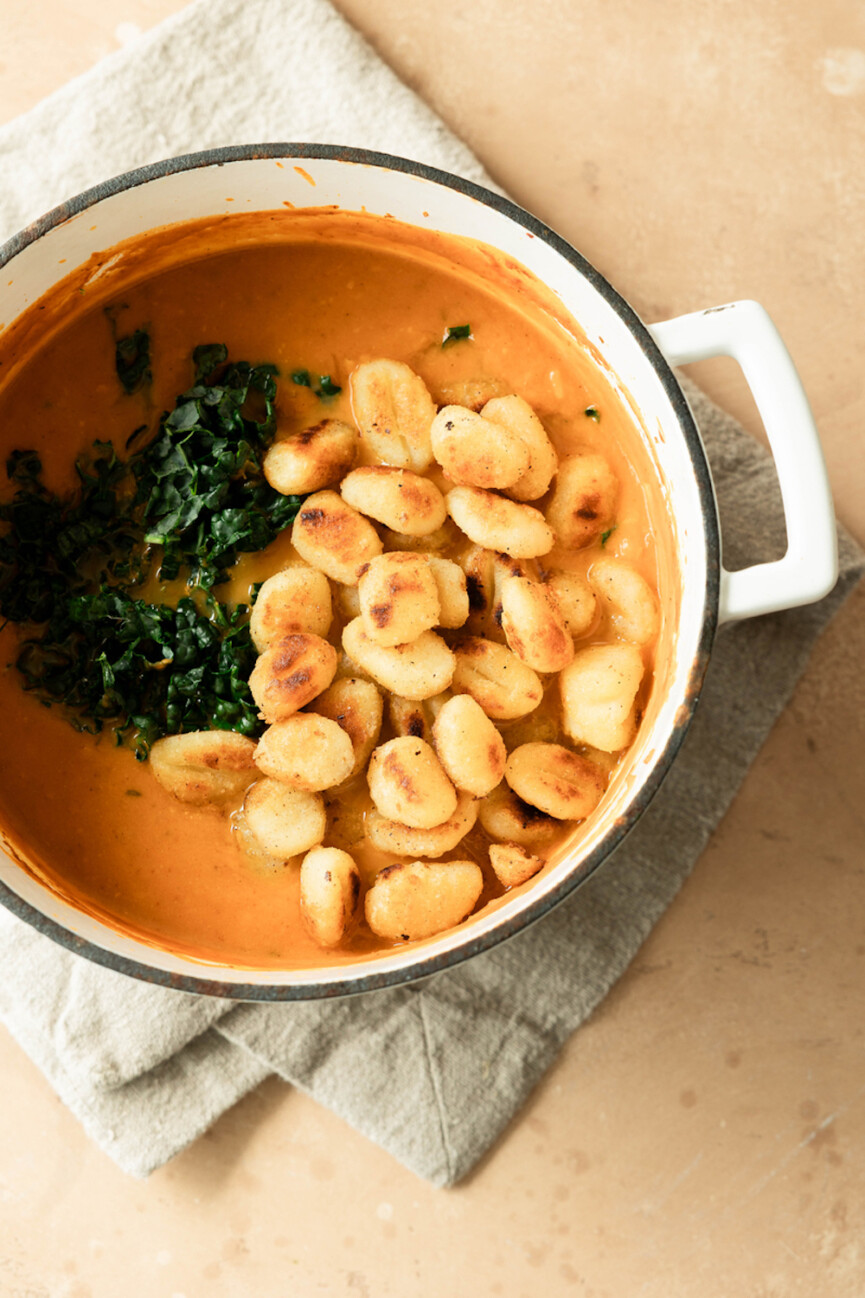 How to Prepare Your Gnocchi
This might be controversial, but boiled gnocchi might be one of my least favorite things to eat. I find most gnocchi to be incredibly dense and heavy, especially when covered in an equally rich sauce. It's a nice indulgence, but when I'm hungry, I want to eat a full meal.
I recently discovered the joy of pan frying gnocchi, skipping the boiling pot of water entirely, and just letting the gnocchi cook through in a pan with a bit of oil. The gnocchi get super crispy and golden on the outside, and magically light and fluffy on the inside. No dense blobs of potato here. Instead, you get slightly airy and addictively crunchy bites that are just as delicious on their own as they are tossed in sauce. The best part is that the gnocchi retain some of their crunchy texture when tossed in sauce, so you get a bit of that textural contrast against the creamy and rich sauce.
I prepare the gnocchi separately when ready to serve—the sauce can sit on its own on the stovetop as long as you need—and just toss the gnocchi in the sauce at dinner time for the ultimate fresh, crunchy, creamy, and absolutely delicious dinner.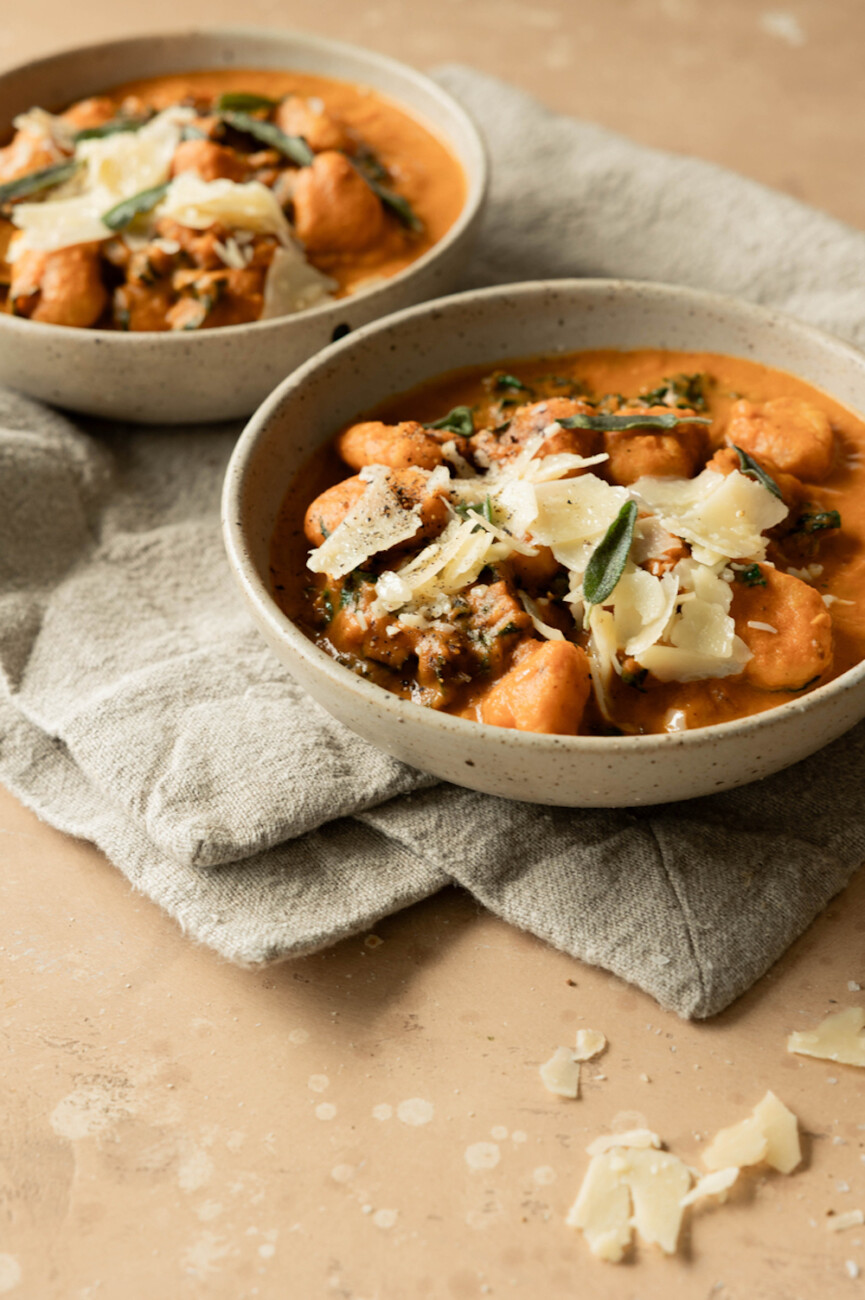 Tips for Storage and Reheating Leftovers
To store leftovers, keep soup in an airtight container in the fridge. Because the gnocchi absorb liquid in the fridge, the sauce becomes thicker overnight, so add extra vegetable broth when reheating. I prefer to reheat my pumpkin gnocchi in the microwave to avoid having too much liquid in the gnocchi.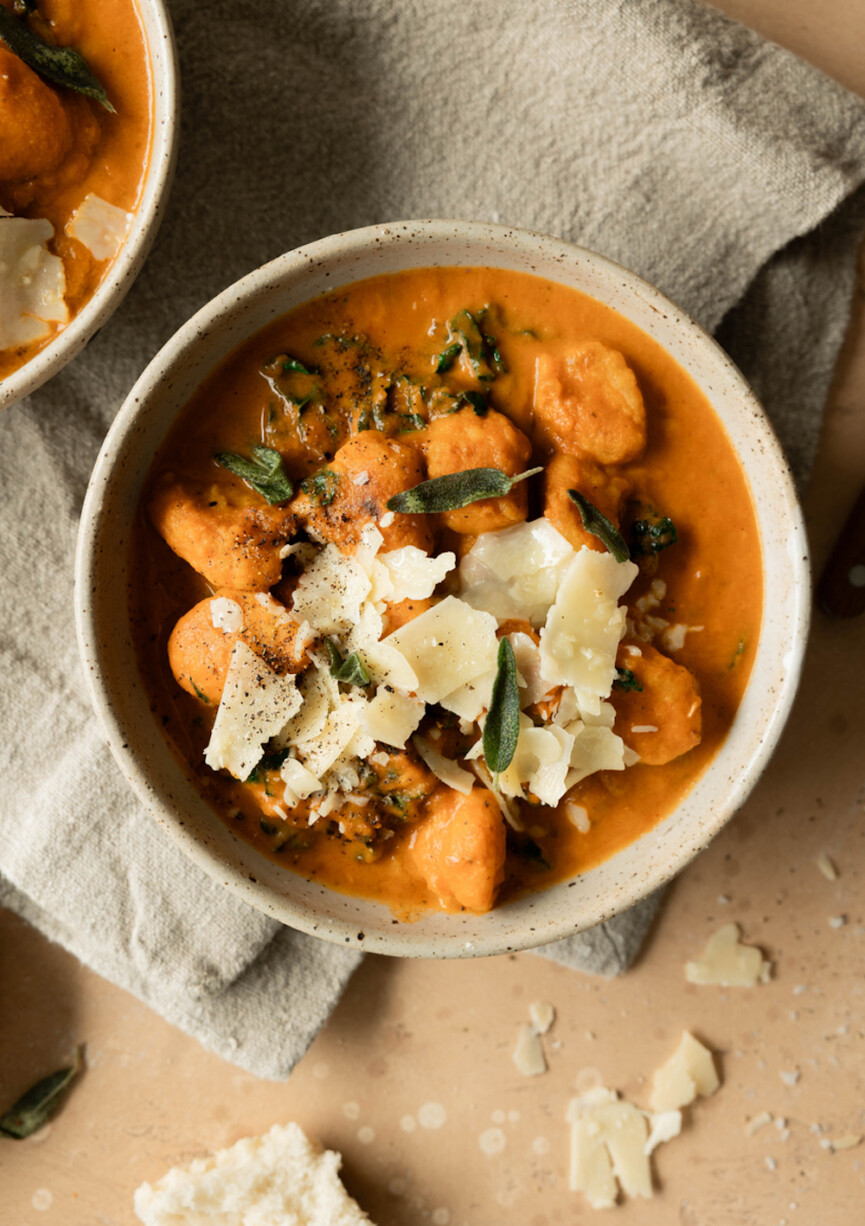 Print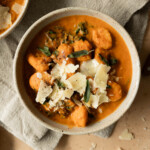 Creamy Pumpkin Gnocchi
---
Author:

Total Time:

45 minutes

Yield:

2

servings

1

x
Description
Saucy, creamy, and filled with all the fall flavors, this pumpkin gnocchi is the perfect autumn weeknight dinner. 
---
5 tablespoons

olive oil, divided

1/2

large yellow onion, diced

1 teaspoon

ground cumin

1/4 teaspoon

freshly grated nutmeg

1/2 teaspoon

dried thyme

3

garlic cloves, chopped

2 tablespoons

tomato paste

1

can pumpkin purée

16

ounces

vegetable broth

1/4

cup

heavy cream

17

-ounce package of gnocchi

1/2

bunch of kale, chopped
fried sage and parmesan for garnish
---
Instructions
Add 2-3 tablespoons of olive oil to a large stovetop pot and bring to medium heat. Add the chopped onion and spices, salt, and pepper, to the pot and cook until the onion becomes translucent.

Add the garlic and tomato paste to the pot and sauté until the tomato paste darkens to a brick red, about two minutes.

Add the pumpkin purée and stir to combine. Let the pumpkin heat through before adding the broth a little at a time, stirring as you pour the broth in to ensure all the pumpkin gets combined. Bring to a simmer and let cook for about 15 minutes to reduce and thicken the sauce slightly.

While the sauce cooks, prepare the gnocchi. In a large stovetop pan, add 2-3 tablespoons of olive oil and bring to medium heat. Add the gnocchi dry (do not use fresh or boiled gnocchi), and sauté for about 15 minutes, stirring occasionally until the gnocchi have developed a crisp golden exterior. Remove from the heat.

To finish the sauce, add heavy cream to the pumpkin sauce and stir. Optional, but for a smoother sauce, use an immersion blender or add the pumpkin sauce to a blender and blend until smooth. Be careful, the sauce is hot!

To serve, add the kale and gnocchi to the pumpkin sauce and stir to coat.

Top with fried sage and/or parmesan cheese, enjoy!
Prep Time:

15 minutes

Cook Time:

30 minutes