Holiday dishes are pure magic. Everyone has their classics that grace the table year after year, but it's fun to venture into new territory every once in a while. This year, overnight gingerbread cinnamon rolls are your calling card to create a new classic. They're a labor of love that you can make entirely ahead of time so your Christmas morning can focus on what matters.
Surprise! This recipe comes straight from one of our favorite foodies on the internet (and in print): Tieghan Gerard. Tieghan heads up the famous food site, Half Baked Harvest and is the author behind some of our most beloved cookbooks. If you want a recipe you can trust, Tieghan's your go-to gal. And these gingerbread cinnamon rolls? They happen to be one of our faves.
(Psst… before you get to these cinnamon rolls, take a peek at how Tieghan decorates for the holidays!)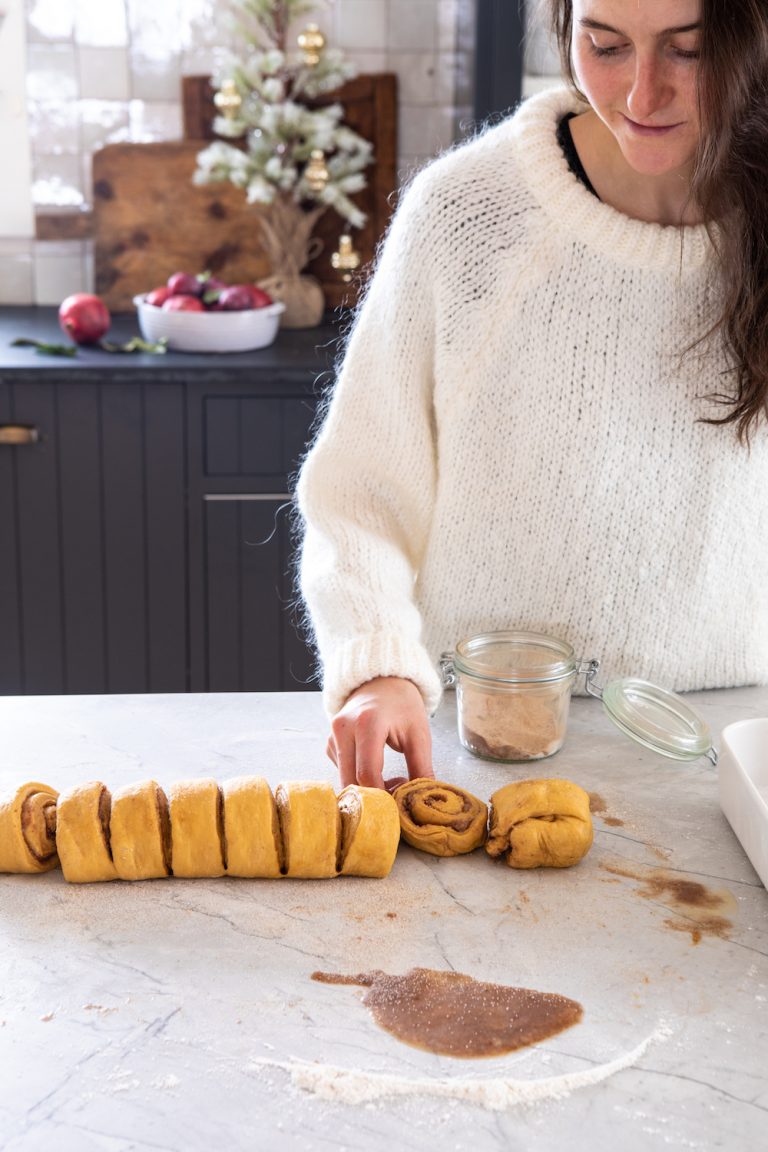 Why Tieghan Loves These Cinnamon Rolls
Tieghan is no stranger to holiday traditions. Whether it's baking Christmas cookies, cutting down the tree, or inviting guests over for a celebratory meal, Tieghan's got the holidays on lock. So it makes sense we'd go to the expert for her favorite (easy) Christmas morning recipe. Here's what she has to say about this stunning breakfast treat: "I have so many favorite holiday dishes, but I think Christmas isn't Christmas without cinnamon rolls baking in the oven. My current favorite are my Overnight Gingerbread Cinnamon Rolls."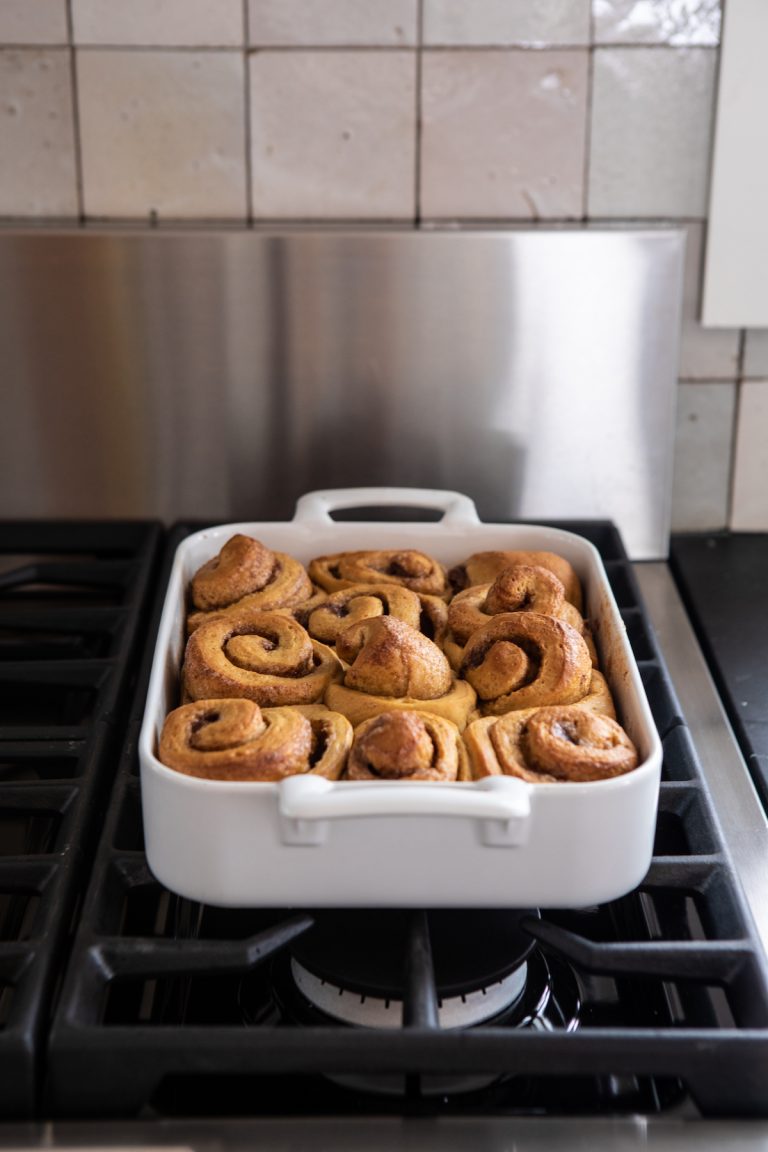 Tips for Making Gingerbread Cinnamon Rolls Ahead of Time
The good news is that these gingerbread cinnamon rolls were designed to be made ahead! Because the dough needs to rise overnight, you can do the majority of the work in advance and save the simple steps of baking the morning you're ready to enjoy your rolls. You have a few options depending on how far in advance you want to prep your cinnamon rolls.
To make the night before:
Simply prepare the recipe through step four. It's key to refrigerate the cinnamon rolls overnight, as they'll rise too much if you leave them at room temp. Cover the rolls in the prepared baking dish with plastic wrap and place in the fridge overnight. When ready to bake, remove the rolls from the fridge and let them come to room temperature for 30-45 minutes, then bake as directed.
To freeze:
If you want to prepare your gingerbread cinnamon rolls well in advance, they can be assembled through step four and frozen for up to three months. Before baking, take your prepared rolls from the freezer and thaw them either in the fridge or at room temp. When they're thawed, bake as directed.
To bake in advance:
If you anticipate not having a lot of time before you want to serve these, you can also bake your cinnamon rolls completely and freeze. Then, all you have to do is warm them before serving. Bake cinnamon rolls as directed and let cool completely. Cover and wrap well before placing in the freezer for up to three months. When the time comes to serve your cinnamon rolls, simply thaw and warm them in the oven.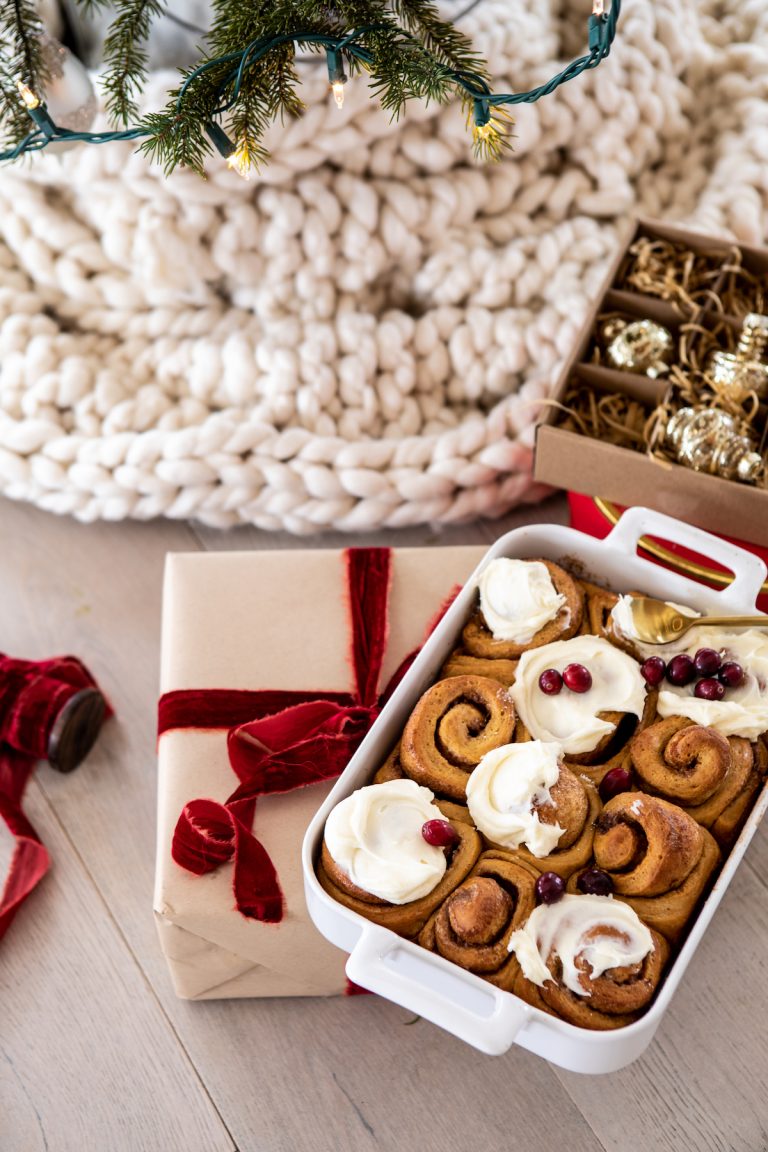 p.s. Looking for more cinnamon roll recipes? Check out our other favorites to make your holidays even more special.
This post was originally published on December 19, 2019, and has since been updated.
---
Ingredients
for the rolls:
2 1/4 teaspoons active dry yeast
1 tablespoon brown sugar
3/4 cup warm whole milk
4 tablespoons salted butter, melted
1 egg
1/3 cup molasses
3 cups all-purpose flour
1/2 teaspoon kosher salt
for the cinnamon sugar filling:
6 tablespoons salted butter, at room temperature
1/4 cup granulated sugar
1/4 cup brown sugar
2 teaspoons cinnamon
1 teaspoon ground ginger
1/4 teaspoon fresh ground nutmeg OR ground cloves (use your favorite or both)
for the frosting:
4 ounces cream cheese, at room temperature
4 tablespoons salted butter, at room temperature
1 cup powdered sugar
2 teaspoons vanilla extract or the seeds from 1/2 a vanilla bean
---
Instructions
1. Place the yeast and brown sugar into a stand mixer with the dough hook attached. Add the warm milk and gently stir. Let sit until the dough is puffed and foamy on top, about 10 minutes. To the bowl add the melted butter, egg, and molasses, stir to combine. Add in the flour and salt. Knead the dough with the dough hook until the dough is smooth and forms a ball, about 5 minutes. Remove the dough from the bowl. Oil the bowl or use cooking spray to coat. Place the dough back into the bowl and cover with plastic wrap. Let the dough rise in a warm area for about 1 hour or until doubled in size.
2. To make the sugar filling, add the sugar, brown sugar, cinnamon, ginger, and nutmeg to a new bowl and mix well.
3. Generously grease a 9×13 inch baking dish, or a dish slightly smaller, with butter.
4. Lightly dust a work surface with flour. Roll the dough into a rectangle (about 9×24 inches). Spread the butter evenly over the dough. Sprinkle the cinnamon sugar filling evenly over the butter and lightly push the mix into the butter. Starting with the long edge closest to you, carefully roll the dough into a log, keeping it fairly tight as you go. When you reach the edge, pinch along the edge to seal. Using a sharp knife, cut the log into 10-12 rolls. Place rolls in the prepared baking dish. Cover with plastic wrap and transfer to the fridge to rise overnight.
5. In the morning, remove the rolls from the fridge and allow them to come to room temp while the oven preheats, about 30-45 minutes. Preheat oven to 350. Bake the rolls for 25 minutes or until golden brown.
6. In a medium bowl, beat together the cream cheese and butter until fluffy. Add the powdered sugar and beat until combined. Beat in vanilla. Spread the frosting onto the warm rolls. EAT!