Every year, Adam and I host one holiday dinner party for a handful of our closest friends—we've invited the same group for the past 5 years, and it's become a tradition we all look forward to. I cook—usually some version of my sweet and spicy glazed short ribs, pesto parmesan potatoes, and my holiday jewels kale salad—and we drink champagne by the fire and soak up one more great night of conversation before the year comes to a close.
I always love the chance to set a simple Christmas dinner table with place cards, greenery, and candlelight, so I thought it would be fun to share with you guys exactly how I'm setting the table this year. Spoiler: my favorite handmade ceramic dishes and recycled glassware from Casa Zuma are most definitely making an appearance. Scroll on for my tips on how to design a modern Christmas table setting, and my thoughts on keeping it simple so you can enjoy the party as much as your guests.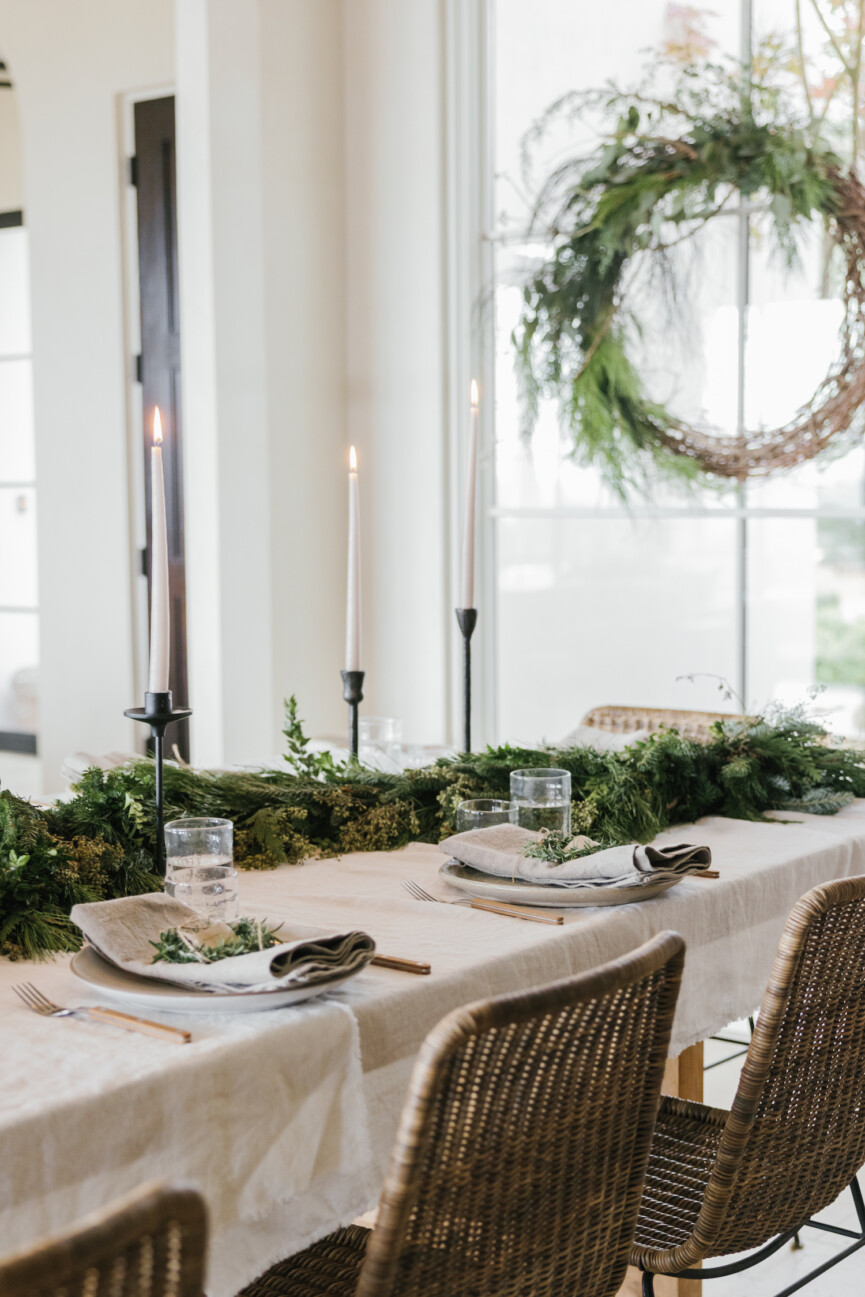 Set the table the night before
My top priority with any holiday tablescape is that it's simple enough to be totally stress-free on the day of the gathering. So, my absolute, number one tip is to set the table completely the night before. That way, the morning of the party you can just enjoy how gorgeous it looks and focus on all the other day-of details.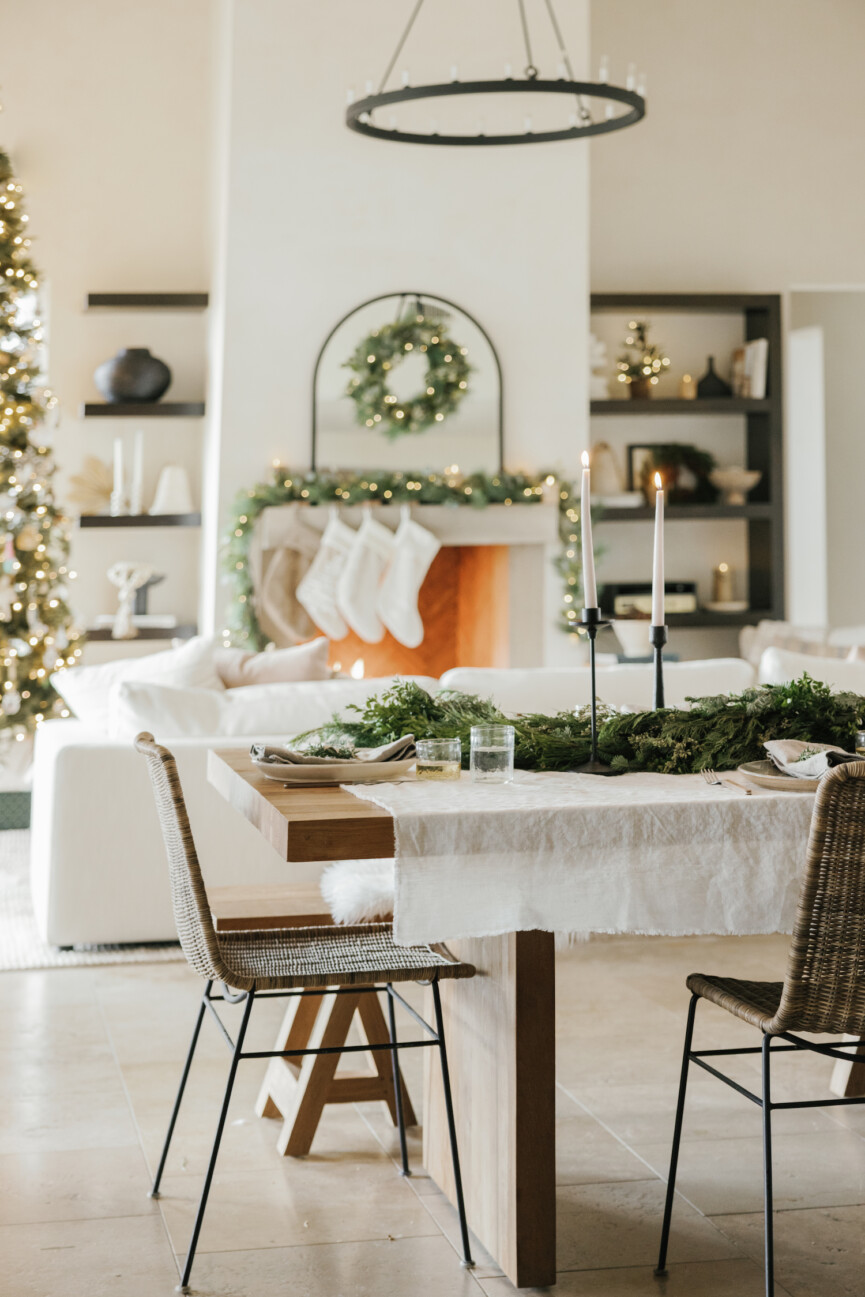 Lay the foundation with linen
Gone are the days of perfectly-starched linen tablecloths. When I design a modern Christmas table setting, I almost always opt for a casual linen table throw that doesn't fully cover the table—I love to let the beauty of the natural wood show a bit.
A heavy, oversized linen napkin feels organic and a bit luxurious, but I could never find the perfect one—that is, until I created my own as one of the first pieces I designed for our Casa Zuma launch collection. And trust me when I say—it's absolutely perfect.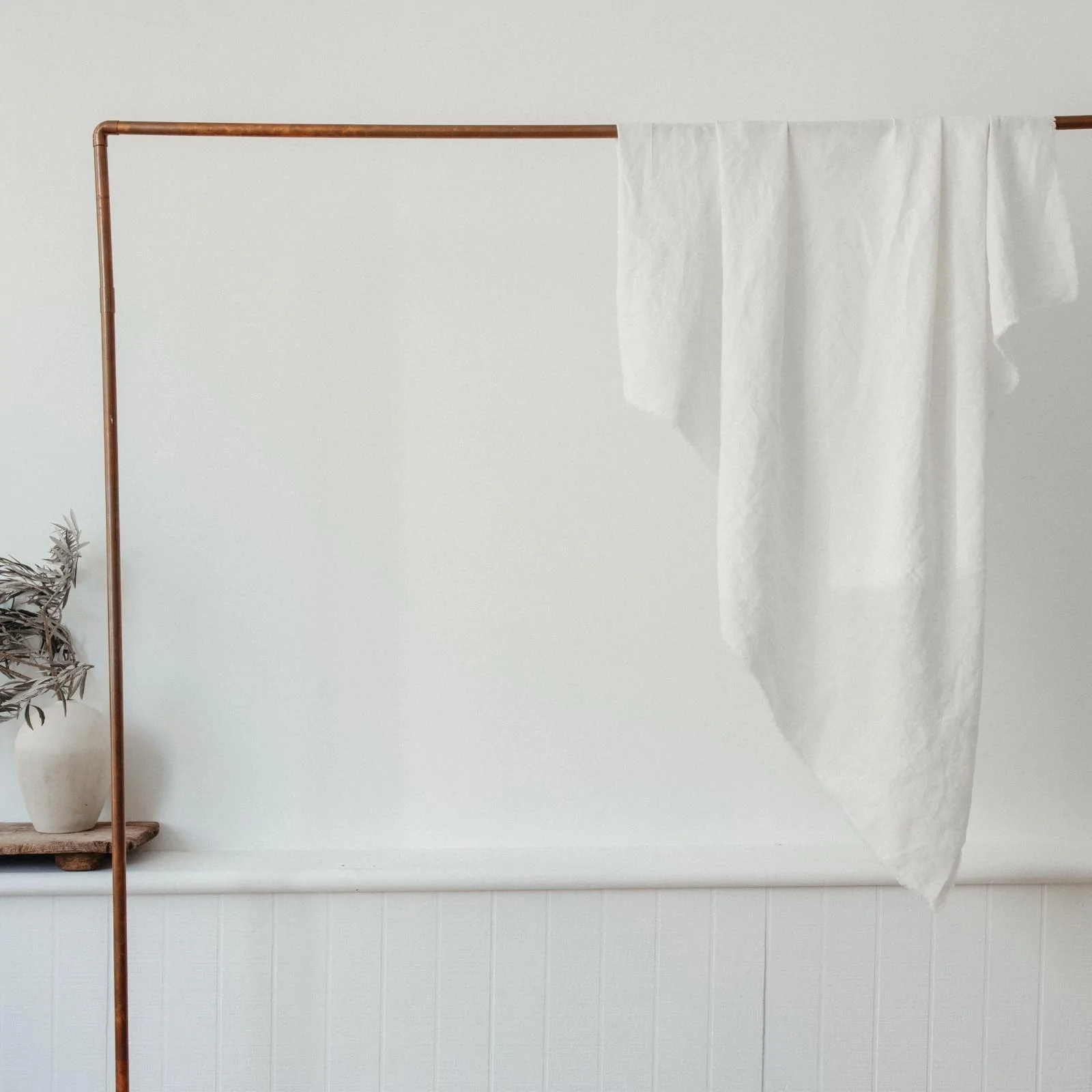 This square throw is the right size for any table—since it's made to reveal the edges of what's underneath, you can use it on square, round, and rectangular shaped-tables. We embrace a few of the linen's natural wrinkles for a look that's (perfectly) imperfect.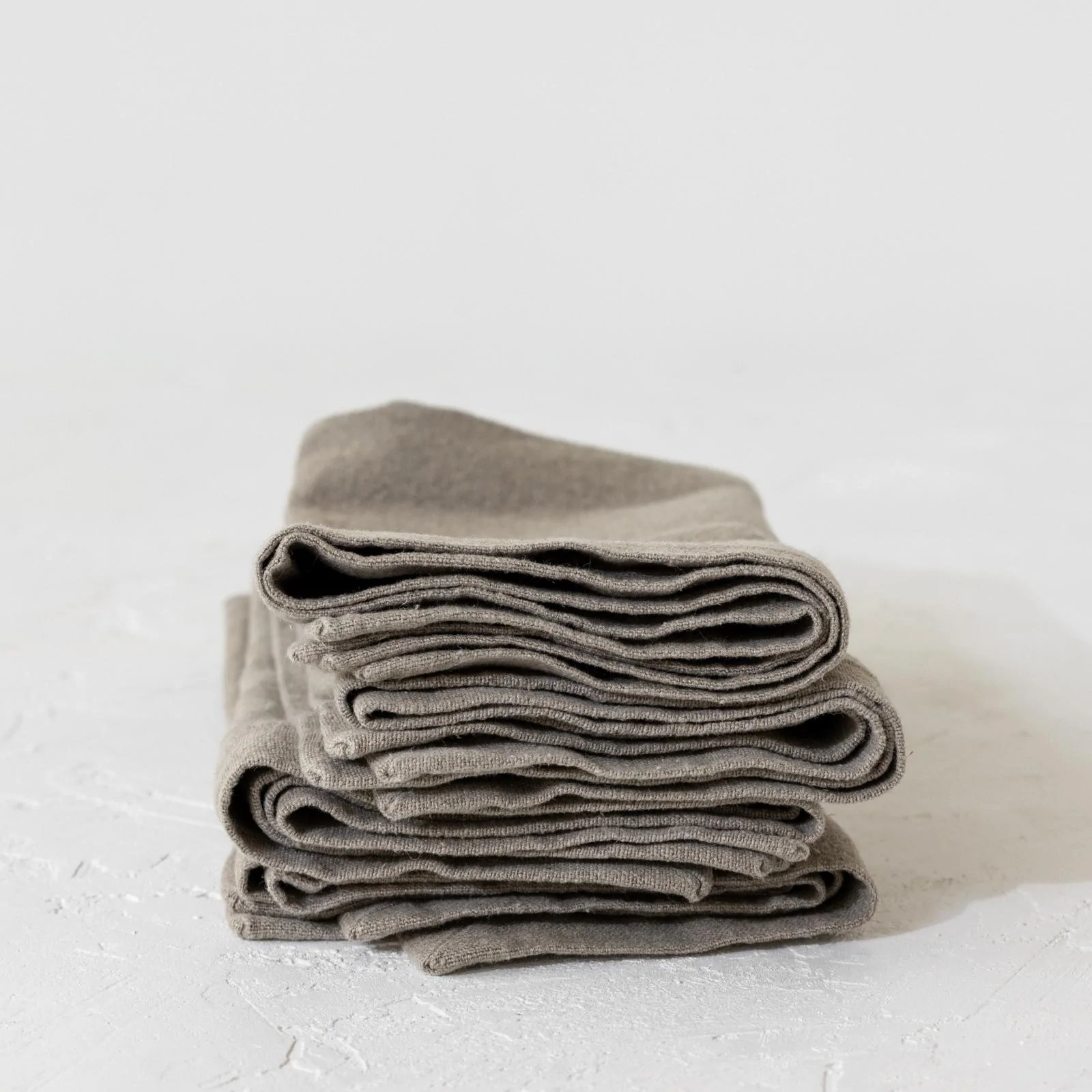 Made in Lithuania from heavyweight flax linen, this generously-sized napkin is made to double as a beautiful dishtowel for the kitchen.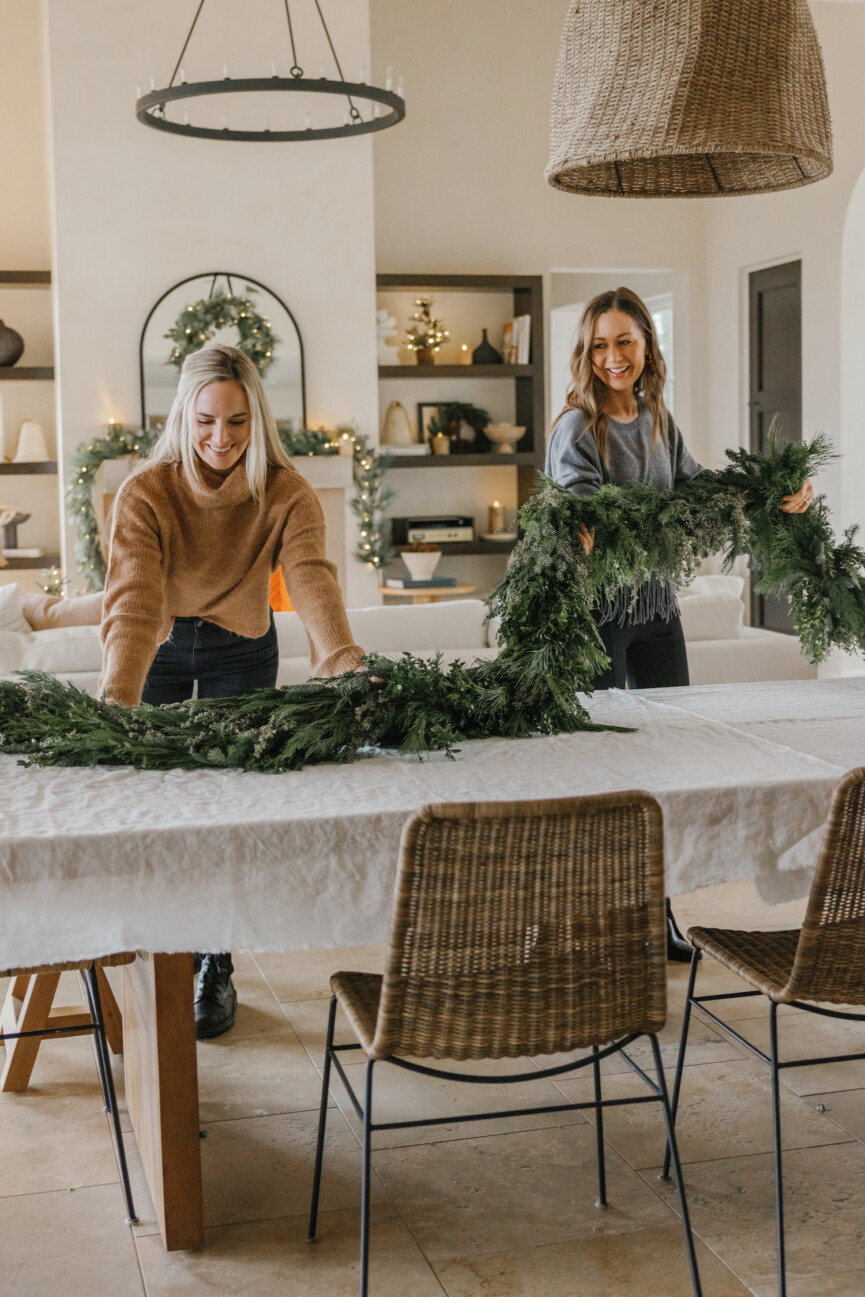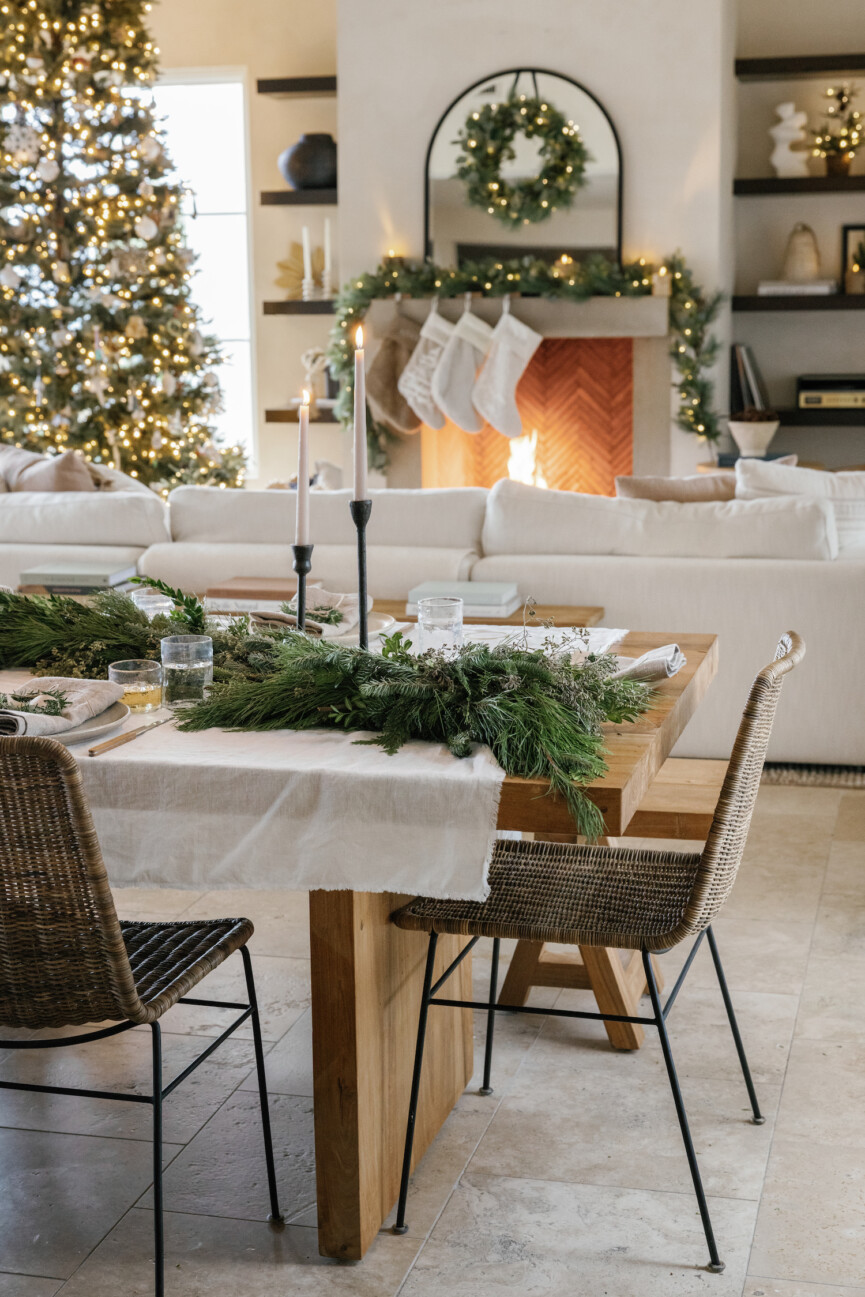 Add an evergreen runner for Scandi vibes
This is the third year in a row that I've worked with Elle from Gracious Garlands on the evergreen elements of our holiday decor, and I love how we've been able to capture this simple Scandinavian-inspired aesthetic that feels really special all season long.
For a modern Christmas table setting, I love using a garland down the center of the table. It acts as a sort of "runner," and doesn't block conversation the way that a taller floral centerpiece would. Plus, it lasts for weeks, which means that you can enjoy it throughout the entire holiday season (not just on party night!) I'm all for getting as much mileage out of my dinner party decor as possible.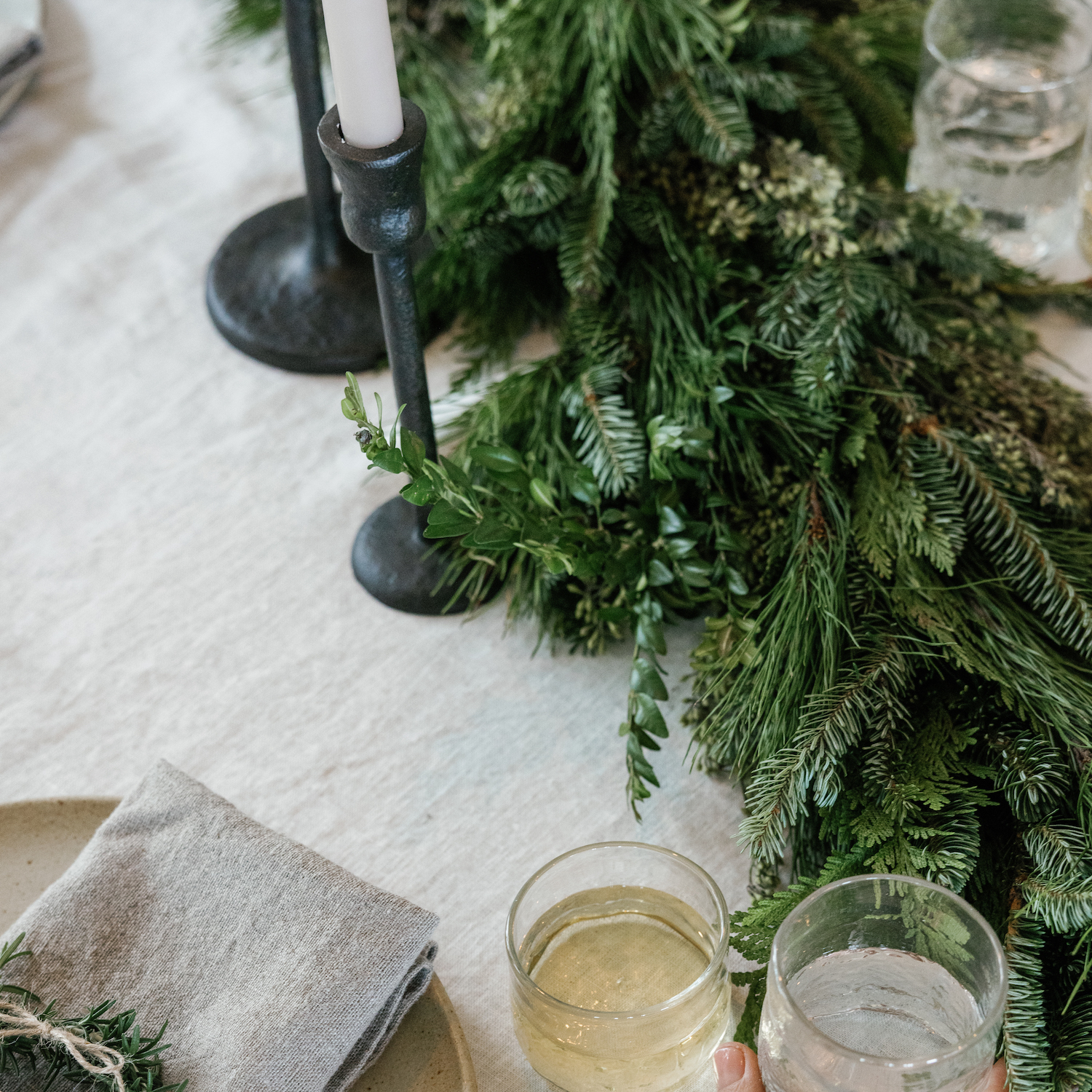 This luscious garland is bursting with textured evergreens and west coast seeded eucalpytus. It comes in 5ft, 10ft, 15ft, or 25ft lengths.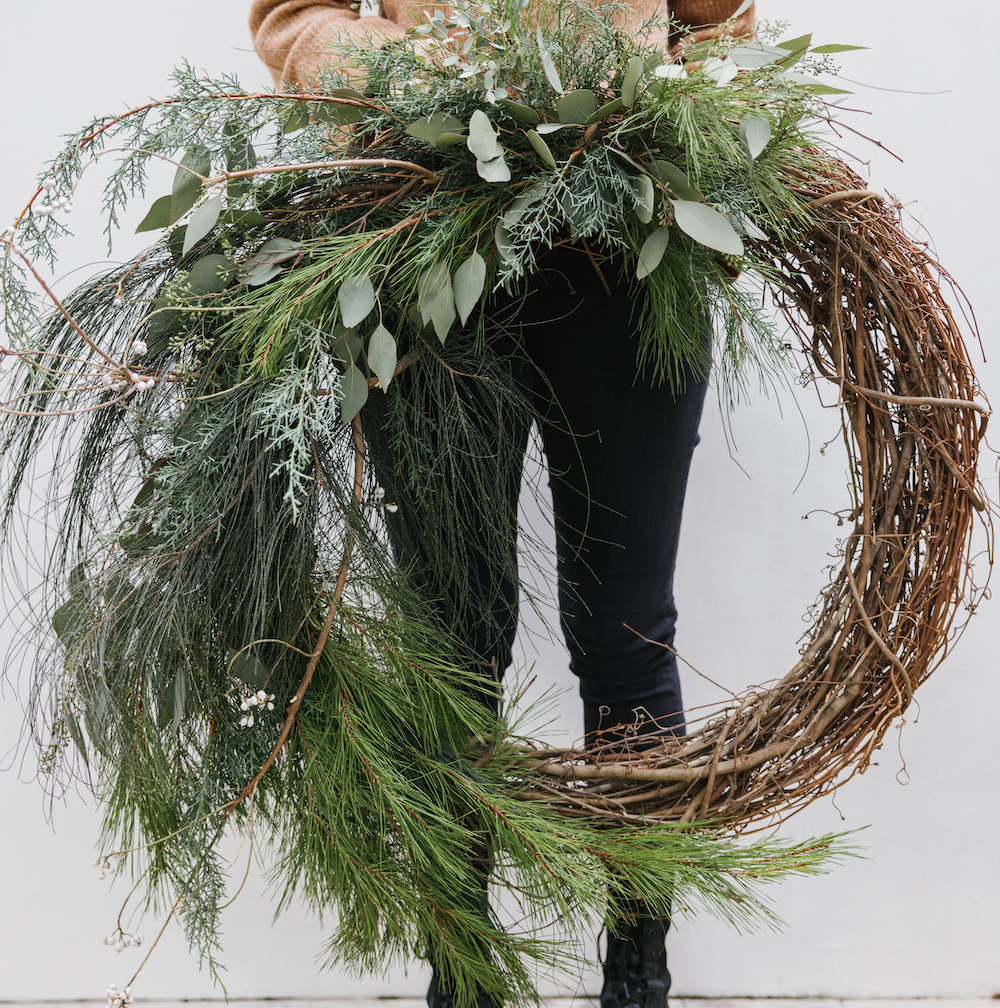 This wreath includes Seeded Eucalyptus, Leyland Cypress, Fraser Fir, White Pine + Boxwood. Sized up to 36″.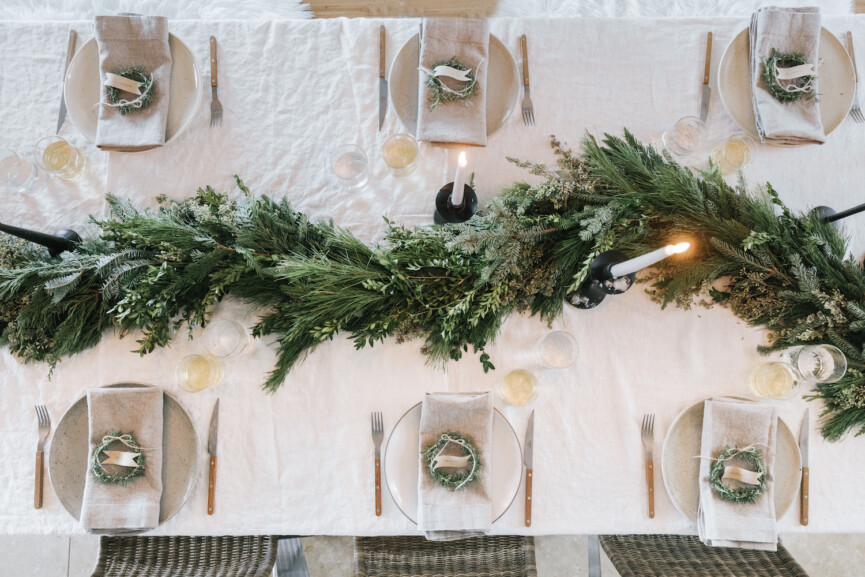 Embrace the wabi sabi beauty of handmade ceramics
It's no secret that I love handmade ceramics, and thankfully, the warmth and rusticity of handcrafted objects will never go out of style. There's just something about them—when I pickup a hand thrown mug or slightly irregular bowl, there's a subtle connection with the person who made it with their own hands. I set this Christmas table with our oversized stoneware dinner plates, and I love that these feel elevated for a dinner party but are also the dishes we use every night for dinner.
If you've had your eye on these plates, get excited because they'll finally be in stock from our ceramicists in Mexico in just a few weeks! We're now accepting pre-orders, so now's the time to snag 'em as a little Christmas gift to yourself.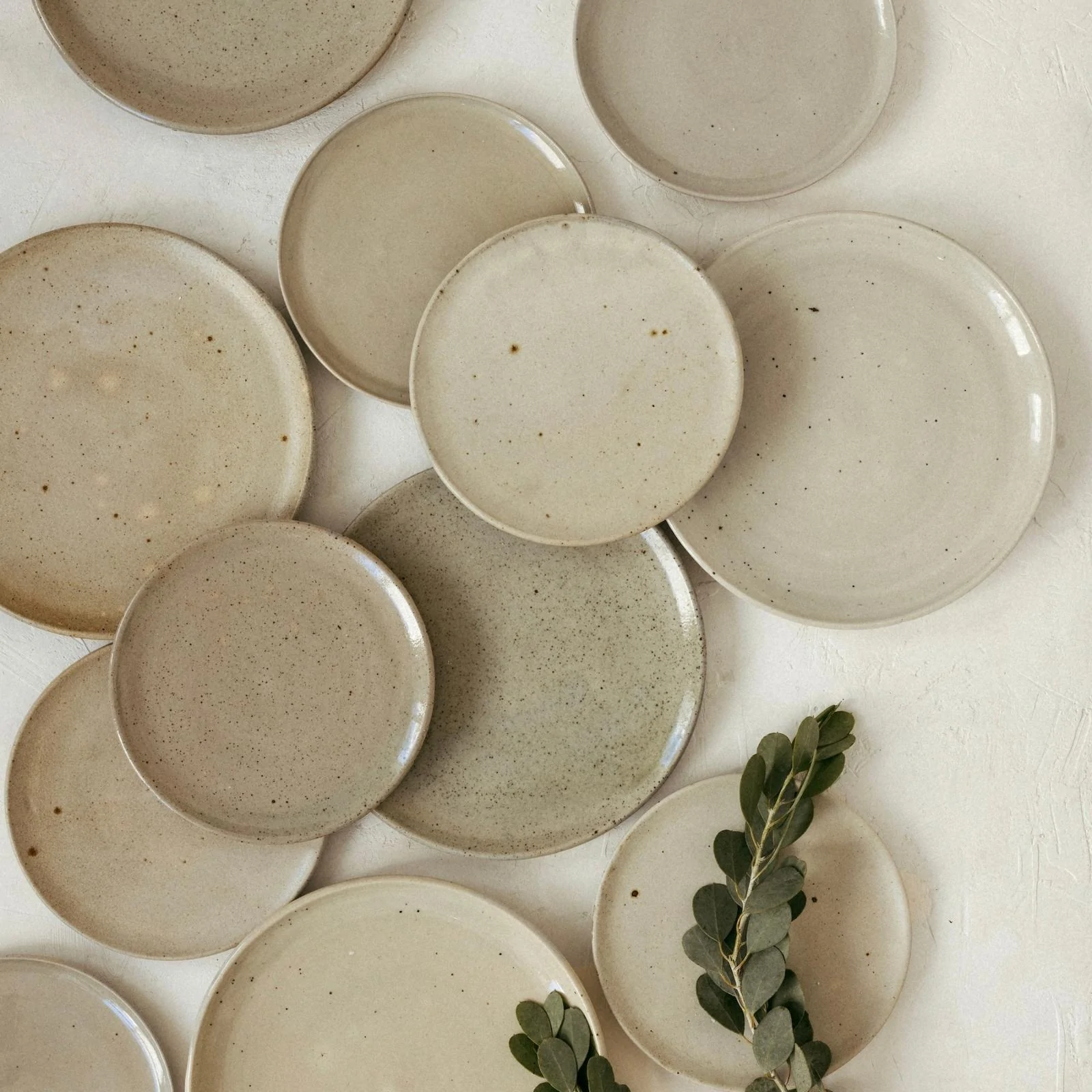 Handmade in Mexico, these oversized stoneware dinner plates are what we use to set our table each evening. They're made of high-temperature hand-glazed ceramic, and are dishwasher-safe.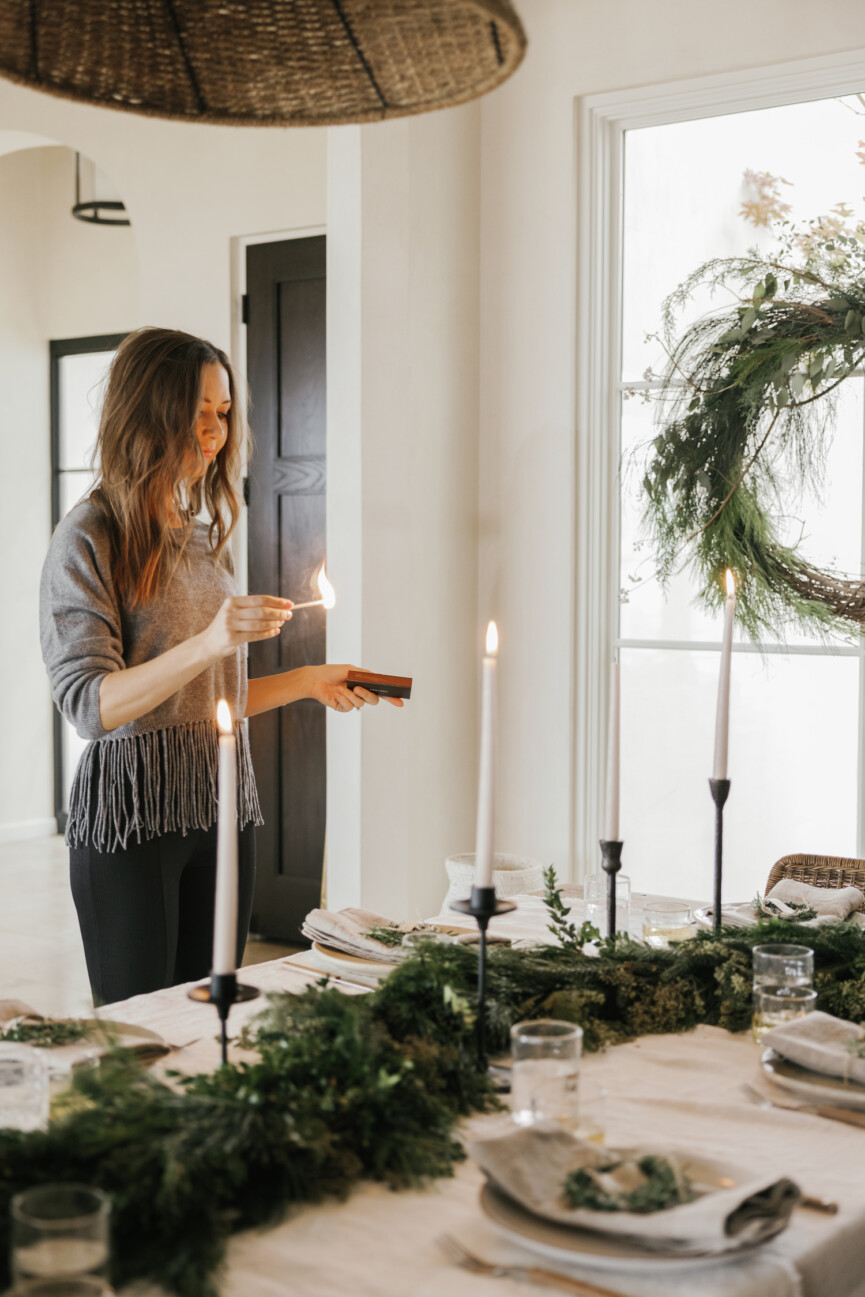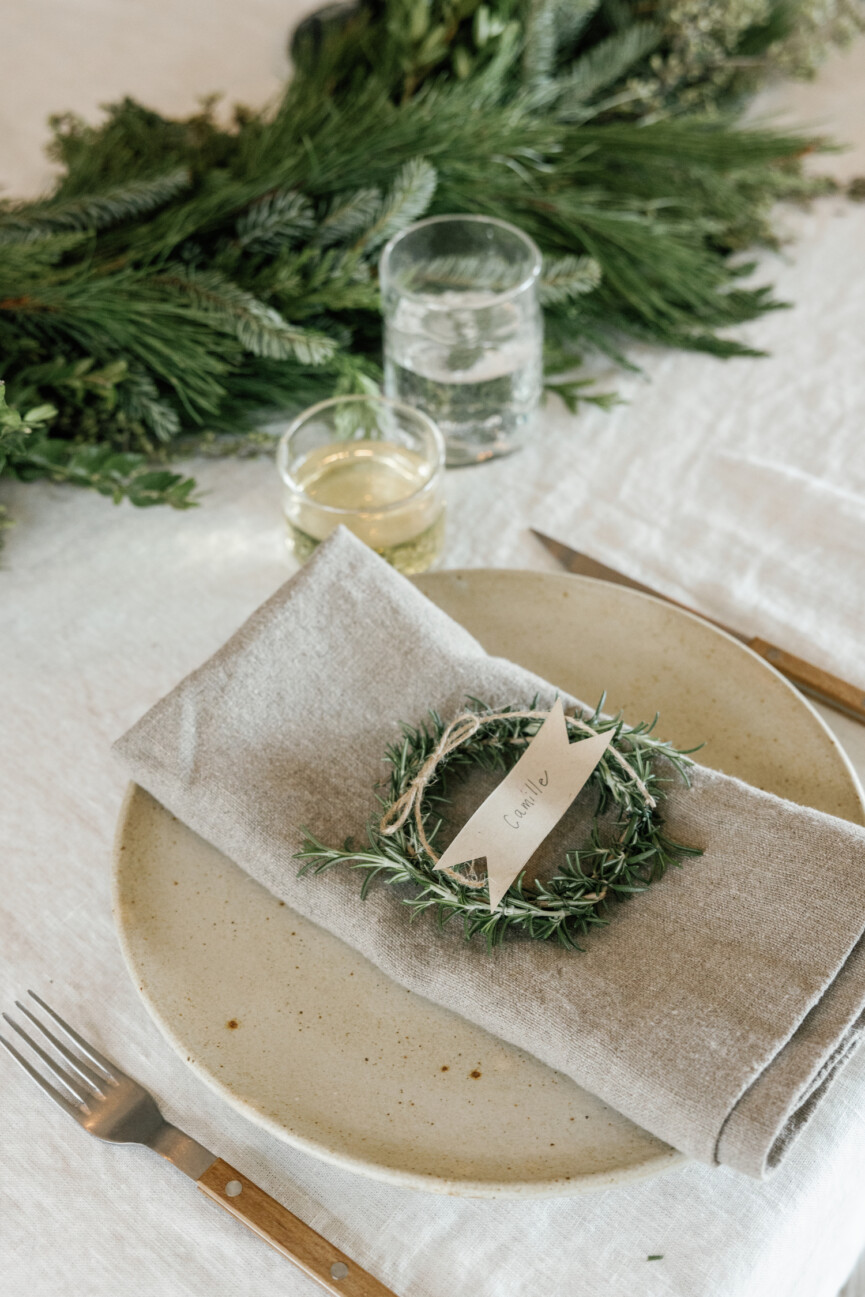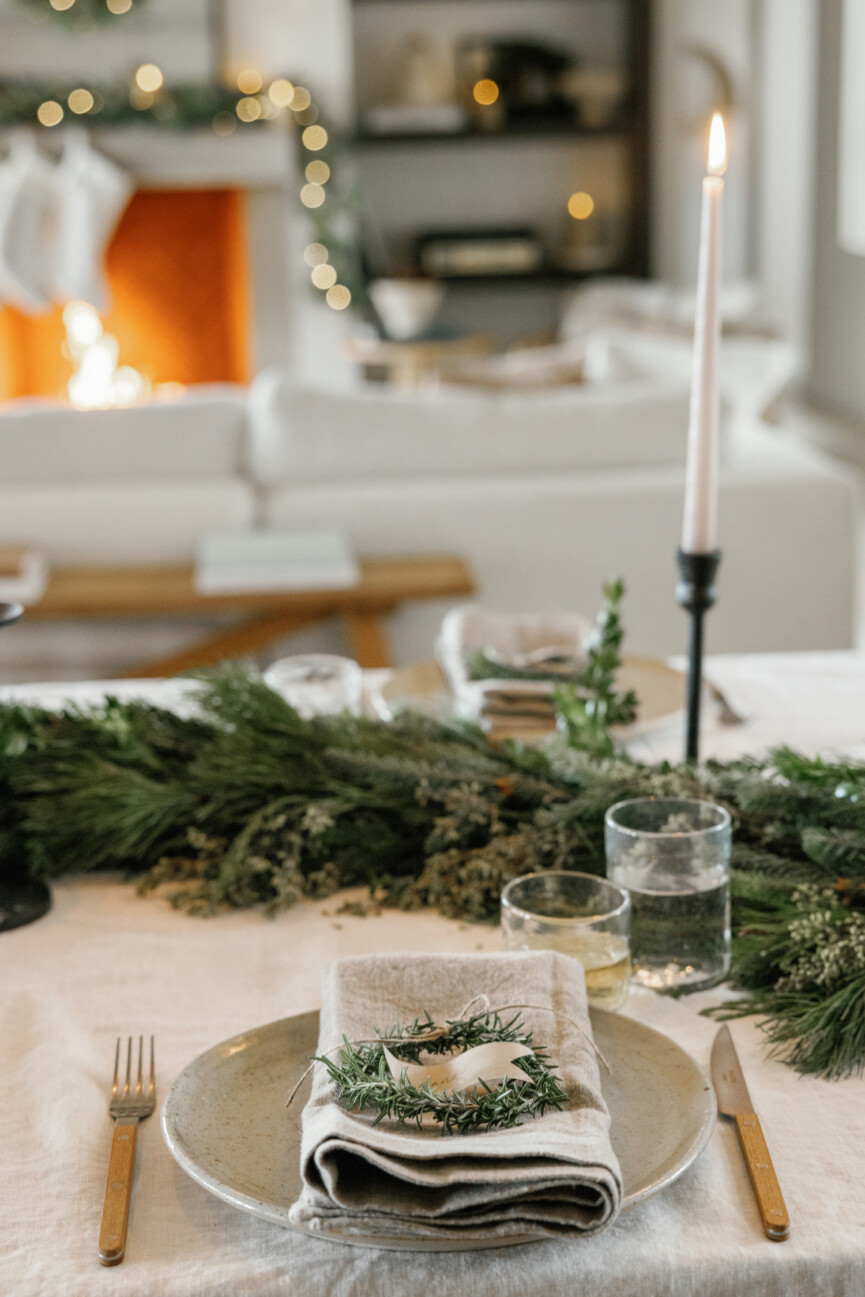 Create simple place settings
As much as I love a casual table, I'm also a fan of place cards as a simple way to make each setting feel special for the holidays. And, it's always nice for guests to know exactly where to sit! Place cards are a perfect opportunity to bring a natural touch to the table, and I love adorning them with seasonal elements like fresh herbs, dried citrus slices, or cinnamon sticks. For this setting, we made simple rosemary wreath place cards with major wow factor.
How to make rosemary wreath place cards
Start with the freshest rosemary you can get, as it bends with less effort. Grab 3 rosemary stems, each 6-8″ long, some green floral wire, and wire cutters.
Begin by wrapping the floral wire around one rosemary stem, twisting lightly as you go. About midway through, add another piece of rosemary and continue twisting the wire to connect the two pieces. Add the final stem of rosemary halfway through the second piece.
Once you reach the middle of the third piece, loop it back to connect it to the first stem of rosemary. Wrap the wire to secure it and then snip. Gently adjust the wire to create a circle if necessary.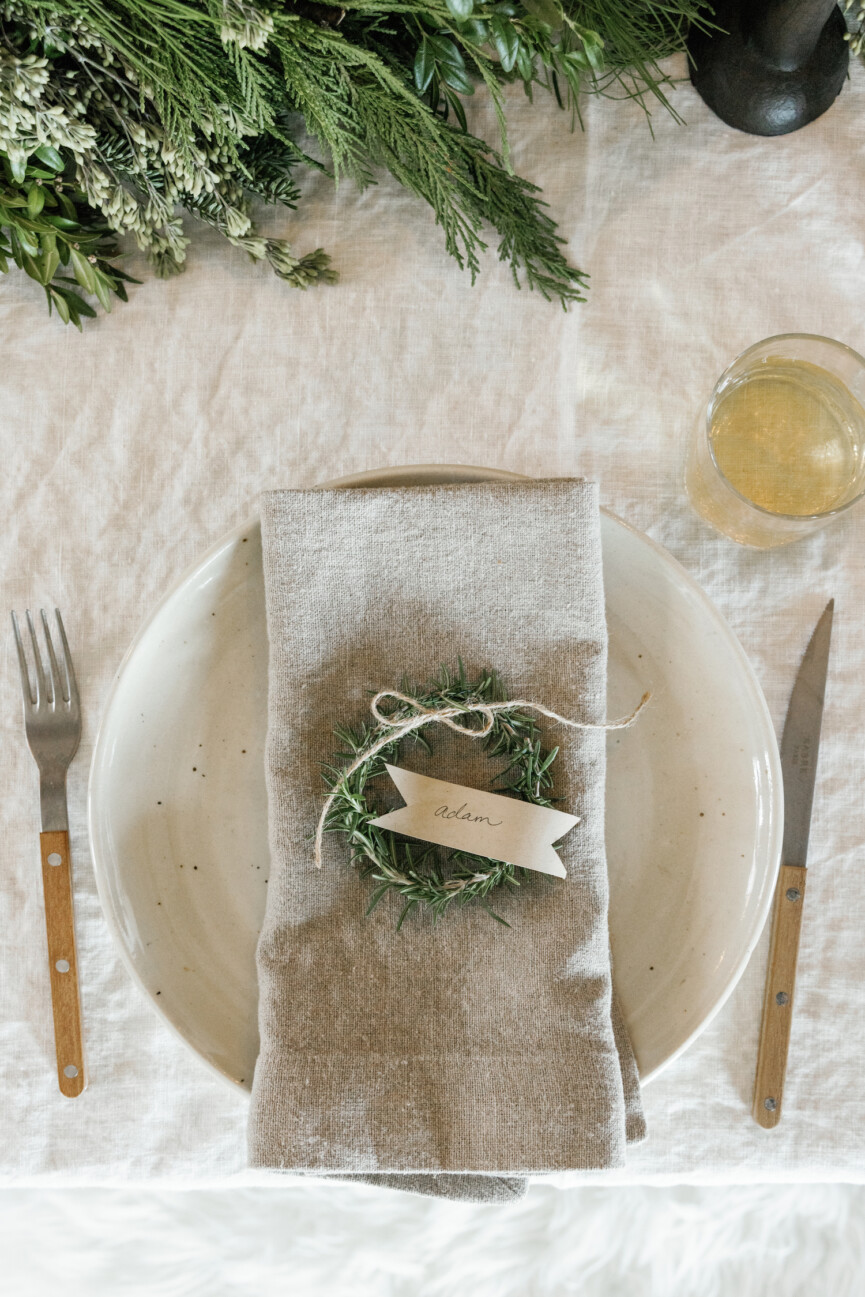 For more modern Christmas table setting inspiration, hop over to last year's pomegranate-adorned holiday table. And be sure to check out our Holiday HQ for all our best recipes, decor ideas, and of course gift guides to fully celebrate the season!