This spicy molasses cookies recipe was part of our Tastemakers interview with Mariana Velásquez. Get the other recipes and read the full story here! 
Says author/chef Mariana Velásquez:
Cucas, or spicy molasses cookies, are cakey cookies, similar in texture to whoopie pies, whose name has made generations of mischievous kids chuckle. Along with a Pony Malta they were the ultimate after-school combo: the burnt sugar, spices, and a cakey tex-ture on one side; the bubbly satisfaction of an ice-cold malt soda on the other. These cucas are less sweet than regular biscuits, so they are a neutral base for creamy malt ice cream.
Malta is to Colombians what root beer is to Americans. And much like cilantro or Hawaiian pizza, this is quite the divisive taste. You either love or hate it.
But whether you chuckle at the many connotations of the name of the cookies or can't stomach a malty drink, this recipe will make you rethink both. Make the cucas in advance and either serve with Malt Ice Cream or your favorite store- bought salted caramel ice cream."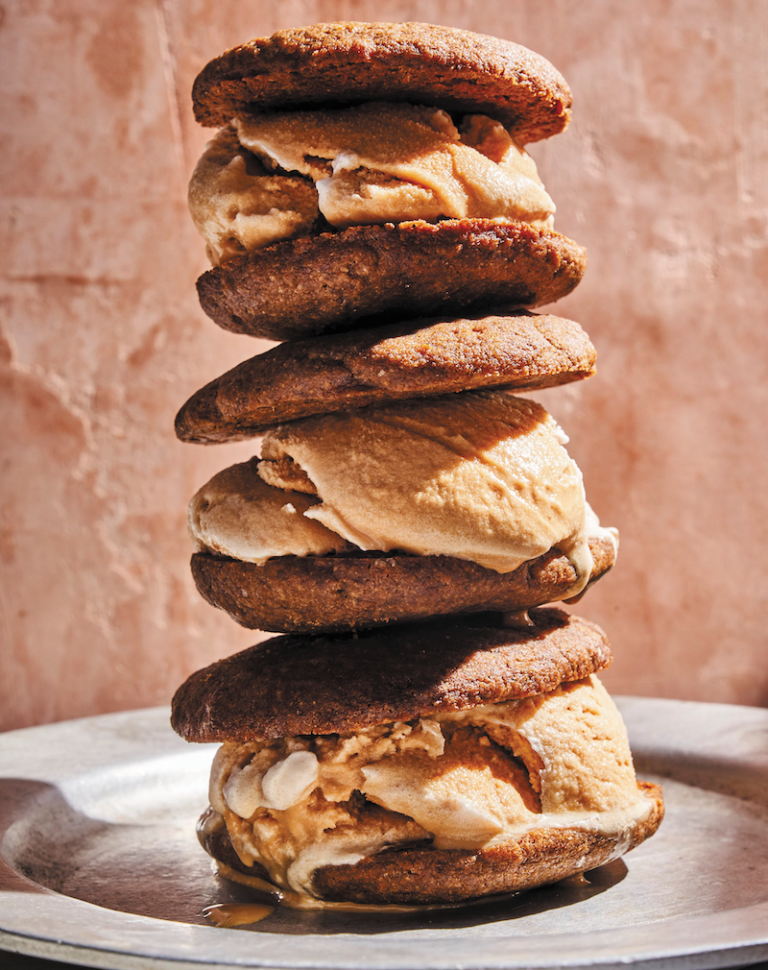 From the book COLOMBIANA by Mariana Velásquez. Copyright © 2021 by Mariana Velásquez. Published by Harper Wave, an imprint of HarperCollins Publishers. Reprinted by permission.
Photos by Gentl & Hyers.
For the Ice Cream Sandwiches
---
Ingredients
Spicy Molasses Cookies

1 cup (½ pound) unsalted butter, at room temperature

¼ cup light brown sugar

¼ cup unsulphured molasses 1 small egg

1¾ cups all-purpose flour 1 teaspoon baking soda

½ teaspoon kosher salt

1 teaspoon ground cinnamon

¼ teaspoon ground cloves

½ teaspoon ground cardamom

Zest of 1 orange (about 2 teaspoons)

Malta Ice Cream (recipe follows)
Equipment
4 baking  sheets 2 half sheet pans Parchment paper

Stand or handheld mixer Ice cream scoop
---
Instructions
Preheat the oven to 350°F. Line four baking sheets with parchment paper.

In a stand mixer fitted with the paddle attachment, cream the butter and sugar at medium speed until light and fluffy, about 2 minutes. Add the molasses and continue mixing until incorporated. Add the egg and mix until combined, stopping to scrape the sides of the bowl with a rubber spatula.

In a separate bowl, mix together the flour, baking soda, salt, cinnamon, cloves, cardamom, and orange zest. Add the dry ingredients to the creamed butter mixture ½ cup at a time, so that the flour doesn't fly everywhere, and mix until combined.

Using a small ice cream scoop or a tablespoon, scoop the batter onto the baking sheets, placing each scoop about 1 inch apart.

Bake until the cookies are slightly firm—they will still appear soft in the middle but will harden as they cool—12 to 14 minutes, rotating once halfway through baking. Remove from the oven and allow to cool completely.

To assemble the ice cream sandwiches, remove the ice cream from the freezer and let it soften for 3 minutes. Line two half sheet pans with parchment paper.

Place 7

cucas

bottom side up on one of the pans.

Using an ice cream scoop (regular size), scoop a ball of ice cream and place it in the center of each cookie, working as fast as you can (while being neat) to avoid the ice cream melting.

With a spoon (or your fingers), flatten the ice cream a bit and place a

cuca

on top to create a sandwich. Repeat the process to finish the other 6 cookie sandwiches.

If the ice cream becomes too  soft  while  assembling,  place  it  back  in the freezer for 8 to 10 minutes, remove, and finish the rest of the cookie sandwiches in the second tray. Serve right away or freeze wrapped in waxed freezer paper until ready to eat!
Malt Ice Cream (MAKES 6 CUPS (1½ QUARTS))
---
Ingredients
3 cups malt soda, such as Malta India, or 3 tablespoons malt powder

2 large pasteurized eggs

½ cup sugar

½ cup heavy cream 2 cups whole milk

½ cup powdered milk

½ teaspoon sea salt
---
Instructions
Pour the malt soda into a medium saucepan and bring to a boil over high heat. Reduce the heat to low and simmer for 40 minutes or until the liquid is reduced by half. Set aside and let cool completely.

Whisk the eggs and sugar in a bowl with a hand mixer until the mixture becomes pale yellow and ribbony. Pour in the malt reduction or malt powder and whisk well to incorporate. Set aside.

In a separate bowl, whisk the heavy cream, whole milk, powdered milk, and salt until the powdered milk dissolves completely. Pour this mixture into the egg and malt mixture and stir to incorporate.

Refrigerate until very cold, 20 to 30 minutes. Transfer the cold mixture into the pre-chilled bowl of an ice cream machine and churn according to the manufacturer's instructions.