This watermelon punch recipe was part of our Tastemakers interview with Mariana Velásquez. Get the other recipes and read the full story here! 
Says author/chef Mariana Velásquez:
Barranquilla is a modern sprawling city that sits at the mouth of the Magdalena River, overlooking the Caribbean Sea. Referred to as  La  Arenosa  (the  Sandy One), Barranquilla hosts the country's largest yearly carnival, mixing African, Indigenous, and worldly traditions. It's actually one of the world's largest carnivals, although it remains lesser known to international tourists. People take over the streets, dress up in costume, and dance, drink and eat the night away, carrying on all the next day and into the night and day again.
The patillazo came to me on a steamy Barranquilla afternoon. I was in meetings during a quick visit to the city and lunch was distant. Dehydration, an understatement. I pulled over onto the sidewalk underneath a tin roof where I found a crowd of schoolchildren, chatting and joking away as they dipped their spoons into tall cups of crushed watermelon with tons of lime and ice. The watermelon pieces had been steeping in the lime juice long enough for its flavor to become more intense, the chunks of watermelon extra supple. It was the perfect antidote to my exhaustion and hunger.
In this sense, there is nothing extraordinary about this watermelon punch recipe except the way the flavors come together so seamlessly, making for a delightful midsummer drink.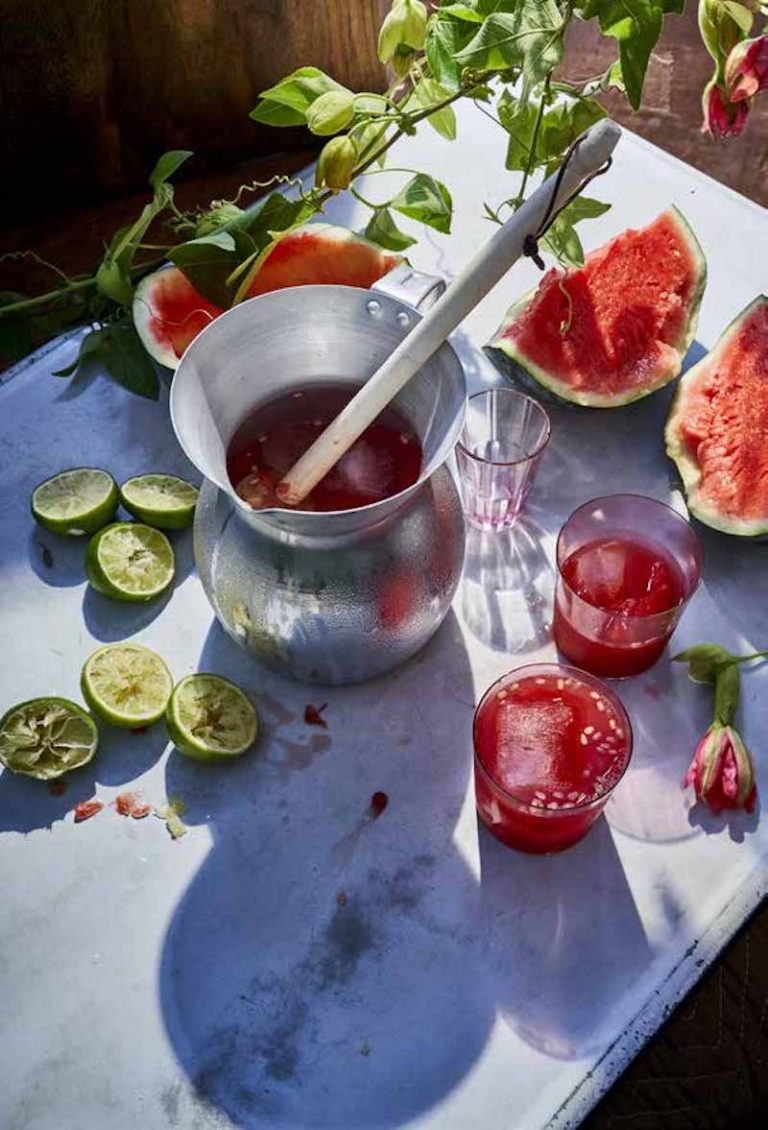 From the book COLOMBIANA by Mariana Velásquez. Copyright © 2021 by Mariana Velásquez. Published by Harper Wave, an imprint of HarperCollins Publishers. Reprinted by permission.
Photos by Gentl & Hyers.
Categories
dairy-free, gluten-free, nut-free, vegan, vegetarian
---
Ingredients
24 cups watermelon

chunks (1 medium watermelon)

1 cup freshly squeezed lime juice

6 cups ice

8 cups ice cold club soda
---
Instructions
Place the watermelon, lime juice, and ice in a large pitcher. Using a wooden spoon, stir and partially muddle the watermelon. Refrigerate for at least 30 minutes. Right before serving, top with the club soda and serve in ball glasses with a spoon.