"Though a whole roasted bird is traditional, l think that a turkey breast rolled up with stuffing is hands-down the most flavorful way to serve the bird on Thanksgiving. I ask my butcher to debone and butterfly the turkey so that the hard part's done before I bring it home. If you'd like, prepare the stuffing the night before and keep refrigerated until thirty minutes before prepping the turkey." – Camille Styles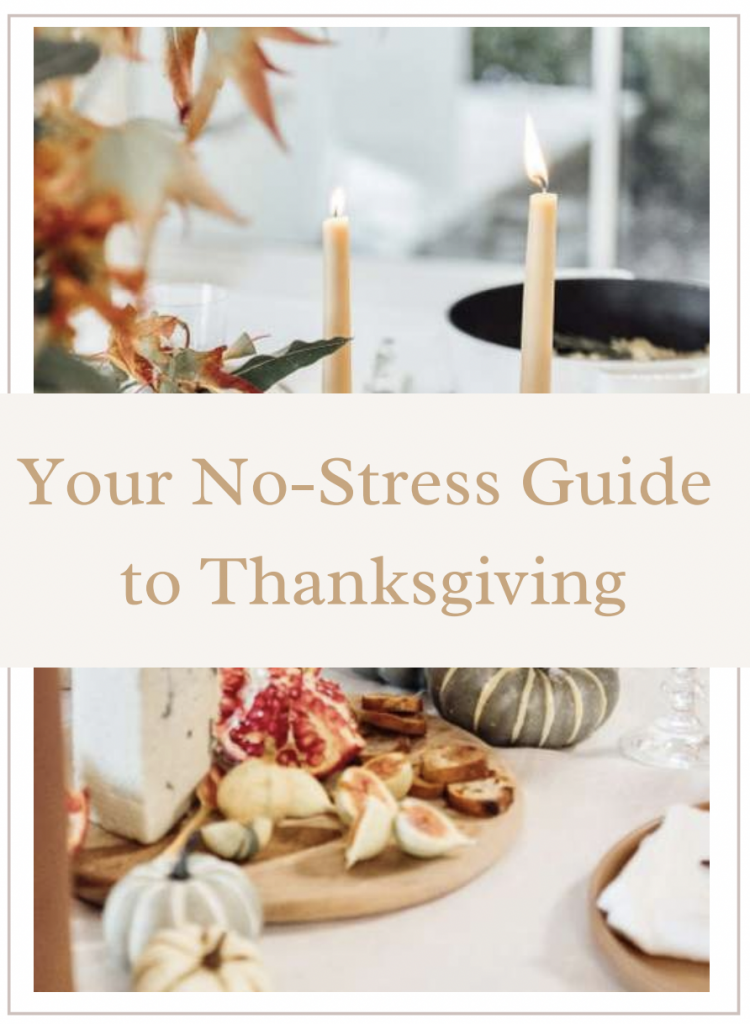 Subscribe
Free Guide to Thanksgiving
Sign up to receive a FREE E-BOOK with exclusive timelines, tips, recipes, playlists, place cards and everything you need for your Thanksgiving gathering.
Thanks for Signing Up!
Oops!
Looks like you're already signed up or your email address is invalid.
Oops!
Looks like you unsubscribed before click here to resubscribe.
---
Ingredients
1/2 cup dried cherries
1/2 cup port wine
2 T unsalted butter
1 sweet onion, diced
1 stalk celery, diced
1/3 pound sweet Italian sausage, casings removed
1/4 cup chopped pecans, toasted
1 T thyme leaves, stems discarded
2 cups herb-seasoned stuffing mix
kosher salt and freshly-ground black pepper
1 egg, beaten
1 cup chicken stock
1 whole turkey breast, deboned and butterflied
1/4 cup unsalted butter, melted
Herbes de Provence
---
Instructions
In a small saucepan, place the dried cherries, port and 1/4 cup water. Bring to a boil, then lower heat and let simmer for 3 minutes. Set aside to cool.
In a medium skillet, melt the butter over medium heat, then add the onion and celery. Sauté for 5 minutes until the onion begins to soften, then add the sausage. Cook, breaking it up with the back of a spoon, until browned and cooked completely through.
Add the pecans, thyme leaves and cherries with their cooking liquid. Let cook together for a few minutes, scraping up the browned bits from the bottom of the pan.
Transfer the mixture to a large bowl, then add the sausage mixture, egg, chicken stock 3/4 teaspoon salt and several grinds of black pepper. Stir everything together until stuffing mix is moistened.
Preheat oven to 375 degrees. Place a baking rack over a foil-lined baking sheet. Unfold the turkey onto a cutting board with the skin side down. Sprinkle with kosher salt and pepper, then spread stuffing in an even layer, about 1/2" thick, all over the meat being careful to leave a small border on each side so the stuffing doesn't overflow when it gets rolled up.
Starting from a long end, roll the turkey into a tight cylinder. Cut 6-inch lengths of kitchen twine, and use to tie around the turkey at 3-inch intervals to hold it all together. After the turkey is rolled, carefully tuck any stuffing that escaped back into the turkey.
Place the turkey, seam side down, onto the baking rack. Brush with melted butter and sprinkle generously with salt, pepper and Herbes de Provence. Roast for 1 hour, then decrease cooking temperature to 325 degrees and roast for 1 more hour. The turkey is ready when a thermometer inserted into the center registers 150 degrees F.
Remove from oven, cover with foil and allow to rest for 10 minutes before carving. Transfer to a platter or cutting board, garnish with lots of herbs and slice into 3/4-inch thick slices.
Bits of Brilliance: This recipe makes more stuffing than will fit in the bird (and your guests are sure to want a bit scoop of it on their plates) so pack the remaining stuffing into its own oven-safe dish, then cook for the last hour with the turkey at 325 degrees and serve on the buffet.