Spring is brunch season, amiright? There's something about sunshine-y Sunday mornings that make me look for any excuse to throw a blanket down on the grass, pour a mimosa, and (especially during non-covid times) invite a few friends to join. Plus, I've already got menus on the brain for brunch-centric holidays, like Easter and Mother's Day, that is just around the corner. As much as I love avocado toast and adore waffles when it comes to low-key brunch menus for a group, it's hard to beat a classic salmon lox bagel board. The typical accouterments (capers, red onion, cream cheese, tomatoes) are classics for a reason—and the ease of setting out a build-your-own bagel board makes it stress-proof.
This might be controversial, but you know my least favorite part of the equation? The actual bagel. Maybe it's because Austin isn't exactly known for their bagel offerings, but I would take a good piece of toast with all the toppings in a heartbeat. This is what inspired today's twist:
My Everything Bagel Smoked Salmon Flatbread With Lemony Cream Cheese takes all my favorite components of a salmon lox situation and serves it on a crispy yet chewy, perfect-for-sharing flatbread.
Let's talk crust.
For this one, I used a store-bought ball of pizza dough to make it super easy. All that's left to do is bake until golden and crispy on the bottom, then add your toppings. Of course, what really makes this over-the-top delish for a gathering is the everything bagel seasoning that coats the outside of the crust and makes every single bite packed with flavor.
Other options for your base? Naan bread works great, and even pita bread could be fun. Just brush a little olive oil around the edges, sprinkle with everything bagel seasoning, then pop it in the oven until golden brown.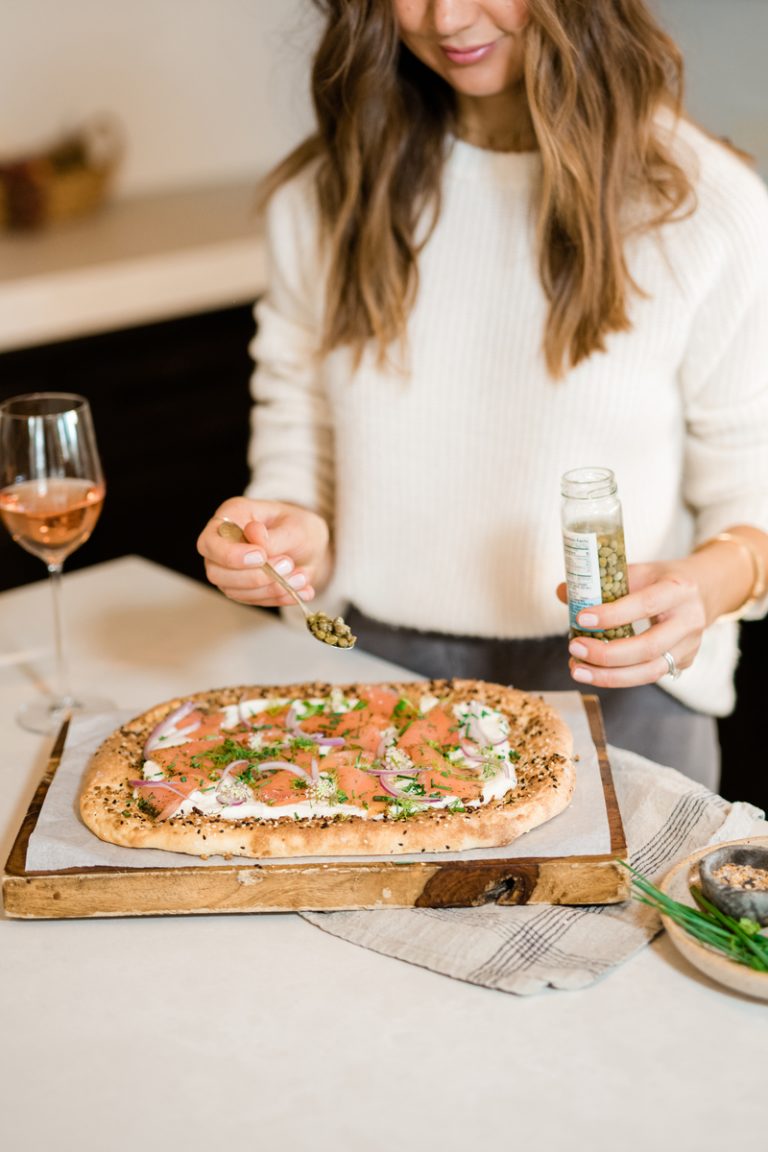 Smoked salmon flatbread versus bagels and lox.
One thing I love about smoked salmon in the flatbread version is that it allows you to layer the perfect flavor combo in every single bite. Plus, if this is served a first course or one element of a larger brunch spread, you can cut it into smaller pieces that won't be quite as filling as an entire bagel situation that's kind of a meal in and of itself.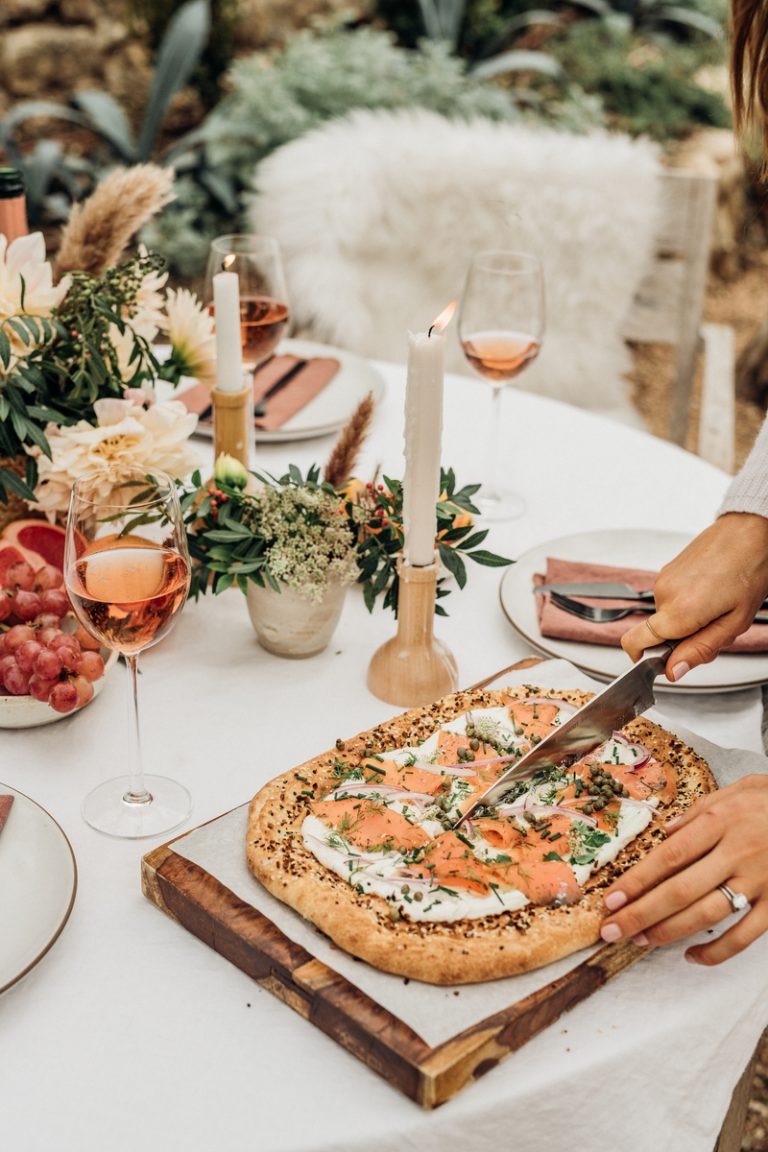 So, what is lox, and what is it usually served with?
Lox is salmon that's been cured, smoked, or brined in salt and other spices. Basically, it's "cooked," or preserved, using methods other than traditional cooking. It's a Yiddish term, though in Scandinavian countries it's known as gravlax. 
The traditional accompaniments to lox include bagels with cream cheese, plus toppings like tomatoes, capers, sliced onions, and cucumbers. It's a pretty perfect combination—like, I could eat this every weekend and never ever get bored.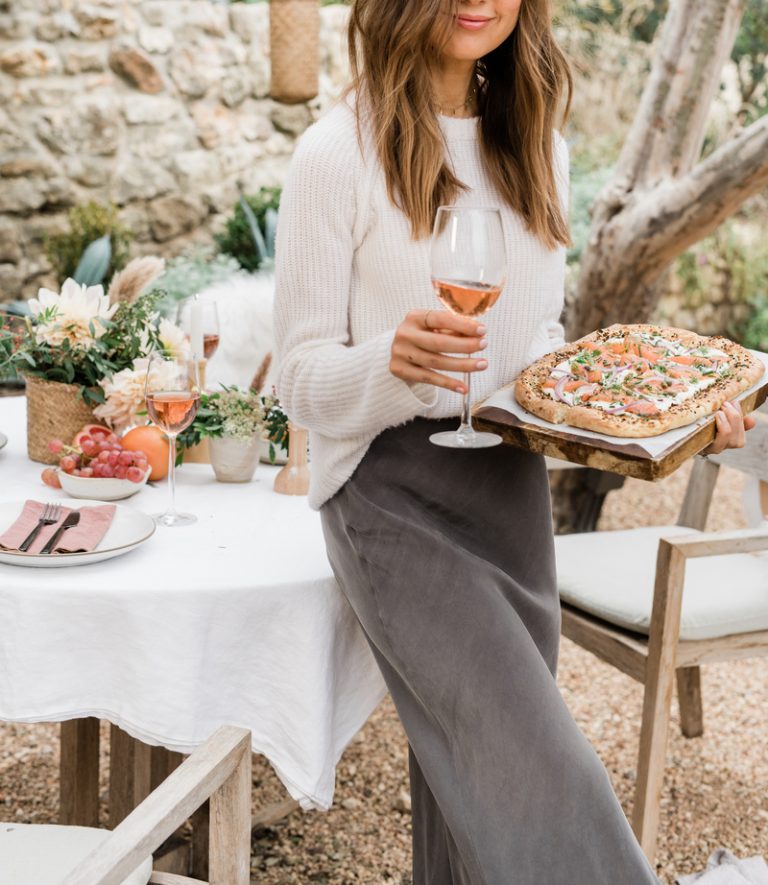 This smoked salmon flatbread isn't traditional lox, but it is the perfect brunch centerpiece for just about any spring gathering. A big green salad is a must on the side, and if you want a heartier spread, pair it with my go-to frittata or a bowl of scrambled eggs.
Scroll on for the recipe, and if you give this one a try, don't forget to rate, leave a comment, and tag @camillestyles on Instagram!
---
Ingredients
1 ball of pizza dough (or pre-cooked naan bread, flatbread, or pita - see blog post for instructions)
extra-virgin olive oil
2 garlic cloves, chopped
1 - 2 tablespoons everything bagel seasoning
4 - 6 ounces smoked salmon, sliced thinly
1/4 red onion, thinly sliced (I sometimes use a mandoline to get slices paper thin)
2 tablespoons capers
fresh herbs of your choosing, chopped: I used dill, chives, and edible flowers
for the lemony cream cheese:
1/4 cup cream cheese, room temperature
1/4 cup sour cream, room temperature
zest and juice of 1 lemon
1 teaspoon minced chives
---
Instructions
Preheat oven to 350 degrees. Dust a cutting board and the dough with flour, then use your hands to stretch the dough into a rectangle. Transfer to a parchment-lined baking sheet.
Brush with olive oil, then sprinkle the garlic all over the dough. Sprinkle the everything bagel seasoning all around the outer crust edge. Bake for about 10 minutes, or until golden brown and crispy on bottom.
Meanwhile, make the Lemony Cream Cheese by combining all the ingredients in a small bowl. Mix well with a fork.
Remove from the oven and let cool. Top with Top with Lemony Cream Cheese mixture, salmon, fresh herbs, onion, and capers. Slice and eat!