This sonic cocktail recipe was part of our Tastemakers interview with Valerie Rice. Get the other recipes and read the full story here! 
Says author and chef Valerie Rice:
"I hope the Brits don't mind my suggesting half tonic and half soda water for this cocktail. It's so light and delicious and has less sugar. Rum, gin, vodka, and white port all work beautifully in a sonic, but my favorite is white port, which adds a wonderful richness and is an awesome less-alcoholic option for day drinking (you're welcome). These days, most bottle shops carry a good range of organic tonics made without high-fructose corn syrup – make the switch!"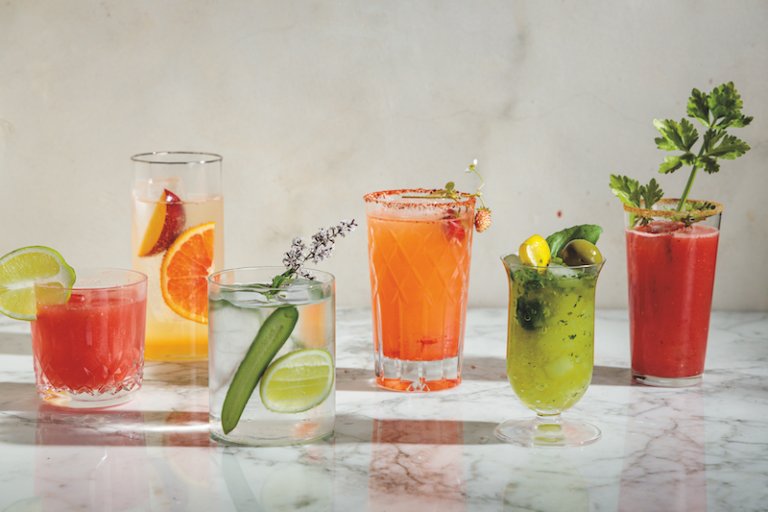 Reprinted with permission from Lush Life: Food & Drinks from the Garden by Valerie Rice, Prospect Park Books 2021
Photo credit: Gemma and Andrew Ingalls
Categories
vegan, vegetarian
---

Ingredients
4 ounces (1/2 cup) gin, vodka, or white port

2 ounces (1/4 cup) chilled sparkling water

2 ounces (1/4 cup) chilled tonic water 

2 lime slices, 2 cucumber spears, 2 sprigs lemon verbena (garnish)

2 plum wedges and 2 orange wedges (garnish) 
---
Instructions
Fill 2 glasses with ice. Add gin, vodka, or port, sparkling water, and tonic water, dividing equally. If using gin or vodka, garnish with lime, cucumber and lemon verbena. If using port, garnish with plum and orange wedges.