I'll never forget the first time I tried gnocchi. It was a small, dimly lit trattoria in Florence. I was a college student on my first trip to Italy, soaking up every sight, sound, and taste, with wide-eyed wonder that such a magical place could exist. The pillowy handmade pasta was like nothing I'd tried before, somehow both light and incredibly nourishing all at once. It was a meal that oozed comfort and care, and it left an indelible impression in my memory.
Every fall, I return to those comforting flavors of pasta paired with brown butter and sage. For a recent dinner party I hosted to celebrate the changing seasons, I made an especially autumnal version with sweet potato gnocchi. It really doesn't get cozier than this for a simple weeknight at home or a special occasion with friends. Read on for how this sweet potato gnocchi with brown butter and sage comes together.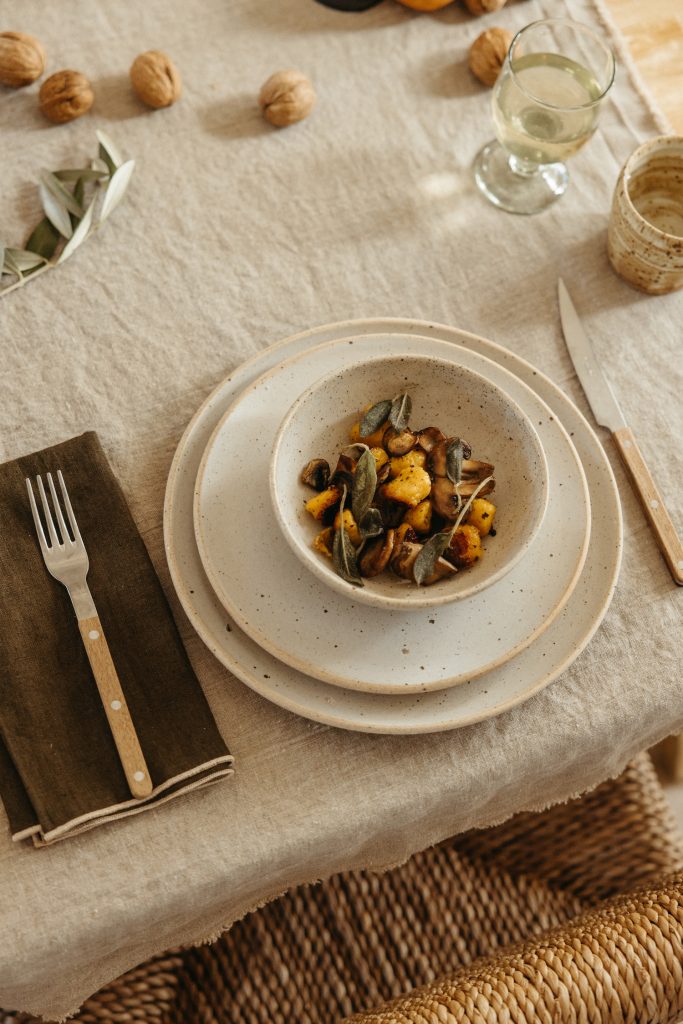 Store-Bought vs. Homemade Sweet Potato Gnocchi
First, the big question—is it hard to make gnocchi by hand? The answer is that it's actually quite simple, but it does take some time and patience. That's way I'm sharing how to make this recipe using store-bought sweet potato gnocchi (Trader Joe's makes the best, in my opinion)—and I'm also sharing how to make gnocchi from scratch if you're so inclined.
I'm a big believer that preparing delicious food should also be stress-free, so if you have the time on a weekend for a fun little project, by all means, relish in the process of forming the gnocchi by hand. For those nights when you want comfort served fast? Grab a bag of the frozen goods and don't feel the slightest bit guilty.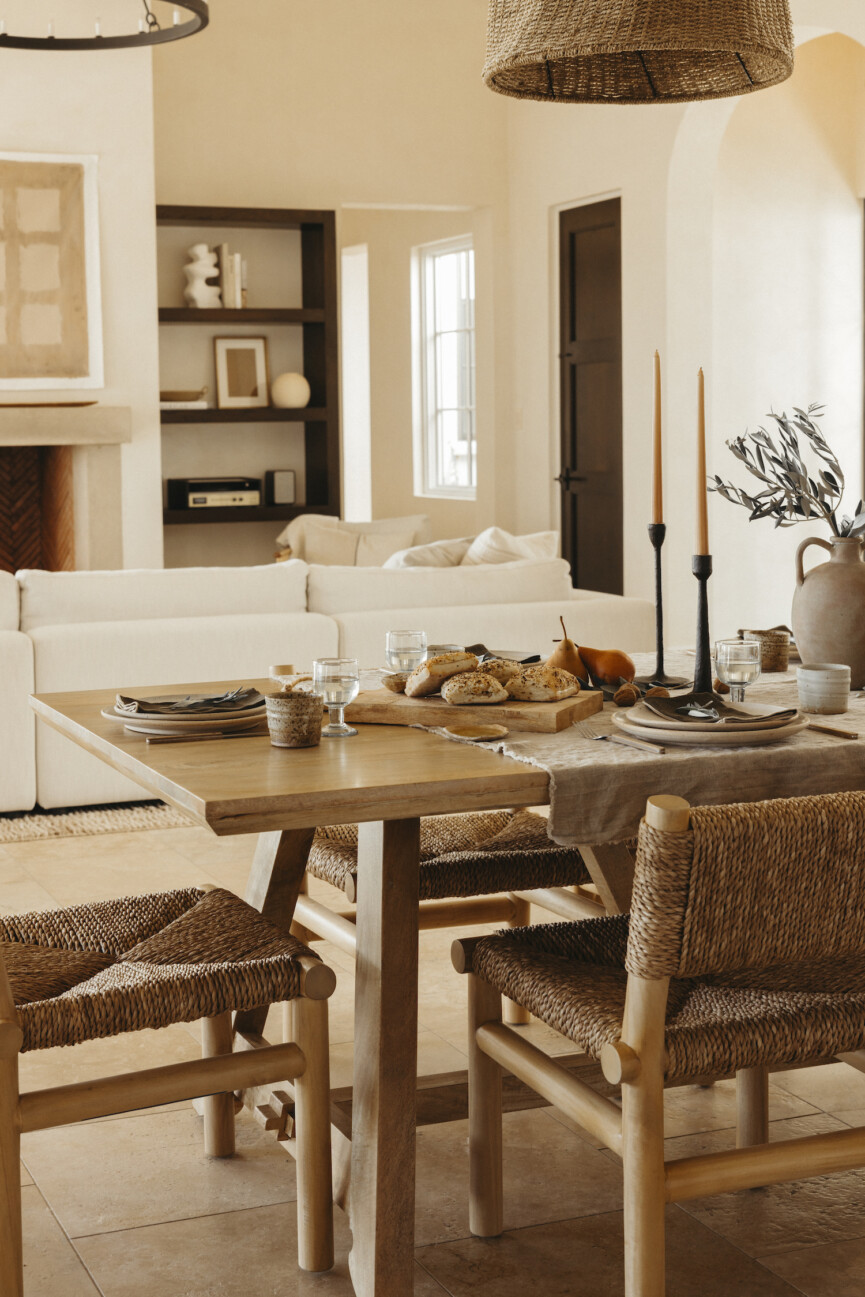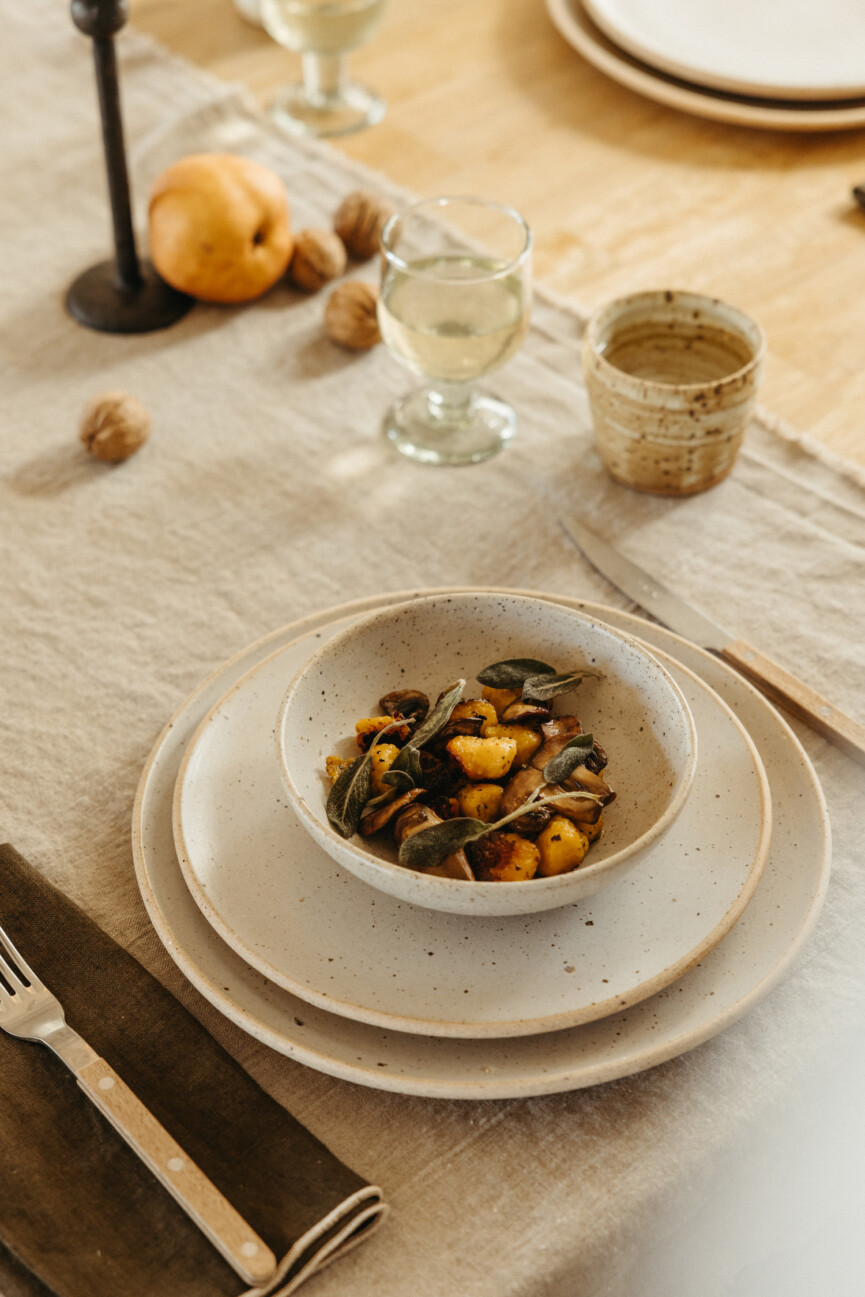 How to Pan-Fry Gnocchi
Pan-frying is my preferred way to make any type of gnocchi, as it yields that slightly crispy golden brown crust with a fluffy interior. Here are my tips for getting perfect pan-fried gnocchi every time:
Use a non-stick skillet. This is a must to ensure that golden brown crust doesn't stick to the pan. These days, there are plenty of non-toxic options for non-stick—I usually use ceramic.
Get the pan really hot. Preheat the pan to medium high, then add half olive oil, half butter to evenly coat the bottom. The olive oil raises the smoke point so the butter doesn't burn, and the butter adds delicious, nutty flavor.
Lay your gnocchi in a single even layer so that each gnocchi makes contact with the skillet. This is how you get that sear. If you're making a lot, you may have to do this in multiple batches.
Carefully flip it. After about three minutes, check to see if the gnocchi is turning golden brown on the first side. If it is, use a fork or spoon to carefully flip each gnocchi to the other side. You want to try to leave as much of the "crust" on each gnocchi as possible.
Don't overcook. Let gnocchi cook on the second side for about three more minutes until warmed through and golden on both sides. Then you're ready to add any other ingredients, sauces, herbs, or spices.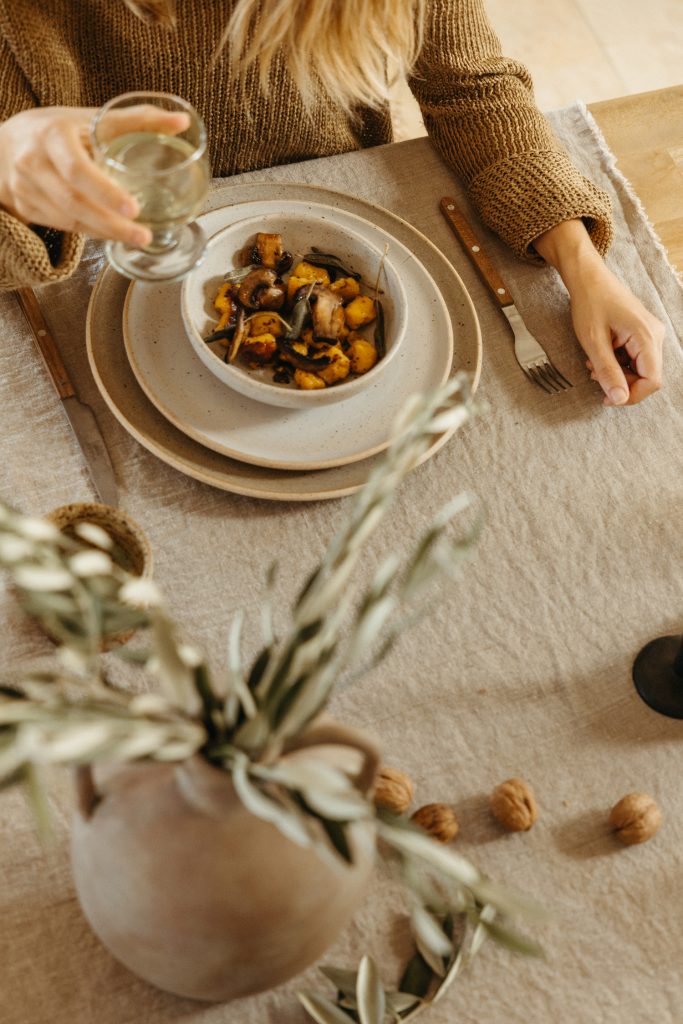 The Flavor Enhancers
Gnocchi is a perfect canvas for so many ingredients, from slow-roast tomatoes to basil pesto to a simple handful of fresh herbs. For this recipe, I wanted to really lean into fall flavors, so I first prepared a simple sauté of wild mushrooms, did a quick fry of some sage leaves (I promise it's simple), and drizzled brown butter over all of it. I have to say—this is probably my favorite gnocchi ever.
Read on for the recipe, and be sure to hop over to the fall nature-inspired dinner party I hosted with Casa Zuma, Woven, Martha Stoumen Wines, SriMu Cheese, and Sweet Laurel Bakery. We share the deets the full table setting, what we poured, and the delish (gluten-free and vegan!) pies we devoured for dessert.
Print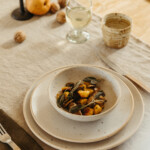 Sweet Potato Gnocchi with Wild Mushrooms, Brown Butter, and Sage
---
Author:

Total Time:

20 minutes

Yield:

2

servings

1

x
Description
This cozy sweet potato gnocchi recipe celebrates fall flavors—and you can make it with store-bought or homemade gnocchi.
---
1

bag frozen sweet potato gnocchi (or see the homemade gnocchi recipe, below)
Extra-virgin olive oil

3 tablespoons

butter, divided

2

cups

sliced mushrooms—I like to use a mix of wild mushrooms, but any will do

12

fresh sage leaves
Kosher salt and freshly ground black pepper
Flaky salt for serving
---
Instructions
Remove the sweet potato gnocchi from the freezer (or make fresh gnocchi using recipe below). Set aside.
Heat a large sauté pan over medium heat, then add 1 tablespoon of butter and a drizzle of olive oil to coat the pan. Add the mushrooms and cook, stirring occasionally, until very tender (about 7 minutes). Season with salt and pepper, and transfer to a bowl.
Wipe out the pan, then melt a tablespoon of butter and another drizzle of oil. Test the heat by adding a drop of water to the pan—if it sizzles, it's ready. Add the fresh sage leaves in an even layer and fry for about a minute, then use a slotted spoon to transfer the sage to a paper-towel-lined plate.
Wipe out the pan again, then add the remaining tablespoon of butter to the pan. When it's melted, add the gnocchi in an even layer.
Cook for about 3 minutes, then check to see if it's golden brown on the first side. If so, use a fork or spoon to carefully flip each gnocchi, leaving as much of the crust intact as possible.
Cook for about 3 minutes on the second side until the gnocchi is warmed through. Add the mushrooms back into the pan and toss together.
Transfer the gnocchi to two bowls, then top each with fried sage leaves, a pinch of flaky salt, and a drizzle of olive oil if desired. Enjoy!
Prep Time:

10

Cook Time:

10
Keywords: Sweet potato gnocchi, pasta recipe
Print
Homemade Sweet Potato Gnocchi
---
Author:

Total Time:

35 minutes
Description
If you want to make your gnocchi from scratch, here's the simple method. This is a really fun way to get in the kitchen with friends and family and cook together.
---
1

large sweet potato

1

cup

whole milk ricotta

1/4

cup

Parmesan cheese, grated

1 teaspoon

salt
several grinds black pepper

1 1/4

cup

flour (all-purpose or gluten-free)
---
Instructions
Preheat the oven to 425. Wrap the sweet potato in foil and bake for about an hour, until very tender.
Scoop the sweet potato flesh into a large bowl (discard the skin), then add the ricotta, Parmesan, salt, and pepper. Use a fork to mix well until it's all smooth. Add the flour 1/2 cup at a time, kneading gently after each addition.
When the dough is easy to handle, transfer to a floured work surface and form into a 9-inch loaf. Cut off a 1-inch slice from short end, then roll and stretch the slice into a rope. Cut the rope into 1-inch segments and transfer to a bowl.
Bring a large pot of water to boil, add the gnocchi, and boil until the gnocchi rises to the top of the water. Drain and toss with a drizzle of olive oil. You're done! Now you can either proceed with the rest of the recipe—or you can refrigerate or freeze the gnocchi to use later.
Prep Time:

30

Cook Time:

5

Category:

Gnocchi, pasta