Is there anything more satisfying than a bowl of freshly cooked pasta? Twirling angel hair made savory with a creamy sauce or fresh olive oil is skin to heaven on a plate—a sensory overload. And since no one does the dish better than Italy, we rounded up a few of the best Italian pasta recipes from a variety of regions, made simple by some of our favorite chefs and food bloggers. Here, you'll find cold, refreshing dishes and cheesy indulgences, with a few vegan, gluten-free, or simply lighter takes on comforting favorites.
And if you want to truly do as the Italians do, source your ingredients thoughtfully. There's a reason you feel less sluggish after eating all the pizza and pasta you want in Rome or Venice—the country's crusts and noodles are carefully farmed and harvested with little tampering (and pesticides). Stop by a locally owned Italian specialty shop, or grab the goods from your nearest farmers market to elevate your dish.
Now pour yourself a Negroni or an Aperol Spritz (or both!) and dig in.
Why We Love It: This exceedingly simple dish is low on ingredients and high on taste. You literally only need 20 minutes and four things: pasta noodles, butter, fresh black pepper, and cheese. Think of it as a more sophisticated mac and cheese. The only trick: you have to serve it immediately to avoid the dreaded clumping.
Hero Ingredient: It's a hard choice between butter and cheese for this one, but we'll go with the latter—as long as it's freshly grated.
Why We Love It: With a few fresh updates from The Defined Dish's Alex Snodgrass, the beloved Italian dish feels a little lighter and more well-rounded.
Hero Ingredient: Springtime veggies, like English peas and fresh asparagus, help set this traditional dish apart.
Why We Love It: Ah, the joys of one-pot pasta. There's magic in the simplicity of throwing everything into a deep dish at once—and, of course, the minimal dish cleaning. Take the energy you'd spend straining or sautéing and focus it on stirring this complex (in flavor, not execution), creamy dish.
Hero Ingredient: For those with celiac, Cassy Joy Garcia tested her one-pot Italian pasta recipe with gluten-free Jovial brown rice spaghetti.
Why We Love It: Speaking of the one-pot craze, why not apply the ease of the single-dish recipe to another Italian favorite: Fettuccine Alfredo. Requiring only a handful of ingredients (most of which are easy to keep on hand), it's the perfect meal to whip up for something fulfilling after a long day.
Hero Ingredient: For a lighter take on the comforting dish, Spoon Fork Bacon's Jenny Park swapped heavy cream for a mixture of milk (full or partial fat) and chicken stock.
Why We Love It: If you've experienced the magic of perfectly in-season heirloom tomatoes, you know the value in a recipe that truly taps into their power. This simple dish puts the flavorful fruit front and center, with plenty of thoughtful seasoning.
Hero Ingredient: Heirloom tomatoes, which really do taste better.
Why We Love It: The simple dish is distinguished for its tart, creamy lemon sauce, but also its cheesiness. The Minimalist Baker doesn't shy away from a vegan version—the perfectly lemony dish gets a topping of vegan parmesan cheese and red pepper flakes. It's a perfect springtime dish.
Hero Ingredient: It has to be the lemons. This Italian pasta recipe's creamy, cashew-based sauce features just the right amount of tartness and acidity.
7 of 14
Why We Love It: Inspired by Stanley Tucci's pasta-filled Searching for Italy series on CNN (so charming), Camille Styles food editor Suruchi Avasthi tackled this recipe, which the actor learns to make along the Amalfi Coast. Made using simple ingredients cooked with care, the flavorful, fried zucchini-filled dish helped ease her wanderlust, if only for an evening.
Hero Ingredient: This pasta is all about the zucchini (even the sauce is made with it). Avasthi sautés her veggies with shallots and garlic for crispy perfection.
Why We Love It: A spicy take on the comforts of linguine and clam sauce, this easy-to-whip-up dish uses a little bit of rosé and as many little shelled gems as your heart desires. It's an Oliver recipe, so it's as healthy and approachable as you'd expect.
Hero Ingredient: Spreadable 'nduja is surprisingly easy to track down (check Whole Foods or Amazon), which is a very good thing because it's *chef's kiss.*
Why We Love It: Forever a crowd-pleaser, a big bowl of Italian pasta salad will always be a summer staple. And though it's often relegated to a side dish, it can steal the spotlight with the perfect mix of salty, savory, and fresh ingredients.
Hero Ingredient: Those killer little cubes of mozzarella are always a cold pasta salad highlight.
Why We Love It: There's a reason this dish is the most popular pasta at authentic Italian food emporium Eataly. In case you haven't yet mastered the art of silken egg tagliatelle (understandable), you can order the good stuff here—top it off you're your own meat-based ragù and no one will know the difference.
Hero Ingredient: Fresh eggs forever.
Why We Love It: The idea of Bolognese often equates to heavy. But swap your ground beef for lentils, and the comforting dish feels heartier than ever.
Hero Ingredient: We're going to give it to the lentils here.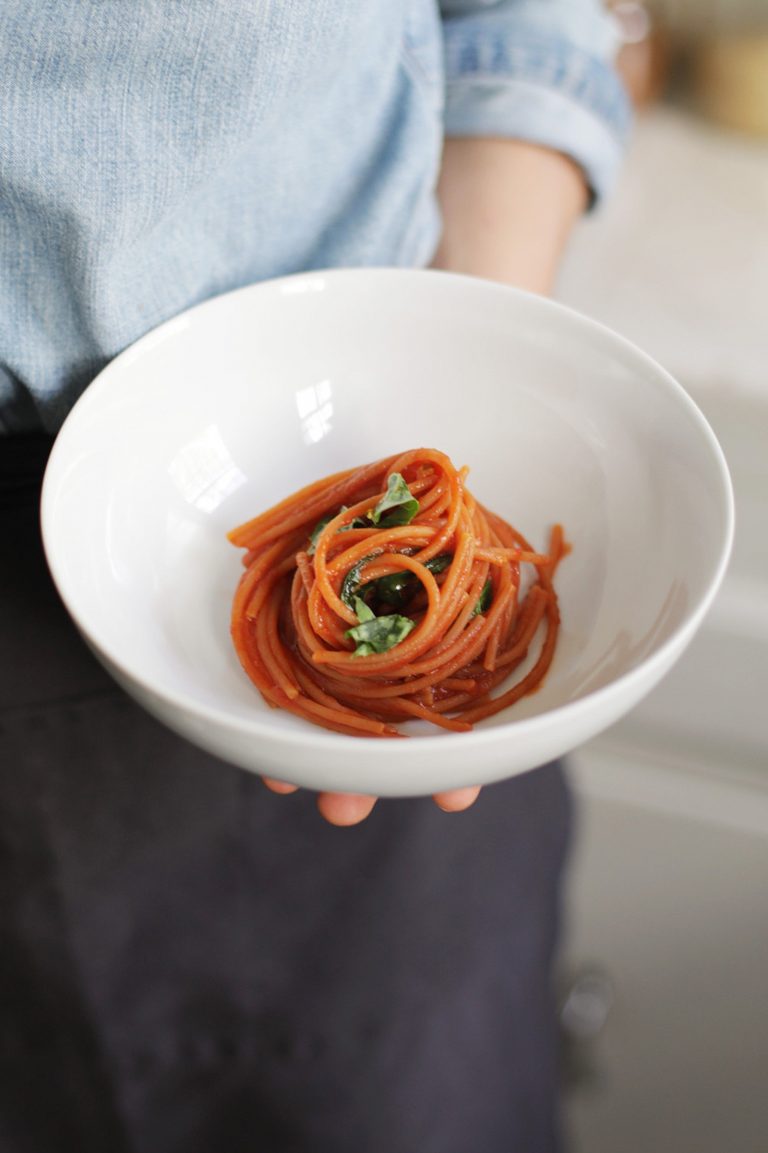 Why We Love It: Perfect for even the most novice chef, this authentic Italian pasta recipe puts the focus on perfecting the fresh tomato sauce. You know you've got it right when the balance of sweet and savory is just right.
Hero Ingredient: Fragrant crushed red pepper flakes put this dish over the top.
Why We Love It: Made with equal parts mushrooms, spinach, and spaghetti, this plant-friendly pasta makes eating your veggies tastier than ever. And with a dash of pine nuts and addicting capers, you'll want to return to this one again and again.
Hero Ingredient: The chestnut mushrooms are crucial.
Why We Love It: We're forever looking for ways to utilize summer tomatoes while they're in season. A less-is-more approach combined with a 10-minute cook time makes it the perfect summer dinner party recipe. Also, Camille learned it while taking a class in Tuscany, so you know it's good.
Hero Ingredient: Summer tomatoes picked straight from the garden will never be topped.