There are many things I love about food. The inherent ability of a few humble ingredients to showcase cultures from around the world, the unique and beautiful flavors that can surprise and connect us to each other, and the absolute joy that brings me to prepare a plate of food for someone as an act of love — to name just a few. Especially during this time when our travels have been grounded, I have loved the gift of food to transport us somewhere entirely new.
Over the last few weeks, I've been religiously spending my Sunday evenings watching Stanley Tucci on Searching for Italy. The limited food series on CNN has truly been a gift for my soul during this time. It has been a one-hour time block to indulge in a little wanderlust across Italy. Maybe it's the soulful way in which Tucci takes us across different regions in Italy, highlighting traditions and cultures behind some familiar foods from Italian cuisine while introducing us to some lesser-known (at least to me) regional specialties. He shows what makes the food-centric culture of Italy so special.
There were so many incredible dishes on the show that inspired my online search for recipes to replicate, and until I can make it to Italy myself, the one recipe that I immediately made was the Spaghetti all Nerano.
It's the same dish that Tucci learns to make from a chef on the Amalfi Coast at Lo Scoglio, and oh. my. gosh. y'all. I am already counting the days until I can visit Italy myself.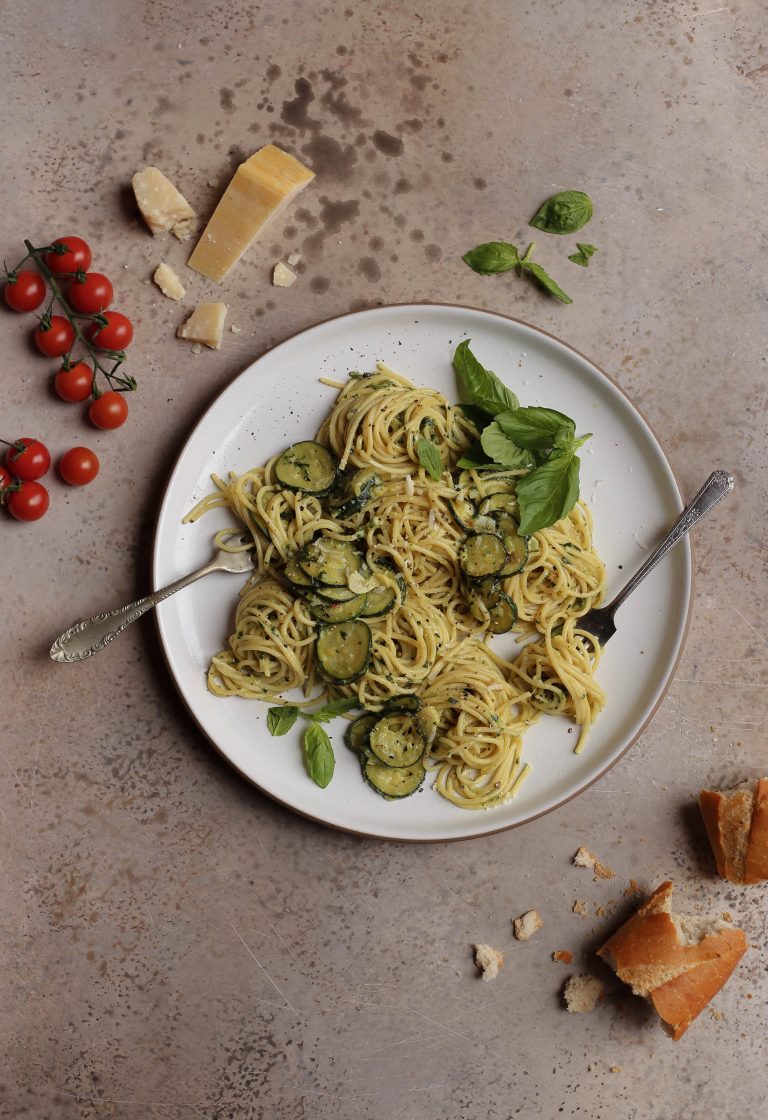 Before I side-step into a full-on television show review, let's talk about this dish. The one thing I really enjoyed learning about on Searching for Italy was the inherent emphasis on simple ingredients that when treated well, gift you with something magical, and how the joy and care put into a dish can really make all the difference. So often we're rushing to get dinner on the plate without truly experiencing the process or the care of the ingredients, and I want to get better at this.
After doing some research—okay, more like going down the rabbit hole on pasta dishes on the internet—I came across a column from Emiko Davies, who has lived in Italy for over a decade and talks specifically about this dish. "This pasta dish is an example of how little Italian towns and villages can have their own specialties, just like cities—where dishes speak not only to the traits of an area but also to a very specific time and place. While the beaches are one thing that brings people to Nerano, a tiny fishing village built into the mountains on the Amalfi Coast, so does this pasta with fried zucchini.

All the locals know the story: The legendary dish was invented in 1952 by Maria Grazia, who owned a restaurant in Nerano that bears her name (and where two of her grandchildren, Lello and Andrea, still work to this day). So many have tried to recreate this seemingly humble dish of pasta and local summer zucchini that it has become known as "Spaghetti alla Nerano" to distinguish it from any other spaghetti with zucchini.
So let's get to the recipe. First of all, my version of this dish is still probably a far cry from the Italian version, even with such a short list of ingredients. But I tried my best to emulate it the best that I could with what we have here.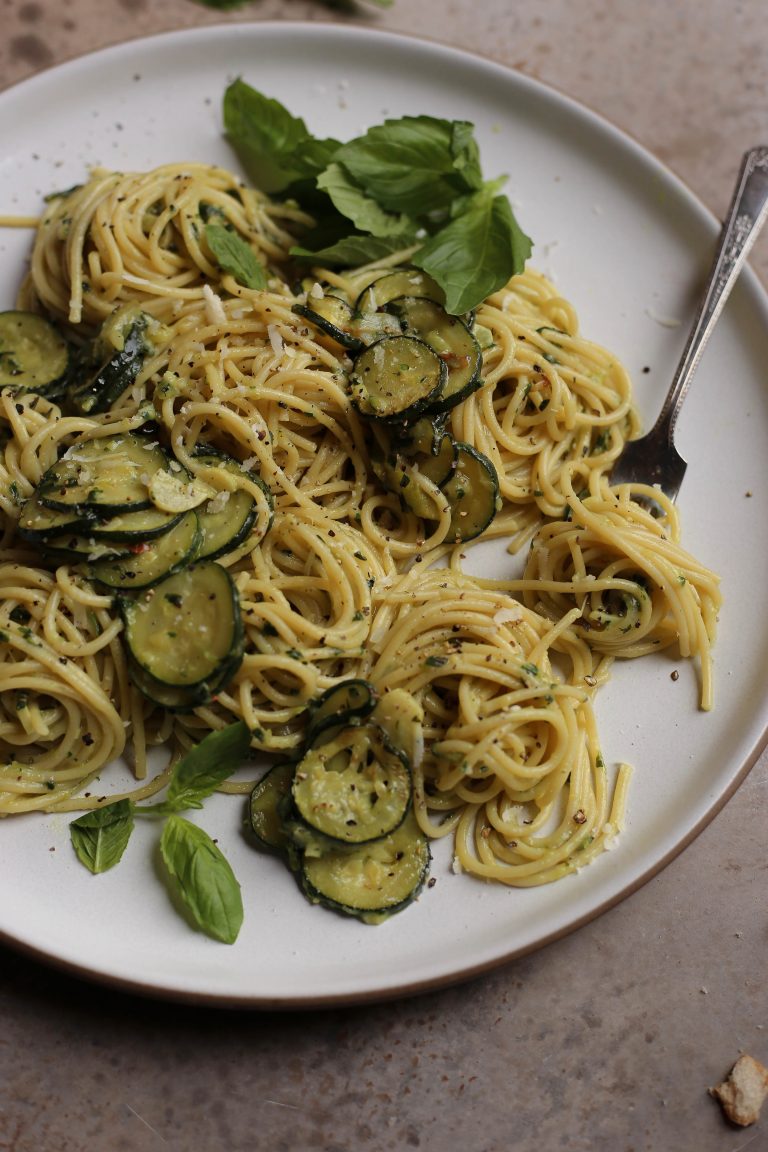 Because the dish is so simple, it's about getting the technique right. Even on the show, Tucci talks to the chef about how when he and his wife try to make the dish at home, it's still not quite as good as what they get at the restaurant. The chef shows them how the sliced zucchini has to be fried in lots of oil (literally a whole pot) until slightly crispy, then refrigerated overnight to soften them. The zucchini is then heated in a pan with cooked spaghetti, butter, and grated cheese to finish. Given that most nights I'm just looking for a 15-minute dinner and not wanting to wait overnight, I did take some liberties, which is why I mention that my version is still a few steps removed from the original.
While I welcome you to try the frying method mentioned above because it is delicious, I've been pan sautéing the zucchini slices with some shallot—not traditional—and garlic, until they take on just a shade of gold. You then take about a third of the zucchini and add to a blender with a little pasta water, and basil—also not traditional—for the sauce. Bring everything together with a pat of butter and some grated parm and you have a winner. Even my dad who is Mr. Picky Eater was a fan!
Although not quite the same as traveling to Italy, this plate of pasta was a close second. And even more so, I'm excited to continue peeling back the layers of Italy's regional cuisine to go further than just my favorite Neapolitan pizza (um, was that my favorite episode when Tucci got to try the freshest buffalo mozzarella and San Marzano tomatoes?). A few books I'm excited to dive into since the show just aired its last episode include Tasting Rome, Food of the Italian South, and Bitter Honey.
Just a reminder that cuisine is always more than meets the eye; that regionality and local makers are so much more than what we often think of as a monolith; and there are so many beautiful recipes to learn from. I hope you enjoy this dish as much as I did.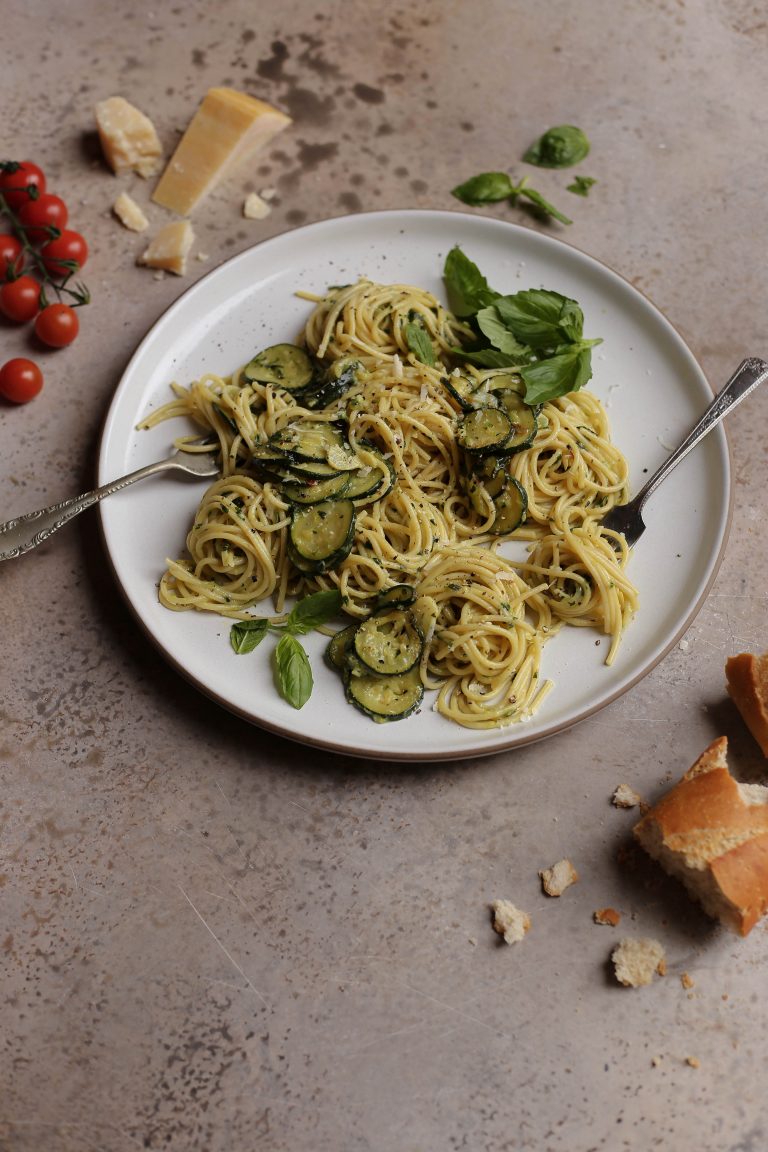 Loved this post? Pin this graphic to come back to it later.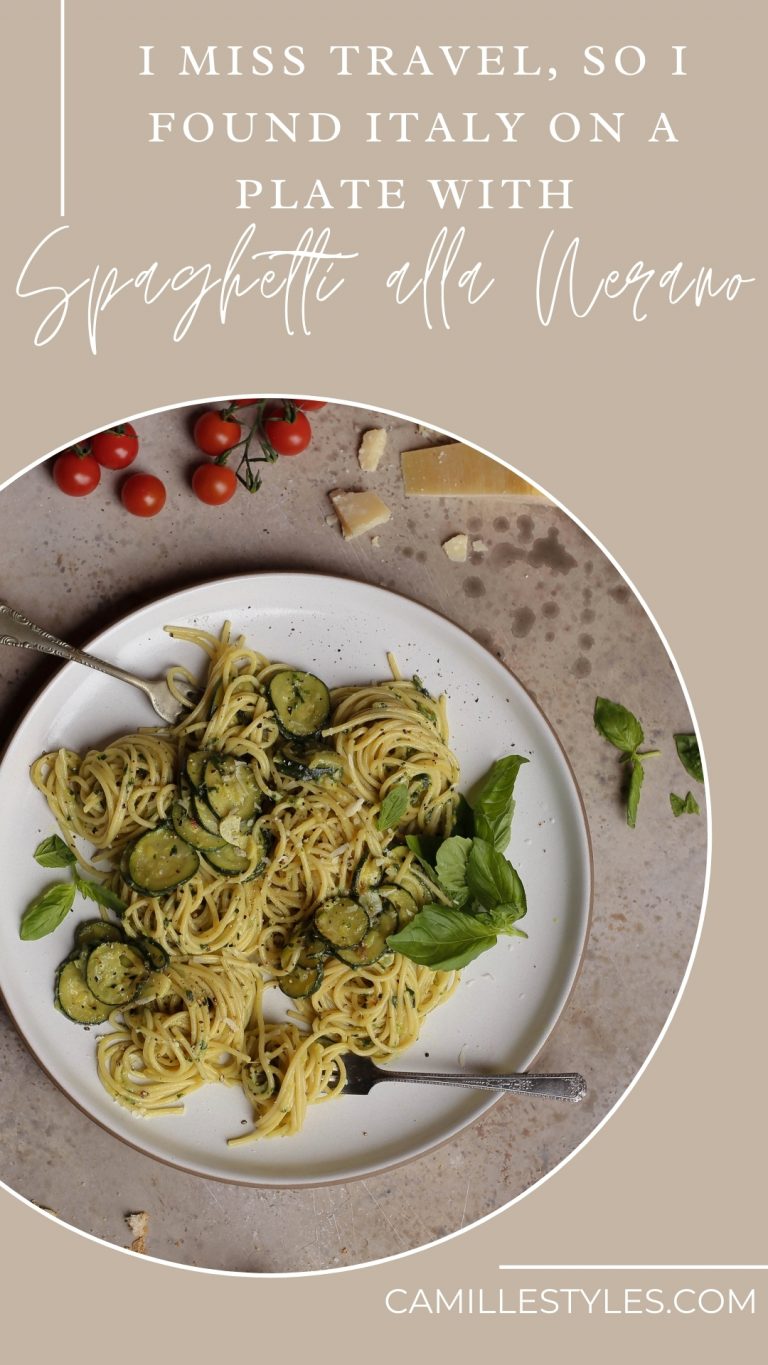 ---
Ingredients
2 zucchini, sliced
2 garlic cloves, sliced
1 small shallot, sliced
olive oil
salt and pepper
spaghetti
1 bunch of basil
1/3 cup of freshly grated parmesan, more for finishing
---
Instructions
 Slice two zucchini into thin rounds, set aside. Slice the garlic cloves and the shallot into thin rounds as well, set aside.
 Fill a large pot with water and set on the stove on high heat to bring to a boil. Remember to salt your pasta water!
 While you wait for the water to boil, add about 2-3 tbsp of olive oil to a large pan and set on medium heat. Once the oil starts to glisten, add the zucchini and shallots. Cook in an even layer, stirring occasionally so the zucchini takes on a little color and the shallot turns to translucent. Add the garlic.
When the water comes up to a boil, add a big handful of spaghetti, enough for 2-3 people. Cook per package instructions.
While the pasta cooks, bring your zucchini down to low heat. Add about 1/4 of the zucchini to a blender with 1/2 cup of pasta water, a bunch of basil, and a pinch of salt and pepper. Pulse together, you don't need this to be completely smooth. Set aside.
Drain the pasta, reserving about 1/2 cup of pasta water just in case you need it. Add the spaghetti to the pan with the zucchini and add the parmesan. Add the blended zucchini sauce.
Stir to combine.
Serve warm, top with extra salt, pepper, parmesan, and basil as needed.