Now is the time to dive fully into those cozy autumn ingredients. If you're a soup lover, can't get enough of casseroles, or wait all year long to indulge in a warm, seasonal pasta dish, your time has arrived. Squash, pumpkin, sweet potatoes and more are at their peak, just waiting to be enjoyed. To celebrate the season, we've rounded up some of our favorite vegetarian fall recipes, and each one is more mouthwatering than the next.
Fall is one of our favorite times of the year to enjoy vegetarian recipes. Not only is it a perfect time to help the body reset (post-summer indulgence, pre-holiday bliss) but the markets are overflowing with nutritious, nourishing, and absolutely delicious seasonal vegetables that are so satisfying. If you're already brainstorming the different ways to make use of them all, then bookmark these recipes because they make full use of every autumnal flavor.
Keep scrolling to enjoy these healthy, hearty, and joy-inducing vegetarian fall recipes. Even the most avowed meat-eaters will be digging in and coming back for seconds, so get ready to add them to your weekly rotation.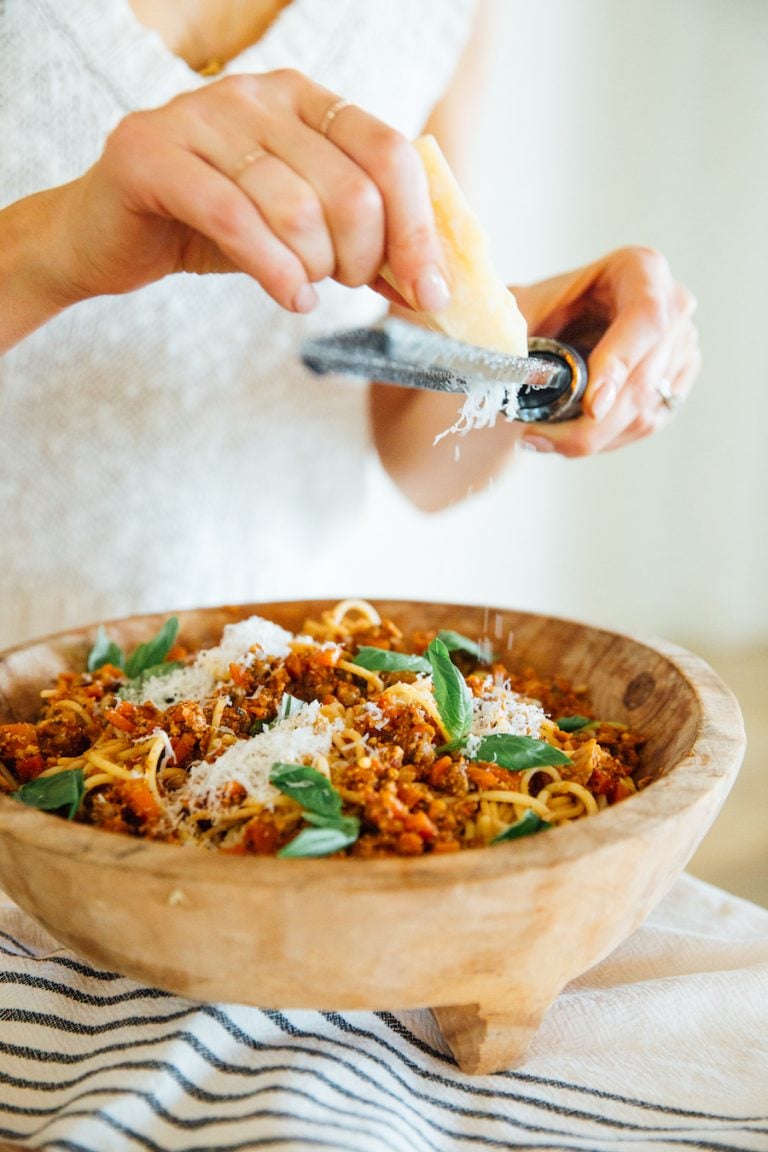 Vegetarian Pasta Bolognese
Why we love it: The veggies, herbs, and tomato sauce marinate together on the stove until it all gets a richness that's incredibly satisfying and almost meaty. Tons of freshly grated parmesan, basil leaves, and a sprinkle of flaky salt and freshly ground pepper make us want to dive right into this bowl.
Hero ingredient: Tofu is the best vegetarian ingredient for "scrambling" into something that shares the consistency of ground beef.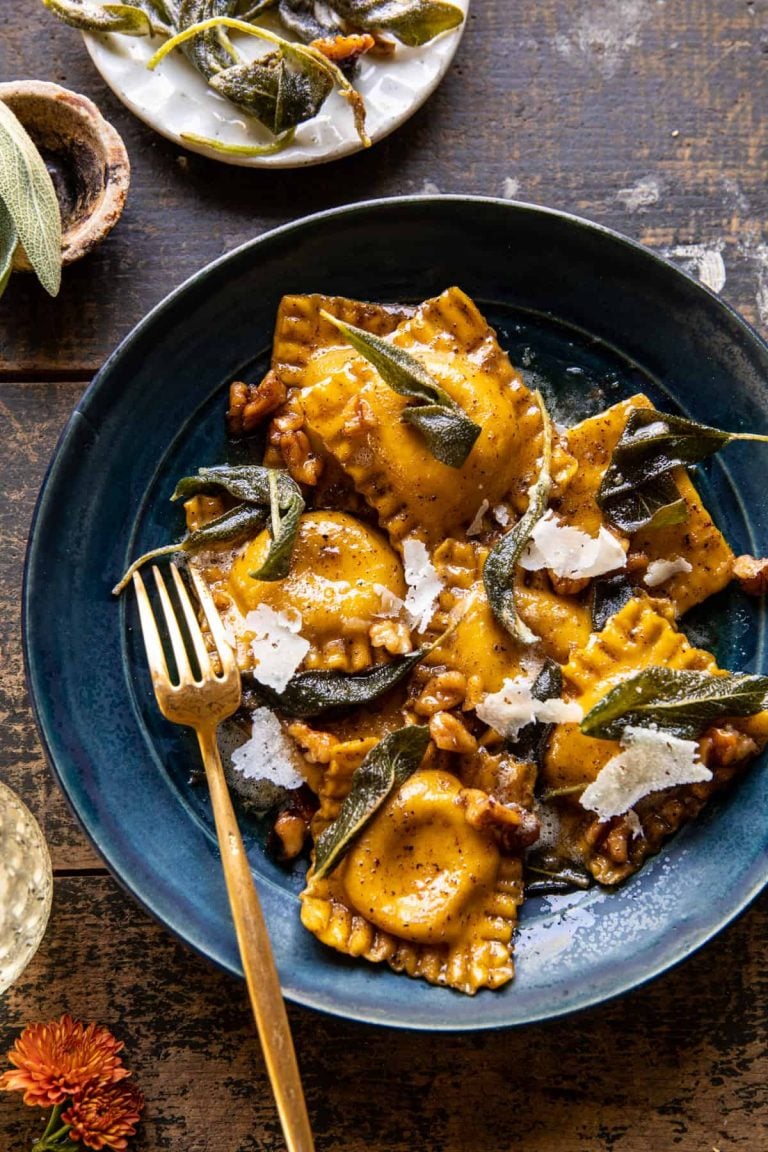 Sage Butter Pumpkin Cheese Ravioli from Half Baked Harvest
Why we love it: This is an easy 30-minute dinner that feels restaurant-quality. It's perfect for fall, and best for nights when you're craving something cozy, but want something quick and easy too.
Hero ingredient: A small amount of honey plays up the sweetness and is so delicious.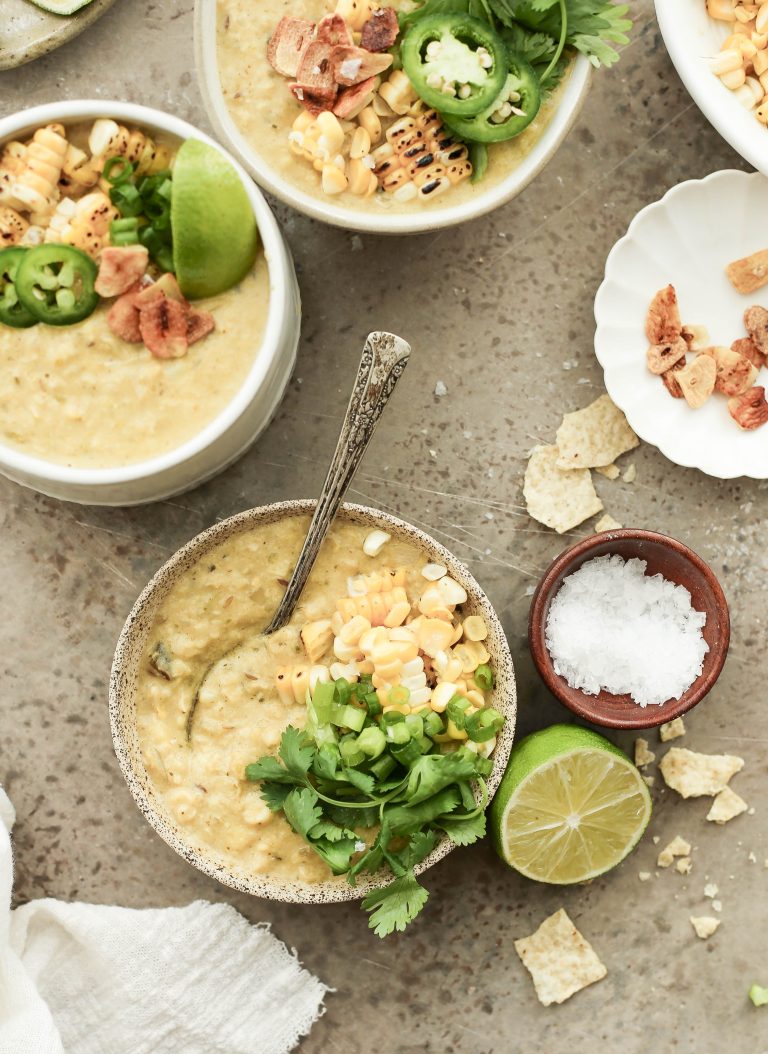 Spicy Vegan Corn Soup
Why we love it: This spicy vegan corn soup will be on weekly rotation for all of us. It is a one-pot wonder of a dish. Keep things vegan by using coconut milk to add creaminess and richness. The coconut flavor also compliments the sweetness of the corn while balancing out the heat a little bit as well.
Hero ingredient: Roasted poblano which is one of our favorite flavors in all things dips and soup.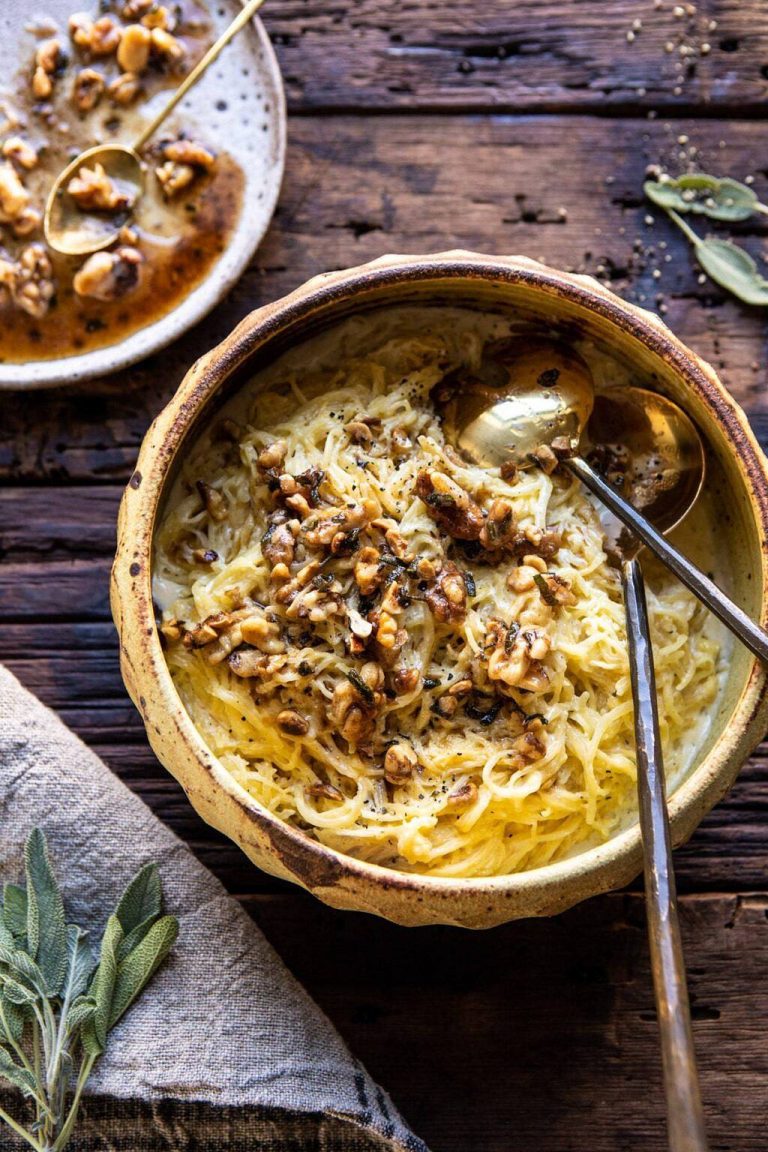 Creamed Spaghetti Squash With Browned Butter Walnuts from Half Baked Harvest
Why we love it: This is just the perfect make-ahead dish. It is an easy and delicious recipe that can double as a hearty side or vegetarian main course. Roasting the squash brings out its sweetness and turns the strands into buttery, luxurious goodness. Sounds too good to be true, but it's not.
Hero ingredient: Using goat cheese keeps the sauce creamy.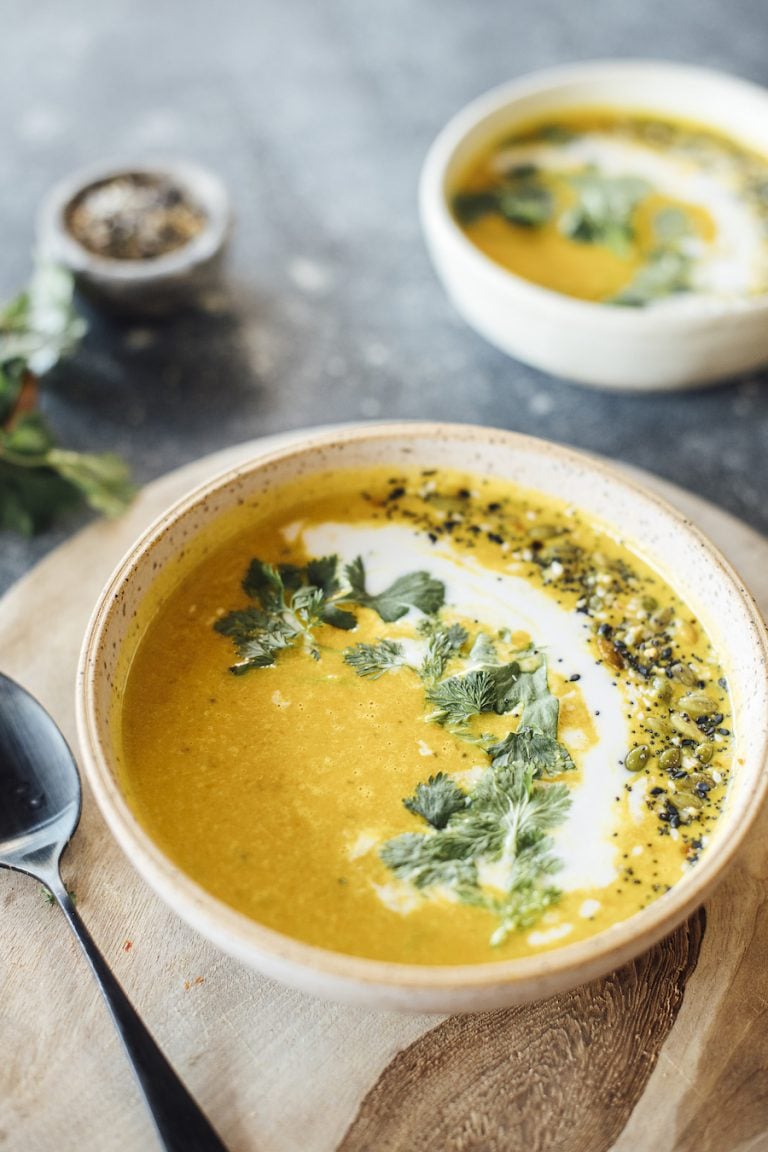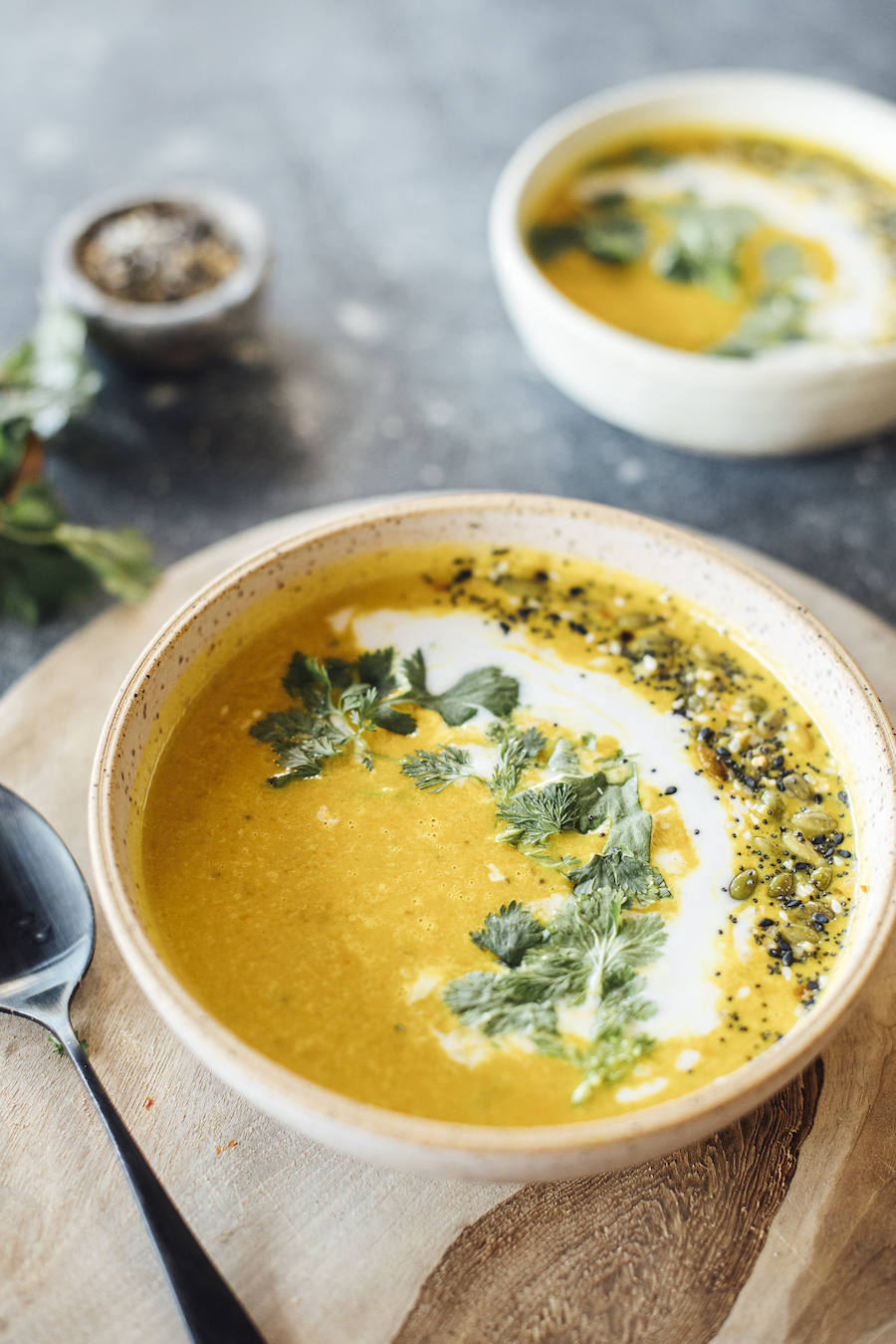 Vegan Butternut Squash Soup
Why we love it: This flavor-packed soup is incredibly healthy, creamy, and satisfying. It doesn't get much better than that. Warming spices give the soup an unexpected depth of flavor.
Hero ingredient: Coconut milk adds the perfect amount of richness.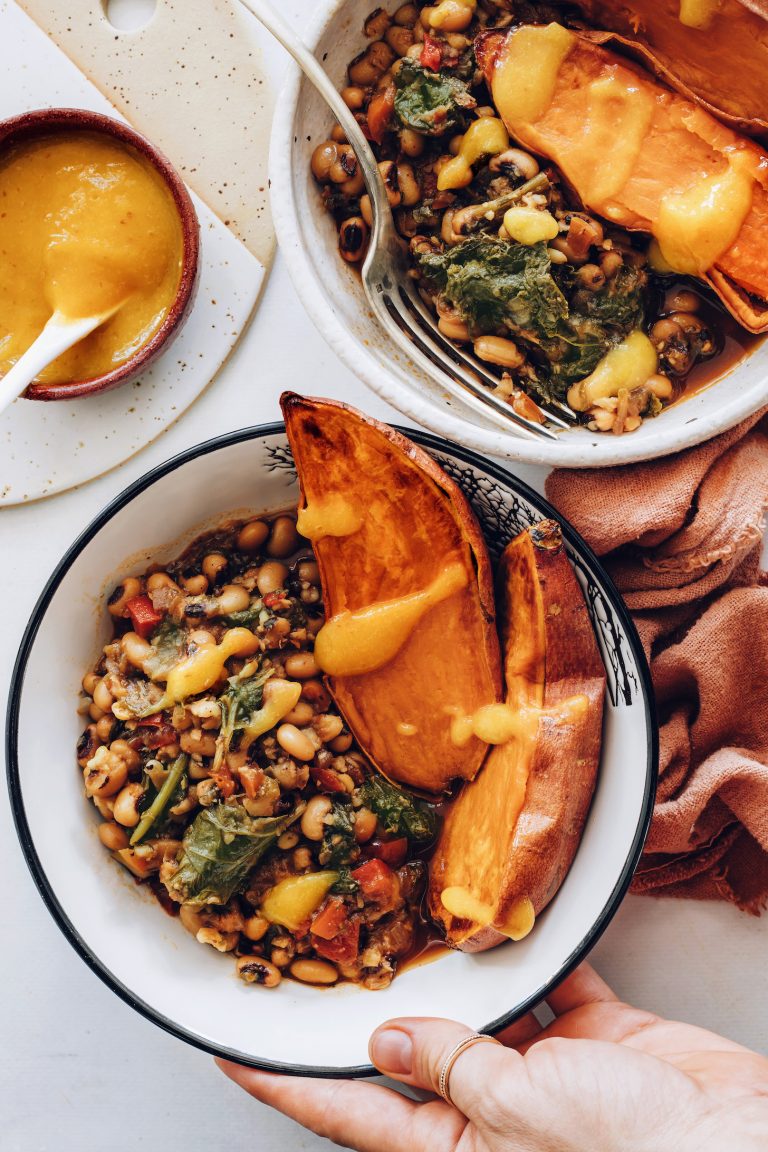 Spicy Black Eyed Pea Nourish Bowls from Minimalist Baker
Why we love it: It's a nutrient-packed, plant-based, gluten-free dish that just so happens to also be satisfying, hearty, and ultra-tasty. It's the perfect dish for meal prepping so you can enjoy it on busy weeknights without having to make a mess.
Hero ingredient: The bright and spicy sauce makes it all come together.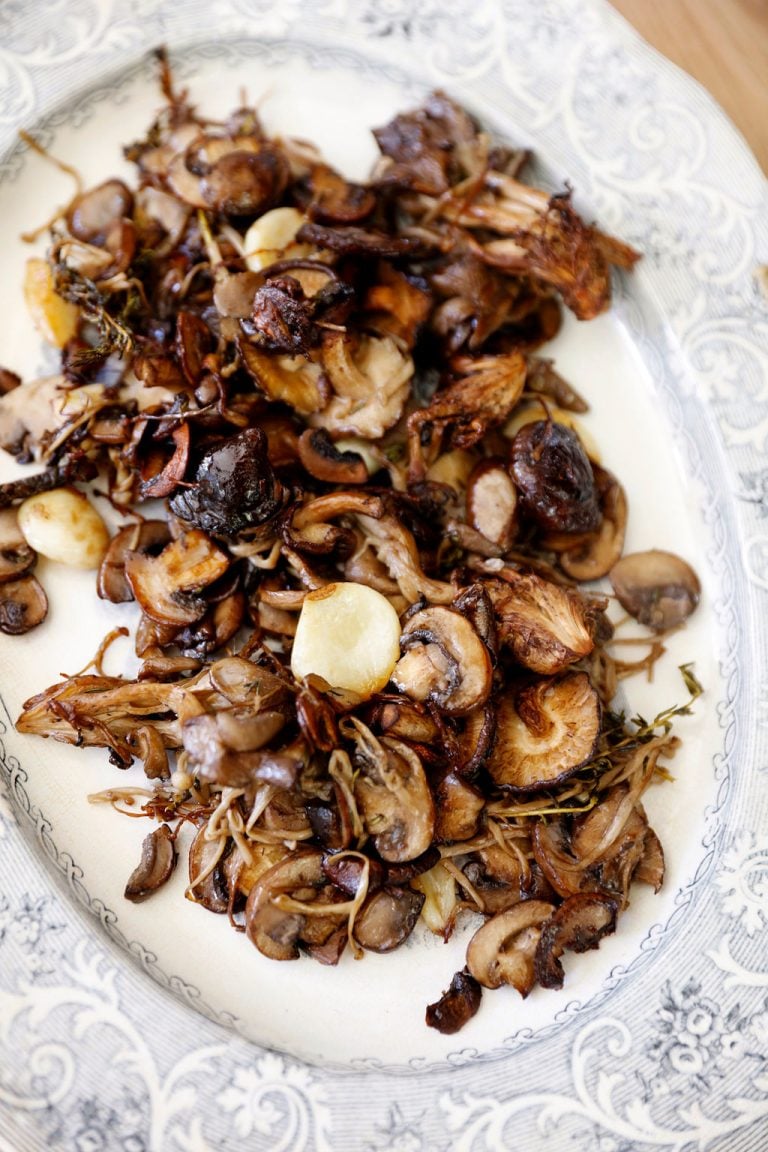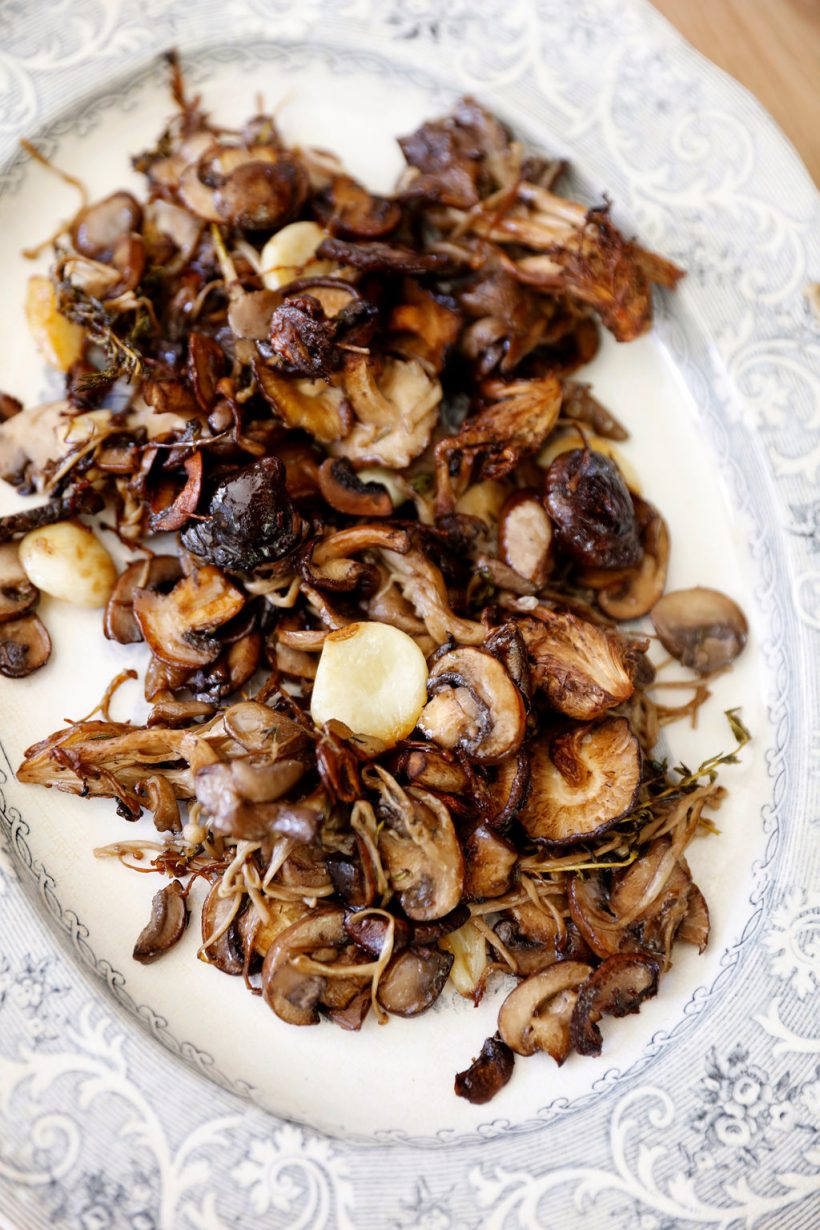 Roasted Mushrooms With Thyme and Smoked Salt
Why we love it: This mouthwatering side dish is cozy, delicious, and perfect for every season. The caramelized mushrooms are bursting with flavor and go perfectly with toast, as a veggie main, or in a grain bowl.
Hero ingredient: Don't skimp on the garlic!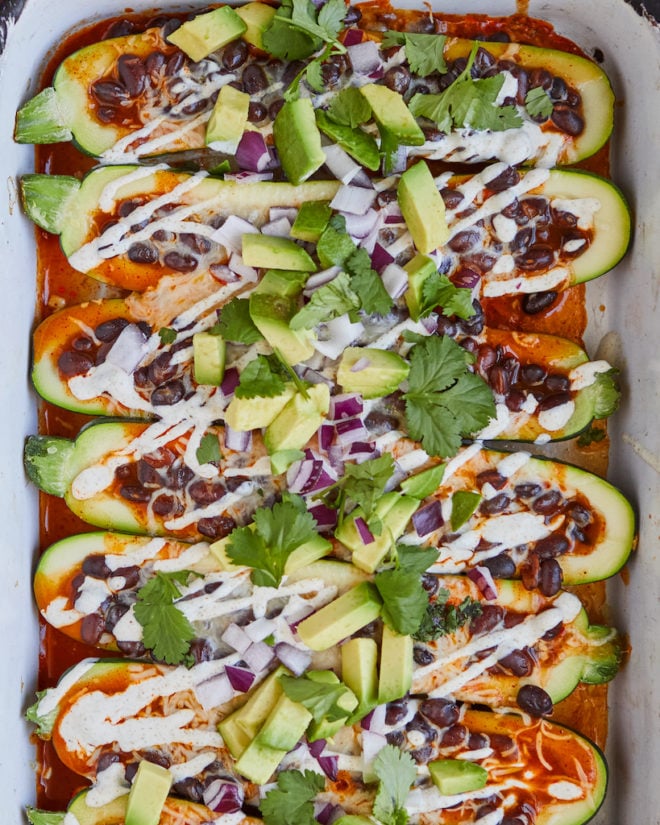 Zucchini Enchilada Boats from Fed and Fit
Why we love it: These boats are fun, light, fresh, and look as good as they taste. Stuffed with all of the delicious enchilada flavors we love, it's a great way to satisfy a craving for Mexican.
Hero ingredient: Add a bit of festivity and garnish with sliced avocado and chopped cilantro.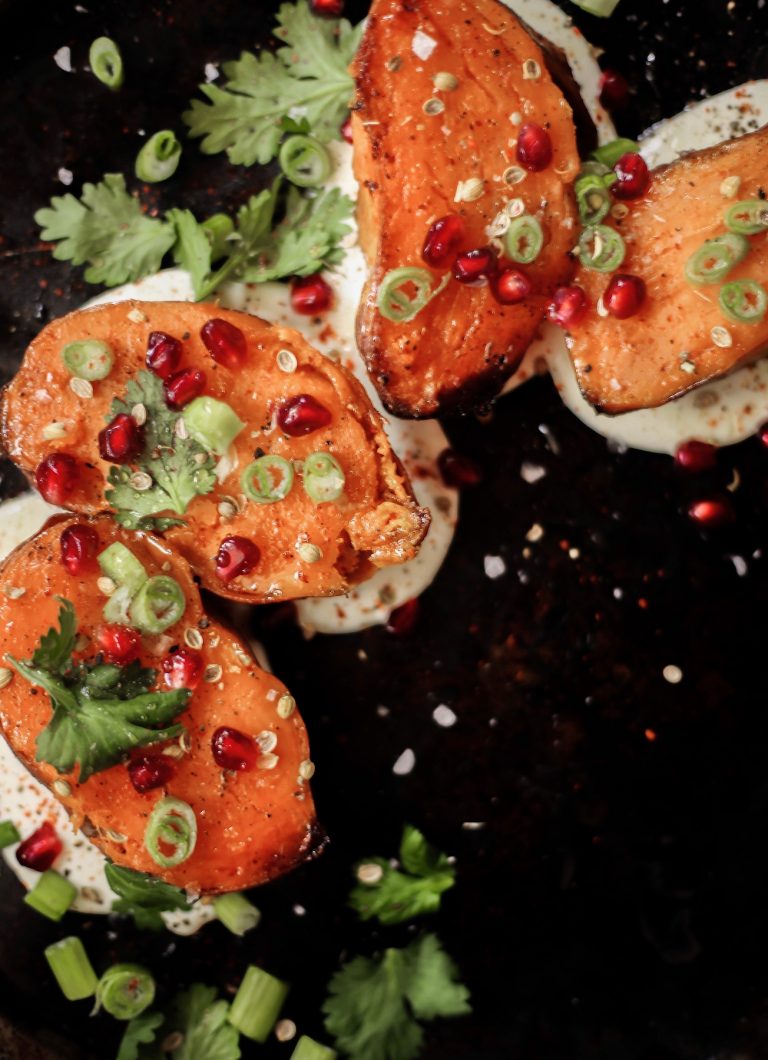 Roasted Sweet Potatoes With Whipped Feta and Hot Honey
Why we love it: It's a sweet, savory, and spicy dish that warms the soul and fills the belly. Sweet potatoes are the ideal blank canvas for gorgeous, sumptuous ingredients like the ones in this recipe.
Hero ingredient: Hot honey is a dream.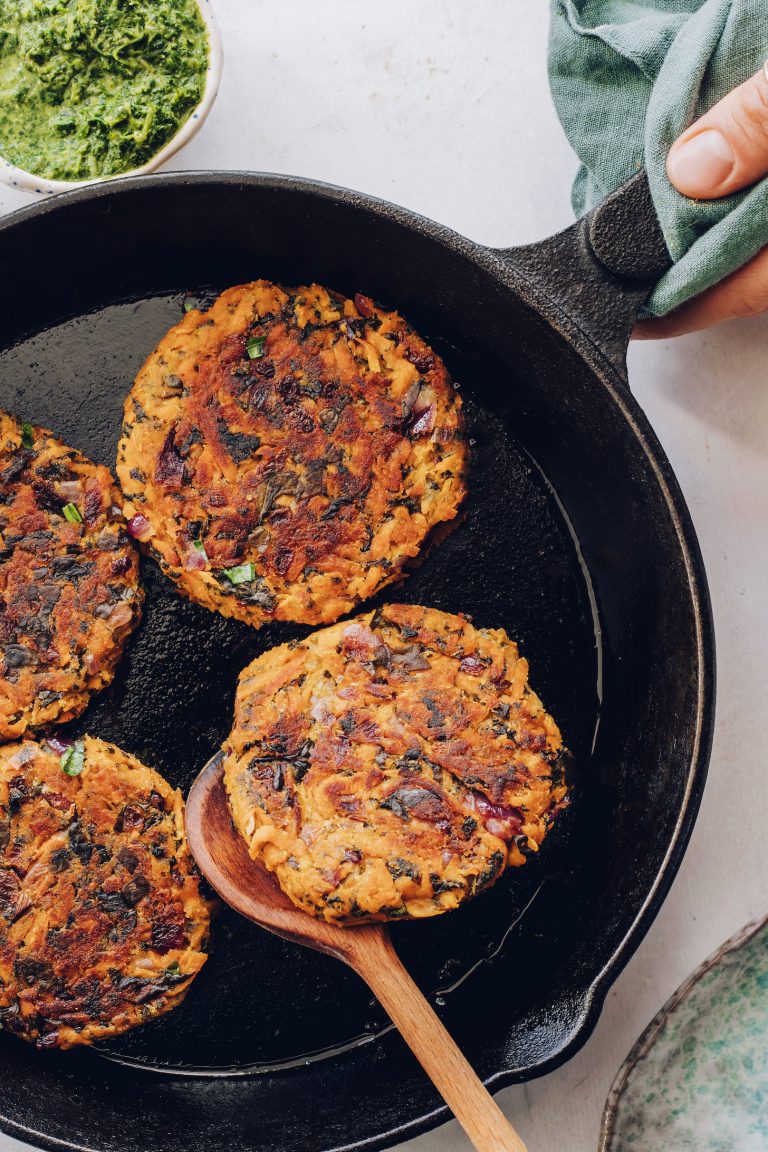 Kale & Sweet Potato Fritters from Minimalist Baker
Why we love it: All you need for these delicious fritters is seven ingredients, a single bowl, and 30 minutes. It's the great way to add a fun element to a weeknight meal or sneak some veggies into a decadent brunch.
Hero ingredient: Garam masala adds a complex, warming flavor.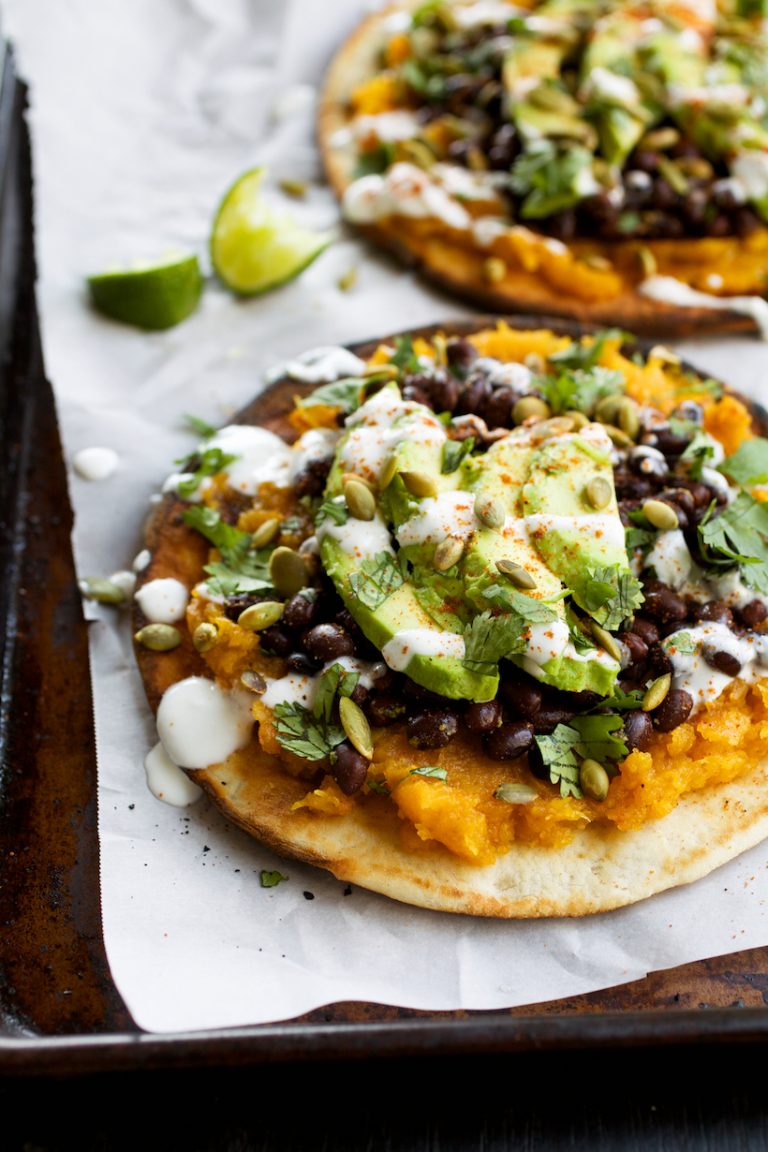 Pita Tostadas With Butternut Squash, Black Beans, & Avocado
Why we love it: Did you know that you can make a nutritious sauce with roasted butternut squash? It's the perfect base for this Mexican-themed tostada with a twist.
Hero ingredient: Toasted pita makes for a surprising and tasty vessel.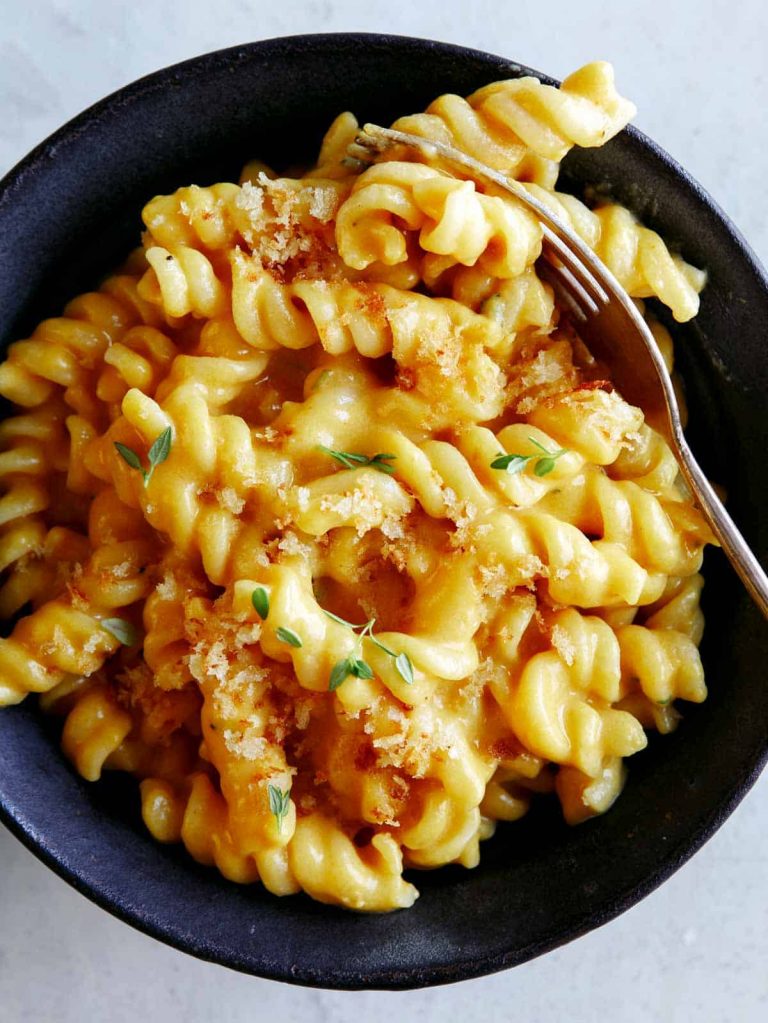 Pumpkin Mac and Cheese from Spoon Fork Bacon
Why we love it: Next time you need a quick 30-minute meal, this is it. If you love a gooey cheese sauce, then you don't want to miss this absolutely delicious dish.
Hero ingredient: The cheese sauce is an absolute creamy dream.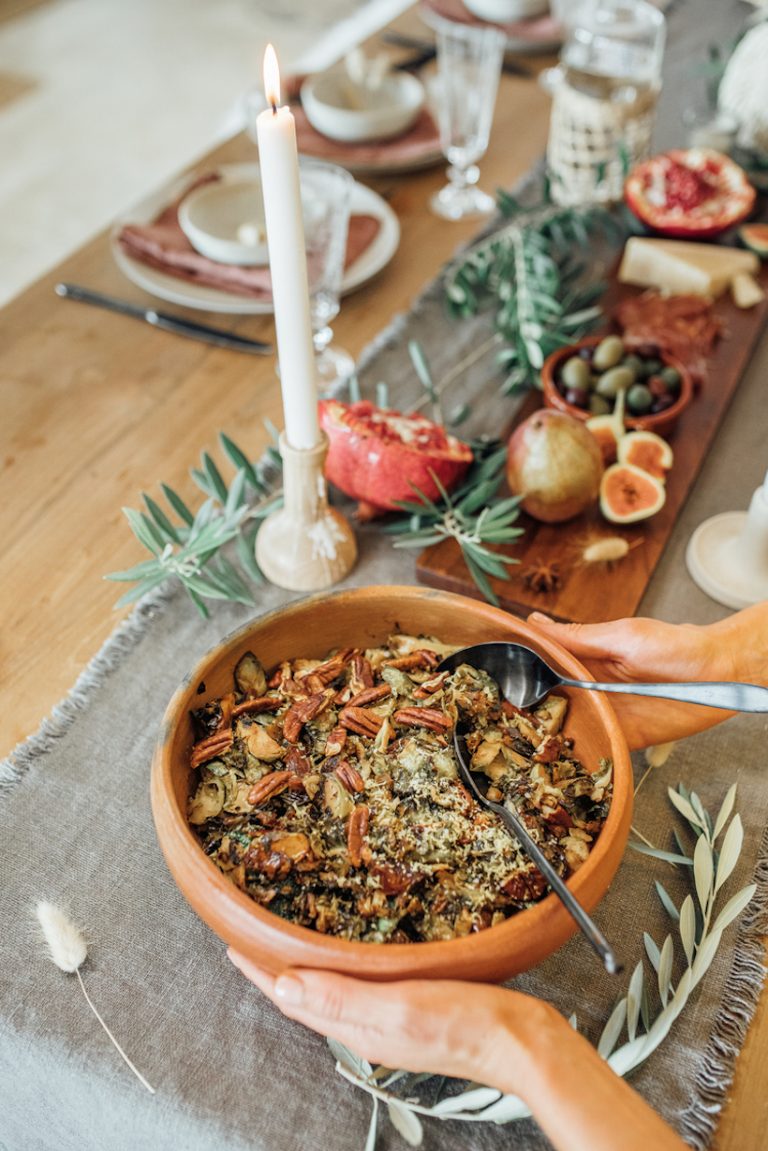 Sweet & Sour Cider Brussels Sprouts
Why we love it: Even the pickiest eaters and most avowed Brussels sprouts haters will be going back for seconds once they try this gorgeous meal. The trick is to shred them into thin little ruffly bites and then do a hard sear in a cast-iron skillet for a perfect char.
Hero ingredient: Apple cider makes this sweet vinegar sauce over the top delish.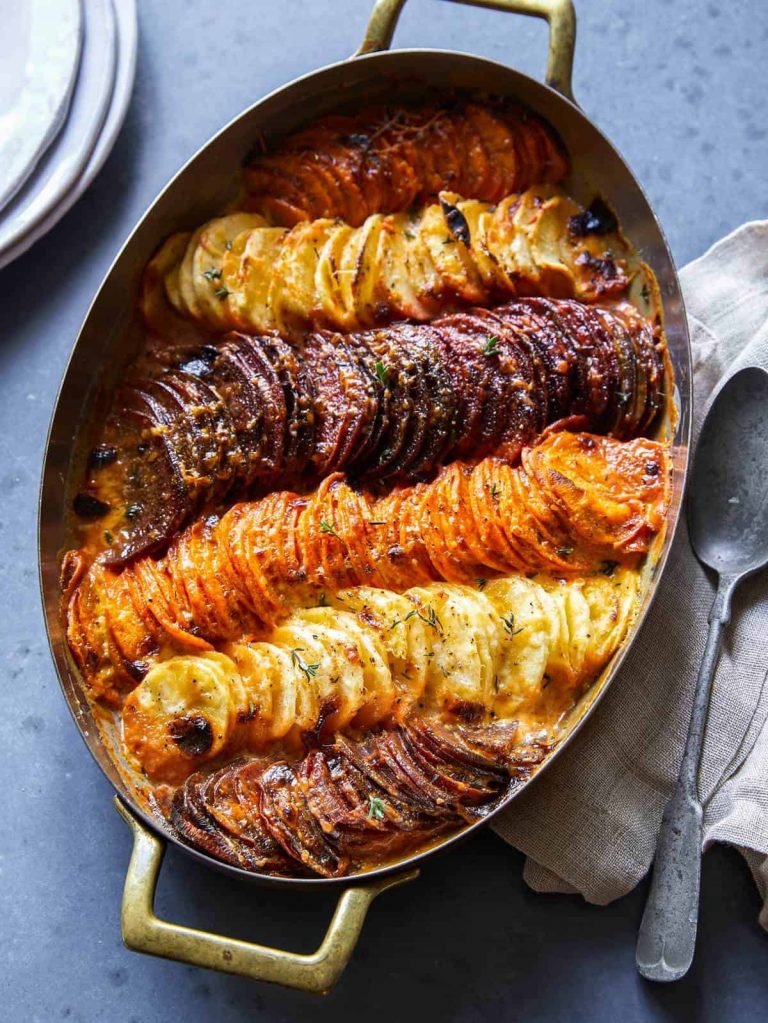 Cheesy Root Vegetable Gratin
Why we love it: Have you ever seen anything more beautiful than this colorful gratin? It's the perfect side dish for the holidays, but you won't want to wait that long to try it. It's a delicious, warming, and comforting dish that utilizes some of our most loved fall veggies.
Hero ingredient: Beets are nature's candy and never more so than in this gorgeous dish.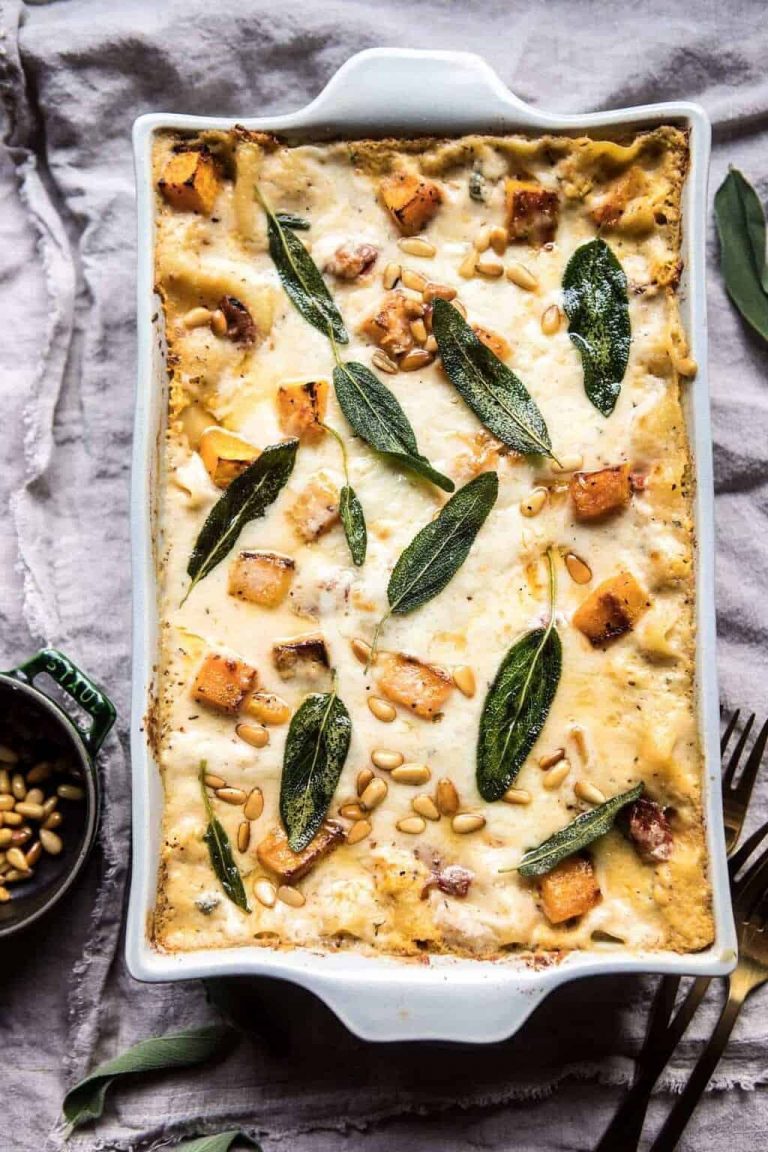 Butternut Squash and Sun-Dried Tomato White Lasagna from Half Baked Harvest
Why we love it: It doesn't get much better than a dish that can be completely assembled ahead of time, and this one is so scrumptious you can serve it on a busy weeknight or save it for your next party. Four cheeses, roasted squash, sun-dried tomatoes, and pasta… yum!
Hero ingredient: Sun-dried tomatoes add a tasty, sweet flavor.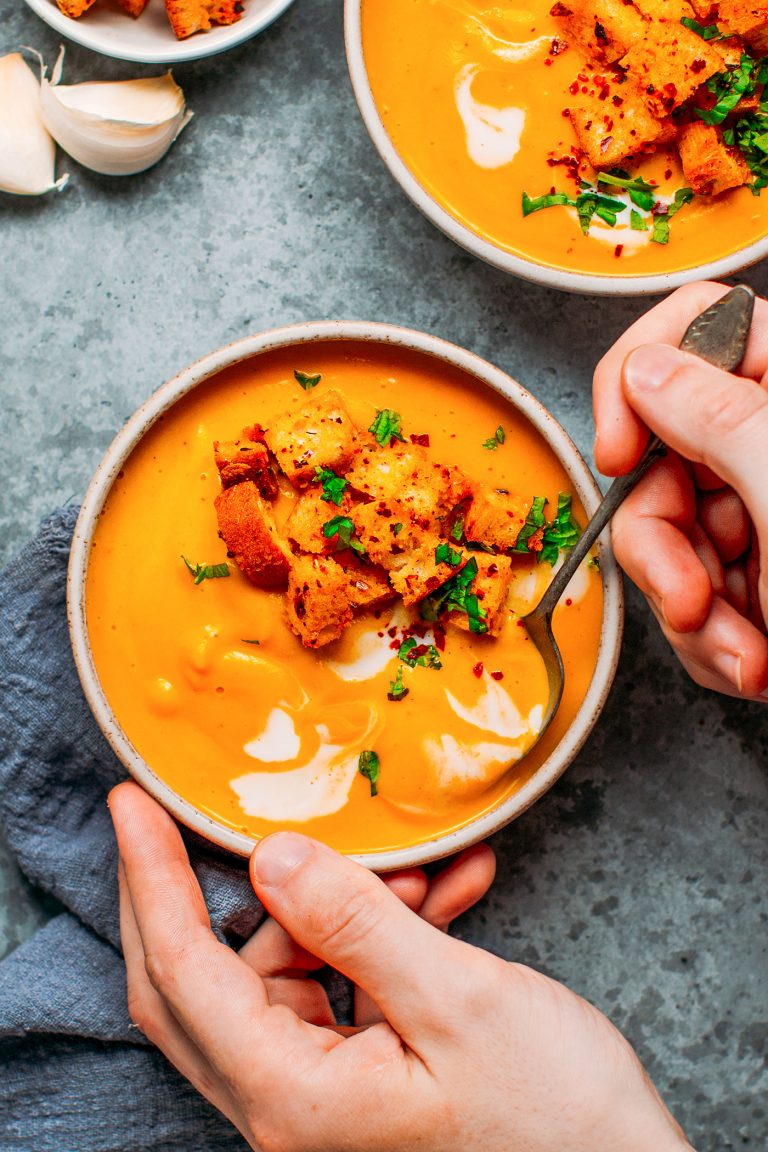 Easy Pumpkin Soup With Spicy Croutons from Full of Plants
Why we love it: This soup is as easy and quick to make as it is tasty. It's basically autumn in a bowl!
Hero ingredient: The crunchy and spicy croutons are out of this world.