As another year comes to a close, we're full of anticipation for what the new one will bring. While the last couple of years have brought unexpected challenges, there's always the hope that the year ahead will move us closer to the happiest and healthiest versions of ourselves. This time also brings a lot of "New Year, New You" noise–sometimes it feels like we're bombarded with messaging and products telling us what we need to do to reach our fullest potential.
Thankfully 2022's beauty and wellness trends are shaping up to be more focused on thoughtfully chosen and considered products, practices, and treatments over excess. Expect to see a continued move away from high-intensity workouts, restrictive diets to more holistic and sustainable routines and habits. Of course, there's definitely space for some indulgence and fun.
"We should be moving towards having a better understanding of self and tuning into our own needs, choosing guidance that resonates, having ways to measure what is working, and discarding what is not." — Brooke Taylor, acupuncturist and facialist.
As a team of editors who love a good beauty buy or wellness trend, we were excited to dive into 2022's predictions. We've tapped some of our favorite beauty and wellness experts and sifted through the beauty noise to bring you the most exciting and buzzy trends that we bet will be everywhere in 2022.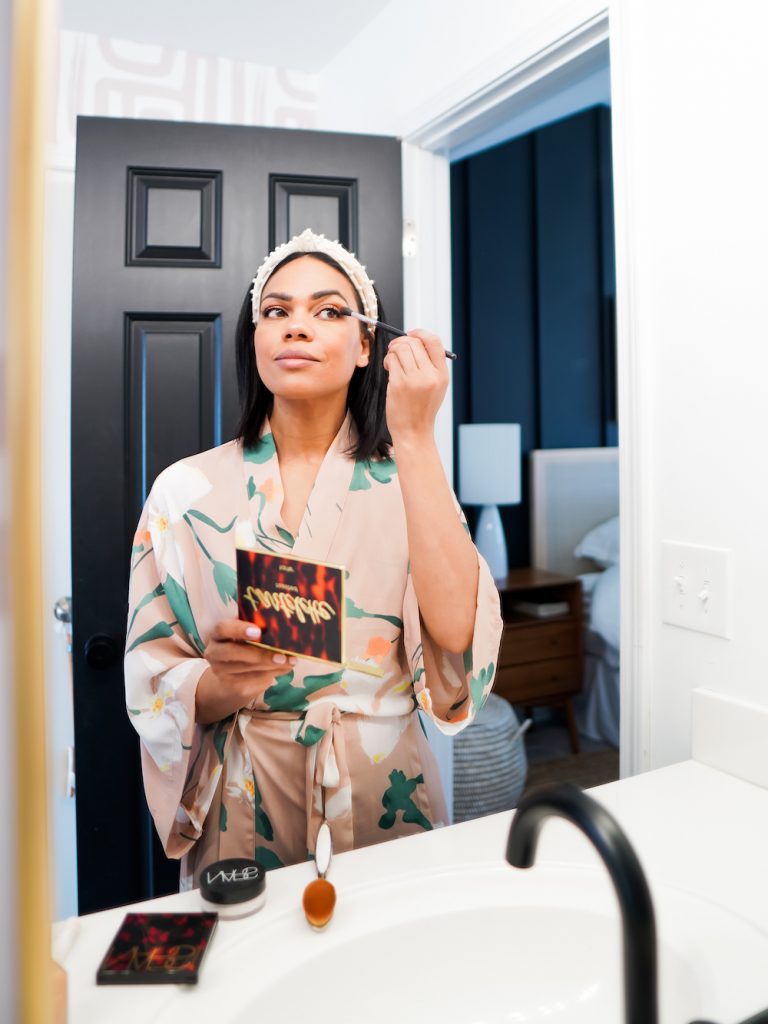 MAKEUP
Light, fresh and dewy.
While this isn't a new trend per se, we saw it emerge in 2020 with the advent of mask-wearing and days at home, but it's here to stay. Not just clean and natural makeup brands, but products that focus on a light finish, while letting your natural beauty shine through! What Ulta Beauty's 2022 Report has dubbed, 'That New Natural,' will include acceptance of hair texture, freckles, wild-sourced products, and skin products with lighter coverage. Expect to see, pink and nude lip shades, cheek and lip stains, embracing freckles (SaltyFace launched its freckle stain this year), multi-use products, skin tints, and moisturizers that still look like your skin.
Overlined lips.
Thanks to the 90s-inspired trend, well-defined lips are making a comeback. Play with a slightly darker liner for an ultra 90s vibe, or keep it natural by using a neutral lipstick and coordinating line to create the look of fuller lips without looking too overdone. Overline slightly and define the shape for the plumpest pout.

Colorful eyes.
On the other side of things, we'll be seeing a bolder expression when it comes to eyes. While pretty much any color and style of shadow and liner goes. The easiest way to jump on this trend is with a thin and sleek, slightly winged, liner in a fun shade like blue or copper. Keep the rest of your makeup simple and soft to let the liner really shine!

Play up the cheeks.
Less mask-wearing means our skin and cheeks can shine! Blush has quickly become our favorite step in our makeup routine this year. Even while playing with lighter skin coverage and a more natural eye, blush is still a fun way to play with shades and placement for a pretty, flushed look. Try going beyond applying it on the apples of the cheeks and across the nose, to sweep it right above your cheekbones, on your lids, and across the forehead for a fun, sculpted, monochromatic look.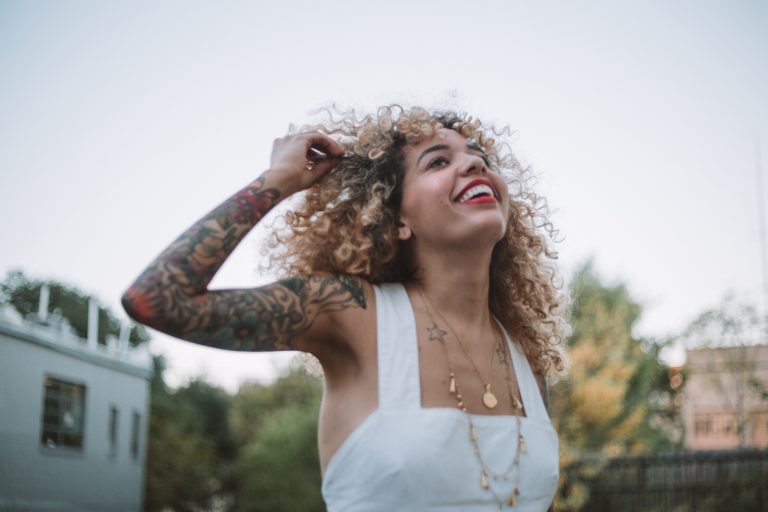 HAIR
Hello golden girl.
While ash blonde and toned-down brunettes have had their day in the sun, 2022 is all about the warmer tones. Hairstylist and color specialist Katherine Medeiros of Deep Roots Salon says, "Warm-toned hair color is something I have also been seeing a lot in my chair. Everybody is embracing the golden, coppers and warm chocolate browns. Even my blondes are considering a little bit more of a golden tone to their hair." And for good reason, warm tones reflect light while ash tones absorb it and can end up looking dull. "It brightens the complexion and is so much lower maintenance than having cool-toned hair," adds Medeiros.
Embracing the waves.
While some are opting for sleek voluminous blowouts, many are turning to undone and messy. "We've all seen the trend of embracing your natural texture in 2020 and 2021. I think it's most definitely safe to say that it's not going anywhere," predicts Medeiros, a curly cut specialist. With fewer events and reasons to go out and about, the past couple of years saw lower maintenance hair, which meant more natural texture and undone waves. Medeiros goes on to explain, that clients are asking more and more for tips on embracing and enhancing their natural wave and curl. "It's such a beautiful thing and it's so freeing, she says. "I see a lot of that in 2022 and as a fellow curly girl I'm so excited for it!" Medeiros recommends the Oribe Curl Gloss for wavy to curly hair textures 2a-3a. With a medium amount of hold and a lot of hydration, it's great for running through your hair when your hair is wet and scrunching. An awesome on-the-go product!
The chop.
Most of us at some point have made "the chop"—the maybe impulsive, maybe thought out, dramatic cut that leaves you feeling like a new person. If you haven't yet tried out a shorter style, 2022 may be your year! "I think you'll be seeing quite a few textured bobs and lobs in the new year!" Medeiros notes. "As we are still coming out of the pandemic women are wanting a fresh look. What better way to do that than a fun bob? I'm seeing a lot of easy-flowing texture to these haircuts that don't require a lot of maintenance." Just wash, apply a bit of texturizing product to your hair and go! Medeiros recommends having some sort of paste to add piecey-ness and texture to the ends of your hair. A mousse is a great addition too—Medeiros's favorite is the Virtue Moisture Whip Mousse!
Long bouncy layers
As a hair and makeup artist who does a lot of weddings, I'm seeing a drastic increase in requests for glam waves or soft and billowy loose curls over the messy beachy waves that formerly led in popularity the past few years. The 90's bouncy layers are back, often paired with curtain bangs. To achieve the look at home with your layered cut, apply a volumizing mousse and blow out in sections, curving the front pieces away from your face. While hair is still warm, wrap in velcro rollers and let cool before taking them out to reveal big soft layered curls.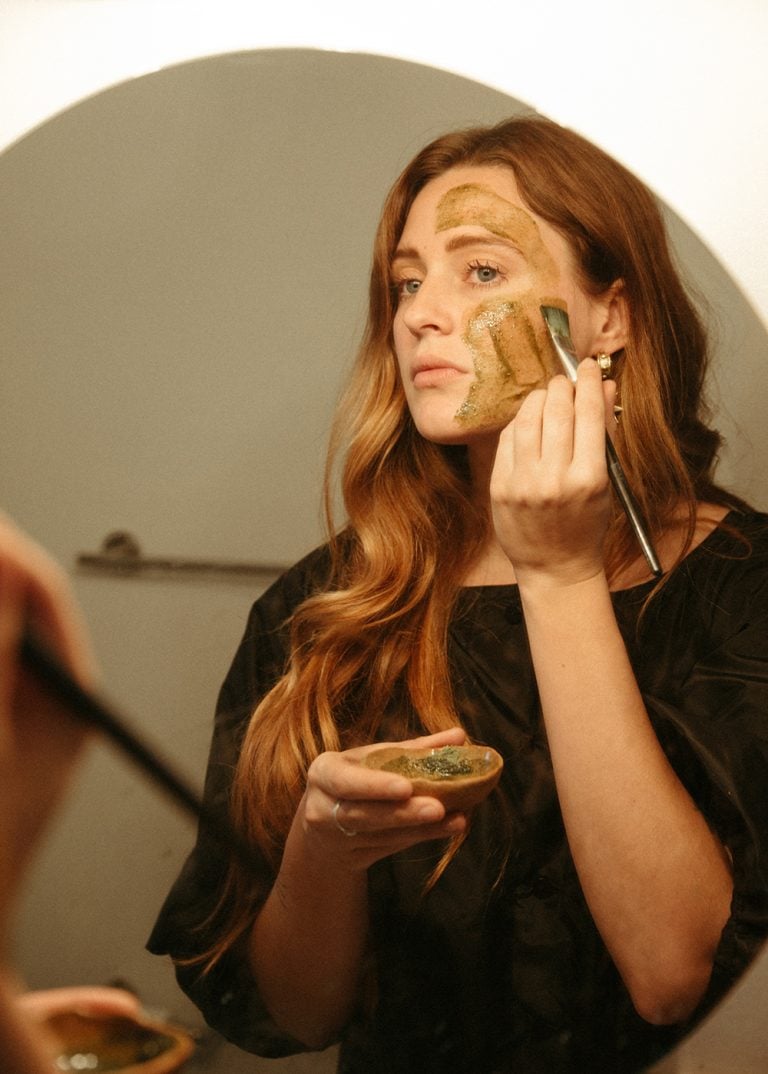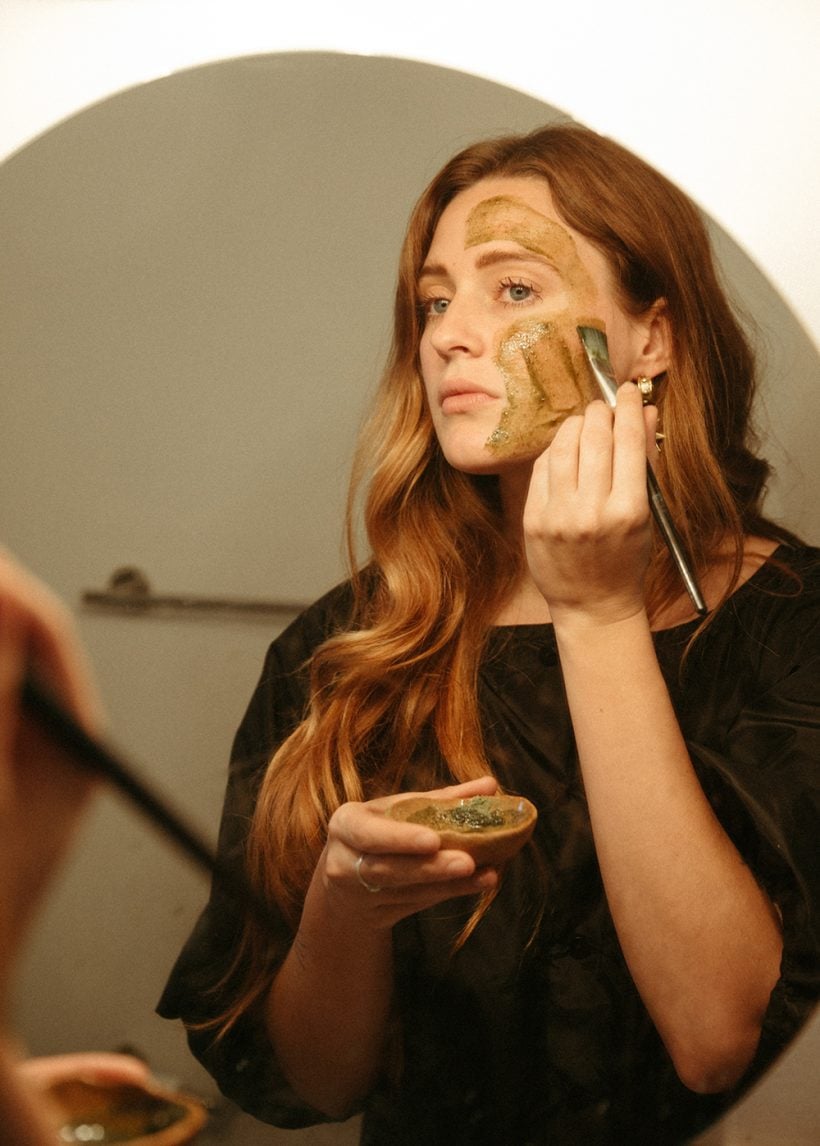 SKIN
Alternative facial treatments that'll include the whole body, head to toe.
While products and derm treatments have long been used to care for and treat skin, more people are turning to alternative modalities. Things like facial acupuncture and buccal massage focus on the actual muscular system and its effect on your appearance while taking into account whole body wellness. Bodywork like massage, lymphatic massage, myofascial release, and acupuncture are starting to gain popularity as well, as people look south of the neck to influence their overall skin quality. Brooke Taylor, facialist and acupuncturist of The Road, is thrilled to see this gaining traction. "I hear the buzz about expanding how we approach skincare in the new year by including the body as a whole—those of us that have been treating the skin through the lens of Chinese medicine say, 'welcome to the party!'"
Brooke, who happens to offer some of the best facials I've had in my life, utilizes Chinese medicine to assess and diagnose. This means she works on the entire body through a whole system approach of acupuncture, herbs, nutrition, breathwork, gua sha, or cupping, and importantly, the emotions—yep, turns out years of life and emotions can be stored in the map of your face. Brooke explains, "This helps you understand how every part of your body is being reflected in your skin—to address that, that is where the magic happens."
Tech neck.
As we spend more and more time on devices, we inevitably find our skin suffering. One such effect is tech neck (the lovely term for the development of premature lines on one's neck). Dr. Elizabeth Bruces-Geddes, a board-certified dermatologist, says that she's seen and anticipates seeing in the new year, a focus on reducing "tech neck" and a desire to improve necklines, especially in her younger crowd.

Hello, beauty devices: preventive treatments that can be safely done at home.
Born out of necessity during covid when many people couldn't get their regular appointments, they turned to at-home treatments (think facial steaming, peels, red light therapy, and microcurrent). Turns out these products aren't just gimmicks and can have lasting benefits for your skin. While in-office peels and lasers may reap more immediate results, consistent care at home definitely can improve your skin. In 2022, we will see people incorporating these tools into their monthly skincare routine.
Embracing the natural face.
In the same way, as people have opted for more holistic routes to health and healing and a lower maintenance look, we are seeing this affect people's faces cosmetically too. Brooke Taylor says, "I have more patients getting fillers dissolved and backing off on botox, as they find too much actually makes them look older. Instead, they're turning to other methods for improving the skin, and taking a slight step away from the 'curated' face." While Taylor generally advocates for other interventions before going this route, she says this is one reason we're seeing people turning to mini facelifts, in order to avoid ongoing injections. She says, "Personally I'm still going to recommend a holistic intervention to get your best skin before a more invasive approach. Try face yoga, facial sculpting massage, cosmetic acupuncture, and watch your skin transform."
Clean beauty is here to stay (and is better than ever!).
The past few years have seen a surge in "clean" and "nontoxic" body and skincare. While it also has been used as a marketing ploy, the high demand for cleaner, safer products has brought about a shift in the beauty industry. Consumers have stated, by 36%, that when given the option, they would choose the more natural option over the more effective one. Thankfully, you don't have to pick. We're finding that you can both have clean and organic products that are also well-formulated and pack a punch. Cleanical skincare will continue to grow in demand, as brands work to create cleaner formulas and research-backed skincare that actually works.
Simplified skincare.
Do it all skincare and minimal routines are catching on more and more as complicated multi-step skincare routines are losing favor. Skinminimalism has gained traction over the past year and will continue to do so, as people look to soothe skin that's been sensitized from too much exfoliating and too many actives. Instead, in 2022 we'll be focusing on the products that actually work for us and implementing rituals, and focusing our efforts on what we actually enjoy. "It has felt like a free-for-all when it comes to advice and grasping for something to make us feel better," Taylor reminds, "and more is not necessarily better."
More sustainability.
Recycled packaging. Wild-sourced ingredients. Luxury but not wasteful. As clean formulations and sustainable packaging continue to trend, the focus will zero in on ingredients that are sustainably sourced, as well as packaging that looks aesthetically pleasing and can be responsibly replenished. Wild foraged beauty that takes a sustainable approach to sourcing ingredients is an emerging trend in skincare, with brands finding better ways to source ingredients and products incorporating more plant extracts. Still, the products are more than a homemade beauty creation whipped up in your bathroom. In 2022 we'll continue to see thoughtfully crafted luxury brands like Furtuna Skin and African Botanics take the lead.
INNER BEAUTY
Embracing the full-body microbiome.
The research and awareness on the importance of our microbiome have drastically grown over the past few years. It's moved beyond just awareness of our gut and moved into the complexities and synergy between the microbiomes of our gut, skin, mouth, and even hair. Taylor reminds us that, "Often the best course is a less is more approach, and just as we try to keep the gut humming along with prebiotics and probiotics, we are seeing this in skincare and even toothpaste." We're seeing more supplements pop up on the market, as well as skincare and even toothpaste geared at keeping your biome balanced and happy.
Supplements are getting a (personalized) upgrade.
Many are becoming more hands-on and aware when it comes to their health. No longer satisfied with just being told what to take, eat, and given quick fixes, people are looking for solutions and supplements that go beyond the cheap grocery store brand. Many lower-end supplements are full of fillers, synthetic, and less powerful vitamin sources and can end up hurting more than their helping. We predict more thoughtful, well-formulated, research-backed, and personalized supplement regimes to emerge on the scene.
All about the immune system.
After nearly two years of life spent living in a world so different than before, thanks to a global pandemic, we should be more aware than ever of the importance of taking care of and building a strong immune system. In 2022 we'll see more of a focus on quality supplementation, healthy eating, stress relief, getting plenty of sleep, and self-care take priority as people look to implementing healthy, immune system boosting practices into their every day.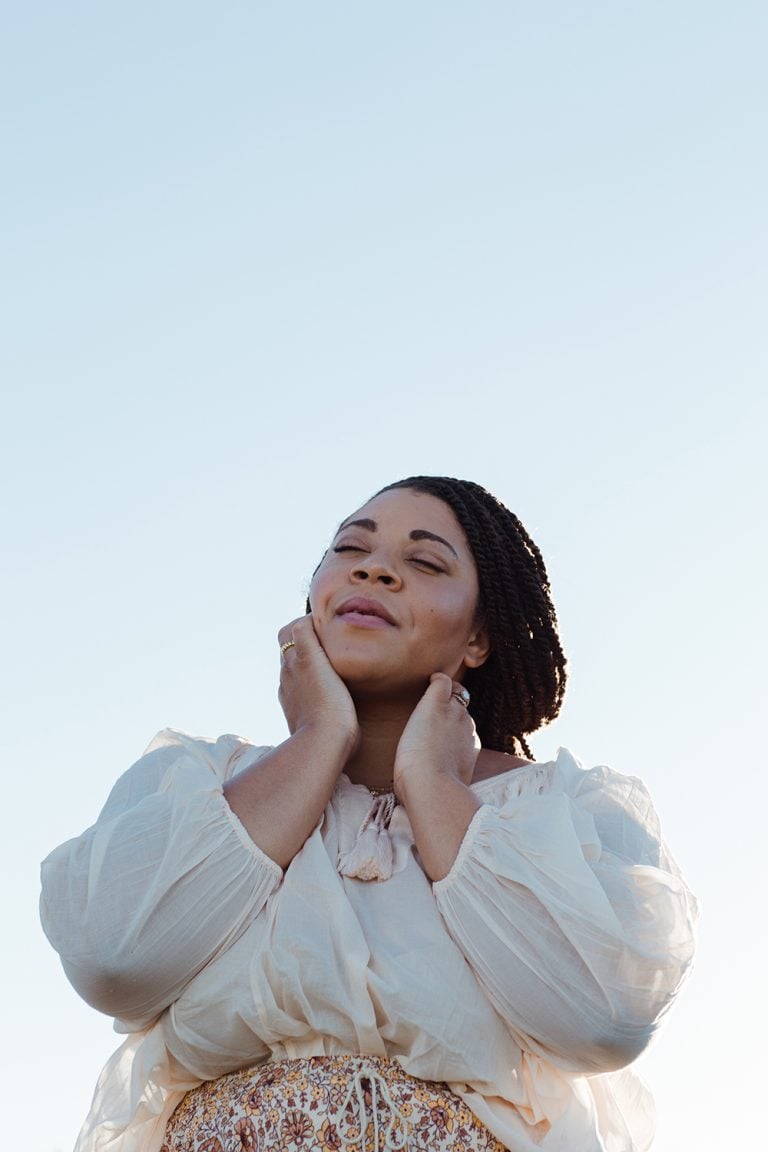 SELF-CARE
Psychoacoustics (or sound therapy).
While sound therapy has been around for centuries (the concept of sound baths originated in Tibet some 2000 years ago), we'll see a surge in auditory experiences in the coming year. As people look for more ways to destress and boost their well-being we'll see everything from technology-driven sound therapy to ancient techniques like sound baths. Sound therapy deconstructs music into pure sound, believed to have a powerful effect on our emotions and internal frequencies.
Mental health: Entering the age of a more trauma-informed world.
While therapy is no longer taboo, we'll see it become the norm in the coming year. We are so thankful for the way conversations around mental health and trauma have shifted over the years. Now more than ever, education and free resources are readily available. Everything from nutritionists, counseling services to personal trainers can play a part in one's mental health, and there's nothing as valuable as investing in your mental and emotional health. If you're looking for resources, check out this post, or these free therapy resources.
Let's talk about sex, baby.
Sexual wellness is another area that's shown drastic growth when it comes to open dialogue. According to Business Wire, the sexual wellness market is expected to reach $125 billion by 2026! No longer something just simply not talked about, people (and women in particular!) are taking charge of their sexual health and pleasure. From vibrators to body products to books like Come as You Are and higher demand for health specialists like pelvic floor therapists and sex therapists, just okay sexual satisfaction is no longer going to cut it in 2022.
Say goodbye to mouth breathing.
You may have seen mouth taping on Instagram or Tiktok and wondered what it was all about. Turns out, the detriments of chronic mouth breathing are real. Breathwork, in general, can have amazing benefits. Taylor recommends checking out the book Breath, testing out mouth taping, and looking into the work of Wim Hof which combines breathwork with a cold plunge.
Buzzy drinks without the alcohol.
In an attempt to curb excess drinking, or at least make sure it has the proper place in our life, many have chosen to reach for no/low alcoholic beverages rather than the harder stuff. Thankfully there are delicious options when it comes to kicking back and relaxing, alcohol-free. And these drinks don't just taste like cocktails. Many of them are infused with adaptogens, herbs, hemp, roots, and mushrooms geared towards reducing stress, producing a calming effect, or boosting your mood and energy depending on what you're looking for! Some of our favorite low alcohol brands include: Vybes, Recess, Sunwink, Kin Euphorics, Ghia, Amass, and Aplos.
Period—and post-period—health.
It's no question that women go through huge hormonal shifts throughout their lifetime. Thankfully conversations around using the menstrual cycle as a barometer of overall health are picking up in popularity. For many, sorting through symptoms around a period can be life-changing, as there are many with severe symptoms they have been led to believe is just their 'normal'. This is long overdue!
This also applies to menopause and perimenopause awareness removing the stigma around this phase of life and improving resources for how to cope with some of the lesser-known and more severe symptoms like anxiety, brain fog, and loss of sleep.
Exercising in nature.
2020 brought a wave of popularity for workout apps you could use at home, with many folks heading outside for fresh air, and a yoga session or run in plain air. Since then, many have avoided going back to crowded gyms in favor of time outside. Whether you decide to go for a hike (American Hiking Society has a handy tool for finding the best local options) or getting in a stretch on your patio, working out outside boasts double the benefits thanks to the endorphins from both the workout and the time spent in nature. Spend some of your time barefoot for extra grounding benefits! And as Taylor says, "even though there is development in the tech world to measure and fine-tune our health, tech should ultimately operate to free us from devices to return to nature for health—try taking a walk, earthing, grounding."