Like many, I know I need to stop falling asleep with my iPhone on my nightstand. And like most of us, I continue to keep it there. Why? Because I was too busy spinning my wheels, weighing the best of the best alarm clocks against one another. (Analysis paralysis—my hyphenated middle name.) I've long believed that the best sleep products can only do so much. But… I've also been ready for the best alarm clocks to change my tune.
I've gazed at the Hatch longingly, fielding friends' five-star recommendations left and right. And despite visualizing the details of just how *aesthetic* my Loftie Clock would look in a morning routine Reel, the price tag turned me away. I'll admit: it's easier to keep a not-so-great habit instead of starting a new one. But in the pursuit of more restful, restorative sleep, it should make sense that I would do everything I can to wake up feeling ready to take on the day.
Well, in committing to my August refresh, that's exactly what I've set out to do—one snooze at a time. To determine the best of the best alarm clocks, I shook the internet upside down, heeded my friends' recommendations, and bit the dang bullet. Ahead, I did the hard work for you to determine the best alarm clocks for your sleepy needs.
Featured image by Michelle Nash.
Smartphones and Sleep Don't Mix, An Expert Explains
If you've also wondered whether or not you should make the switch from smartphone to alarm clock, keep reading. In speaking with Isabella Gordan, certified sleep science coach, and co-founder of Sleep Society, I learned the ins and outs of why we should leave our smartphones out of the bedroom—and use a dedicated alarm clock instead.
1. Smartphones disrupt your sleep cycle. It's intuitive but bears repeating: scrolling on your smartphone's glowing screen late into the evening isn't doing your sleep patterns any favors. Gordan notes that this habit can have the effect of tricking your body into thinking it's daytime. The result? Feeling restless at the exact time you should be winding down.
2. Blue light can cause long-term eye damage. "The blue light emitted from our phones suppresses melatonin production more than any other type of artificial light," notes Gordan, "leading to sleep disruptions and difficulty falling asleep." With prolonged exposure, Gordan cites the link to long-term eye damage, manifesting in macular degeneration and cataracts.
3. Smartphone exposure increases anxiety levels. PSA: sleep and anxiety don't mix. And, as Gordan observes, "notifications on smartphones are known triggers for higher stress and anxiety levels." Conclusion? If you're trying to prioritize rest and a restorative nighttime routine, keeping your smartphone within arm's reach isn't the solution.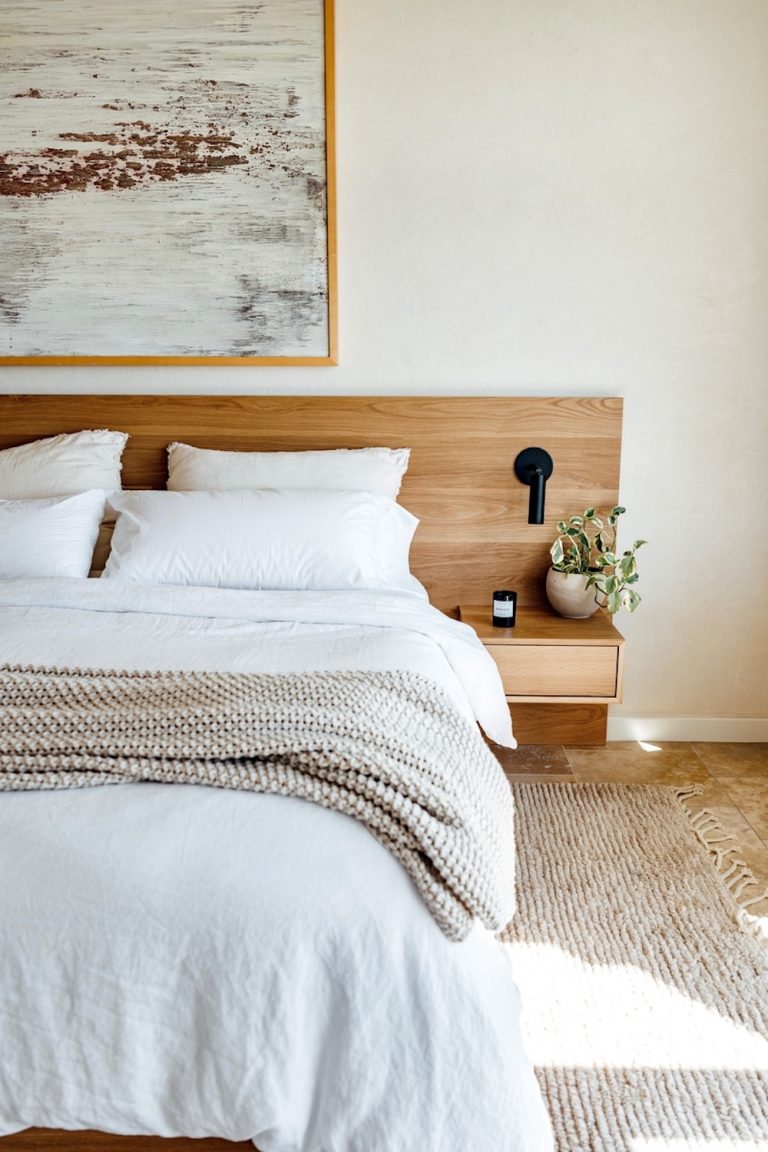 How to Minimize Temptation When Using Your Smartphone as an Alarm
Of course, many of these adverse health effects of using your smartphone as an alarm clock imply that you're on your phone up until the moment you try to close your eyes. If you're able to set your alarm and place your phone facedown on your nightstand (and not grab for it in the middle of the night), props to you.
Gordan also suggests turning your phone on airplane mode after setting your alarm and placing the phone out of reach. Or, she suggests "setting a strict usage policy for yourself." Creating boundaries and barriers around when you can use certain apps can help mitigate risk.
But, for many, simply being in close proximity to our devices is temptation enough. If that's the case for you, keep reading for our review of the best alarm clocks—and choose the one that fits your needs best.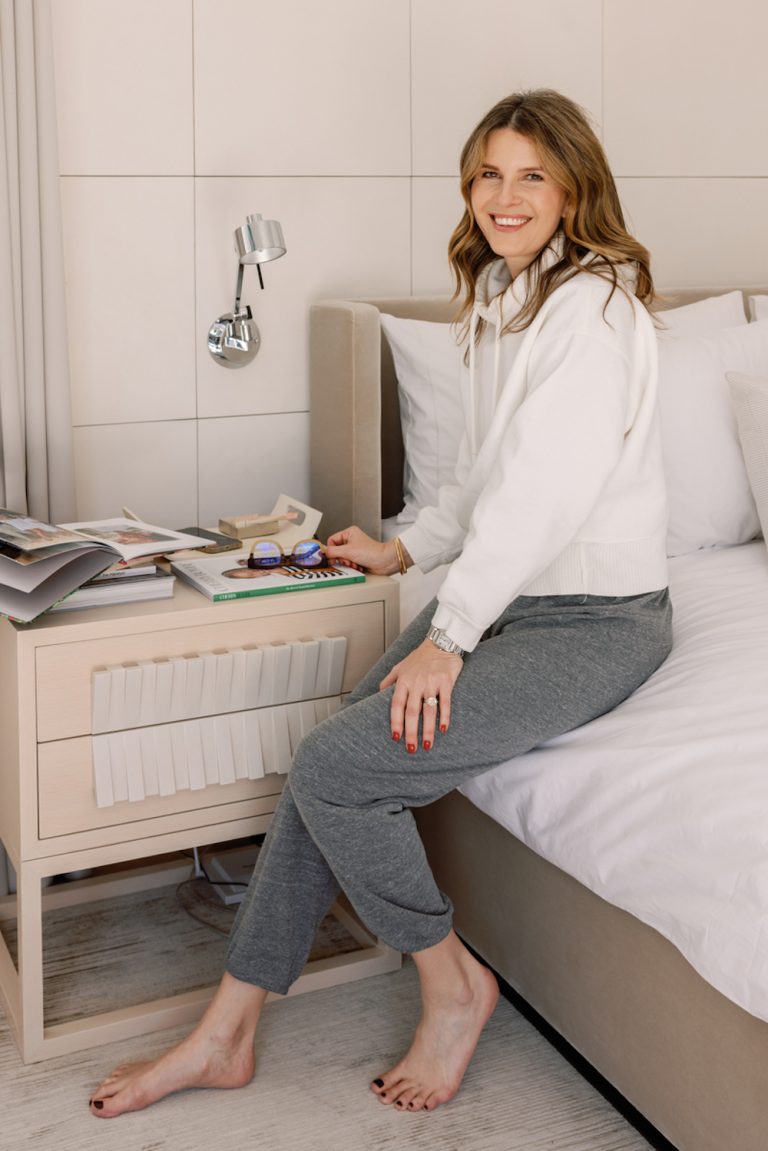 What to Look for in the Best Alarm Clock
Below, Gordan shares her tips when shopping for the best alarm clock. For a restful night's sleep, prioritize the tips below and keep your personal needs in mind.
Multiple settings. With all the alarm clocks on the market today, many of the bells and whistles they offer to set themselves apart aren't simply accessories. What's necessary? Gordan says to prioritize alarm clocks with multiple settings, such as variable alarm sound or a snooze option.
Dual alarms. If you're like me, you and your partner like to wake up at different times. (I'm a morning person—he, decidedly, is not.) In that case, Gordan prefers alarm clocks that allow you to set multiple alarms, for your wake-up time as well as your partner's.
Pre-programmed music. Depending on what you like to wake up to, it can be convenient to have an alarm clock that you can set to wake you up with your preferred music or news station.
The Alarm Clock Worth the Hype: Hatch Restore 2
Called "the ultimate bedside sleep companion" the Hatch has gotten plenty of hype. The brand positions its collection of sunlight alarm clocks (multiple generations of clocks designed for children or adults) as the wake-up call nature intended. The sunrise alarm is designed to work with your natural circadian rhythm and is a far cry from the cortisol-bumping wake notifications of yore. Though it's pricey, you're getting more than simply an alarm clock out of your purchase. Featuring sleep sounds, settings to help you establish not only a peaceful morning routine but a restful nighttime ritual, and different lighting settings, this is an all-in-one smart clock.
What We Love:
Sunrise alarm and peaceful alarm sounds promote a gentle morning wake-up call.
Nature-inspired sleep sounds and bedtime light settings help you create a peaceful oasis.
Minimal design supports a calming space.
Optional Hatch Sleep Membership features guided breathing exercises, peaceful music, and more ways to help you wind down.
What We Don't:
While we feel that the price is justified, it's the most expensive alarm clock of the ones selected.
In the same vein as the Hatch, the Loftie Clock is for those who prefer to keep their spaces and routines minimal and streamlined. While it's a noise-driven alarm versus a sunrise clock, the vibes are just as peaceful. You can select from options such as birds chirping, bells, or ambient sounds—noises that feel organic and calming to the circadian rhythm. While the features feel more limited than the Hatch, this is a great alarm clock if you're looking for something more affordable but that still goes beyond your basic wake-up.
What We Love:
Loftie+ membership gives you access to unlimited personalized content including stories, horoscopes, affirmations, and meditations for a comprehensive wellness routine. Content is regularly updated each month.
Everything is fully customizable. You can change everything from the tone, brightness, and volume to help you curate a fully personalized experience.
Streamlined design integrates seamlessly into any space.
Features a two-phase alarm, helping you wake up naturally so you can feel more well-rested.
What We Don't:
Given the amount of personalized content and features available, it's a steep learning curve until you get fully comfortable with your alarm clock.
Many users note that the app doesn't add to the experience. Along with the clock itself, the app can be a bit difficult to integrate and feels like an unnecessary feature.
All hail the ever-expansive availability of just about everything you could need at Target. Case in point, this minimalist, beautifully-designed device that clocks in (see what I did?) at $20. The extra-large time display feels decidedly chic without disrupting your aesthetic nightstand set-up. Though it doesn't offer anywhere near as many features as the Hatch or Loftie (nor did we expect it to be given the price), it's a solid, basic option for teenagers, college students, and working adults alike.
What We Love:
The adjustable dimmer display lets you go as bright or dim as you prefer. The result is a soft glow that promotes a restful, calming sleep environment.
Because this alarm clock is so basic, it's extremely easy to set up and operate.
What We Don't:
The design, while sleek, is clearly plastic and feels slightly cheap.
The alarm sound itself can be jarring.
If you love the concept of a sunrise alarm clock but don't need all the features of the Hatch (nor do you want to pay the price), the Philips rough equivalent could be the clock for you. As Jordan Thomas wrote in her review for the New York Times, "It's beauty, it's grace, it'll wake you up without screaming in your face." And it's true—she went so far as to claim it's her reason for transforming into a morning person. The clock operates similarly to the Hatch, waking you up with a combined sunrise-simulated light and your pick of nature-inspired sounds.
If you're after what the Loftie or Hatch promises in terms of customization and a gentler wake-up (minus the additional cost and design features), this is a solid pick for your sleep routine.
What We Love:
Customizable features allow you to select from a range of nature-inspired alarm tones.
In addition to the gentle wake-up, this clock features a sunset function to help you prepare for sleep. You can set the 30-minute wind-down function when you hop into bed with your book, and the light will incrementally dim until it's completely dark.
What We Don't:
The clock itself is bulky and will likely dominate the majority of your nightstand space.
Similar to the Hatch, if you're a heavier sleeper, a sunrise-mimicking alarm clock may not be the best option.
Design-driven, analog affordability at its finest. This ultra-stylish, retro alarm clock was designed in 1984 by Dieter Rams, a German designer closely associated with the functionalist school of industrial design. In this clock, he blends function and form, softening what at first appears to be purely a utilitarian aesthetic. We love, despite the analog display, how clear and easy it is to read the time. What's more, the beeping alarm is paradoxically soothing. Though it's not all birdsong and nature sounds, it's a pleasant way to wake up. If you're looking for something that gets the job done of waking you up while looking gorgeous on your nightstand, make it this alarm clock.
What We Love:
The small, minimalist design seamlessly fits into any space.
The alarm, while not customizable, offers a calming, gradually increasing tone.
Continuous backlit creates a soothing glow at night.
What We Don't:
Extremely pared-down design. If you're after an alarm clock and nothing more, this is for you.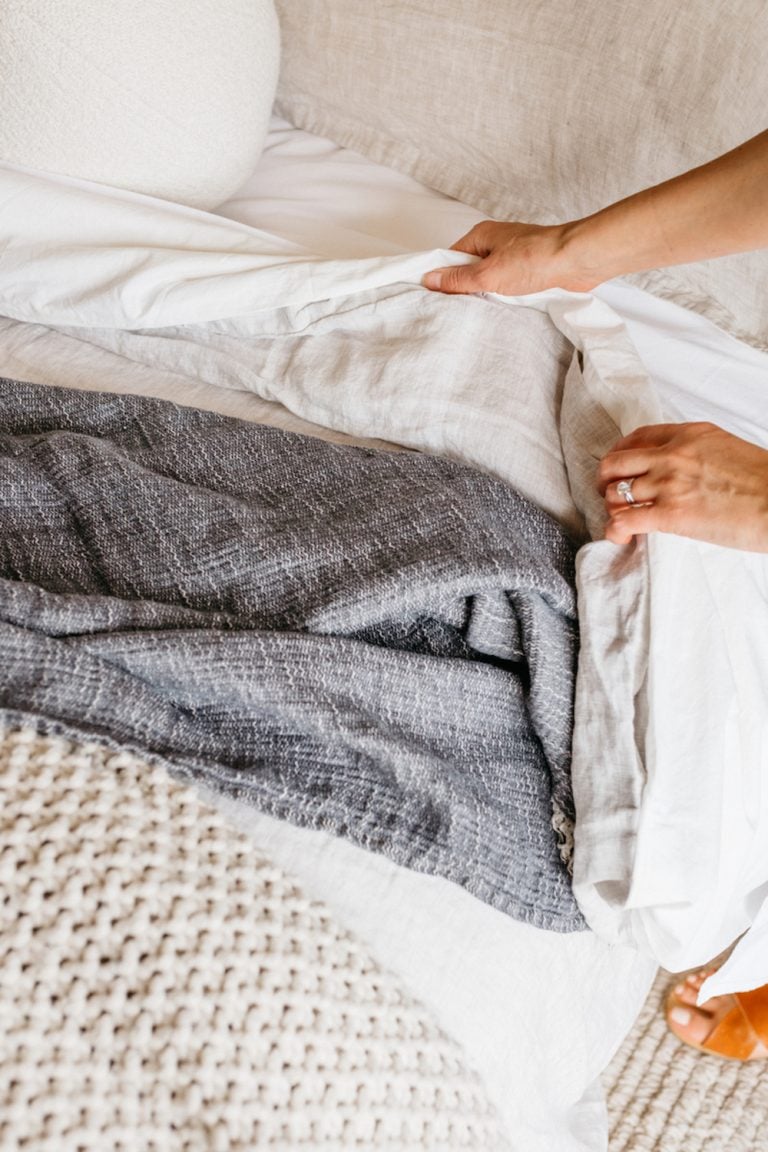 Bonus: Best Alarm Clock App: Sleep Cycle
If you truly can't part with your phone at bedtime, good news: there are alarm clock apps designed to be as non-disruptive as possible. What's more, many also offer additional features that help you track your sleep patterns to help you address your problem areas. And as Gordan notes, sleep tracking can help you "become more mindful of your own sleep patterns and behaviors," letting you shift where necessary.
With that in mind, we named Sleep Cycle the best alarm clock app. While many solid options exist and provide different features based upon your needs, Sleep Cycle is a beautifully designed app that not only gives you a gentle wake-up, but also provides you with a comprehensive breakdown of your sleeping habits. Trust: if you're like us and love to nerd-out on sleep, this app was designed for you.
What We Love:
Sound recordings offer audio snippets of your sleep (including sleep talk, snoring, etc.) to help you understand your sleep habits.
Advanced sleep tracking technology and personalized coaching helps you identify areas of improvement.
Smart Alarm Clock wakes you up gradually and during your lightest sleep phase. Because of this, it'll feel like you're waking up naturally without an alarm.
Integrates and operates seamlessly with wearable devices.
What We Don't:
Pricier than other sleep apps once the free trial period is over.