Like many, I've always had a love-hate relationship with journaling. Despite being a writer, the thought of putting pen to paper to reveal my deepest, innermost thoughts has been the source of much of my life's dread. Maybe it's the vulnerability required or the pressure I put on myself to make it one of my everyday habits—whatever the reason, journaling and I just haven't always clicked. That is, until I discovered what initially felt like cheating: guided journals that did the hard work for me.
Okay, not all the hard work. But the worries brought on by a blank page is real. I empathize with anyone who struggles to come up with something on cue. But as I've begun to embark on my own journaling journey, I've learned to no longer expect some shock of divine inspiration each morning. And thankfully, now that I've jumped on the guided journal bandwagon, I have the support of journaling prompts to guide my direction.
Featured image by Michelle Nash.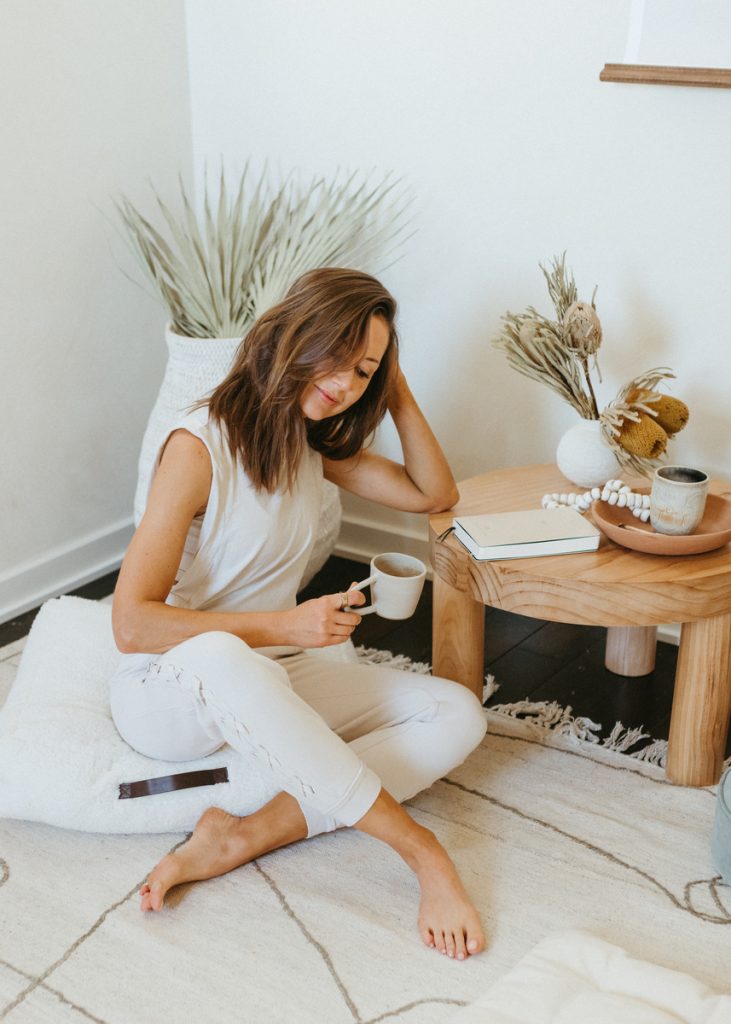 And because I'm careful not to proselytize all my wellness breakthroughs to unsuspecting friends and family, I'll unleash my newfound love of journaling here. Truly, if there's one thing that will level up your life in 2023, it's journaling. As someone who's learned to manage her anxiety and depression through holistic methods, nothing has supported my mental health more than jotting my thoughts in my journal and getting to know myself better because of it.
So with that, let's dive in.
Why Journaling Could Change Your Life
If there's one person I can thank for my love of journaling, it's Camille. She's long spoken about how journaling is a crucial part of her morning routine. It's something that gets her centered and grounded before jumping into her day. These are some of the top benefits of journaling Camille has shared since beginning her journey several years ago:
Journaling is a meditative experience. "As my hand moves slowly across the paper," writes Camille, "it untangles the thoughts, feelings, experiences, and inputs that are usually so entwined in my brain that I often don't even know what I'm thinking until I write it down."
You learn to identify what's important. "My own journaling practice is the number one tool that's helped me set priorities and make traction toward my goals over the last decade."
Journaling can generate creative, personal, or professional inspiration.

"I'm always surprised by what I discover—a dream that suddenly appears from the night before, knowing the answer to a business decision, or most often, having some new creative inspiration."
How to Start a Journaling Practice Today
Make it a part of your routine. Whether it's in the morning or at night, find a part of your day when journaling fits best. Personally, I like doing it in the morning right when I wake up. I keep my journal next to my bed so I can simply turn on the light and get to jotting. Bonus: My habits have inspired my partner to do the same.
Support your journaling ritual with complementary incentives. If you're finding it hard to start journaling, try pairing it with other things you enjoy. Brew yourself a cup of coffee or tea if you're doing it in the morning, light a candle, and go somewhere quiet where you won't be disturbed. If you don't mind a little music in the background, Camille swears by this playlist.
Mindfully enjoy your life. Personally, this is something that's developed alongside my journaling practice. The more I write about my days and my accompanying thoughts, the more I actively take note of them in the moment. I'm seeking out inspiration in my every day, and suddenly, the most minute things can become exciting and transformative.
The more you look for the magic in your life, the more you'll be inspired to reflect upon it, and vice-versa.
Let journaling prompts inspire you. If you're like me, it's hard to think of what to write when you have a blank page staring back at you. Get started with any of the guided journals below and I guarantee—you might just become a journaling enthusiast as well.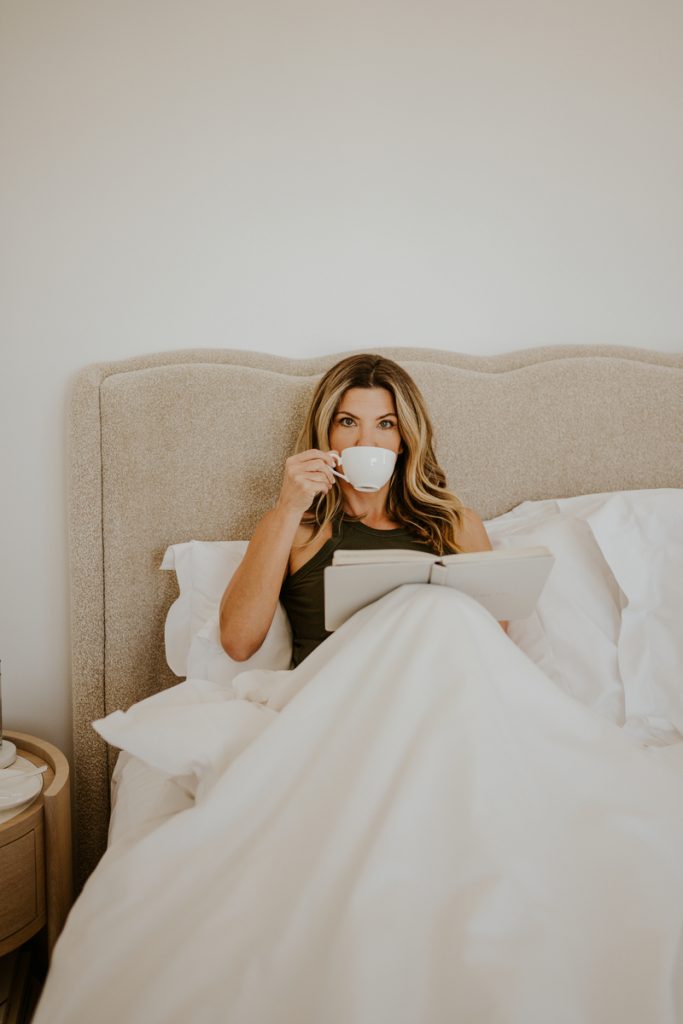 The Best Guided Journals to Start Your Journey in 2023
Every product is curated with care by our editors. If you buy something through our links, we may earn a small commission at no cost to you.
Why We Love It: Nothing beats an aesthetically pleasing (and life-changing) tool. This journal's minimalist cover looks soft and soothing stored on any nightstand and maintains a minimalist appearance. Prompts are designed to help you reflect upon key moments of your day, and at the end of each week, you'll be guided through a new "breakout prompt" where you'll dive deeper into different themes.
Key Highlights: With six months of entries, this journal offers ample opportunity to reflect on your life. Most prompts can be addressed in just 5-10 minutes per day.
Why We Love It: I've seen this journal everywhere on social media, with many "that girl" girlies opening it up at the start of their beautifully-curated morning routines. While that sentence may sound cynical, it's anything but. I've read comments and heard from many who use it that it's one of the best guided journals in terms of aligning their actions with their priorities. If boosting your mood in the new year is important to you, this should be your pick. The prompts help you gain a clearer understanding of what self care practices are truly meaningful for you.
Key Highlights: This journal includes trackers for your healthy habits like meal prep, goals, sleep, and more. It's designed for morning and nighttime use, with prompts written specifically for your morning and night routines.
Why We Love It: I've long coveted this journal set, and the holidays might just be the best excuse to gift them to myself. I love that these notebooks can function as tools to complement my weekly talk therapy sessions. The journal prompts, exercises, check-ins, and tips from therapists help you work through your thoughts to change unhelpful patterns and reframe your emotions. Both of the notebooks are supportive in times when you're feeling down or anxious and are great, proactive tools to use every day.
Key Highlights: The Anti-Anxiety Notebook includes guided journal entries, exercises, and regular check-ins so you can begin to build a better awareness of your emotions and state of being. The Depression Guidebook is exactly that—a tool to help guide you through five evidence-based strategies including Cognitive Behavioral Therapy and Growth Mindset.
Why We Love It: Feeling witchy? This might just be your ideal guided journal. It's structured by the phases of the moon and offers an opportunity to celebrate the shifts in the season. If you're interested in tracking how you've changed and grown throughout the months, as well as learning more about the moon cycles, pick this one up.
Key Highlights: This year-long journal is filled with monthly, undated writing prompts, space for making lists, and opportunities to reflect on your life and build a more introspective understanding of your experiences and the world around you.
Why We Love It: Shadow work is one of the most influential ways we can learn to love every part of ourselves. This journal serves as an opportunity to build self-awareness and work through past traumas. If you're feeling like you're holding onto troubling emotions or want support in exploring elements of your past, this journal can be your guide.
Key Highlights: I love that the journal includes over 100 inner child affirmations. These are phrases that you repeat to help you connect with a deeply-rooted part of your subconscious.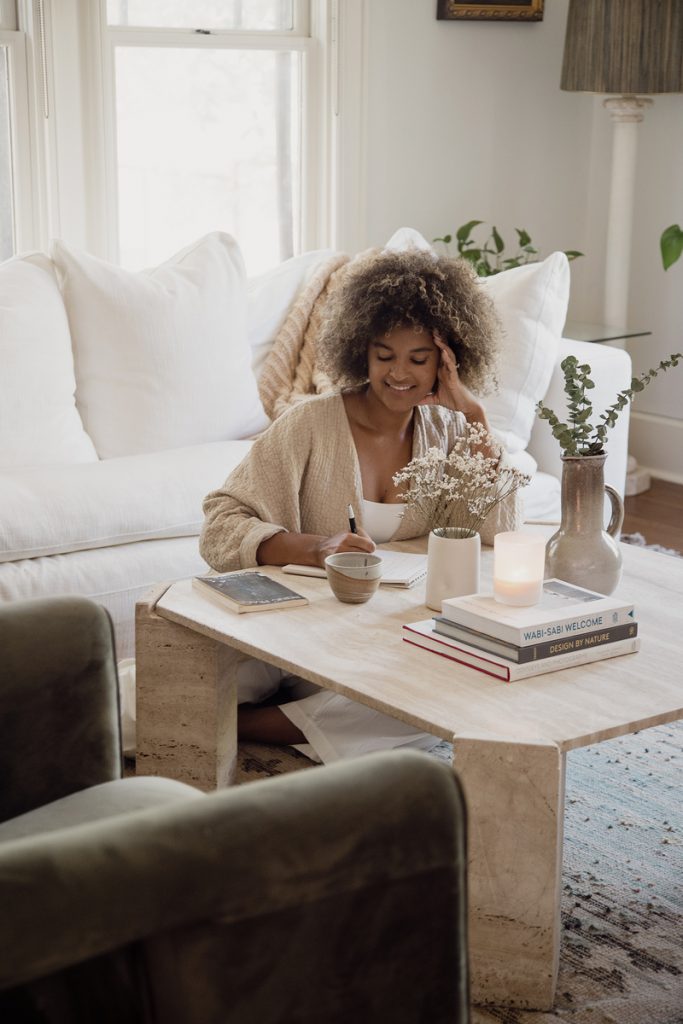 Why We Love It: Who's ready for 2023? If you want help getting after your goals and finding inspiration month after month, pick up this guided journal. It's designed to help anyone who's looking for a fresh perspective throughout the year and motivation to build a better life. Not only are the prompts positive and uplifting, but the design itself is colorful, bright, and will energize all your journaling sessions.
Key Highlights: Each month, you'll be prompted with a new task or goal to get after. This is broken down further into small, but impactful actions you can take to ensure success at the end of the month.
Why We Love It: 256 pages give you plenty of space to get in touch with your inner self. Each page begins with a check-in—how are you feeling today?—and progresses through a series of questions to help you evaluate your emotions and prioritize your tasks. Once you're done with each page, you'll feel clearer and more focused on how you want to make each day better.
Key Highlights: Positive affirmation pages are interspersed throughout the journal. Not only do you have the tools to stay on top of your goals, but you also have the inspiration to keep you energized and motivated.
Why We Love It: I love things that are structured by annual increments. Doing so creates a natural beginning and end to any new journey. That's exactly what this guided journal offers. Created by Zen priest and teacher Bonnie Myotai Treace, it features prompts that get to the heart of what you're feeling and what you truly want. You'll find yourself going down a beautiful journey of self-exploration and personal growth.
Key Highlights: Prompts correspond to the seasons so that your journaling exercises always meet you exactly where you're at.
Why We Love It: This is my personal journal that kickstarted my practice. I can't say it enough: I'm obsessed. It's a 90-day journal designed to help you identify and build healthy habits during that period. Each day asks you to write in the morning and at night. You jot down the intention for your day and close with a gratitude and reflection upon what went well. Inspirational quotes and positive affirmations are woven throughout, and it features consistent check-ins to help you see your progress.
Key Highlights: At the beginning of the journal, you set an intention. After this, you break down the practice and needs that will help you get there and your expected results. This sets the tone for the rest of the journal, and it's inspiring to see how consistency can help you reach your initial intention.
Why We Love It: We're big fans of this guided journal's author, Emily P. Freeman. Author of The Next Right Thing and host of The Next Right Thing podcast, Emily has dedicated her career to helping people recover from decision fatigue and step into their lives with confidence. This guided journal is a year-long tool, with space dedicated to weekly, monthly, and seasonal reflection. Like her other work, this journal's intention is to help you clear through the clutter of your decision-making process and arrive at a place that aligns with the life you want to lead.
Key Highlights: The seasonal and monthly breakouts include questions, lists, and exercises to help you act on your decisions and discover the courage it takes to make a choice without regret.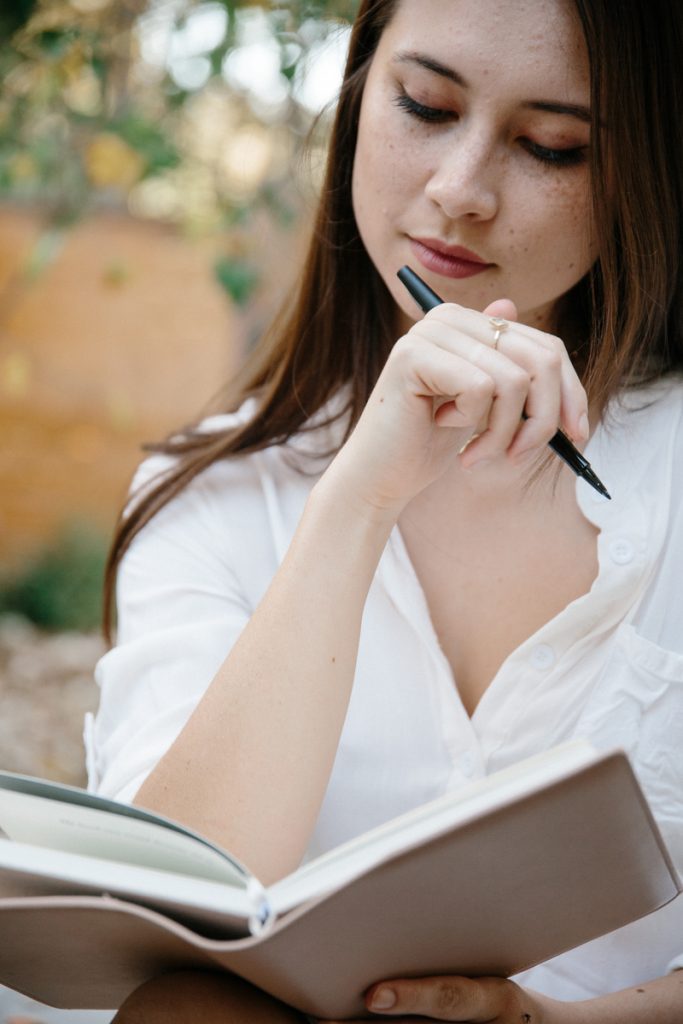 Why We Love It: Despite feeling like I have a strong sense of self, I'm often caught with the question: who am I? I found this journal with a sigh of relief, recognizing that (thankfully) I'm not the only one who feels this way on occasion. If you've ever been at a loss trying to understand who you are, you know it can be deeply distressing. That's why I love this journal's prompts. They inspire self-discovery, help us get to the core of our personhood, and build up a picture of who we are.
Key Highlights: The prompts are at times playful and complex. You'll learn who you are by exploring yourself through chapters including Psychology, Relationships, Sex, Other People, Work, and more.
Why We Love It: Papier is known for their highly aesthetic journals and design-driven notebooks. This journal is perfect if prioritizing wellness is one of your 2023 resolutions. As we know, wellness isn't just physical. It's all the many parts of ourselves and our lives that help us feel good. This journal understands that complexity and approaches your wellness from every angle.
Key Highlights: You're set up with a wellness map, room to set your intentions and write your goals, and ample space to track your habits (sleep, self-care, meal planning, thoughts, etc.). It's comprehensive without being overwhelming—essentially the perfect journal. Did I mention it comes in three colors?
Why We Love It: Just as I start a new book before I've finished my current read, I have a bad habit of purchasing journals well before I need them. This journal? It's already on my nightstand. The botanical illustrations are stunning and I love that it focuses on your inner dialogue's narrative. Oftentimes, we aren't aware of the stories we're telling ourselves and how these limiting beliefs can keep us stuck. This journal is a great tool for helping you uncover the ways you're keeping yourself from growing.
Key Highlights: Each page follows this progression of prompts:
What is your inner dialogue saying?
Why is it saying that?
How do you know that what it's saying is true?
How do you want to respond?
Is there anything else that needs to be said?
I've never found a more effective way to analyze the thoughts running through my head. By going through these exercises, I'm able to step away from my journal with a greater clarity of the narrative I've built up—and whether or not it reflects my reality.