While the experience is different for everyone, one thing is for certain, menstruation is always uncomfortable. I was a late bloomer (my period didn't come until I was 16) and thankfully, I never experienced the crippling pain of some of my friends who often needed to take the day off school. Mine was never regular either. I could go months without it and was even checked for PCOS at one stage. It wasn't until I had a baby at 28 that my menstrual cycle became like clockwork. Now, at 41, I know when I'm ovulating (sometimes that pain can be worse than my actual period!) and it's always on time (give or take a day or two), but that dragging, aching, cramping feeling hasn't changed. It's a major mood buster and honestly, I think anyone who menstruates should be eligible for time off, especially on that first day. Over the years, I have found some of the best period products to help make our monthly cycles a little more bearable.
Thankfully, there has been a lot of innovation in the space. Of course, there is always room for more but it's been reassuring to see new brands disrupting this outdated category with much-needed alternatives. So, keep reading to learn more about the products I turn to each month from pain management to period undies, and a bonus section of face and bath products—plus, the one device that completely stopped my menstrual pain altogether! Be sure to let us know what your favorite period products are in the comments below!
For Pain Management: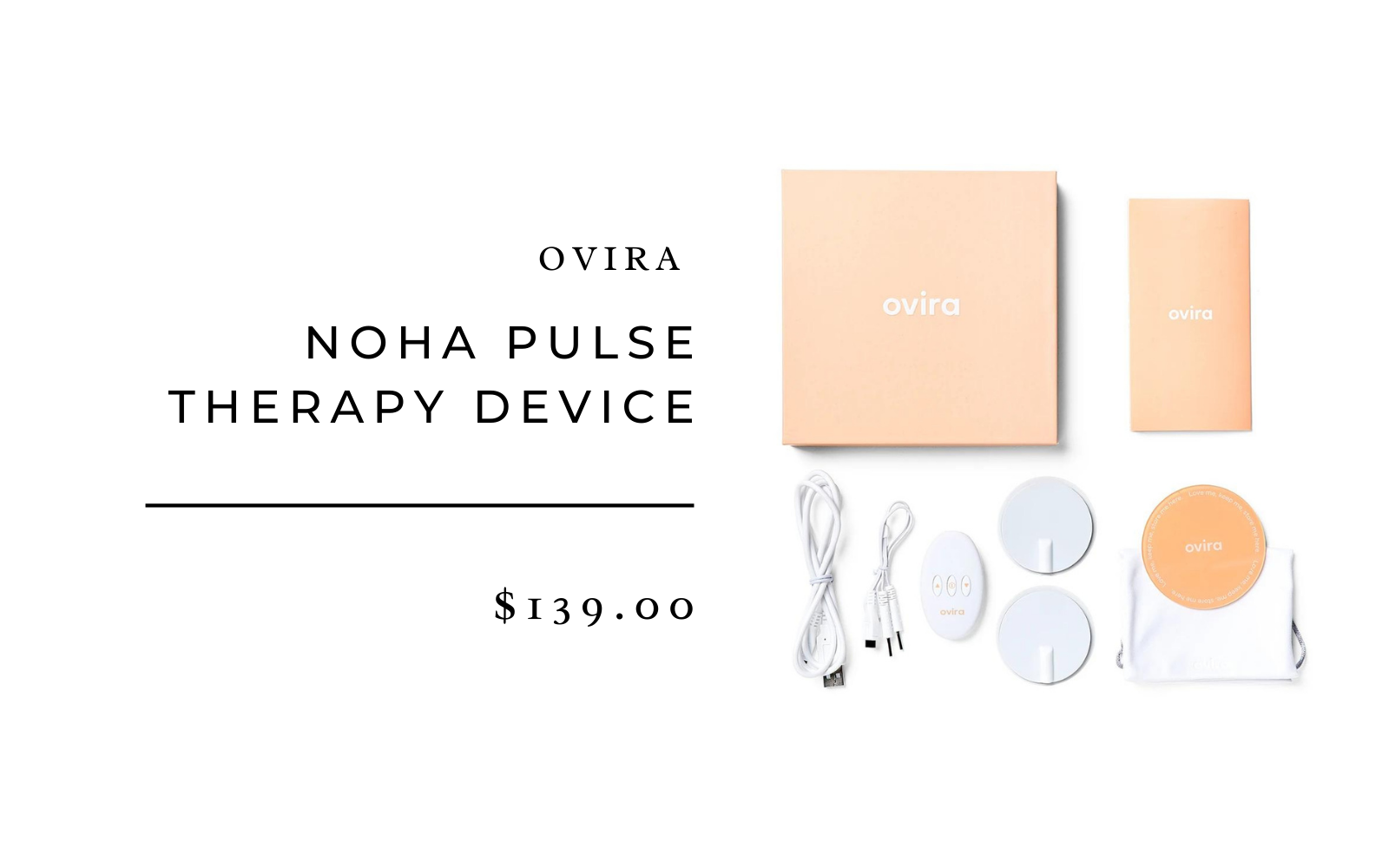 Ovira Noha Pulse Therapy Device
I first heard of this innovative drug-free device while flicking through the latest issue of Harper's Bazaar (yes, I still subscribe to print magazines!). I was so intrigued, I immediately reached out to the Australian-based startup to learn more. When founder, Alice Williams created Ovira she had one simple goal: to help women take back control of their freedom after years of debilitating period pain. Can we get an amen! So, how does it work? First you stick the Noha "Love Handles" patches on your tummy or lower back and clip the small Noha device onto your underwear or pants. Then you switch it on. Now, here's where the science comes into play. The Noha starts sending small pulses or Transcutaneous Electrical Nerve Stimulation (TENS) through the Love Handles which feel like light vibrations. These TENS pulses work by overloading your nervous system, reducing its ability to transmit pesky pain signals to your brain. No signals = no pain.
While this technology is new to period pain, the medical industry has actually been using TENS technology to treat pain for decades. It sounds like magic and that's because it is. I was honestly blown away by how effective it was at relieving pain—it was instantaneous. I also love how small and lightweight it is too making it easy to wear around the house or out and about. You can also play with various levels depending on the pain level you're experiencing.
Our contributing editor, Lourdes Avila Uribe also agrees:
"To say that I was surprised to see how effective the Ovira device is would be an understatement. Without fail, my cramps knock me out every time. Typically, my pain level hovers around a 7 or 8. I've been known to go from being completely fine one minute to having to leave a pilates class or a work event because I can barely keep myself upright. Usually, once the cramps start, I am in pain for the entire day, regardless of how much Advil and how many hot water bottles I use. I was shocked to see that within minutes of using Ovira, I started to feel my muscles unclench and the pain loosening its grip on my midsection. Within 20 minutes, I was able to get up, get ready, and go out for the night. This is not typical behavior for me! I'm definitely a lifelong convert. In combination with a pain reliever and a bath, I was able to be back in action in less than an hour, as opposed to being in a full day of pain."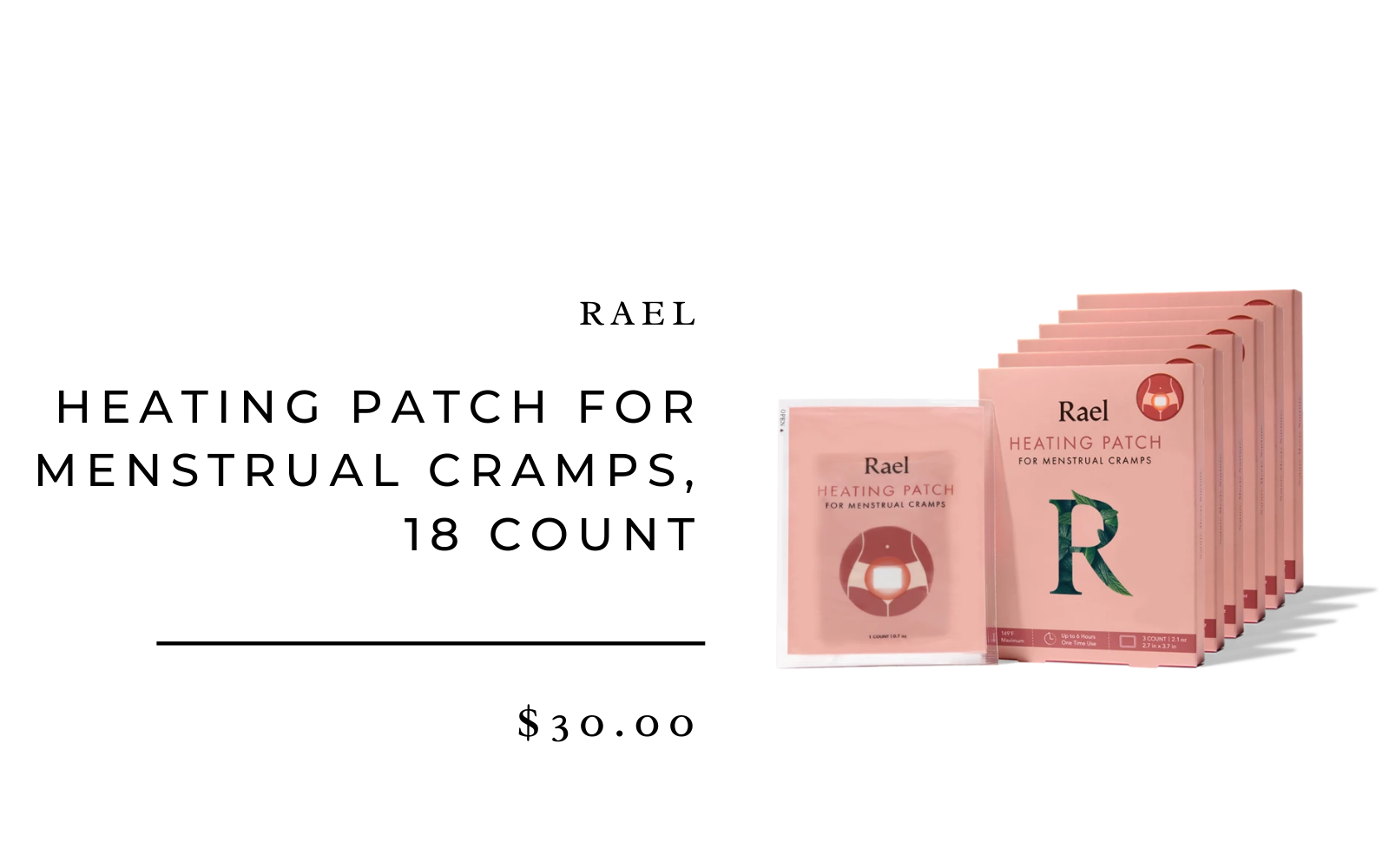 Rael Heating Patch for Menstrual Cramps, 18 Count
There is nothing quite like the healing power of heat when you're in pain. That's why I love taking baths during my period but for those times when you can't hop in a tub, these heating patches are a great alternative. Made with lemon balm, juniper berry, jasmine, dandelion root, and rosehip, these patches reach a therapeutic temperature to promote blood flow and help your muscles relax for maximum relief from menstrual cramps. Just don't put them directly on your skin—they're meant to go on top of clothing so I usually put them on the outside of my period pants and they work a treat!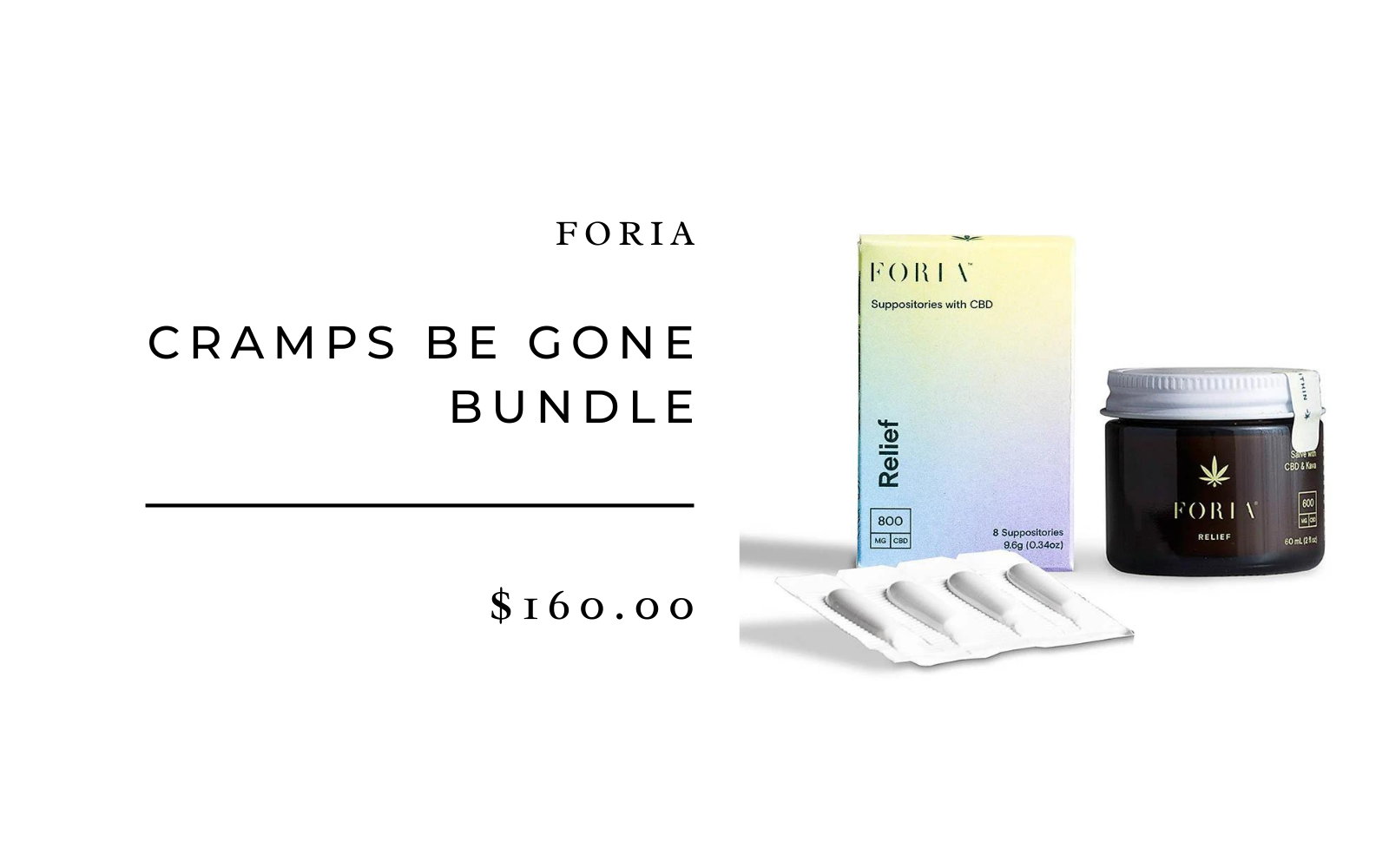 I am a huge fan of Foria's products and have been a longtime advocate of their CBD suppositories so I was happy to see they created a bundle specific to relieving period cramps. Their relief balm has a dreamy texture and is great for all areas of the body but I especially love to apply it all over my stomach and lower back. I use the vaginal suppositories during the day and before I fall asleep to relive internal discomfort and it's truly a gamechanger. They're also great before sex too!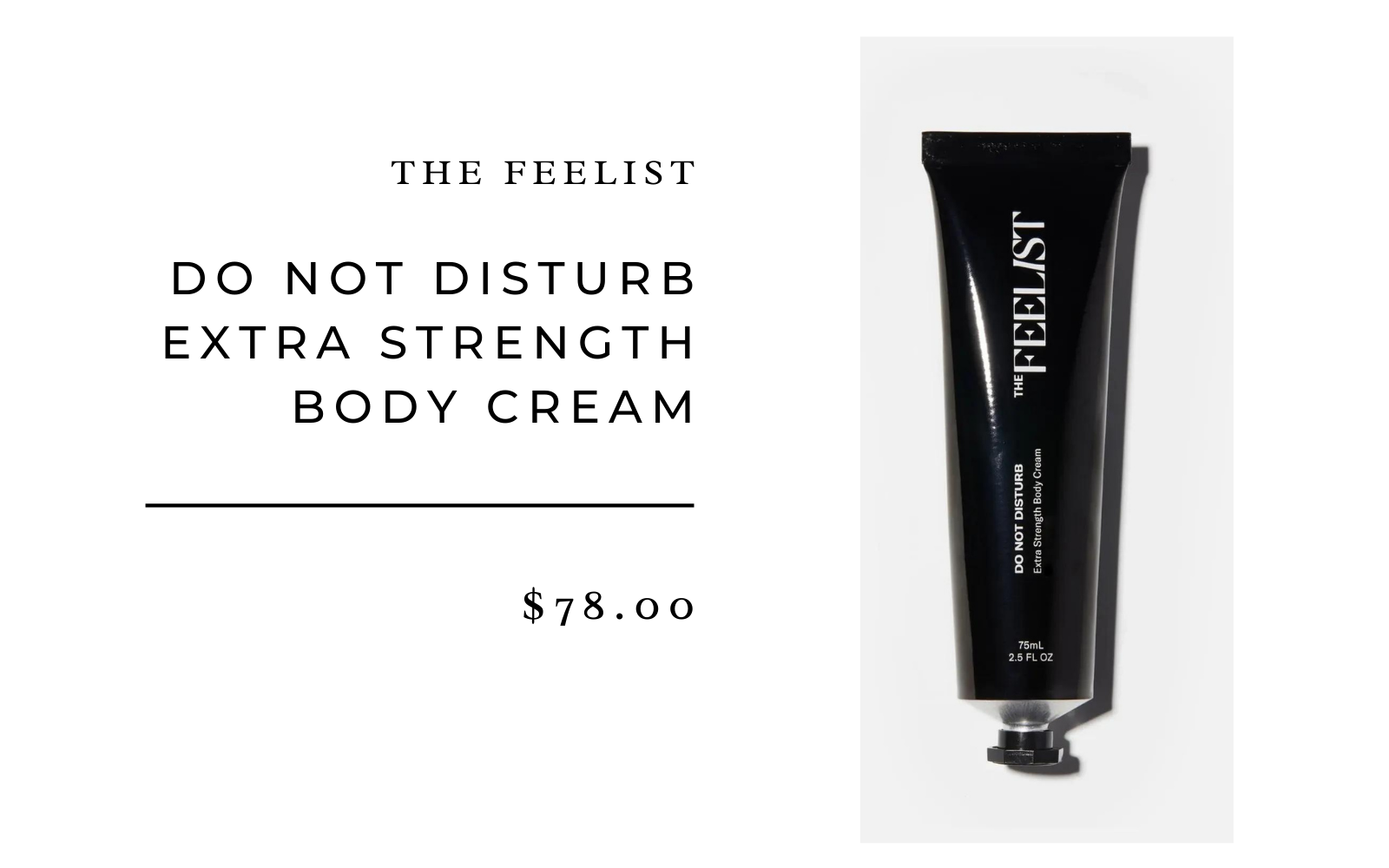 The Feelist Do Not Disturb Extra Strength Body Cream
When I'm looking for pain relief to ease period pain, I need extra strength and this body cream from The Feelist really delivers. This specially formulated cream has 500mg Broad Spectrum CBD along with a blend of essential oils like lavendar and Cedarwood to calm the body and mind. It also has shea butter so it's deeply moisturizing and nourishing to the skin, too.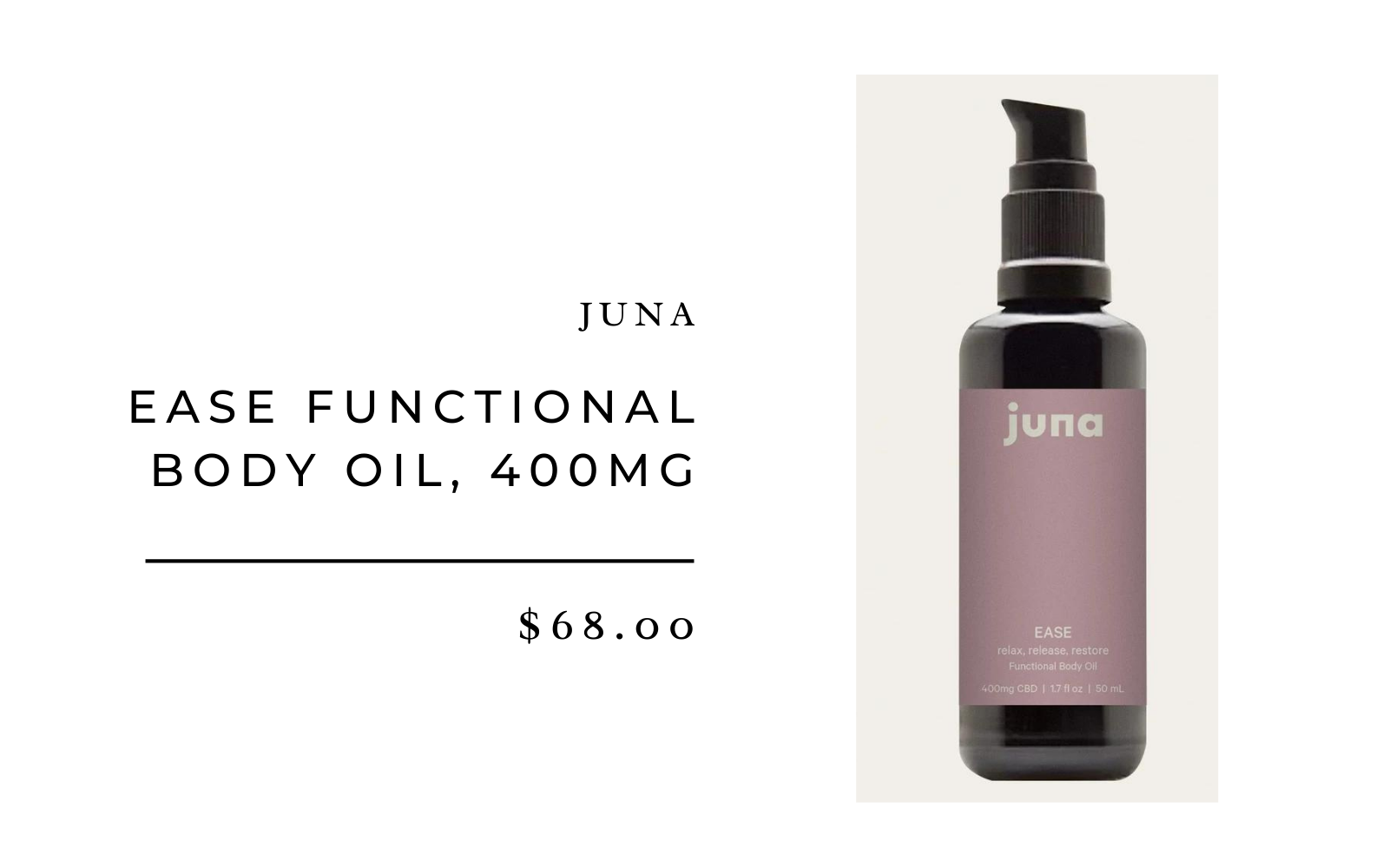 Juna Ease Functional Body Oil, 400mg
If you want to melt down muscular and mental tension, then reach for Juna's functional body oil with 400mg of CBD. I love that is light enough for the face too so sometimes I will work it into my jawline and down my neck, into my shoulders, and down my back. I keep this one on my nightstand because I will often apply it before bed to ease tension from working at a computer all day or a challenging workout. It's divine.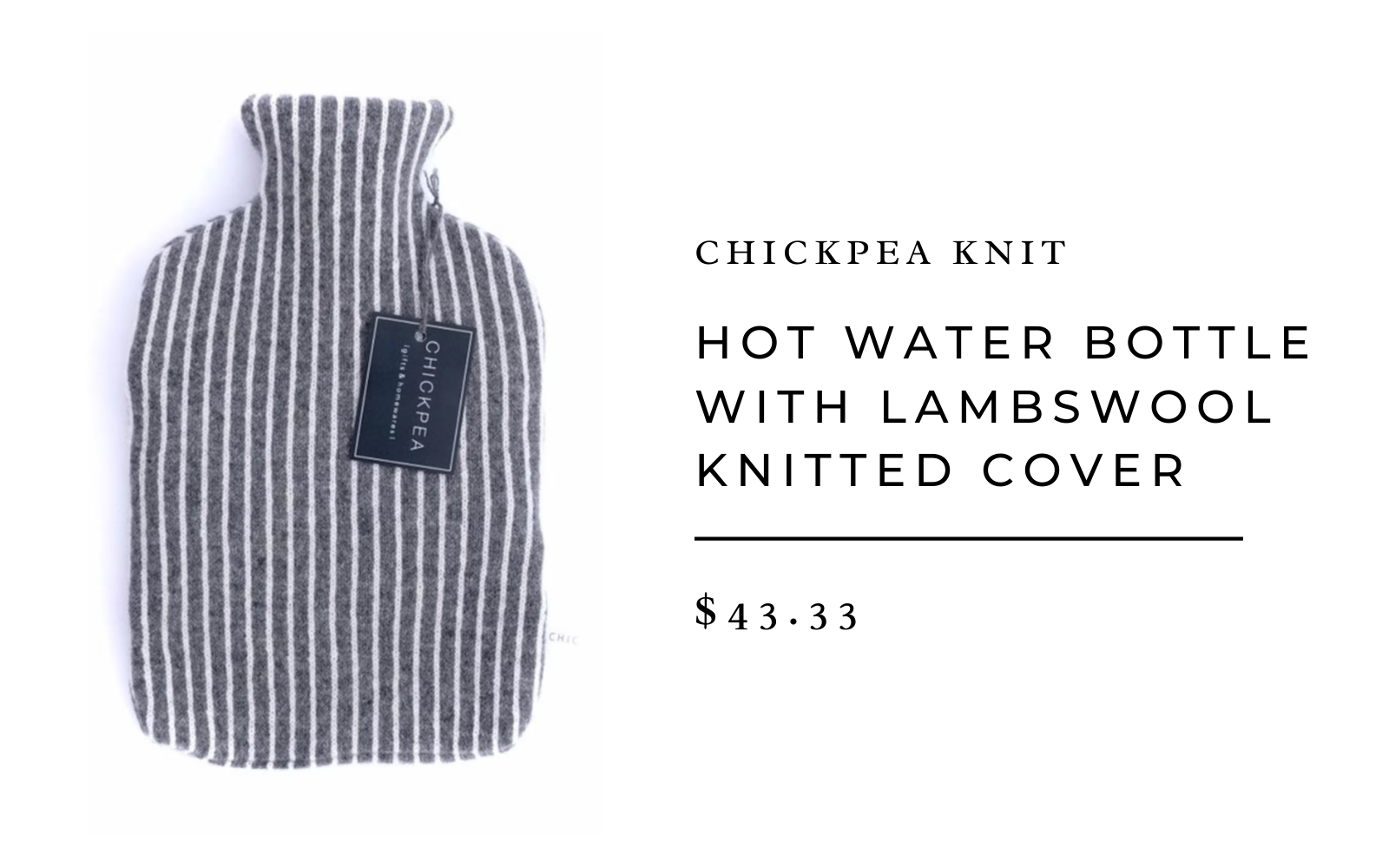 ChickPEA Knit Hot Water Bottle with Lambswool Knitted Cover
One of the oldest methods and still one of the best (in my opinion) is the hot water bottle. Growing up in Australia, my mom would often put one under the covers to make my bed warm in the winter. When I initially moved to the US, I was surprised to find they weren't as common here but I swear by hot water bottles to help me fall asleep and relieve pain. When I have my period, I'll place it on my lower back, and tie a sweater around my waist to keep it strapped in close—instant relief.
For the Flow: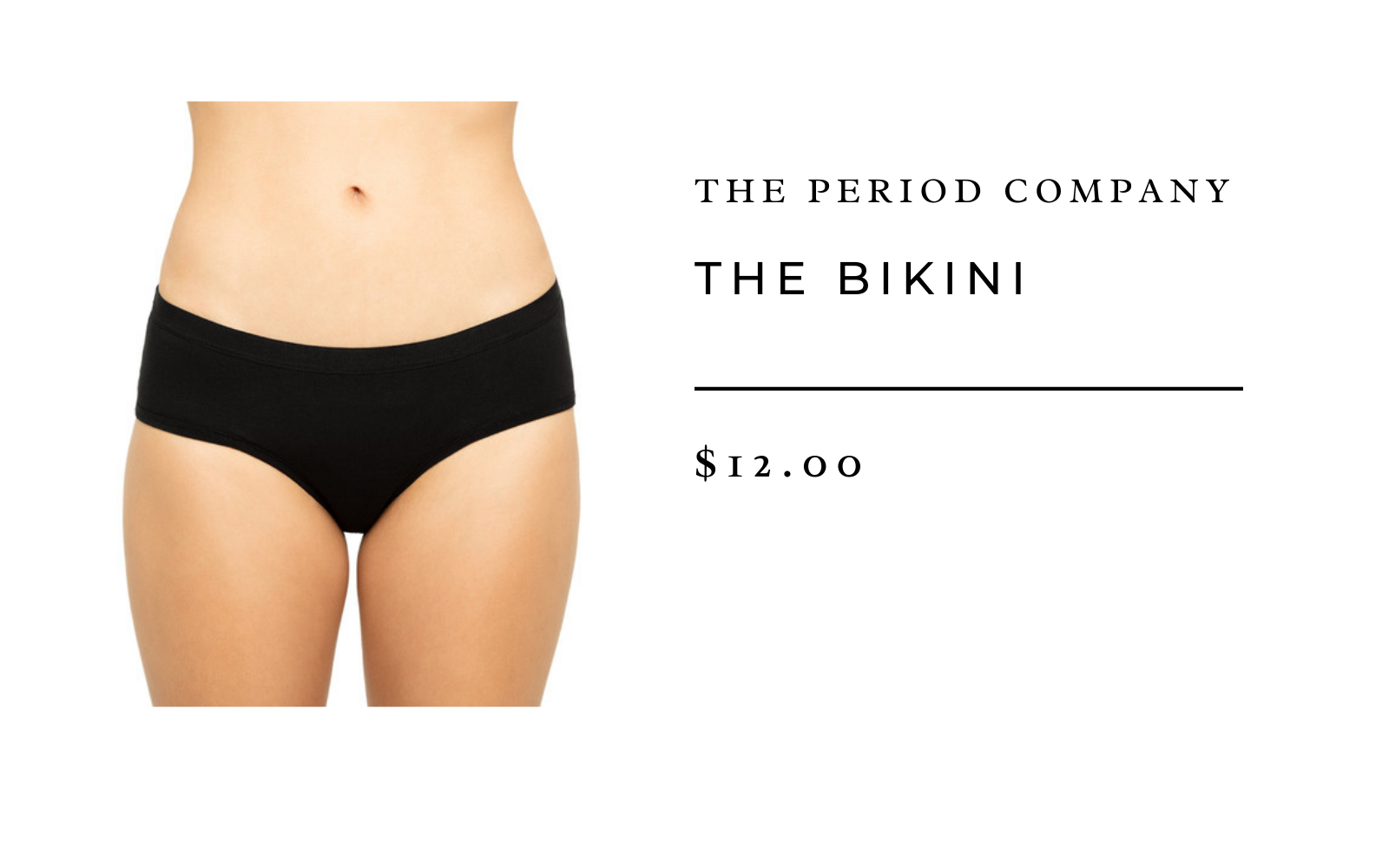 In the United States alone, approximately 12 billion pads and 7 billion tampons are discarded each year. While many end up in landfill others clog sewers or contribute to the plastics in our oceans. If, like me, you want to change this and use a more sustainable option, then period underwear is the way to go. I was already a big fan of celebrity stylist, Karla Welch so when she teamed up with Sasha Markov to launch The Period Company I immediately added to cart—and they did not disappoint. I bought three pairs of the bikini style (above) and three of The Sleeper. I can wear the bikini brief all day and it doesn't leak, ever! And if you've ever stained your brand new white linen sheets like me, then don't hit snooze on the Sleeper style either. They're extremely comfortable but they also hold up to 10 tabs, or 8-10 tampons, worth of blood so I never have to worry about whether my pad has moved in the night. Oh, and they're super affordable, too.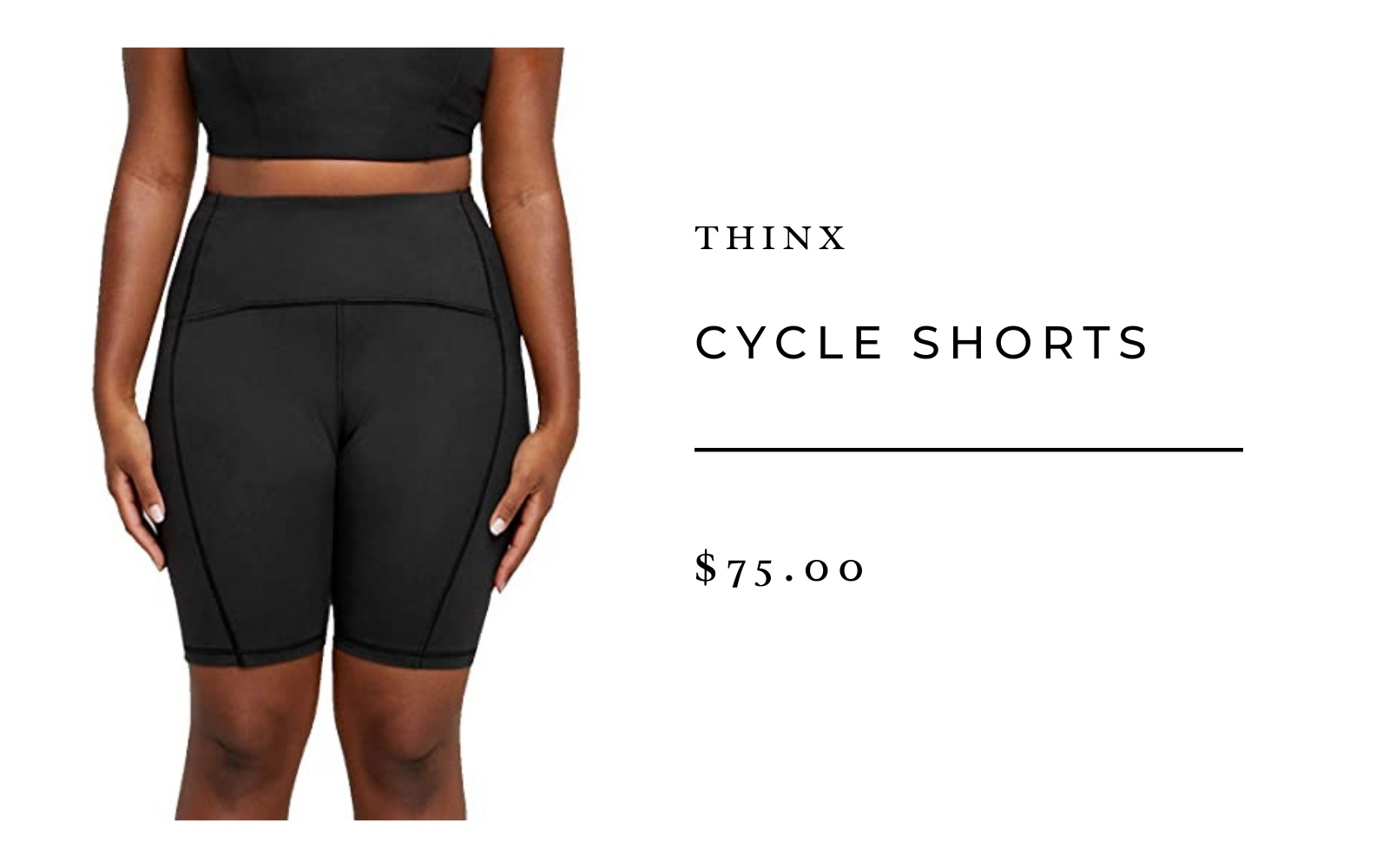 For the lighter side of my period, I turn to my Thinx cycle shorts. These are so cute, I wear them with a stylish oversized tee or white shirt and sandals or sneakers. They're also really comfortable (the fabric is so soft) and are a great option to work out in. The high-waisted fit makes me feel very secure!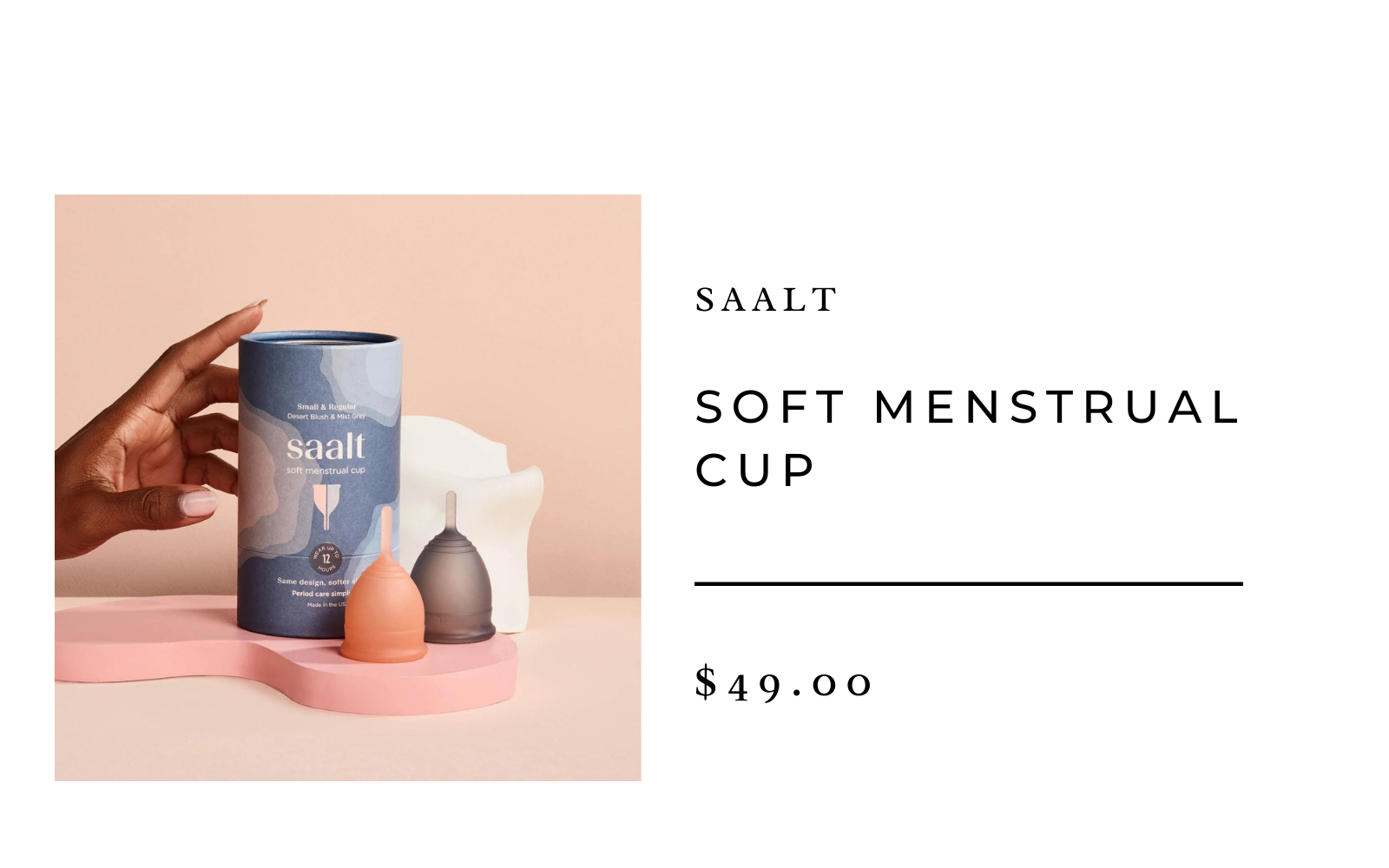 Of course, it's also good to have other options outside of period underwear. When I know I'm going for a swim or a day at the beach, I need an alternative. Since I'm trying to avoid tampons, I decided to test out the soft menstrual cup from Saalt. Firstly, these are made from ultra-soft silicone so they're easy to insert and are really comfortable. Once they're in, you can wear them for up to 12 hours—I didn't experience any discomfort. This duo pack also comes with two sizes but you can also take their cup quiz to determine which size is right for your cervix.
For Your Mood: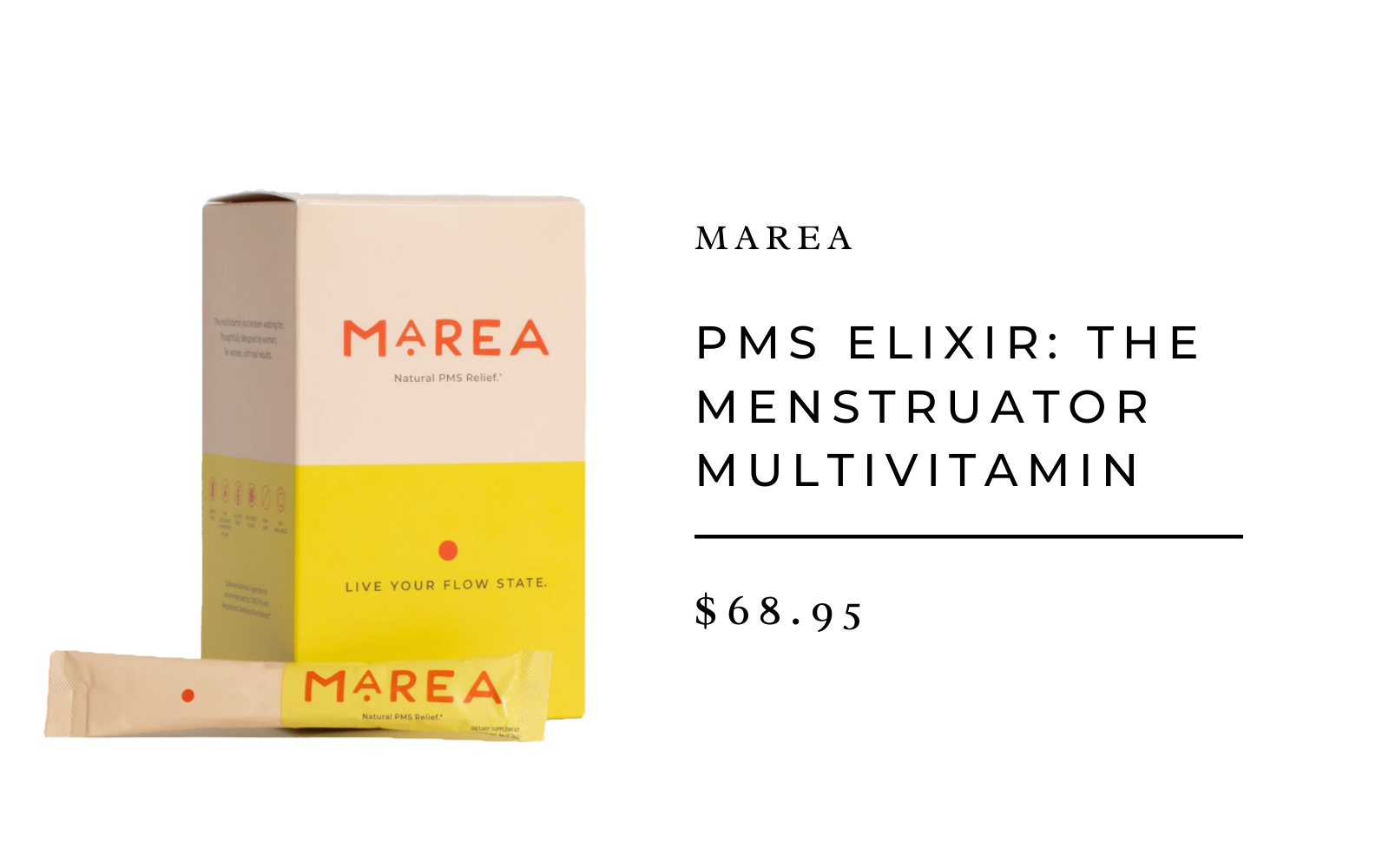 Marea PMS Elixir: The Menstruator Multivitamin
If you suffer from PMS (hey, we're all on the spectrum!) then consider Marea. This multivitamin has 15 key vitamins and minerals (including magnesium, calcium, B-complex vitamin D, vitamin E, zinc, selenium, and vitamin C) to specifically target menstruating discomfort. This includes symptoms of mood disruption, anxiety or physical bloating, cramping, and breast tenderness. Their goal is to optimize healthy hormone function and restore balance in your everyday life so that when your period comes, your body has the foundation it needs to get through the physical and emotional symptoms. I truly notice a difference when I'm taking these regularly and highly recommend them. In fact, it's been so popular they sold out but the brand tells me that the product will be available for pre-order with shipping starting the first week of October.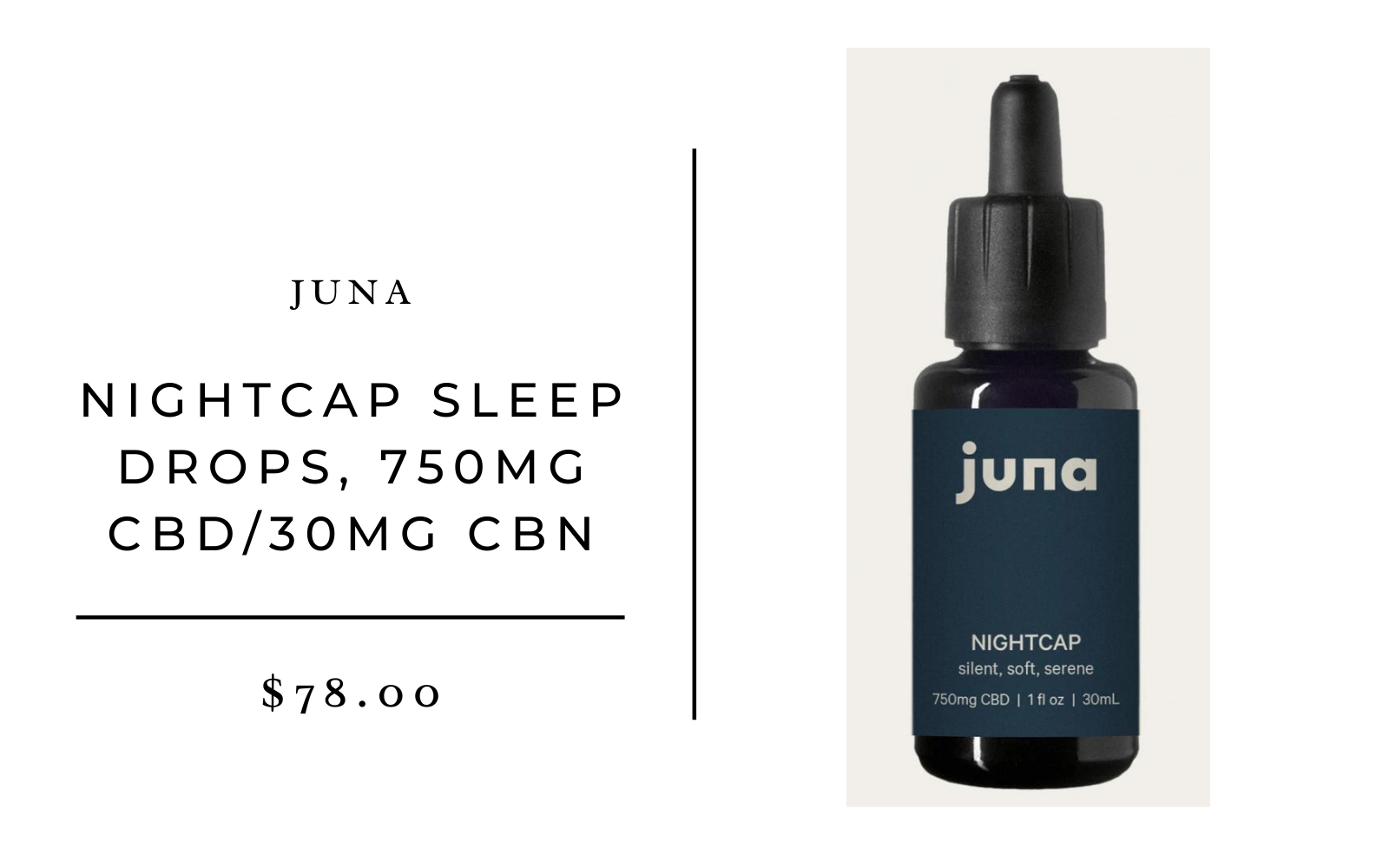 Juna Nightcap Sleep Drops, 750mg CBD/30mg CBN
I've tested tons of CBD products and tinctures but I keep coming back to this one by Juna. It helps to ease any tension, calm my nerves, and put me in a state of relaxation for a peaceful nights sleep. I've recommended it to so many people because I love it so much. It's much gentler on the stomach too than most other over-the-counter or prescription sleep products. It's always that much harder to get some quality Z's during your period so I love to use Nightcap across those four to five days to take the edge off.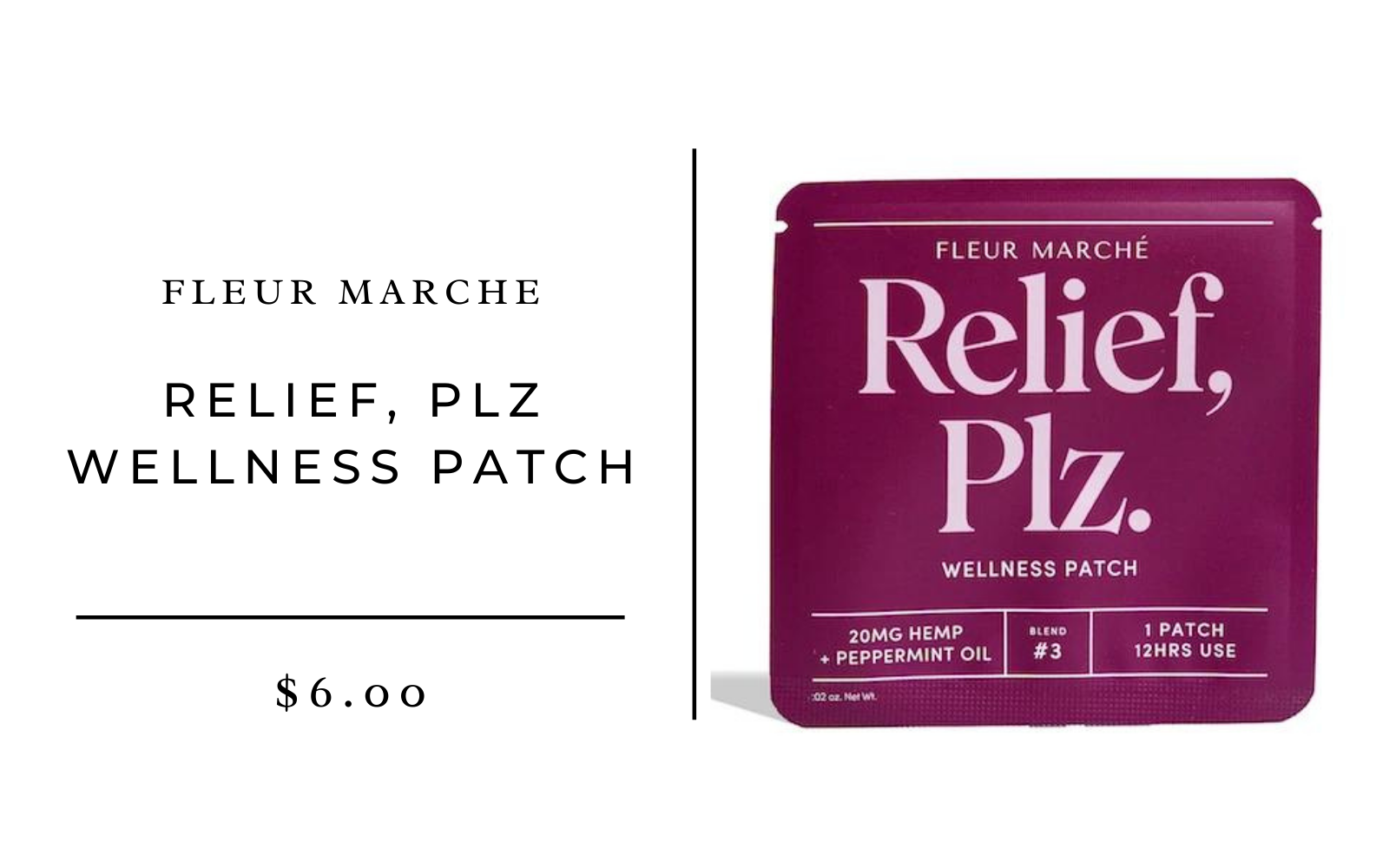 Fleur Marche Relief Wellness Patch
I have been using the Fleur Marche patches for a few months now and I can vouch for their effectiveness. Firstly, I love the "peel it, set it and forget it" style of these patches. You just apply the patch directly to a veiny area (I usually stick it to the underside of my wrist) and it will slowly deliver the ingredients over the next 12 hours. With 20mg of CBD and peppermint oil, this patch not only helps you feel better during your period but it will also enhance recovery post workout, a night of drinking, or daily wear and tear. I also love their Sleep, Plz with CBD and melatonin (also great for helping you drift off to sleep when you're experiencing bad menstrual cramps).
For Your Face: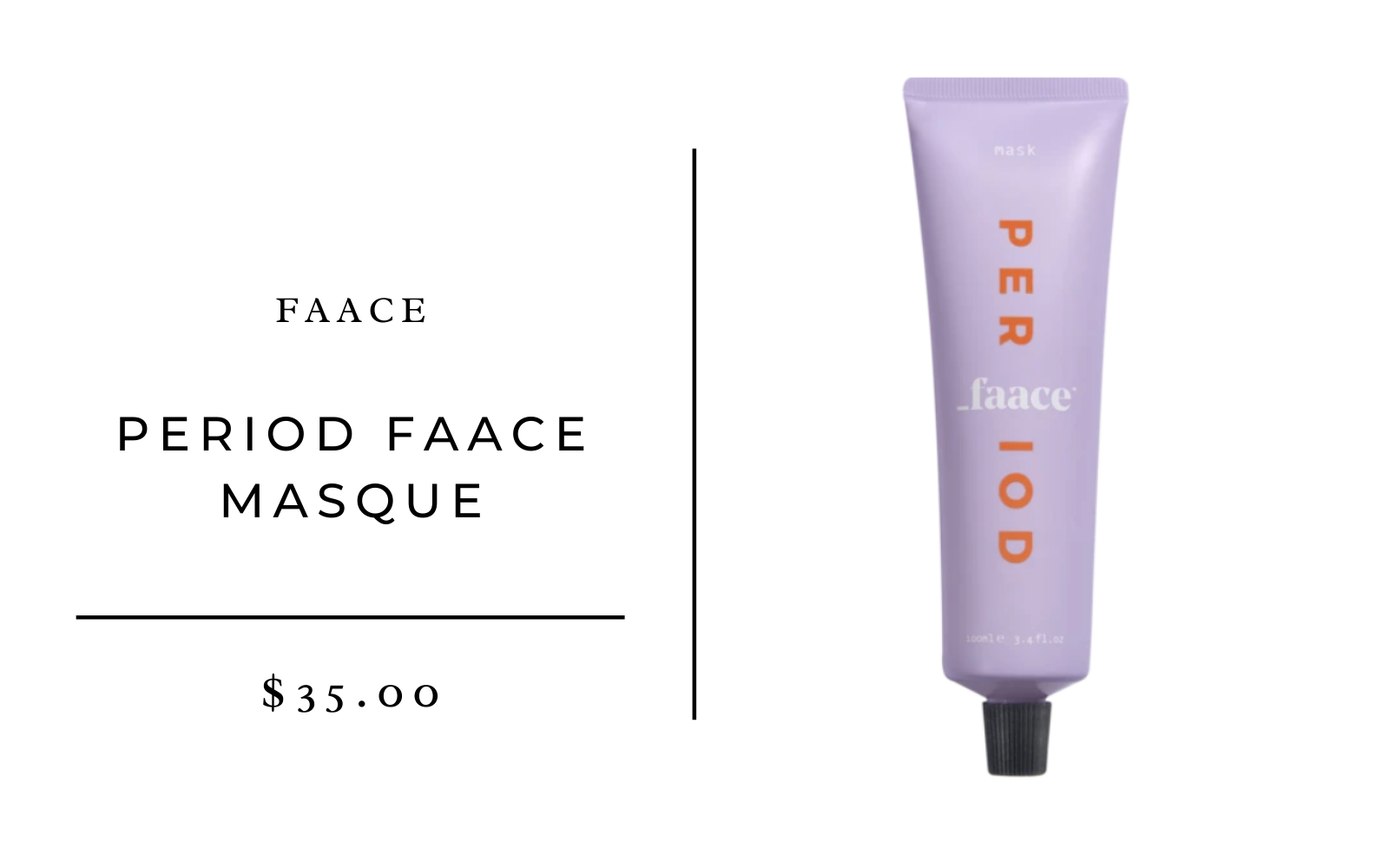 As if our period wasn't bad enough (which it is), many of us also have to deal with hormonal breakouts too. I also find my skin texture changes during that week so I definitely like to treat it with some hydrating face masques. But this one by Faace has been specifically designed to treat "period skin." Basically, the goal is to prevent breakouts before they happen with its clarifying blend of zinc, clary, and white willow along with hyaluronic acid. It's very lightweight and sinks in fast to provide instant hydration.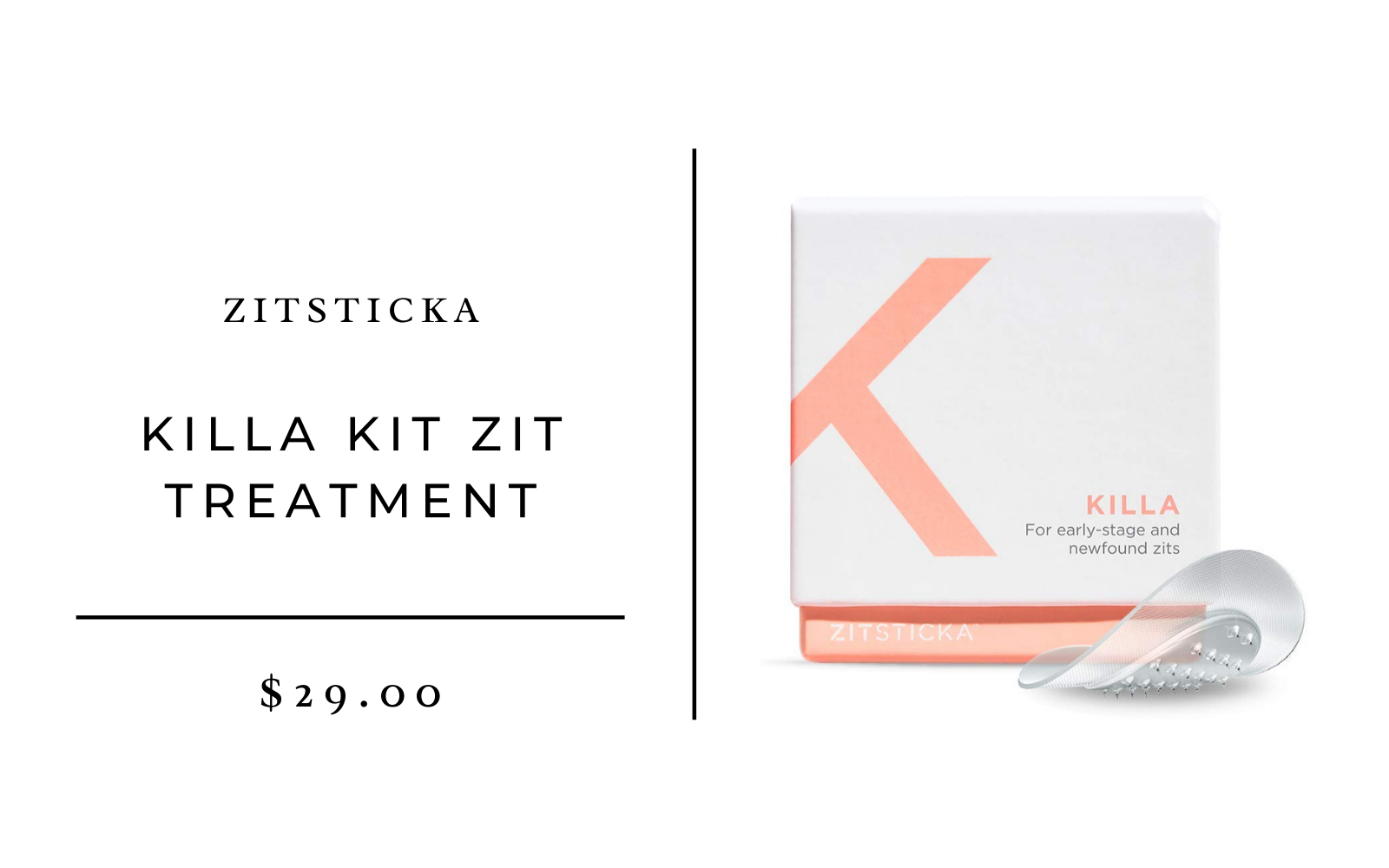 ZitSticka KILLA Kit Zit Treatment
Of course, breakouts happen to good people and when I feel a hormonal pimple coming on, I get out my ZitSticka pimple patches. I've tried a lot of these and this one is the only one that really works (IMO!) thanks to its microdart technology. Designed for deep, early-stage zits, the microdart delivery system (24 microdarts to be exact) sends the ingredients (hyaluronic acid, salicylic acid, niacinamide and oligopeptide-76) to the root of the problem to stop the zit from coming to a head. It's genius.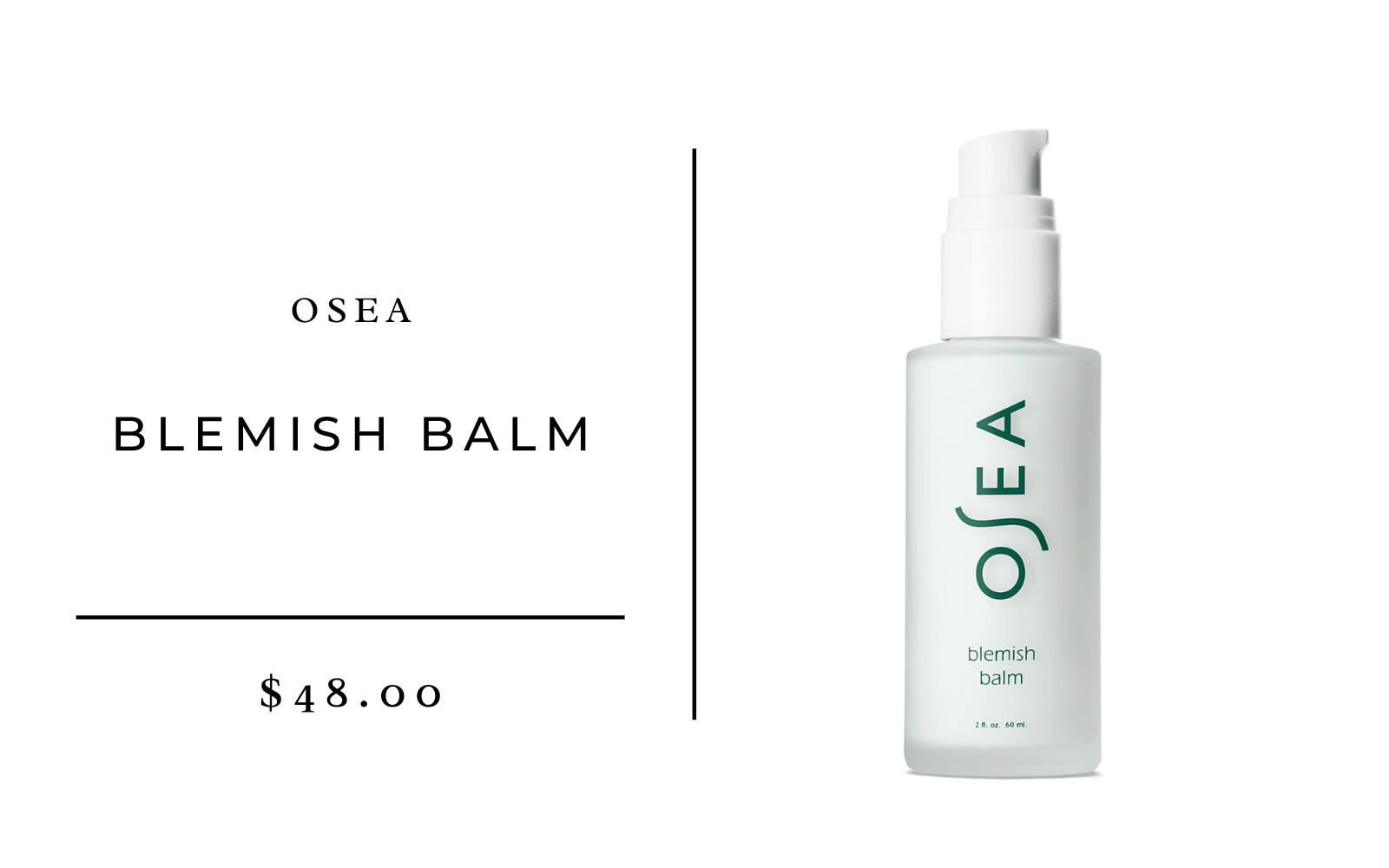 OSEA are renowned for their clean, efficacious skincare. I am a huge fan of so many of their products (this vagus nerve pillow mist is incredible!) but their blemish balm is definitely one of my favorites. With seaweed, tea tree, juniper, and thyme, this balm works fast to kill zits but without any harsh chemicals that can often dry out your skin and worsen breakouts. This calms while it clarifies not to mention hydrates the skin. The texture is incredibly soft and smooth, it just feels so dreamy to apply. 10/10 recommend!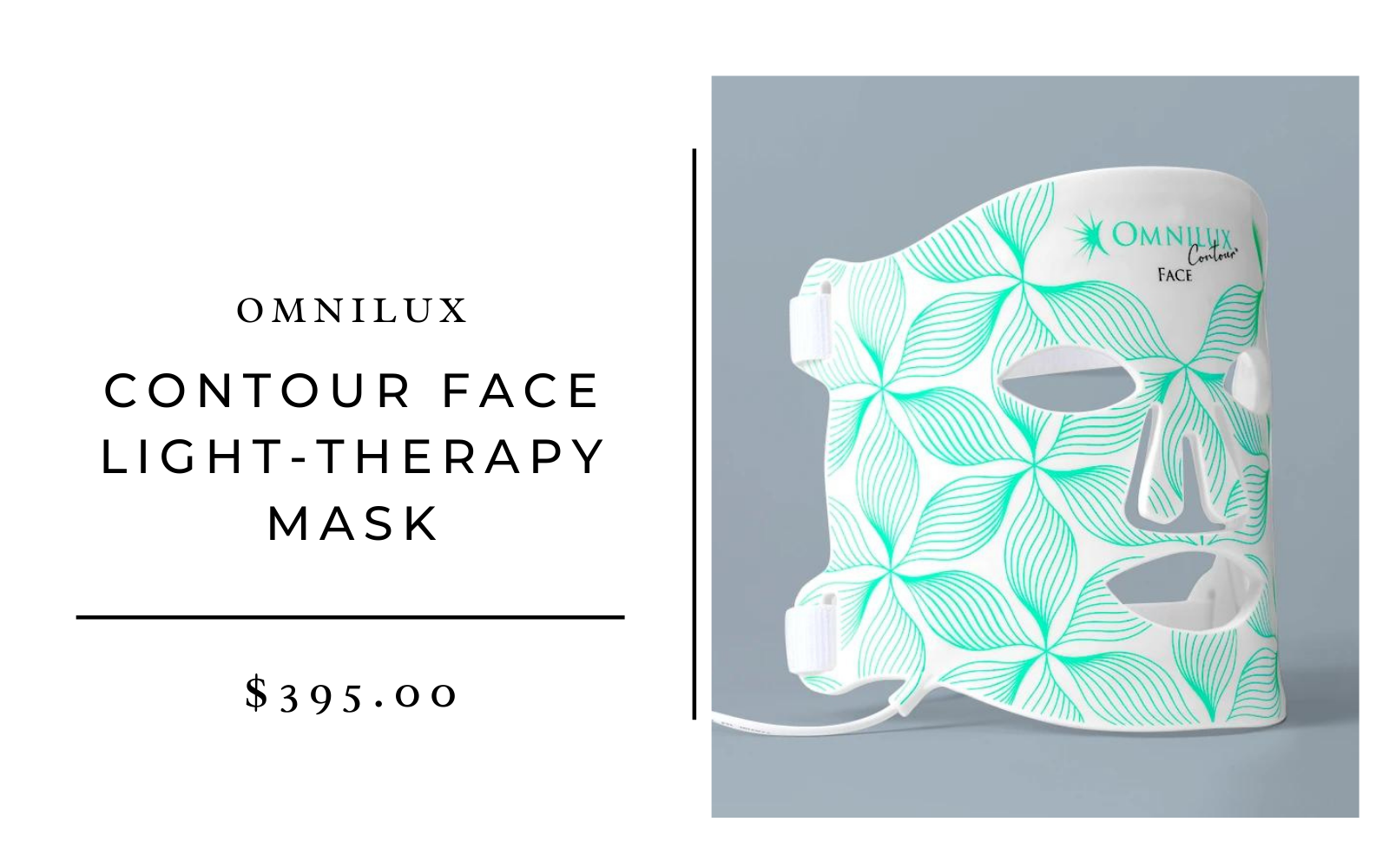 Omnilux Contour Face Light-Therapy Mask
While LED is typically known for its anti-aging properties, it's also proven to help with breakouts and acneic skin. I recently started using this mask and I love how lightweight and portable it is. Simple charge it up and then just hit the button for on-the-go treatments. Each session is 10 minutes long and it will automatically turn off when it's done. I also love using it before bed because I am convinced LED helps to calm my mind and help me drift off to sleep—and science backs up my theory, too. A study in the Journal of Athletic Training found that 30 minutes of red-light exposure improved sleep and melatonin levels. Some other research suggests that red light therapy at night may also help you wake up more alert and ready for the day. Rest is something we all need during our period.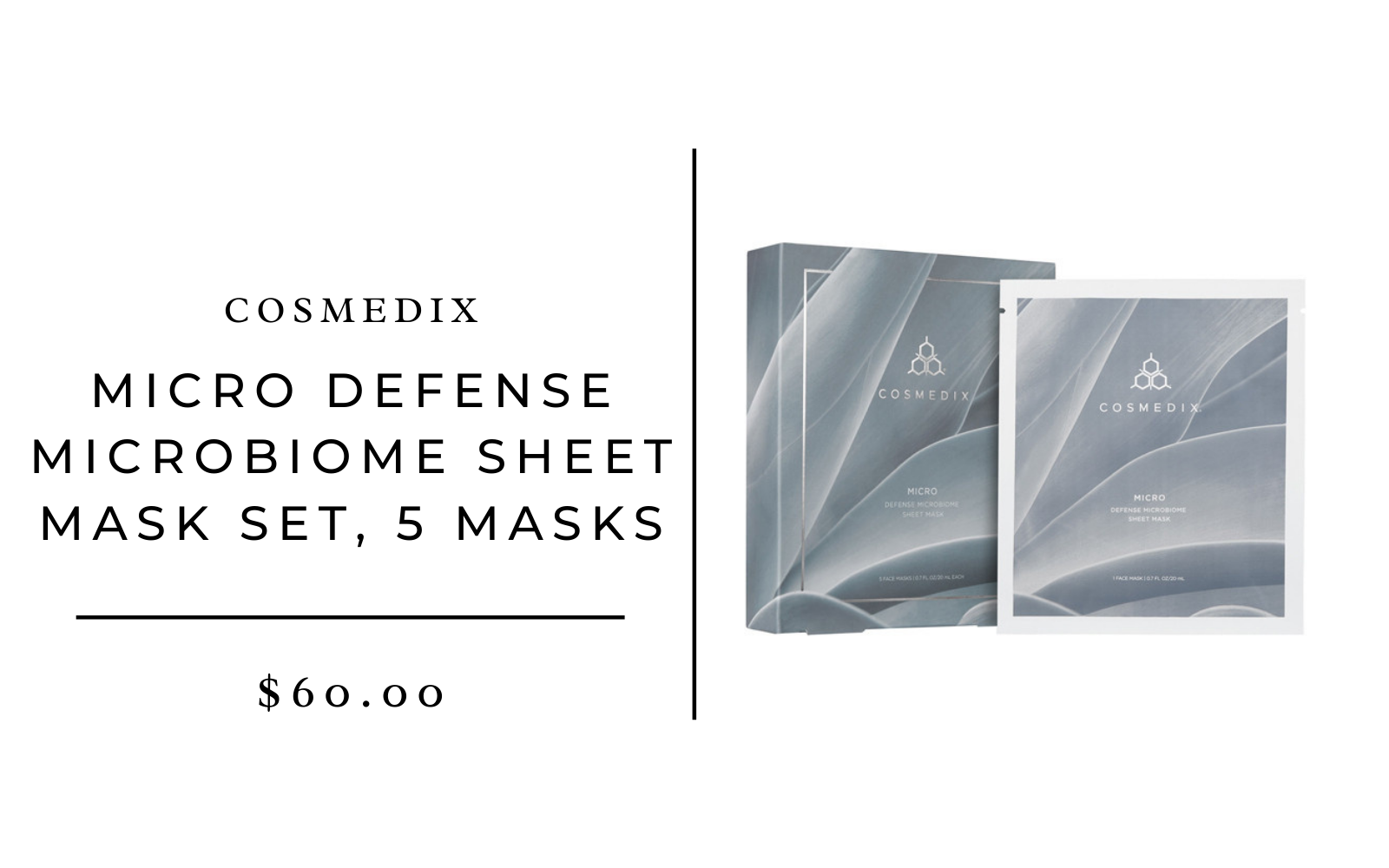 Cosmedix Micro Defense Microbiome Sheet Mask Set, 5 Masks
If your skin tends to freak out during your menstrual cycle, then look for products that help to balance out and nourish your skin microbiome. These sheet masks from Cosmedix help to hydrate the skin with a moisture-rich prebiotic serum, strengthening your skin's natural defense.
For the bath:
Prima Bath Gem 25mg CBD Bath Soak
A CBD bath bomb? Count me in. This one has just enough CBD to have your floating out of the bathroom.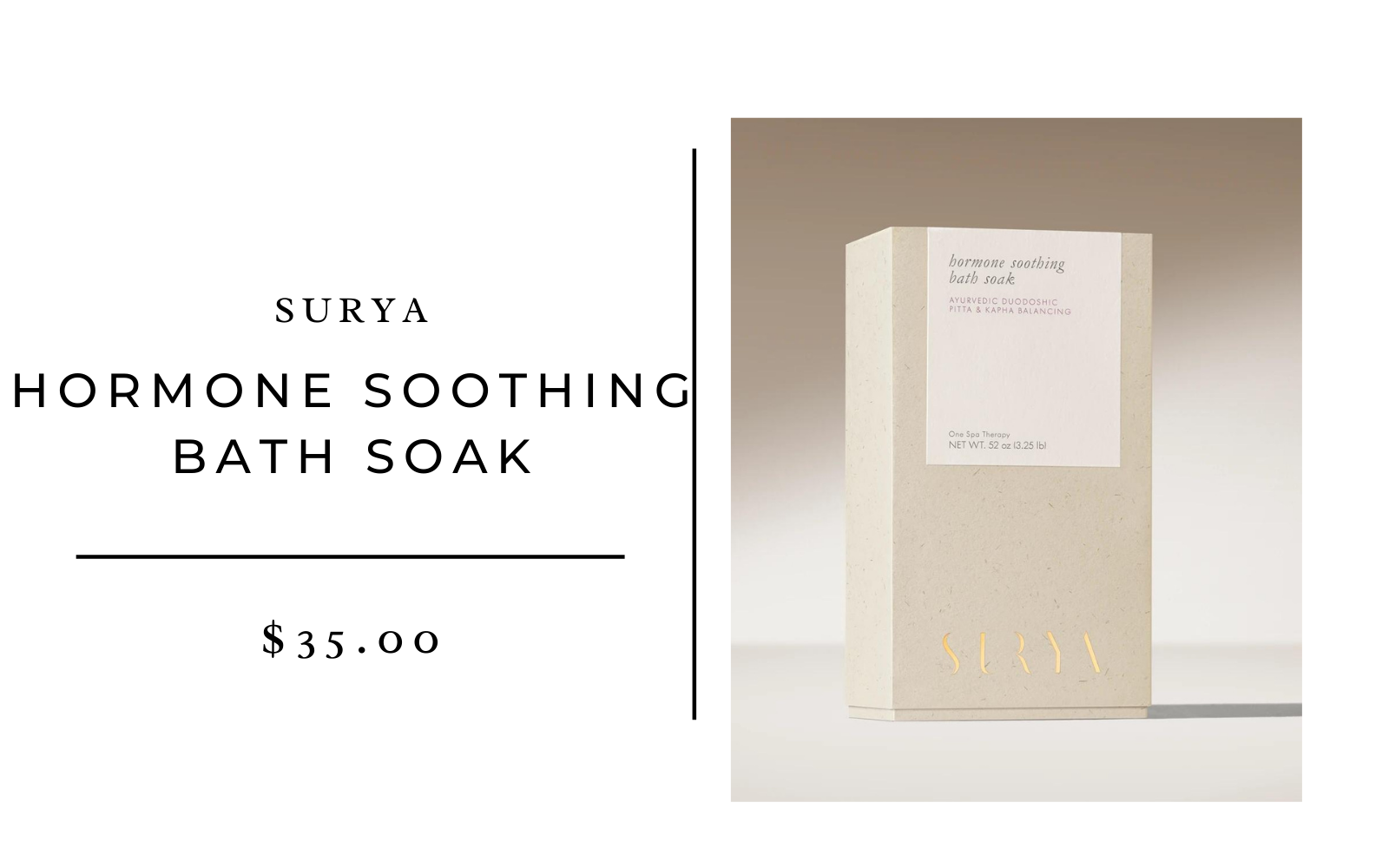 Surya Hormone Soothing Bath Soak
The restorative properties of wild yam and shatavari help soothe and bring balance. Soak, and let the simplicity of Ayurveda return you to a state of balance, peace, and wellness.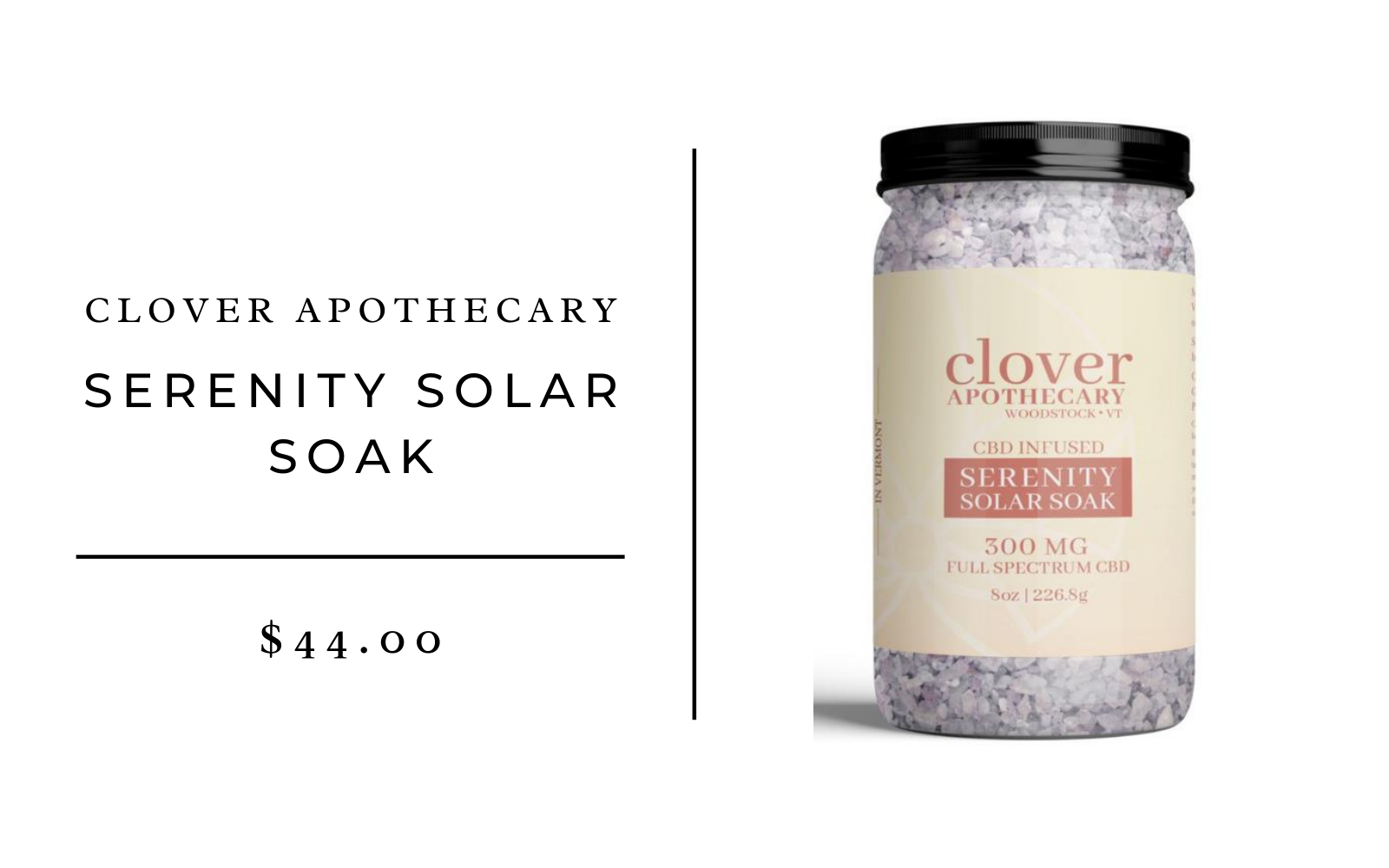 Clover Apothecary Serenity Solar Soak, 300 mg
This CBD soak from Vermont-based Clover Apothecary contains 300 mg of CBD, so it's great for those of us who like a stronger dosage. It will definitely ease any cramping and pain.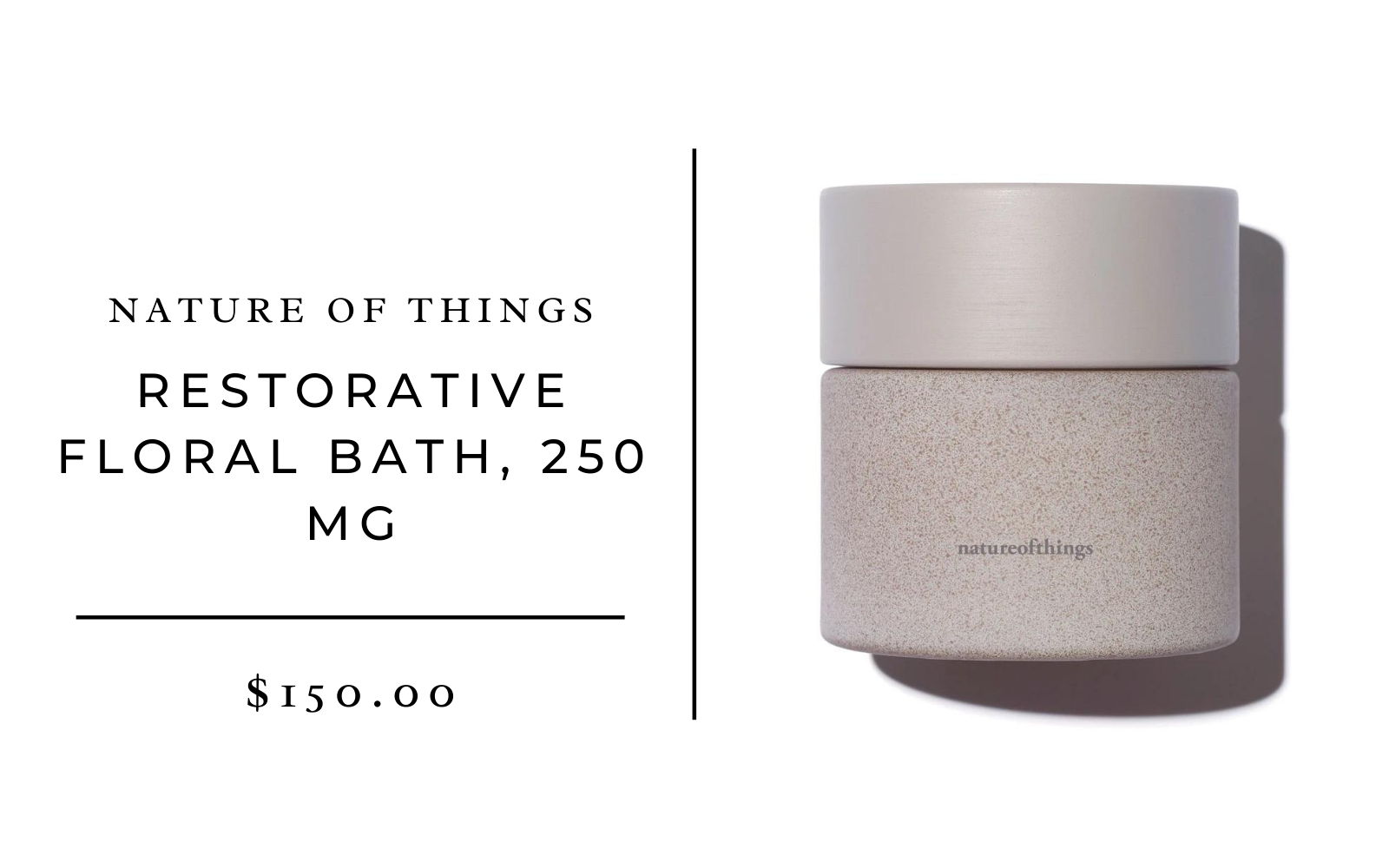 Nature of Things Restorative Floral Bath, 250 mg
If you want to make your bath über luxurious then this bath serum is for you. It isn't cheap, but it really does help with the pain and the floral fragrance is heaven scent. A jar contains 250 ml of CBD and a five-to-seven-second pour of the product will deliver roughly 50 ml to a bath, giving you about five soaks per bottle. And if you want to give it a test run first before making a big investment, they just launched a smaller 110 ml version for $85. Try it, you'll be obsessed to!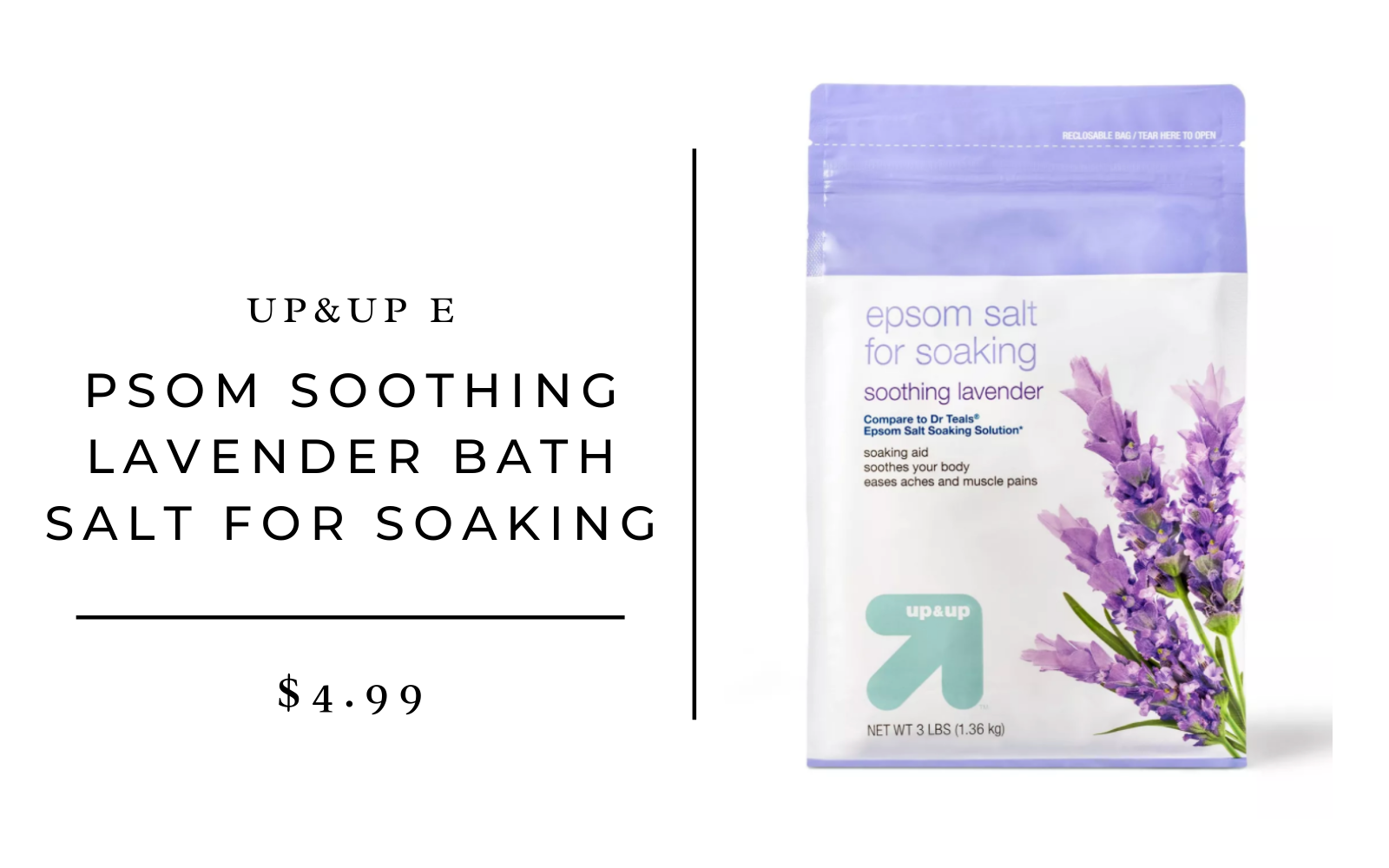 Up&Up Epsom Soothing Lavender Bath Salt for Soaking
When all else fails, epsom salts will do the trick. This bag will last you for several soaks and works to soothe muscle aches and cramping, while making you feel relaxed.