When I was in college almost 20 years ago (yikes!), how to create your personal brand certainly wasn't something they taught you in school or even encouraged. The goal was to graduate, get a job, get promoted, climb the ladder, and hopefully become a c-suite executive with a corner office (if you work hard enough that is!). I am a product of the big shoulder pads working girl era of the 80s so having a successful career and making a lot of money was definitely the goal growing up. Not that my parents pushed that agenda, but I definitely felt the inertia of the women's lib movement and I relentlessly pursued every career goal.
But as I stepped up yet another rung on the ladder and worked my way towards the top, my insatiable appetite for success didn't end. In fact, it just continued to grow, until November last year, when I finally decided it was time to step out on my own and focus that drive towards chasing my own dream, not somebody else's.
It was incredibly liberating and really scary all at the same time but can I tell you, I haven't looked back—not once! Thankfully, during my time as the editorial director of MyDomaine and Create & Cultivate, I was also building my personal brand as an authority in digital media, beauty, interiors, and the lifestyle space. This reputation served me well when I eventually took the leap because people were familiar with my work, trusted my experience, and respected me as an industry leader enough to want to hire me.
This is all to say that: branding isn't just for companies. Just like the power of the Nike tick, building a personal brand will help you stand out from the crowd, gain more sales or clients, increase awareness, and ultimately enhance your authority in the space. Just like corporations, professionals also have their own story to tell, goals, skills, and expertise to share, and in today's saturated digital world, carving out your own space is imperative.
So, we tapped personal branding experts and Forbes 30 Under 30 honorees, Aisha Marshall and Destinee Dickerson to find out how to create your personal brand from scratch. The creative BFFs are the dynamic duo behind Creative Label, a full-service branding, marketing, and PR agency, so, it's safe to say they know a thing or two about personal branding and promotion. Read on to learn more and start carving out your brand today.  
image by Jenna Peffley
What is a personal brand?
A personal brand is how your audience perceives, sees, and experiences you. It is essential to create a personal brand because it is an avenue to generate a revenue stream. Not only that, but it differentiates you from your competitors.
A personal brand also allows you to leverage things like strategic relationships, brand partnerships, and credibility.
How can your personal brand boost your career?
A personal brand is symbolic of what represents you and who you are. It embodies everything from your tone of voice, style, character, likes, dislikes to your values.
Not only can you monetize with a personal brand, but you can also increase audience acquisition. Typically, the more fluid and polished your personal brand appears, the more invested people become in your brand and what you are selling. 
How do you build credibility in your field?
One of the first foundational steps to building credibility is having consistent visuals and messaging. If your brand visuals are all over the place, that's how people will perceive your brand. Make sure that you're speaking to the exact audience you're trying to attract. Also, make sure your visuals are consistent and polished. 
The next step, posting consistent content on a platform to showcase you as a thought leader. A podcast, a video series, or a blog is the perfect way to do this because it showcases to your audience that you know what you're talking about—in turn, adding credibility to your brand. 
How do you create an authentic personal brand?
The first step to developing a personal brand is working on the story branding aspect. You will need to determine three to four things you want to represent and the type of audience you want to attract. More importantly, you need to identify the problem your brand solves and why you are valuable. 
Next, hype yourself up! There are no fairy godmothers in personal branding, waving a wand and deeming people experts. It's just not realistic. If you want others to view you as an expert, you have to believe it yourself. 
Once establishing your expertise, begin to brainstorm ways to get the word out. Utilizing social media, video content, community groups, and podcast interviews are great places to start! Not only are you providing valuable content to your audience, but you are also introducing yourself as a thought leader and amplifying your services.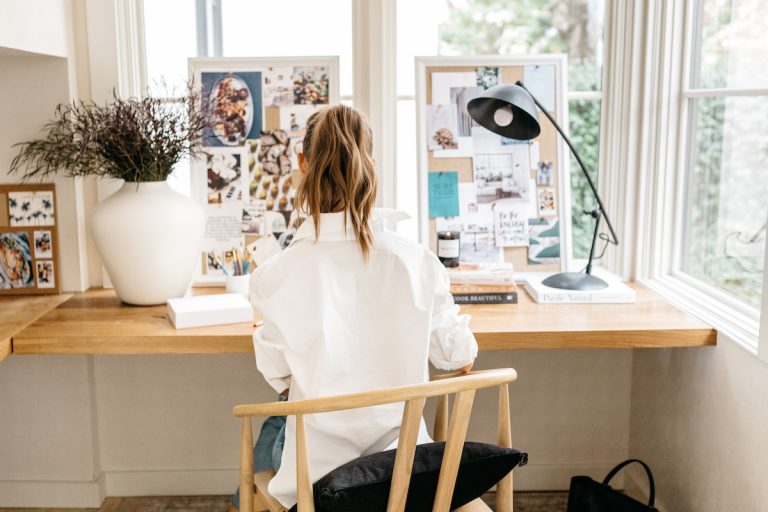 How can you figure out who you are? Why is that important?
Create core values. Take the time to ask yourself what are attributes you want to ensure you live by. Then, build a comprehensive list, group them into categories, and start eliminating. Pretty soon, you'll begin to see a theme in the groupings. Identify the words that encompass most of the group's terms, and your core values will become clear.
Outlining your core values and staying true to them helps you remain authentic in everything you do. Not only that, but your audience can feel when you're genuine and when you are not. People are attracted to authenticity, and sticking to your core values is one way to attract your target audience. 
Your network is your net worth, and often relationships are more important than what you know. How can people network in a virtual world?
Networking is vital, and believe it or not, it is easier and less intimidating than most think. Virtual networking is one of the best things that has come out of COVID. Our go-to spot for virtual networking is Instagram.  And yes, we love to slide in the DM's after intentionally engaging with people's content. We both spend at least 5 hours a week, merely creating relationships with people on Instagram. Once we connect via social media, we set aside time for 15-minute Zoom coffee dates during the week.
The key to coffee dates is to genuinely get to know the person, without the pressure or expectations of making a sale or expecting anything in return. 
We are also big on providing value or giving back, so we often ask things like, "How can we help you during this time? Is there anything we can do to support you?" Once we know that person's pain points, we can offer assistance and regularly check-in. Trust us, people remember small things like this.  
How can people ask for informational interviews? Do you recommend zoom calls?
The first step is to push past fears and ask for the interview. After all, the worst someone can say is no. Utilize DMs and email to reach out. COVID has also made people a lot more accessible via Zoom, so many people don't even hesitate to hop on a 15-minute zoom call. Preparation is also crucial. Once on the call, be sure to respect the other person's time by having specific questions you would like to ask ready to go. 
Do you think people should still prepare an elevator pitch? 
Yes! People should always have their elevator pitch ready. It's crucial to explain what you do, and even more important. Your team can explain the elevator pitch. Why? Being able to explain what your business does in a one-liner is free marketing!
The first step to creating your elevator pitch is to figure out what problem you solve. Once you can identify the problem, highlight how you take the consumer to the solution.
Here's an example: 
My business helps fatigued entrepreneurs streamline and delegate their work to spend less time working while making more money. 
Problem: My business helps fatigued entrepreneurs 
Process:  Streamline and delegate their work
Solution: So they can spend less time working while making more money. 
When you're able to speak directly to the problem, every consumer experiencing that specific problem will be interested in your services.
What are some platform-specific tips to help people craft their personal brand online?
Your online presence should be concise and clear. Someone should be able to come to any of your social media platforms (or your website) and know exactly what you do. The problem you solve within the first 10 seconds they are on your page.
Here are a few tips for Instagram below: 
Give yourself a bio audit.

We have a guide here

that tells you everything that should be included in your bio to attract the right audience and give you brand credibility. 

Check your content. Be sure your photos look great! Check the quality of your pictures and your caption copy. All images should be shot in focus and in great lighting. All caption copy should have excellent grammar and composition that gives you authority.

Video is critical and always performs best! Don'tDon't be afraid to use it, and don't forget to use open captioning. Did you know 85% of videos on social media are watched without sound? This is why subtitles are so important for videos. You are only reaching 15% of your audience effectively by not including subtitles. 
How much should you share of your personal life online so it doesn't negatively impact your brand?
It is no secret that the most successful people usually share a fair amount of their lives on social media or some media outlet. That's because, in today's time, people buy lifestyles. Just look at the Kardashians! One of the reasons they're so successful is because they share their life experiences. 
Advising on the amount is a heart-centered question, and it should be based on what feels right for you and your family. Whatever you decide, make sure you're creating core values around that and honor them. 
How can we reframe how we think about our careers as we head into 2021? Is it the year to take the leap into your own business? 
2021 is the year to do everything you have ever wanted to do. Most of us spent 2020 figuring out or realizing the things we don't like about work. Unfortunately, many people lost their jobs. But for some, it was a blessing in disguise because it forced them to acknowledge that they were not happy. 
Going into this year, take the time to do the things you have always wanted without fear. It may sound cliche, but there is so much space for everyone to win and be successful. Though it may be scary, make the small steps to building your personal brand because you only regret the opportunities you didn't take. 
How did you take the leap to start your own business? What tips can you share?
We took the leap out of necessity, really. We were advised that you will almost always rise to the occasion to fill the void once you create a need. While we didn't intentionally create the life we were living when we started Creative Label, there was a level of necessity between the two of us. 
Both of us were dating our partners, both professional athletes, that were continually traveling. It barred us from planting roots in any one city. We knew we were meant for more, but we were not sure what that looked like practically. Once we figured out what we wanted to do, while scary, we started building and taking steps in the direction of creating a business. It was terrifying, but we just continued to take action, and things slowly started to get more comfortable. The hardest part is committing to continuing the steps. Each level of entrepreneurship will look a little scarier and get a bit more challenging. Still, as long as you continue to execute, you will continue to grow. 
If you want to learn more about how to create your personal brand, please reach out and connect with Aisha and Destinee direct. They would love to answer any questions you may have about branding, marketing, PR, and entrepreneurship. You can reach them on social media @creative.label or listen to their podcast, The Label, where they highlight all digital marketing trends and digital updates.