Over the last twelve years that I've been a blogger, let's just say that my office sitch has changed, well, more than a few times. There was the early period, when Chanel and I huddled at IKEA desks in the basement of mine and Adam's first house. Then we moved into our current house, and converted our guest room to an office for four. We got our guest room back when my team moved into our first real office! Which we moved out of a year later, only to renovate our 100-year-old bungalow which will be forever near and dear to my heart. Over the years, I picked up quite a few home office ideas and real office ideas that informed my ever-evolving approach to the design of these work spaces.
Last year, everything changed, and like so many other creative teams, we entered a new season where we once again work from home. And I'm mostly loving it – though I look forward to the day when our team can gather for brainstorm lunches and travel together again.
That said, work from home life is my reality for the foreseeable future, so when we embarked on our recent renovation, I knew that I needed to carve out a place where I'd love to "go to work" everyday.
Since I didn't want to give up our guest room again, I decided to convert the little alcove off the kitchen into my dream workspace, then pulled all my best home office ideas into one Pinterest board and got to work. Scroll on for the before, after, and answers to your top questions about this space on Instagram…
What part of your house is this?
First things first, I've showed you guys very few (maybe zero?) photos of this space over the years, because it's never been one of my favorite spots in our house. When we built our home a decade ago, we had this awkward little space off the kitchen whose purpose was sort of TBD – part home office, part kids art area, part closet where I stored random stuff I didn't know what else to do with. In my experience, when spaces don't have a clear purpose, they often don't receive much attention in the design department. And that was certainly the case here.
Here's a shot of my team working in the space several years ago when a few of us worked from my house. As you can see, our intern Kelly was in a "cloffice" tucked under the staircase, while Chanel was working away at a nondescript built-in desk with white drawers below. What you can't see is there was also a heavy set of white cabinetry built-in above, which always made me feel claustrophobic when sitting at that desk. I found myself organizing and re-organizing this space constantly since it never felt very efficient.
How did you create your new desk?
When it came time to plan our renovation, I knew that this room needed a total overhaul if I was going to make it my future home office. I tried to figure out a plan that would incorporate all the built-in cabinetry, but in the end I realized that it all had to go. It was a painful decision, because those were not cheap to install — but I knew that simple was better, especially in a space this small. We made a plan to demo all the built-ins, then I designed a simple wood plank-style desk and my framer, James Downing, built and mounted the two floating pieces to the wall. He used a simple wood oak that was sealed with a matte shellac from Bullseye.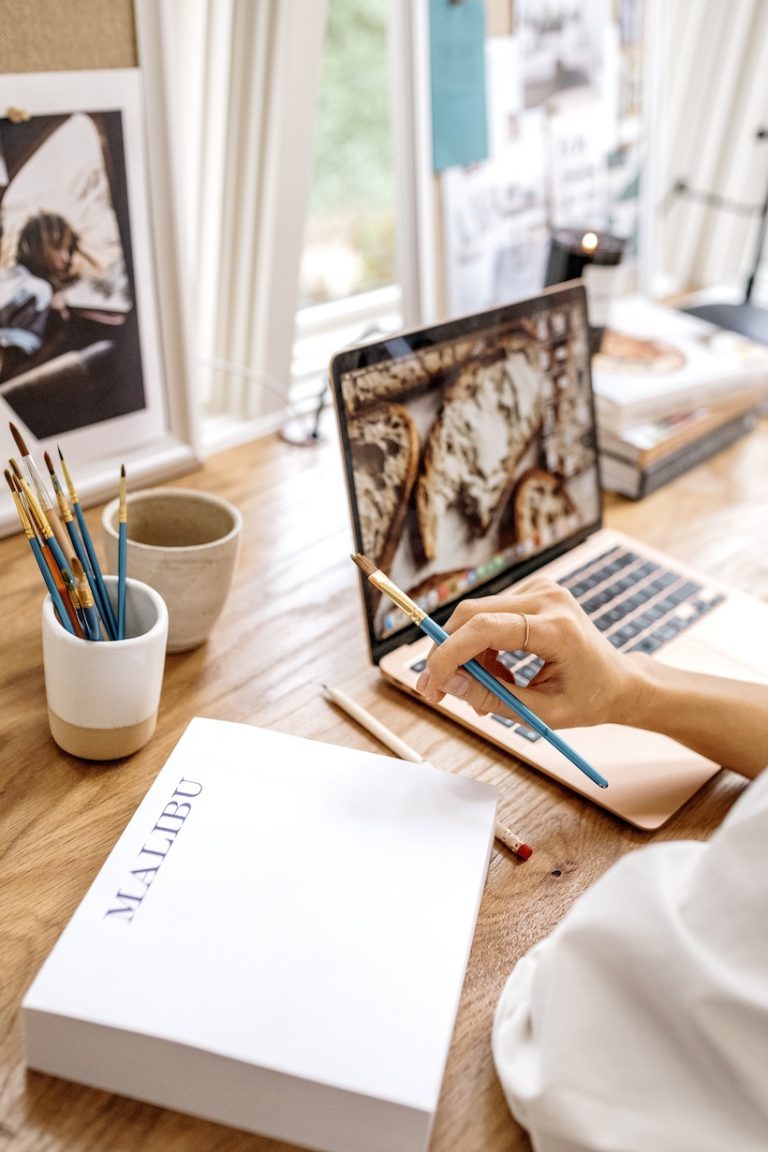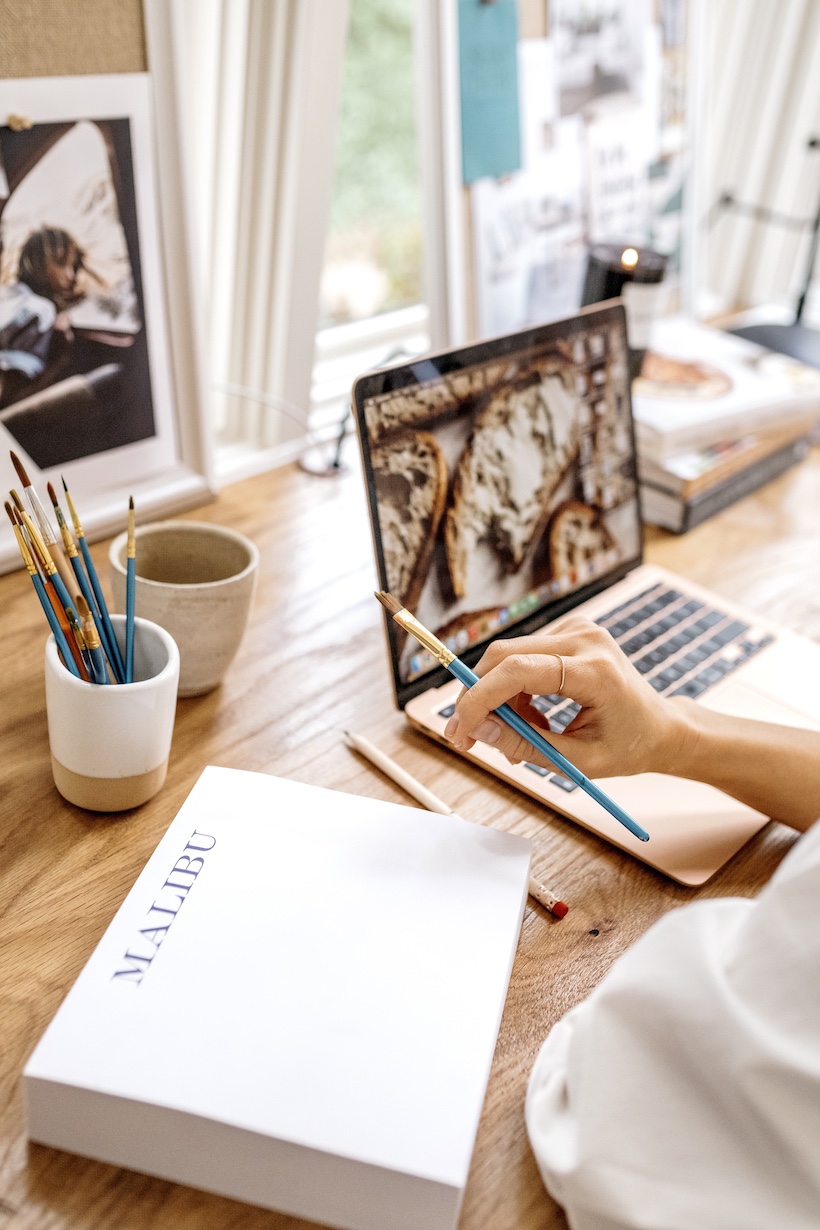 Here are a few detail shots that I snapped during the construction phase…
What are your tips for comfort and ergonomics while working from home?
Comfort is key when you spend as much time in front of the computer as I do – but I also prefer a more at-home look for my furniture and decided to skip the ergonomic office chair. Here are a few comfort-centric ideas for the home office that I incorporated into this space:
A monitor for computer work. I bought a large monitor and tucked it into the under-stairs part of the desk. It's hidden from view when you walk into the space, but when I have lots of computer work to do, I turn my chair to this side of the desk and can work comfortably instead of hunching over my laptop.
External web cam for video calls. I installed a web cam on my monitor. Since I've never done so many Zoom calls as I do now, this has been a game-changer. By keeping my gaze up at the top of my monitor on video calls, my posture is so much better than when I used to do them all looking down at my laptop.
A chair that makes me sit up straight. I love clean, Scandinavian lines of this wood chair from Target – and though "office chair" may not be the first thing that comes to mind when you see it, the shape encourages me to sit up really straight instead of slouching.
Add a padded cushion. That said, my butt hurts after a couple hours on the wood seat, so I have this padded cushion that I throw in the bottom of it. This also serves the purpose of propping me up a few inches, putting my hands in a much more ergonomically-correct position for the keyboard (your arm from elbow to wrist should be perpendicular to the floor when you're typing. If they angle up, you should probably be sitting up a bit higher.)
5 of 8

How do you hide your electrical cords at your desk?
With a desk this simple, I knew it would be key to plan my cord solution carefully so that messy technology wouldn't end up killing my zen vibes.
When he was building the desk, I asked my framer to drill 2″ diameter holes in the back center of each of the two planes of wood. We added a cord-keeper "cap" that would keep my computer and phone chargers neat and tucked away, and there are electrical outlets underneath each of the holes. It's a little detail that makes everything look so much more streamlined.
6 of 8

What are your picks for wall decor in a home office?
For this space, I was dreaming of a piece that would bring the outdoors in, and almost give the feel of blending seamlessly with the trees outside my window. I fell in love with this Eucalyptus print by photographer Kara Rosenlund (I die over all her pieces), but the large size I needed would run me close to $2,000, framed. Ugh, not in budget.
So, I did a quick search of Eucalyptus prints on Etsy and came up with this dreamy print by artist Emma Lucas (arrtopia.) I paid $10 for a downloadable file which I sent off to Simply Framed, and for a grand total of $354 I had a beautifully mounted and framed print that I'm totally obsessed with. This is my favorite new hack for affordable art that I plan to repeat. 🙂
I fell in love with this faux sheepskin stool from Dear Keaton, but wasn't quite sure where it was going to live. It turned out to be so functional right here: I throw my purse on it when I walk into the room, and my kids pull it up and sit next to me to draw while I work. I love the luxe texture that it adds to this room.
7 of 8

I work in an office that's not at home… how can I make my desk at work look cuter?
Keep it simple, intentional, and personal.
I used to have way more clutter on my desk, and I learned that I'm a lot happier when I sit down at a desk with not a lot on it. That said, the things that do make the cut should feel special and purposeful. I love the sculptural look of this bronze task lamp, and the curvaceous lines of this oversized white ceramic vase are so pretty and perfect for a big bunch of branches.
It may feel counterintuitive to lean my inspiration pinboards against the window since it blocks a bit of the view to outside. But when I tried it, I loved how it brought a little coziness and structure to the backdrop of my space. I frequently change out what's on this board to suit the season and my mood — family photos, magazine tears, recipes, and quotes are all fair game. Even practical items like a notepad and pens can spark joy. My "Malibu" notepad reminds me of one of my favorite places when I'm not there, and y'all know I'm obsessed with these pens. Their smooth, super fine flow of ink is so satisfying.
This candle is one of my always favorites: Black Rose, by FVITH.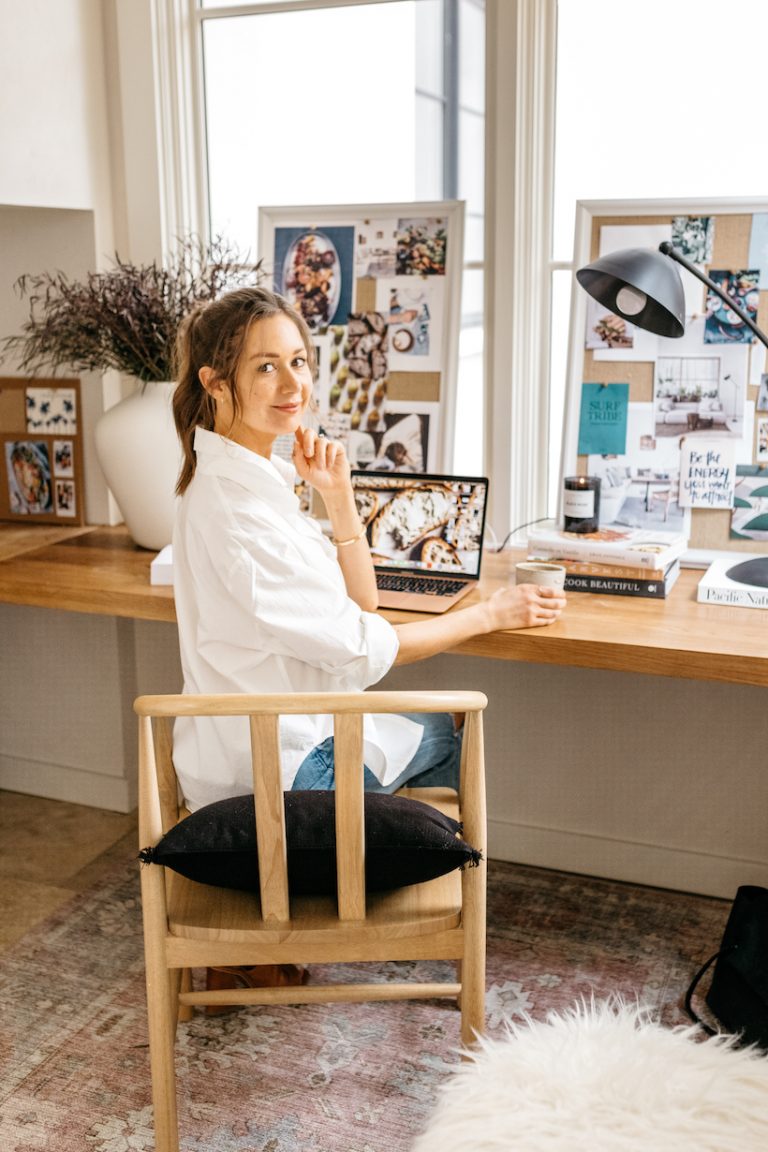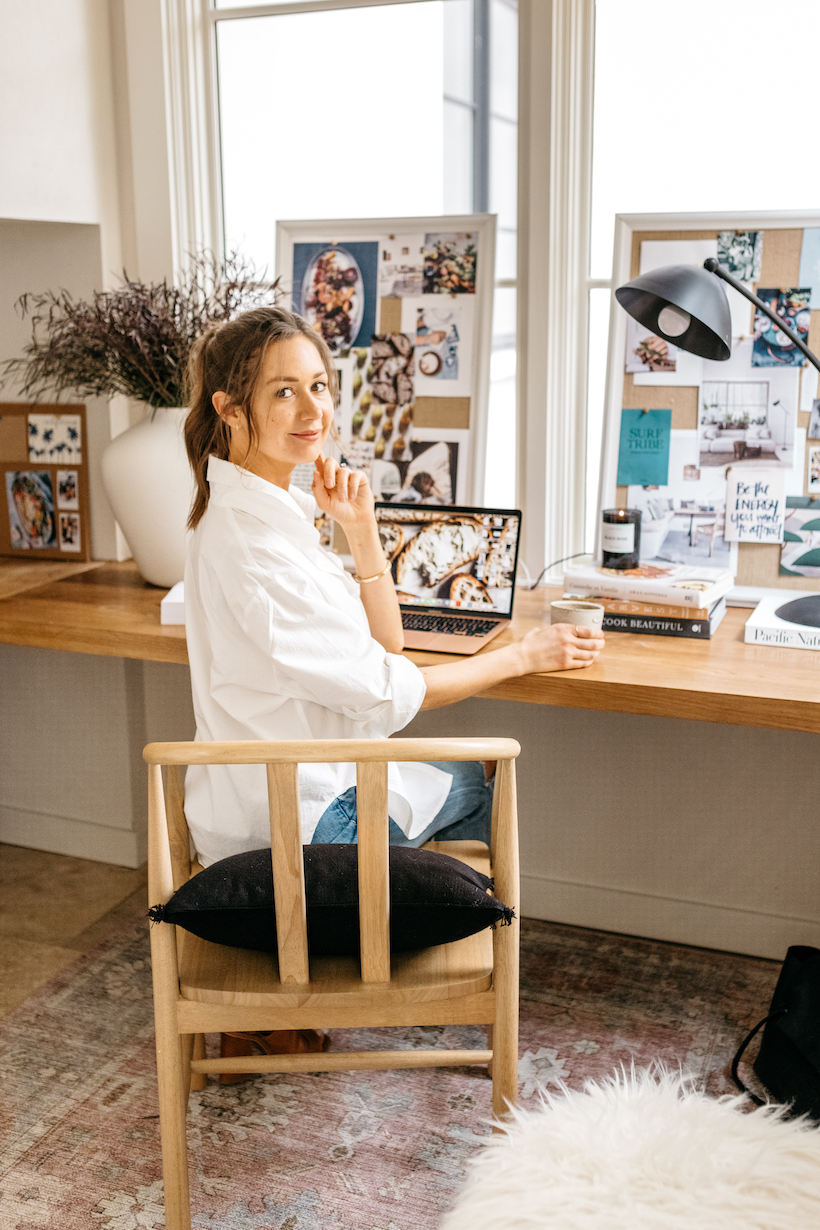 Hope y'all enjoyed this little tour of my home office! I'm such a believer in the power of our environment to inspire creativity and calm, so it's been really fun to work in this space. Drop any home office questions below and I'll give them my best shot!