While we love a good wellness ritual, we also like to make sure we are spending our time and money on something that is actually effective. Touted by influencers and celebrities alike as their secret to glowing skin, dry brushing is said to exfoliate dead skin, stimulate your lymphatic system, reduce cellulite, decongest the skin, and more. But if you're wondering if dry brushing actually holds up to all its claims of smooth, glowy, detoxed skin, then we've got answers.
Dry brushing is a simple and inexpensive practice (unless you swing for this drool-worthy brush) that could level up your self-care.
We chatted with facialist, acupunturist and TCM expert, Brooke Taylor, for the lowdown on all things dry brushing, and let's just say, we learned a lot. Taylor incorporates dry brushing into some of her blissful and incredibly restorative in-studio offerings and she shares amazing insight into how it can be the perfect ritual to incorporate into our everyday self-care at home—we love her tips for making the experience a complete and deeply therapeutic practice.
Scroll on for the low-down on all things dry brushing, how to do to it, and some tried-and-true products to incorporate into your practice.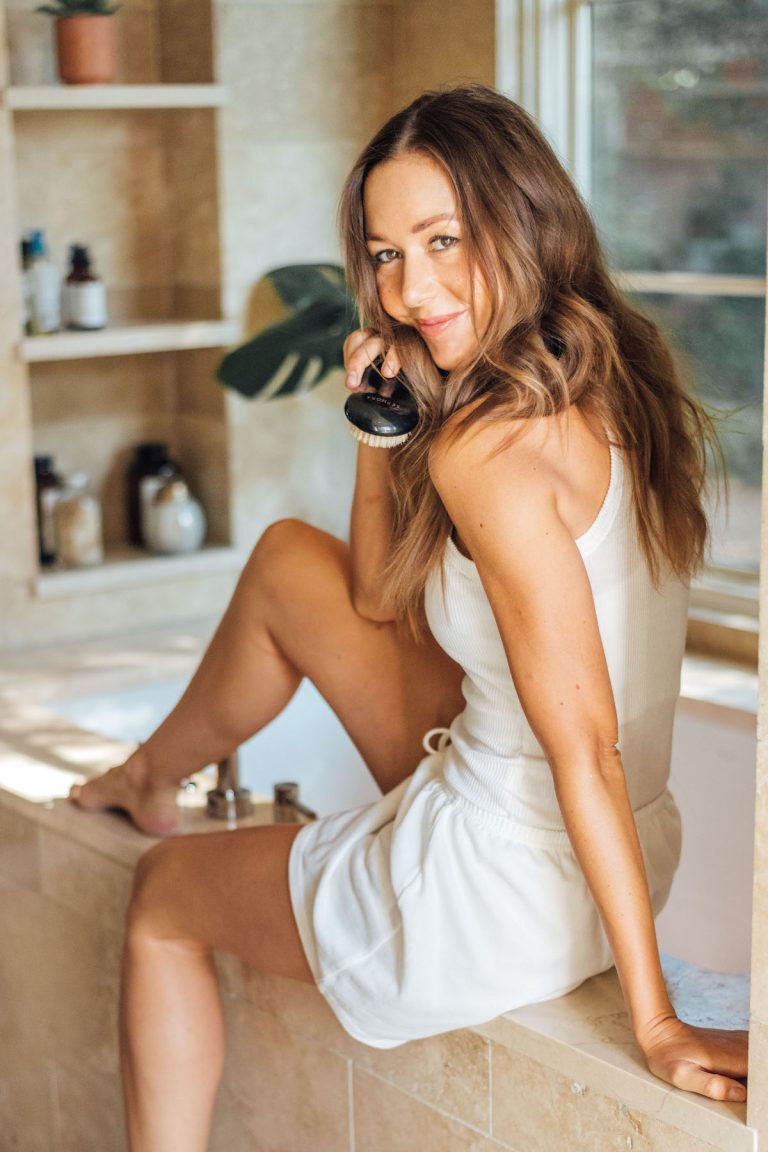 What is the history behind dry brushing?
Dry brushing continues to gain in popularity for its results, but the concept is far from new. Some say it originated in Ayurvedic medicine, a 5000-year-old Hindu traditional medicine, where it's known as Garashana. Usually performed using silk or linen gloves prior to a morning bath, the technique was thought to suit Kapha body types—those more likely to have a sluggish lymphatic system. Other ancient cultures that performed a version of dry brushing include the Japanese, Ancient Greeks, Romans, Scandanavians, and Native Americans, while some have noted Ancient Egyptians as the pioneers of dry brushing.
Taylor's personal fondness for the benefits of dry brushing grew from a time when she explained to a savvy spa director in Vail, Colorado of not being able to warm her hands and feet while living in the mountains. This mentor declared, "Why aren't you dry brushing daily?" Turns out there's good reason to make this a regular ritual, as it can boost vascular circulation (more on that later). The spa director's advice jived with her later education in the field of Chinese medicine, where they historically used silk squash, better known as loofah, to soften the skin.
So what exactly is dry brushing?
Modern techniques have evolved to rely on natural bristles for the best results. Brushes usually vary, with long handles, straps, or short handles, and fibers from boar hair to vegan, with or without massage knobs. The brushes are used over the body in gentle but firm strokes to exfoliate, soften, and smooth dry skin, as well as stimulate circulation and assist in moving fluids to provide a more firm appearance.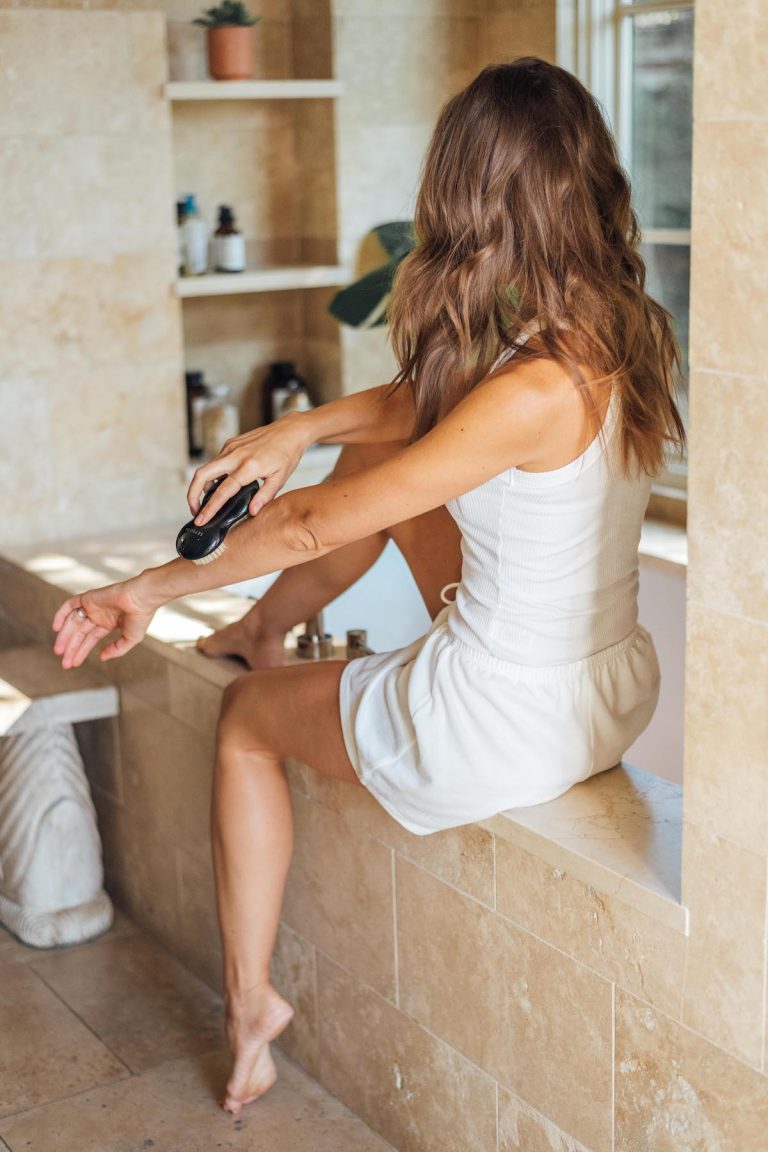 The benefits of dry brushing
Gentle exfoliation. The physical action of bristles on dry skin will remove surface skin debris to reveal smoother skin with regular practice.
Improved vascular circulation. The movement helps sluggish circulation in the blood vessels as circulation is stimulated with the pressure of the bristles.
Prep for deeper hydration. The exfoliating effect of the dry brush allows your moisturizer to be more effective.
Lymph movement and gentle detox. While detoxing might be the buzz, this effect can be slightly limited and temporary. Brushing can, however, move fluids, which can change the appearance of the skin as brushing along the lymphatic pathways is thought to improve circulation, stimulating nodes and vessels while moving in strokes towards the heart.
Clear clogged pores. Dry brushing can help keep hair follicles from becoming clogged or ingrown and can help with Keratosis Pilaris, especially when followed by a shower or bath and super nourishing balm or oil.
Plumped skin. Plenty of women take up dry brushing to improve the appearance of cellulite. While this benefit might be anecdotal, some swear by the benefits for minimizing the appearance of the dimples, especially when combined with other beneficial treatments and lifestyle choices. Choose a brush with the massage nodules to increase the effectiveness in these areas, and plan to do this regularly to maintain.
Stimulated meridians. In TCM you don't skip the hands and feet. Meridians (the energetic pathways running up and down the body) meet here and stimulating these areas can help systems to improve sleep and digestion, and certainly help warm the extremities (which is why Taylor was recommended to give it a try all those years ago!).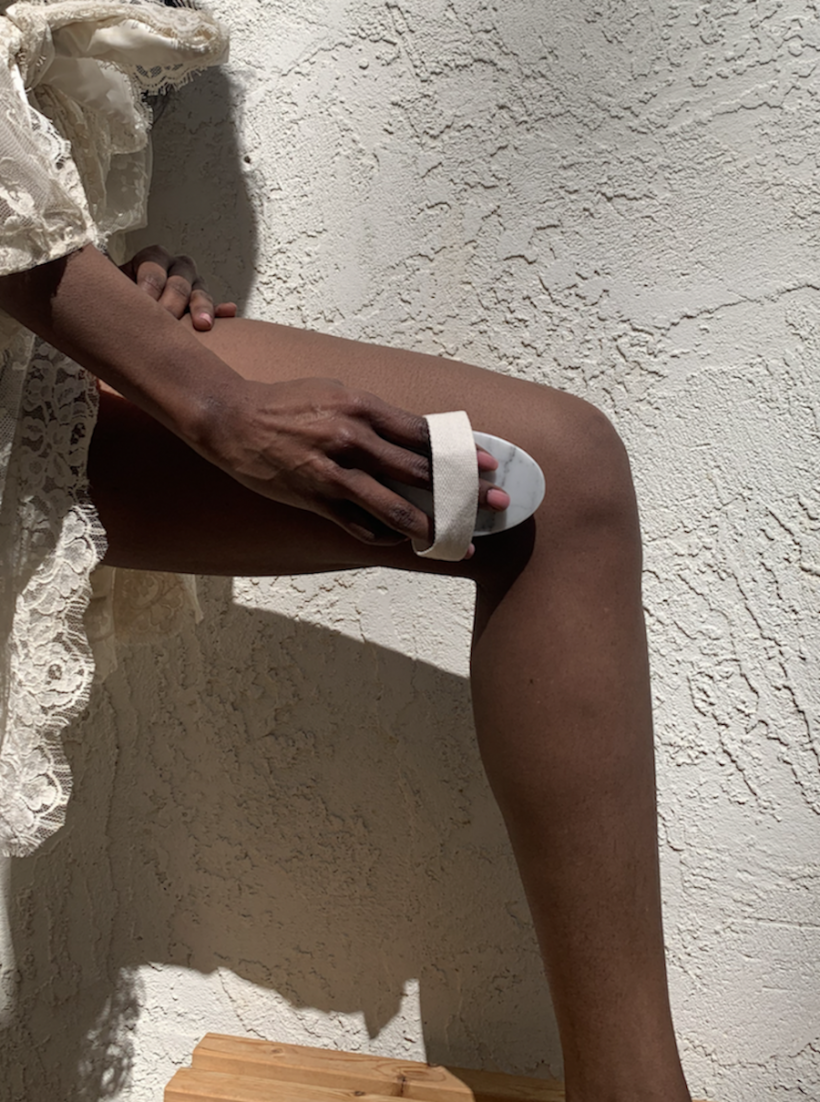 Dry brushing steps:
Dry brush is usually done before showering, with dry skin.
Apply slightly firm pressure, it might feel gently abrasive but shouldn't be uncomfortable.
First, gently brush the hands and feet to cover the meridians in the extremities.
Gently, but firmly, starting at the toes, move upward in lengthening strokes, spending time to circle around the joints.
Brush in clockwise circles on the stomach and decolletage.
Lift arms up in the air and move from elbows towards underarms, and upward from waist to underarms.
Brush fingers, palms of hands, and up. As long as you're moving inward towards the heart, you're set.
Follow with a soak, a cold rinse, and nourishing body oil.
Take your time, breathe and enjoy.
Taylor's tips for making the most of your dry brush session:
You can increase your return on the mind/body benefits of dry brushing by making a ritual of the practice; your body will let you know if you are brushing too much or too firmly. It should not cause irritation, so just be mindful, and choose a brush according to your own skin sensitivities or texture.
The modern take on dry brushing would be to combine with other self-care treatments. Practices like breathwork and mindfulness while brushing, taking a cold shower/plunge post-brushing and following with nourishing oil blends with actives such as CBD or vitamins that target tissue repair, strengthen the skin, or encourage fluid movement.
How often should you dry brush?
Twice a week is a good amount to see results. It can take a few times to adjust to the feel of the bristles, but you'll usually grow to love the process and results.
Any risks or reasons to avoid dry brushing?
Do not go over sensitive areas or where you have a cut or abrasion, or just after shaving. If you are struggling with eczema, psoriasis, or other serious skin conditions, steer clear of dry brushing as it can be irritating to those conditions. Being too vigorous can compromise the skin, gentle but firm is best. Do not use a body brush on the delicate skin of the face, and lastly, don't share your brush!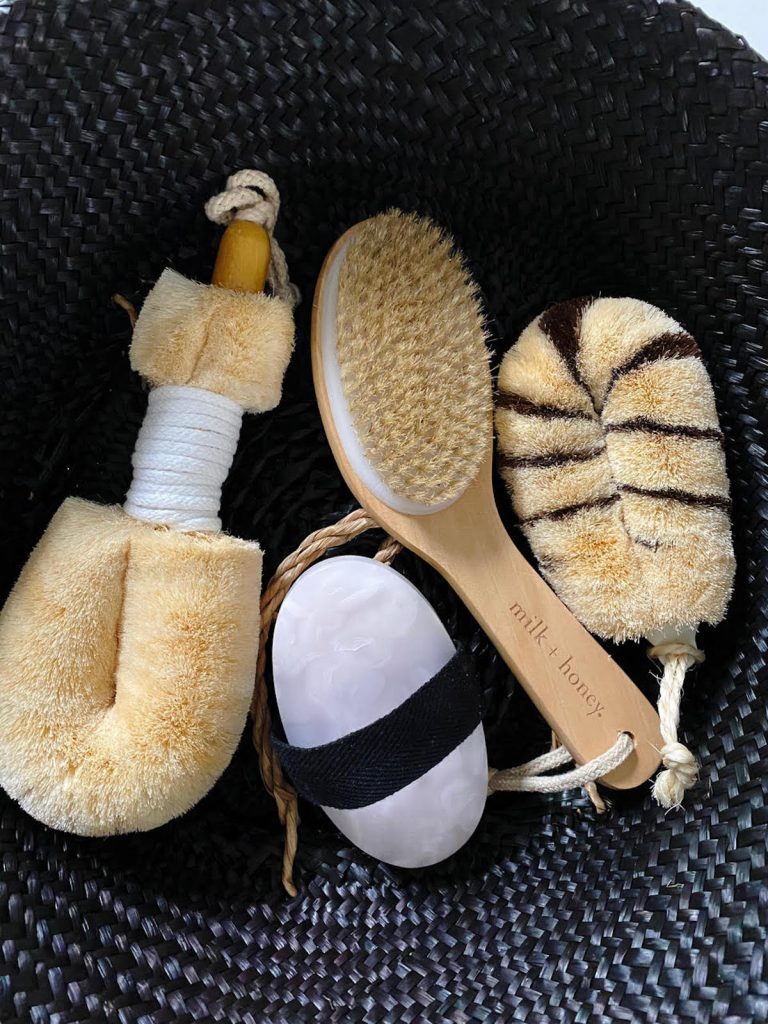 What to look for in a brush:
Natural fibers: plant, animal hair, do not choose one too stiff or harsh.
Short-handled brushes or handheld brushed with a strap across are great for grip and ease of use or try a longer-handled brush for hard-to-reach areas.
Brush Care:
Keep your dry brush dry.
Shake, tap, or rub with a cloth to remove dry skin.
If washing with soap and water, make sure to drip dry face down to prevent mildew or deterioration.
Taylor's favorite brushes and tools for dry brushing:
This gentle brush is made with Jute fibers, which are soft, and ideal for those with thin and sensitive skin or those who are new to dry brushing. The jute bristles are gentle yet firm but just as effective as the more commonly known Sisal fibers for a vegan option.
This handmade brush is beautiful to behold! The marble stone creates more weight in the hand than the typical brush and looks stunning on the counter. The handle helps secure the brush in the palm but make sure your hands are dry to prevent this beauty from slipping in your grip. This bristle feels good on most skin types, be sure to store and care for this brush properly for longevity.
Storage tips from Taylor: If you rest it with the bristle down, the weight might crush the fibers over time. I would probably try to hang this one somehow, safely, so it won't slide off and break.
In Japan, Tawashi scrubbing brushes are generally used for housecleaning, but these Tawashi, made from natural fibers, are intended to be used on the body. This one is considered 'medium', the bristles are good for most skin. It's easy to handle and feels great! (You could also use this one wet in the shower, for a scrubbing effect).
Made with 100% boar bristle and Chinese cherrywood, this body brush helps you reach tough spots, like your back. The curved handle is the perfect length for easy handling and the medium-firm bristles aren't too intense.
Try their The Art of the Bath Set, which includes the dry brush, to create the full ritual at home.
Before using your body oils, follow-up your dry brushing session with a soak with the LEEF Organics Bath Tea with CBD. The combined herbs and salts are highly relaxing to the senses with Lavender, Moroccan Rose Absolute, Jasmine Absolute, Boswellia Serrata Extract, Natural Epsom Salt, Himalayan Sea Salt, Whole Plant CBD (Hemp). Taylor promises that you will sleep like a dream after this combination.
The Kindred Skincare Body Oil has a lovely lightweight texture and complexity for a sensory journey. Taylor loves that it has a little mustard seed oil to improve circulation and relax/detox muscles.
Taylor's other favorite for CBD benefits is this oil. It feels so luxurious and is incredibly skin softening and relaxing. You can also get their signature oil without CBD.
It's always good to receive!
To experience a treatment with Taylor, book the Eastern Face Lift with body dry brushing, (I can speak from experience: amazing and so incredibly rejuvenating) and opt for dry brushing. This session includes dry brushing and gua sha for the meridians of the extremities with warm body oils before moving on to sculpting the face with gua sha and cupping. The dry brushing in this treatment adds amazing benefits of moving circulation and skin-softening head to toe, all while working with your Qi according to Chinese Medicine. For me, she focused on points in the body to boost energy, as well as liver and digestion support, and I left feeling so energized and soothed post-treatment. She's happy to customize treatments to suit you, just shoot her a message.
Body treatments at many spas offer dry brushing as either part of specific treatments, or as an upgrade to massage. If you're local to Austin or one of their other locations, try the treatments at Milk + Honey to experience dry brushing with a little pampering. This is a great way to experience the techniques firsthand.
If you've tried it, are you a fan of dry brushing?
Loved this post? Pin this graphic to come back to it later.