There's way more to wellness than just eating clean, so we're taking a holistic approach to restoring our spaces, minds, bodies, and hearts in small but powerful ways. Introducing The RE:SET Challenge—a 21-day plan to a healthier and happier you. Click here for the full list. Next up, easy date night ideas for every relationship, including the one with yourself.
In order for a relationship to truly thrive, setting aside one-on-one time in the form of a good, old-fashioned date night is always a great idea. Especially for those of us who work from home. It's easy to let work/school/kids/romance bleed together, and so often, truly quality time falls to the wayside. For me, this need to set aside time to focus on my relationships has been magnified during quarantine, inspiring this term: container of bliss. I started creating intentional time completely separate from other aspects of my life with those I love – instead of just letting it happen (or not happen.)
Last summer, I read Becoming by Michelle Obama. A relatively small story around love and expectations still stands out in my mind. Michelle writes about a time in their lives when Barack would be late for dinner on a consistent basis, leaving her and her girls waiting, frustrated, before they'd give up and eat without him. He was in the middle of a busy season with work and quality time was the sacrifice. Michelle realized that she was setting her family up for failure by creating expectations Barack couldn't always meet. So, she set boundaries by saying, Hey, from here on out dinner will be ready at the same time every night. If you show up, great. If not, leftovers will be in the fridge. By creating structure instead of living with assumptions, they were happy anytime Barack showed up and empathetic when he couldn't.
The same lesson applies to planning a date night with those you love. Between work, our phones, and everything in between, we all too often fall into a flow that leaves out curated activities that bring us closer together. Whether with your partner, your best friend, or yourself, making time to be together meaningfully is a not-so-secret ingredient to a happy, fulfilling relationship.
Read on for a few of my favorite date night ideas that will strengthen any special bond.
Date Night Ideas for You and Your Significant Other…
Have an outdoor picnic
There's nothing quite like getting grounded in nature with someone you love. Anytime the sun is out and the temperature rises, my husband and I take the opportunity to get outside. We love putting together a smorgasbord of goodies or ordering an epic cheese plate from Antonelli's and heading to one of our favorite parks. Sometimes we'll bring our dogs or a deck of cards. Other times we'll catch up on things we don't talk about on a daily basis.
Make a special dinner
I made a few dim sum dishes a couple of weeks ago for the first time and it was so fun to experiment with ingredients in a new way (a lot of them were already in my pantry!). Even if your partner isn't as much of a cook, you can invite them in to help with chopping, prepping, reading off the menu, or taste testing. 🙂 Stepping outside of your comfort zone to cook a meal you've never made before is exciting and such a fun bonding experience.
See a drive-in movie
Many cities around the country are throwing it back to old fashioned ways and opting for drive-in movie options to keep communities safe and entertained. Watching movies together affects dopamine levels and can be a great way to dive into fresh conversations. If your region doesn't offer drive-in, consider setting up a movie theater vibe in your living room with loads of blankets, popcorn, cocktails, and candles.
Date Night Ideas for You and Your
 Best Friend…
Play Scattergories
Whether you're physically together or apart, Scattergories is one of the best games for the word lovers out there. A group of four or more is ideal but any amount of people works. Zoom exhaustion is real and sometimes it's nice to play rather than talk. We like to combine family and friends virtually for a bigger group.
Take a virtual class
Instead of searching for things to talk about, consider taking a virtual class together. Then, talk about what you learned afterward. My good friend and I both have an appreciation for wine and the South of France so we took a wine tasting class together and absolutely loved it. There's nothing like actually traveling there together but we got as close as possible.
Go on a long walk or hike someplace new
Even if you don't live near an ocean, mountains, or any other grand natural landmarks, there is so much nature to be found right in your backyard. Put on some comfy shoes and explore together. Consider leaving your phones at home for added benefits.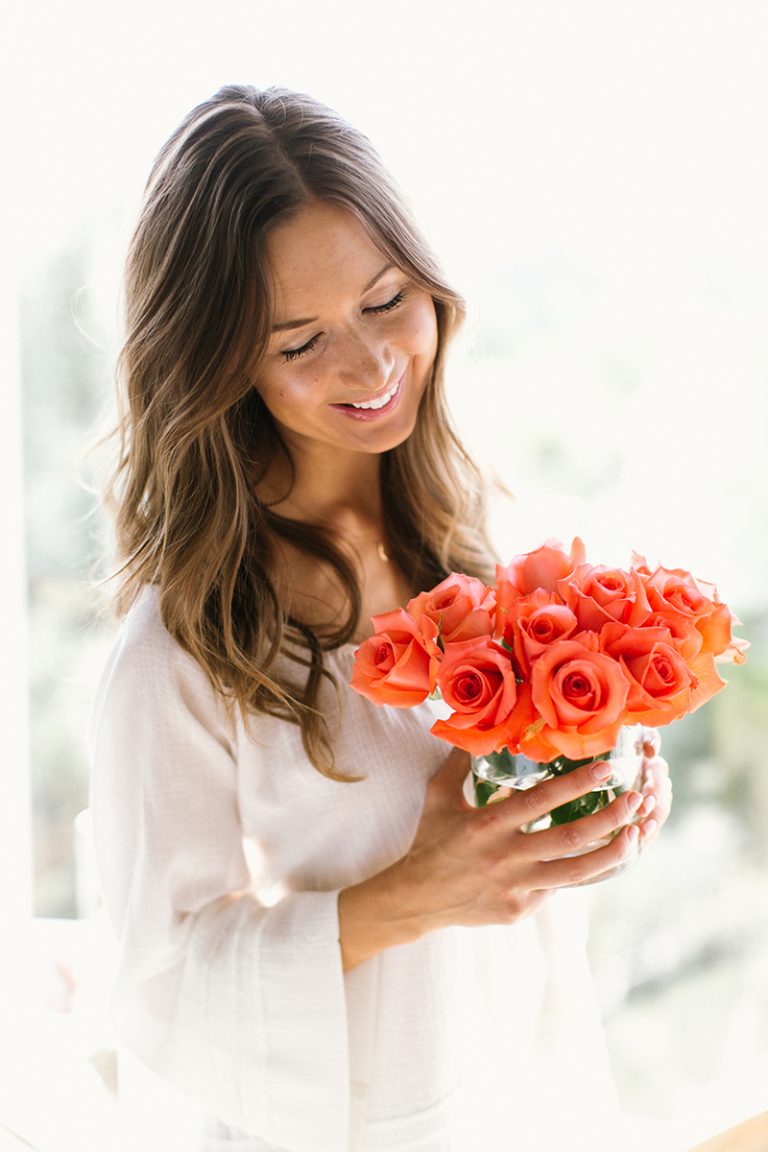 Date Night Ideas for You 
Paint with watercolors
I painted the cover of my journal recently with inspiration from a watercolor palette from this book. It was so therapeutic and relaxing though challenging. And I feel a sense of pride every time I look at my journal.
Find a local flower shop and make an arrangement for your room
Ordering flowers online or buying a bunch at your local flea market is certainly convenient but creatively putting together an arrangement adds that extra feeling of fulfillment. Stop by your local flower shop for seasonal blooms and greenery. Consider building a Pinterest board or go dealer's choice!
Create an at-home spa day
We love this article on creating an at-home spa-worthy bath. For extra luxury, make treat your whole day and home the way you would a spa getaway. Add a soothing face mask, a rejuvenating body scrub, and a mani/pedi.
Do you believe in a weekly date night? What do you love to do with your S.O. and with/for yourself? Share it below!