Ah, cellulite. Almost everybody has it, but up until not too long ago, no one seemed to talk about it. In fact, 80 to 90% of women, no matter their body shape or fitness level, will be confronted with dimpled skin at some point in their lives. Cellulite is completely normal and certainly nothing to be ashamed of. And thankfully, more of us are ditching the shame and opening up the conversation to normalize this very common skin condition.
But just because we're ditching the shame factor doesn't mean we don't want to learn how to get rid of cellulite, too. Thankfully, thanks to new technology and innovation, there are ways to help diminish or prevent the appearance of cellulite, along with a newly FDA-approved injectable that may banish the bumps for good (or at least a few years).
But first, let's cover the basics (and debunk a few myths) about cellulite.
Cellulite does not mean you're out of shape.
This is probably the most common misconception about cellulite. Those dimples and bumps are simply what happens when fat pockets bulge out through the fascia (the fibrous connective tissue) beneath the skin. Extra weight can make cellulite more visible, but the usual culprits are poor lymphatic drainage and circulation combined with thinning skin.
Cellulite is really just a reflection of the way fat is being stored in our bodies and has nothing to do with being out of shape or overweight.
"When the fibrous bands, which connect the underside of the skin to deeper layers, contract and pull down on the skin, it allows fat cells to bulge up and create dimples," says Dr. Bruce Katz of JUVA Skin and Laser Center in New York City. "Cellulite can happen at any age but is typically seen after puberty and increases as you get older. Cellulite becomes more apparent in aging skin as the skin loses its elasticity."
Fact: Women experience cellulite more often than men.
This has to do with the structure of the collagen that makes up the connective tissue under the skin. While men's skin collagen forms more tightly in a lattice-like X-pattern, women's collagen is organized in parallel rows, which leaves far more space for fat cells to pile up. Cool. As osteopathic physician, Lionel Bissoon, who wrote The Cellulite Cure in 2006, told Scientific American; "A women's body is basically, and I hate to say it, genetically designed to be a place for cellulite to develop."
Regular exercise can help.
Yes! Workouts won't banish it forever, but strength training and generally replacing fat with muscle will help prevent or diminish the appearance of cellulite. "Firming and toning those muscles will, in turn, tighten the skin, giving the illusion that cellulite is less noticeable," Dr. David McDaniel, director of the Institute for Anti-Aging tells Time.
Topical creams are great too, but they aren't a miracle cure. 
There is little evidence that topical treatments can reduce the appearance of cellulite. However, creams that contain caffeine or retinol—the latter of which can help thicken the skin to make it less prone to puckering—may lead to temporary results. Either way, taking care of your skin is always going to be a plus.
Our Top Three Cellulite Creams: 
Augustinus Bader The Body Cream 
The luxe body cream applies the same restorative magic that made the brand's face cream such a status symbol on vanities. The anti-aging cream goes on smooth and features Augustinus Bader's patented Trigger Factor Complex to firm the skin and soothe cellulite.
I am not one to use cellulite creams but when your trusted esthetician recommends something, you try it. I have switched to the Jan Marini skin care line for the past week and been so impressed with the results that I couldn't wait to try out their CelluliTX. This cream has 11 key ingredients known to treat and target the appearance of cellulite including caffeine, aminophylline, l-carnitine, theophylline, peptides, glaucine, retinol, and more. The results I've seen so far are very impressive! — Sacha Strebe, Deputy Editor
Eminence Stone Crop Contouring Body Cream
This cream is packed with organic ingredients like shea butter, jojoba oil, and the titular stone crop, but it's the coffee seed extract that works to fight cellulite. Caffeine in creams can dehydrate fat cells, which can make them less swollen (and less prone to cellulite).
Our Favorite At-Home Tools to Help Treat Cellulite:
When it comes to treating cellulite, you can trust that women have pretty much tried it all. I polled Camille Styles staffers on the products they loved that can have a temporary smoothing effect on cellulite.
NuFace NuBody Skin Toning Device
I'm already a huge fan of the NuFace Trinity for my face. Before a night out or major event, I'll always do the five-minute routine before applying makeup. My skin is just tighter, sculpted, lifted, and glowier. So I knew I'd love their sister product, NuBODY. This at-home microcurrent tool helps visibly firm the skin and appearance of dimples on your body. The microcurrent technology is specially designed with four treatment spheres for a stronger, more targeted delivery of the microcurrent to larger, denser areas like the thigh and butt. My goal was to smooth out some stubborn cellulite on my thighs and to tone the skin at the top of my knees where it's starting to sag (it's also where I notice the most cellulite, especially after I've been sitting down all day). I noticed a difference immediately after using NuBody. My skin is smoother, tighter, and firmer. I also use it at night to treat my fluid retention and it seems to help with that, too. — Sacha Strebe, Deputy Editor
Amazon Basics High-Density Foam Roller
You may have read about the benefits of foam rolling for bloating, but it has been a game-changer for helping with my cellulite reduction and relieving fluid retention. I first experienced foam rolling during a retreat in Ojai with body alignment, fascia, and movement specialist, Lauren Roxburgh, aka "The Body Whisperer." I suggest starting with a soft foam roller first because rolling out your fascia hurts, real good! Once I got used to the feeling, I leveled up to the firmer, full-body version. I notice a significant difference when I do this every day, especially at night. According to Roxburgh's website, the roller gets into the fascia in much the same way that a deep-tissue massage does. It improves circulation throughout your entire body which helps to oxygenate the blood, boosts lymphatic drainage, and flush toxins from the body. Not only did it help to flush the water weight, but it also helped to smooth out and hydrate the fascia which in turn helped to reduce the appearance of cellulite on my thighs. Outside of fluid retention, however, there are so many amazing health benefits to foam rolling that I'd recommend you try it anyway. Here are six simple foam rolling exercises to get you started.  — Sacha Strebe, Deputy Editor
Despite my chiropractor telling me time and time again to commit to foam rolling, I just couldn't bring myself to do it as often as I should. Like Sacha said above, it hurts so good, but it also just hurts. So for my birthday this year, I treated myself to a Theragun, because a slick aesthetic and cool technology can inspire me to do just about anything. The device has been a game-changer for post-workout recovery, but the added benefits, including increased circulation, may be even better. I use it first thing in the morning to get my blood flowing and often find myself using it on my legs after hours spent sedentary at a desk. I can't say for sure it's the Theragun doing the trick (and there are few studies about the percussive massagers and cellulite), but I rarely notice the thigh dimpling that used to plague me in any seated position. — Caitlin Clark, Contributing Editor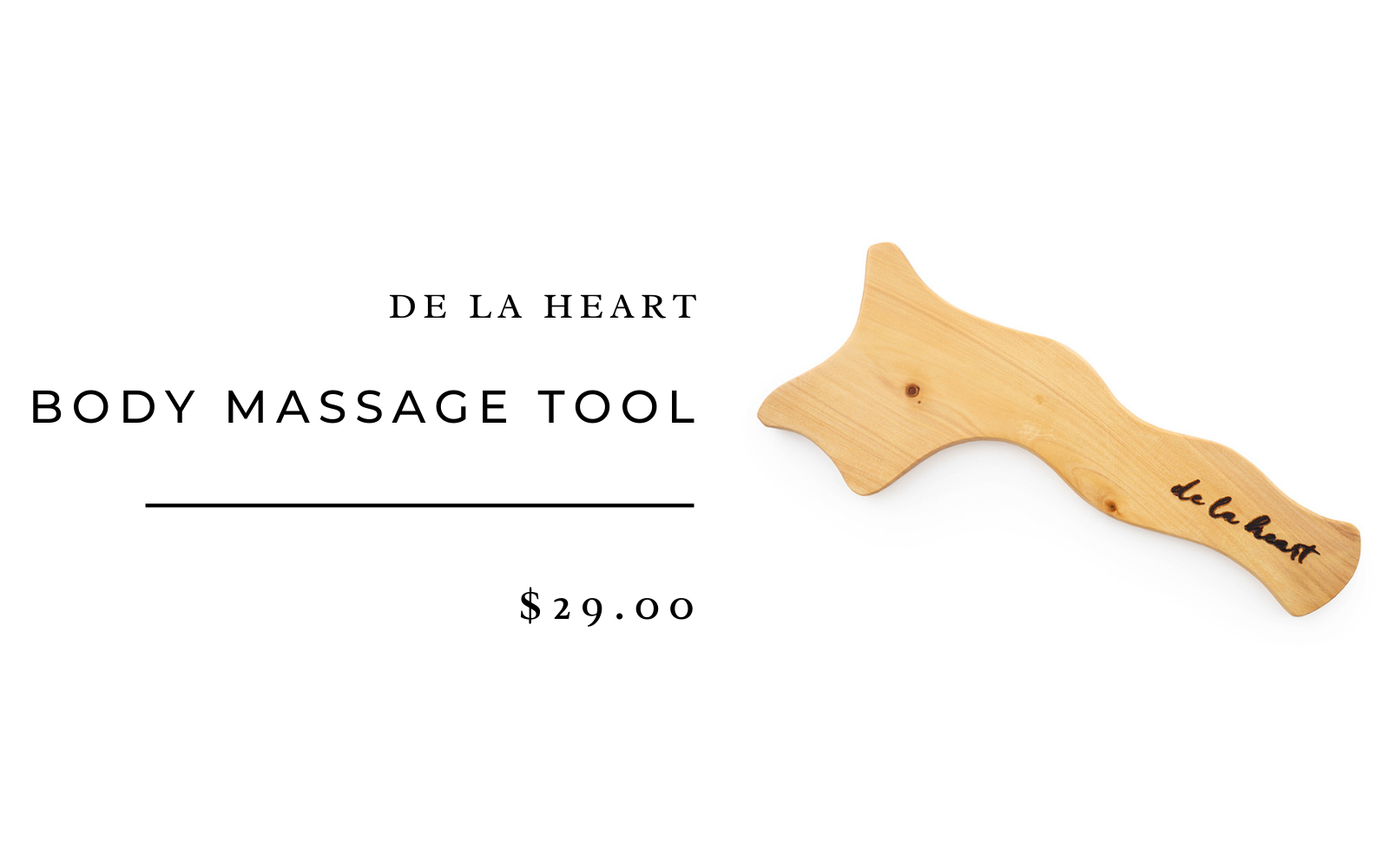 De La Heart The Body Massage Tool
Since the lymphatic system doesn't pump itself, it relies on us moving our bodies or doing massage for proper circulation. That's why it's so important to conduct lymphatic drainage massage—you can choose the professional route or at-home techniques. There is nothing quite like dry brushing to help stimulate your circulation, and trigger your lymph to start draining. Do it before you hop in the shower. Then, coat your body in oil to create that slip you need to do a lymphatic massage using a body massage tool. This will continue stimulating circulation and encouraging lymphatic flow to relieve tension and also break up the fascia adhesions in the tissue that create cellulite. Cellulite isn't really about fat, it's about fascia (connective tissue). This article explains in more detail and outlines the many benefits of lymphatic massage. I've heard rave reviews about this one from De La Heart—Melissa Wood Health is a big fan and her video tutorial is a great place to start if you're a beginner. I've found that consistent use helps to not only drain any excess fluid I'm retaining from sitting at a desk all day but also reduce the appearance of cellulite by breaking up the fascia. It really does make a difference! Just be prepared to pee a lot afterward as your lymph drains and drink a lot of water to help your body detox. — Sacha Strebe, Deputy Editor
Besides offering a host of other benefits, like exfoliating dead skin and stimulating your lymphatic system, dry brushing has been said to improve and reduce the appearance of cellulite. Similar to other modalities, like gua sha and foam rolling, it gently stimulates the skin and moves the lymph allowing for excess fluid to drain which can lead to smoother skin and reduced cellulite. Since this method doesn't go quite as deep as gua sha and lymphatic drainage, the results are slower and more subtle, but well worth it in my opinion! I've found it to be easy and quick to brush my body down every time before hopping in the shower. It just takes a couple of minutes!
If I have an extra minute or two, I love the whole
Wildling Aura collection
. After dry brushing with the sweeper, I prep my skin and gua sha my body. The set includes a toning spray to prep, hydrate, and boost circulation, and oil to lock in hydration and provide slip for the body gua sha, and finally, a gorgeous stone gua sha tool to break up adhesions and tension in muscles and fascia. It's the ultimate self-care ritual and over time, I've definitely noticed fewer dimples and smoother skin when I'm consistent. — 
Hannah Zahner,  Beauty and Wellness Editor
Professional Treatments for Cellulite
In addition to at-home treatments, our deputy editor Sacha Strebe recently opted to try Emtone treatments at Los Angeles' SkinSpirit. The first and only FDA-approved device simultaneously emits both radiofrequency and targeted mechanical pressure energy to break up the fibrous bands that cause skin dimpling.
"After entering my 40s last year, I was beginning to notice a shift in my body shape and the appearance of cellulite was more visible than it had ever been before, so this was also about prevention over cure," Strebe says. "The radiofrequency heat (it needs to get between 108 and 111ºF to facilitate new collagen formation and tighten existing college fibers) combined with the intense mechanical vibrations (this stimulates skin cell regeneration, boosts circulation, and dispels stagnant fluid) takes some getting used to, but it's only 10 minutes on each side, so with a little meditative breathing I got through each session no problem. I did notice tighter, smoother skin after the first session and the results continued to improve over the next few months after I'd finished all three, too."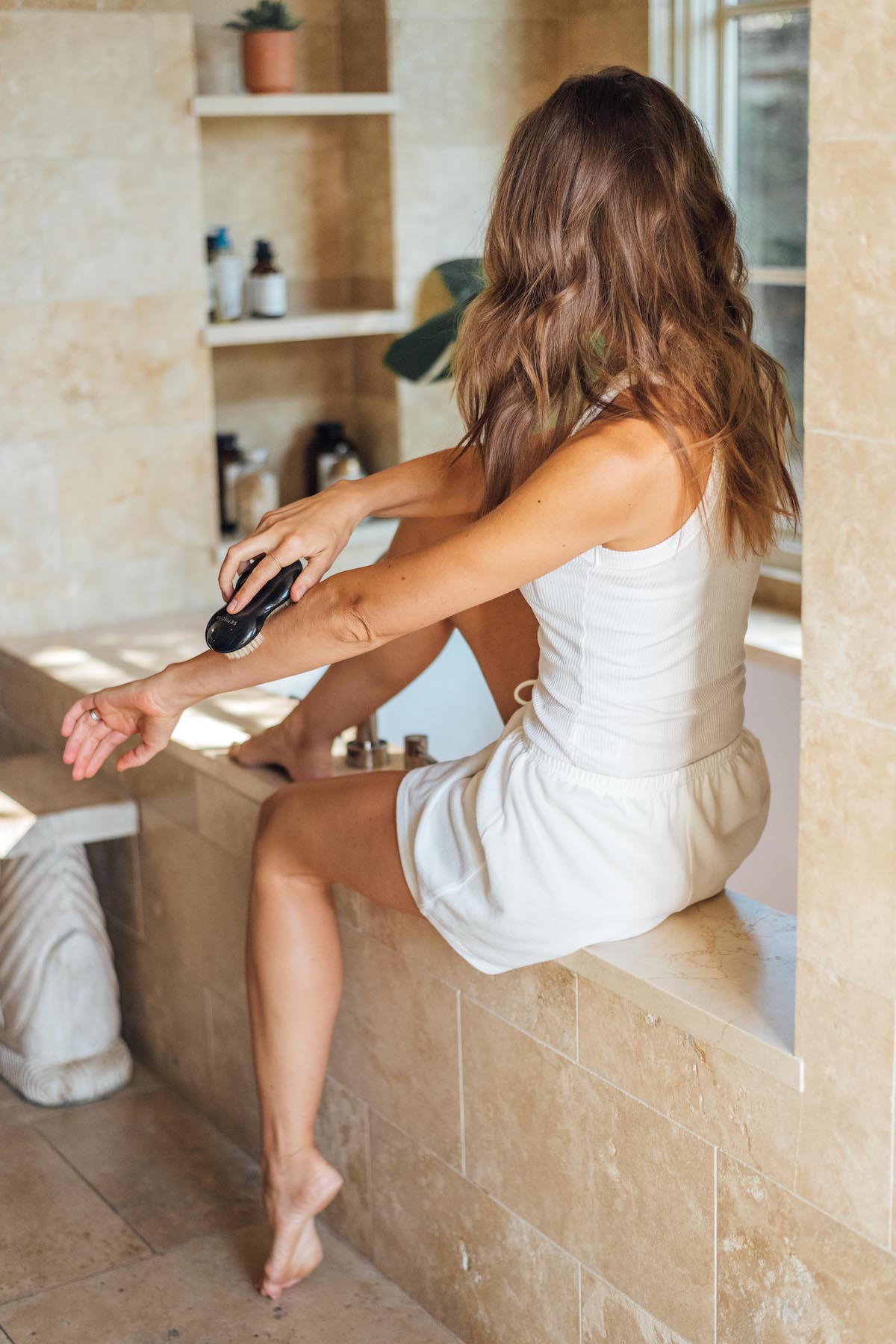 Now, Let's Talk QWO: The New FDA-Approved Cellulite Injectable
Some of the most effective cellulite treatments in recent years have been non-invasive procedures. Laser treatments or injecting dermal fillers have been proven to smooth out dimpled skin, but only for a few months at a time. Enter QWO, the first FDA-approved injectable created specifically for cellulite (right now, it's approved only for the buttocks area). The treatment was designed to dissolve the buildup of collagen in the fibrous bands that can thicken, causing cellulite's dimpled look—and we're told it could last for years at a time.
To learn a bit more about the new treatment, we spoke to JUVA Skin and Laser Center's Dr. Bruce Katz, an expert in non-invasive cellulite treatments who was part of QWO's clinical trials. Sessions range between $695 to $995 (depending on the amount of areas you want to treat) and typically cause a slight bruising for up to a week.
How does QWO work to treat cellulite?
Dr. Katz: It is an in-office procedure; the injections work to dissolve the buildup of collagen in the fibrous bands, which are the bands underneath the skin that thicken and cause the 'dimpled' look of cellulite. To see results, patients need three sessions. After those sessions, results can be seen quickly, usually within three to six weeks.
Will QWO eventually be approved for the thighs as well? 
Right now, QWO has been approved by the FDA for use on the buttocks. However, since I've worked with the product for over two years, I've developed a special technique to also treat thighs which is showing promising results as well.
How long does a QWO treatment typically last?
I was part of the clinical trials for QWO, and so far patients have seen results lasting two-and-a-half years. While we are in the process of testing it for five years, it seems as though results are long-lasting, although we can't say for sure without the scientific data.
What cellulite treatments (both at-home and professional) have you tried that worked? Share them with us below.