Zero judgment here—we all are victims of mindless scrolling. It's practically muscle memory at this point. It starts with pulling out your smartphone and typically ends with perusing social media until you've lost all sense of time and space. However, we're not here to bore you—we know first hand that there's no lack of things to do on your phone. While it's not our go-to for occupying boredom, plenty of phone activities can be productive, educational, and maybe even relaxing.
Maybe it happens when you're in the waiting room at the dentist. Or maybe you're desperately trying to distract yourself from a stressful news cycle (and who hasn't needed that over the past few years?) and your hand automatically begins its robotic ritual. It happens! But have you ever wondered just what productive things there are to do on your phone when your bored? If you're really having trouble breaking the habit, consider deleting social apps from your phone temporarily. You'll find that those little free moments you have throughout the day are precious opportunities that should be spent wisely—whether it's reconnecting with an old friend, learning something new, or taking a moment for self-care.
Featured image by Riley Reed.
In this article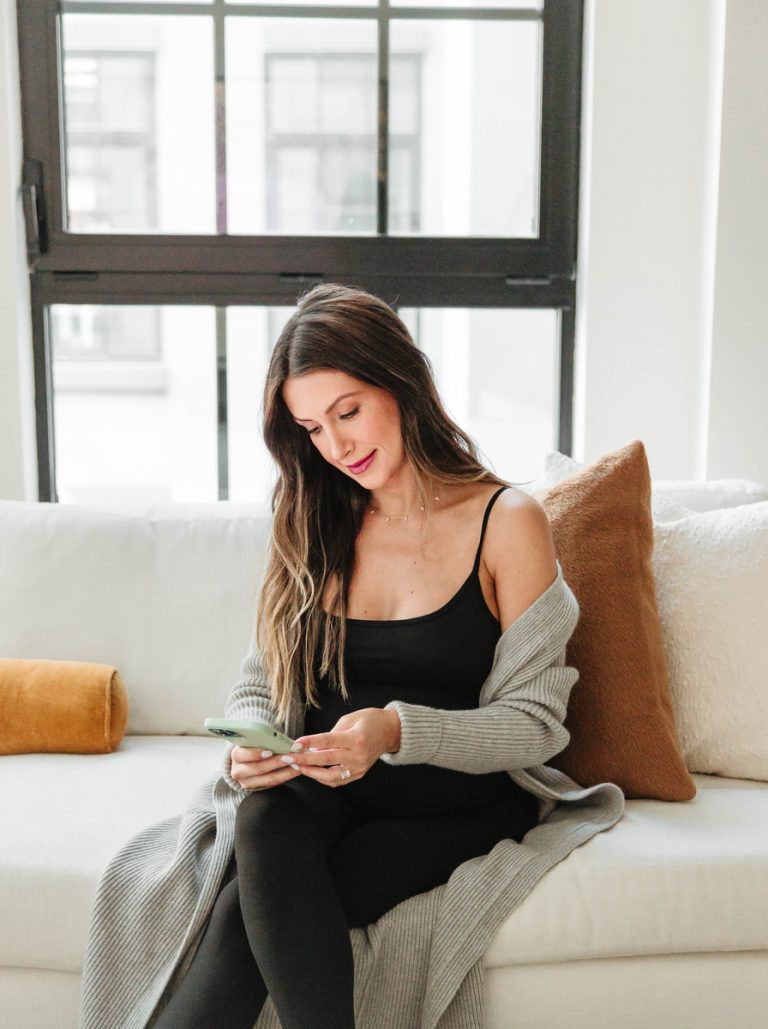 40 Things to Do on Your Phone Besides Scrolling
Something Fun
1.Call your mom. You'll get some much-needed mama comfort and love and she'll be absolutely thrilled to hear from you. Everyone benefits from a check-in, especially when it's spontaneous—it'll make her day.
2. Text an old friend from college (or high school, or camp, etc.). Shoot them a little note to say hi and let them know you're thinking about them.
3. Play a game of Wordscapes. Fire up some brain cells and expand your vocabulary while you're at it with this word-based puzzle game.
4. Check your horoscope. If you haven't yet, then it's time to get on the Co-Star or The Pattern bandwagon. Get the scoop on your birth chart, daily horoscopes, and see how compatible you are with friends and lovers alike.
5. Plan your next (real or imaginary) vacation. Take a peek around HotelTonight and Airbnb and plan your next getaway, even if it's just in your head for now. Pick the location of your dreams and save any cool spots that catch your eye for future adventures.
6. Add cute photos to your loved one's contact info. That way every time you get a text or phone call your favorite photo of them pops up. It'll make you smile every time, I promise!
7. Make a Spotify playlist. Pick an occasion or mood (cocktail party, bathtime jams, rainy-day feels) and set about creating the most iconic playlist you can possibly imagine. Go through your library, check out suggested songs, and get inspired. Don't forget to share it with loved ones so everyone can enjoy the fruits of your labor.
8. Play Wordle. Because everyone's doing it, too—and half the fun is comparing your first-word strategy with other dedicated players.
9. Explore Google Maps. Downloading Google Maps is such a fun way to explore places across the world you've always wanted to (and maybe plan to) visit. Or, you can simply plan out a trip somewhere local. You'll never know what you might discover!
10. Make a vision board. Who doesn't love romanticizing their future? Get lost in your dreams by making a dream board on any graphic design app.
11. Make a "wants" list. I don't condone impulsive shopping, but I do recommend making a list of everything you've been wanting so that when you feel like treating yourself, you can spend on what really matters. Half the time, I don't really need whatever I was so desperately wanting once upon a time.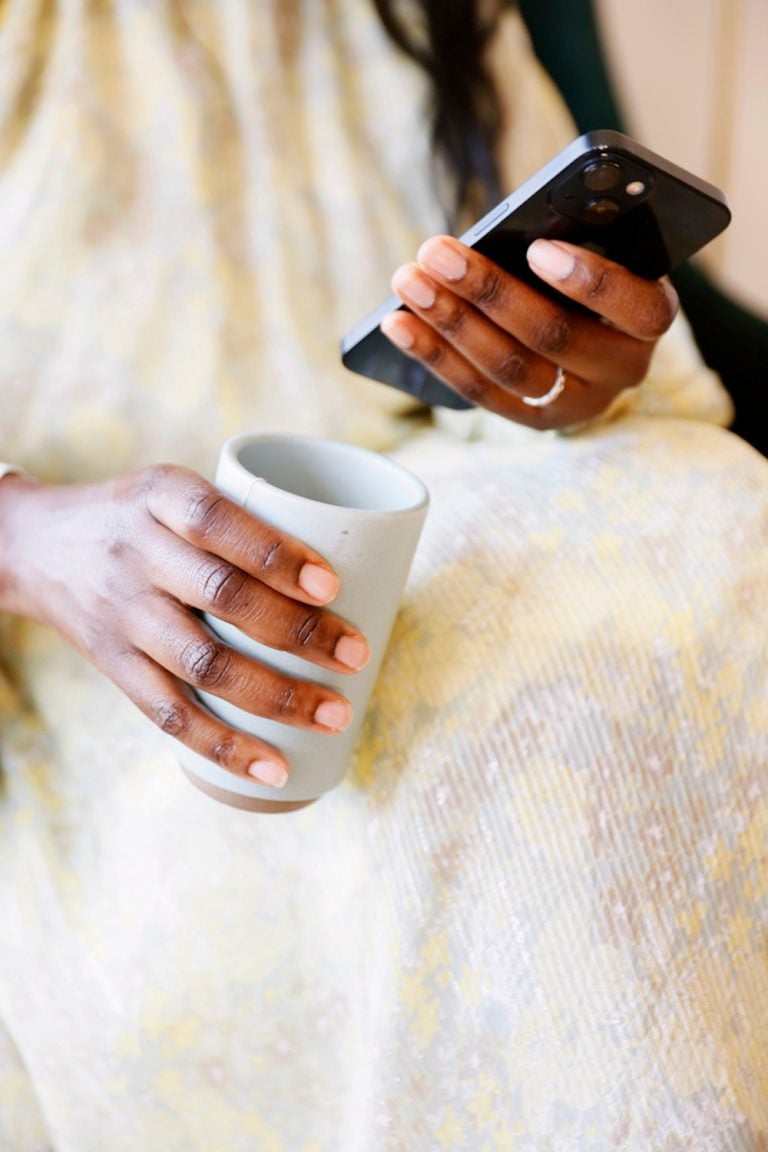 Something to Get Organized
12. Go through your photostream and delete photos you don't need. The 45 pictures you took while trying to capture a tulip fluttering in the breeze? Chances are you don't need quite that many. Free up some space on your phone and in the cloud by downsizing your collection.
13. Update your contacts. Have you ever gone through your contact list and wondered how half of these people got in there? It's unlikely you'll be needing to chat with "Joe—Philly Dog Walker 2003" anytime soon, so feel free to delete him and similar listings.
14. Engage your inner chef. Searching around for step-by-step recipes (images included) and even how-to video tutorials can make meals seem less of a hassle. You'll pick up plenty of impressive cooking skills and even learn to organize your shopping list. Because heading to the grocery store in a frenzied, stressed-out flurry is never fun.
15. Curate your podcast subscriptions. I'm the kind person who hears about a new podcast and immediately subscribes—honestly, before I even listen to an episode. Most of us have a core five podcasts we listen to consistently. To make more space for discovering newly-dropped episodes, take a little time to review your subscriptions and delete any of those that no longer speak to you.
16. Unsubscribe from mailing lists. Free yourself from the burden of deleting 34 emails a day! You'll be amazed at how much time you'll save moving forward once this daily ritual is behind you.
17. Catch up on newsletters from your favorite publications. Tackle the backlog sitting in your inbox. Go through and catch up on the subjects that your favorite writers are tackling (and it'll clear out your inbox while you're at it!)
18. Streamline your work and life with Notion. Get on board with the "that girl" app of the moment you've seen all over Insta and TikTok. Notion provides you with thousands of free, pre-built templates so you can organize every part of your life and make progress on projects, goals, hobbies, and all the many to-do's that inevitably pile up.
19. Plan your grocery list. This is a great way to budget for the week in your free time. I like to shop on the website for my grocery store to make sure I'm extra careful about what I'm spending.
20. Customize your home screen. Organizing your home screen into folders can lead to less stress when opening your phone. You won't be distracted by mindless apps and you'll be more focused on what actually needs your attention (like replying to the email you've been putting off all day).
21. Create a shared calendar. If you and your partner or friends have jam-packed schedules, making a shared calendar can make it easier to schedule a moment to spend time together without any stress.
22. Uninstall apps you don't use. Clearing out your phone is another way to de-clutter and organize your (virtual) space. If you don't use it more than twice a week, get rid of it!
23. Update your notifications and alarms. Updating unnecessary notifications from apps and alarms, you don't/do need is a way to stay focused and lower your stress levels. Constant notifications are known to trigger anxiety, so eliminating the excess in your free time is a perfect way to start living stress-free.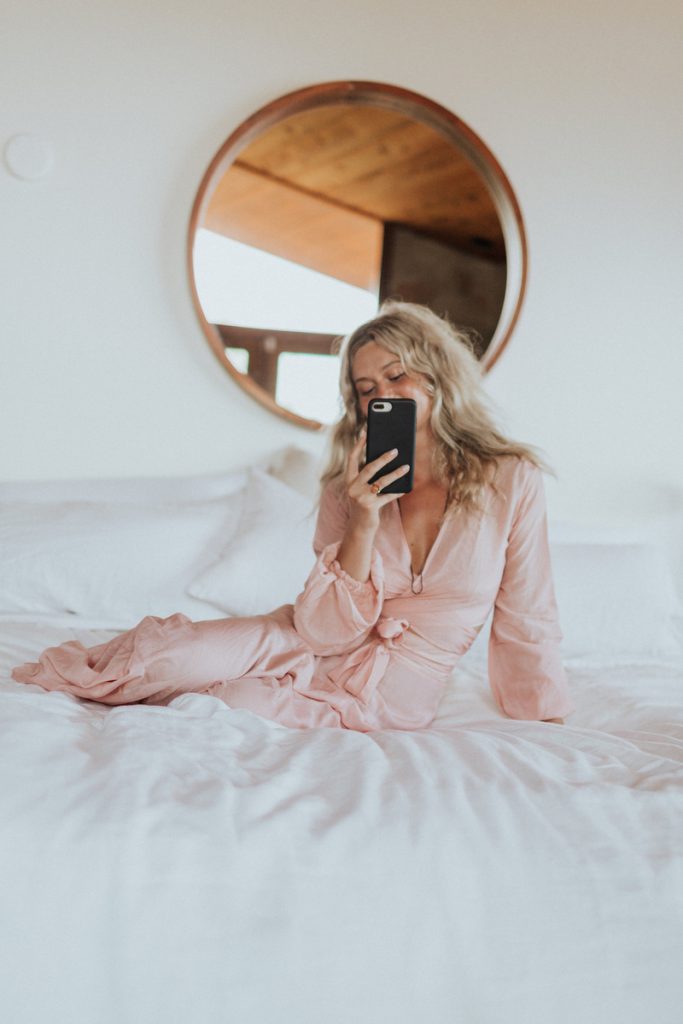 Something Relaxing
24. Do this 15-minute stretch class from Alo Moves. Dust off the cobwebs and move your body with a gentle stretch class. You can do it pretty much anywhere if you're shameless, or save it for when you're home and need to mix it up between Zooms.
25. Practice Breathwork. We all know how to breathe—right? Turns out, practicing proper, calming breathing techniques can reduce stress and anxiety and make it easier to get the quality sleep we all need (yes, please!).
26. Color something fun using the adult coloring book app Color Therapy. This oddly soothing app is an easy, entertaining way to pass the time. It's a creative and engaging app that is constantly updating its images and color palette options, so you'll never run out of whimsical designs to enjoy.
27. Make a seasonal Pinterest food board. Is it just me, or is there something deeply relaxing about scrolling through recipes and picking out a weekly menu? Curate a new board with enticing recipes to try in the upcoming season. It'll kill time now and give you something to look forward to later.
28. Do this free 10-minute meditation from Headspace. Quickly center yourself and focus your breathing with a short meditation. You'll be amazed at how grounded and refreshed you'll feel in such a small amount of time.
29. Support your mental health. Real makes quality mental healthcare accessible to those of us seeking out therapy but who are frustrated with exorbitant prices and hard-to-find therapists. You'll dive into 8-week, therapist-guided programs that focus on one mental health topic at a time. It gives you space and support to know yourself better, build stronger communication skills, and grow in every area of your life.
30. Journal your thoughts. Either in your notes app or any other journaling app you enjoy, writing your thoughts down is an easy way to eliminate stress and stay grounded instead of losing yourself in social media apps.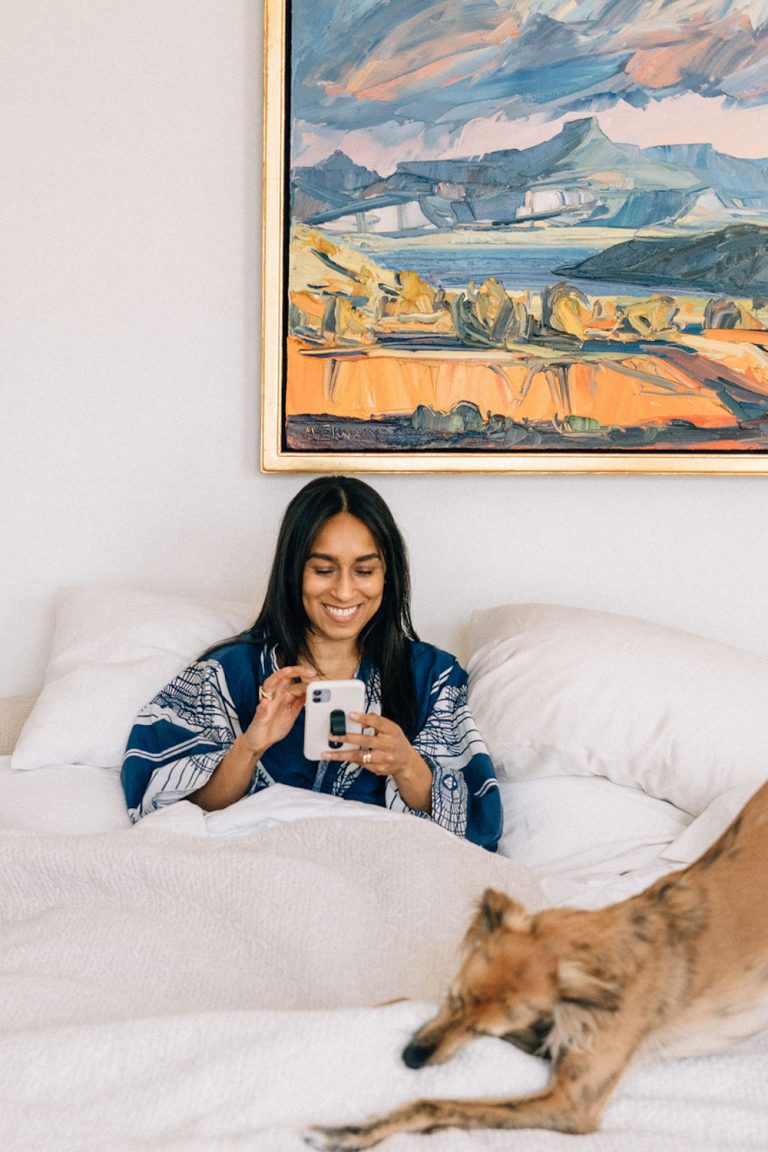 Something Mildly Educational
31. Brush up on your geography skills (or art history or foreign language) with Brainscape. Flashcards for adults, need we say more?
32. Dive deep into learning on Skillshare. With thousands of classes to choose from in literally every single career-building, personal growth-promoting category (knitting! jewelry making! photography!), Skillshare makes it possible to become an expert (or avid amateur) in any realm you'd like.
33. Listen to an educational podcast series. I highly recommend the Princess Diana episodes of You're Wrong About. This five-part podcast series gives listeners an in-depth view of Diana's life. It respects her memory while also remaining impartial, historically accurate, and, best of all, deeply entertaining.
34. Read an essay from Joan Didion's The White Album. This classic essay collection never gets old, even if some of Didion's past observations can now withstand undergoing a bit of thoughtful analytical criticism. The brilliant writer weaves her personal experiences within the larger national issues of the late 1960s. It's a must-read for bookworms.
35. Solve the New York Times Crossword Puzzle. Take advantage of your subscription and put that mind to work with this classic crossword puzzle. If you have access to the crossword, then you can also play the NYT's other games, like Letter Box and Spelling Bee. It's so worth it.
36. Play a game of chess. Brush up on your chess skills with this free app. Chess will keep you occupied for plenty of time, and if you don't know how to play, it's a great pastime to learn!
37. Organize your Goodreads. This is hands down one of my favorite apps. Not only can you explore hundreds of thousands of books and fall in love with new-to-you genres, but it gives you the chance to connect with readers around the world and share your honest literary thoughts. The more you review books you've read, the better and more aligned the recommendations you receive will be. So spend a little time reflecting on your faves and share!
38. Read (and listen!) your heart out on Libby. Libby lets you check out library books, audiobooks, magazines, and more from your local library. It keeps all your loans, notes, bookmarks, and reading progress in one place—plus, you can use it offline. So the next time you find yourself stuck on a plane without Wi-Fi, you know what to do.
39. Learn a new language. If you're wanting to brush up on your French or finally make progress on your goal of becoming fluent in Spanish, there's no better way to do it than with Duolingo. It makes learning a new language easy with mini, bite-sized lessons you can do anywhere—even if you only have five minutes to spare.
40. Watch a TED talk. When it comes to productive things, learning about a new topic is one of my favorite ways to keep my brain on fire. TED Talks always provide me with insightful experiences or new perspectives.
This post was originally published on January 20, 2020, and has since been updated.