As cliché as it may sound, it's true: Time passes faster with age, and my thirties have been no exception. On one hand, I feel exactly the same as I did when I graduated from college. Thankfully my energy levels haven't waned and I still sometimes feel completely clueless about basic principles of adulting. But when I really look back at who I was in my 20s, I'm so thankful for the wisdom and confidence the last few years have brought. And I have a feeling it's only going to get better from here. You know what I'm not quite as thankful for? The fine lines popping up around my eyes and hyperpigmentation on my forehead and cheekbones. So I'm always on the hunt for the best anti-aging skincare products for your 30s.
Don't get me wrong: there's nothing more beautiful than a woman whose face shows the wisdom and experience of a life well lived. And I definitely want to embrace the process of graceful aging and grow more into myself with each passing decade. But in my 30s, I want my skin to look fresh, wide-awake, clear, and as glowing as possible. And so far, it's been possible to achieve all that when I base my skincare regimen on products packed with powerful anti-aging ingredients.
Of course, sunscreen is the number one must-have product everyone should wear. Nothing will boost your anti-aging efforts as well as preventative sun protection. And if you're on a budget, remember that when it comes to skincare, quality trumps quantity every time. (And this article proves that great quality doesn't have to mean super expensive.) Read on to learn about the best anti-aging skincare products for your 30s that I use in my everyday routine. These are tried and tested, and I swear by how well they work. Comment below with any questions, and I'd love to hear which anti-aging skincare products you swear by, too!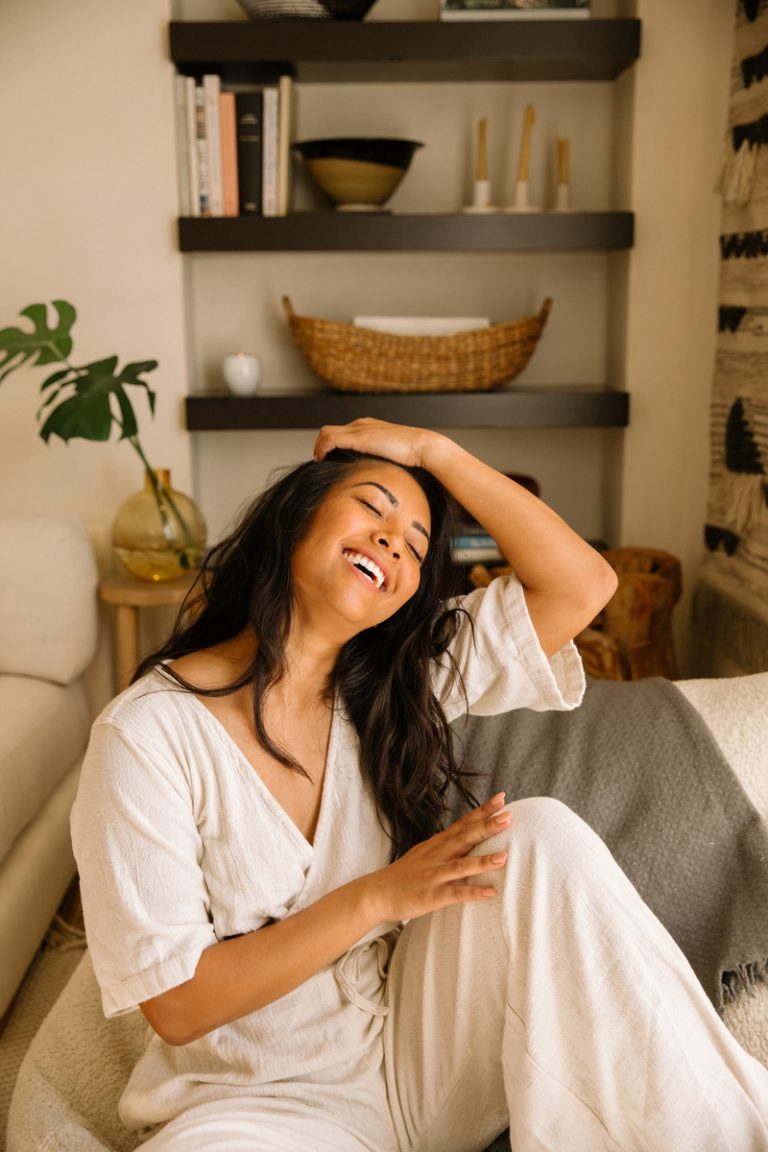 The best anti-aging skincare products for your 30s…
While my list has a lot of products, you certainly don't need to buy all of them. When it comes to skincare, all you really need is a quality cleanser, toner, moisturizer (or face oil), and sunscreen—feel free to keep it simple. The serums and masks are icing on the cake, and are a great way to level up if you're looking to add more active ingredients to your regimen.
Cleanse
Bliss Clear Genius Cleanser
When it comes to cleansers, my goal is to remove makeup and dirt, detoxify, and unclog pores, all without drying my skin. This one from bliss is gentle and purifying, with BHA and Brazilian seawater. It keeps pores clear of excess oil, and skin balanced without over-drying. And it's made with clean ingredients that won't irritate even sensitive skin. Since cleanser doesn't stay in contact with the skin for very long, this is an area where I usually opt for a more budget-friendly option and save the more expensive, active ingredients for later steps in my routine.
---
Bliss Clear Genius Cleanser, $13
Tone
Biologique Recherche Lotion P50
The Lotion P50 is a cult favorite, though one that's been a bit controversial through the years. It works great for me though and has never caused any irritation. I soak a cotton pad in this toner and swipe over my entire face (avoiding eye area) for an instant exfoliating, hydrating, and balancing prep step that helps the rest of my skincare penetrate. If you're looking for the best anti-aging skincare products for your 30s, it never hurts to start with the tried-and-true classics.
---
Biologique Recherche Lotion P50, $148.83
Boost
Symbiome "The Answer" Reparative Serum
I've got to admit that I let out a shriek of joy when this (splurge-y) serum showed up on my doorstep to try out. This new, highly potent formula is made with a powerful concentration of 50% Stem Cell Conditioned Media. "Regenerative peptides and growth factors claim to enhance collagen production and stimulate the skin's natural reparative properties by accelerating turnover." To use, I squirt two dropper-fulls into my hand, then gently massage all over my skin after toner. I've only been using it for a few weeks, but I've already noticed bouncier, brighter, more glowy skin, and I'm giving this serum the credit.
---
Symbiome "The Answer" Reparative Serum, $200
Correct
iS CLINICAL Pro-Heal Serum Advance+
Is Clinical is one of those dermatologist darling brands that you can just count on to deliver results, every time. This serum is incredibly rich in antioxidants, and I think of it as the healing, comforting layer that protects my skin from environmental damage and helps repair its moisture barrier. It boasts time-released vitamin C (L-ascorbic acid) and a blend of botanicals to provide maximum antioxidant protection and health-promoting benefits. Zinc sulfate reduces inflammation, kojic acid prevents blemishes and vitamins E and A condition, nourish and neutralize free radicals. I smooth on just a few drops before applying moisturizer.
---
iS CLINICAL Pro-Heal Serum Advance+, $95
Exfoliate
StackedSkincare TCA Multi Acid Face Peel
Over the last year, I've become a little obsessed with acid peels. They're of the easiest and most effective ways to remove dead skin build-up, brighten the complexion, and keep oil at bay. I've tried lots of at-home "peel pads," but after discovering this liquid version, I'm a total convert. You dispense about half a dropper into a little dish, then use the fan brush (sold separately) to brush the peel evenly over your face and neck. There's a satisfying tingle, and that's it! You don't rinse—in fact, I find this product to be most effective when I use it and then don't apply any other product on top before bed. I wake up in the morning with impossible smooth and glowing skin (I usually do this about once a week—see my Sunday night exfoliation routine here.)
Bonus: this peel also includes retinol to boost collagen and antioxidant vitamin C to nix dullness. At-home peels just don't get better than this one.
---
StackedSkincare TCA Multi Acid Face Peel, $122
Versed Doctor's Visit Instant Resurfacing Mask
I love a splurge-y mask, but then I can't argue with the effectiveness of this affordable one that I scoop up on my Target runs. A couple of times a week, I'll take a long soak in the bath and smooth this over clean, almost dry skin. I leave it on for about 15 minutes before rinsing and following up with my serum and moisturizer. Featuring lactic, glycolic, and salicylic acid, as well as brightening enzymes, it's a gentle way to truly fight early signs of dullness and aging. The fact that it's made with clean, non-toxic ingredients makes me love it even more.
---
Versed Doctor's Visit Instant Resurfacing Mask, $17.99
I tend to steer away from physical exfoliants in favor of chemical ones (like the acid peel and mask listed above.) Except for this one. I've used GOOPGLOW Microderm Instant Glow Exfoliator ever since I spotted their first ad with glowing Gwyneth spreading it all over her face and feeling the burn. I ordered a jar of my own, and it really is that good. And since I'm a sucker for a third-party clinical trial, I also love the fact that 92% of the women in one such study showed improvement in skin barrier function after one use.
---
GOOPGLOW Microderm Instant Glow Exfoliator
The results lie in the high concentration of glow-inducing microexfoliating minerals (quartz, garnet, alumina, and silica) plus glycolic acid to help sweep away dry, dead skin cells and refine the appearance of pores for softer, smoother, and more radiant skin. It's pricey for an exfoliant, but it really works. Plus, a little goes a long way.
---
GOOPGLOW Microderm Instant Glow Exfoliator, $42
Hydrate
Honest Beauty Organic Beauty Facial Oil with Jojoba Oil
I always keep a bottle of this beautiful, clean, and relatively affordable facial oil made of organic botanicals in my bathroom drawer. It's really simple and just plain nourishing, and that's what makes it so good. And I love that since it's not super pricey, I can smooth it all over my neck and chest without feeling like I have to "conserve."
---
Honest Beauty Organic Beauty Facial Oil with Jojoba Oil, $35.49
Furtuna Skin Due Alberi Biphase Moisturizing Oil
Speaking of splurge, this oil is like a pampering liquid hug that plumps and firms your skin upon contact. It smells amazing, looks amazing, and just a few drops make your skin feel amazing. The two "phases" (water and oil) are packed with rejuvenating organic botanicals, nutrients, and antioxidants that help fight free radicals, brighten, deeply hydrate, and plump skin.
---
Furtuna Skin Due Alberi Biphase Moisturizing Oil, $225
Olay Regenerist Ultra Rich Hydrating Moisturizer
I'll be honest, red is not my favorite color but I'm more than willing to overlook that tiny detail if it means slathering this nourishing yet non-greasy hydrator on my face each morning. Morning, you ask? Doesn't "ultra-rich" sound more like something you'd apply before bed? I thought so too, until I tried this pre-makeup and noticed how much better my foundation felt upon application—no flakes or pilling in sight. I always use this moisturizer as the final touch to my skincare, after cleansing, toning, and serum-ing (usually, this is in place of oil.) It melts into the skin upon contact, and thanks to the Vitamin B3+ Peptides, this product will support all your anti-aging efforts.
---
Olay Regenerist Ultra Rich Hydrating Moisturizer, $21.21
For Eyes
Colorescience Total Eye 3-in-1 Renewal Therapy SPF 35
As I mentioned above, the fine lines popping up around my eyes are currently my main skincare concern, and I've noticed that when that area is properly moisturized with a really rich undereye cream, suddenly those fine lines almost disappear (the magic of hydration!) However, I also like to wear a bit of concealer under my eyes and on my eyelids, and I couldn't find an undereye cream that got the job done but also didn't pill or look too heavy under makeup. Enter this Total Eye 3-in-1 Renewal Therapy that brings together moisturizer, treatment, concealer, and sunscreen all in one perfect little applicator. You smooth it on with the metal roller (that has an immediate cooling and depuffing effect), then gently pat in the hydrating, brightening, just plain magical treatment. Results are instantaneous and get even better over time.
---
Colorescience Total Eye 3-in-1 Renewal Therapy SPF 35, $55.50
Get a Glow
CLEANTAN Black Tea Tanning Drops
Let's be honest: nothing looks more youthful than a golden glow—not only does a light tan feel more carefree, it also seems to even skin tone and mask redness. Of course, a real deal tan is counterproductive to all of our anti-aging efforts, but thankfully, at-home sunless tanning formulas have come a long way over the last few years. (I should know, I've been using them weekly since high school.) Currently, these tanning drops from CLEANTAN are the most seamless and foolproof way to add an even, natural glow to the face. Just mix a few drops into any skincare product (I like to put it in my moisturizer since that goes in last), then rub evenly over the face, blending especially well at the hairline. Your tan develops within a couple of hours and is gorgeously subtle. Don't forget your neck!
---
CLEANTAN Black Tea Tanning Drops, $ 42.99
I'd love to hear from you guys: what are the best anti-aging skincare products for your 30s? Drop a comment and let me know if there are any new ones I need to discover.
Loved this post? Pin this graphic to come back to it later.
This post was originally published on April 14, 2021 and has since been updated.