If there's one thing I'm known for, it's my diligent skincare routine. My husband would call it militaristic—yes, I'm THAT disciplined. During our recent five-day camping trip, we were in the middle of the wilderness with zero WiFi and no showers (just a cold natural stream nearby), but every morning and night without fail I would get out my washcloth and bottle of water to cleanse, tone, serum, and moisturize my face. It gave me routine and a ticket to staying sane since my usual amenities were stripped away from me. Honestly, there's nothing quite like the feeling of a freshly cleansed and moisturized face. Are you with me? As someone who has just hit middle age, I'm all about hardworking skincare. So, if you're looking for the best face masks for your 40s, then you've come to the right place.
Last year in quarantine I developed a new self-care habit and it's stuck with me ever since. Every night I would begin my bath and mask ritual. I'd fill the tub with warm water and my favorite soaking salts, then gather around my favorite face masks. This would typically involve two masks—one that was exfoliating with active enzymes followed by another that was hydrating to replenish moisture and restore dry, dull skin. Since I've finally landed on a skincare routine that works for me it doesn't really change too much, so if I want to try a new beauty brand, I'll typically test out one of their masks first. So, as you can imagine in my line of work, that's a lot of face masks! I've probably tried hundreds of different masks over the years. But the good news is, I know what works–especially for my age group.
So, read on to discover the best face masks for your 40s, and be sure to drop a comment below with your favorite too—I'm always on the lookout for new masks to try!
Please note, that while I list all of these products here, you certainly don't need to buy all of them. Skincare is a very personal experience. I am sharing the masks I've tried and tested over time and as a 41-year-old, can recommend for this age group to help treat a variety of skin concerns and goals.
Anti-Aging Face Masks
Shop Biologique Recherche Masque Vivant
When it comes to skincare, Biologique Recherche is the ultimate luxury. Yes, they ain't cheap but in the words of Nam Vo "neither are you." But in all seriousness, a little of this mask goes a long way. I will also say, that I only use this mask about once a week (or once a month!) and usually in conjunction with their Masque VIP 02 (see below) so the bottle I got a year ago is still going strong. You can see Masque Vivant in action here during a Biologique Recherche facial with Camille Fields so you know it's beloved by professionals and at-home enthusiasts like me. The biggest drawback of this mask is the scent—it smells like Vegemite! For those reading this who aren't an Aussie like me, then the fragrance is best described as yeasty. What I like about this mask is that it's suited for all skin types and is very gentle but effective thanks to its nutrient-rich ingredient list of live yeast extracts, amino acids, and Vitamin B. It also has a little lactic acid which is a very hydrating alpha hydroxy acid (AHA). Pro tip: If you have stubborn blackheads, add a pinch of baking soda to this mask and prepare to be amazed.
Shop Cosmedix Bio-Shape Firming Face Mask
I have been a fan of the Cosmedix line for over 10 years now—their products just work. Period. The ingredients in this bio-shape firming face mask will help to firm, tighten, and smooth the skin over time. But the unique difference with this mask is in its "lifting" technology thanks to the ingredient Acetyl dipeptide-1 Cetyl Ester (Idealift™). This Powerful peptide helps to fight against skin sagging and improves resistance to gravity. One reviewer on their site called it a "miracle in a tube," either way, this is a really nice mask and my skin always feels fresh, bright, and revived after application.
Shop Jan Marini Retinol Plus Mask
If you really want to step up your mask game then invest in Jan Marini's retinol plus mask. One of my go-to estheticians, Candace Marino of The LA Facialist is a huge advocate of this line (especially for acneic or compromised skin) and now I know why. There's nothing quite like retinol to turn back the hands of time and this mask has 1% of the anti-aging ingredient to accelerate cell turnover while also helping to firm the skin. Retinol is also great for treating hyper-pigmentation, fine lines, and acne. But if you're worried about this one drying out your skin then have no fear. The clear Jan Marini team added hydrating ingredients like shea butter and vitamin E, as well as green tea and linoleic acid. It's a powerhouse in a bottle.
Shop Image Vital C Hydrating Enzyme Masque
I first tried this mask during a facial at HeyDay. The esthetician applied Image Skincare's 30% lactic acid peel and then this directly after and it felt incredible. This is one of the brand's best-sellers and it's easy to see why. It's incredibly powerful but gentle thanks to natural enzymatic exfoliates like pineapple and papaya fruit extracts which remove dead skin cells without stripping or irritating the skin's microbiome. It also has hyaluronic acid and retinyl palmitate to revitalize, hydrate, and plump. It's so gentle you can use this a few times a week without the risk of drying out your skin.
Hydrating Face Masks
Shop Biologique Recherche Masque VIP O2
This is my go-to on the weekends, especially first thing on a Sunday morning when my skin needs an end-of-week pick-me-up. Thanks to its oxygenating formula, this mask is super nourishing and hydrating which is why I reach for it if my skin is tired or stressed out. While I don't recommend getting sunburnt, if this does happen, then put your Masque VIP 02 in the fridge and then apply it all over for immediate relief. This one is safe for the eye area too so put it all around the undereye for ultimate hydration. Yes, this one is pricey, but like the Masque Vivant, a little goes a long way and I only use it once a week.
Shop Origins Plantscription Powerful Lifting Overnight Mask
Okay, so Origins has been around for years and they were "clean" before it was a beauty industry buzzword. But the difference is, this brand walks the talk. I was recently sent their Plantscriptions overnight mask and let me tell you, I apply this like it's moisturizer—and not just a night! I use it during the day when my skin feels dry and I don't remove it. It's so rich and creamy and instantly hydrating. I love the texture that's almost like a gel/cream hybrid—it goes on so smooth and just feels luxurious.
Shop The Things We Do Liquid Lift Sleeping Mask
Vanessa Lee, RN is one my go-to's in Los Angeles. She's the genius behind my recent thread lift and her skincare line is beloved by many including Kourtney Kardashian. The Liquid Lift Sleeping Mask was one of the first products I tried from her line and it was an instant favorite. It's super lightweight with a delicious gel formula that's filled with vitamin B5, hyaluronic acid, and organic oats to plump, soothe, and hydrate the skin. I use it overnight and during the day when my skin needs a boost.
This is a great price for a face mask that not only feels good but looks good while it's doing it too. The hydrating gel formula is infused with real rose petals and if you're anything like me, I am a sucker for rose everything! It's a very simple but effective mask and can be used multiple times a week without any irritation. It's like an extra drink for your skin.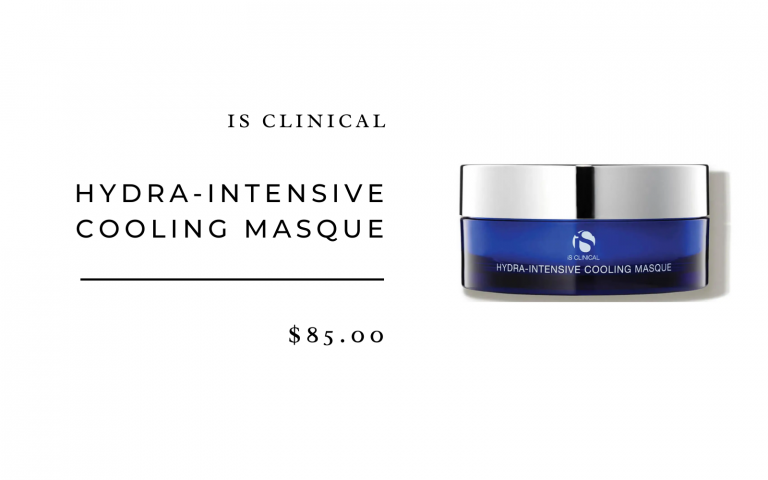 Shop iS Clinical Hydra-Intensive Cooling Masque
I've been using iS Clinical diligently in my routine for about two years now and I am a huge fan of the line. Their Active Serum and Pro-Heal Serum are daily staples. This hydra-intensive mask is a great option for dry skin with its smooth, gel formula. Bonus: It doubles as a great hydrating conductive gel for at-home microcurrent treatments too. Use this straight after an exfoliating mask to soothe the skin—their tri-active exfoliating masque is a great option.
Shop Royal Fern Phytoactive Hydra-Firm Intense Mask
The difference with Royal Fern is in their proprietary complex which combines powerful botanical actives including a highly concentrated fern extract, African Voacanga tree seeds, wild rose blossoms, sea buckthorn, and mineral oxides that reflect UV light. This mask has a beautifully light yet rich texture and feels smooth and creamy on the skin. It's really great for soothing stressed-out skin thanks to the anti-inflammatory chlorophyll and avocado oil. This peps up my tired skin when it's feeling dull.
Exfoliating Face Masks
Shop Renee Rouleau Triple Berry Smoothing Peel
If you haven't tried Renee Rouleau's iconic Triple Berry Smoothing Peel then please do yourself a favor and invest, stat. This is super gentle while also being a powerful at-home peel helping to reveal bright, smooth, and rejuvenated skin after each use. It reminds me of the Cosmedix Blueberry Smoothie professional peel but this one you can use at home! This peel contains five skin smoothing fruit AHAs, BHAs and enzymes to clear blemishes and clogged pores, fade post-breakout marks, lift discoloration, stimulate cellular renewal, and smooth surface texture while reducing the appearance of fine lines, wrinkles, and large pores. Woah! Yeah, it's a good one.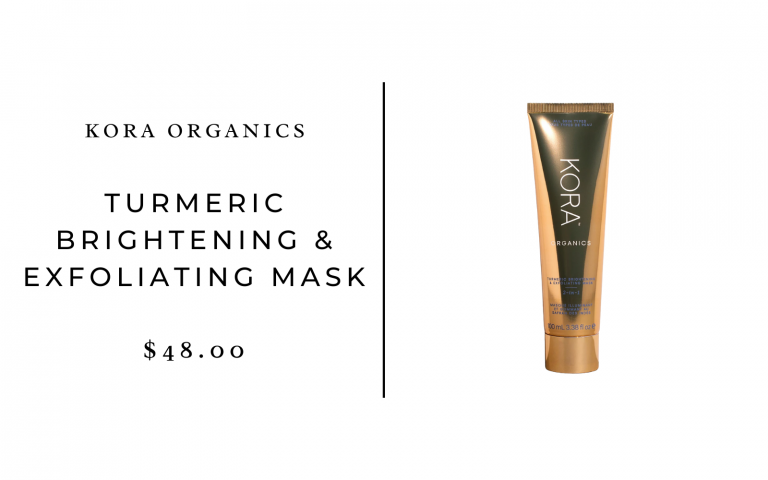 Shop Kora Organics Turmeric Brightening & Exfoliating Mask
So many people rave about this mask and I'm one of them. It's like a scrub/mask hybrid actually because it has a very gentle physical exfoliant thanks to rosehip seeds and quartz that polish and buff the skin. It also contains enzymes from papaya and a natural source of BHA, aspen bark to further slough dead skin cells. Then there's the anti-inflammatory effect of turmeric to further brighten and calm the skin. I like to use this one in the shower so I can easily wash it off and then when I get out, I follow up with something hydrating.
Using the powerful enzymes of papaya, this mask effectively digests dead epidermal cells without harming sensitive skin. It's gentle enough to use 1-2 times a week. Start off slow and then work your way up. I love how it feels on my skin when I apply it but the feeling when you remove it is life-changing—fresh, glowy, hydrated skin.
Shop Renée Rouleau Dual Enzyme Softening Peel
This is another mask that uses papaya and pineapple enzymes to lift dryness, discoloration, and dullness. The reason I love and recommend fruit enzyme peels so much is because they're really effective but incredibly gentle so they work for almost all skin types. You really can't go wrong. I am a big fan of Rouleau's line because she really does make great products that do what they say—which sadly, isn't always the case in this industry. This is a great mask for those who want to help break up pigmentation and it's also safe for retinol and retinoid users—it will help to lessen flakiness and dryness.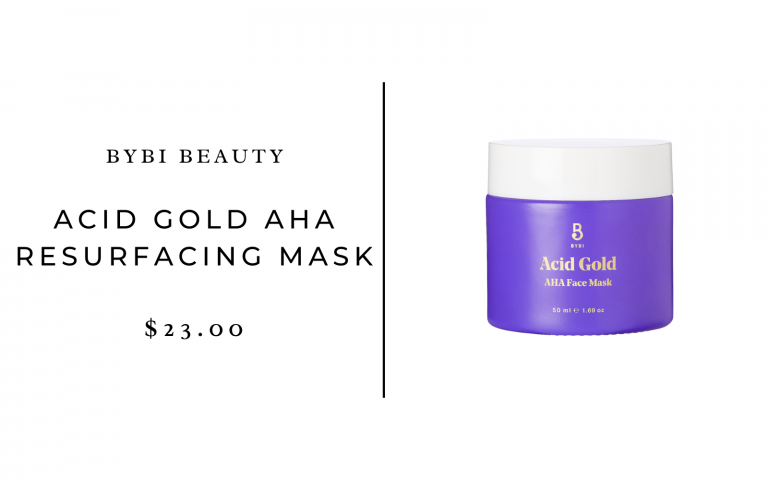 Shop BYBI Beauty Acid Gold AHA Resurfacing Mask
This is another really simple and clean exfoliating mask using fruit enzymes. It has a very interesting stretchy texture that's fun to apply and it really is a gold hue, too.
Shop Cosmedix Pure Enzymes Cranberry Exfoliating Mask
This is hands down one of my favorite at-home exfoliating masks. You can actually feel this one working and it will leave your skin feeling flushed, but don't worry, that's a good thing. It's helping to bring new fresh blood to the surface which in effect is bringing your skin back to life! This mask combines l-lactic acid and cranberry enzymes with l-Ggutathione and superoxide dismutase to transform the skin by lifting away dead skin cells, excess sebum, and any pore-clogging gunk! It's a great one to layer with their detox mask too.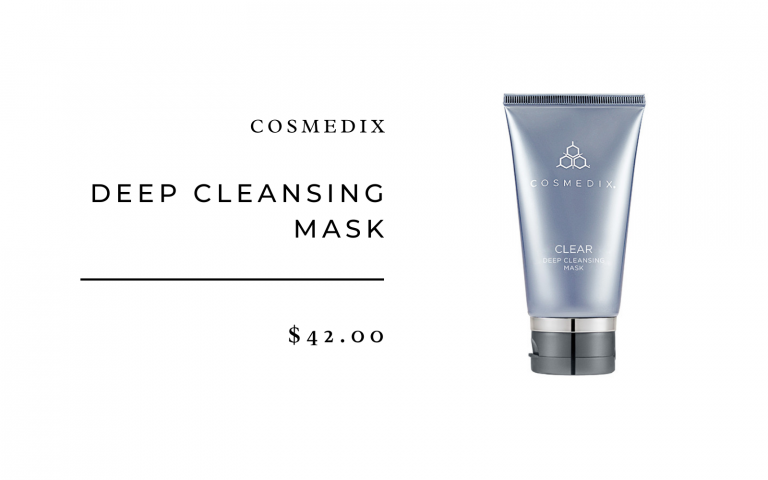 Shop Cosmedix Clear Deep Cleansing Mask
If you have acneic skin or problematic skin, this is the mask for you. It is also a great spot treatment. I often apply it to breakouts or blemishes because the kaolin clay helps to draw out impurities while the sulfur purifies and tea tree oil treats and hydrates. It really is a powerful mask and honestly, this bottle will last you a long time as you only need a thin layer.
Clay Face Masks
Shop MARA Spirulina + Ashwagandha Volcanic Sea Detox Masque
I'm not usually a fan of clay masks because they tend to dry out my skin and my goals are hydration, hydration, hydration—always! But this one surprised me. I am already a fan of MARA's Vitamin C serum and their oil cleanser so I really shouldn't be shocked that the founder, Allison McNamara would apply the same attention to detail to this masque too. The difference with this product is in the formula. First of all, it has not one but four natural cleansing clays—Mediterranean sea clay, two purifying kaolin clays, and bentonite. Then there are two of her favorite ingredients: spirulina and ashwagandha that help to clarify, detox, and exfoliate without drying out the skin. Not to leave it at just those powerful ingredients, McNamara added a pinch of volcanic ash from the Jeju Island in South Korea that's packed with active enzymes that helps fight off any blemishes. I'm a big fan and I know you will be too.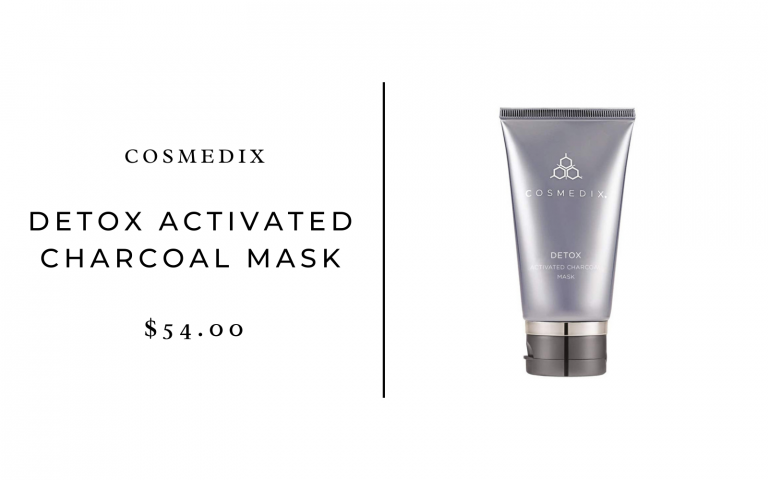 Shop Cosmedix Detox Activated Charcoal Mask
There's no ouch factor here either. This charcoal clay mask is gentle and effective with nourishing ingredients that leave a soft finish. It doesn't leave you feeling dry thanks to dandelion extract and alteromonas ferment extract that protect from pollution and revive radiance. I love using this in conjunction with the Cosmedix enzyme peel. You can actually layer them on top of one another for a super-powerful effect—hello, radiant skin!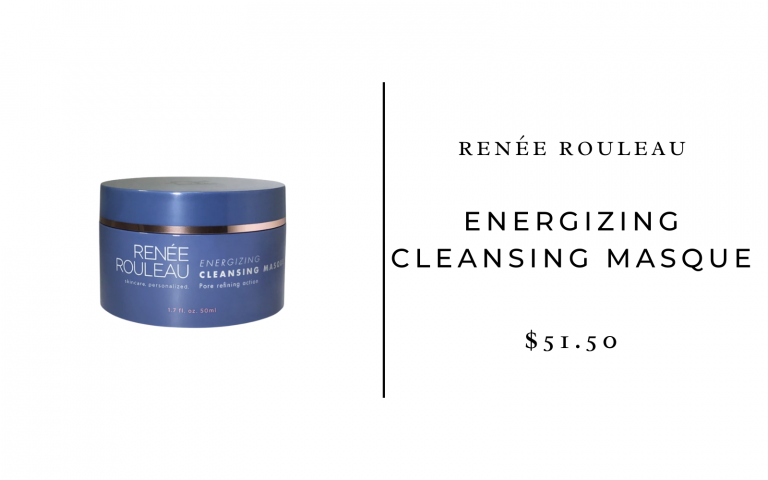 Shop Renée Rouleau Energizing Cleansing Masque
I know, I know, yet another Renée Rouleau mask but honestly, she just makes really, really good products. This is also a non-drying, clay mask but this one will also give you a boost of brightness, too. For maximum results, Rouleau suggests using her Triple Berry Smoothing Peel first to remove surface cellular buildup. We love a double whammy!
Sheet Masks
Shop Cosmedix Micro Defense Microbiome Sheet Mask Set (5 masks)
Sheet masks are my go-to during the day, night, and on weekends for an instant fix. I love them right before an event when my skin needs a good drink. As we all know, hydrated skin always works best under make-up. I love this one because it's very calming and really quenches my skin with its moisture-rich prebiotic serum and sodium hyaluronate (a humectant that improves dryness, replenishes the skin, and provides structure and volume). The results are instant!
Shop Zitsticka Press Refresh Mask (Set of 5)
My favorite type of sheet mask is the bio-cellulose variety. The texture is so hydrating it feels instantly cool, calming, and nourishing to the skin. The Zitsticka Press Refresh Mask is my absolute number one of them all. This hydrogel sheet mask is drenched in exfoliating acids and skin soothers, and a new ingredient called graphene which activates your skin's electrocurrents. Sounds fancy I know, but according to the brand, the graphene helps to increases the ingredient absorption rate, helping them to penetrate deeper. I also want to note that this sheet mask is one of the very few (if the only one) that fits my face perfectly without slipping. I don't have to readjust it all the time—it just fits like a glove! This mask is also good for acneic skin with a triple whammy of acids including salicylic acid, glycolic acid, and lactic acid. And if that wasn't enough, it also has niacinamide to balance and brighten while hyaluronic acid quenches parched skin. Please invest in this one. I promise you will not be disappointed.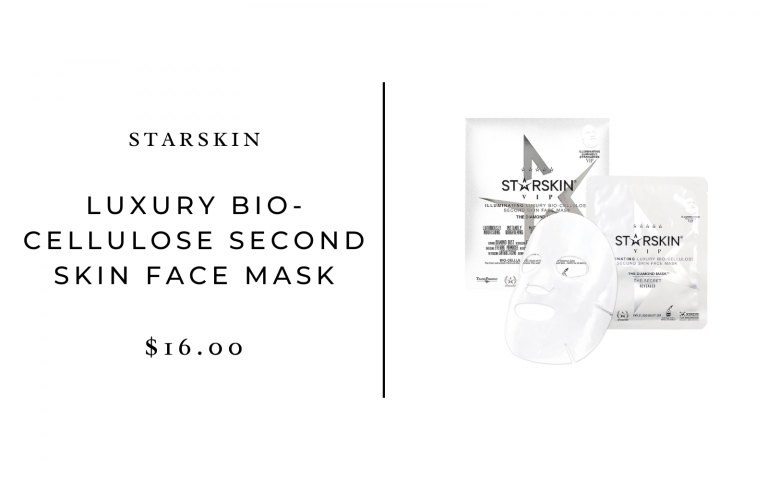 Shop Starskin VIP The Diamond Mask Illuminating Luxury Bio-Cellulose Second Skin Face Mask
Another bio-cellulose mask I love is the VIP Diamond Mask from Starskin. The mask itself is made from fermented coconut juice which gives it the ultimate cooling texture—it really does feel like a second skin. This mask has gemstone extracts, rare botanicals, and evening primrose extract with ultra-fine, skin-refining diamond dust that gives your skin a dewy glow. I like to put one on before watching a movie or while I'm sitting at my computer working. It's a really lovely sheet mask.
Shop Knesko Skin Diamond Radiance Face Mask (4 treatments)
If you want to step it up then try out the Knesko diamond radiance sheet mask. This is very expensive but throw on a Lunya bathrobe and it will make you feel like you're at a luxurious spa at home. This one is also infused with diamond powder, niacinamide, COq10, and hyaluronic acid for the ultimate glow.
BONUS Face Masks
Shop Adipeau Fat Balance Activator
This isn't a mask for your whole face, it's actually designed to counteract hollowness and sagging so you only use it on the areas you want to plump. The combination of natural lipolytic and adipogenic agents helps to nourish the skin's fat cells in those areas for a stronger, more youthful look. I have been using this for the past few months now and while it doesn't give you results quite like filler will, I do think it helps to support those areas where the skin is a little crepy or thin, especially under my eyes.
Shop Furtuna Skin Rinascita Delle Olive Replenishing Balm
Okay, so this isn't technically a mask which is why I put it in the bonus section but this balm can be used as a mask to seal in moisture. This is deeply nourishing and replenishing (hence the title) and I find helps to calm stressed or tired skin. I especially love applying before I go to bed (do it at least an hour before so it has time to settle in otherwise it will end up on your pillow!). The balm includes wild-foraged medicinal flowers, known for their antioxidant power. A tiny dot goes a long way so this balm will last a loooong time.
Mix These Together to Make Your Own Exfoliating/Anti-Aging Face Mask:
Shop Cosmedix Purity Solution Cleansing Oil
Shop Cosmedix Purity Detox Scrub
One of my favorite masks is a simple DIY. Simple mix a cleansing oil (I love Cosmedix's Purity Solution above but you could use your preferred cleansing oil) with the Cosmedix Purity Detox Scrub which combines a physical and chemical exfoliant: poppy, jojoba, date seeds, and salicylic acid. Combine a pump or two of the oil into the palm of your hand (or a bowl) and sprinkle in the detox scrub, mix, then apply to your face. Gently polish your skin so that the mask covers your entire face then leave it on for 5-10 minutes. Wash off and experience fresh, smooth skin.