I love a good glow but I hate the smell of most self-tanners, plus the icky ingredients most of them have. Having quite a fair complexion, I've learned to embrace my skin over spending hours baking in the sun (the health risks are real), but am still not opposed to add a touch of a faux healthy glow. So, what is the best self-tanner for the face that's also clean?
While I've found my favorite non-toxic body tanners, they just don't tend to always perform well on the face. And it turns out, there's a reason why face-specific formulas are out there. Self-tanners intended for body use can break you out, clog pores, and apply too deep of a tan for the face.
So, I set out to find the best self-tanner for the face that's also non-toxic and discovered more than one favorite in the process.
The Review Method:
The four botanical-based self-tanning products listed below are all formulated with little to no toxic chemicals. Best of all, orange skin is nowhere to be found; all of the below picks offer the most natural, golden look. I tried each one of them for 10-14 days and break down everything from their ingredients to the pros and cons of each, plus I give them a rating from 1-5 stars.
So, glow on, keep scrolling to find out which brands made the cut!
But first, check out these tips for the perfect faux face tan:
Each of the products below have different application methods. In general, make sure skin is clean, freshly washed, and exfoliated.
For the most subtle and smooth tan, moisturize your face 1+ hours before applying,
Be sure to spread tan down your jaw into your neck, over to your ears and up into the hairline for the most natural looking tan. (Avoid getting it in your actual hair if you're blond like me. I've found buffing the hairline gently with a towel after applying helps).
Don't skip washing your hands after finishing your application!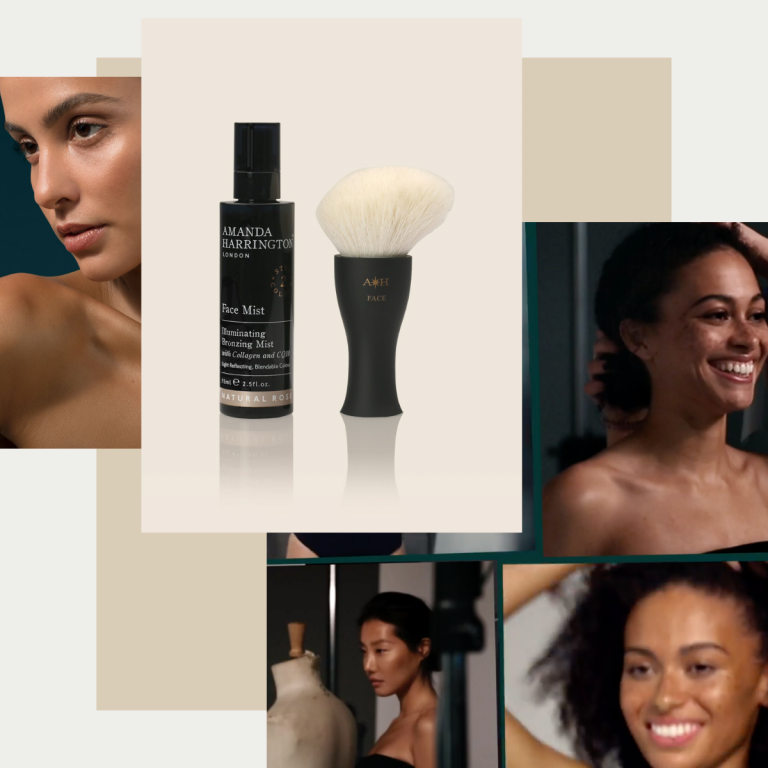 Celebrity tanner, Amanda Harrington spent her career "painting the form like it was art and creating a beautiful skin finished look from head to toe." After running into issues with lack luster and flat finishes when tanning for red carpet and editorial shoots, she made it her "mission to create toxic free, alcohol free, vegan friendly tonal skintone tints and tan friendly skincare that made you look, just 'well'." After spending over two years formulating the perfect tints that never go orange, she created a tanning system that uses a guide to help color blending and ingredients like aloe vera, hyaluronic, and collagen—not alcohol or mineral/ petroleum oils which can clog pores and cause breakouts. Not to mention her amazing brush applicator that allows for serious control, the ability to add layers of color where you want to contour and elevate your bone structure, slim, define and sculpt.
The Ingredients:
While still one of the cleanest products on the market, it's not quite as clean as I prefer for everyday use (I generally steer clear of fragrance, phenoxyethanol and limonene for example). But I love that it is noncomedogenic and has skin boosting ingredients like aloe, hyaluronic, and collagen.
The Pros/Cons:
Pros: The brush application felt ultra luxurious and is the key to this looking so dang good. It feathers the cool brown formula softly for the perfect even glow that has zero touch of orange. I liked the full three-step-process—exfoliate, prime, tan— I'm all about well-prepped skin. With three tone options, you can find the perfect match and they cover a larger span of skin tones.
Cons: The scent isn't my favorite. I prefer unscented or natural fragrances, so the powdery scent was a little much for me, but not completely unpleasant. If you happen to have some breakouts/rough patches etc. it does settle a bit and highlight pigmentation, but the color smoothes out from the spots by the next day.
Why I Love It:
The deepest, most immediate tan out of all of them thanks to the color guide. Since it deposits a bit of color upon application you can see where you applied it and have an immediate bronzy glow. The formula then continues to develop over the course of a few hours. Once you get the hang of it, the application is so fun and feels so luxurious, and deposits the color quite smoothly. As Amanda says, "Prep is paramount for the perfect tan. I am obsessed with the Parisian look—effortless-looking skin, you know has been taken very good care of." Her cosmeceutical glycolic and fruit acid brightening face pads (which has won awards!) and primer are everything you need for the perfect tan.
Rating:
While I'd use something a little cleaner if I was pregnant or nursing, as far as the tan goes, this is a five star for sure.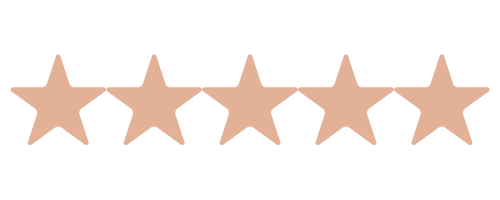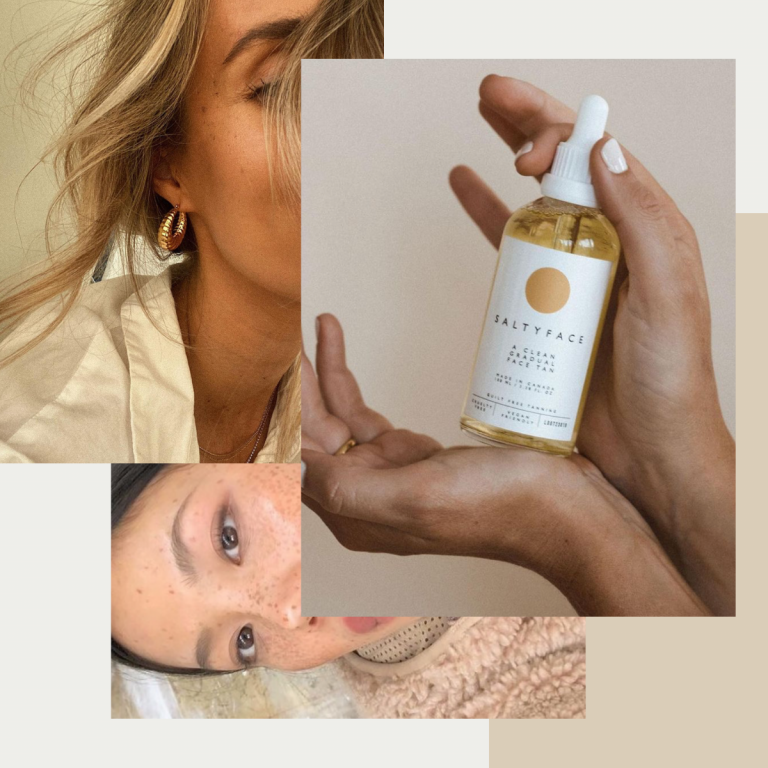 Started by a tan-obsessed Canadian mama, Bethany Menzel couldn't find anything quite right for tanning her face on the market. Enter Salty Face. The line includes a freckle stain (so fun) with hints that the line will expand soon to include a body tanner and a deeper tone of the Face Drops for darker skin tones. Salty Face is all about helping you feel confident in your skin, ditch the makeup a little more often, and bare your natural beauty.
The Ingredients:
Super clean ingredients, and zero synthetic fragrance! Most of the ingredients score a 3 or less on EWG's database (with the exception of Benzyl Alcohol and Triethanolamine which have been deemed okay in low concentrations).
The Pros/Cons:
Pros: So easy to use, these glow drops give you control over how quickly your tan develops and how deep it is. There's zero tanning scent (or really any scent for that matter) which I love! The formula is like water and so ultra light you can't feel it on your skin at all. Honestly, I couldn't even tell I put it on. The tan is a natural bronzy glow that leans brown rather than orange.
Cons: Not many! The only con I have is possibly a user-error—the product is a little watery, so I recommend taking off your rings before applying as it can get away from you a bit and I woke up with a tan circle under one of my rings on my finger the next morning. Be sure to thoroughly wash your hands after applying. While I noticed a difference after one application, since it's a gradual tanner, you'll need two to three days for a deeper tan.
Why I Love It:
I'm obsessed with how naturally this glow develops. I love that this one is buildable and probably something I'll incorporate into my everyday, whereas some of the others are more of a weekly/special event application to me. I like to apply it two days in a row then do three-ish days off before evaluating again. The tan is natural and gradual, the ingredients are clean, and love that it's bottled in glass. Plus, the brand is super cute (check out their instagram here).
Rating:
This is probably my favorite pick for easy everyday/regular use.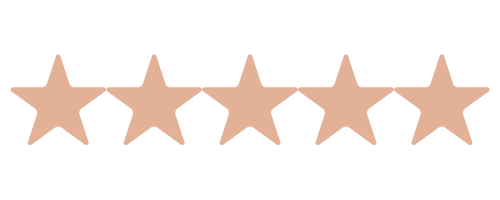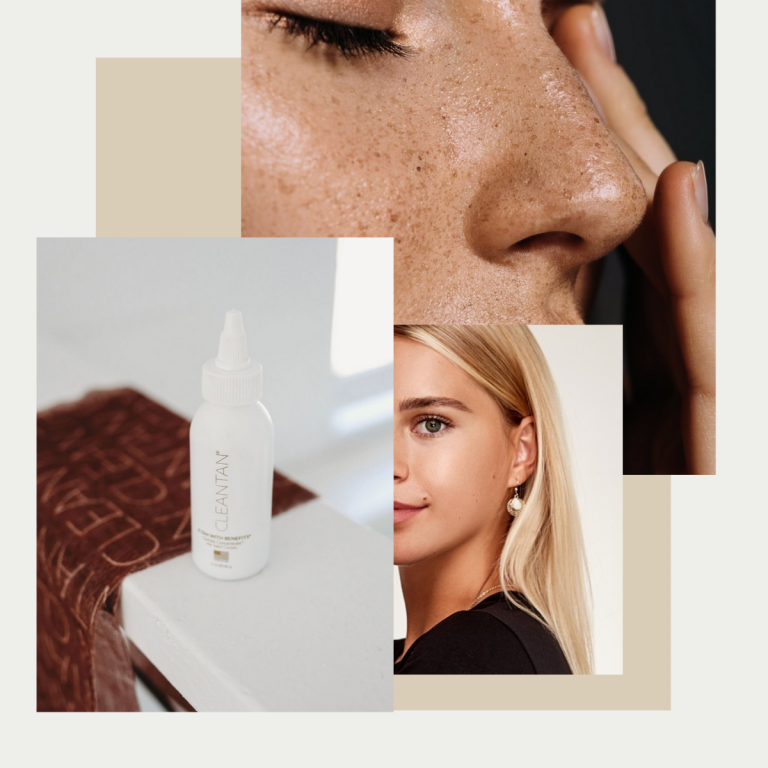 While this isn't exclusively a face tanner, it earned a spot on the list as a tanning drops formula that works just as well for the face as it does for the body (and is one of Camille's faves!). With color that is sourced from a fusion of antioxidant-rich teas and herbs, this uber-clean product gives you a tan without the junk. On top of that, these self-tanning drops allow you to customize the process by controlling the amount of color along with the mechanism for delivery (i.e., mix with a body oil versus lotion).
The Ingredients:
Completely plant-based and quite a clean formula, the color in this formula comes from black, white, and green teas along with cocoa pigments and DHA derived from beet root. There are no perfumes or penetration enhancers and all ingredients are organic and vegan. The only ingredient that could be a bit iffy is phenoxyethanol.
The Pros/Cons:
Pros: Since no synthetic fragrances are used, it has a faint herbal chai tea-like smell which is soo good. It also has a built-in guide to the formula, so you can see where you're applying and is one of the most customizable of all the tanners I tried (I did 3 drops in my day-time moisturizer). Simply add more or less, depending on how deep you want your tan (they have a guide on the site for ratios for light, medium, dark and max). You can use it with your body lotions too for an all over tan.
Cons: I would recommend using a mitt, wearing gloves or realize you really have to wash your hands to get this one off. There's a bit of transfer if your pillowcase is white and you apply it before bed, so I would recommend applying in the morning with your AM skin routine and washing your face before bed.
Why I Love It:
Since it's a liquid drops formula it's super easy to incorporate into your day-to-day skincare routine and works well with almost any lotion, cream, or serum. This tone leans a touch warmer than the others, so it was maybe a bit more golden then I prefer, but would be great for those with warmer skin. It has the potential to be one of the deepest tans, so play with it a little to figure out the right concentration of drops to carrier product for you.
Rating:
Such a great tanner and bonus points for being able to use it on face and body.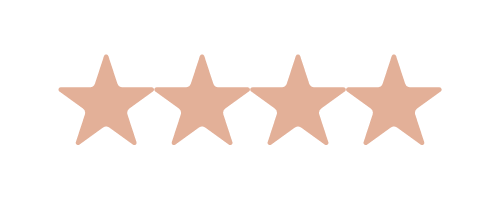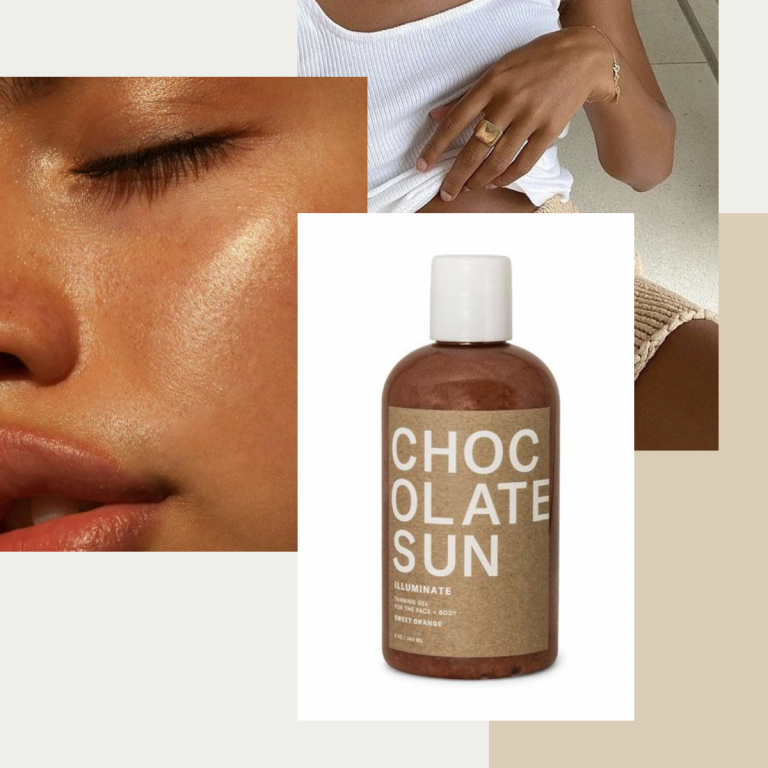 With an emphasis on truly clean formulas using completely organic ingredients and the bronziest glow possible, Chocolate Sun has long been one of my favorite nontoxic tanners. I'd used the Chocolate Sun cream body tanner before, but it was a bit heavy for my face so was interested in trying their tanning gel which was intended to be a bit lighter for the face.
Ingredients:
Using DHA derived from sugar beets, Chocolate Sun is an organic, chemical-free sunless tanning solution that includes antioxidant vitamins, minerals and essential oils to condition the skin, as well as an SPF to protect it. All of Chocolate Sun organic ingredients come from certified growers and all additional ingredients are either ECO-Certified, wildcrafted and or 100% natural, are vegan and only tested on humans.
The Pros/Cons:
Pros: The cleanest formula of the bunch! Every ingredient is truly nontoxic. This formula is great for oily-normal skin since it's a bit more lightweight and the aloe gives you a tightening effect as it dries which is kind of nice.
Cons: Smells like chocolate which could be a good or a bad thing. My sister uses these products and loves the scent. It's a little strong, but I don't mind it, however, my husband knows every time I've applied it and it's not necessarily his favorite thing. The texture is a little slimy (probably due to the aloe vera) and leaves a bit of a film. The tan is very light, so you may need to repeat the application a few days to get a noticeable tan.
Why I Love It:
I love brands that you can trust that the ingredient list is clean without spending an hour researching every single one. With Chocolate Sun products I can do that! (I still double checked them all, don't worry). It's great when your products do double duty, and this one has antioxidant vitamins and minerals to condition the skin, as well as an SPF to protect it for daytime use. Pro tip: before beginning, shake product to ensure the active ingredient needed to darken the skin has not settled at the bottom of the product
Rating:
While I love the clean ingredients, this tan just wasn't quite there and the formula could use some improvement. I'm not giving up on Chocolate Sun though. I'll probably just stick to their cream tanning formulas.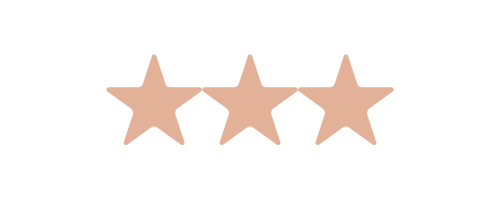 What is the best self-tanner for the face you've used that's also non-toxic? Share it with us below.