In today's wide world of front-facing video, one of my favorite uses of the form is the beauty tutorial. What my high school self would have given to watch Selena Gomez or Zoë Kravitz demonstrate the proper way to apply liquid eyeliner. (All I had was that—admittedly fantastic—Bobbi Brown "Teenage Beauty" book.) And while makeup application can be a bit more personal, I would imagine there is a somewhat objective best way to apply skincare.
That being said, you certainly wouldn't know it based on the celeb tutorials I've seen as of late. For every Hailey Bieber, who applies her moisturizer with the softest of touches, there's a Kristin Cavallari, who slathers skincare and pats serums with near violent abandon. So what's a front-facing video lover to do? Fortunately, I have a job that allows me to go straight to a truly trusted source (no shade, celebrities).
Ahead, two Los Angeles-based, celebrity aestheticians—Candace Marino (AKA the LA Facialist) and dermatological nurse Natalie Aguilar—offer their insight on the best way to apply skincare. From toners and eye serums to creams for the neck and chest, their expert advice can help you find your own confident rhythm for a daily routine.
Feature image by Michelle Nash.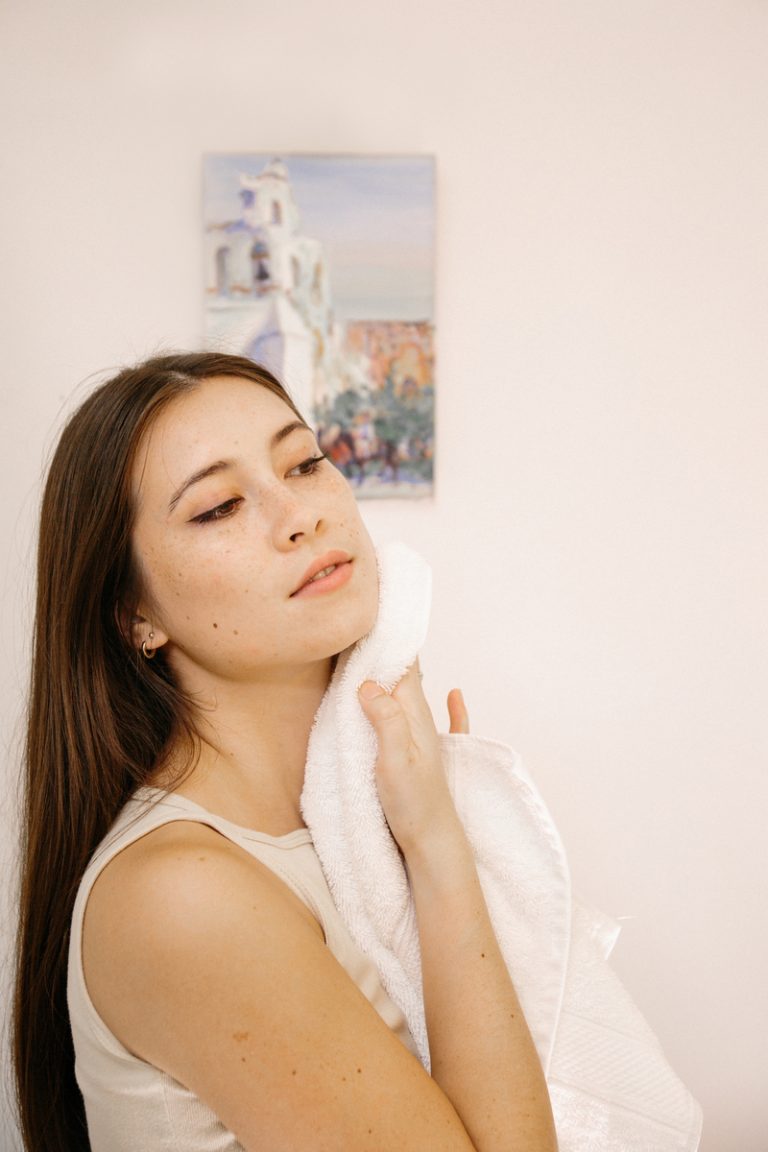 Before we really break it down, are there any general rules of thumb for applying skincare?
"My rule when applying any skin care product is always apply upwards," Aguilar explains. "Never pull any part of the skin down. I cringe when I see videos of those who violently rub or pull and drag their skin downwards."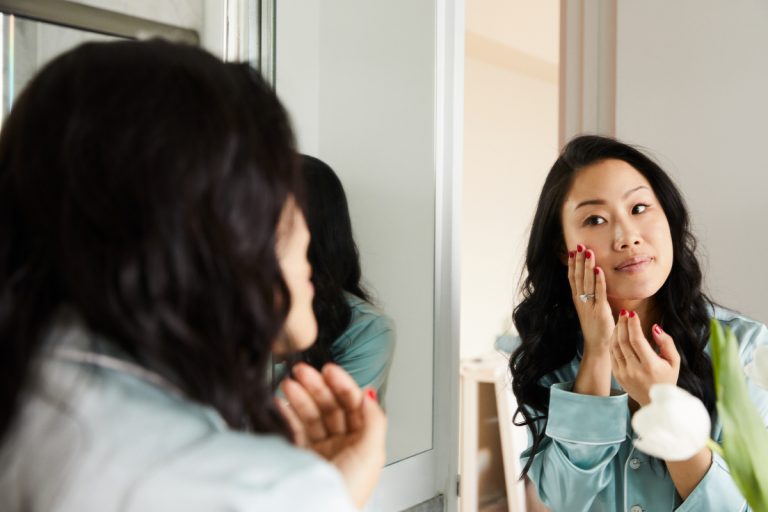 The Best Way to Apply Toner
The oft-overlooked step in skincare routines, toners help balance out moisture levels to get the skin in prime condition for the serums and moisturizers to follow (in addition to a slew of other benefits).
"Some splash toner into the skin, while others pat," Aguilar shares. "I prefer using a cotton pad to gently wipe over freshly cleansed skin. The cotton pad will also pick up any traces of dirt, makeup, oil, cleanser, or chlorine."
Marino prefers to forgo the use of cotton altogether to ensure she's getting the most product directly onto her skin. "I pour the toner directly into my hand and pat it onto the face," she adds.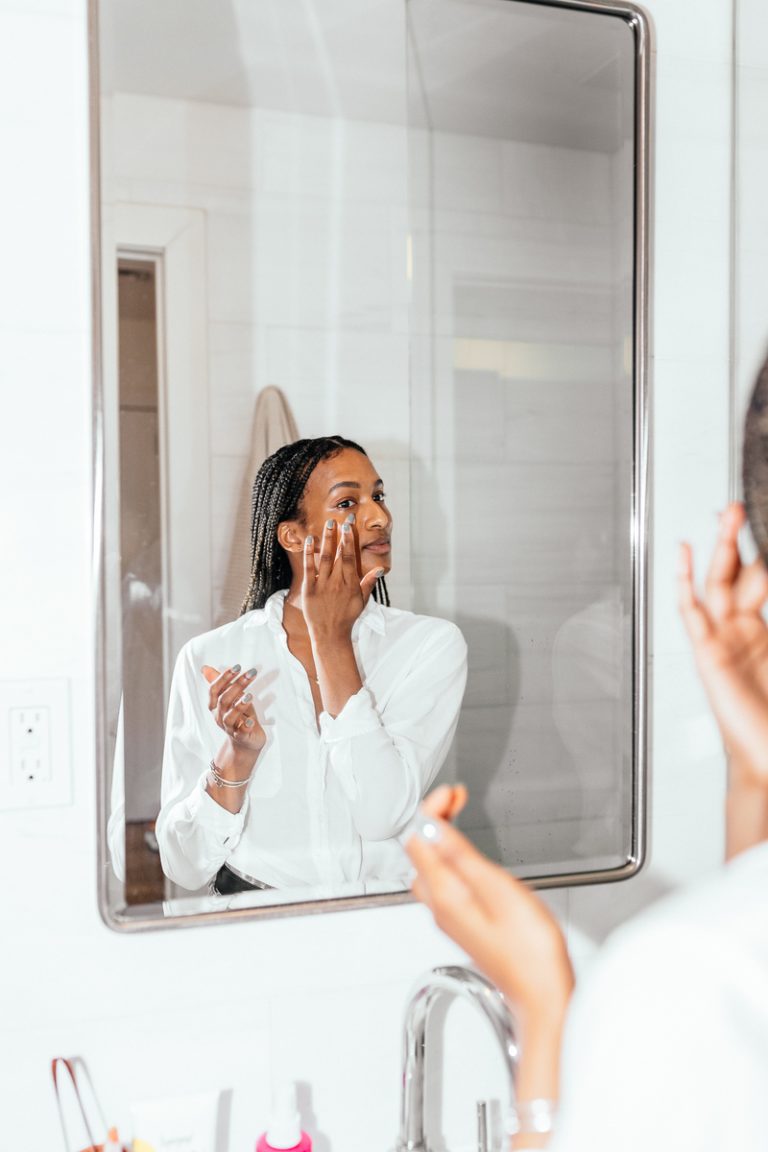 The Best Way to Apply Serums
One of the best ways to level up your routine is with a solid serum. The lightweight formulations come packed with higher concentrations of active ingredients that can penetrate more effectively than a typical moisturizer. But all those active ingredients do need to be handled with care.
"I love to press and tap serums into the skin," Marino shares. "The tapping motion is wonderful to energize and awaken the skin, especially in the morning. I avoid rubbing the product into my hands before applying it to my face because I want as much of the serum on my face, not my fingertips."
Aguilar doubles down on applying serums with gentle glides and taps. "Serums are actives and some aren't meant to be over-rubbed," she adds. "Vitamin C serum and retinols should be gently applied. Rubbing them into the skin harshly can chafe the skin."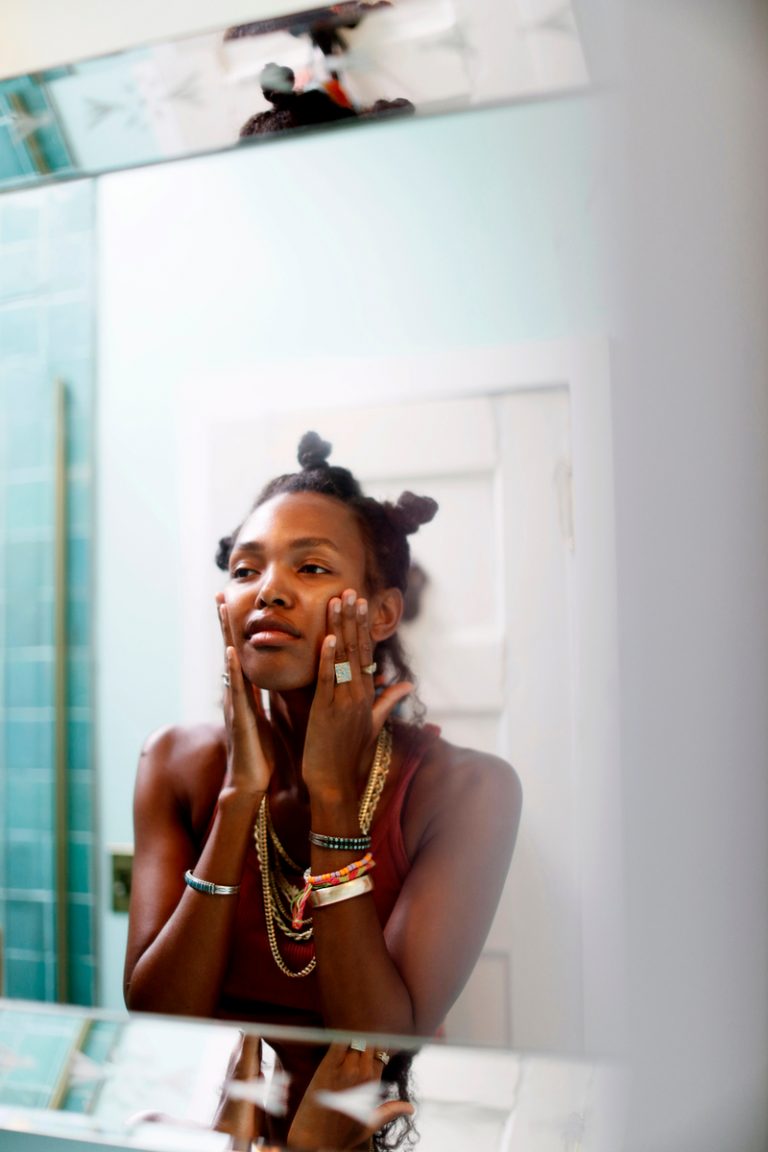 The Best Way to Apply Face Oils
A face oil's main goal is to moisturize the skin and lock in hydration—the best ones also tend to smell fantastic.
"My favorite face oil is Furtuna Skin's Biphase Moisturizing Oil," Marino says. "Before applying, you want to give the bottle a good shake because it's part oil and part water, which requires mixing, so when you fill and dispense the dropper, it contains both parts of the formula. I love to take a big inhale—it smells incredible—and then press it firmly into the skin. Because this is both hydrating and moisturizing, your skin will drink it up when you apply it this way."
Aguilar loves to pair her face oils with a massage tool. "Feel free to massage your skin or do some facial yoga," she adds. "Just as long as you make sure you're massaging up and out, never down or in."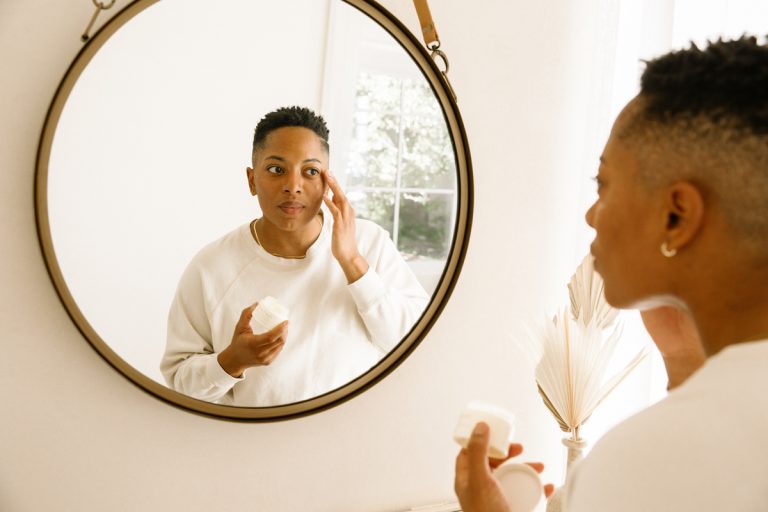 The Best Way to Apply Eye Serums
When dealing with active ingredients and the most delicate skin on our face, the key word is gentle. Marino loves to tap her fingers lightly beneath her eyes. If things are puffy, she gently strokes outwards to help move stagnant lymph. Just be sure you're never pulling on the skin.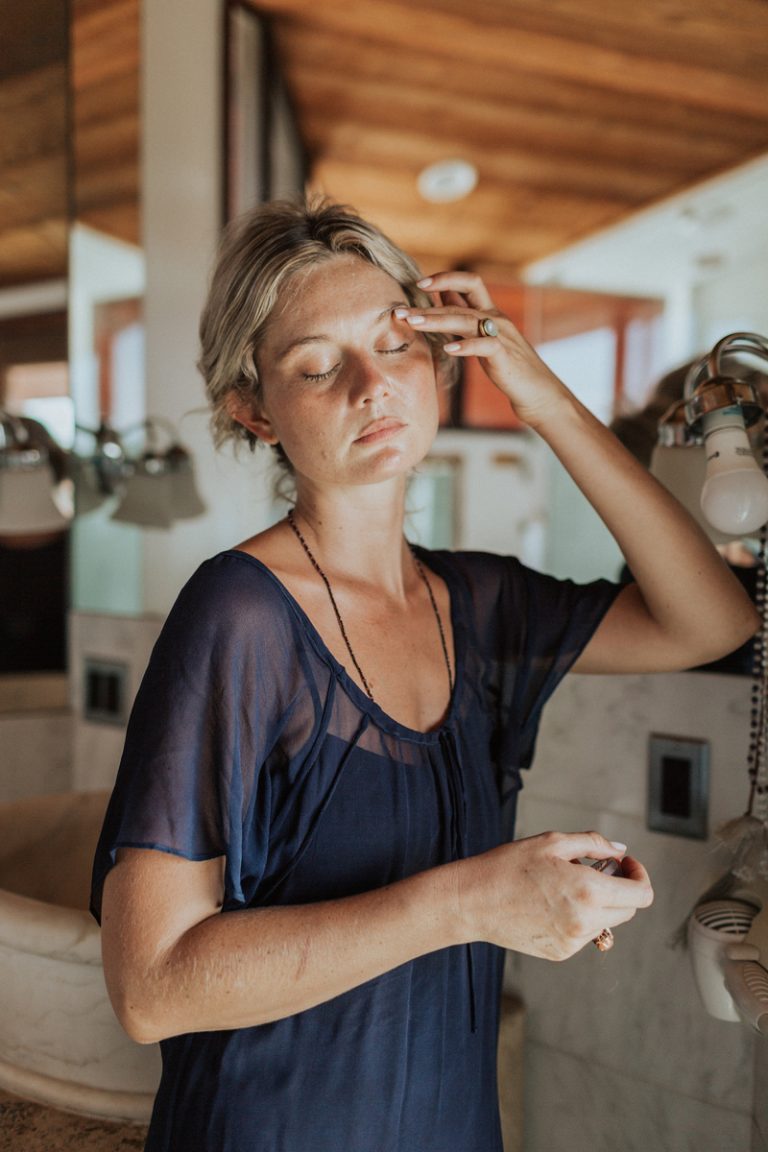 The Best Way to Apply Eye Creams
Both Aguilar and Marino point to a common mistake they've seen when applying eye creams: only focusing on the under-eye.
"We want to treat the entire eye zone since this usually shows signs of aging first with the development of fine lines and wrinkles," Marino adds. "I encourage a 360-degree application, focusing on the upper lid, between the brows, the hollows beneath the eyes, and the crow's feet."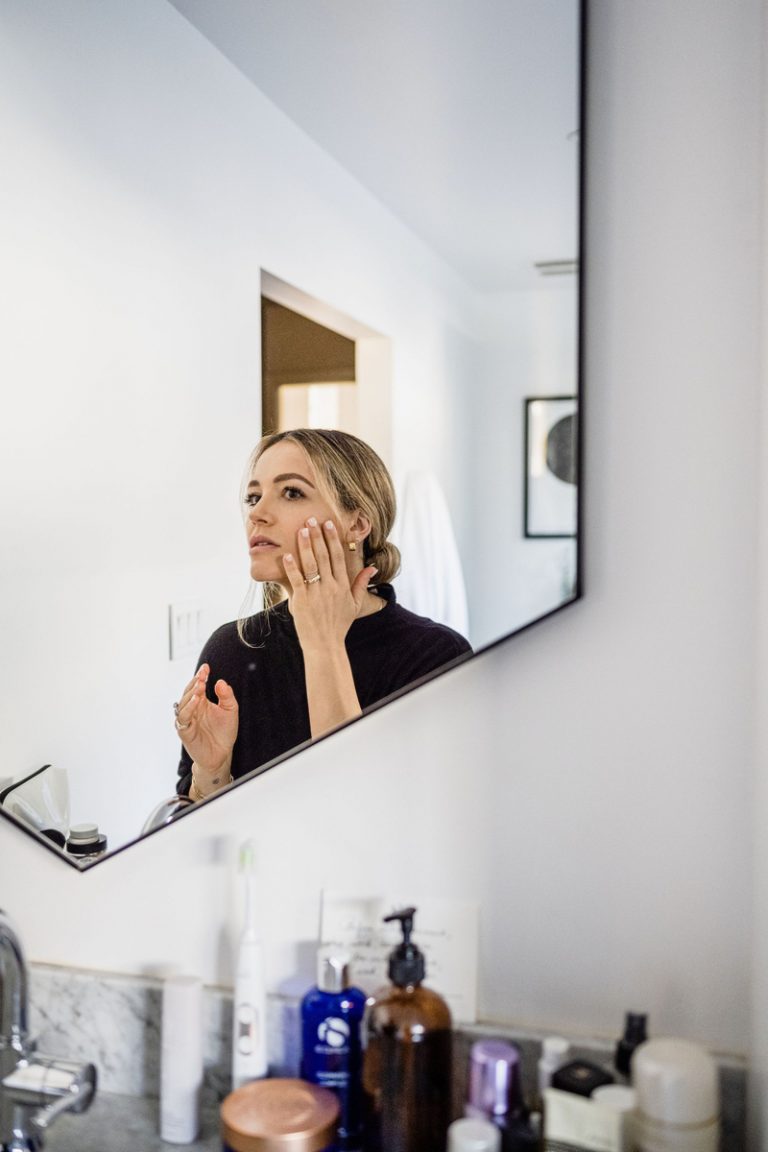 The Best Way to Apply Facial Creams
There aren't any hard and fast rules when it comes to applying moisturizers, but both Marino and Aguilar agree: glide your cream upwards and outwards.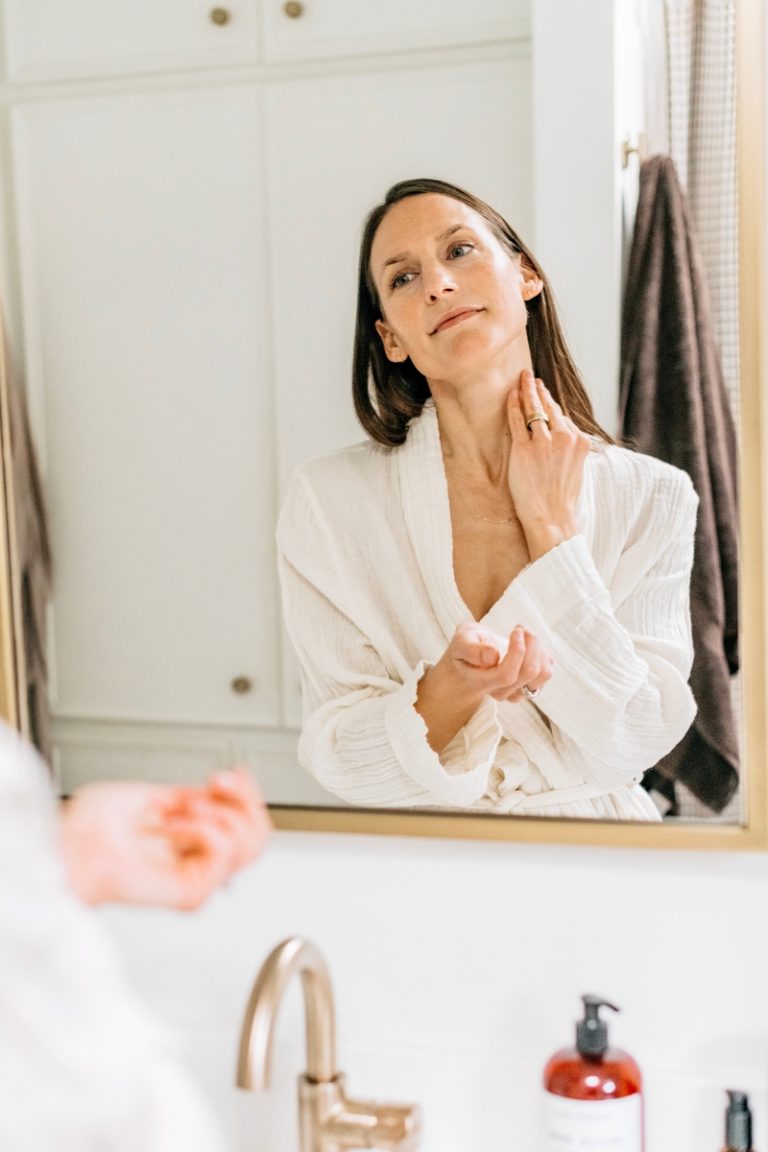 The Best Way to Apply Skincare on the Neck and Décolleté
Your décolletage deserves the same attention to detail as the skin on your face. Aguilar offers her method for applying great products to the delicate area.
"Always press them on and massage outwards to the shoulders then upwards to the jawline," Aguilar explains. "I like to get the back of my neck and ears as well. This is important for minimizing any demarcation lines and keeping the skin on the face, neck, and décolleté uniform and even-toned."