I'm a sucker for good advertising. I am exactly the kind of person telemarketers dream of when they throw in a few cheesy before-and-after photos to their commercials. Case in point? This depuffing chin strap for double chins. While I wouldn't say I have a super saggy chin, I also don't consider my jawline to be anything to write home about.
So, when I saw Kathleen Jennings Beauty raving about this wonder-mask on Instagram, I immediately added it to my cart. But does it really work? Can wearing a mask for an hour really get rid of that pesky double chin? I decided to test it out for myself. To get a comprehensive breakdown of the product, I asked two experts to share the science behind the depuffing chin strap. Read on to see my own cheesy before-and-after photos and find out if this mask truly is a miracle or a myth.
Featured image by Hannah Haston.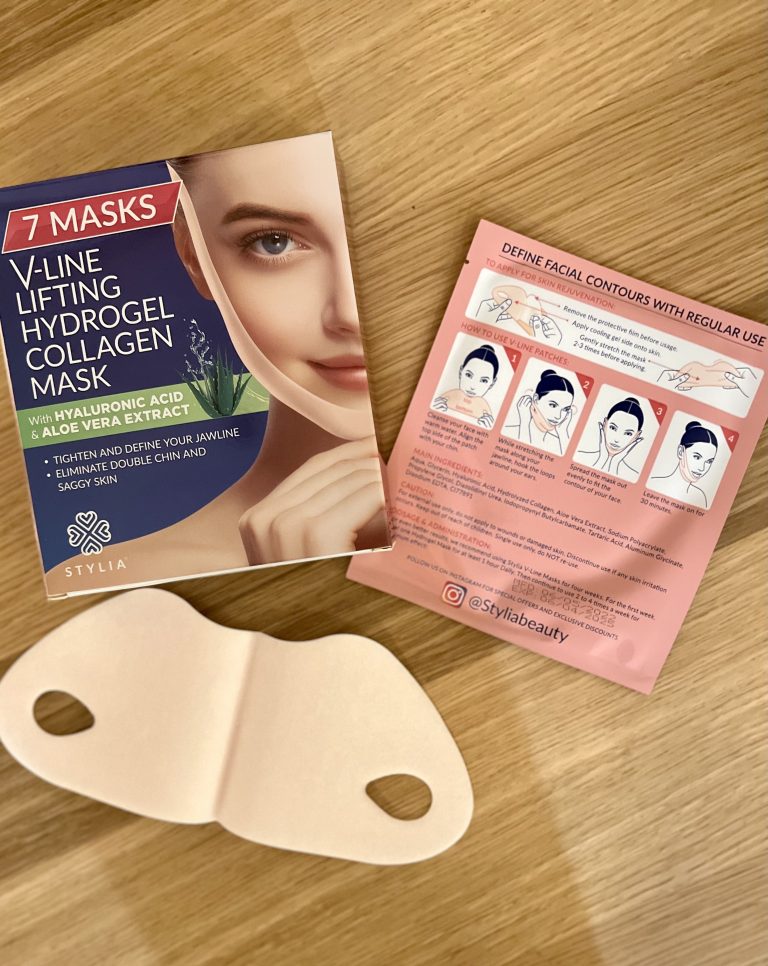 The Experts:
What is the depuffing chin strap, and what is it supposed to do?
The depuffing chin strap that I tested is called the V-Line Lifting Hydrogel Collagen Mask by Stylia, and it can be found on Amazon. It aims to "tighten and define your jawline," and "eliminate double chin and saggy skin." Sounds pretty good, right?
Plus, the product itself is foolproof. All you do is peel off the protective lining, stretch the mask lightly a few times, and hook it around your ears. The instructions say to wear the mask for 30 minutes, but there is a note that says the mask should be worn for an hour for the first week and *spoiler alert* the longer you wear it, the better. The star ingredients are hyaluronic acid, hydrolyzed collagen, and aloe vera extract, which all have smoothing and tightening properties.
What ingredients or aspects of this mask make it effective?
Dr. Desai notes that these masks tend to be infused with collagen, vitamin C, caffeine, and/or niacinamide. These ingredients can give your skin a hydrated, tighter feel, but that tends to last only about a day. Over time, if used consistently every day, you can gradually improve skin quality. But don't expect to see the same tightening effects you would from surgery or an in-office laser treatment.
According to Tavernise, chin straps also work on the simple premise of temporarily defying gravity. "During our day-to-day life, there are many environmental factors that impact our skin and contribute to aging. A chin strap holds the skin in place and for that time, it is protected and supported," Tavernise shares. However, she also commented that unless you are wearing the strap 24 hours a day (which is still a stretch), it is not going to provide lasting results.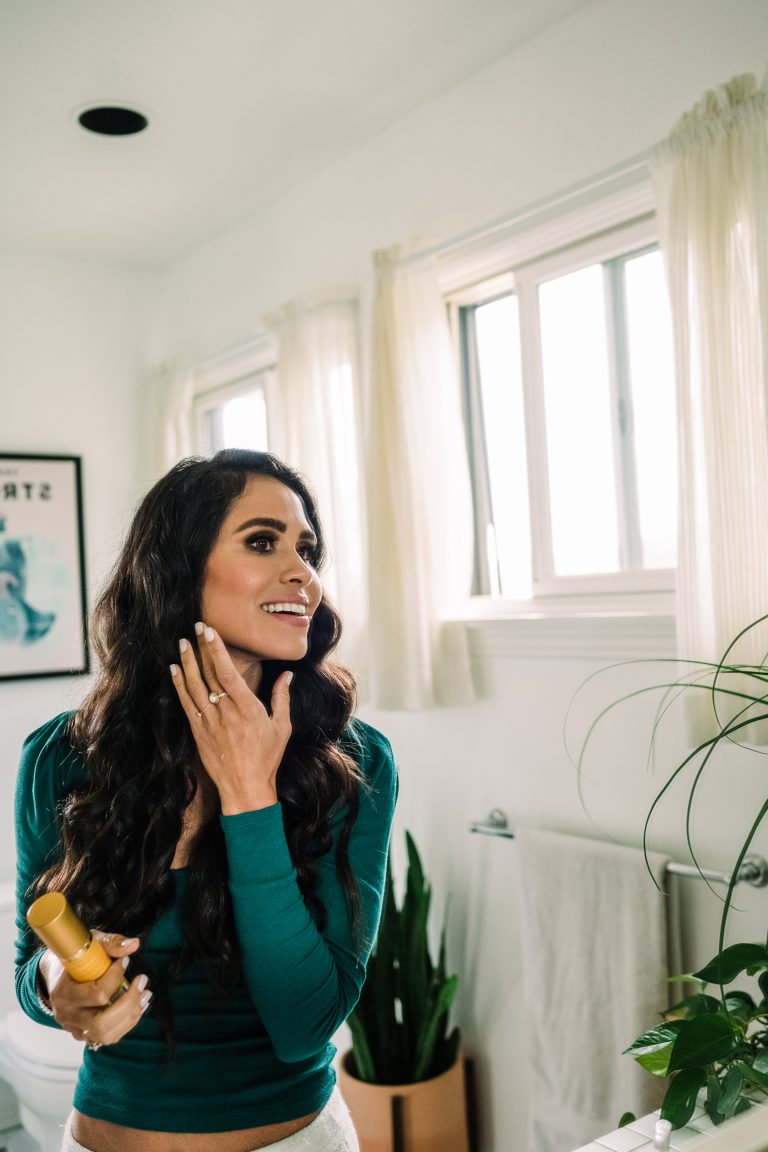 How can we reap all of the benefits of this depuffing chin strap?
Tavernise advises that chin straps are best used when paired with facial exercises and/or gua sha. "There are known benefits shown by working out the muscles of the face and a chin strap could amplify the effects," says Tavernise. She also notes that consistency is always key, so it's important to commit to doing these facial exercises daily. Even without the mask, it's a great budget-friendly way to tone and sculpt the facial muscles and provide a lift. Dr. Desai emphasizes that bringing your skincare routine down to your neck, and being diligent about your sun protection can yield even better results.
So, can you really shape a jawline and fix a sagging chin with a mask?
Tavernise sums it up best: "A chin strap is like a bra for your face." She shares that there are no clinical studies to show that they offer any real results, but they do provide a temporary lift. Even when worn over time, a chin strap will not change the structure or shape of your face. Dr. Desai agrees that after you use a chin mask, you may notice that your skin feels smoother and tighter, however these results are unfortunately temporary.
The common consensus between a dermatologist and an esthetician? For the most part, this depuffing chin strap is a myth. The silver lining is that there is some science behind the slight benefits, and I definitely saw some slight results.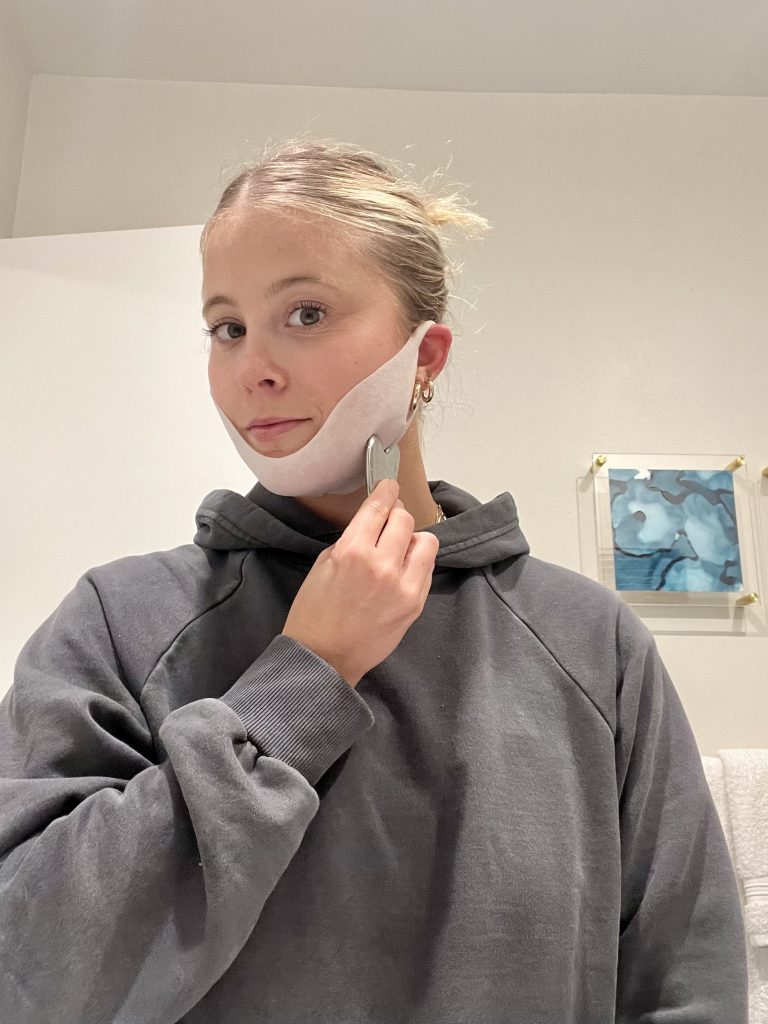 My Experience Using the Depuffing Chin Strap
Since I am a perfectionist and an overachiever, I wore this mask for an hour every day for two weeks, despite that being longer than the package's instructions. I strapped it on for an after-dinner movie, my morning coffee, during my lunch break, and even on an airplane (yes, I got some very confused looks). I also used two fingers to massage my jawline while wearing the mask to hopefully emphasize the results.
The biggest lesson I learned from all of this is that committing to wearing something every day is harder than you'd think! It's by no means painful, but I also didn't find it to be very comfortable. It starts to pull on your ears after a while, giving me a similar feeling to wearing a headband for too long. I also wished that the mask was reusable, since it felt like a waste to open up a new package every day and throw it out after an hour. But, there's no clean-up involved, which made the mask easy to throw on whenever and wherever I could.
The following before-and-after series were taken after wearing the mask for an hour and if you look closely, you can see that my chin and jaw were slightly more defined after using the depuffing chin strap. However, you'll also notice that all of the before photos look pretty similar, and I was disappointed that there were no lasting results.
All in all, there was no big difference from day 1 to day 14. The only times I noticed a difference was right after I took the mask off, and just like both Dr. Desai and Tavernise said, the results were only temporary. And, because of my schedule, it was easiest for me to wear the mask at night, so no one even got to witness my temporarily snatched jawline.
So, the depuffing chin strap has been debunked and unfortunately, there are no shortcuts to ditching a sagging chin. If you really want to see long-term improvement, Tavernise recommends dedicating a few minutes a day to facial massages and gua sha, which is both cheaper and easier to commit to. However, if you are experiencing any sort of swelling or have an event later that day, these masks will still provide a temporary fix.