Next month, I turn 39—and overall, I'm feeling great about it. I have plenty of close girl friends in their forties whose vibrance and youthful spirit prove that I have a lot to look forward to over the next decade. That said, I have begun to notice the inevitable changes in my skin that come with early signs of aging—the skin laxity and fine lines, my right eyelid that is just slightly droopier than the left. In an effort to avoid an unnatural aesthetic that can come from overuse of injectables, I set out to research the most cutting-edge non-invasive alternatives to botox and filler. Enter: Emface, a needle-free procedure that treats facial skin and muscles in a 20-minute session, promising less wrinkles and a more lifted appearance.
The internet is abuzz with Emface fans claiming this new treatment is an alternative to injectables. It's been called a nonsurgical facelift, and some claim it's given them a brow lift or a more defined jawline without going under the knife. My personal goals were a more contoured facial appearance and a "lifted" look without the puffiness that comes from adding volume (ie. filler). Read on for exactly what my experience with Emface was like, including before-and-after comparisons and everything you need to know if you're considering Emface for yourself.
First, meet the expert: Chrissy Gray Lim, MPAS, PA-C at Skin Savvy, one of the only places in Austin currently offering Emface. Skin Savvy is offering a major discount on Emface exclusively for our readers—when you call to book your treatment, mention "Camille Styles" and get $1000 off your EmFace package—yes seriously.
What is Emface?
Emface uses Synchronized Radiofrequency to heat the dermis, stimulating collagen and elastin production, while HIFES™ technology selectively contracts facial muscles for facial contouring and a defined jawline.
BTL, the makers of Emface claim that it's the first therapy that works on the framework of your face from the inside out. Says their site, "Just like a house needs a solid foundation and support beams, your face requires a toned structure and connective tissue. Emface addresses these critical elements, providing you with the ultimate foundation and toned muscles without wrinkles. The end result is a more refreshed, volumized, and lifted appearance.
Benefits of Emface
When I visited Chrissy Lim at Skin Savvy for my first treatment, she confirmed that in her experience, Emface really does lift the structures of the face that start to droop with age, restoring them to where they were in a youthful face.
"Patients can expect to see a lift in the lower face along the jawline and the nasolabial folds or smile lines. They can also expect to see the brows lifted and less skin heaviness on the upper eyelids. Based on the clinical trials, patients saw and average of 37% decrease in wrinkles, 23% increase in lift, and 30% increase in facial muscle tone," says Lim.
So, how well does Emface actually work? Lim says, "It absolutely works, but it is a series of 4 treatments. Each treatment builds on the last. Patients have to adhere to the treatment protocols and intervals to ensure maximum benefit."
In terms of who is a good candidate for Emface, Lim says that anyone who wants to lift their brows or lower face (ie. jowls) without using injectables or adding additional volume to the face will likely be pleased with the results.
I signed up for my four consecutive treatments and began my countdown.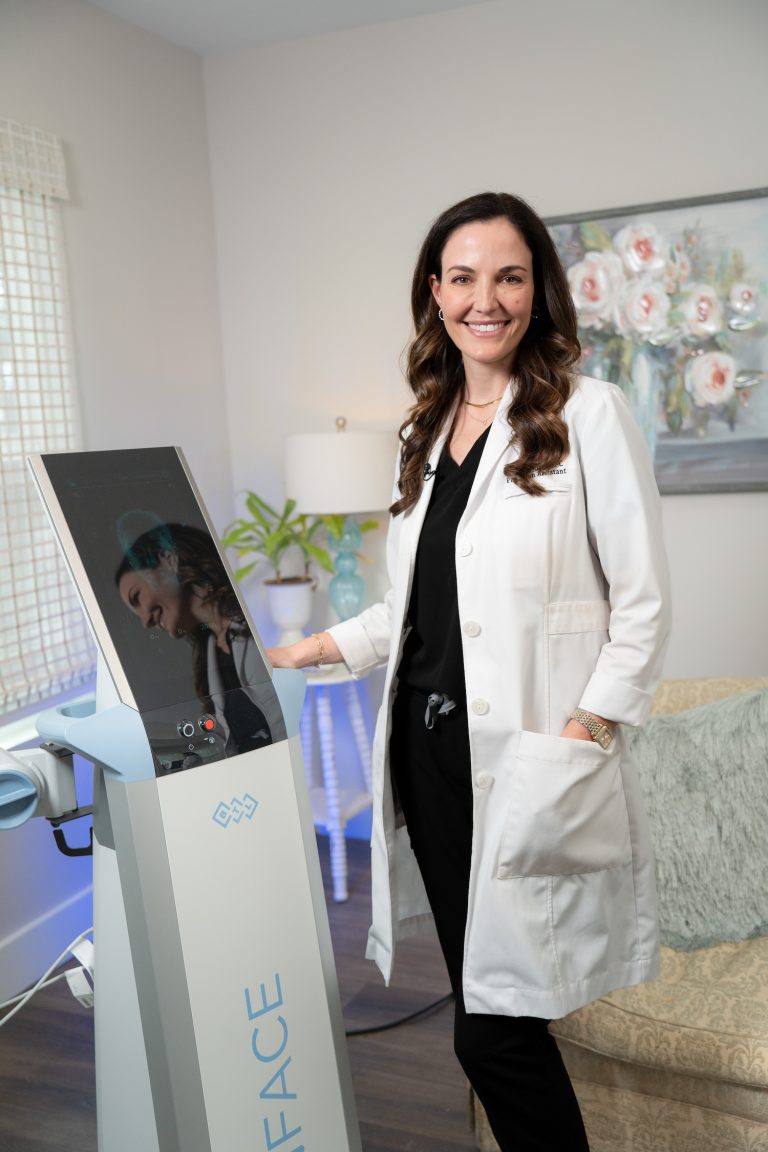 Here's my own Emface review, and exactly what happened in my sessions
I showed up at Skin Savvy for my first Emface appointment—since there's no needles and no pain involved with these treatments, I was excited and not at all nervous. We took my "before" photo (see below), and then I laid down on the table next to the Emface machine.
Lim applied applicators over my cheeks and forehead, and then we got started. While the sensation is painless, it is very strange. I felt alternating muscle contractions in the elevator muscles of the forehead area, which caused me to involuntarily lift my brows and "smile" with my cheek muscles. It was so odd that I actually ended up laughing my way through it, just picturing how ridiculous I looked. There was a heating sensation in the pads from the radio frequency that was quite comfortable—think hot stone massage.
The treatment lasted for 20 minutes, and the best part? You don't do anything to prepare for an Emface treatment, and there's zero downtime following treatments, making this a great skincare treatment to do any time of year.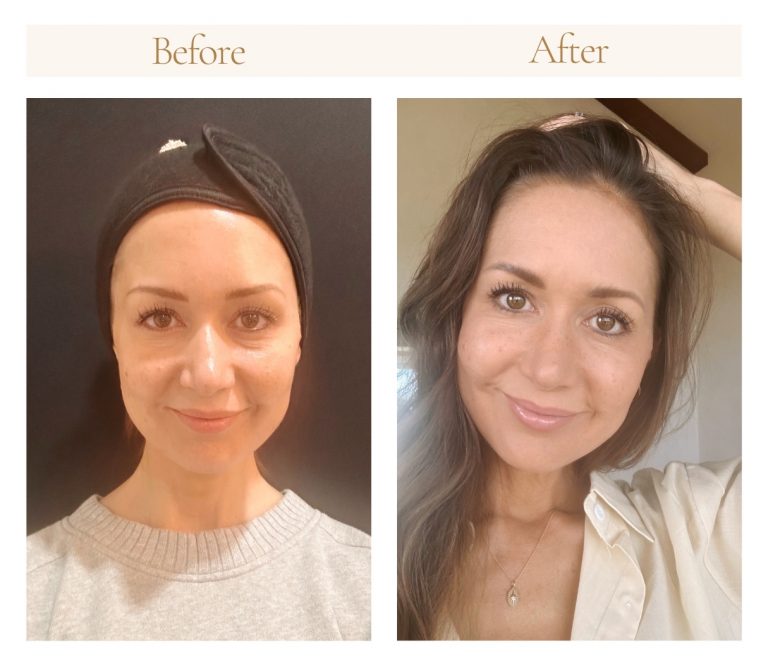 Before and After
Lim says that many patients start to see visible improvement even after the first treatment. However, peak effect is seen 90 days following your 4th treatment. It may have been in my head, but I actually did feel a tightness and lifted feeling immediately following my first treatment. It really wasn't until after treatment number 3 though, that I looked in the mirror and noticed my skin had never looked better.
How many Emface treatments do you need, and how long does it last?
For best results, you want to schedule 4 Emface treatments, spaced 5 to 10 days apart.
According to the clinical trials, Emface results last up to a year before any maintenance treatments are needed.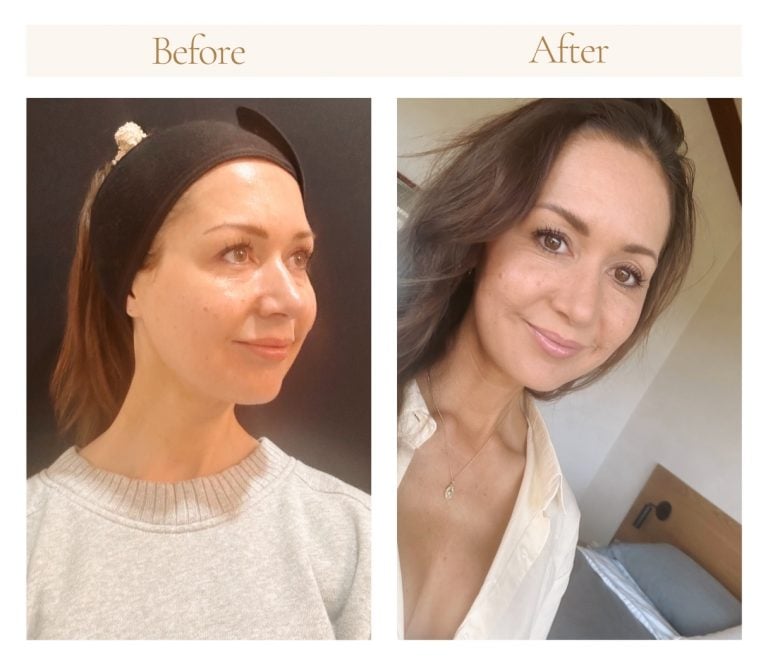 The Cost
A series of 4 Emface treatments is $4000. This is standard nationwide pricing for EmFace that is established and monitored by BTL, the makers of Emface.
Aftercare
There's no aftercare needed, but "maintenance" sessions may be needed for optimal results over time. After a year, one maintenance treatment is recommended every six months to a year to maintain results.
Final Takeaway
For my own skincare goals—a very natural lifted and tightened look—my Emface review is a 10 out of 10. I was honestly surprised at how much I could see and feel the results, and I love that it's a needle-free option that is sculpting without adding additional volume to the face. This one does come with a price tag, so feasibility is going to depend on your "beauty budget." Now that I've knocked out the four initial sessions, I'm planning to stick to a once-a-year maintenance session to keep the snatched vibes going into my forties (and beyond!)