The sun is shining, the birds are chirping, and you? Chances are, you're headed to an Instagram-worthy patio for drinks or brunch with friends. It's that time of year when everything just tastes better outside. And lucky for us, the fashion follows suit. You can have your scarves and sweaters—I'll take all the flowy dresses, matching sets, and perfect white t-shirts any day.
Spring brunch outfits are a category of fashion all their own. These are clothes made for a backdrop of checkerboard-tiled tables, umbrella-defused sunshine, and vine-covered walls. And the good news? Our editors are well-versed in swapping out their work-from-home outfits and turning a patio into a runway.
Featured image from our interview with Laurel Gallucci by Teal Thomsen.
How do you dress for a brunch?
While there is no formal dress code for brunch, most people opt for casual, chic attire that's comfortable enough to enjoy a plate of pancakes and cute enough for a photo op. Yes, you can wear sneakers, jeans, and even leggings. Like any social event, opt for something that makes you feel like you—brunch is an opportunity to have fun with your fashion. If you're not sure where to start, we're showcasing some of our go-to looks plus a few tried and trues to get you through patio season, aka, the most delightful season of them all.
From bellinis at brunch to highballs at happy hour, here are 12 brunch outfit ideas to copy.
Every product is curated with care by our editors and we'll always give an honest opinion, whether gifted or purchased ourselves. If you buy something through our links, we may earn a small commission at no cost to you.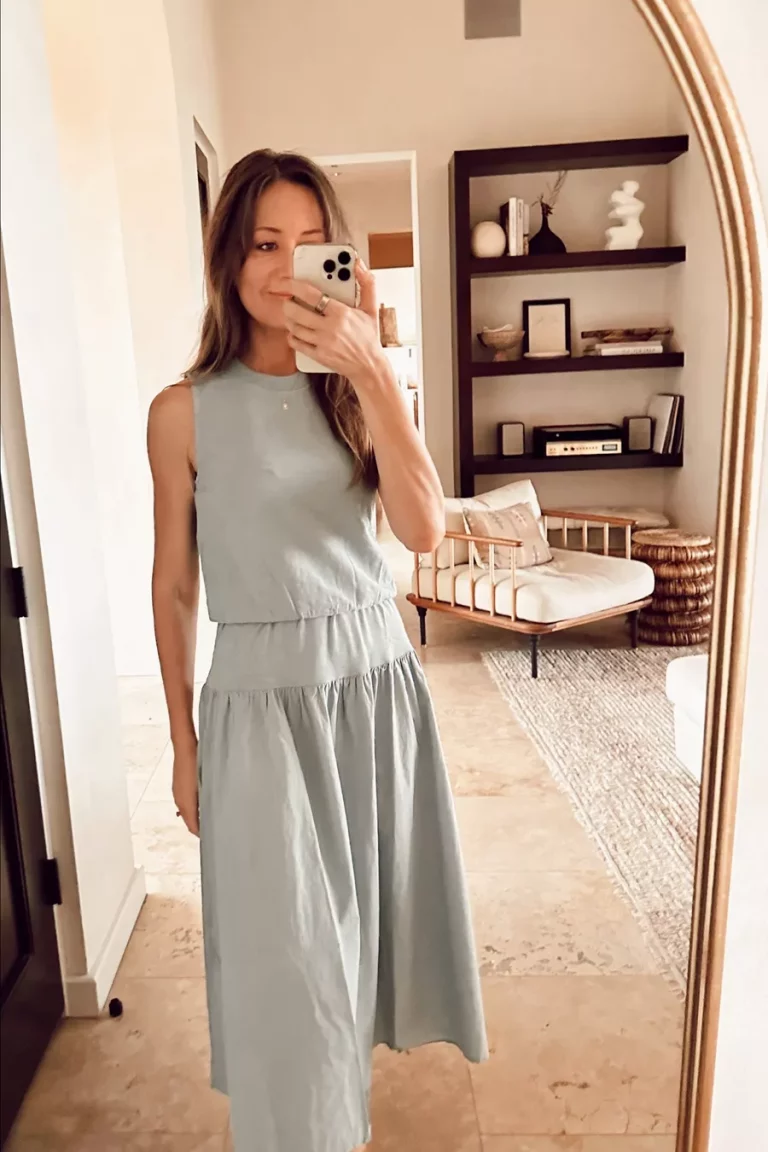 shop the look: dress | sandals | necklace
A Breezy Blue Dress
In my opinion, you will hardly find anything better than a one-decision outfit. Dresses and jumpsuits simply free up brain space when you're making a million decisions a day. And that is exactly how I justify the number of dresses currently hanging in my closet. Camille's dusty blue dress is a favorite around here because it looks like a top and a skirt but in reality, it's the easiest dress you'll ever wear.
shop the look: similar shorts | similar top | similar dress | bag | boots
Matching Gingham Set + Cowboy Boots
While I'm not normally one to gravitate toward orange tones, the new season has me feeling inspired and ready to step out in something new. I found this Wayf set and the shape was just right for my curvy body—I knew it had to be mine. And these old boots? I've had this exact pair for 13 years and I have a feeling they'll be seeing a lot of wear this year.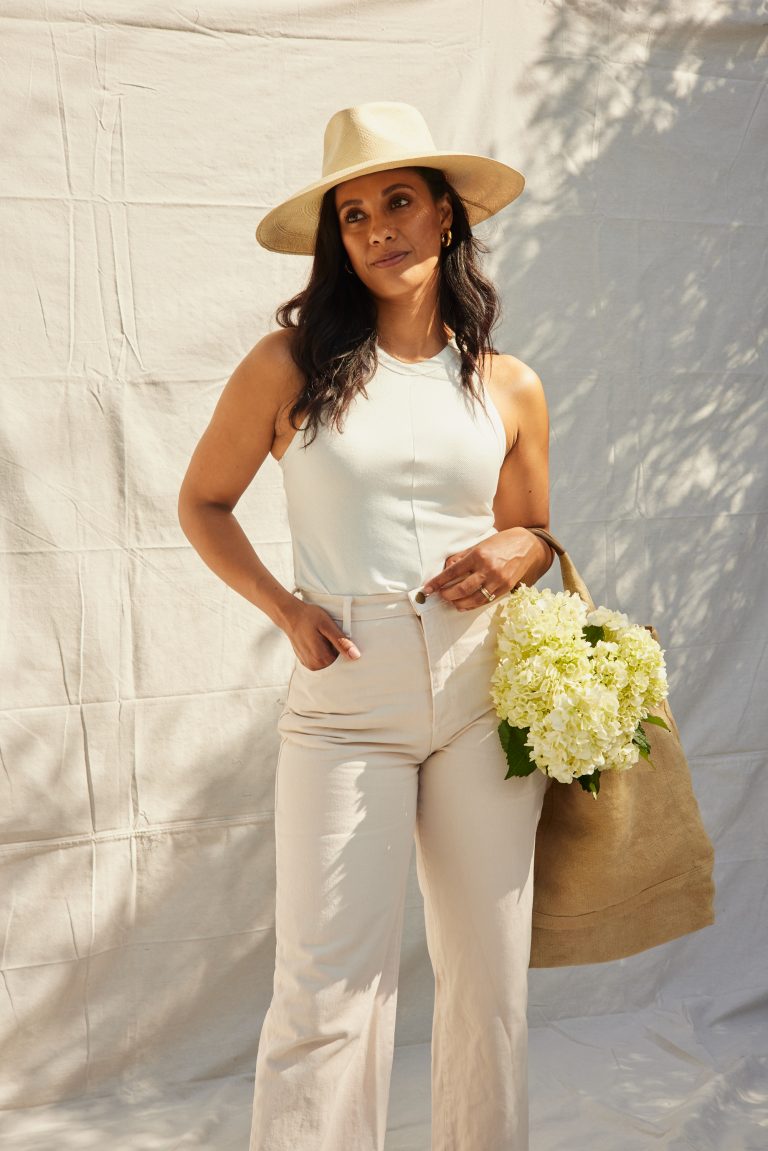 shop the look: pants | tank top | hat
Linen Top + Wide-Brimmed Hat
Brandy nails the tonal dressing. When in doubt, go monochrome and you will always, always look chic. The hat and flowers don't hurt, either.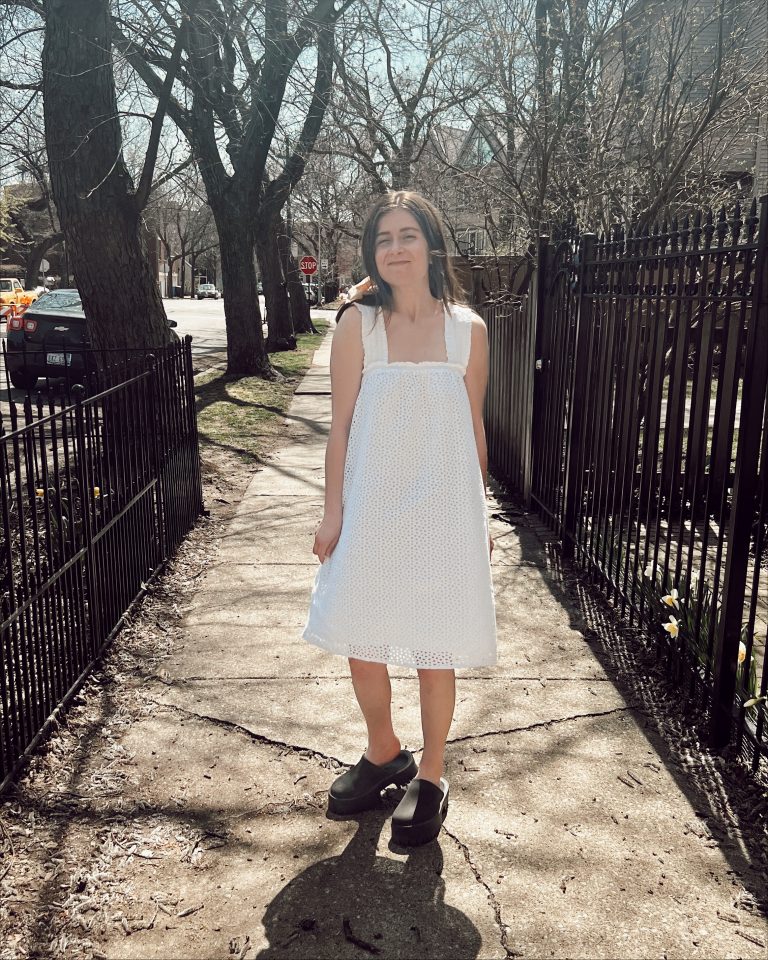 shop the look: eyelet smock dress | black clogs
Eyelet Dress + Chunky Clogs
Isabelle is proof that pairing unexpected styles keeps things interesting and fun. She paired this perfectly feminine eyelet dress (currently on major sale) with a funky, heavy shoe. It's like the transition of winter to spring IRL.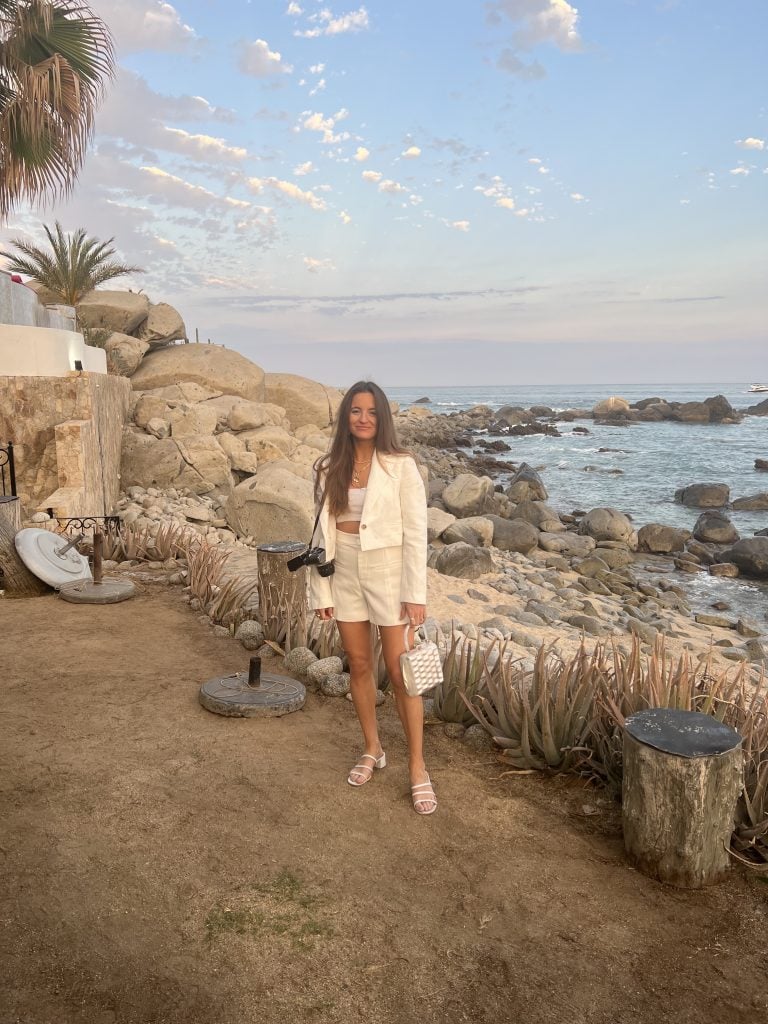 shop the look: shorts (similar) | blazer (similar) | crop top (similar) | strappy mule heels
Short + Blazer Combo with Strappy Sandals
There's something about brunch that makes neutrals a must. Maybe it's the pairing with colorful, seasonal food. Or maybe it's just the fact that a tonal neutral is chic 100% of the time. Michelle's playful suit with the strappy heels is the perfect combo for a celebratory brunch (and most definitely vacay-approved).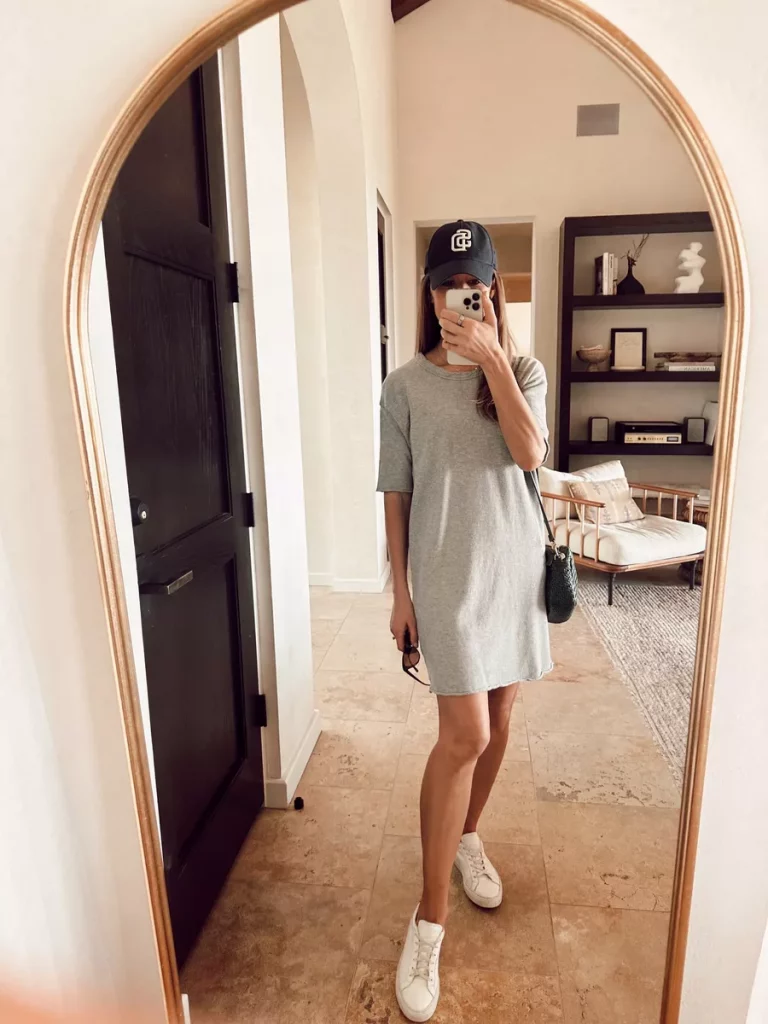 shop the look: dress | sneakers | bag | sunnies | baseball cap
Casual Midi Dress With Baseball Cap
My favorite type of brunch is indeed a laid-back affair. It's those sunny mornings when you roll out of bed and throw on a look that you know is going to stick with you all day long. Camille's t-shirt dress is the most perfect example. Throw on sneakers and a cap and embrace your Sporty Spice era.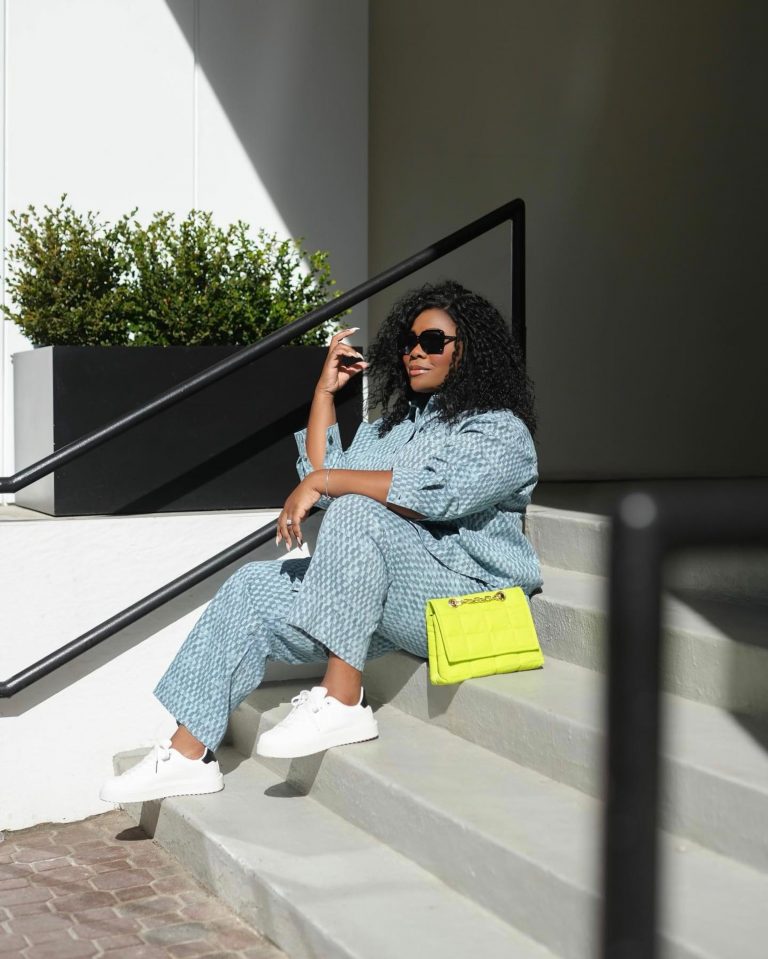 shop the look: shirt | pants | sneakers | sunglasses | crossbody bag
Tonal Outfit With White Sneakers and a Colorful Bag
Confession: I saw this whole look on Target (!!) and could not be more obsessed. This is a shirt and pants combo but that shirt could easily double as a denim jacket. The all-blue with a lime green pop?! I will be copying it immediately.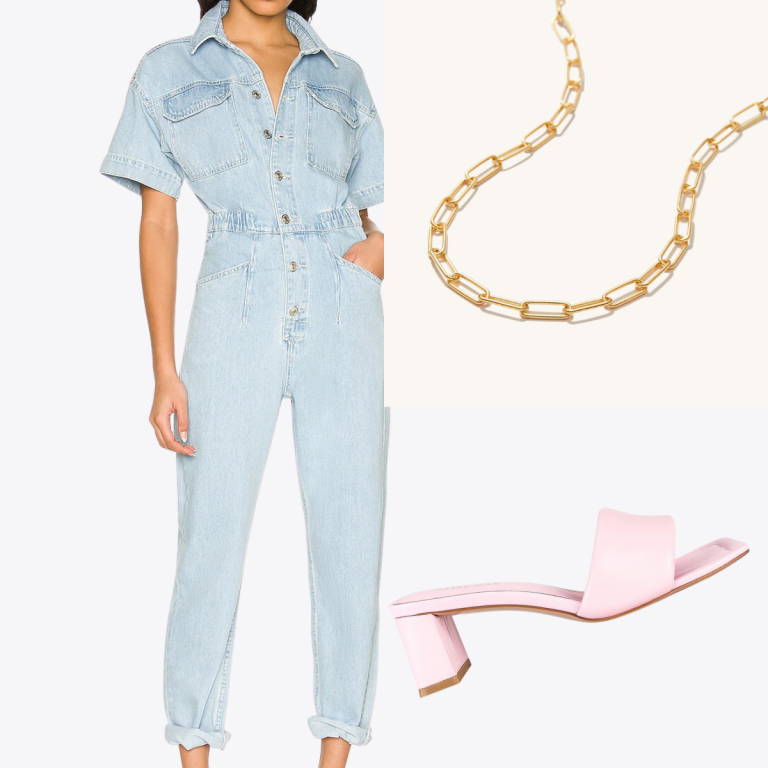 shop the look: denim jumpsuit | pink mules | link chain necklace
Dress Up a Jumpsuit With Pink Mules
Listen, a denim jumpsuit is a staple no matter what season you're in. This one is a bit oversized and so easy to dress up or down. Go full-on spring fling with these fun pink mules and pair it with a classic chain necklace for an easy brunch outfit.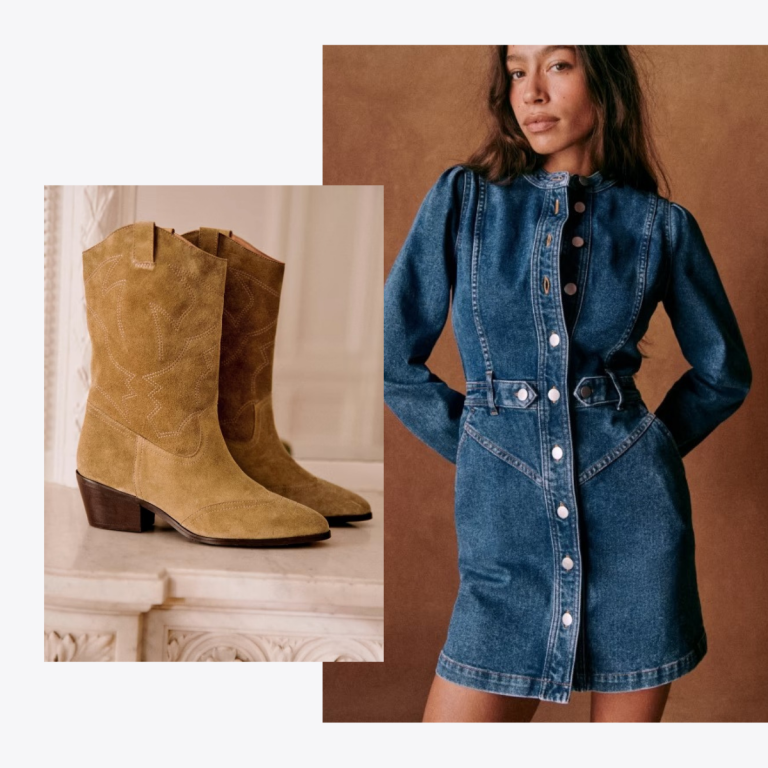 shop the look: denim dress | mid boots
Coastal Cowgirl Denim Dress and Mid-Boots
Everyone is talking about the coastal cowgirl trend and I'm thoroughly convinced that she's this year's coastal grandma with a southwestern edge. Boots are a wardrobe must this season (have I convinced you yet?). And again, we're looking to denim, this time in dress form, for a look that's classically pulled together. Start with brunch, finish with two-step—not a bad way to spend a Saturday.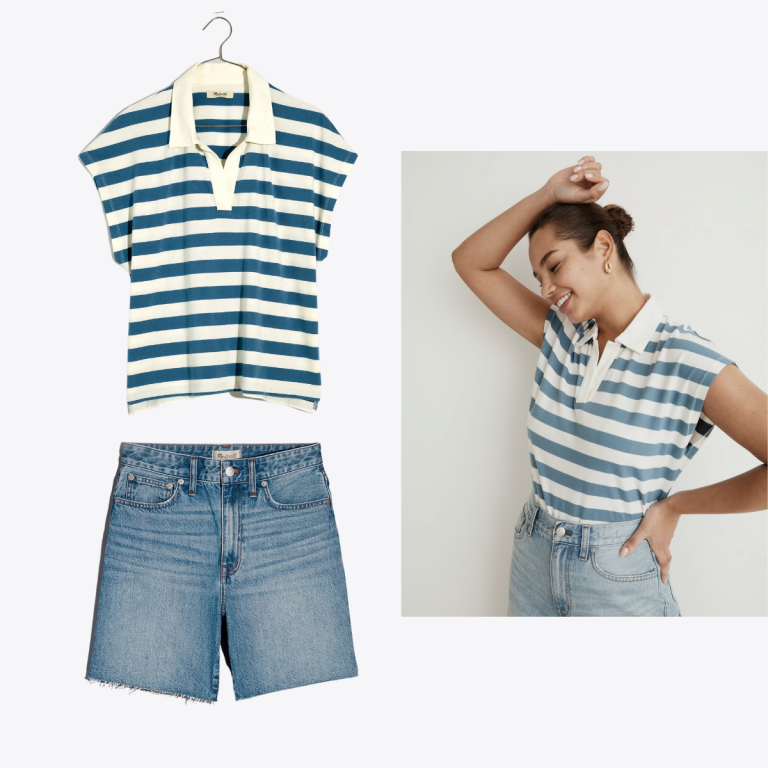 shop the look: baggy jean shorts | relaxed polo shirt
Casual Baggy Jean Shorts + Polo
This might just be my new weekend uniform. Denim jeans that you can actually move in, plus a nautical polo that's just begging for a swinging ponytail to bring it all together. Or maybe I'll swap the polo for a romantic blouse. Either way, pair it with a favorite tote bag for a quick market stop after the mimosas wear off.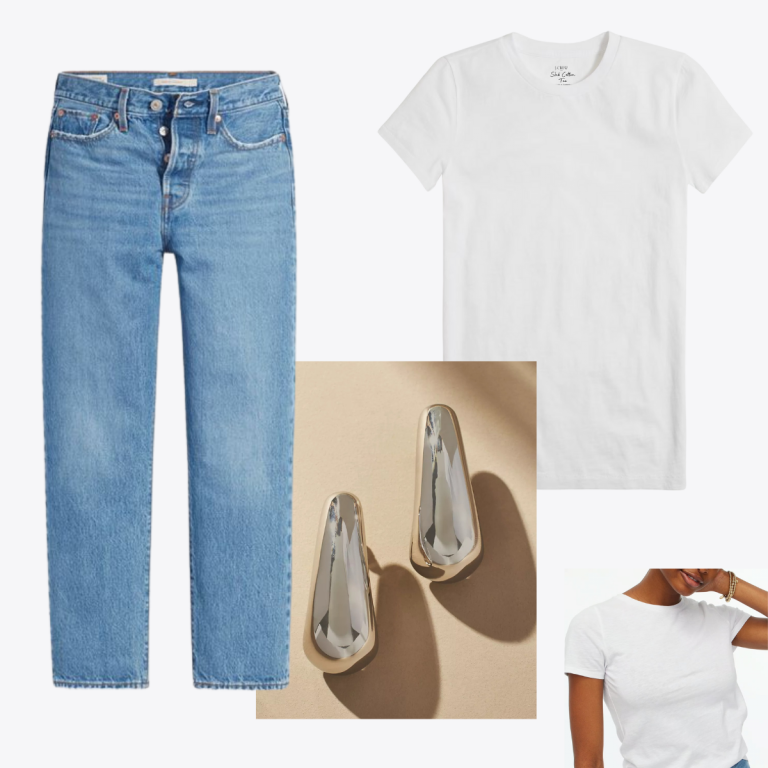 shop the look: high-rise jeans | crewneck tee | drop earrings
Classic High-Waist Jeans and a Tee
Here we arrive at the most versatile pieces that you'll wear again and again (and through every season): a classic white t-shirt that's easy to layer, the famed Levi's jeans that make your butt look like a peach, and a pair of Bottega drop earring dupes that, guaranteed, you're about to see everywhere—if you aren't already.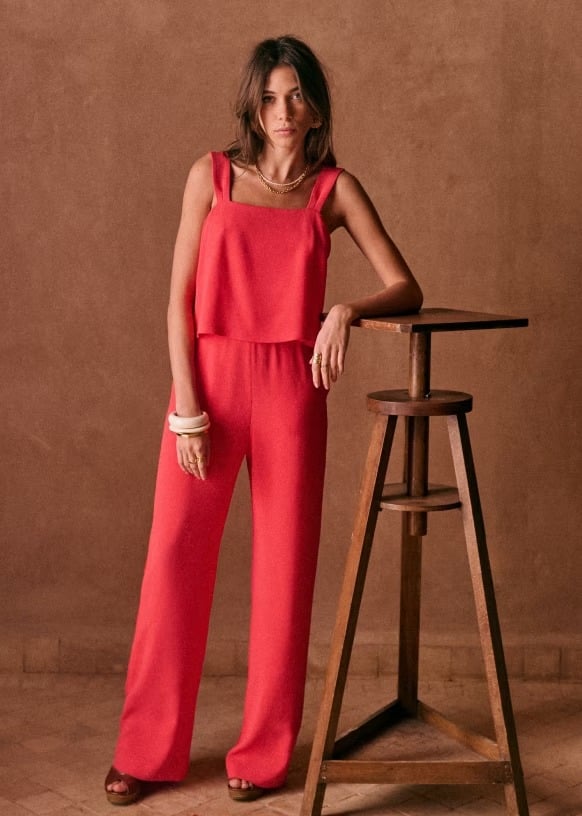 shop the look: jumpsuit
A Statement-Making Jumpsuit
And finally, every brunch needs a girl in a coral jumpsuit. That girl can be you. Bring some color to the table and the fun along with it. You can't help but feel happy in something as colorful and well-tailored as this beauty.