There are few beauty movements as visually evocative as the "glass skin" trend. The concept, a Korean beauty ideal that's recently made its way into the Western skincare lexicon, centers on exactly what you might expect: clear, luminous skin and practically pore-free perfection that's as shiny as glass. Much like the moisture sandwich trend, it's all about layering, something aestheticians are masters at. So, to learn how to get glass skin naturally at home, we tapped three of the best.
Ahead, Kaitlynn Kerrigan (aesthetic nurse practitioner at SkinSpirit), celebrity aesthetician and dermatological nurse Natalie Aguilar, and Dallas-based aesthetician Savanna Boda, break down everything you need to know about the trending aesthetic and what products to use to get the glass skin look at home.
Featured image by Belathée Photography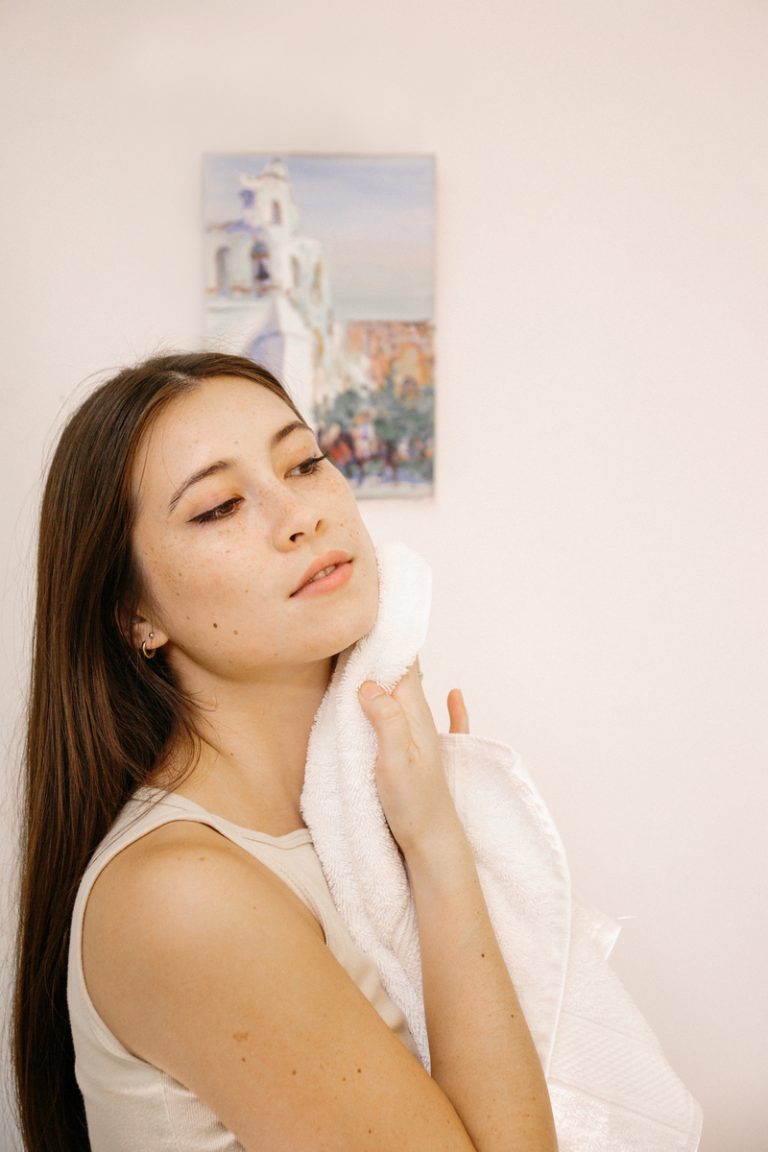 Why is the 'glass skin' look so popular now?
Not too long ago, we did everything in our power to battle shine on our complexion. From oil blotting sheets and endless powders, the look was all matte all the time. Now, we equate a healthy, dewy shine with inside-out hydration. What shifted?
"Before, you were only able to achieve 'glass skin' by doing professional treatments in an office, but now there are so many amazing skincare products that can deliver these results at home," Aguilar explains.
It also happens to look pretty cool on a front-facing camera—like your own all-natural filter.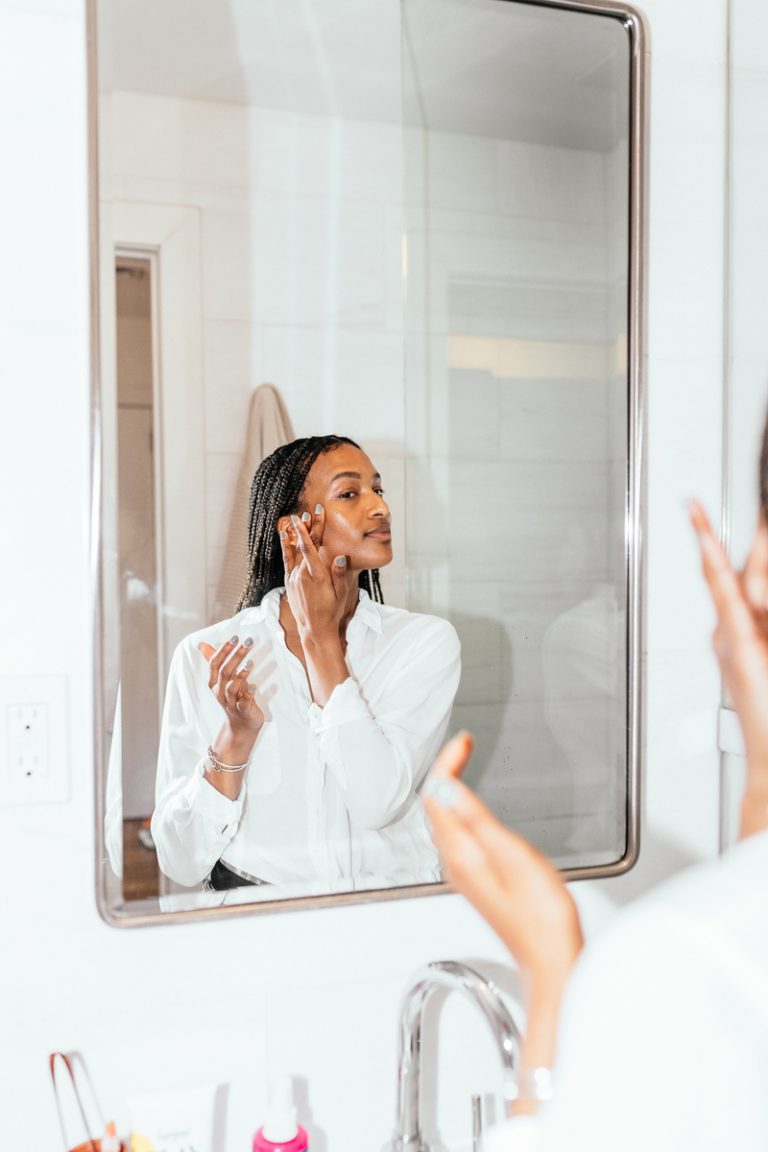 Is there a certain type of skin that benefits most from the glass skin look?
Fortunately, every skin type can benefit from the glass skin trend. Although, for those with normal or dry skin, all that hydration from products that give you the glass skin look—jelly-like moisturizers, glossy creams, and hyaluronic acid-rich serums—can be extra beneficial.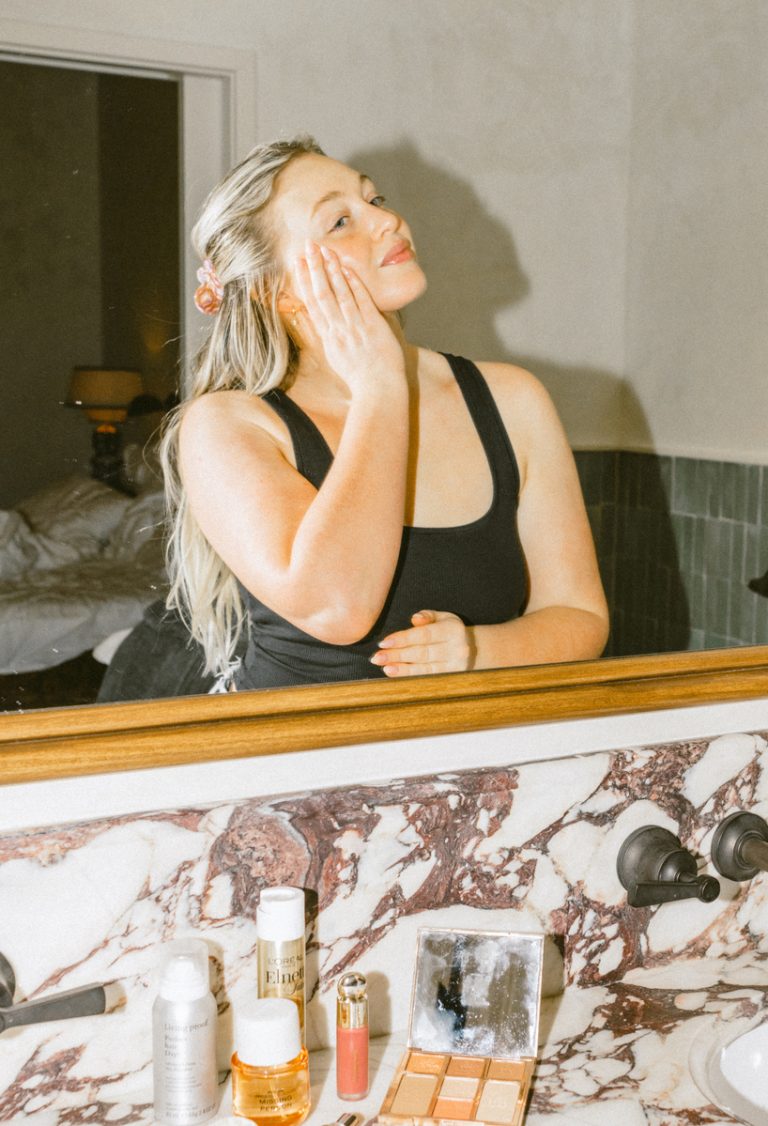 How to Get the Glass Skin Look at Home
Given its K-beauty trend ties, you can expect a glass skin routine to be thorough, with plenty of hydrating layers, products, and the game-changing double cleanse. There's no universally agreed-upon list of steps and products to achieve impossibly dewy skin, but our experts have helped break it down into a few essential steps that should work for every skin type.
And one thing to keep in mind: "I think there's a lot behind the scenes that consumers do not see when it comes to these influencers achieving glass skin," Kerrigan explains. "I bet you anything they are properly hydrated, incorporating antioxidants topically as well as in their diet, and maybe have had a little neurotoxin treatment as a cherry on top!"
Every product is curated with care by our editors. If you buy something through our links, we may earn a small commission at no cost to you.
1. A Hydrating Double Cleanse
A K-beauty staple, double cleansing is more than just repeating a step. By washing your face with two different kinds of cleansers (i.e., an oil-based option and a gentle, hydrating cleanser), you'll achieve an even deeper clean.
After cleansing, Aguilar recommends adding a warm towel compression for three minutes. "Warm a towel with warm water and hold it over your skin," Aguilar explains. "This will soften the cuticle on the skin and help mildly increase circulation creating a beautiful rosiness on the skin."
2. Exfoliation
Polish up the skin (you may want to restrict this step to your nighttime routine) with your exfoliant of choice—be it a mix of AHAs and BHAs or a physical scrub. If you're going with the final option, consider an antioxidant-packed product to keep healthy skin glowing as you strip away dead skin cells.
"Take your time to exfoliate your skin by gently and thoroughly covering the face and neck," Aguilar adds. "Slow and thorough is best."
3. Toner
The oft-overlooked step helps balance and prep the skin for all the great ingredients to come—and can even help minimize pores in the process.
4. Serums
Opt for something hydrating and pore-minimizing to create a smoother appearance.
5. Hardworking Moisturizers
Lock in all that hydration with a dewy moisturizer that leaves skin pillowy and shiny in all the right ways.
6. Mist or Essence
Acheive ultimate glassification by topping things off with a hydrating mist or essence. And don't forget to finish off with a clear SPF in the morning.