Regardless of age, makeup is a wonderful form of self-expression and empowerment. But in the same way we adjust our skincare routine as we age, so too, our makeup choices. Most of us find the textures, finishes, and formulations we gravitated towards in our 20s or even 30s completely change in our 40s, along with our makeup goals. To find out more, I tapped makeup artist Jane Meng to share the best products along with some handy tips and tricks for applying makeup in your 40s.
We've all been there—we pop into the powder room mid-dinner date only to find our concealer has creased, further accentuating under eye wrinkles or that once-trusty powder you loved has settled into our forehead lines and is starting to flake. And let me remind you, this can happen at any age! When this happens, it's time for an adjustment to your makeup routine.
Keep reading for Meng's tips for makeup in your 40s…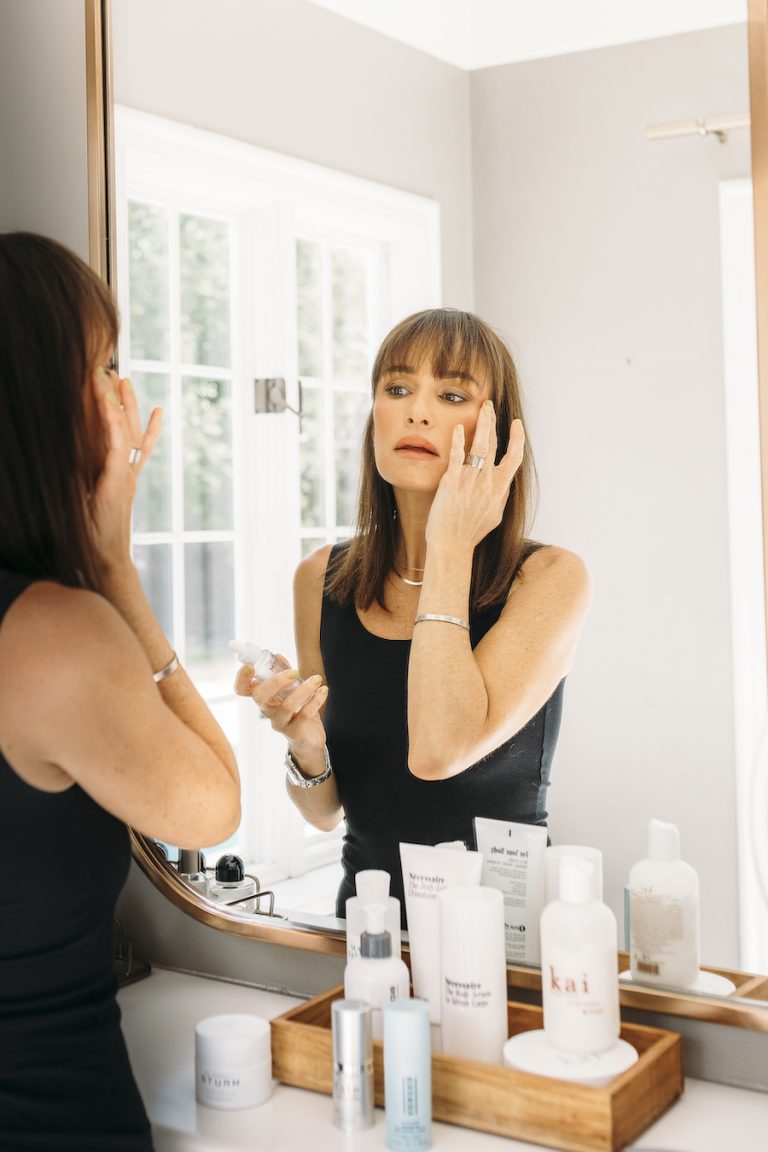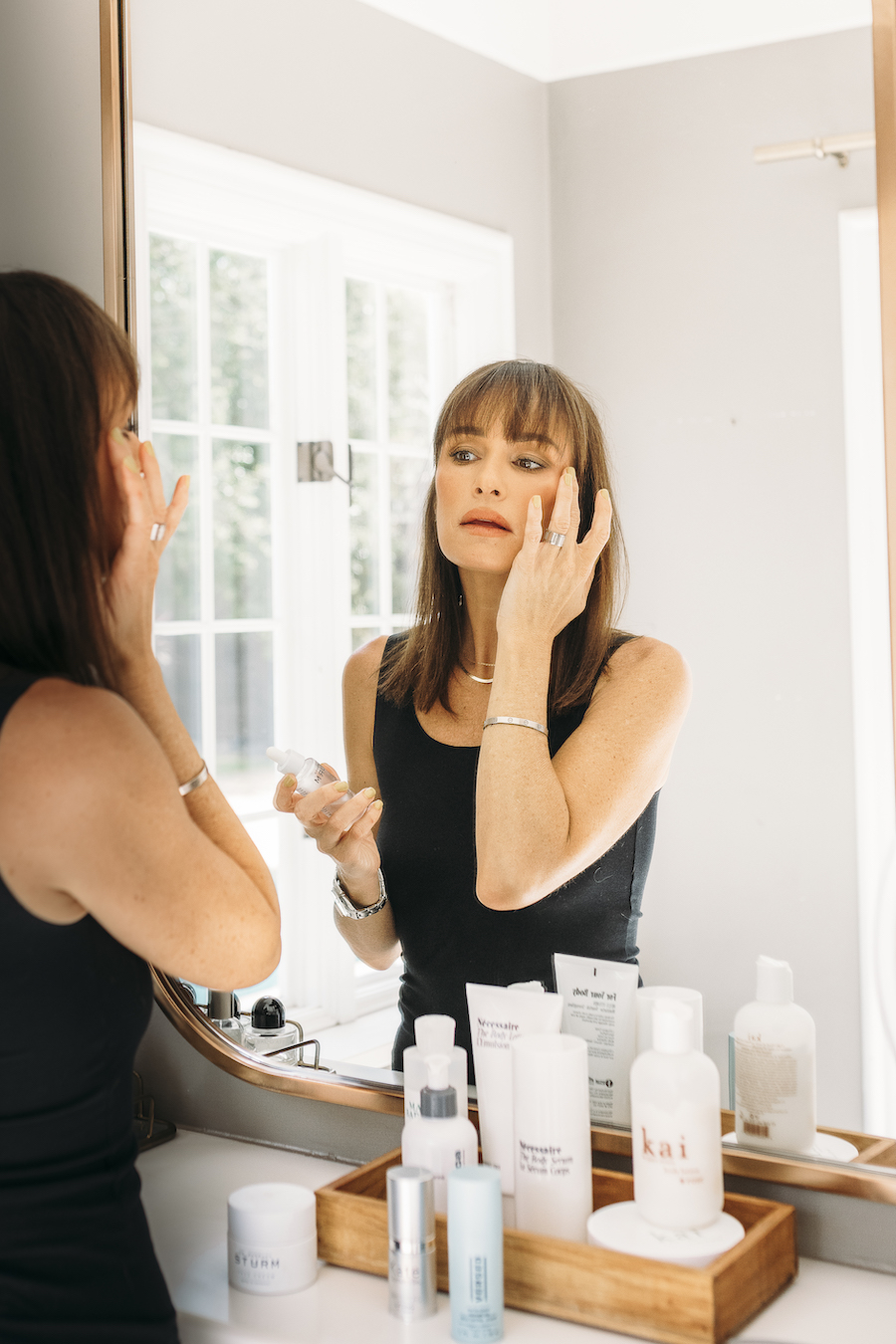 Make a statement.
Meng explains that makeup in your 40s should focus on making a single statement. That might mean a bold lip with a neutral eye or a dramatic eye with a softer lip. Try to keep things fresh and simple with a standout moment that makes an impact by accentuating one feature.
Take great care of your skin.
According to Meng, the number one thing you can do to prevent makeup from caking, flaking, or drying out is to take good care of your skin. Investing in a simple daily skincare routine with a great moisturizer, quality sunscreen, hydrating serum, and acids will create the optimal base for makeup. Your foundation should not look dry and cakey when you apply it. If it does, creator of Mixed Makeup and Naturium founder, Susan Yara says it's usually due to a lack of hydration and moisture, and maybe a little exfoliation, too. Watch her very informative video on Instagram with some skincare tips that can help.
Makeup is always going to add texture to the skin, so remember: less is more! This means fewer products and thinner application as well to make it easier for the makeup to meld with the skin as opposed to settling into fine lines.
The 2 sunscreens Meng loves…
Incorporate colors
The key is to experiment and find colors that suit your skin tone and personality. You just might surprise yourself. For example, Meng loves a smudged purple liner. It's sophisticated and brings attention to the eyes in a more interesting and softer way than black eyeliner would. Just be careful to not use too many pinks around the eye area, since these can tend to make you look tired or bloodshot.
Don't pile on products
Attempting to cover up perceived facial flaws will only create a mask-like appearance that will eventually settle, flake, or crease. Keep things simple and minimal.
Use a primer
Avoid having your makeup sink into pores as the day wears on by using a great primer. It helps to create a base for your makeup to adhere to and give it longevity.
Meng's favorite primers…
Use an under eye color corrector
One of Meng's favorite things about under eye color correctors is that it gives the skin a base that helps to prevent your concealer from creasing. Sometimes, a corrector is all you need, and at the very least it gives you the ability to use less concealer than you normally would. She likes to apply a thin layer of corrector (just to the areas that are discolored) with a fluffy brush to blend it out. She then applies a thin layer of concealer with another fluffy brush to shear out the edges.
The 2 color correctors that are always in Meng's kit…
Avoid setting your undereyes with powder
Meng finds powder often creates a heavy look in an area that usually needs to be brightened, and can also settle into creases throughout the day. A little color corrector and some concealer should do the trick!
The 2 concealers Meng always reaches for…
Use your fingers
Meng likes to apply cream highlighters, blushes, and even some foundations with her fingers, since body heat warms the product and makes it easier to melt into the skin. You can always go in to buff and blend with a brush afterwards.
Meng's top 3 beloved foundations…
Use very fine loose powders
If you still need a powder but are concerned about cakeiness, then Meng advises a very fine powder to achieve that velvety feel and finish. They can be pressed or rolled into the skin and fill in fine lines and pores. You can also strategically and only place powder where you need it and avoid creating texture where you don't.
Meng's go-to ultra-fine powder is…
Stick to cream highlighters and bronzers
Meng avoids powder highlighters and bronzers as much as possible so the skin stays moisturized without getting cakey. One of her favorite tricks for makeup in your 40s is to place a highlighter directly on the skin underneath foundation. It gives you a lit from within glow, but most importantly, doesn't call attention to texture like it would on top of a powder.
Meng's top 2 highlighter/bronzers…
Mix cream and powder blush
Blend out a cream blush and then add a bit of extra powder blush for more definition and staying power.
Meng's favorite blushes…
Use hydrating lipsticks
No one wants to deal with crunchy, dried-out lips, and the older we get the more we need to keep our delicate lip skin ultra moisturized. A hydrating lipstick will give you the color payoff of a lipstick with the feel of a lip balm. Dreamy!
Meng's favorite hydrating lip product…
Freshen up with a setting spray
Meng likes using setting spray as an extra layer of protection from the outside world. She especially recommends it if you're doing your makeup in your 40s because it creates helps to fuse the look together for an overall hydrated, glowy appearance. It's also great to keep on hand for refreshing your makeup look when it starts to settle or dry out, too.
Meng's #1 setting spray…