We're nearly halfway through December, and you may have a few parties penciled into your schedule. While you're sure to get invited back regardless, it's always a thoughtful gesture to prioritize the hosts in your life on your gift-giving list. Because as I'm sure we all know well, hosting is no easy feat. There's major behind-the-scenes efforts that happens for a seamless and celebratory gathering.
The best hostess gifts share your thanks with the host. It's a kind gesture representing your gratitude for the warmth inherent in the invite. As a guest, you see the time and attention they gave to the details of the gathering, and a gift says you're happy to be there, reveling in the season alongside them.
So scroll through and shop the best hostess gifts. Who knows, they might inspire you to host a gathering yourself—yep, they're that good.
Featured image of Camille's holiday table by Michelle Nash.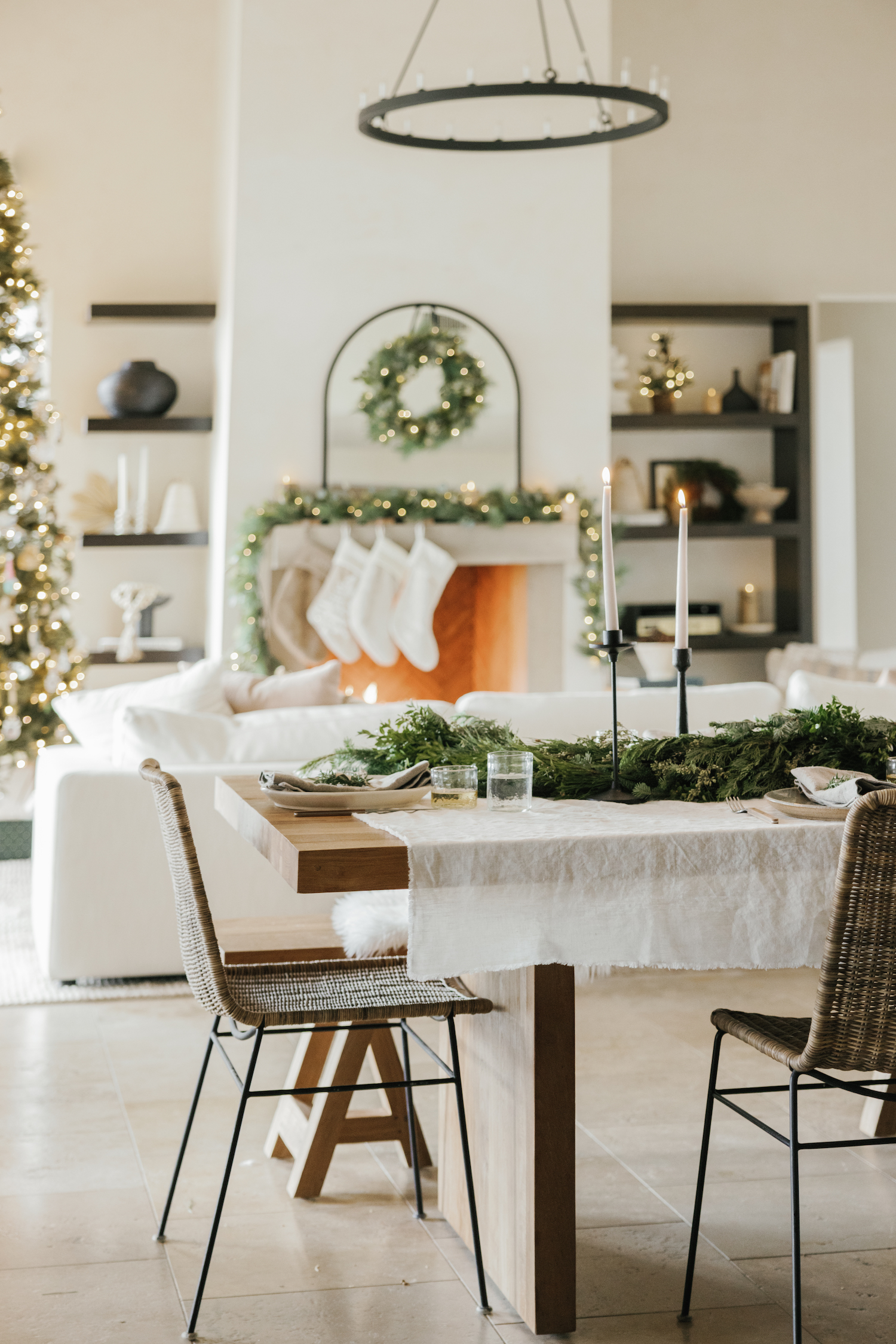 14 Best Hostess Gifts That'll Get You Invited Back
Every product is curated with care by our editors. If you buy something through our links, we may earn a small commission at no cost to you.
Trust me, this is wayyy different from you giving your host a bottle of Clorox. We love keeping our homes fresh, clean, and comforting places to be, and a key part of that is using the best non-toxic products we can find. This gift box includes a hand wash, dish soap, and multi-purpose cleaner that'll fill your giftee's home with aromatic bliss. And just so they don't take your present the wrong way, be sure to mention that you know how much they value sustainability—and that you thought of them immediately when you discovered this environmentally-friendly find.
I always love sharing the gift of cozy, comfy warmth around the holidays. A variety of Christmas-themed tea tins are a thoughtful present that'll remind your host to slow down and savor a few moments of self-care during this busy time of year.
Have you ever seen anything cuter? I grew up near L.A. Burdick's flagship in New Hampshire, and as a family, we would often venture in, sip the most luxurious hot chocolate I've ever had, and leave with a few boxes of these mice to share with friends, teachers, and my parents' co-workers all throughout the holiday season. The craftsmanship is stunning and the chocolate, of course—delicious. How could you go wrong?
I always give myself a new candle at the start of the year's biggest transitions. Not only do they perfectly encapsulate the seasonal scents, but their vessels offer a soft flicker that makes for the best mood lighting. I feel (happily) obligated to share this joy with everyone I know.
If you're going over to the host's house for a dinner party, what's a better gift than treating them to a cozy breakfast the morning after? This set includes West~Bourne's naturally gluten-free, regeneratively sourced superfood House Pancake + Waffle Mix, House Granola, and House Muffin Mix. Is there anything better than a gift that everyone can enjoy?
Everything from Camille's new brand, Casa Zuma is worthy of gifting. From linen tablecloths to vases we can't wait to fill with fresh flowers—there's something for everyone. But for the party planners in your life, there's no hostess gift better than the Gathering Board. Camille's favorite way to gift it? "I love to volunteer to bring a holiday dessert to parties this time of year, and the literal icing on the cake is to bring those Christmas cookies on our Casa Zuma Gathering Board—and leave the board with the host to enjoy long after the party!"
As an all-in-one cutting board, serving board, and beautiful display object, it's bound to become an heirloom they'll keep in the family for generations. What could be better?
It's no secret that we're all truly obsessed with Brightland here at Camille Styles (we even featured the founder, Aishwarya Iyer, in our Wake Up Call series!). Aside from crafting the fruitiest, most delicious olive oils and vinegars that'll brighten up any dish, the brand keeps presentation in check. Each bottle is outfitted with a beautiful design that your recipient will keep on their counter long after it's run out.
This set comes with mini bottles of their best olive oils: Ardor (red chili and jalapeño-infused), Rosette (garlic-infused), Lucid (lemon-infused), and Arise (basil-infused). Is this one of the best hostess gifts around? You betcha. As our Executive Producer Michelle says, "Believe the hype, Brightland really is that good."
Who doesn't love pasta? When it comes to the best hostess gifts, it's always a good idea to think of something that they're likely to use (and love) but wouldn't buy themselves. If they're unlikely to spring for handmade, small-batch pasta noodles straight from Italy, do it for them.
If you want to get them something truly special that will last a lifetime, look no further than this stunning match striker. It's guaranteed to look gorgeous on a coffee table or shelf. Plus, if they're into the ritual of lighting candles or incense, this gift will be a unique addition to the routine.
There's nothing more subtly beautiful than a few taper candles scattered about the table. I love mixing and matching heights for an added bit of interest and drama, too. These tapers burn an inch per hour and are totally drip-free. They come in a rainbow of gorgeous hues and feature a braided cotton wick for a clean burn.
Growing up in New England, everyone would bring a jar of maple syrup anytime they were invited over. While it was definitely a treasured ritual back then, if you live elsewhere and know the special, ephemeral flavor of pure Vermont maple syrup, it's a true delight to receive. Poured atop pancakes, stirred into granola, or used to sweeten a scoop of vanilla ice cream—the uses for an amber-hued jar are endless.
What's better than cozying up on the weekend with a new puzzle? The colors are vibrant and the artistic visuals are a true delight. Plus, if your house fills up with kids and relatives over the holidays, there's nothing more enjoyable than tackling a puzzle together.
Designed by Danish ceramicist Niels Refsgaard, these plates boast true Scandinavian style. Each is hand-painted and adds a comforting pop of color and pattern to the table.
If you're coming over for the holidays, then ornaments are always a good idea. These Nordic-inspired tree ornaments look far more expensive than they are (thanks, Target!). Each will add a natural and rustic touch to their tree.