No matter your office aesthetic, there's one thing we can all agree on: When our workspace is a mess, so are we. Countless studies (especially those done post-pandemic) show a strong correlation between productivity and a clean workspace. You may not be able to control things like size and sunlight, but you can always cut down on the clutter. So we've gathered 26 easy desk organization ideas to help you get—and stay—inspired.
Featured image by Michelle Nash.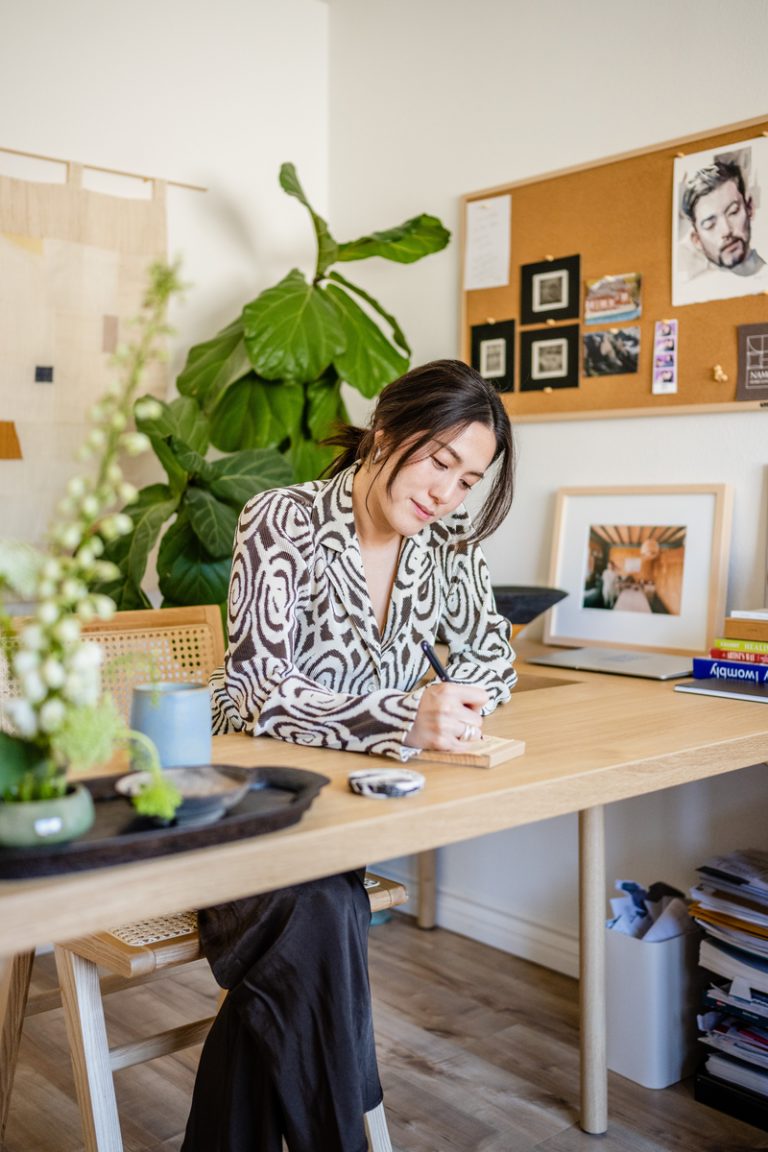 26 Desk Organization Ideas for Instant Inspiration
1. Stash it in a basket
Who decided that every highlighter, paper clip, and stress relief ball needed to sit in plain site? Arrange a set of raffia baskets for the items you don't often reach for.
2. Cut the cable clutter
These slick brass cable cord clips are a minimalist's dream—with hundreds of five-star reviews to back them up.
3. Invest (just a little) in the best desk organizer
There are plenty of desktop organizers out there. Opt for one that's slick, easy to clean, and—most importantly—affordable.
4. Embrace the stack
Made with solid ash wood, these stackable drawer dividers can easily suit most desk drawers, keeping out-of-sight objects effortlessly organized.
5. Double-duty drawers
Stack your monitor or laptop to add instant dimension to your desk—and some storage space while you're at it.
6. Make your walls work for you
This wall organizer is a bit of a splurge, but the Italian-made beauty truly does it all—and looks good doing it.
7. Mix but match
Beam Brooklyn's hand-thrown pots offer perfect earthy storage for pens and pencils.
8. Maximize the space beneath your desk
Designed by two sisters, Mustard's vintage-inspired lockers are chic, functional pieces to tuck below your desk space.
9. Push it real good
Never underestimate the motivational power of a pretty push pin.
10. Letters aren't litter
Take pride in your mail piles with this Fred Segal-designed beauty that immediately elevates your space.
11. Shed some light
Your trusty desk lamp doesn't have to take up precious surface area.
12. Really into labels
No list of desk organization ideas would be complete without one. So go ahead, give in to your urge to buy a label maker. Your productivity will thank you.
13. Cuter corkboards
Your corkboard doesn't have to be such a square.
14. Nice rack
Keep your glossy subscriptions (or whatever paperwork you need easy access to) on sophisticated display.
15. Put them on a pedestal
Display plants, candles, flowers, or whatever your heart desires on these beach wood pedestals for instant, eye-catching dimension.
16. Worry-free waste
Want a wastebasket that's more within your reach (or more out of reach for certain four-legged friends)? This Yamazaki wonder keeps it modern.
17. Attractive Office Essentials
Don't let run-of-the-mill home office supplies mess with your desk's visual flow.
18. Roll with it
Sure, most people are flying printer-free these days, but should someone need to store paper or ink cartridges, this slick rolling cart does the trick with style.
19. Ditch the sticky notes and put pen to prettier paper
There's no scientific research that proves you'll take better notes on aesthetically-pleasing, streamlined notepads—but there's nothing to disprove our theory either.
20. Functional decor
Turn basic trays into vibrant works of color block art with these geometric beauties.
21. A bit of a reach
Floating shelves above your office desk offer extra storage and can help make a smaller workplace feel grander.
22. Better bookends
A contemporary design that's solid enough to keep your heftiest tomes from slipping.
23. Utilize often-ignored space
If you're lucky enough to have an office door, make the most of it.
24. File it away
If the term "file cabinet" still elicits bland, old-school drawers, we assume you haven't yet laid eyes on Article's pretty oak option, which features soft close drawers and the ability to choose whether the cabinet opens to the left or right.
25. Streamlined shelves
Buy a few and line 'em up on a shelf for organized office storage that's easy on the eyes.
26. A trash can that doubles as décor
There's nothing worse than a bland deskside trash can that totally harshes your vibe (apart from no trash can at all of course). Keep it cute and mess-free with a chic paper bin.