I've started holiday decorating earlier and earlier the last few years. Yes, I'm a bit of an unusual case since we're also photographing everything for the site (which requires ridiculously early planning.) But even we weren't—I think I'd still love putting up my holiday decor in November, since it feels like with each passing year this season flies by faster.
I shared in yesterday's Breathing Space newsletter that my goal this year is to fully soak up this season and find little ways to mark the moments before it passes by in a blur. No matter how busy it gets, I want to find the opportunities for intention in each day. It's those little things that add up to a holiday season we won't forget.
Hanging garlands, reading The Polar Express in front of the fire, drinking my coffee in front of the Christmas tree lights while it's still dark outside—for me, those visual cues help get me fully in the spirit. So bring 'em on, the earlier the better.
Read on for all the details on how I decorated our home for the holidays—I went with an Evergreen Forest theme, and it was exactly the natural, rustic vibe I was dreaming of this year.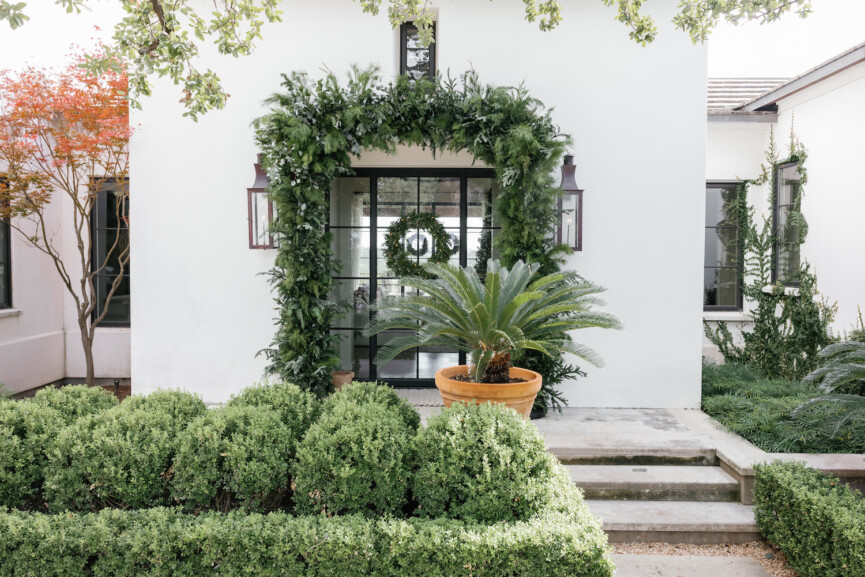 Our Evergreen Garland Front Porch Decor
If you've been around here awhile, you know I love creating a festive front door that welcomes guests into the coziness of the season right when they pull in the driveway. Last year's Christmas front door decor was decked out with red berries, and the year before was inspired by a woodland fantasy.
For this year's look, Elle from Gracious Garlands carried the evergreen forest vibes to the front door with a jaw-dropping installation she created using a wire frame covered in mixed evergreen branches. It's so on point with my vision for this year's organic, found-in-nature decor. A matching wreath on the front door, woven with lights, is the finishing touch.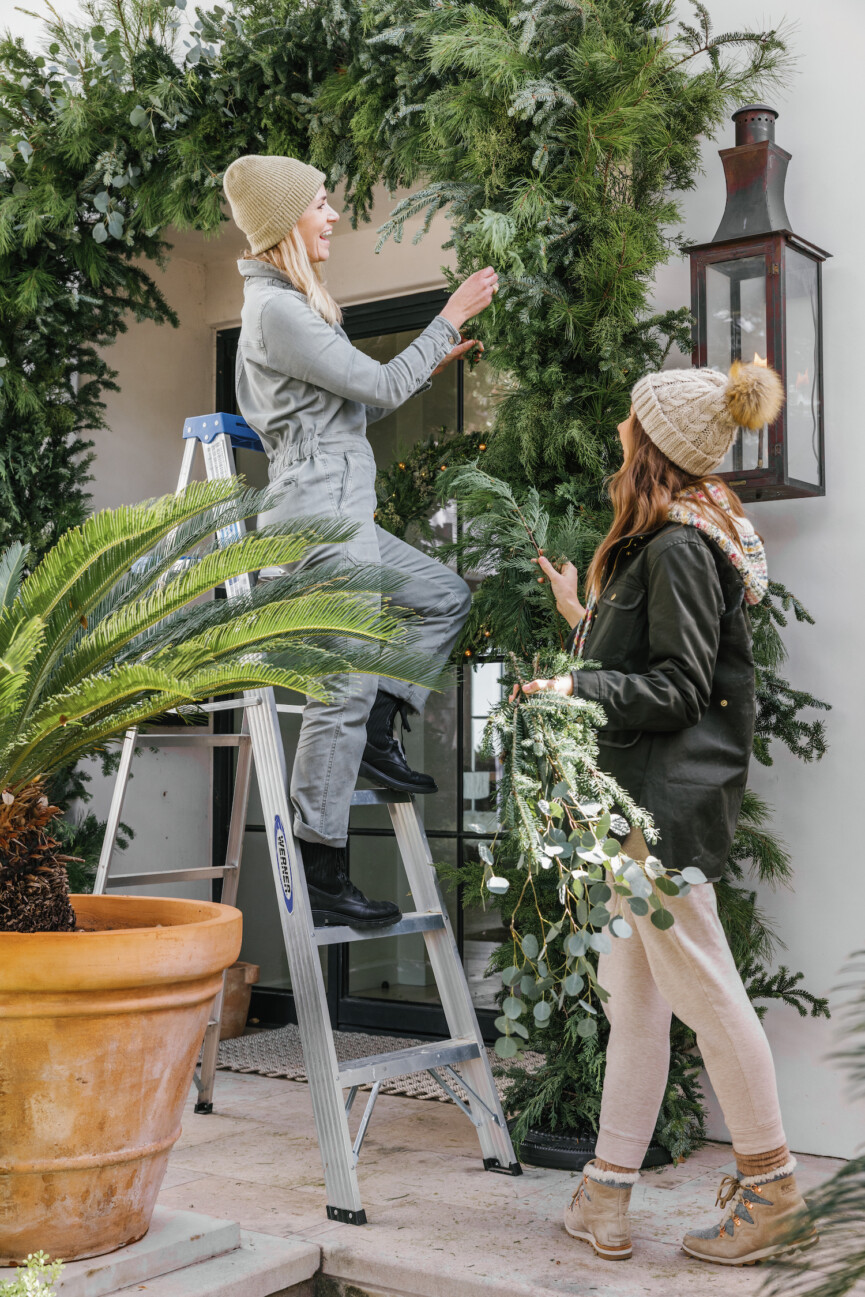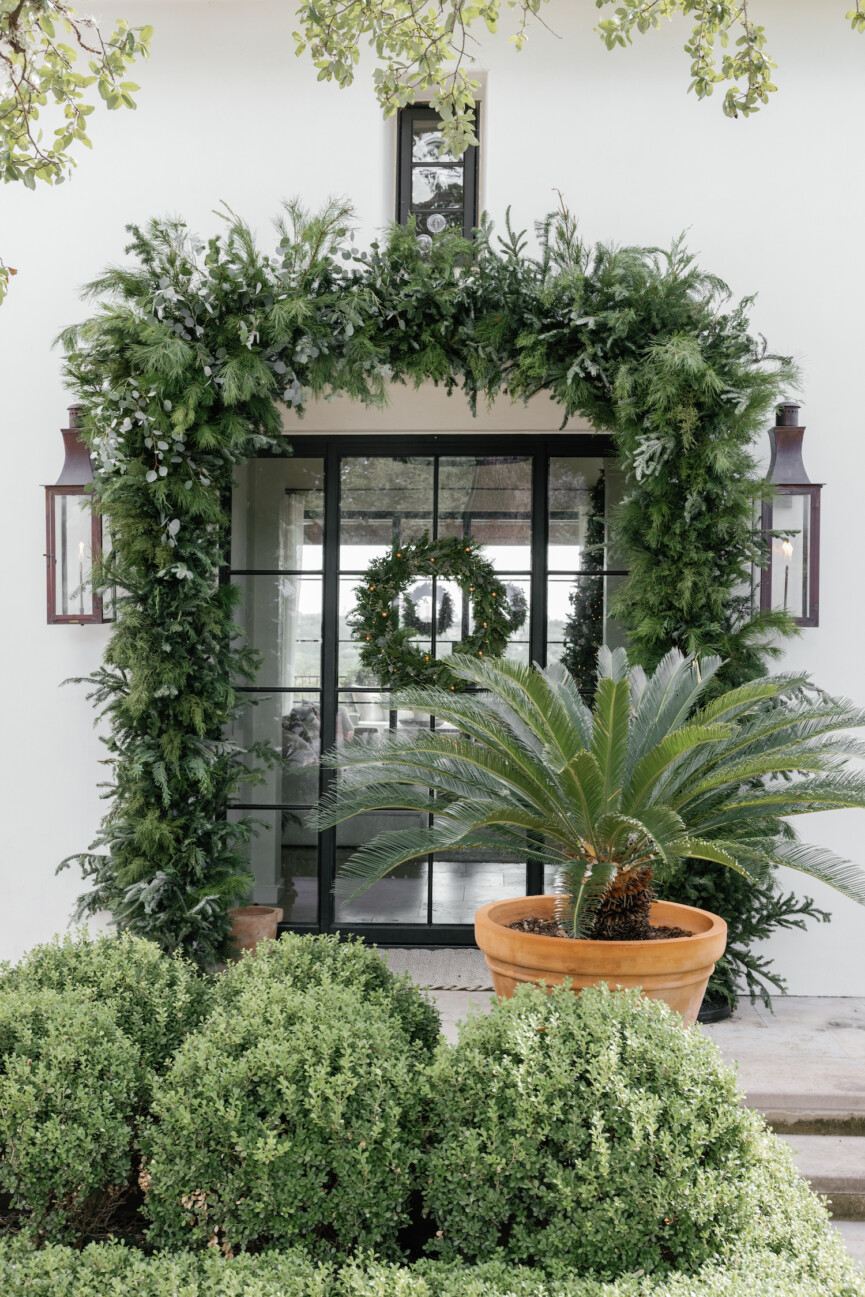 Our front door opening is quite large, and it takes a lot to make an impact. I've found that streamlining to just a few elements (here, tons of greenery!) but going BIG with them is the key; it's really all about scale. Elle used floral wire to attach the garland at each point of the frame, and then a couple large suction cups to attach the wreath. She made the wreath double sided and lush with mixed varieties, so that the evergreen was just as full and beautiful from the inside of the house as it was from the outside.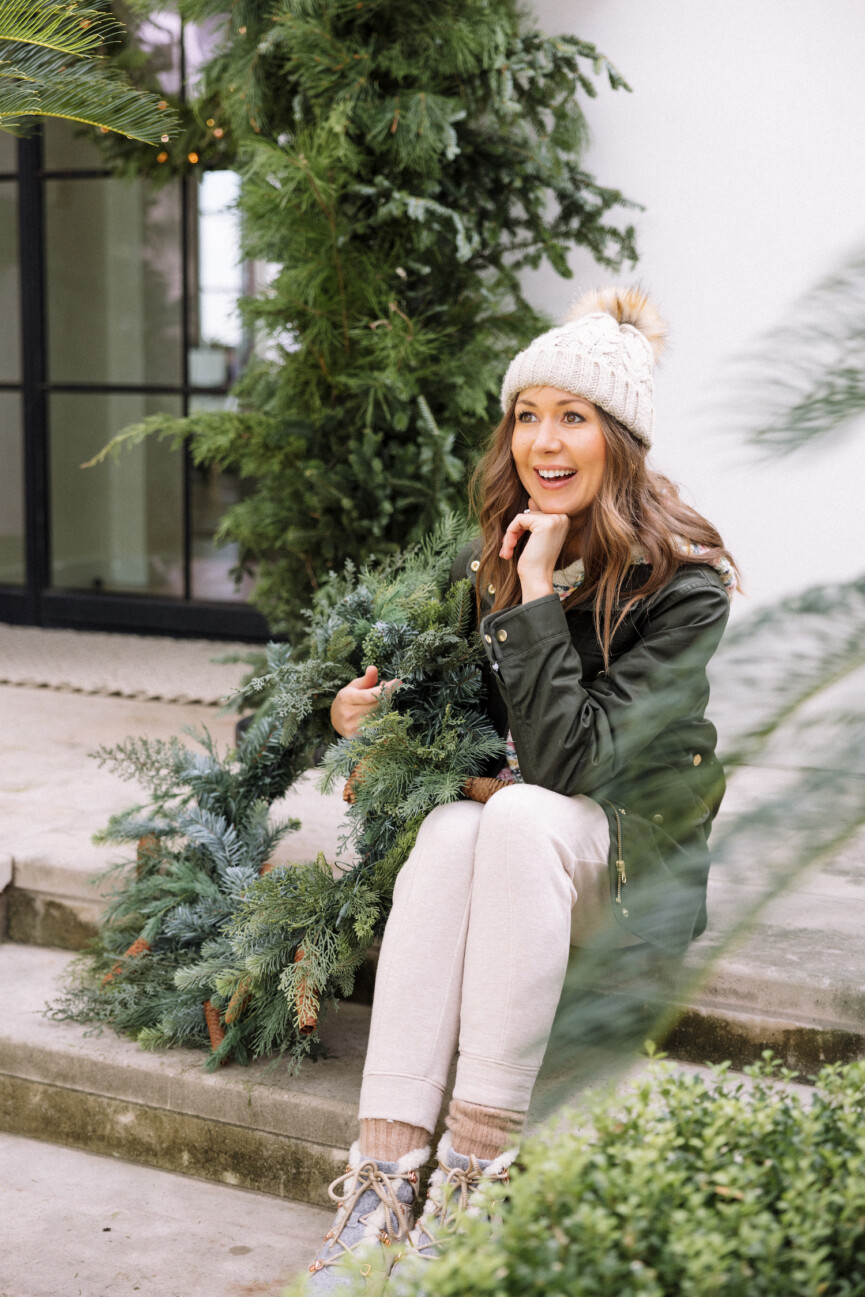 Also, sharing outfit deets because I'm obsessed with this sweater (and you guys know it takes something very special to get me to wear color.)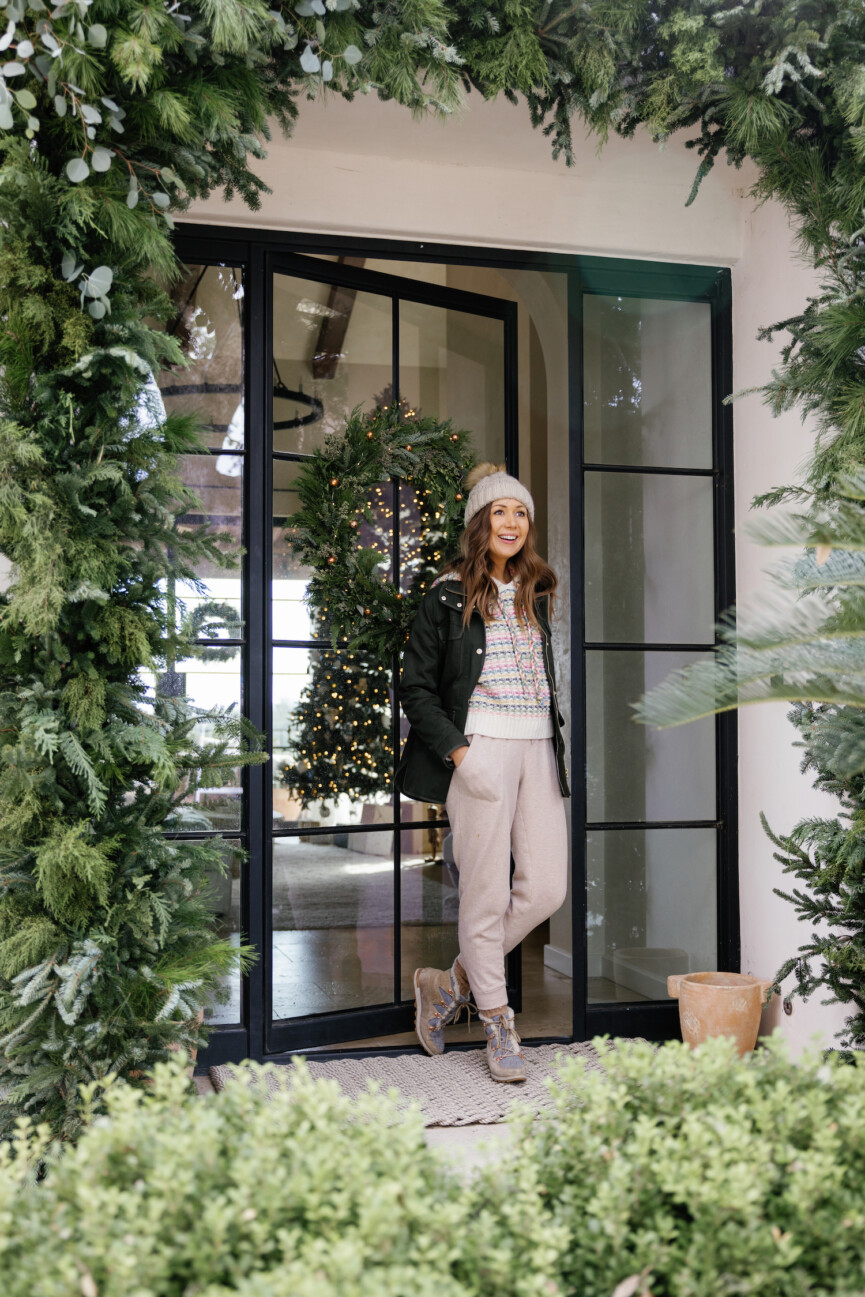 Let's head inside and I'll show you our living room… For previous years' holiday decor, see:
2021's sculptural branches holiday decor
2020's woodland fantasy holiday decor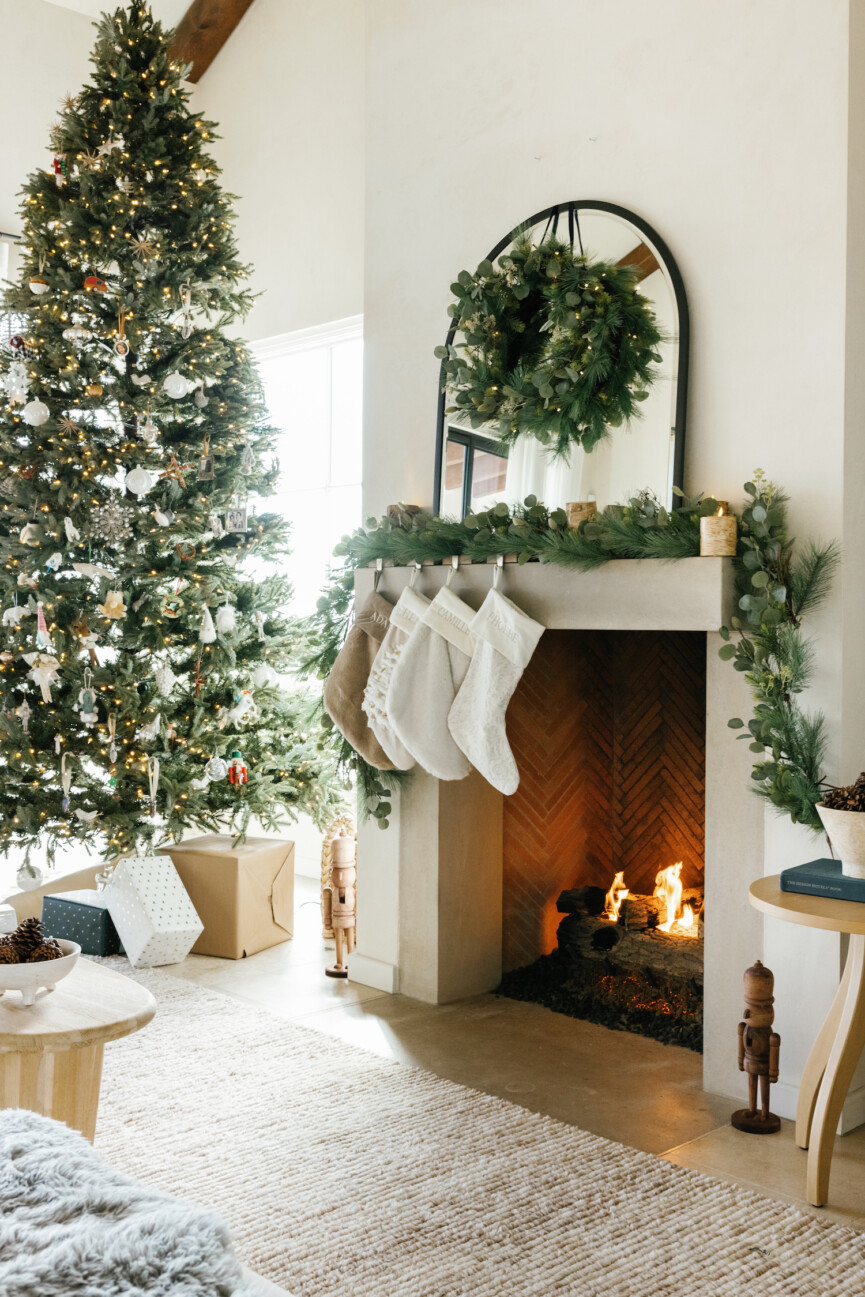 My Holiday Living Room Decor
I kept things pretty simple on the mantel this year, using a faux evergreen garland and wreath that would last throughout our (extra long) holiday season. We teamed up with Pottery Barn to make this mantel decor video, and I loved it so much, I pretty much just left it as-is for the rest of the season.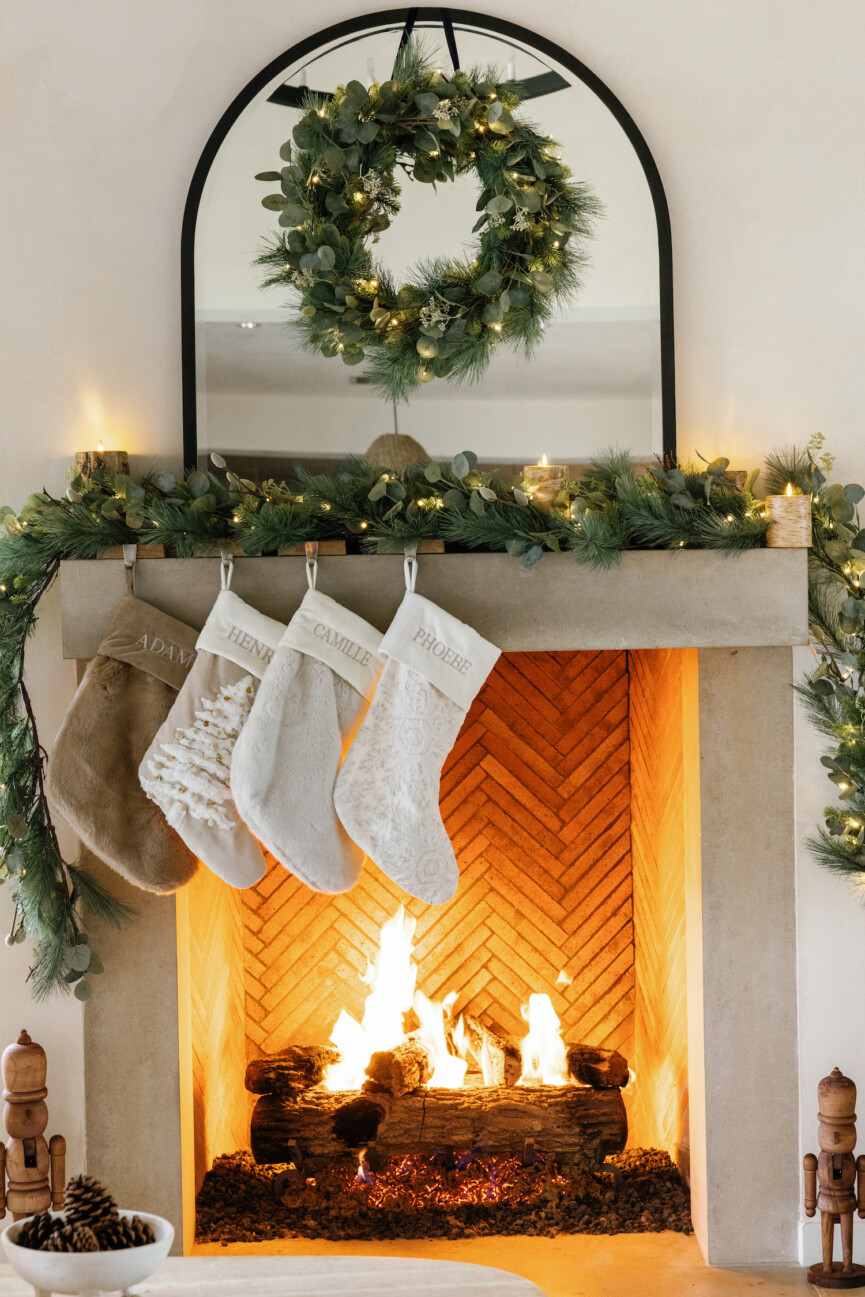 The Stockings
In the past we've done all white stockings in a rustic sweater-y knit, but this year I thought it would be fun to let everyone choose their own stocking pattern and get it monogrammed (though I did draw the line and request all-neutrals, lol.)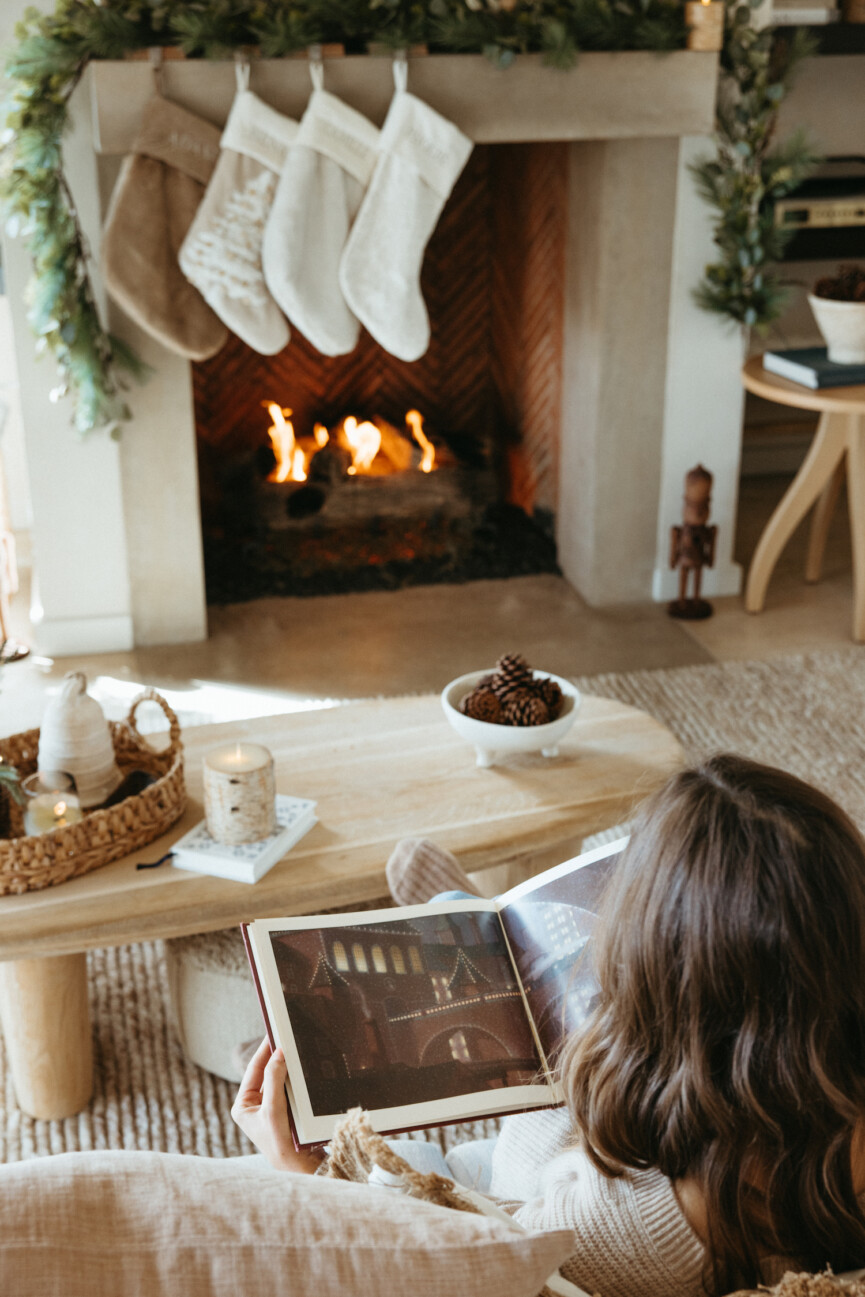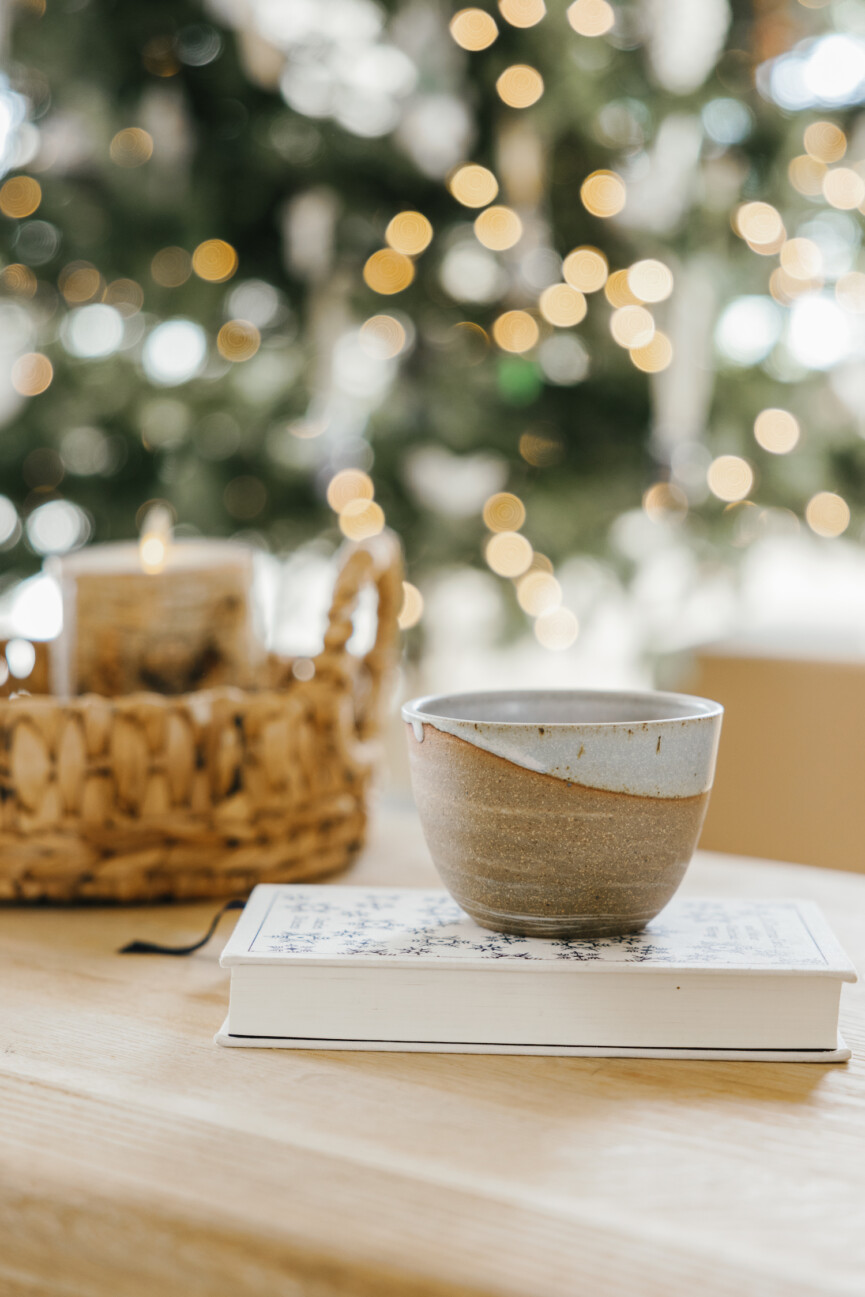 The Flameless Candles I'm Obsessed With
Okay y'all—THESE CANDLES. They're probably my favorite part of our holiday decor this year because I'm still stunned at how real they look, thanks to the fact that they're actually made of wax. I keep them on the "timer" setting so that at 4pm every day, they automatically just turn on, and our living room is filled with cozy, flickering candlelight every single night. I really might never take them down. If you've been hunting for the best flameless candles for the holidays, look no further.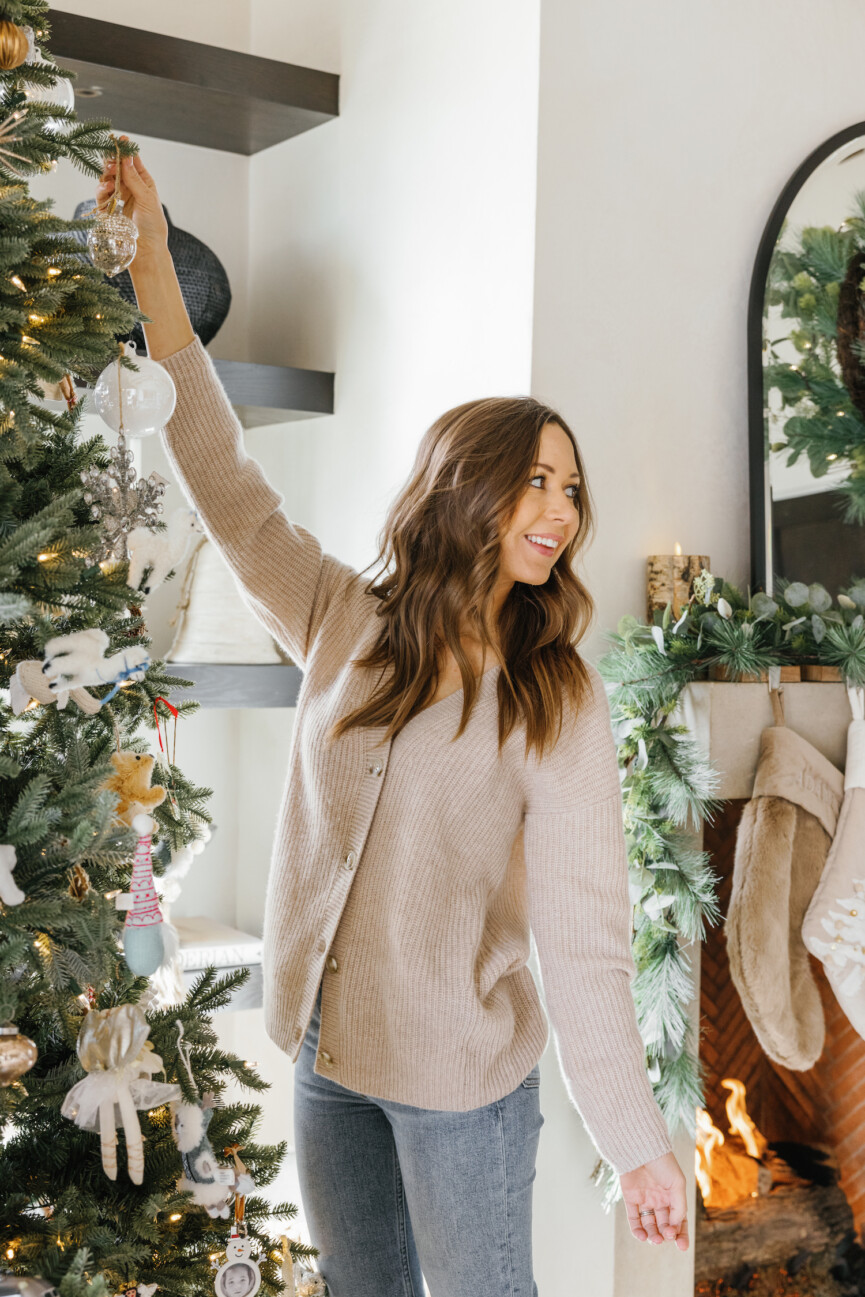 Our Huge, Realistic-Looking Faux Christmas Tree
I get asked about our tree all year round from you guys—it is quite large to account for our very high ceilings in this room, and it does look very, very realistic. Before getting this tree, I was a diehard "real tree person," but thanks to Adam's allergies, and again, these crazy high ceilings, we switched to faux about 10 years ago and have never looked back.
If you're looking for a very large Christmas tree, in my opinion, Frontgate has the most realistic faux Christmas tree options for the price point. Trees can get very expensive. Ours is a Noble Fir Slim Profile Tree in the 12-foot size.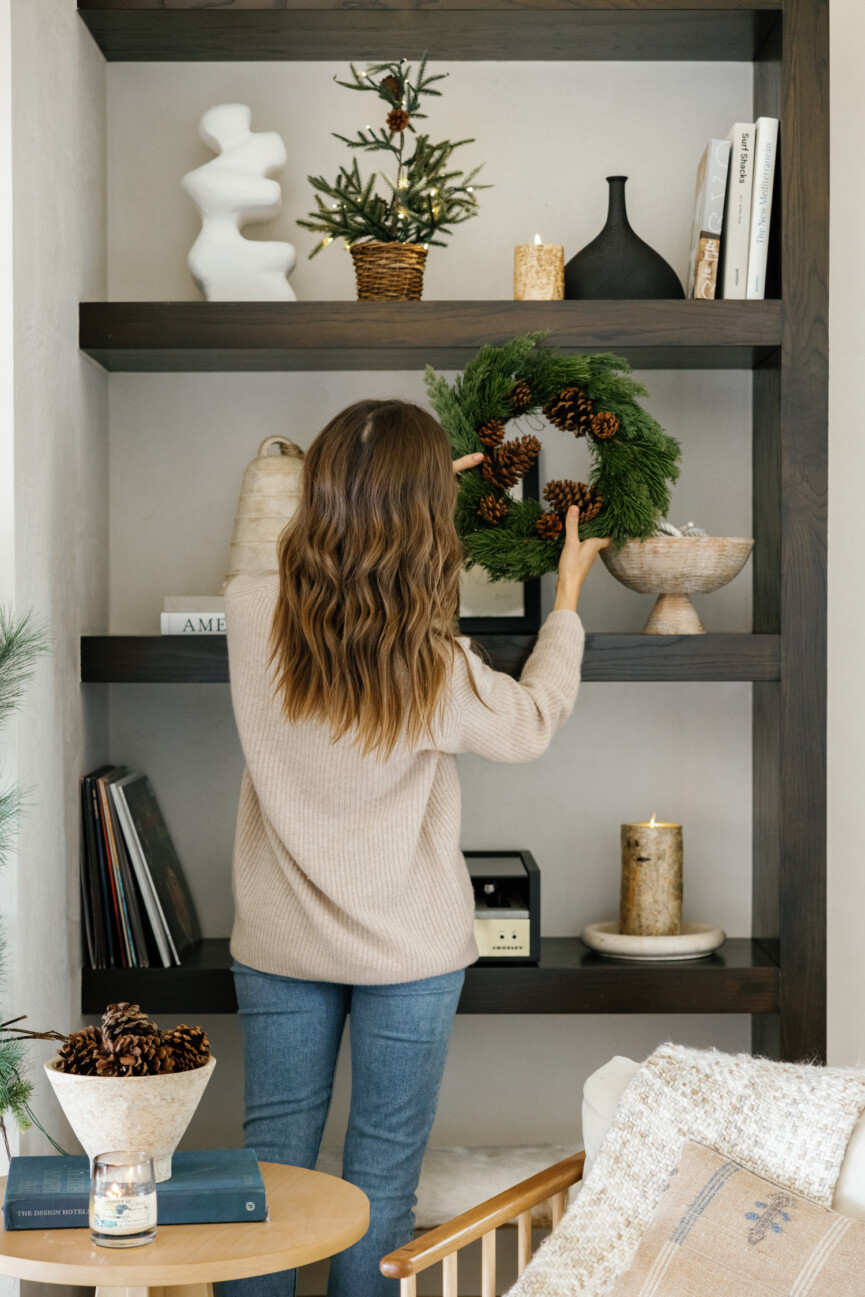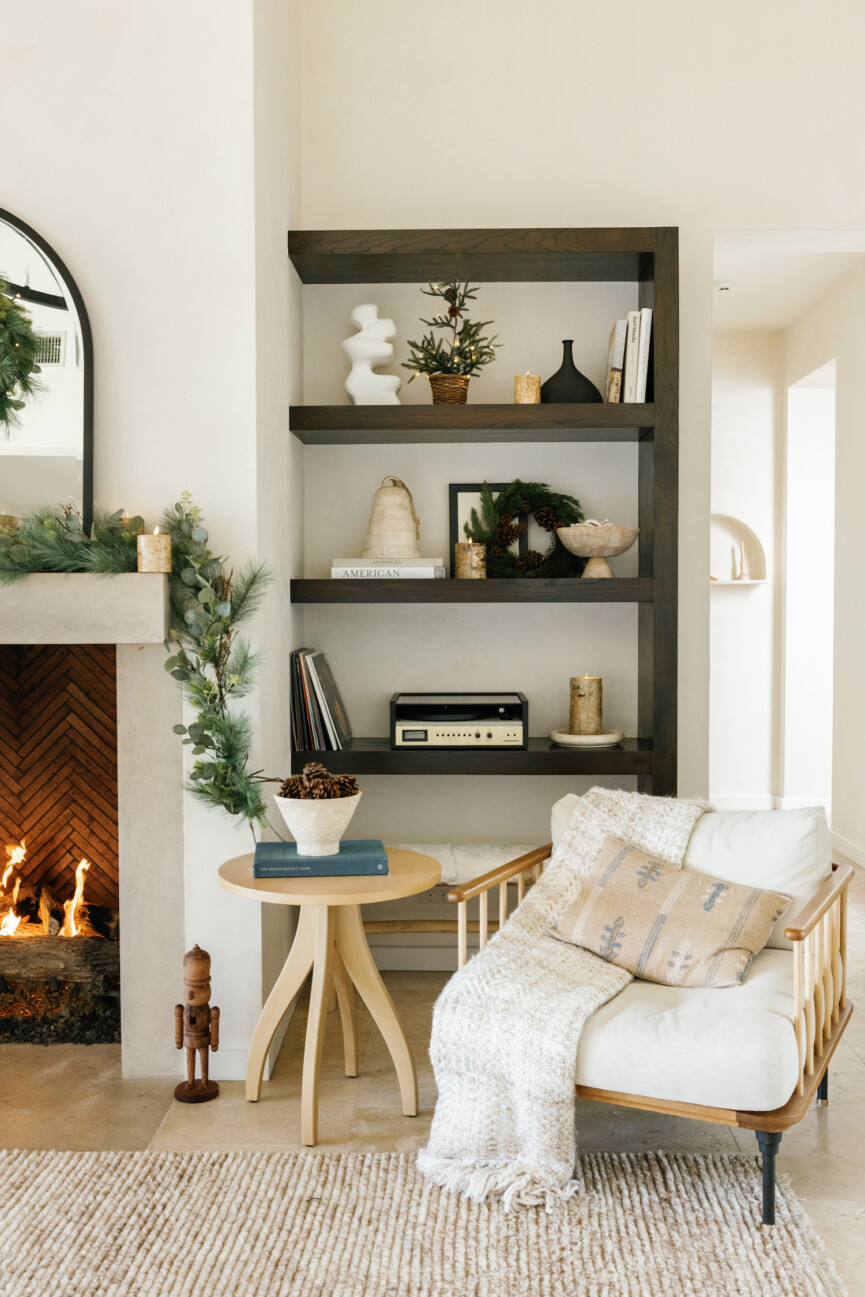 The Little Details
I love using the open shelving to the right of the fireplace as a continually rotating space to display my favorite things. During the holidays, I start by removing a few items to open up the space, then I add just a few Christmas-y touches that make the shelves feel festive. I try to keep it in a neutral color palette that feels aligned with the room during the rest of the year, because I always want this space to feel calm and grounding.
This year, I added these gorgeous ceramic bells that come in a variety of sizes, a tiny evergreen wreath, more of my favorite flameless candles, and these little nutcrackers at the base of the fireplace. I mean, c'mon—how cute are they?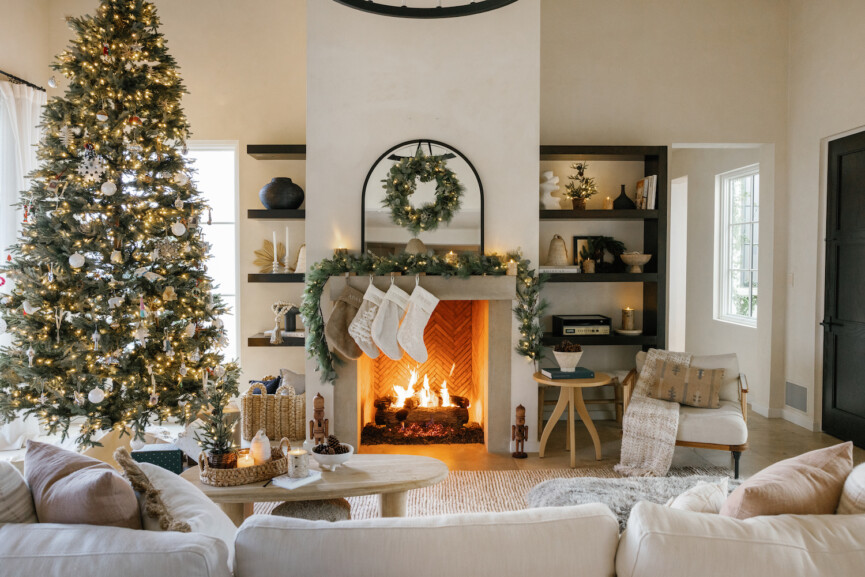 And there's my formula for creating a cozy, hygge-filled haven for the holidays. Candles and twinkling lights, evergreen everything, and layers of texture to give the space the warmth we all crave this time of year. Oh, and don't forget the good tunes—our turntable stays busy all season with holiday music that fills the whole house with calm and joy.