I have a confession to make: I've seen Mad Men seven times all the way through. (For context: That's seven seasons of about 25 episodes each—I learned to make the most of my college vacations.) I garnered a few learnings from the show: 1) Mid-century modern is always on-trend. 2) Jon Hamm has my heart. 3) How to style a bar cart. And though he was explaining how to write good copy, not doling out interior design tips when he said it, here, Don Draper's words ring true: "Make it simple, but significant."
When it comes to home design and décor, I'm a minimalist at heart. I like things pared back so as to bring out the integrity of each piece and let their collective brilliance shine. So, of course, the quote perfectly encapsulates how I feel about how to style a bar cart. While we can certainly pile on the bottles and mixing tools haphazardly (they have to go somewhere, after all), isn't it always more aesthetically pleasing to bring a bit more intention to even the most high-traffic areas of our homes?
By definition, bar carts are intended to pair function with beauty, and because of that, the answers to the question "how to style a bar cart" reach far and wide (they're limitless, you could argue). The goal here, of course, is to make your ingredients easily accessible while also acknowledging that this is a design piece—so of course, we want it to look good. And because there are plenty of ways to go about that, I'm taking the time today to share my favorite ways to engage in a little stylish sippin'. Let's get cocktail hour started.
Featured image by Michelle Nash.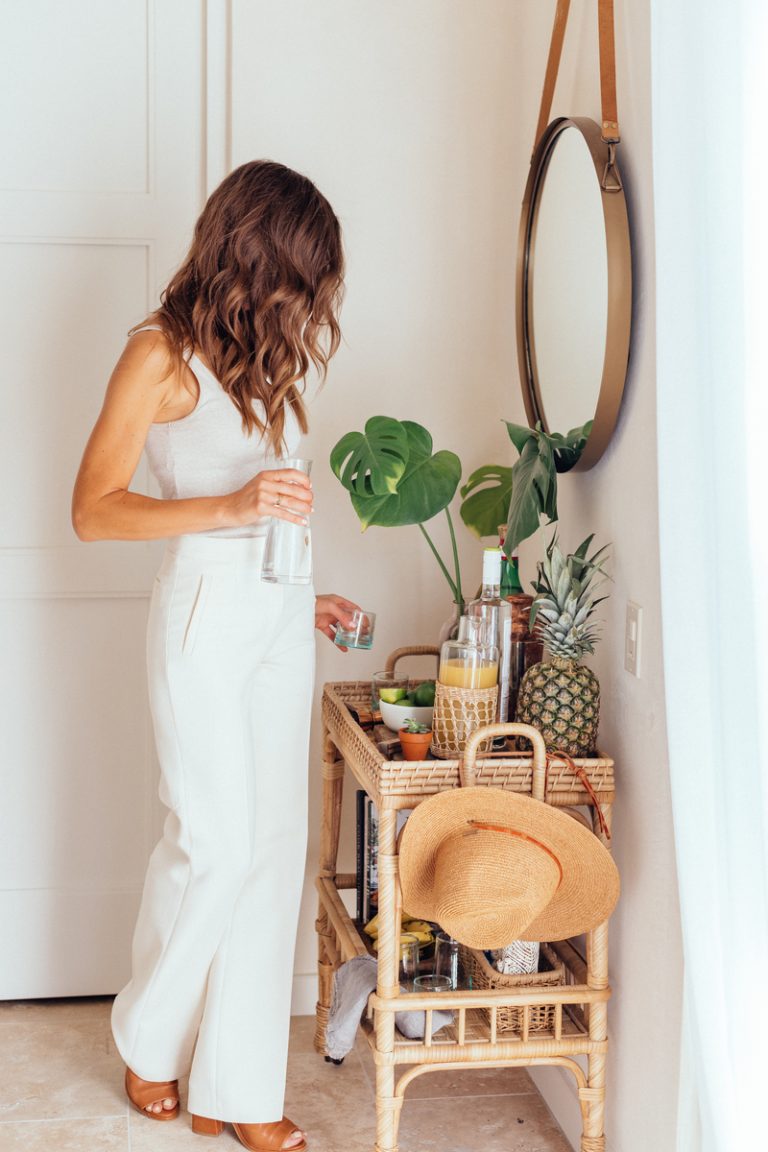 What is a bar cart?
But first, a little history. While we now associate it with an array of options for fixing our favorite cocktails, the bar cart's beginnings were perhaps a bit more humble… and maybe even more unassuming. According to Hunker, the bar cart evolved from the tea trolley—a movable furniture piece that would be rolled out when tea time struck. Instead of Aperol, an ice bucket, and our go-to mixers, the tea trolley was piled high with biscuits, elegant sandwiches, and an array of teas.
When Prohibition ended in the United States in 1933, out went the tea and in rushed a new era of cocktails that came to be part of nearly every social gathering and even business venture (as, again, Mad Men accurately displayed).
In recent years, the bar cart has seen a resurgence in popularity alongside our love of everything mid-century modern and the shift to entertaining at home. What's more, even if you don't drink or are simply sober-curious, the bar cart is a beautiful piece of furniture that can serve multiple functions. Coffee station? Check. A home for your record player? You bet. Really, the world (of bar carts) is your oyster—and I'm passionate about ensuring everyone has one in their homes, for whatever purpose you want it to serve.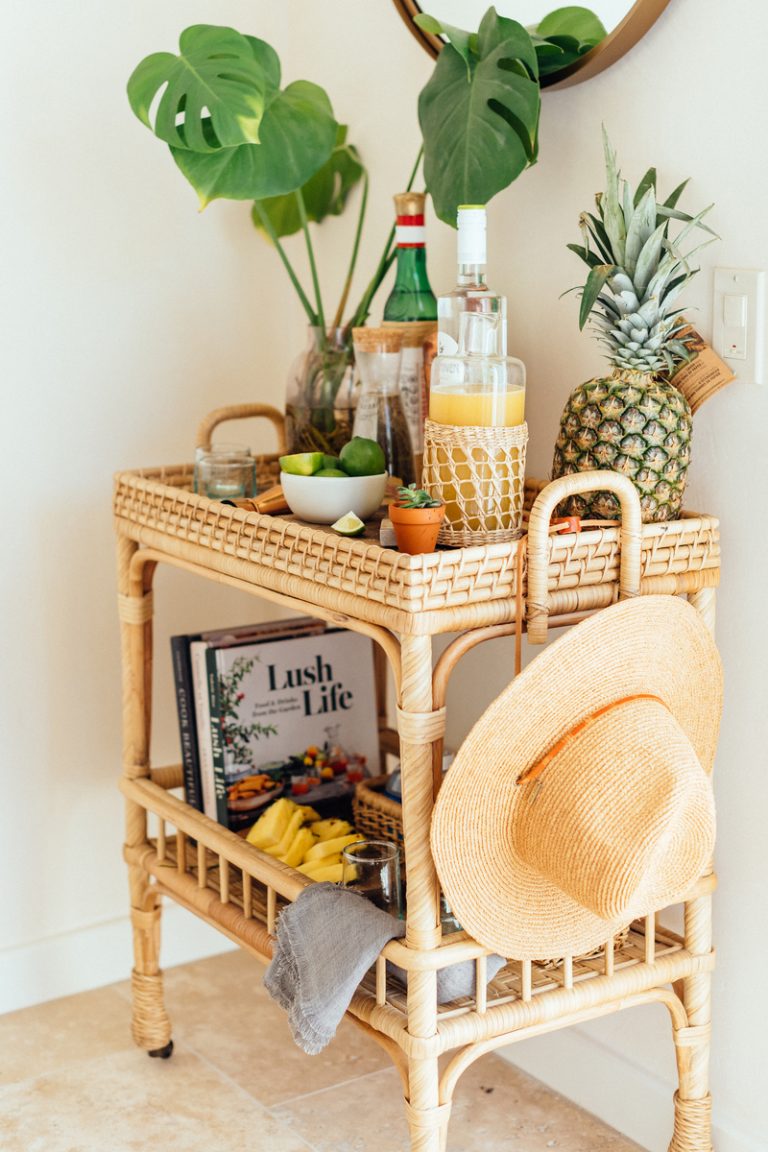 5 Tips to Keep in Mind When Styling a Bar Cart
1. Pay Attention to Height
In any design composition, balance is achieved by giving careful attention to the array of materials, colors, and heights that are introduced. Of course, when it comes to a bar cart, the focus is placed on your bottles. To create a cohesive look, ensure that the other elements and accessories on your cart don't skew too far one way on the tall/short spectrum. By bringing smaller items to the front and higher ones to the back, you can effectively expand your bar cart's depth of field, pleasing the eye and our natural penchant for thoughtful structure.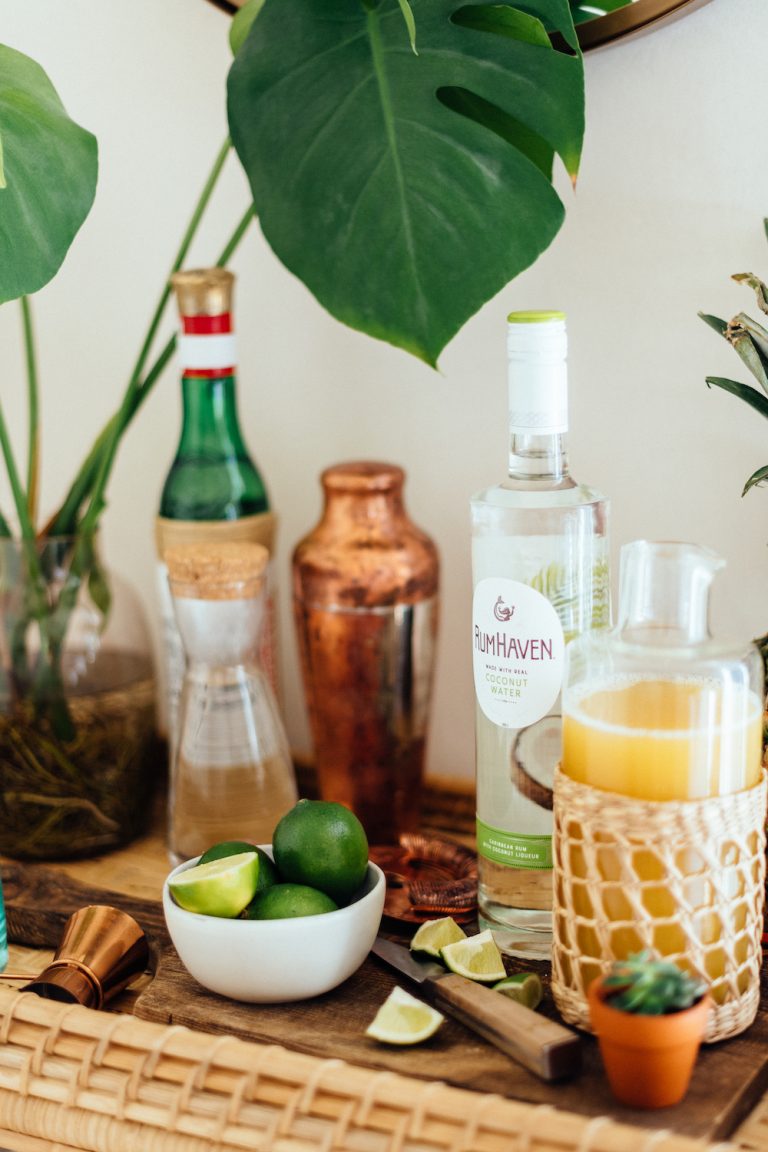 2. Add Florals or Greenery
While spirits and mixers can be pretty on their own, it's always a good idea to soften things up with a few nature-inspired touches. Be it a bouquet, your favorite small plant, or even a few monstera leaves as we opted for here—whatever you choose, the effect will solidify your bar cart's place as an aesthetic piece of beauty.
3. Go Big-batch
Convenience and a reason to purchase a cute beverage dispenser? I'll take it. While it's plenty of fun to fix your friends' drinks to order, if you're having a big group over, it's never a bad idea to break out this hostess-favorite secret. Simply scoot things around (while being mindful of the tips above) to make room. Bonus: While your friends fill up as they please, you'll get to enjoy the party, too.
4. Swap Out With the Seasons
Your home décor shifts with the seasons, meaning your bar cart should as well! Summer is the perfect time to go all out with the tropical, bright vibes, and incorporating a few palm-like leaves and even fresh fruit into your bar cart display seals the deal on the island aesthetic.
When fall sets in, a few autumnal leaves, a sweet-smelling candle, and even nods to the spooky season to come are all you need. In winter, I'm going for glitz and glamour, and when spring comes around, it's all about keeping the look fresh, bright, and fun. Remember: Your ingredients can serve as décor, too!
5. Let Your Glassware Work For You
The main takeaway of this story? Just because an object serves a function doesn't mean it can't be pretty. Case in point, your glassware. Hopefully, our red solo cup days are long behind us, and while you can always opt for crystal-clear stemware (anything with texture is a win in my book), colored glasses make the ultimate statement. Guests will feel chic just having them in hand.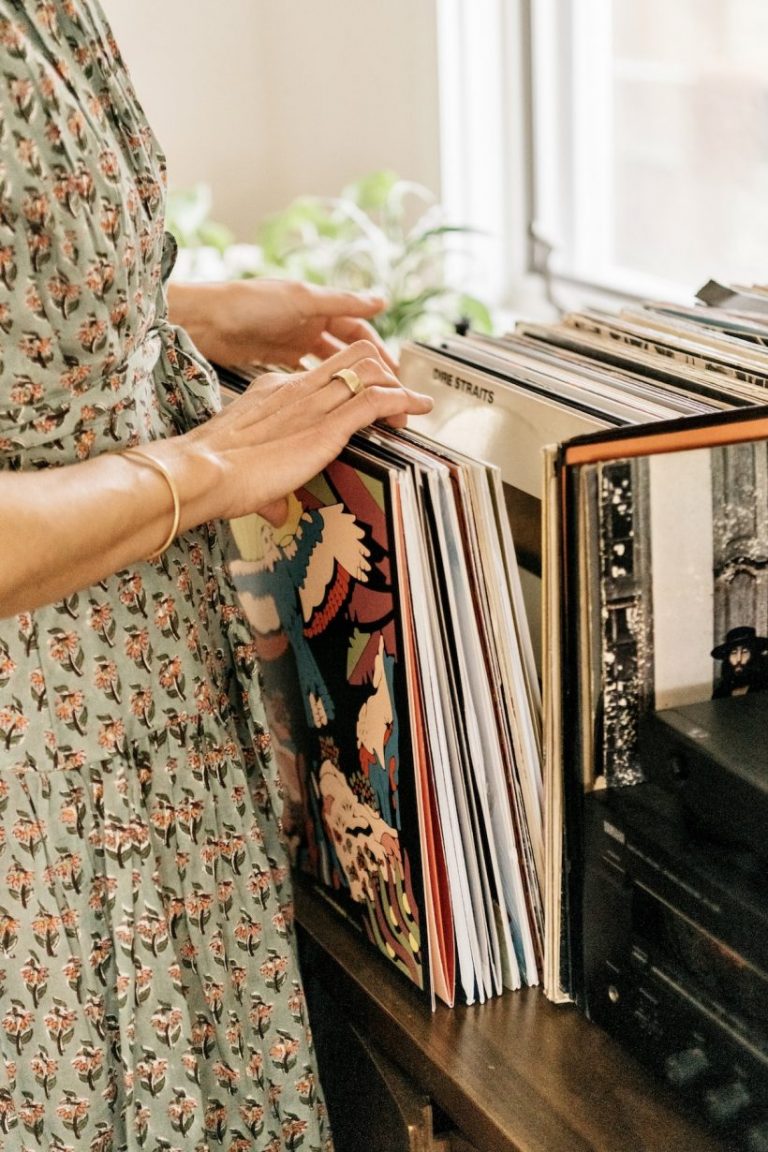 How to Style a Bar Cart If You Don't Drink
With the rise of sober-curious lifestyles, it would make sense that some homeowners and apartment dwellers wouldn't be interested in keeping an alcohol-specific furniture piece in the house. Well, rest assured that there's no reason you can't indulge in the aesthetic joy.
I chatted with Candace Molatore, one of my favorite social media follows for all things design, wellness, and accessible happiness-boosting tips, for her ideas on how to style a bar cart—minus the booze. Below, Candace shares tips for making it your own.
If you aren't a big drinker or don't drink at all, what are other alternative styling options for traditional bar carts?
In my apartment, in lieu of a bar cart, I've gone for a music station kind of vibe! I have a special console in the living room dedicated to my records, a Bluetooth speaker, and a record player. I'm a big music fan and think anything you can add to your space that brings out your own personality is a win. Coffee stations or even little snack areas on your kitchen counters can also be great alternatives!
Where's the best spot for placing a bar cart?
I recommend adding these in spaces where they will be seen by guests, without being the focal point in a room. Instead of placing a bar cart in the middle of the room, or by the door where it could be missed, maybe it's next to your TV console, or at the end of your kitchen island. Avoid placing it in the middle of high-traffic areas, but do be mindful of placing it in a spot where your guests will want to interact with it.
What design elements or objects can we add for character and charm?
I love adding fun knick-knacks and design-forward pieces to anything in my apartment. To me, it completes the full vignette. You could add fun a basket to hold supplies, a plant or two to bring life to that area. Colorful décor like fruits or fun artwork hung nearby is always a plus!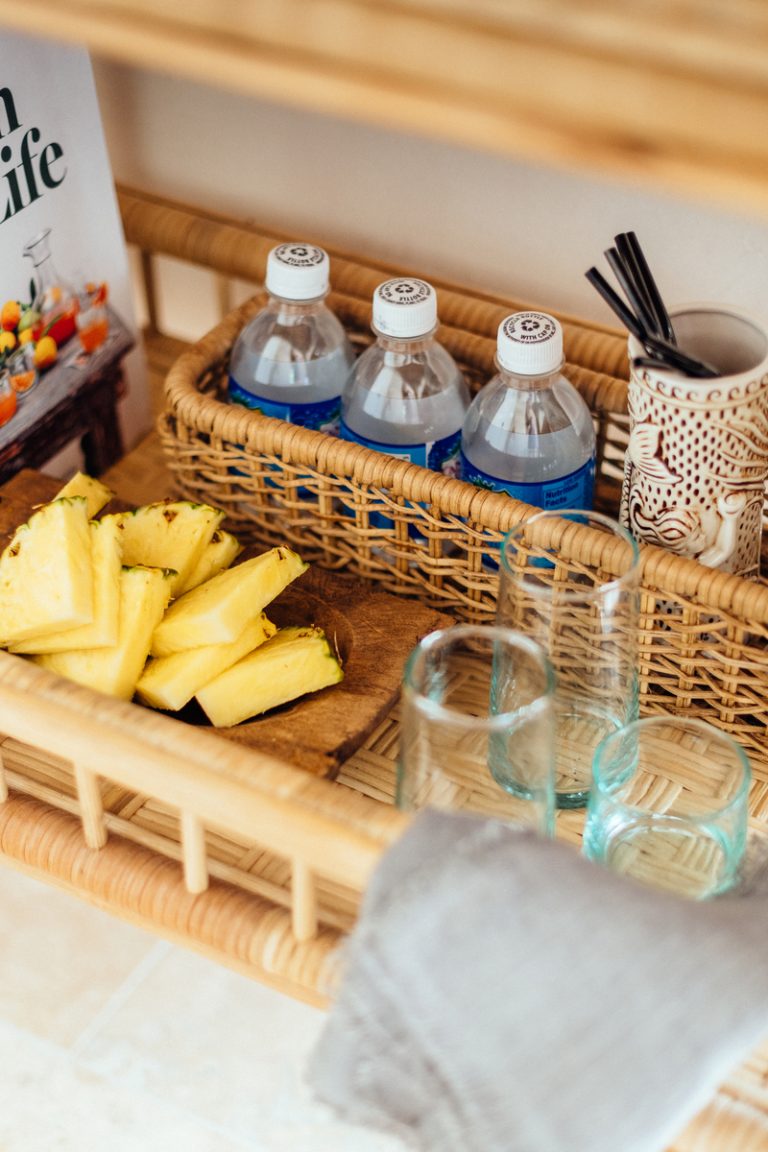 Our Favorite Bar Carts For High-Style Sippin'
West Elm Rounded Wood Bar Cart
This one's a surefire stunner. And while yes, it does lean on the pricier side, if you're looking to invest in a bar cart that'll last you years from now until, well, ever—there couldn't be a better pick. A soft, curved-edge rattan build makes it the ultimate boho piece, and thankfully, it's one that can fit in any space.
---
CB2 Feliz Rattan Bar Cart
As evidenced by the first pick in this round-up, my love of rattan knows no bounds. This bar cart's vintage appeal made me fall in love at first sight and the brass casters gripped me with their hard-to-pass-up character. Trust me—you'll treasure this timeless piece. (Psst… It's on sale!)
---