Have you ever been so captivated by a piece of art that it felt like it was made for you? I still believe Zadie Smith wrote Swing Time for my eyes only and that no one else's ears have heard Ravel's Bolero as richly as mine. A classic case of narcissism? Perhaps. Or maybe my egocentrism is the result of transformative art. Profound works make you feel seen. This is most evident for me when I see gorgeous, cannot-look-away interior design in movies. Often over a movie's witty dialogue or captivating performances, I remember the sultry rooms where characters reign.
Featured image courtesy of Warner Bros. Pictures.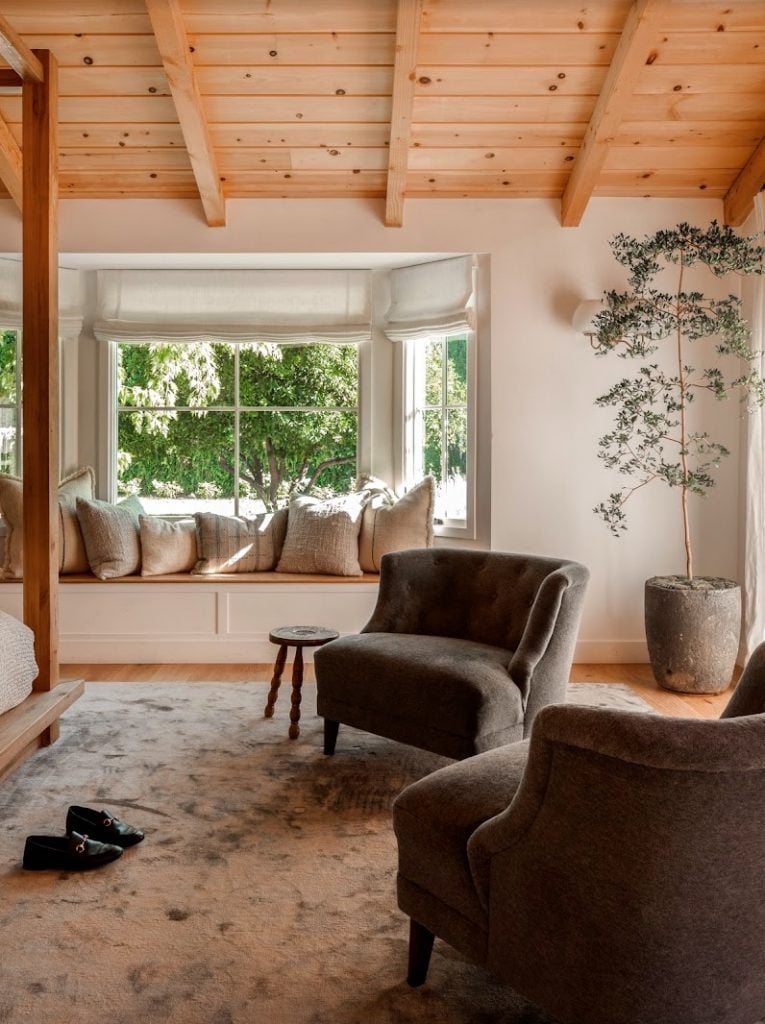 Now I know I'm not alone here. Mention a Nancy Meyers movie to someone and there's a solid chance they'll wax poetic about Meryl Streep's swoon-worthy kitchen in It's Complicated or Diane Keaton's coastal dream home in Something's Gotta Give. It's almost as if the perfectly chalky walls and luxe sofas have unspoken lines in Meyers' films. Or Wes Anderson? The Grand Budapest Hotel is, as Isabelle writes, "worthy of all the acclaim and awards it's been honored"—and this includes the love of the buoyant, vibrant colors of the film's hotel interiors.
There's a good reason why set designers are in high demand: The aesthetics in which a story unfolds are paramount. To explore this, I've rounded up my nine favorite examples of stunning interior design in movies. Spanning across genres, these films will transport you to a world of visual luxury—so much so that you may feel you're the first to see them.
The Best Interior Design in Movies To Deliver Major Cinematic Inspo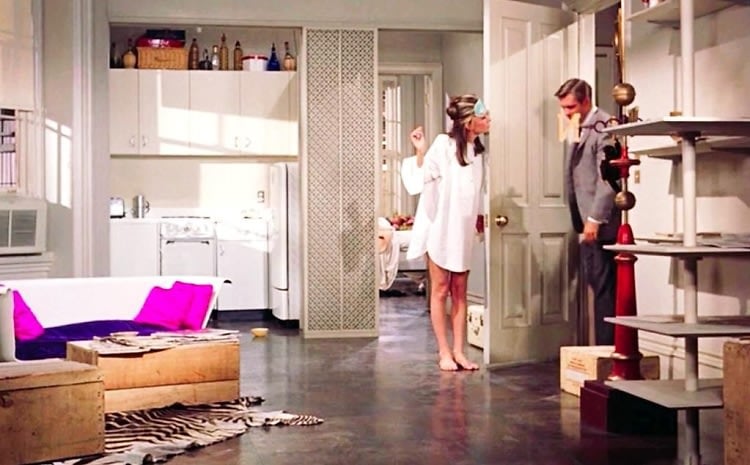 Breakfast at Tiffany's (1961)
If there's one film that has universally cemented in the minds and hearts of all design lovers, I believe it to be this Audrey Hepburn wonder. Firstly, Hepburn's quirky, bold energy is a spectacle that enlivens all the senses. Added to this are the arresting New York City surroundings and Hepburn's (or rather Holly Golightly's) Upper East Side apartment. Washed in all white with merely a couch, humble kitchen, boxy coffee table, and small bedroom, it is an apartment that has drawn me to pore over time and time again. Every detail is arresting—even the tiny loveseat and fuchsia pillows, which deserved their own Oscar.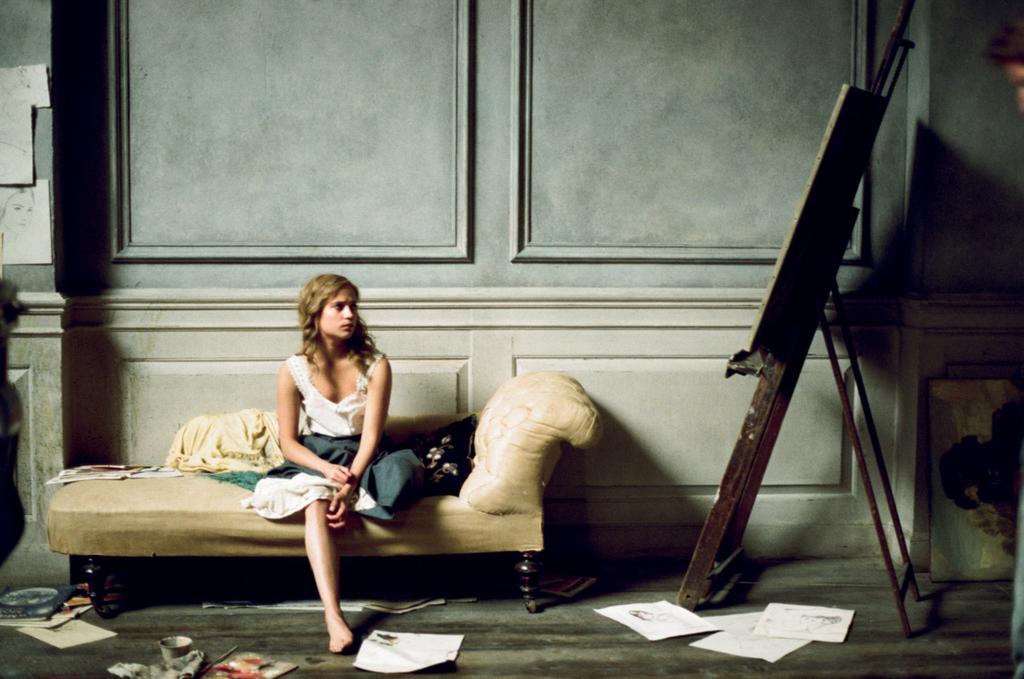 The Danish Girl (2015)
I couldn't wait to see this movie, which is a fictionalized account of the story of Lili Elbe, one of the first-known trans women to undergo gender reassignment surgery. My expectation of a beautiful-but-heavy plot and tremendous performances by Eddie Redmayne and Alicia Vikander were surpassed. What also transcended my hopes were the old-world European interiors, particularly those of Redmayne and Vikander's Copenhagen apartment. The 1920s Danish space is swathed in dusty steel blues and peppered with tapestries that speak to each of their character's artistic flairs. It's both moody and ethereal. The film also takes you to Paris, where Baroque furniture and ornate molding reign, and later to England where the sets are just as rich.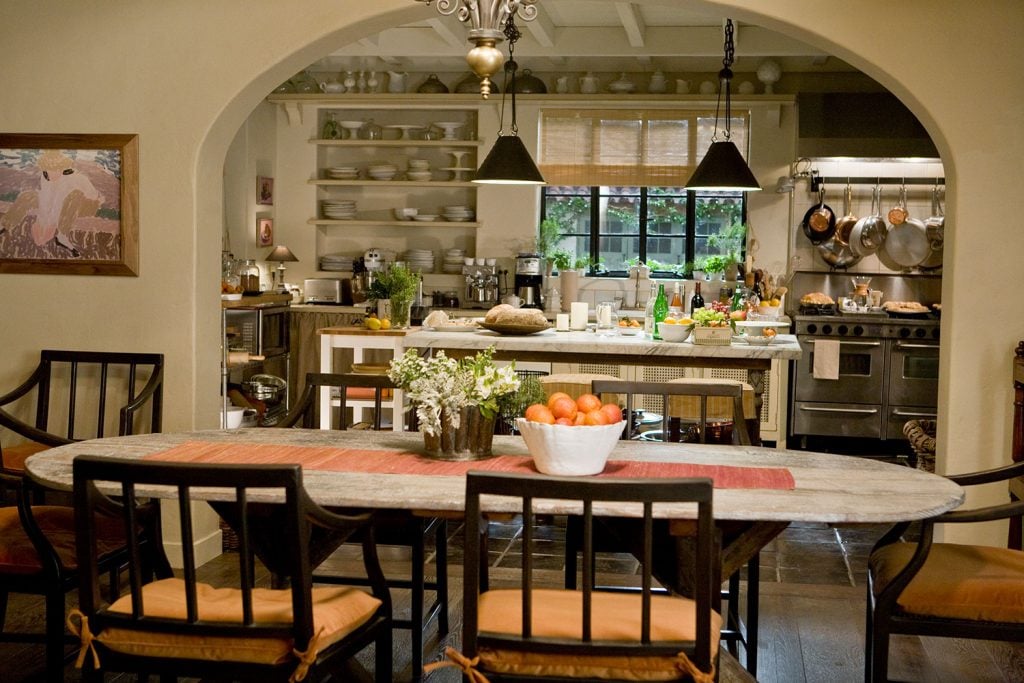 It's Complicated (2009)
Two words: Nancy Meyers. Do I need to write more? Well, I'll defend why I chose this move over all her others. It's not because I don't think the country cottage and LA mansion in The Holiday don't warrant blue ribbons. They do! The same goes for the chic New York lofts in The Intern. But have you seen Meryl Streep's Santa Barbara kitchen in It's Complicated? A marble-topped island is laden with bowls of fruit and fresh herbs. Open shelving shows off white ceramics to a perfect degree. Wooden spoons fill stone vessels. And a window opens up to the heavens. Okay, I'm getting worked up. But who's with me? A dream of a set.
The Shape of Water (2017)
Where do I begin with this magical film (which won Best Picture, it's worth noting)? Sally Hawkins works as a nighttime cleaner at a top-secret lab in 1960s Baltimore. Her curiosity leads her to find out that the lab workers are hiding a sea creature, with whom Hawkins' character deeply connects. The rest of the plot is as dreamy as it is eerie. But what captivates as strongly as the main characters' love is the loft-like apartment where Hawkins resides. Perched above a theater and replete with a half-moon window and water-stained rough wood floors, this apartment is something conjured up by set decorator gods.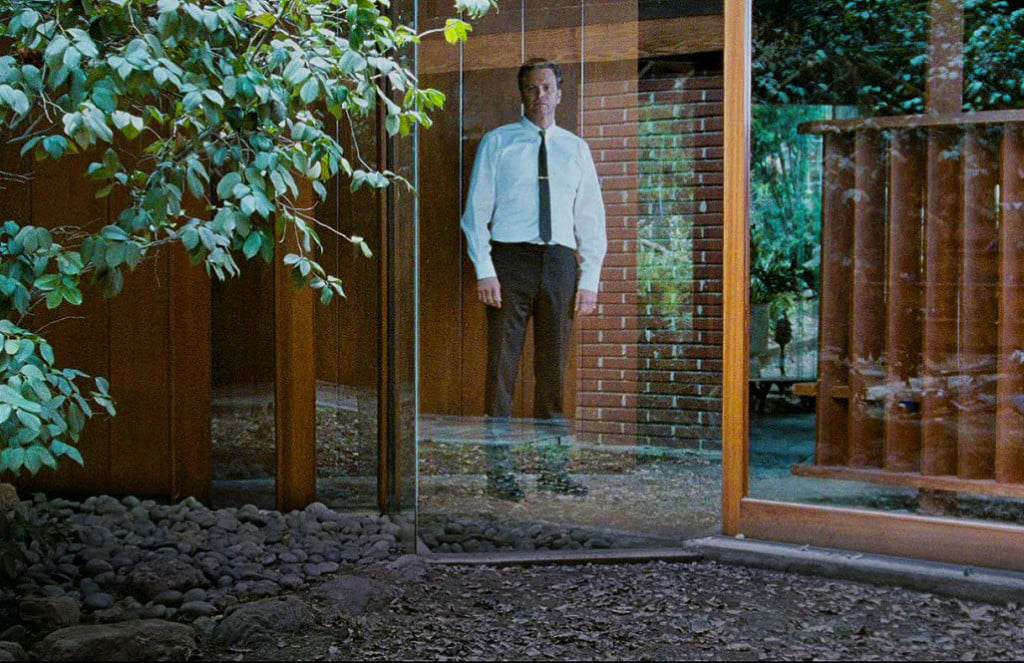 A Single Man (2009)
Everything Tom Ford touches turns to gold—except the iconic Schaffer House in which he set his debut film (it was already a masterpiece). A midcentury gem designed by legendary modernist architect John Lautner, the Schaffer House is as organic and minimal as it is commanding. Composed mainly of wood and glass and hugged by the surrounding Hollywood Hills light, the home provides the perfect demure backdrop for the protagonist, played by Colin Firth, to experience his deep personal wounds and heartache. A brilliant film that will leave your heart and eyes rendered in awe.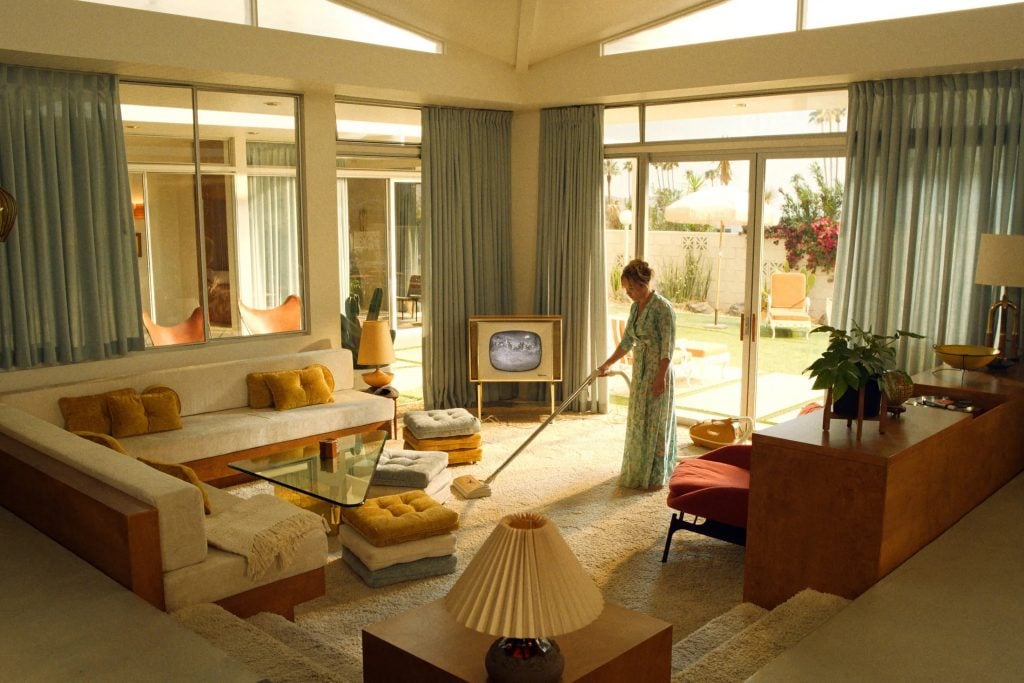 Don't Worry Darling (2022)
The zeitgeist has been swelling with stories over Olive Wilde's debut film. Charged with drama, both on set and in the storyline, it's a smart and visually stunning experience about illusion and Draconian gender roles. (There's a lot more, but I won't spoil it!) At the heart of the movie is a suburban couple, played by Florence Pugh and Harry Styles, who live in a midcentury-haven of a home and neighborhood in Palm Springs. Simply put, this set is midcentury modernism in all its glory. But there's a twinge of eeriness, not because the story itself has a creepy throughline, but because this shows midcentury décor as the real present-time thing rather than the almost fetish it's become today.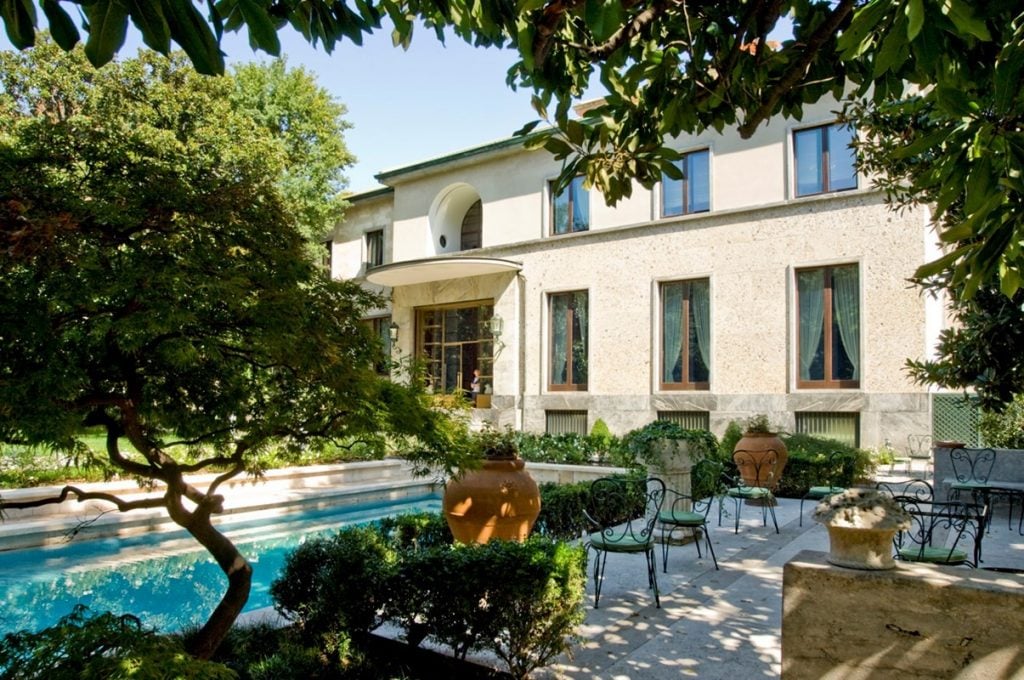 I Am Love (2009)
Tilda Swinton is so arresting she requires a George Clooney-like energy to hold its own around her. And this is exactly what Villa Necchi Campiglio did in I Am Love. The elaborate home in Italy, which was once the home of a prominent Milanese family, is the definition of grandeur, with its dining room doused in buttery yellow and kitchen washed in mint green. Shot with Technicolor brilliance and fluidity, the movie takes you through a family steeped in Milan's textile industry. What unfolds is lust, passion, pain, and performances by both Swinton and the Villa—yes, the home performed, it was that good—that left me catching my breath.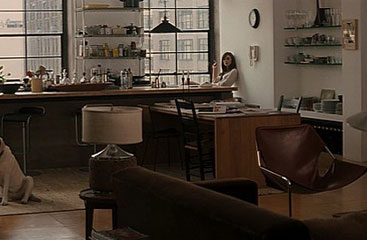 Last Night (2010)
This indie film seemed to have gone under the radar for most. It happens to be in my top 10 of all time, mainly for how it honestly portrays the nuances of love and lust. Keira Knightly, Eva Mendes, Sam Worthington, and Guillaume Canet are each striking in this story, commanding your heart and attention. In the quiet backdrop throughout the film is Knightly and Worthington's understated but expansive Soho loft. While I wondered how they afforded such a place, I appreciated how the set design was practical: books casually tossed on the floor, a kitchen that was perfectly messy, and an unmade bed. All that aside, I get goosebumps looking at the high ceilings and giant windows overlooking Manhattan's streets.
Call My By Your Name (2017)
This movie is the definition of feeling like something was made just for you. Tender and arresting, it touched everyone I know in a unique way. The love between all the characters made you feel seen. The tension made you feel less alone. The heartbreak invites you to realize others also go through hardship. It's all unparalleled—and providing a beautiful anchor is the summer house where it all takes place.
Nestled in Italy's Lombardy countryside, the grand home conjures up the feeling that its walls have seen years and years of love. Everything is gorgeous and imperfect: The kitchen is replete with copper pots. The hallway has windows that open onto a quilt of Italian greenery. There's a study brimming with books. Director Luca Guadagnino did this story—which is adapted from André Aciman's novel—justice by tapping the expertise of his friend, Violante Visconti di Modrone, to design the sets. To watch Call Me By Your Name is to go through a profoundly visual, emotional, and somatic experience.