I have a confession: I am messy, disorganized, and not always known for my cleanliness. Yes, my mother is cringing reading this but it's true and to be honest, I'm not going to feel any shame about it anymore. For me, there are always bigger priorities in my life that take precedence over cleaning the house, and in my defense, between working and parenting, there is a lot to juggle around here. And before you judge me, it's not unhygienic, but if I have to choose between spending time with our son walking the dog or vacuuming the house, moments with the family will always win every time. But the past year in quarantine has definitely forced me to reevaluate those priorities. When you're home all day, every day you start to notice the little things you once overlooked or were too busy to see. It's what sparked our living room makeover at the end of last year and more recently, my small walk-in closet makeover. When I tell you it was in dire need of a cleanup and a cleanout, I mean it (just wait until you see the before photos). Mentally, it took me a year to finally tackle it, and then I spent at least two to three weekends decluttering and simultaneously doing research around small closet organization ideas to figure out how I was going to coordinate and design the 31-square-foot space so that it stays that way.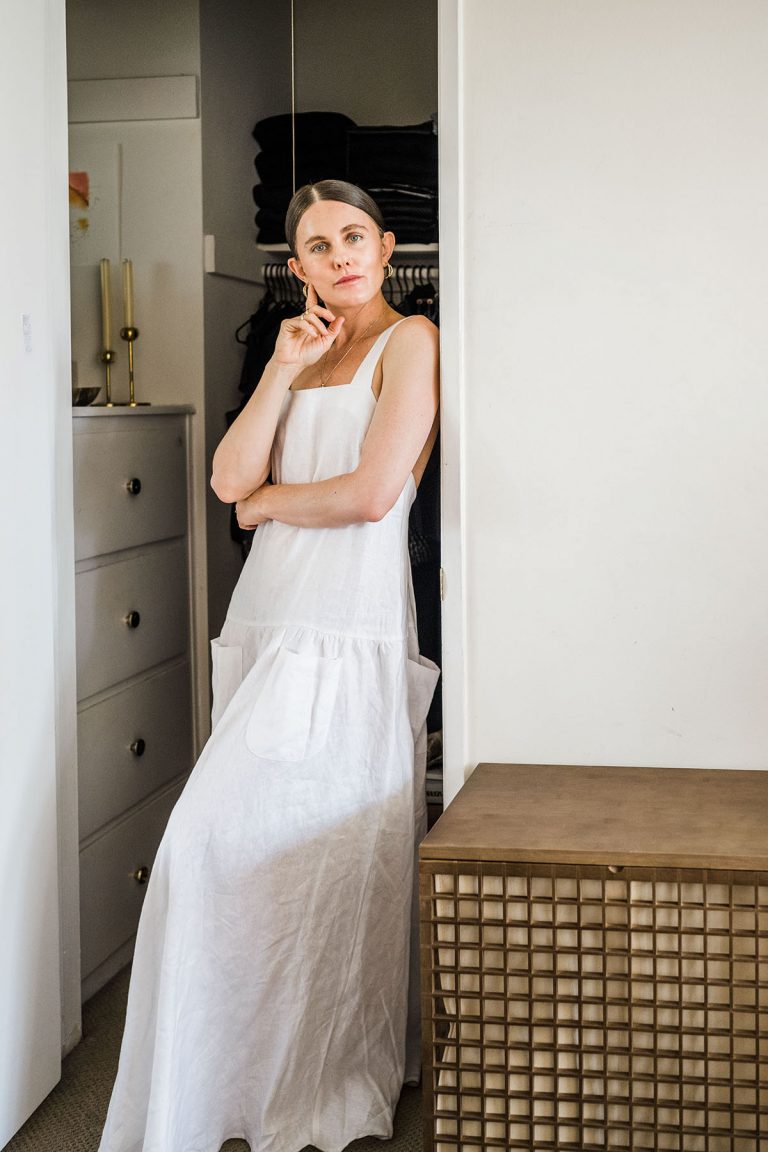 My intention was to design a small closet that felt aligned with our living/dining/bedroom aesthetic but also inspired me to get dressed every day. Obviously, I had limited space to work with but I definitely had enough to bring in elements of my personality—and to be clear, I am fully aware of how lucky I am (and incredibly grateful) that I even have a walk-in closet. So, are you ready to go on this journey with me and discover a few tips for your own space closet organization? Let's dive in shall we!
But first… the before photo!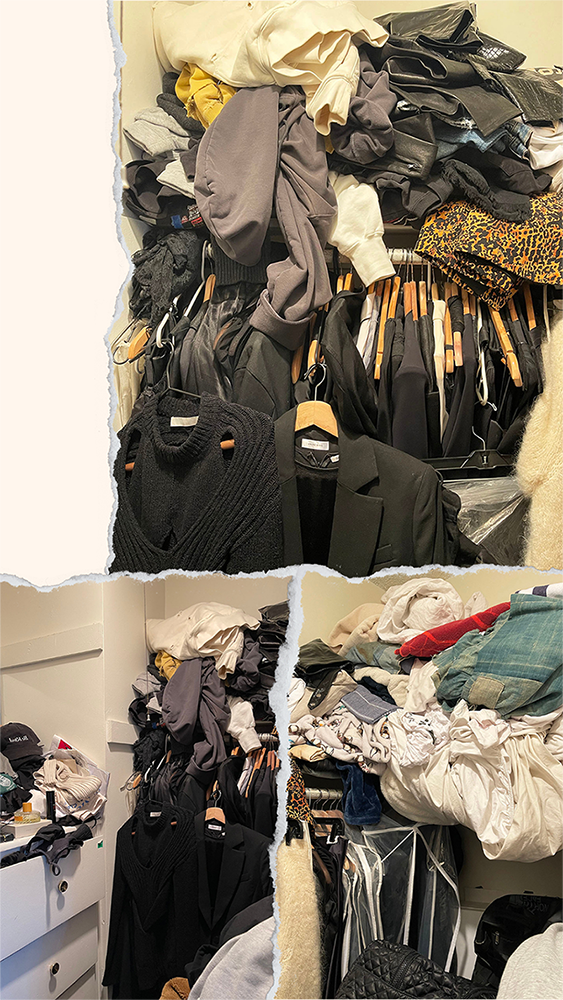 See what I mean? Yeah, it was bad. But the good news is, I am out the other side now and if this looks like your closet too, so can you!
Now, for the tips…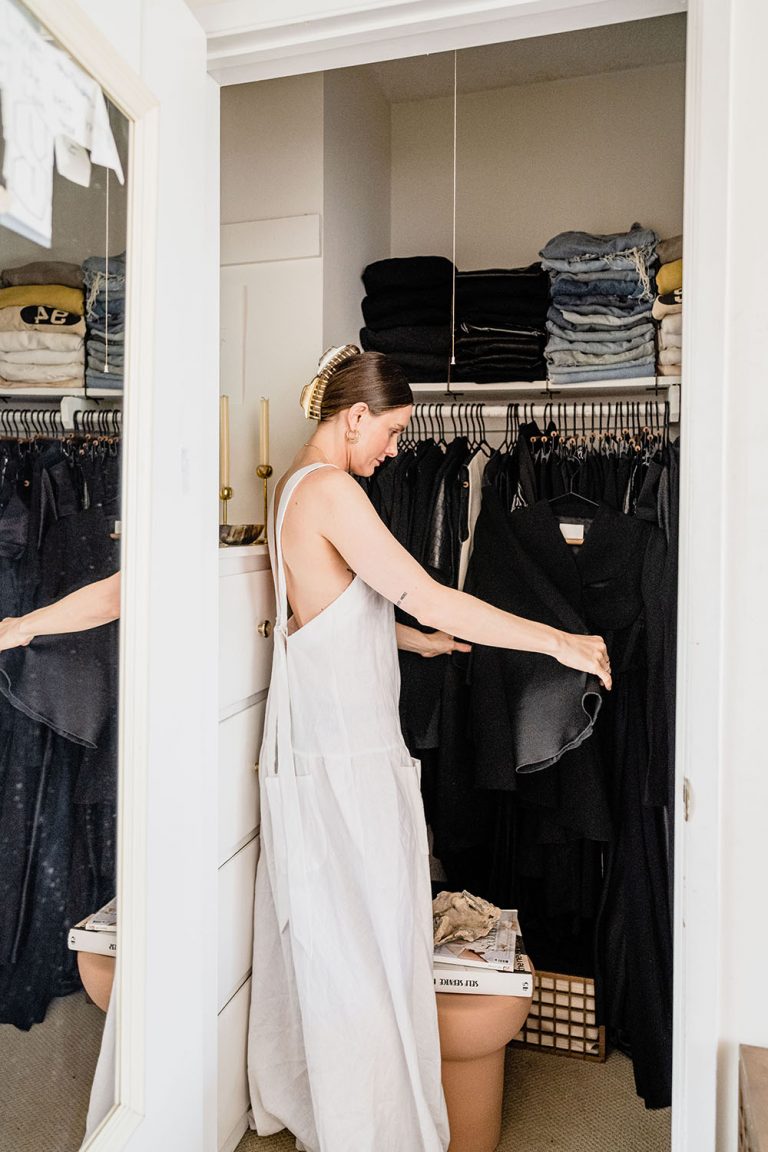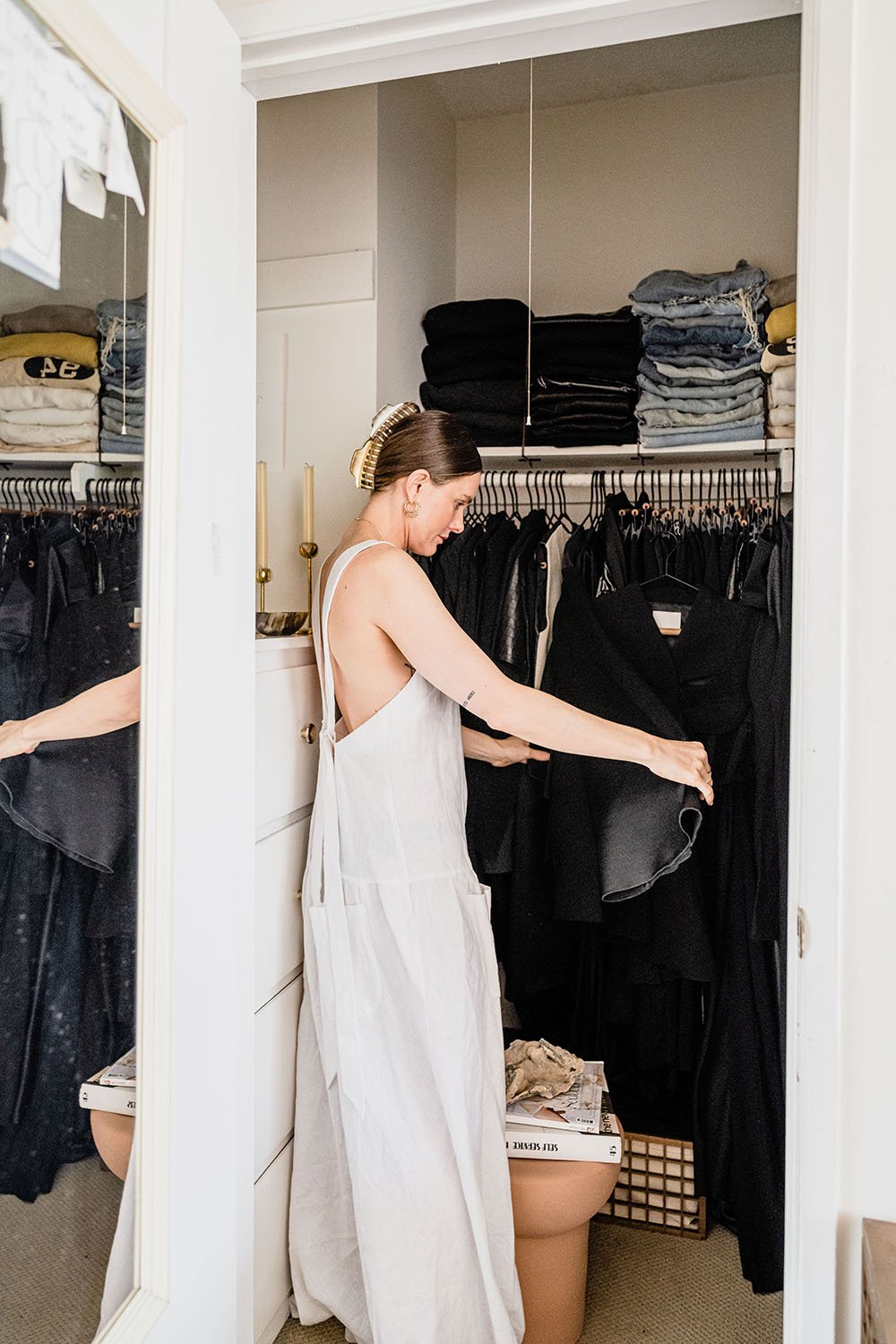 1. Pull Everything Out
I know, I know… this is a very common first step for small closet organization and quite honestly it was also the tip that put me off doing it in the first place. Pulling everything out just felt like too huge a task (my closet was stuffed with linens, blankets, sheets, towels, and even suitcases), but once I started, I got in the zone, and there was no turning back after that. Just like anything in life, you just have to start, then everything else will fall into place after that—trust the process!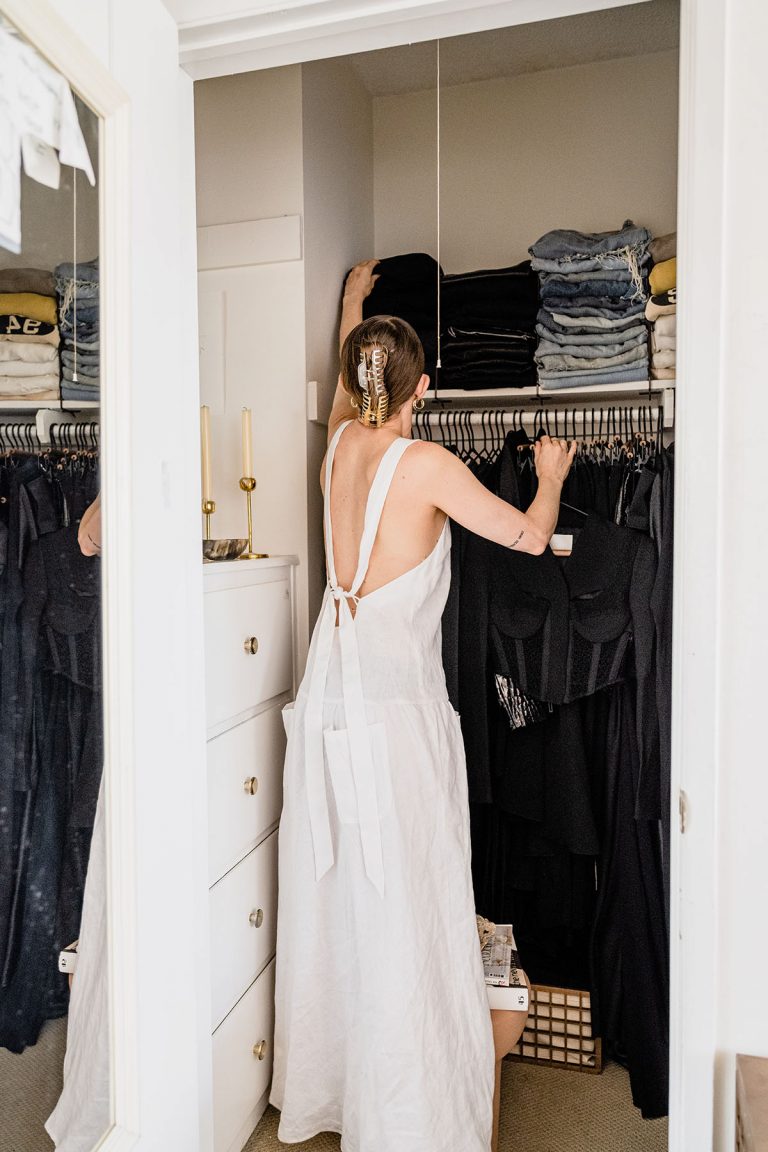 2. Only Keep What Sparks Joy
I knew I wanted to clear away a lot of the clutter—and there was a lot! After pulling everything out, I realized I still had clothes from before my son was born (he is about to turn 13 years old!). So many pieces either didn't fit me anymore or just didn't suit my style but I was hanging onto them for sentimental reasons or because they cost me a lot of money at the time. I really had to get my Marie Kondo on and only keep the pieces that truly spark joy and let me tell you, it wasn't easy! But I did it and I feel so much better for it. I don't think I realized how much my messy closet was weighing on me emotionally until I cleaned it up. The good news is, a lot of these old clothes were still in perfect condition so they were either donated or added to our garage sale pile.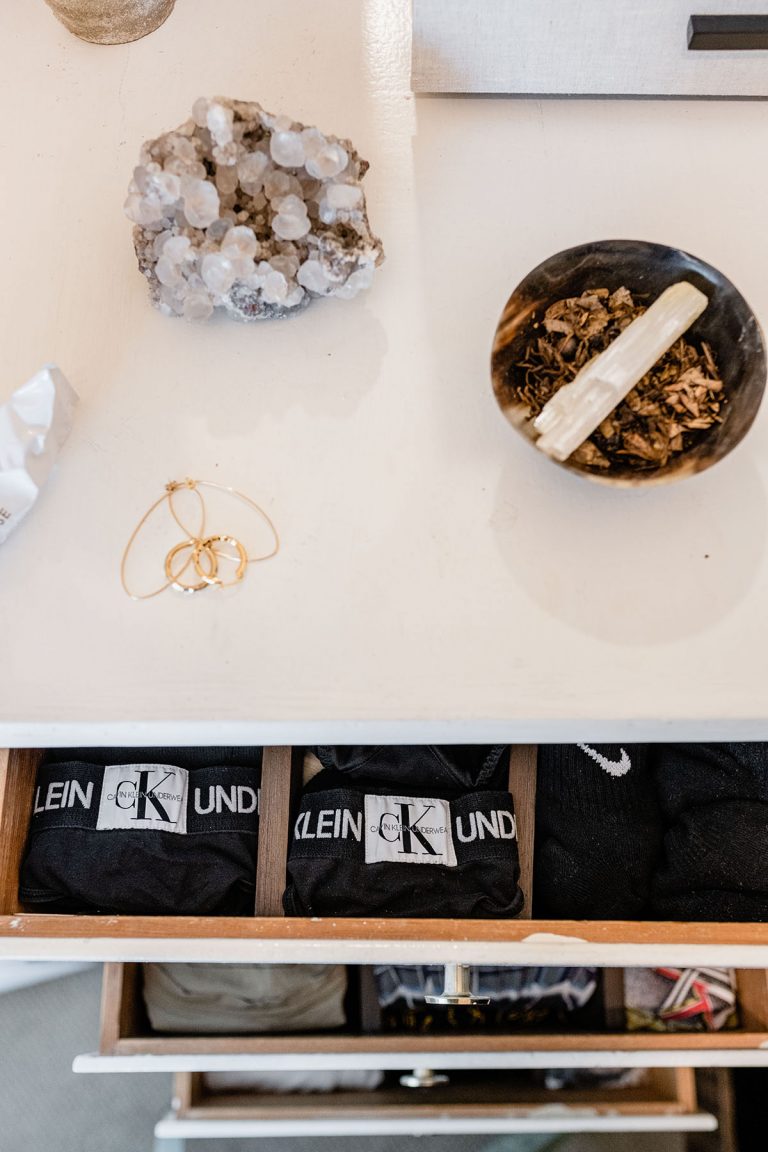 3. Create a Plan
Okay, so now that you have pulled everything out, it's time to configure your closet. Just like every successful creative project, you need to start with a plan. I didn't realize the importance of a floor/design plan until I worked with interior designer, Tali Roth on my first apartment makeover. She was adamant about creating one before we even talked about the design direction or mood boards. A plan is even more important with small spaces because you have such limited square footage to work within, so every inch counts. For my small walk-in closet, I knew I wanted to rearrange my top shelf with dividers, bring in a shoe rack, add a stool, and bring in decorative elements like hanging artwork to the back wall.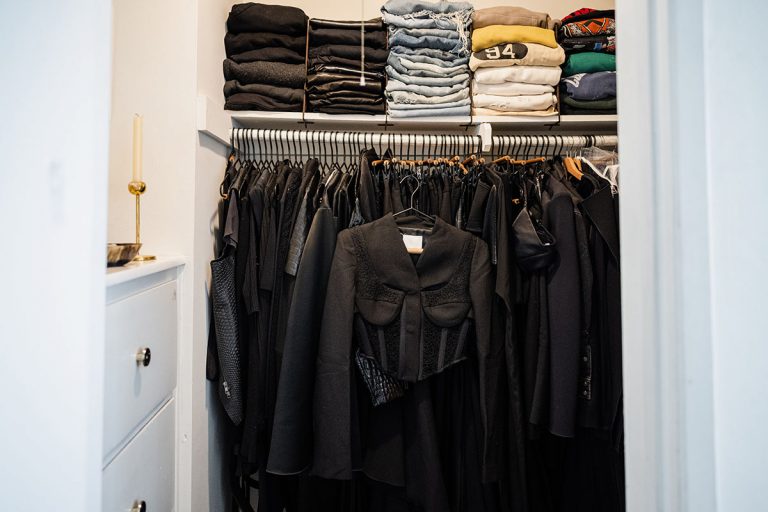 4. Measure the Space
My biggest tip? Make sure to get the measuring tape out first and write down the dimensions of your space before buying anything. I've made the mistake of buying pieces I love only to find that once they've arrived, they don't fit in the space—yikes! It's easy to get caught up in the excitement of redesigning and organizing a space but don't forget to do the math first or you'll pay for it later.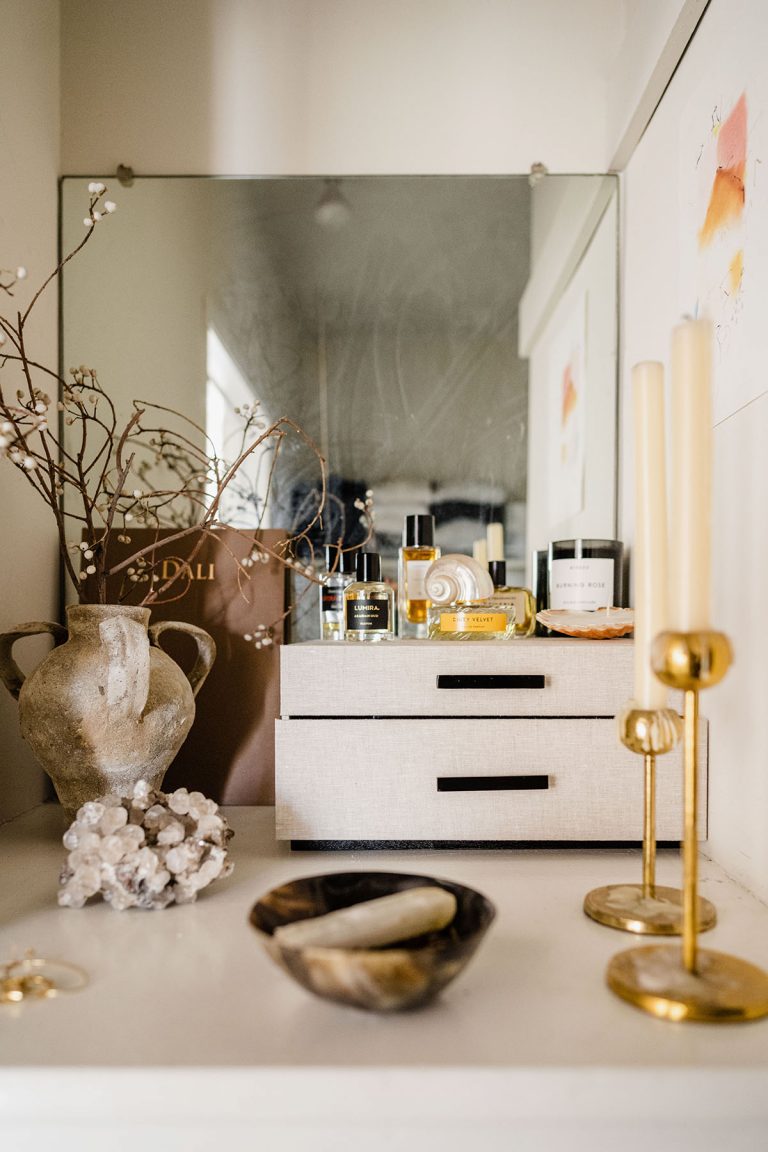 5. Find Stylish Storage Solutions
If I was going to spend this much time decluttering and reorganizing my closet, I wanted to do my darndest to ensure that it stayed that way. The key for me was creating a styling space I loved to be in, then it would inspire me to fold things properly and put them back in their designated place instead of throwing them on a pile on the floor or on the shelf. This is where stylish storage comes into play. I added two bamboo baskets underneath my clothing racks for all of my workout clothes as I wear these the most and wanted to have easy access without disrupting my drawers. Then I put an entryway rack at the back of the closet to display all of my shoes (they used to be in boxes or shoe bags and I could never find what I was looking for). I also added shelf dividers from Amazon to create neat piles for my folded sweaters on the top shelf—this has been a gamechanger.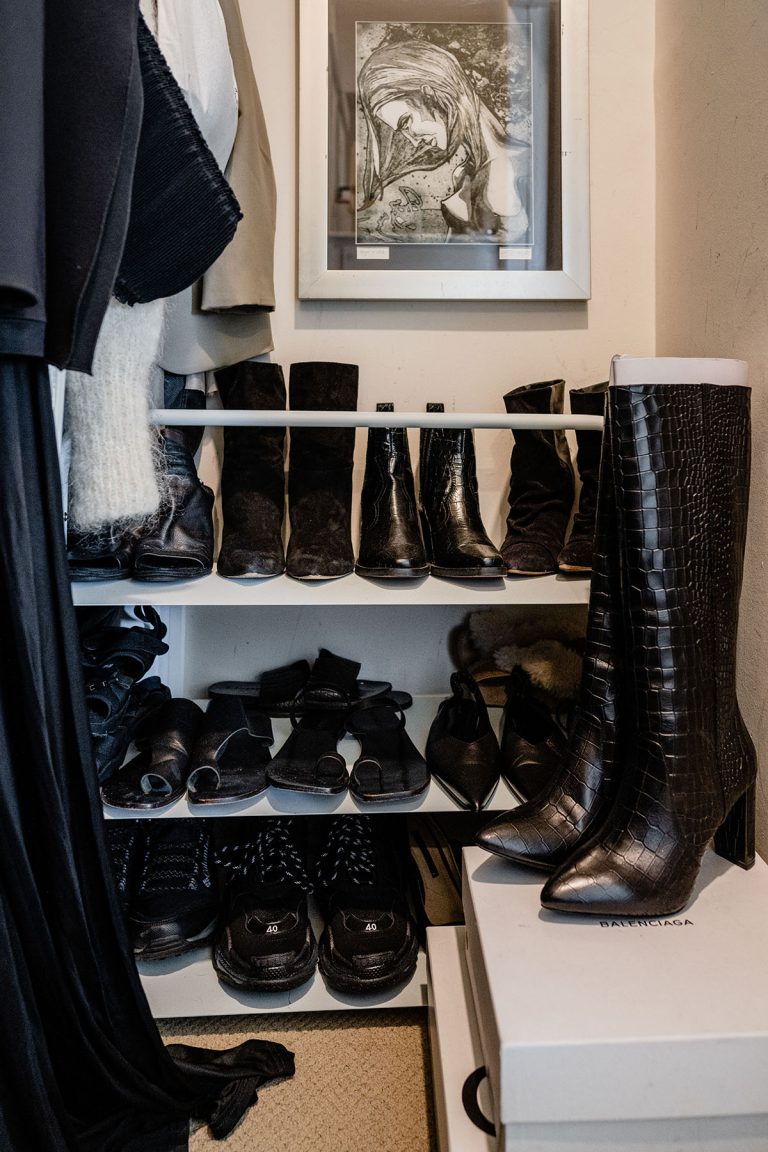 6. Add Art and Decorative Objects
If you have the room, consider adding artwork and decorative objects to make your closet an inspiring space that aligns with your personal aesthetic and also makes you feel excited to get dressed every day. After I cleared away the pile of clothing and miscellaneous items from the top of my drawers, I used that small space to add candles, a vase with branches, artwork, and vintage Dali book, crystals, and potpourri (now my small closet smells amazing too!). I also hung one of my favorite intaglio prints that my husband made in art school on the small piece of white wall at the back of my closet above the shoe rack—now it feels like a space I want to hang out in!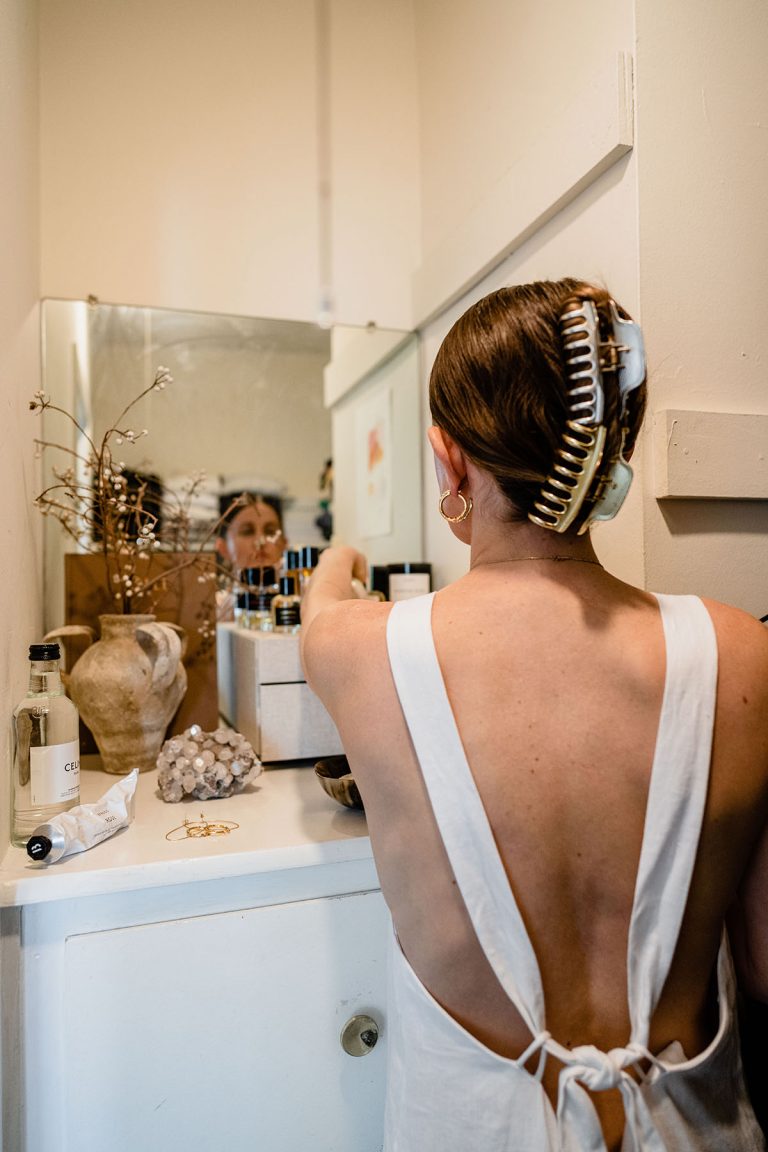 7. Commit to Keeping It Organized
It's now been a little over two weeks since I finished my small walk-in closet makeover and so far, I have remained committed to keeping it clean and organized. So, that tells me that the psychology of decluttering works! When you design a space with intention and love you want to keep it that way and honestly, I have even been folding my underwear so it looks neat and tidy in my drawers with their bamboo dividers. I used to just chuck all of them in the drawer so it was a heaped pile that made it impossible to find what I was looking for. Anyway, my main takeaway here is if you're going to spend that much time and effort in organizing your closet, then at least make a commitment to keeping it that way moving forward.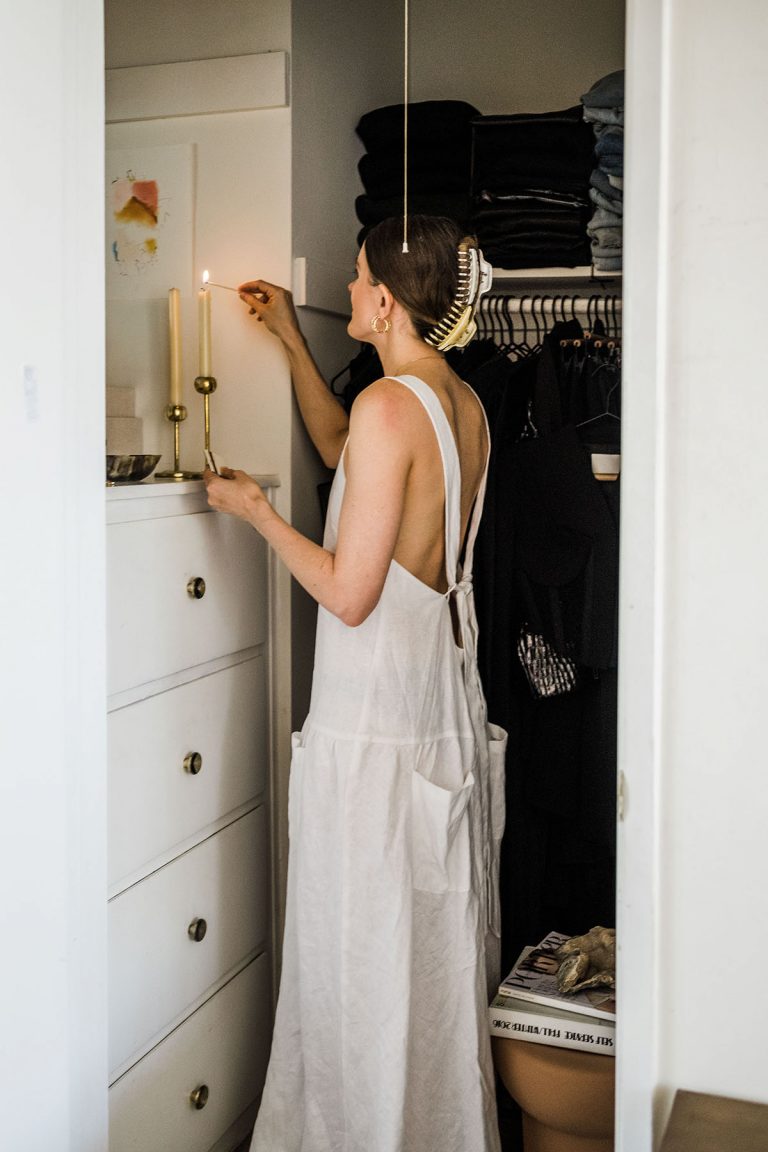 Shop My Closet Organization Products and Styling Pieces Below:
Lynk Vela Shelf Dividers Set of 2 in Bronze
After sharing my closet cleaning journey on Instagram, a friend who was also in the organizational trenches reached out with a hot product tip and suggested these amazing shelf dividers. I immediately bought three packets and they completely changed the shelving in my closet. Before these dividers, the folded piles of sweaters would eventually fall over or blend into each other and become a messy heap. I don't want that my "before photo" to ever happen again and these cheap dividers are making sure of that.
The Container Store Marie Kondo Bamboo Drawer Dividers, Set of 2
I only have three drawers in my walk-in closet but they are very deep which means a lot fits in them which is both good and bad. The good thing is they fit a lot in them, the bad thing is they fit a lot in them! These handy dividers break up the drawers so I can create sections in the drawers. I also changed my folding strategy to rolling my t-shirts and it's so much cleaner and easier to fit more in without having to dig through my drawer to find what I'm looking for. There's plenty of drawer dividers out there, I just love that these expand from 13-1/8″ to 20-1/8″.
I have very limited room in my small walk-in closet so I needed hardworking pieces that would free up some of that space but also look good too. This is actually an entryway rack but I knew it would be the perfect thing to store all of my shoes. I used to have my shoes in boxes stuffed underneath my clothing racks and it was impossible to find the right shoe for an outfit—often I would completely forget what I had. Now, they're on stylish display and I can plan an outfit with confidence sans any stress.
The Container Store Marie Kondo Ink Black Serene Matte Metal Hangers Case of 20 Pkg
I used to have a mix of wooden hangers and plastic in my closet and while I loved the aesthetic appeal of the wooden ones, they actually take up a lot of precious rack real estate. These still have that natural, warm feel of the wood but with a slimmer shape. Now, I can fit more on the rack because let's be real, I wear more of my clothes when I can see them in front of me.
The Container Store Marie Kondo Ink Black Serene Matte Metal Pant & Skirt Hanger Pkg/3
The one thing I was missing in my closet were proper pant and skirt hangers. Now that I have them, I can't imagine how I ever did without them.
Santa Maria Novella Pot Pourri Bag
Nate Berkus re-introduced me to the art of pot pourri. I had completely forgotten about this traditional fragrance but now I am officially hooked. This particular scent is a mixture of buds, leaves, and flower petals typical of the Tuscan hills and it's been made in the Santa Maria Novella workshops for over three centuries. I used to have this in our living room and decided to bring the bowl into my closet as I was putting on the finishing touches and now I smell the aroma every time I step inside to get dressed. Creating these small moments of magic in our every day is really the key to elevating the mundane—every day is an opportunity to feel special.
The Container Store Marie Kondo 2-Drawer Linen Jewelry Box
My jewelry situation was also a mess before I started organizing my closet. Everything was in small jewelry pouches or thrown into a bowl on top of my drawers which would often have clothes thrown on top. So, needless to say, it was hard to find anything and often I would just end up wearing the same thing every day. This jewelry box has sections for everything from earrings to bracelets, pendants, and necklaces. It's truly been a gamechanger and also helped me sort out the jewelry I wanted to keep and what I needed to throw away or donate.
I really wanted my small closet to have an element of design this time to match the recent living and dining makeover in our apartment. So, where I could I added decorative elements like this primitive vase along with candle holders, crystals, and a vintage Dali book.
The Container Store Marie Kondo Shoji 2-Section Bamboo Hamper
There is nothing worse than a dirty laundry pile in the corner of your closet or bedroom—this is my pet peeve. I was determined to find a chicer way to store laundry and this hamper solved that dilemma—it looks so chic as a decorative feature you'd never even know it's filled with unwashed clothing and linen. The laundry insert is divided into two sections so you can put the darks on one side and lights on the other—this saves time on separating them later.
West Elm Aaron Probyn Brass Candleholder
I have had these candle holders for years now and have always loved them in our living room but since the recent update, we swapped them out for other objects. Now they have a new home in my closet. I love the idea of getting ready to candlelight—which I hope to do more now as we're slowly venturing out of the house more.
The Container Store Marie Kondo Shoji Bamboo Bin
Even after clearing out my drawers and donating a ton of clothing, I still managed to fill all three drawers in my closet (and the top shelf stored my winter sweaters). Since I practically live in athleisure now, I opted for a couple of stylish storage bins to house all of my workout clothing ie. leggings, crop tops, and matching bras, etc. Now, I can access them easily without disrupting my drawers.
Once I cleaned out my closet, I finally had some floor space for a stool. This helps me to access the hard-to-reach top shelf while providing a seat for putting on my shoes. I love the terracotta color and organic shape of this stool.
I put my potpourri in a small horn bowl that is very similar to this CB2 version. I also rested a little selenite crystal on the top to keep it in the bowl (plus, I also love the look of it).
Byredo Burning Rose Fragranced Candle 8.5 oz.
I have candles all over my house. There is just something about lighting a candle that has an instant calming effect on me and makes me feel like I'm home. This Byredo candle is one of my absolute favorites—if I had a candle named after me, this is what my name would be. It's a modern rose without the powder and a ton of grit.