When I redecorated my apartment recently there was one thing I really wanted to achieve: sentimentality. I have always believed in storytelling when it comes to design. Layering your home with meaning and pieces that speak to your life and the energy you've cultivated in your home is so important. My home had that, but I craved more. One way to do this is by choosing pieces that already have a history—their visible patina adds instant depth, warmth, and texture to your space.
That's where vintage vessels come in. I have been obsessed with them for a while but I know I'm not alone and I'm certainly not the initiator of this trend. Nate Berkus, Jeremiah Brent, Athena Calderone, Fredrik Karlsson, Jake Arnold, and more recently Erick Garcia have inspired me and countless others to tell our story through design and build a home with meaning by mixing the old with the new.
The beauty of vintage vessels is the unique patterns, colors, and texture that have been imprinted on them over time. Each one is different and one-of-a-kind. This variance adds character and intrigue, giving warmth and visual interest which for me is incredibly important. It doesn't matter how big or small your space is, without this sentimental fusion it can feel cold and stark.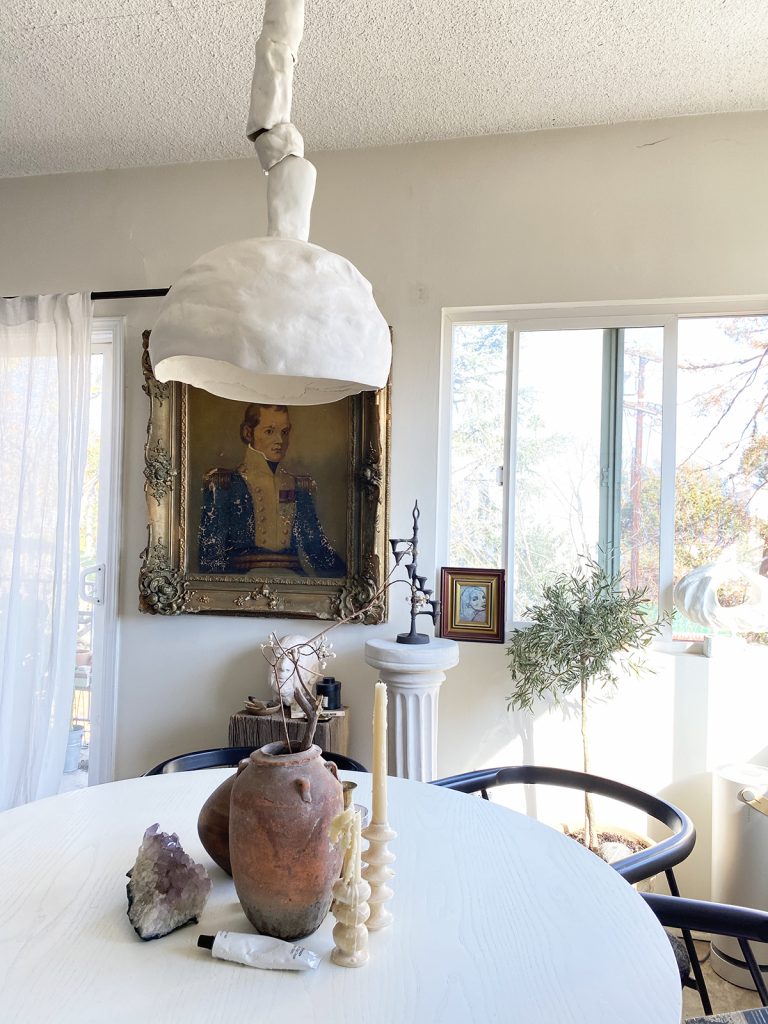 So, the big question is, where do you find vintage vessels?
Well, you have to be excited by the hunt and prepared to go down the rabbit hole using a mix of keyword search phrases and seeing what comes up. My favorite place to find them is Etsy but I have been known to use eBay, Chairish, Craigslist, Facebook Marketplace (yes! this is a gold mine but you have to be prepared to put in the time!) and digging into the image library of Google images is fun too.
How do you find them? Keywords!
Once you start digging around on Etsy you will see how sellers of the items you love are listing their pieces. Write them down or keep a running list in your phone's notes app so you can reference them later. I also love to save searches and sign up to be notified when that search phrase has a new listing. I do this on eBay too.
In this post, Athena Calderone generously shares the vendors she loves and some of the main keywords she uses to search for vintage vessels. Here are some more search keywords to kick off your hunt (and remember to mix and match them too!):
Vintage vessel
Wabi-Sabi pottery pot
Vintage clay vessel

Very Old Antique Ancient Clay Jug

Ancient Clay Vessel

Primitive Clay Burned Jug

Old clay pot
Terracotta jug

Antique Tableware

Rustic ceramic
Primitive clay vessel
Antique Clay Vase
Primitive Pottery
Rustic Vase

Vintage Inspired Farmhouse
I typically like to search for vintage vessels that are based in the U.S. so I don't have to pay for expensive shipping costs but the range of options is much smaller. Some international sellers offer free shipping though like Heart of Ukraine—I love this antique black clay pot. Folk Art Ukraine is also a favorite.
So, now you have some tips and keywords, it's time to get searching. In the meantime, you can shop some of my favorite vintage vessels on Etsy below (make note of the keywords and save those sellers!)…
feature image by Sacha Strebe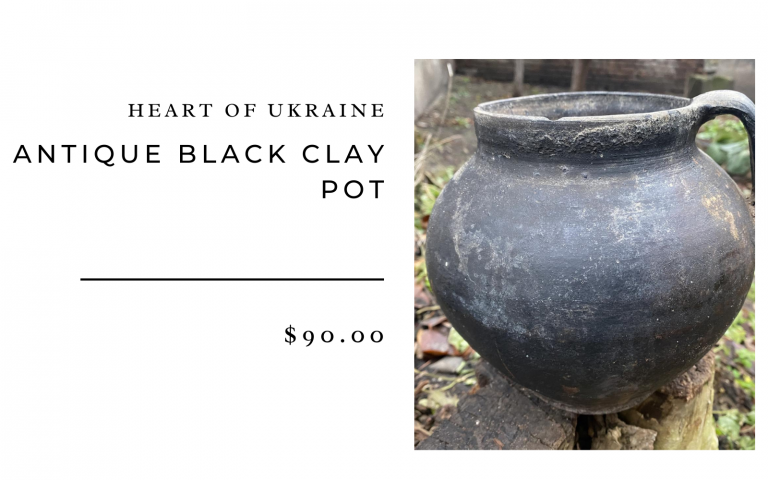 Heart of Ukraine Antique Black Clay Pot
This store has so many beautiful pieces at a variety of prices. This one caught my eye!
Old Collectibles Finds Very Old Antique Ancient Clay Jug
This little beauty would look great with branches or flowers on a side table or on a bookshelf with sentimental pieces.
Maison Marzamemi Vintage Inspired Farmhouse Rustic Vase
Sometimes adding "farmhouse" or "rustic" to your search queries can bring up beautiful vases like this one.
Old Collectibles Finds Vintage Clay Vessel
With branches or without, the patina on this vessel speaks for itself.
Folk Art Ukraine Vintage Jug Antique Tableware
Don't forget to use the keywords "jug" or "antique tableware" because you can find unique pieces like this that deserve a spot on your dining table.
Folk Art Ukraine Ukrainian Pottery
The size, color, and texture of this piece will make it the perfect addition to a coffee table or bookshelf.
Folk Art Ukraine Ukrainian Pottery
I love the primitive state and unique handle of this piece. It's also an incredible price.
Folk Art Ukraine Vintage Jug Antique Tableware
This is truly a one-of-a-kind piece with its unique color patterns and texture.
Cocobaroco Vintage Clay Vessel
When you're searching for vintage vessels, it's like a treasure hunt. The hard part is knowing when to stop.
House of Palm Shop Vintage Primitive Clay Burned Jug
Look for varying shapes and sizes to add visual interest. If you're planning to group a few of them together on a bookshelf then make sure they have similar tonal variations so they feel cohesive.
OmaOmaOpaOpa Very Old Antique Clay Vessel
Fill an awkward corner of your living room with a pedestal and sit this piece on top. Design conundrum solved.
OmaOmaOpaOpa Antique Clay Pitcher
There is always room for a second (or third) vintage vessel on your mantel or cabinet. They look great grouped together.
Cocobaroco Vintage Clay Vessel
When arranging your vintage vessels on a bookshelf, think about scale and ensure there are varying heights to lead the eye.
OmaOmaOpaOpa Very Old Antique Ancient Clay Vessel
There are so many different shapes and sizes. This one has an interesting pattern from where rope was once tied around it.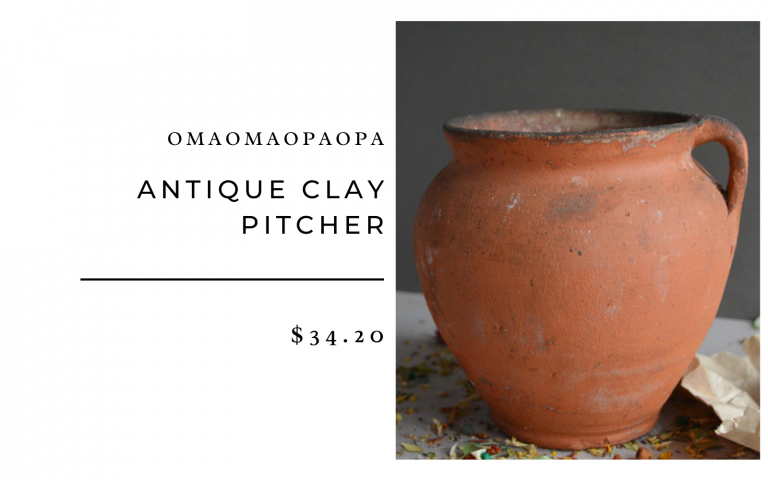 Terracotta jug or pitcher is another underused keyword and it will unearth beautiful pieces like this for a low price. Make sure you filter your search with the price range you're willing to pay and you'll be amazed at what you can find.
OmaOmaOpaOpa Ancient Clay Vessel
Clay vessels with the primitive rope tied around them are usually over $100 but every now and then you find a gem like this one. You just have to keep searching!
Italy Vintage Dream Raw Ceramic Vase 1930s Oil Container
Adding "Italy" to your search phrases can also dig up beautiful antique vases and vintage vessels like this 1930s oil container. Isn't she gorgeous?
Home Décor 360 Vintage Sake Rice Wine Terracotta Vessel Circa 1940s
I also love searching with the term "Wabi-Sabi" or "Vintage sake" because you can find pieces like this vintage vessel from the 1940s. I love the green color of this one too. It would complement the terracotta or neutral pieces nicely.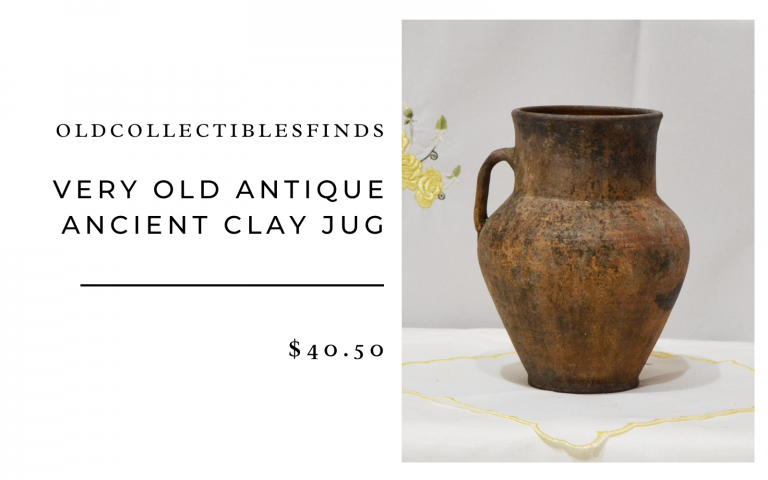 Old Collectibles Finds Very Old Antique Ancient Clay Jug
Ending this round up with one final clay vintage jug that I hope finds a home with one of you after reading this article!
What keywords do you use to find vintage vessels online? Share your favorite keywords, websites, and sellers below!