Function. Function. Function. When it comes to small entryway ideas, that's where designer Julia Miller lays emphasis. One look at the founder and principal designer of Yond Interiors, however, and you'll be inclined to add: Beauty. Beauty. Beauty. Combining the two—needs and aesthetics—in the case of an entryway can be tricky. That's because this area of the house is usually limited in space and abundant in traffic (i.e., people walking through with mud-encrusted boots). But the merger of beauty and utility is where great creativity is born—as these small entryway ideas and tips prove.
Feature image by Aubrie Pick courtesy of Katie Raffetto Design.
Keep Scrolling for 16 Small Entryway Ideas That'll Transform Your Home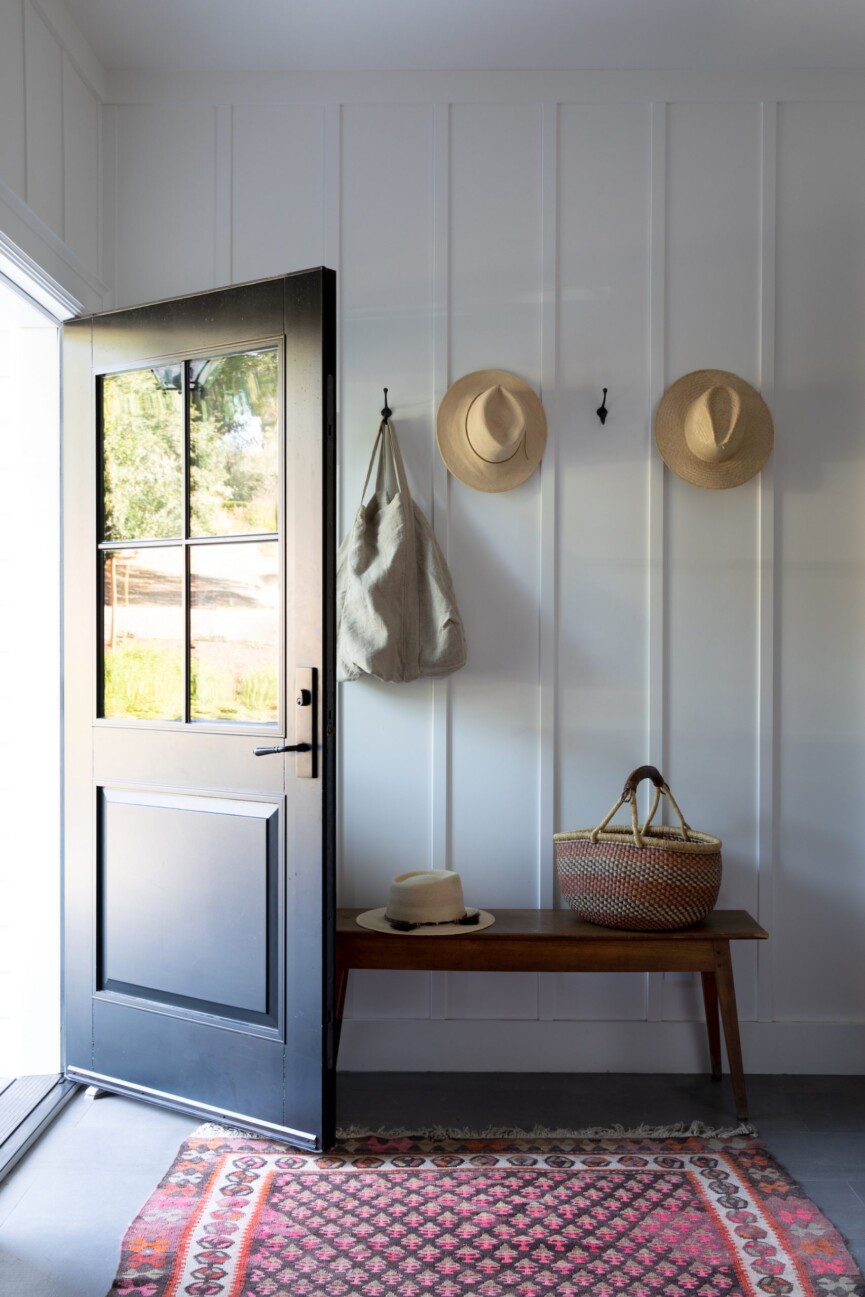 Image by Aubrie Pick courtesy of Katie Raffetto Design
When It Comes to Small Entryway Ideas, Where Do You Start?
#1: Consider the Room
Before adding anything to the entryway, Miller suggests considering your main needs. Do you seek more storage? Do you have dogs running in and out? Kids who need a place to de-boot and toss their bags? "Once you have a firm understanding of your needs, selecting pieces that are the appropriate scale is next," notes the designer.
#2: Purchase Strategically
Julia recommends taping out any furniture or wall-mounted décor ahead of purchasing to ensure it works well within the space. "Even if you can't purchase all the items at once, we recommend planning out the look and feel of all the pieces so you can purchase strategically," she adds.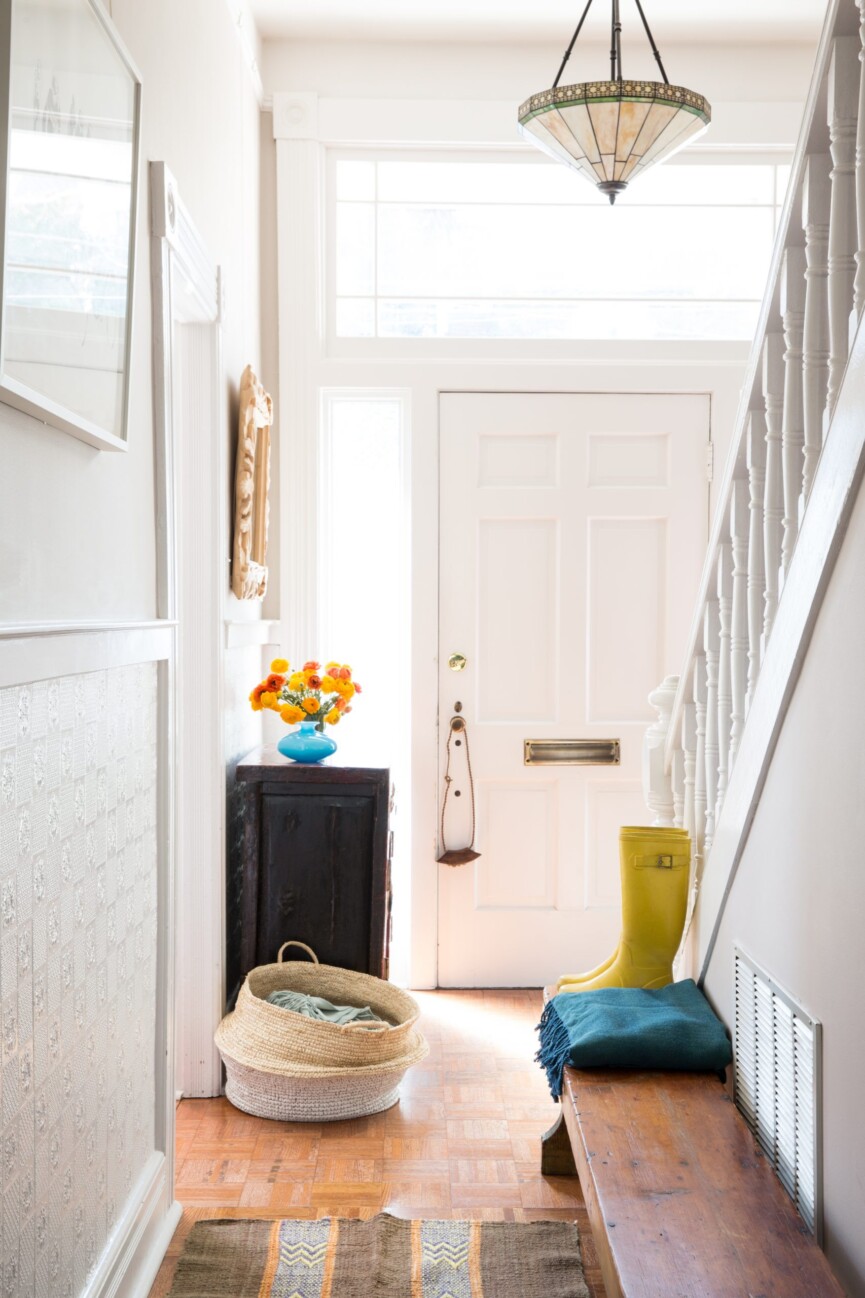 Image by Aubrie Pick courtesy of Katie Raffetto Design
What Do You Put in a Small Entryway?
Once you have the room mapped out, you can concentrate on making the entryway feel expansive and inviting, which Katie Raffetto is all for. Designing "a lovely vignette that invites the client or guest in" is key to designing a welcoming entryway. Designer Liza Reyes agrees: The time upfront pays off later. "You will be happy to see it each time you come home," Liza adds. Follow these additional tips for creating a beautiful and streamlined entryway.
#3: Make Room for Beauty
The entryway is the portal to the rest of the home. It sets the mood, tone, and feel. In this light, Liza loves to keep a small vase with fresh flowers along with a decorative moment.
#4: Contain the Clutter
This is the one room where clutter is a constant—so get ahead of it with strategic baskets to corral the goods, says Katie Raffetto. "I like to contain the clutter in an entry and incorporate a spot that always looks beautiful and welcoming." Katie adds this to her list of inspiring small entryway ideas: "Make sure the baskets aren't too big, or you'll never find the pair you're looking for."
#5: Highlight Unique Finds
Entryways are a perfect spot to showcase vintage pieces, says Julia, who loves to scour Etsy, 1st Dibs, and her local markets for unique additions.
#6: Get Creative with Lighting
Katie suggests incorporating a decorative light fixture or lamp into an entryway. "I like to have layers of light in a house," she explains. "I think of the decorative lights as a warm layer." Turn on a chandelier, sconce, or small lamp before you leave so you have a welcoming glow when you return.
#7: Define the Space
When space is limited, which is usually the case in an entryway, Julia aims to anchor the room with a small furniture piece, such as a table or bench. "This is a way to give it definition," she adds.
#8: Incorporate a Mirror
A beautiful mirror, say in the shape of an oval or circle, is a triple threat: It looks beautiful and, as Julia says, "it bounces light and provides a spot for reflection." Liza suggests hanging your mirror above a petite or narrow piece of furniture.
#9: Be Mindful of Furniture Size
In any small room, it's critical to scale main furniture pieces so they fit the space, advises Tara Miller of The Heartland Interior Design. For an entryway, Tara suggests finding pieces that fit in the room and allow for circulation. "A 36-inch minimum walkway is desirable," Tara advises.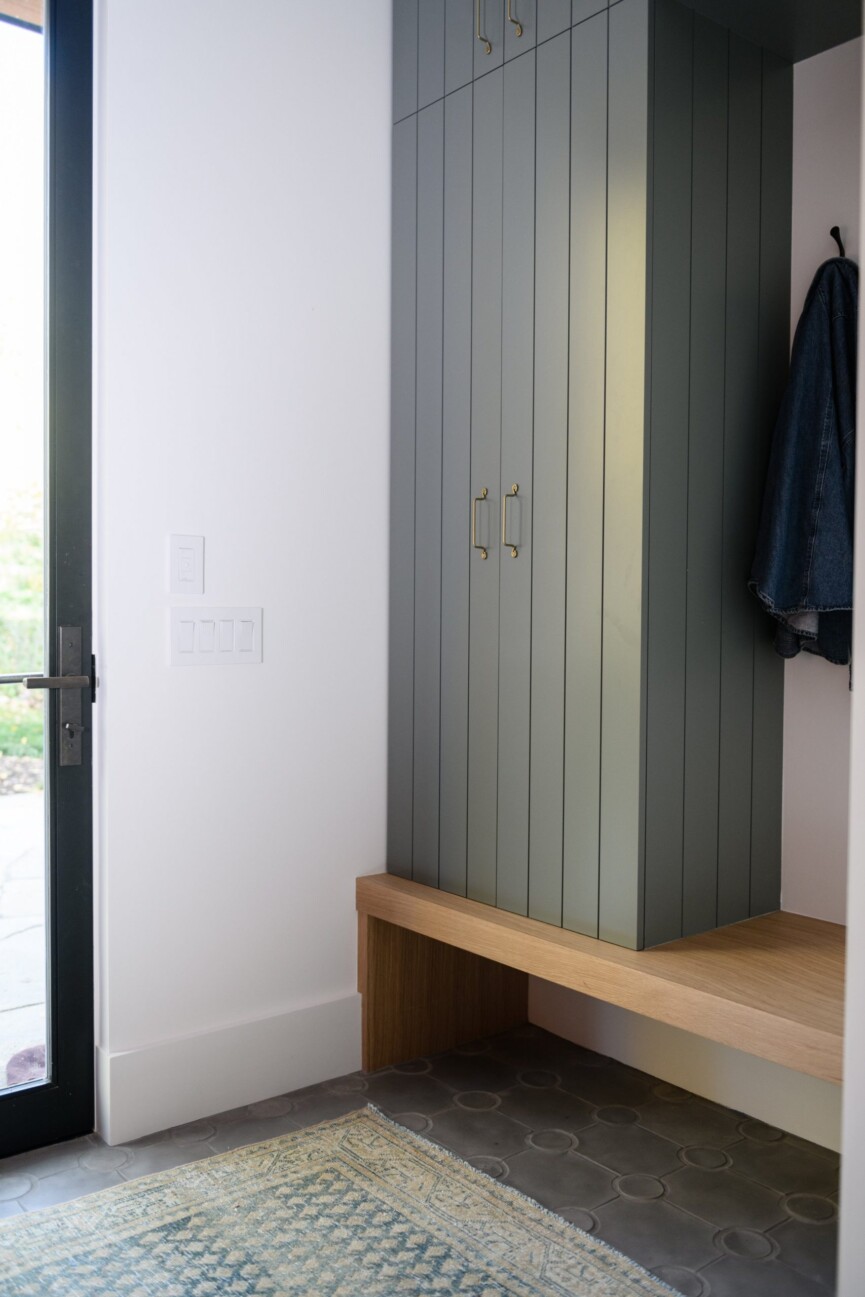 Image by Amanda Marie Birnie courtesy of Julia Miller of Yond Interiors
#10: Add Beauty
"Having beautiful art or a table with flowers and a tray for keys creates a lovely vignette that invites the client or guest in," says Katie.
#11: Use Hooks—a Lot
These are your entryway best friends. "I use hooks for coats and bags—even if you have space for your coats elsewhere," says Katie. A hook capitalizes on vertical space and offers guests a place for their outerwear.
#12: Make a Home for Keys
And that means adding "a special bowl" to hold them, says Liza.
#13: Opt for Lighter Paint
If you want the room to feel larger, light wall paint and a light ceiling paint go miles, says Tara.
#14: But Go Bold If You Dare
If you love rich and deep blues and greens, Julia says go for it. "Don't be afraid of dramatic wall colors," if the space allows.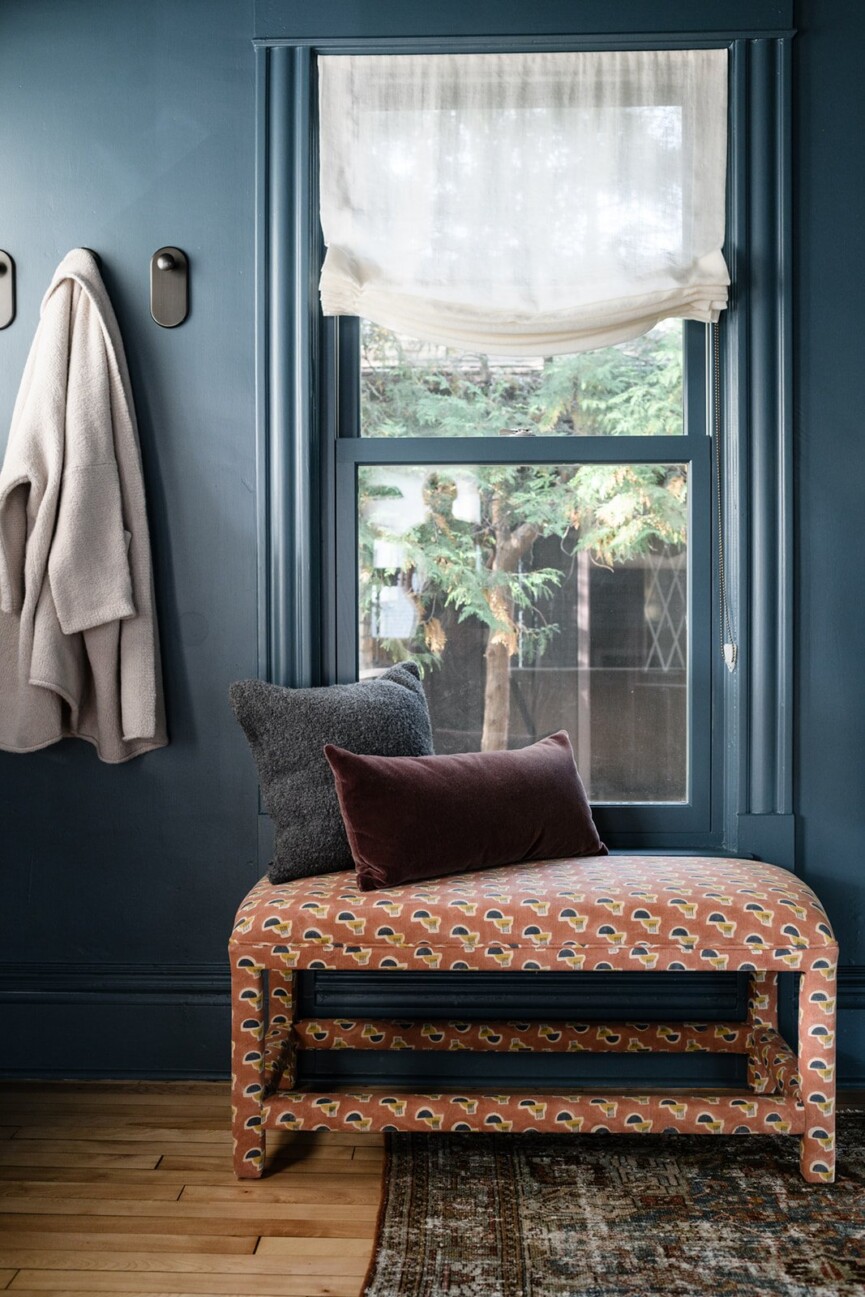 Image by Amanda Marie Birnie courtesy of Julia Miller of Yond Interiors
#15: Give Yourself a Seat
Aside from removing your coat, taking off your shoes is likely the most common activity in the entryway. Take Katie's cue for making this act easy and comfortable by incorporating a chic, streamlined bench.
#16: Invest in a Rug
It will work overtime in this room, reducing dust and dirt entering the home, says Liza, who recommends opting for "a good size one" to cover most of the entryway floor.