Unpopular opinion: I can't get enough of winter. I crave the satisfaction of comfort-heavy meals, the simple luxury of a holiday season spent at home, and I even look forward to the premature darkness that sets in before I wrap up work for the day. It's this time of year when I earnestly seek out sources of warmth (all the blankets, please) and cultivate an environment that supports plenty of rest and relaxation.
I love the interior aesthetics of winter, too: Varied textures, muted tones, and moody color palettes epitomize coziness. So in the spirit of snuggling up and getting ready to hibernate at home, I tapped some favorite interior designers—Kim Lapin, Julia Miller, Anastasia Casey, Joshua Smith, Lindye Galloway, and Lauren Lerner—to get their thoughts on the biggest winter décor trends of 2021 we can expect to see throughout the season.
The past two years have inevitably impacted how we design and inhabit our homes. While some may have treated their homes or apartments as simply a space to sleep or a temporary stopping point on life's journey, now have no choice but to pause and intentionally consider the space around us. The result? A shift toward investing in and incorporating timeless pieces that lend themselves to comfort. What's more, many of the trends our designers pointed out show an interest in creating an atmosphere that goes beyond mere aesthetics, but support a healthy dose of happiness. This feels especially relevant as we start spending even more time indoors.
So as we prepare ourselves and our homes for the cold weather ahead, I'd recommend giving the following winter décor trends a little thought. Without further ado: your winter aesthetic awaits.
Cozy up your home with these top winter décor trends (plus, what's on the way out!)
feature image of Molly Madif's home by Nicki Sebastian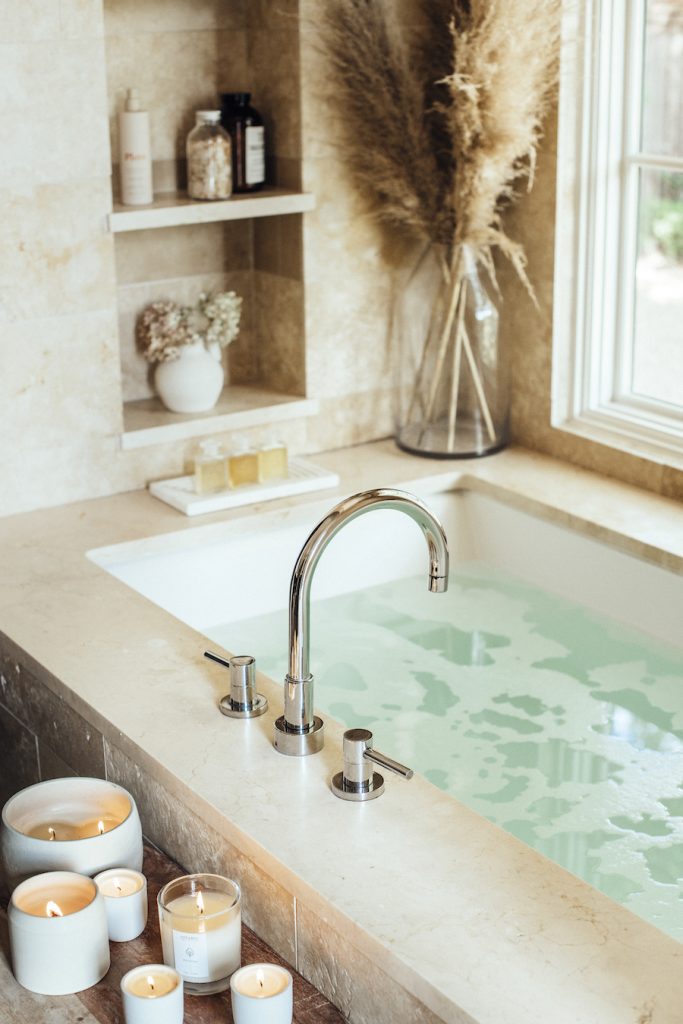 Earthy Hues
Los Angeles-based designer Kim Lapin can't get enough of the soft and timeless appeal that muted colors offer a space. Mix these tones into your home with furniture pieces for a more pared-back look. Going for impact? Transform an entire room with a few coats on the walls. Lapin loves this trend so much that she's actually hesitant to call it fleeting. "It's so livable and feels so classic that it doesn't feel trendy," she notes. "But we are seeing it everywhere lately, and it's not going anywhere."
Vintage
There's something about the timeworn quality of vintage pieces that brings an element of storytelling into a space. Not only that but opting for vintage instead of ordering your furniture brand new is a stylish solution for avoiding the ever-present supply chain issues. Minneapolis-based interior designer, Julia Miller shares her tips for getting started if you're new to shopping vintage: "Vintage is a great way to add instant character. Starting with a few accessories for shelf styling can be a great place to get your feet wet." Miller recommends sites like Etsy and 1st Dibs for one-of-a-kind pieces.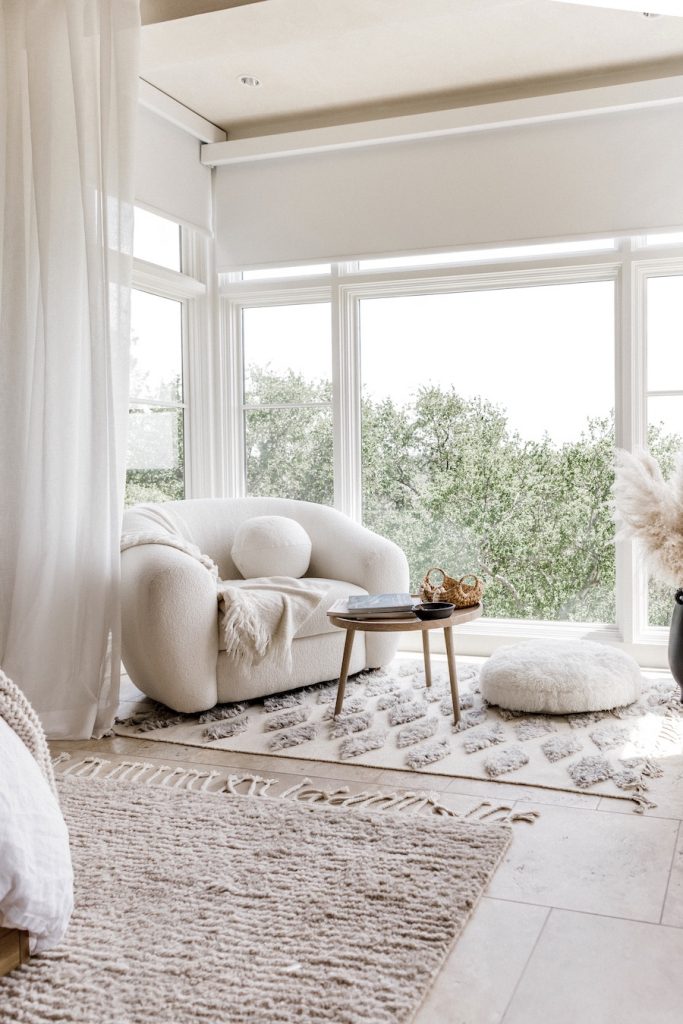 Bouclé
Anastasia Casey, founder and CEO of IDCO Studio, considers bouclé a must-add to your array of classic winter-favorite fabrics like velvet and wool. "While ivory bouclé has been a hit lately all throughout the year, this winter is going to be all about mauve and olive," she assets. Try this camel accent chair from CB2 or this clay-toned throw pillow to bring the trend to your space.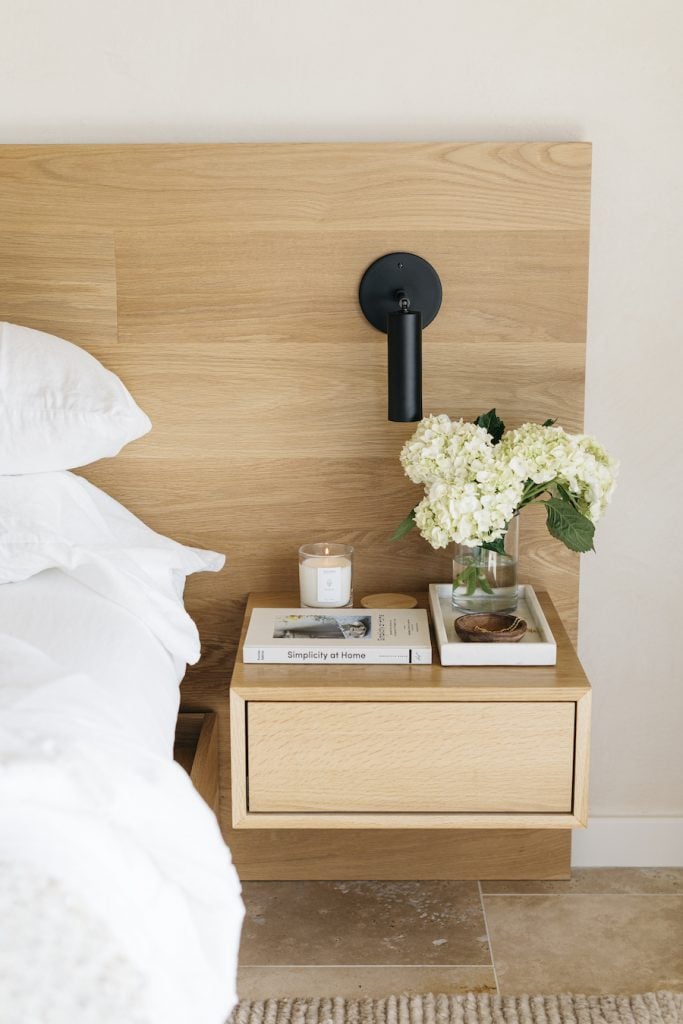 At-Home Meditation Spaces
Craving some zen? You're not alone. And again, because most of what we do these days is contained to our homes, plenty of people are looking to carve out some space for cultivating a little calm. Joshua Smith, founder and principal designer at Joshua Smith Inc., attributes the trend to our need for a little healthy escape. "With the last year and a half illuminating the importance and need for serenity, we're sure to see an increased interest in meditation spaces at home," he notes. Mindfulness is everywhere—from our workouts to workplaces to even our children's classrooms. "It only makes sense that we'll see more interest in creating spaces to tap into that serenity at home," Smith adds.
Muted Terracotta Pink
While millennial pink took the design world by storm over the past few years, we're now craving something a bit more calming and subdued. Answer: a muted terracotta pink. Lapin sees it being used more and more on walls, tile, and fabric. Terracotta is rich and warming, and while it might come as a surprise, it's easy to weave into any space. Layering variations of the tone create depth and interest while offering up a lot of welcome light.
Florals
Florals for winter? Truly groundbreaking. Brighten up your space and create a little romance in your rooms with florals on upholstery, pillows, and accent furniture. Contrary to what you might think, florals can feel right at home even during the chilly season. Miller explains: "Floral prints can be perennially in style when matched with classic materials like linen or mohair." She suggests starting small with a throw pillow or ottoman and building up from there.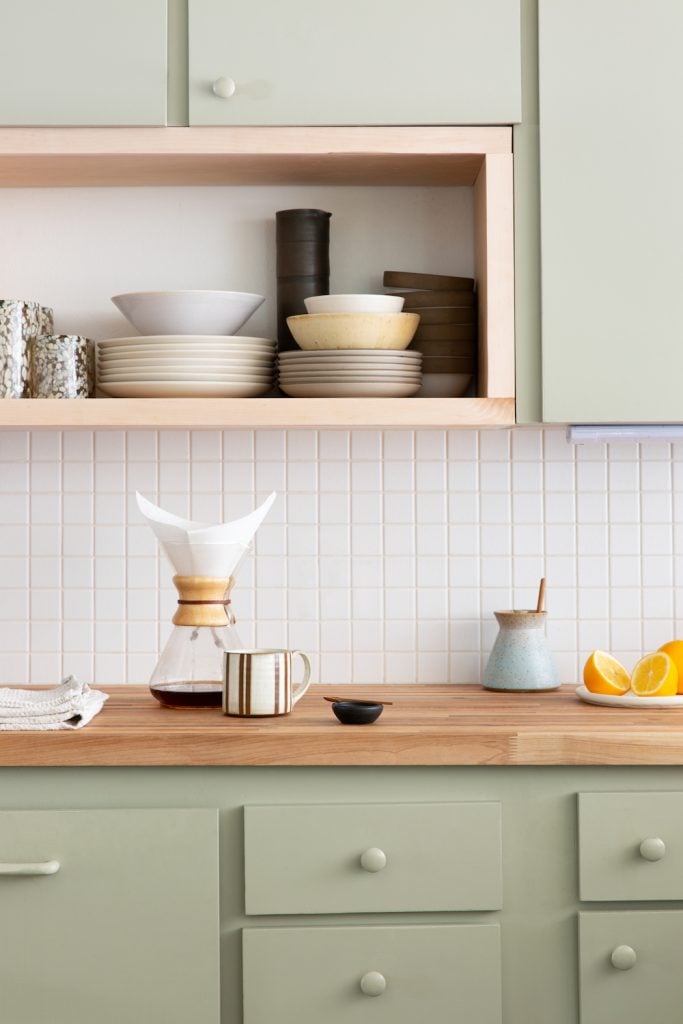 Green
You can never have enough nature in your space and bringing its clearest tonal representation into your home is the easiest way to make it happen. Smith agrees: "Warm tranquil color palettes combined with bold patterns and layered textures, like grasscloth wall coverings and natural stone architectural details, will reign supreme as we pull nature's serenity indoors." If Benjamin Moore naming October Mist its 2022 Color of the Year is any indication, we're going to be seeing a lot of this hue in the new year and beyond.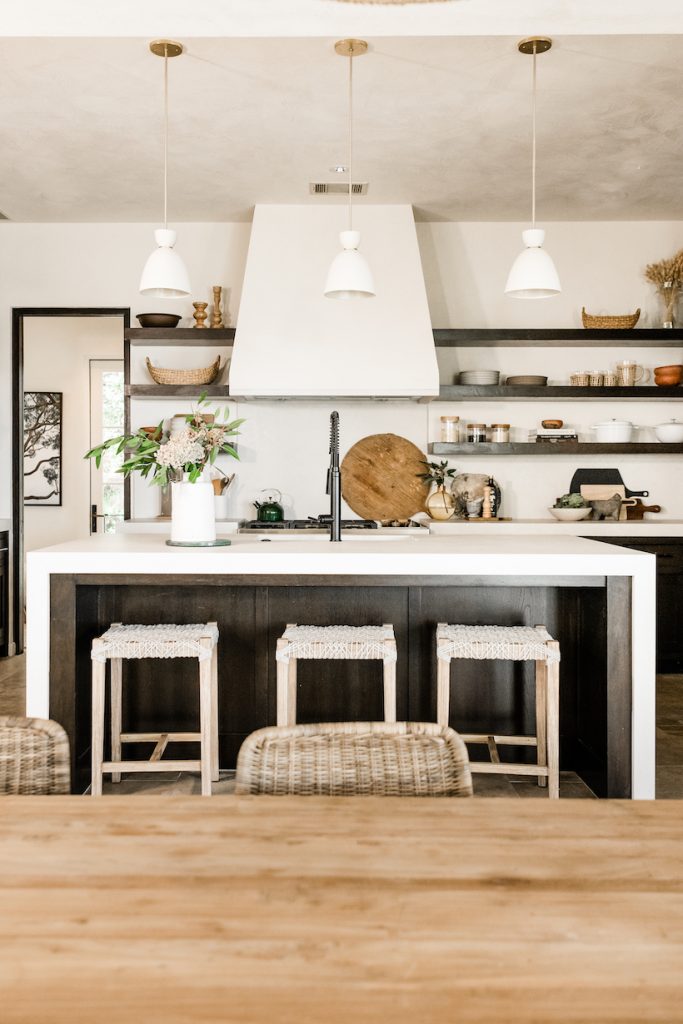 Wallpaper and Textured Walls
Smith notes that while wallpapers and textured wall coverings have been popular with interior designers over the past few years, the trend is now making its way to homes everywhere. Wallpaper and texture can bring personality and charm to an otherwise stark space. "Even artists are capitalizing on the momentum with hand-painted offerings. I recently featured Kelly Ventura's Meadow in Blue in a dining room and couldn't be happier with the results!"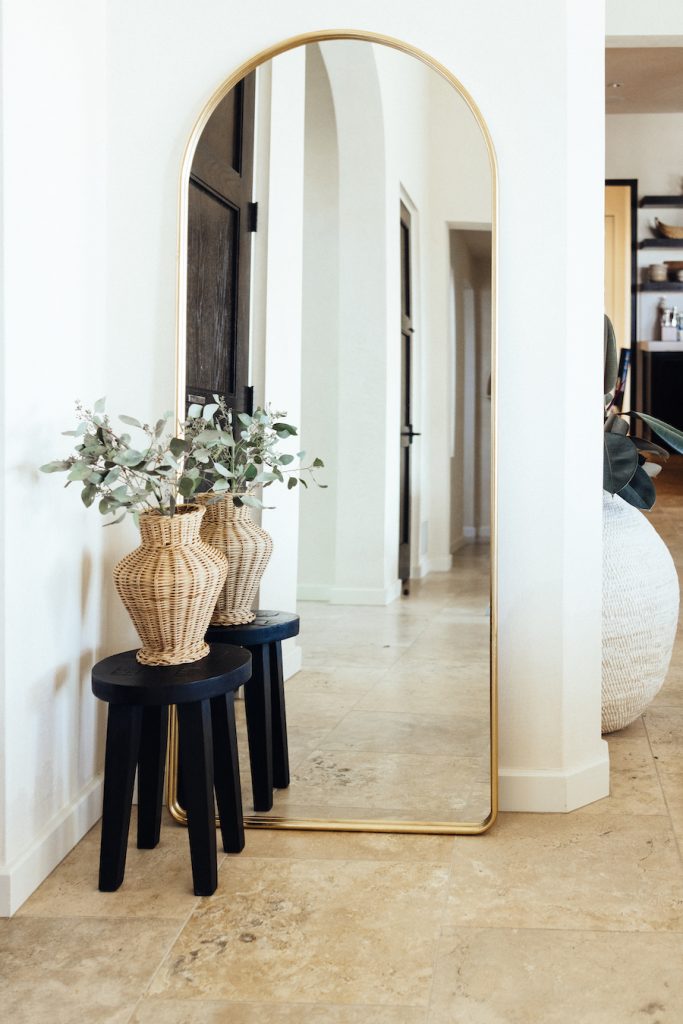 Plaster Walls
Plaster is an age-old design element that's coming back in a big way. And while it's steeped in the past, plaster walls can work in traditional as well as contemporary interiors. Lindye Galloway, founder and chief creative officer at Lindye Galloway Design Studio, loves both plaster paint or limewash for bringing the trend into your space. While you're welcome to invest and go all out with plaster walls, limewash is an accessible solution for achieving plaster's textural appeal.
Warmer Woods
White oak has had its moment and we're now seeing a transition to warmer woods. Miller chalks that up to our collective desire for all the cozy, cuddly feels any way we can get them. "I think we're all craving something a little warmer this winter, and adding accents of walnut, like with a coffee or side table, is the perfect solution." Casey agrees, predicting we'll see more raw woods that bring all the Scandinavian vibes.
Curved Edges
Folks are calling it the return of the curve. The trend has dominated our social media feeds with rounded forms and pleasing-to-the-eye asymmetry cropping up in everyone's posts. Galloway is seeing the trend take shape in everything from arched doorways to accentuated curves in sofas and chairs. Playful and dynamic, this trend brings an energizing bit of whimsy to your home.
Saturated Color
Who says you can't have it all? Parallel to the popularity of muted colors used throughout our homes, there's a simultaneous rise in interest in super-saturated colors. Miller is loving plum and terracotta tones and sees them getting even bigger this winter. "Adding in warmer, saturated tones can balance and center a room, so go for a rug in a saturated color or even experiment with wall color!"
What's on its way out?
Gone are the days of white on white on white. Lapin loves it, but in this age of embracing messiness, we're ready to throw out unrealistic expectations of Instagram perfection. "It's gorgeous in a photo, but in real life, it can fall flat if not done perfectly," says the designer. With all the activity that takes place in all of our homes (kids, pets, dirt, and wine), the trend just doesn't translate IRL. "I am seeing a lot more tonal design with creams and softer tones that make people feel like they can really live in their home without worrying about stains or things getting messy." I'll confidently raise my glass of red vino to that.
Smith sees a similar resurgence of warmer color palettes. "Cooler grays have reached their peak. I predict that we'll see a subtle shift back to creams, beiges, and nudes." Lauren Lerner, founder and principal designer at Living with Lolo has a few of her own fleeting trends to share. It's time to say goodbye to our obsession with shiplap (as beautifully rustic as it may be) and wainscotting is no longer the go-to way to dress up our walls. Out with the old, in with the new—just a few more reasons to start counting down the days until 2022.