Next up, food stylist and cookbook author, Mariana Velásquez, takes us inside her Colombian dinner party on a New York rooftop.
I still remember the moment Mariana Velásquez's cookbook, Colombiana: A Rediscovery of Recipes and Rituals from the Soul of Colombia came across my desk. Aside from the vibrant colors, it was the celebration of culture, ceremony, and connection that immediately drew me in and begged me to open its cover. Velásquez's approach to cooking is so much more than the meal itself and its never been just about putting food on the table. Whether it's a simple meal for one or a feast with many, every time you sit down to eat is an opportunity to create an experience—one that is memorable both physically as it tantalizes all the senses, and emotionally when it sparks meaningful conversation.
For this book, the award-winning recipe developer dove headfirst into the rich history and culinary traditions of her native Bogotá to compile a truly diverse mix of heritages, cultures, and regions that comprise Colombian food—all of which can be summed up in one simple concept: More is more. Because, as I'm told, every Colombian meal aims to leave you feeling nourished both in body and in soul. "The ceremony of sharing food together is so much more than nutrition alone—if it were just that we could live off of granola bars and call it a day," Velasquez laughs. Now, that's a sentiment we can totally get behind.
To celebrate the launch of this gorgeous cookbook, we asked Velásquez to do what she does best and share a Colombian feast with friends on the rooftop of her NYC home. Keep reading to go behind the scenes of this vibrant and colorful dinner party to discover more about her process, culinary artistry, and tips to host your own. And she also kindly shared three exclusive recipes from the book so you can cultivate connection around the table at home.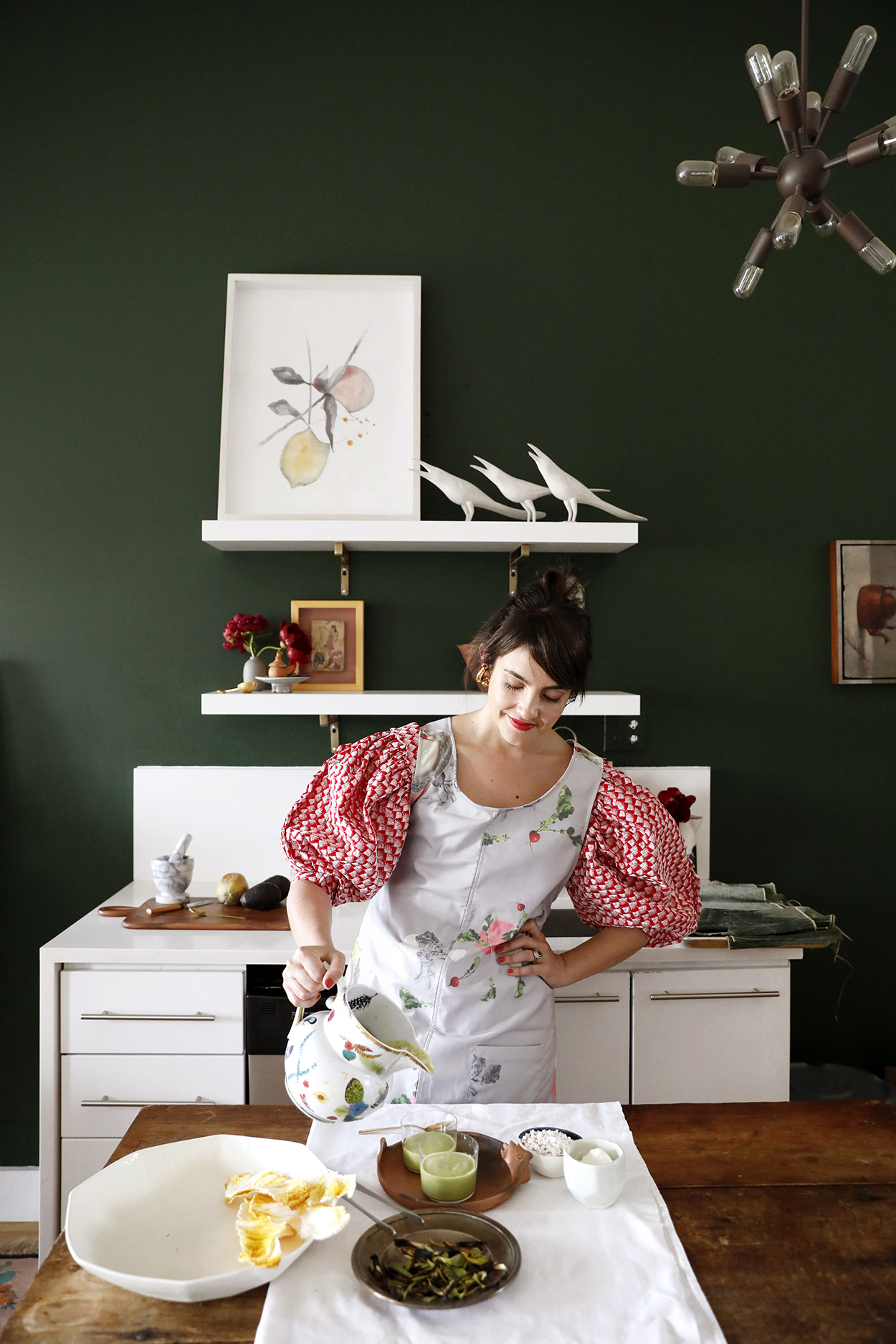 On her Culinary Background…
What inspired you to cook and how did you learn?
It started at home via my family's nightly ritual of gathering around the table. We always had a great appreciation for eating together. And I would always help as a kid in the kitchen—peeling almonds for my Lebanese grandmother, setting the table with my mom, and making birthday cakes for friends in high school. Later I was an apprentice, peeling shrimp for days on end at H. Sasson in Bogotá, where I grew up, and then later when I moved to Big Sur, CA at the Post Ranch Inn—this is where I learned the beauty of farm to table when it wasn't even a term yet. I went from the line at Prune in NYC to the test kitchens at Saveur and Eating Well magazines. Finally I was introduced to the world of food styling… Part of what fascinates me the most about food is that it is so intrinsic, personal and rich—there is always something new to learn.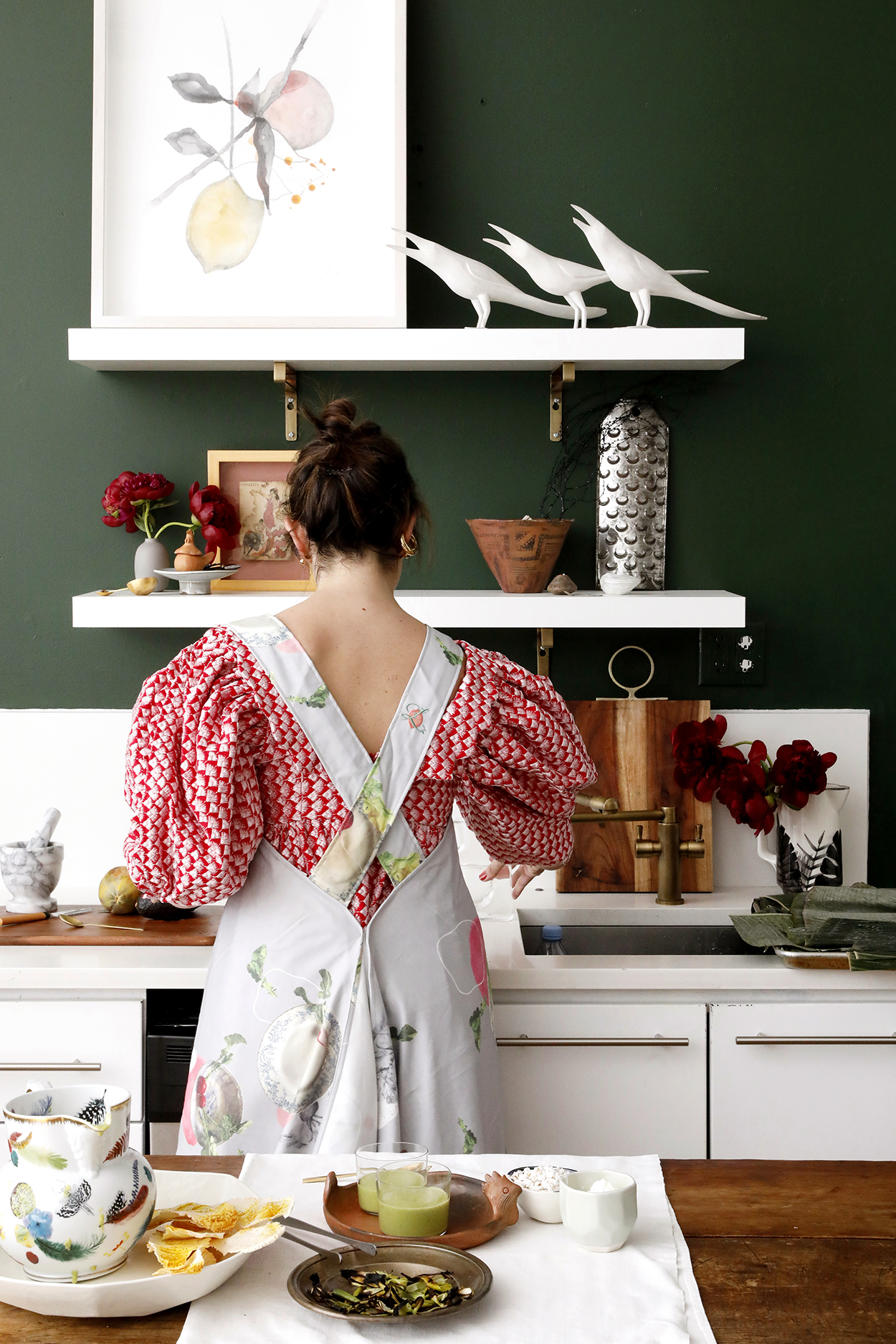 Now, tell us about your cookbook Colombiana—what inspired it, how did it all come together, and what's the main message you want people to take away from this cookbook?
My cookbook came together in a moment. I was feeling confused about the next step in my career as a food stylist. I was working back to back and barely being able to regroup before the next photoshoot. I needed something to re-awaken my creativity, a project to remind me of the true source of my passion for food and the table.
Going back to my roots was the answer. This meant looking at the ingredients, recipes and ceremonies around food from Colombia, through the lens of distance and appreciation for the everyday flavors and nuances of my culture.
The actual book idea however came from a conversation with a friend and colleague, Liz Moody, who asked me one night why I hadn't written a cookbook about Colombian food. During the past two decades while learning about food from around the world I kept on making exploratory trips to different places in Colombia to learn about indigenous cooking techniques. There I found traditional preparations such as homemade fruit vinegars, toasted sesame butters sold on the side of the road, barley flour pastries, exotic fruits and stews prepared on an open flame to name a few. I grew up in the city and some of these foods are so particular to each region and rural areas—they never cross town borders. Back in NY I had an ongoing list of dishes, ingredients, women makers, cooks and moments which I would eventually develop into chapters.
The main reason for the book was to answer the hard question, what is Colombian food? while sharing a glimpse into Colombian cooking and how regional it is, along with our way of entertaining and recipes that can be prepared with ingredients found in the US.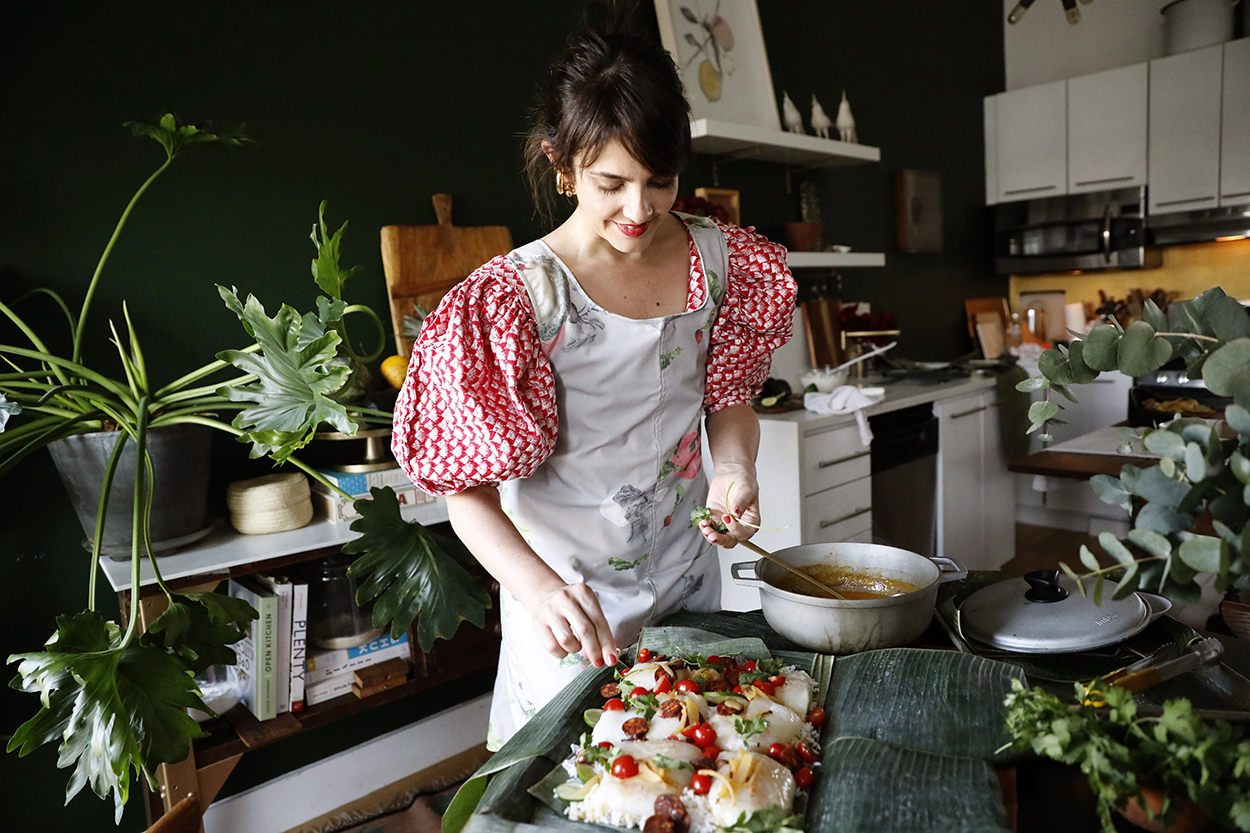 You really embrace your signature maximalism and holistic approach to entertaining in this book. Can you explain what maximalist cooking looks like to you and how your holistic approach differentiates your style from other chefs?
More is more! Not in excess but in visuals and flavors that stimulate the senses. My maximalism in cooking and entertaining is about generosity, bringing people together, with a variety of flavors, textures, colors in one meal through a balanced and well paced menu. The ceremony of sharing food together is so much more than nutrition alone—if it were just that we could live off of granola bars and call it a day. For instance, at our gatherings we begin with an aperitif and bites on the roof, followed by a sit down dinner (usually one or two courses) finished with dessert and a glass of rum or mezcal in the other room… moving around the space, making each step of the celebration special and fluid.
Entertaining means setting the scene, planning the menu around something that inspired me like a color palette, seasonality or even a movie I saw and loved. All the details count from the flowers, to the music, how the table is set, even to the dress I wear; these are all the nuances that create meaningful memories and it is ultimately the reason why I love to entertain.
Can you describe a typical Colombian feast?
Where there is room for 10 there is room for 15! Colombian feasts have many dishes and accompaniments. Take for instance a frijolada Antioqueña—a red bean soup served along with white rice, brisket dust, sweet plantains, avocado and crispy pork. It is a meal that feeds many and it is usually served on Sundays as a family gathering. Drinks and appetizers are passed around to the tunes of old boleros or afro- Colombian beats and usually more than one dessert. Colombian feasts are informal and generous. Flowers and a combination of earthenware and family heirlooms set the table. Kids run around and everyone helps!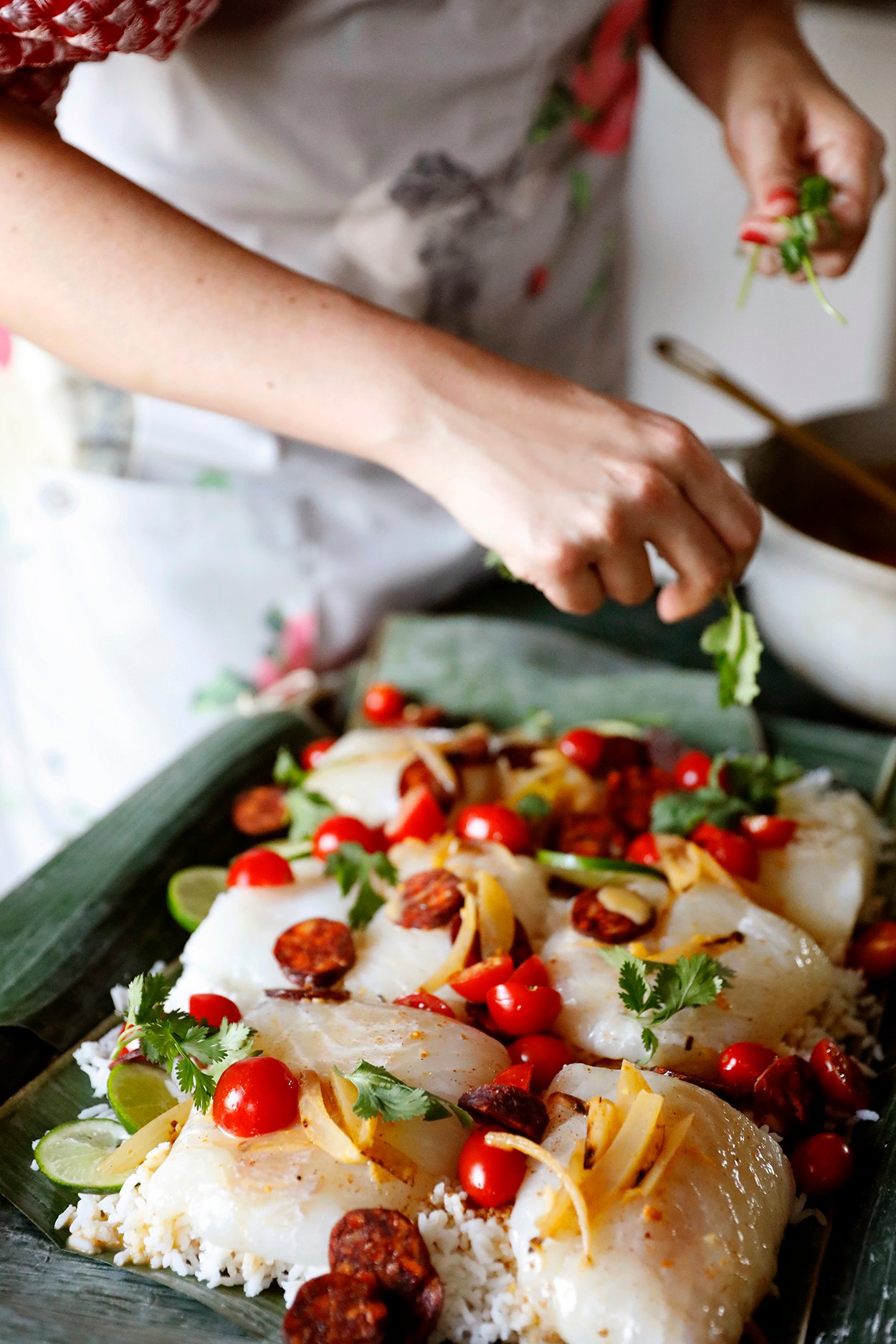 On life as a food stylist…
Take us through a typical day for you.
I wake up very early, usually 5:30am, workout and then come downstairs for coffee which my husband Diego has prepared after his yoga class. We sip coffee while reading the news or listening to NPR. I get ready, quite fast. I try to plan my outfit the night before to cut time, pack my apron and head over to a photoshoot or the farmers and flower markets where I shop both for assignments or for home. At around 11am I have a second cup of coffee. If it is a day where I'm not on set styling, I am working on Mariana's Limonarium—my brand of aprons and table stationary. I designed a utilitarian apron to wear at work and still feel well dressed as well as a series of place cards, menus and tags inspired by Colombian symbols, fruits and colors to add personalized details to the table.
To finish my day and on my way home I stop to meet my friend at her gallery, Proxyco, in the lower east side for a glass of wine. Then, if it is nice out, I'll walk home over the Williamsburg bridge. Weeknight dinners are fast and easy for me. Sometimes we order in or I whisk up a quick meal. Diego and I finish the day with a bit of a TV or a movie and go to bed early.
What do you drink when you wake? And what's for breakfast?
When I first wake up I have a warm cup of water with a squeeze of lemon. Black coffee, a fruit and a crispy white corn arepa with a bit of farmer's cheese and a dash of sea salt.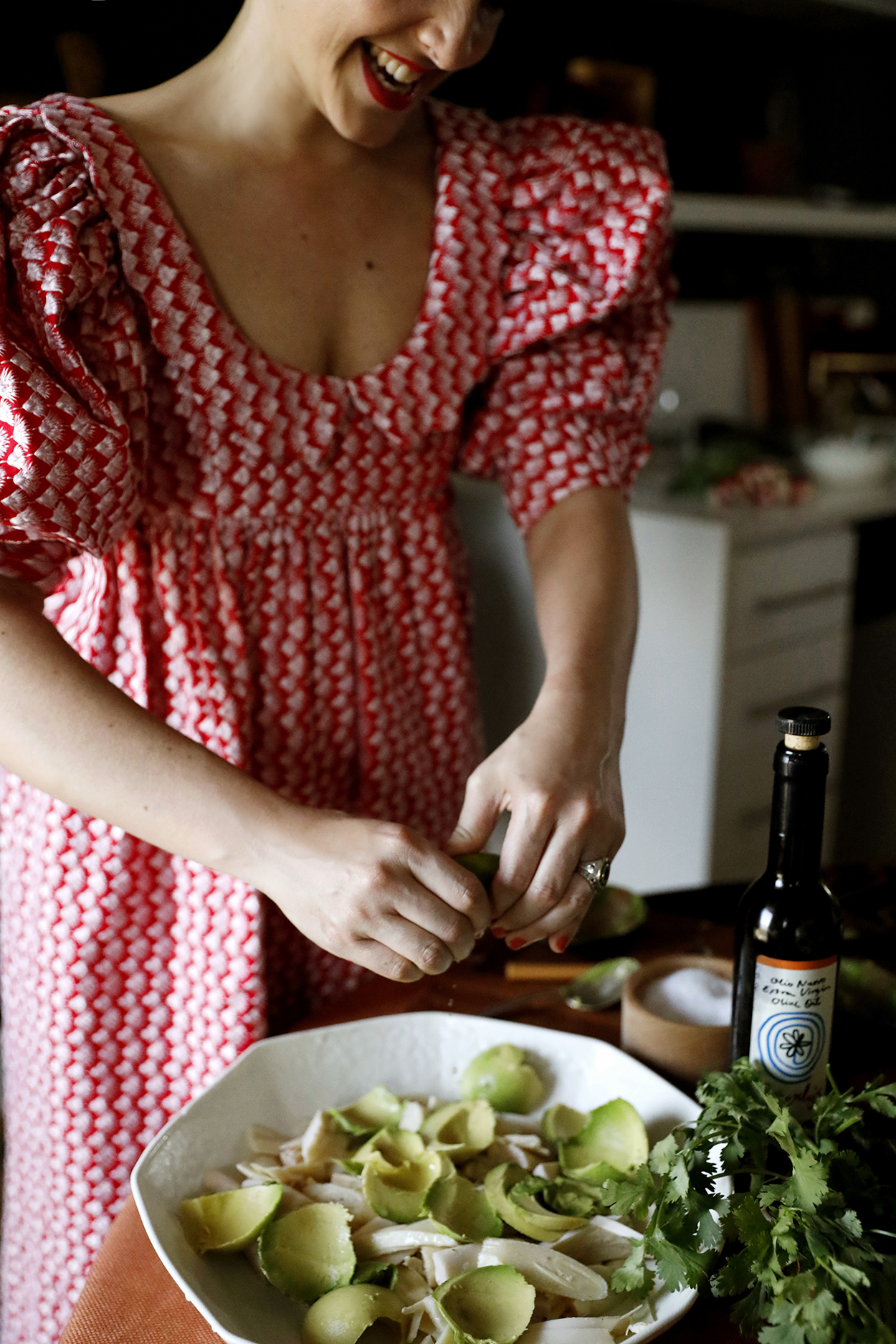 How are you staying healthy during the pandemic?
Long walks through Williamsburg and Greenpoint early in the morning and also I have been doing 54D workouts, taught by two retired Mexican soccer players who have the best energy and although it is the hardest workout I've ever done, I really enjoy how it lifts my spirits. Also having long phone calls with friends and red wine.
What are your beauty must-haves?
Sunscreen and Greti Calendula which is a natural ointment I use on my lips, hands and face when I go on long flights. When in doubt, red lipstick.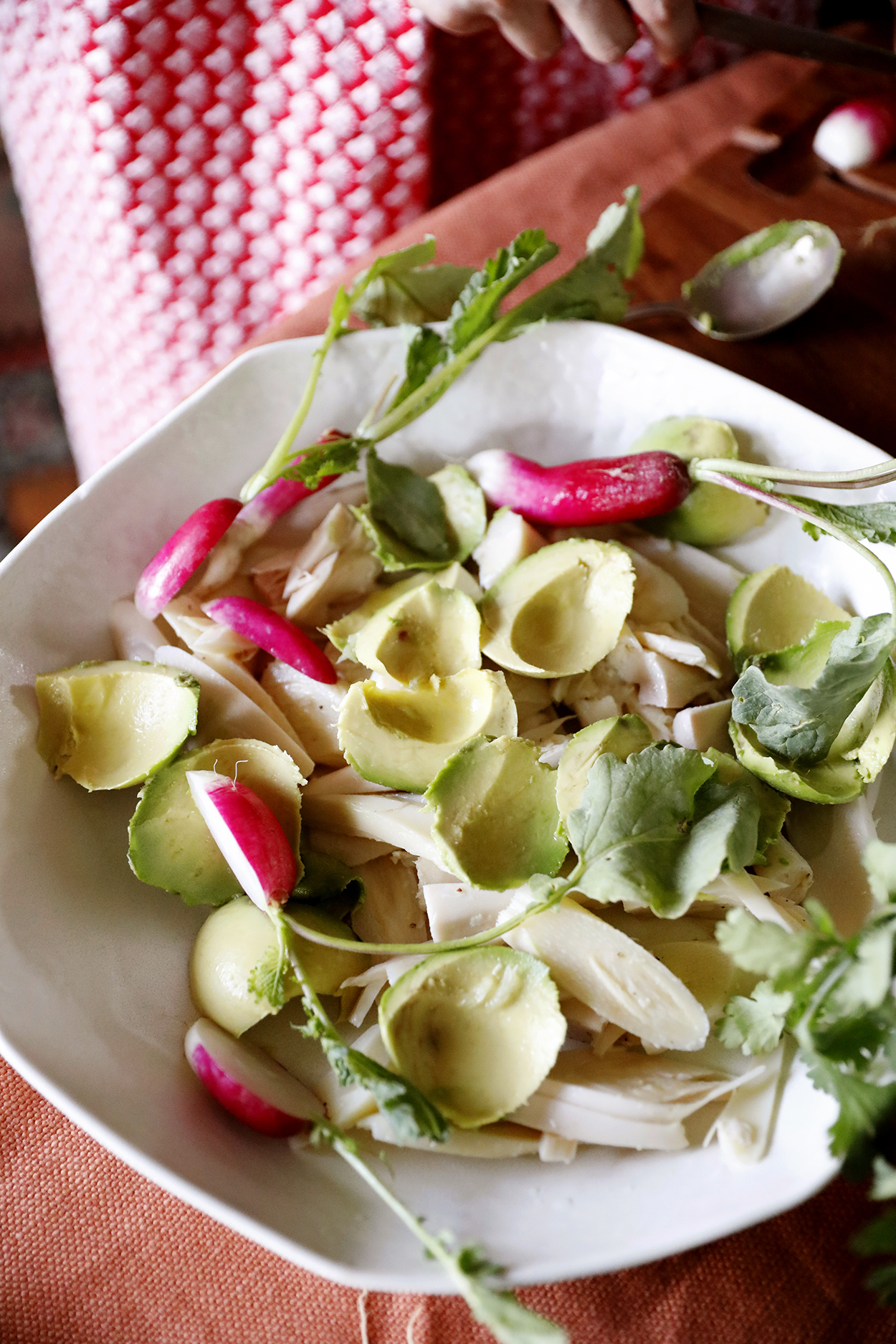 The Colombian Dinner Party Menu:
To begin:
Lillet & Bitter Orange Spritz
Pan de Bonos (rice and yuca puffs)
Spicy Pea Gazpacho with Charred leeks
Radishes with sea salt
To continue:
Tangy Hearts of Palm and Avocado Salad
Coconut Bass Braised in Plantain leaves with Achiote, Cilantro & Rice
To linger:
Preserved Green Figs with Arequipe and fresh cheese
Obleas
Candied Guavas with Rose
What's your must-have cooking tool?
I love a sharp pair of kitchen scissors. I use them every time I cook, whether to snip herbs or debone a chicken.
The cooking tool you always give beginners and why?
A sharp knife because it's easier to work with one that's doing its job. Learning to hold it gently without adding unnecessary force is much safer than a dull blade.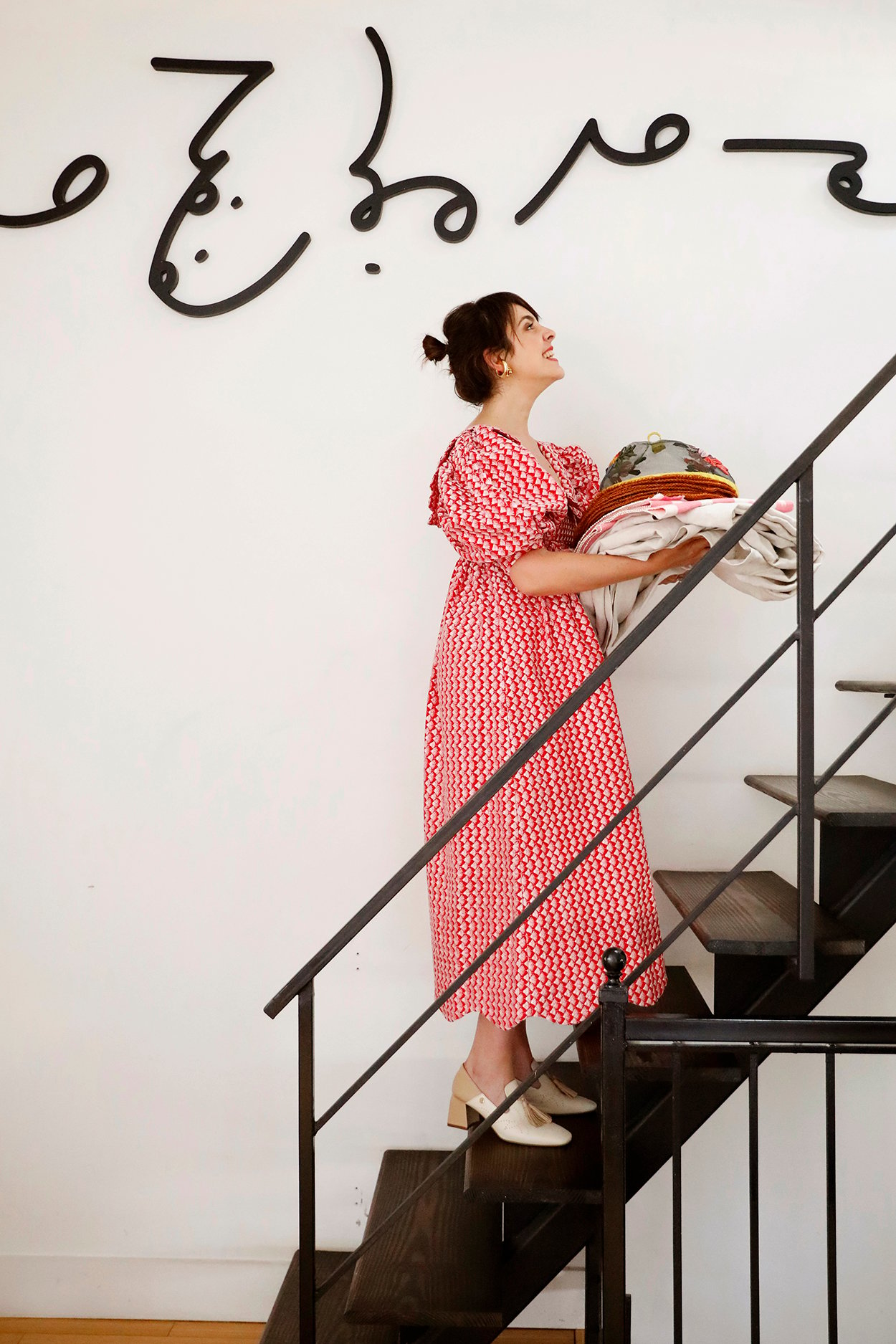 Tell us a few things we'll always find in your refrigerator?
Arepas, farmers cheese, arequipe (milk caramel spread), a mason jar of homemade ají, tart apples in winter and fall, stone fruit in the summer and a bottle of Lillet Blanc.
And what about your pantry? What do you always have on hand?
Hearts of palm, panela, black pepper, smoked Maldon sea salt, good olive oil, and sweetened and condensed milk.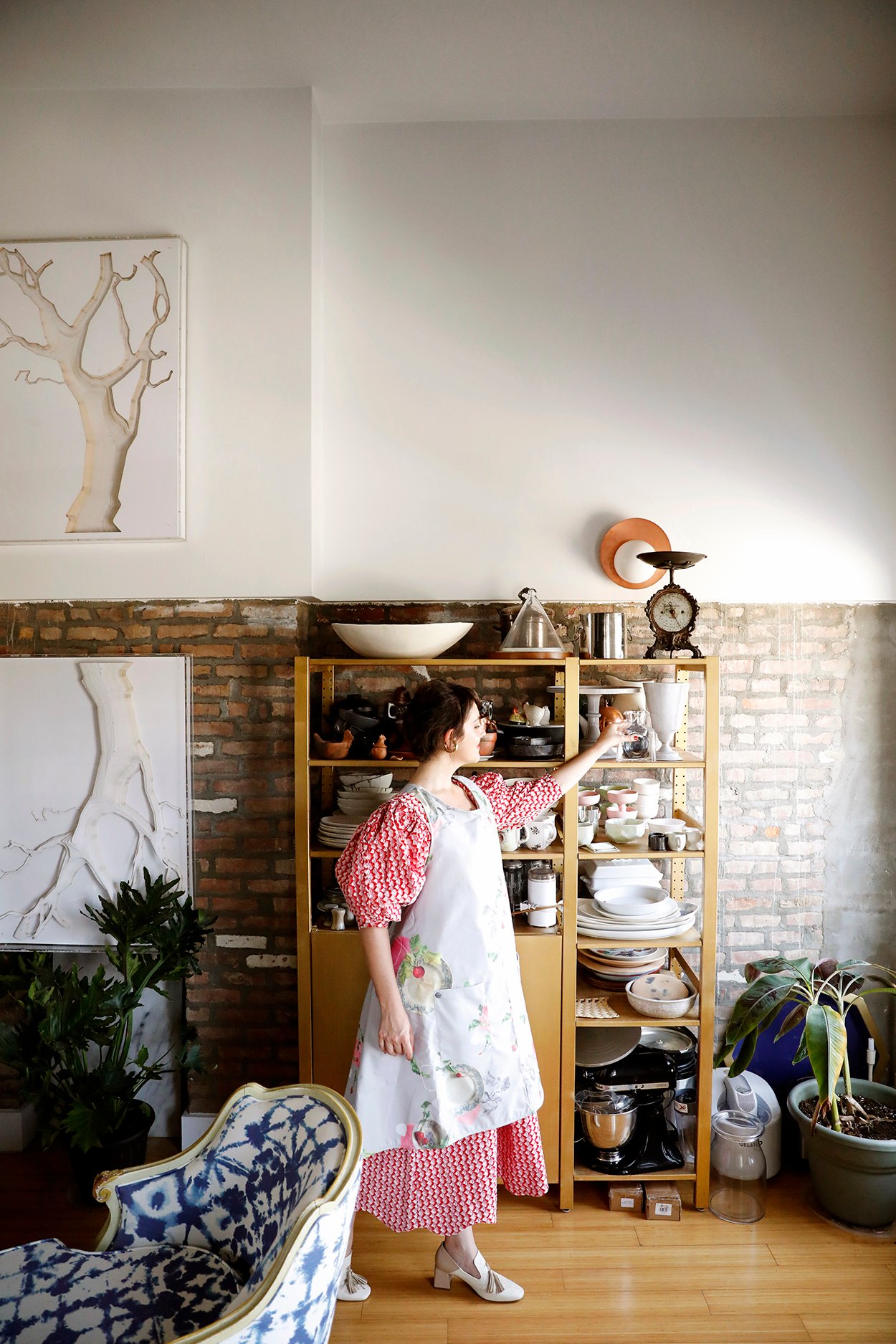 What kitchen tools are your absolute must-haves and why?
Japanese Mandolin
Its sharp blade is a favorite for thinly slicing watermelon radishes, cucumbers, and plantain strips because it makes delicate shapes and allows for beautiful plating and crispy textures.
Cast Iron Pan
I get such satisfaction from a good sear! Cast iron is amazing for cooking meats, vegetables and desserts. It is all about caramelization
Chamba Earthenware Pot
This is great for braising and preparing beans. Not only is it a beautiful handmade black rounded terrine but the food cooks evenly like in a clay oven and it imparts a particular taste.
What scares you about entertaining and why?
Getting too carried away during the planning and making it complicated for myself at the time of executing. That is why I do a first draft for my menus, then a second once I hear back from my guests about any allergies or dislikes and then finally, a last draft which becomes final after coming back from the farmers market with a more real vision. Something liberating I learned from the brilliant Julia Child, is NEVER apologize. You are the only one who notices the mistakes you think you make or how different "the gazpacho was supposed to turn out"—the gesture of entertaining genuinely comes from a place of generosity and that alone your guests and mine almost always enjoy, so, no need to worry.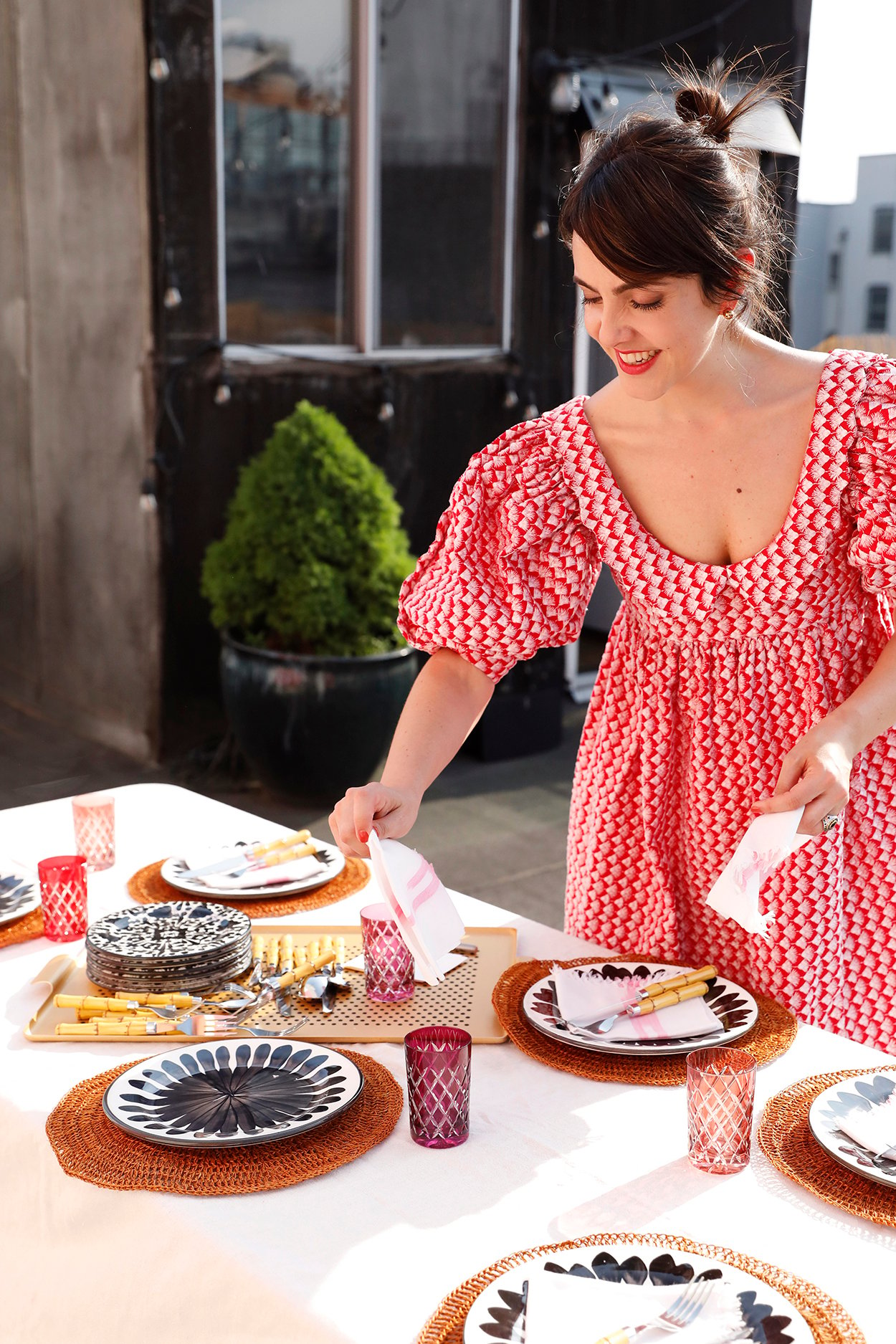 What scares you about cooking and why?
Before I was very intimidated by depending on yeast for breads to rise. Now, less so. These days I'm more willing to fail in the attempt of making complicated recipes. However this one time I had to skin live eel for a classic Italian cookbook. I simply couldn't. For the same project I did a stuffed head of Lamb and in China I worked with bird's nest and other preparations that made me queasy but the eel… I had to call a friend chef who cooked nearby to save me.
Your signature dish for parties?
Radishes dipped in sea salt and butter as an appetizer with drinks, Gazpacho served in vintage cups to sip; and some sort of braise that I tend to make the day before such as tamarind glazed pork tenderloin or coconut and chili chicken thighs.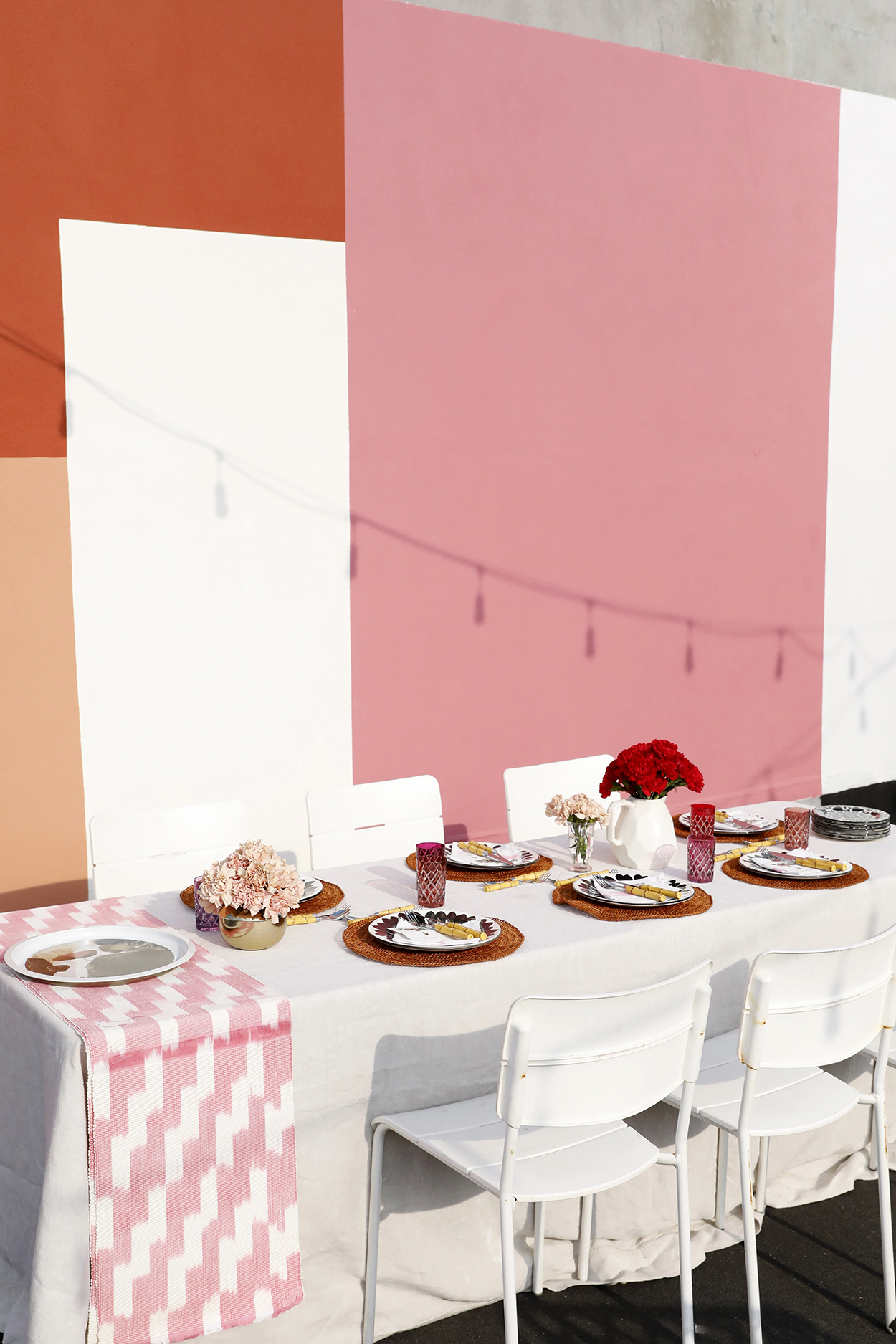 The one meal you always make at home and why?
A brothy soup with vegetables I find in the fridge: spinach, Brussel sprouts, carrots, asparagus, potatoes and herbs. I add protein I have on hand—leftover roasted chicken, sausages, or mushrooms. I serve it with a generous spoonful of ají, a homemade sauce of cilantro, scallions, vinegar and chili that I keep in the fridge at all times.
Dinner party pet peeve?
A stressed out host who won't accept help.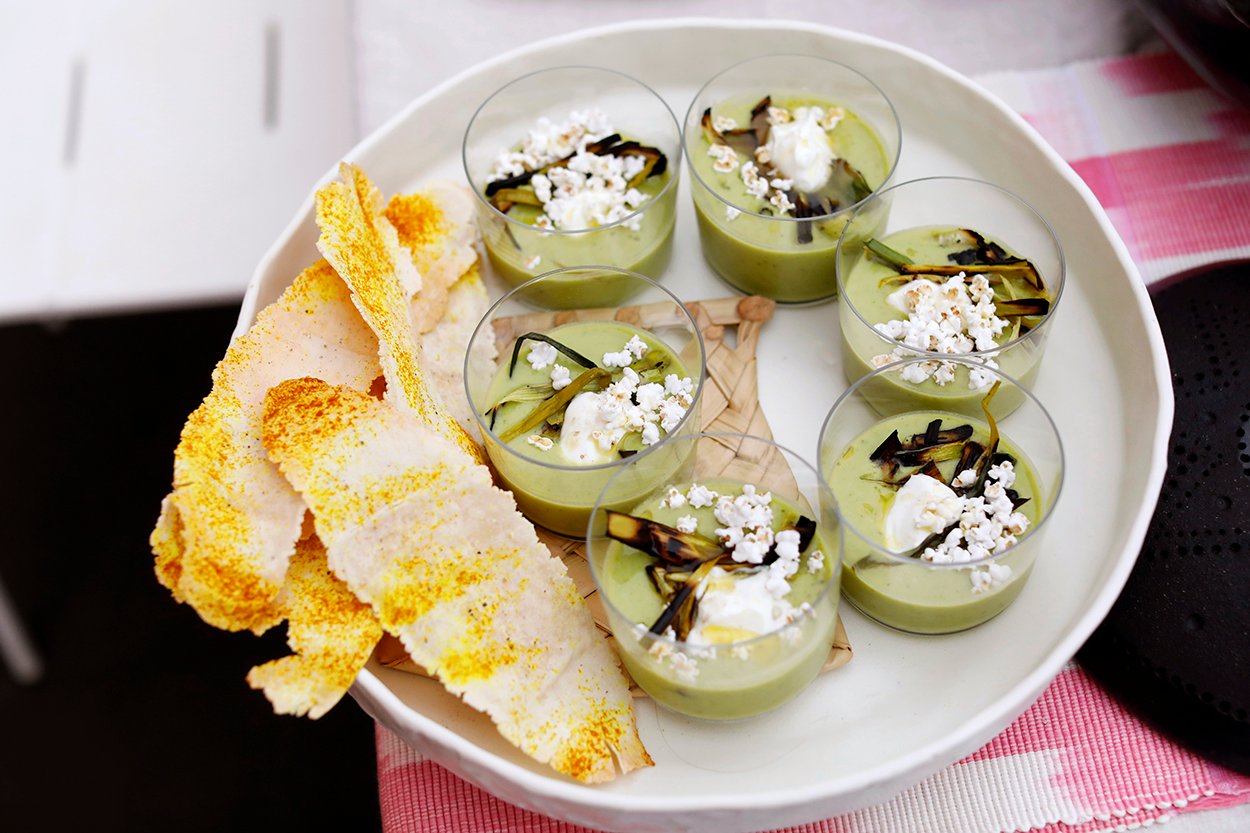 The perfect dinner party playlist includes…
I actually created playlists for every menu in the entertaining chapter of Colombiana called A la Mesa:
Here are the links to my favorite two:
Cauca Valley Soiree
Winds of La Heroica
Your go-to centerpiece solution is…
In a pinch, lemons next to little glasses of roses from the deli (which I force in hot water and pry open so they look less stiff) and a couple of terracotta ceramics to add texture. I used handmade pieces for our dinner party from my friend's tableware collection, Plaza Boli?var—a virtual marketplace that celebrates Latin America's artisanal heritage.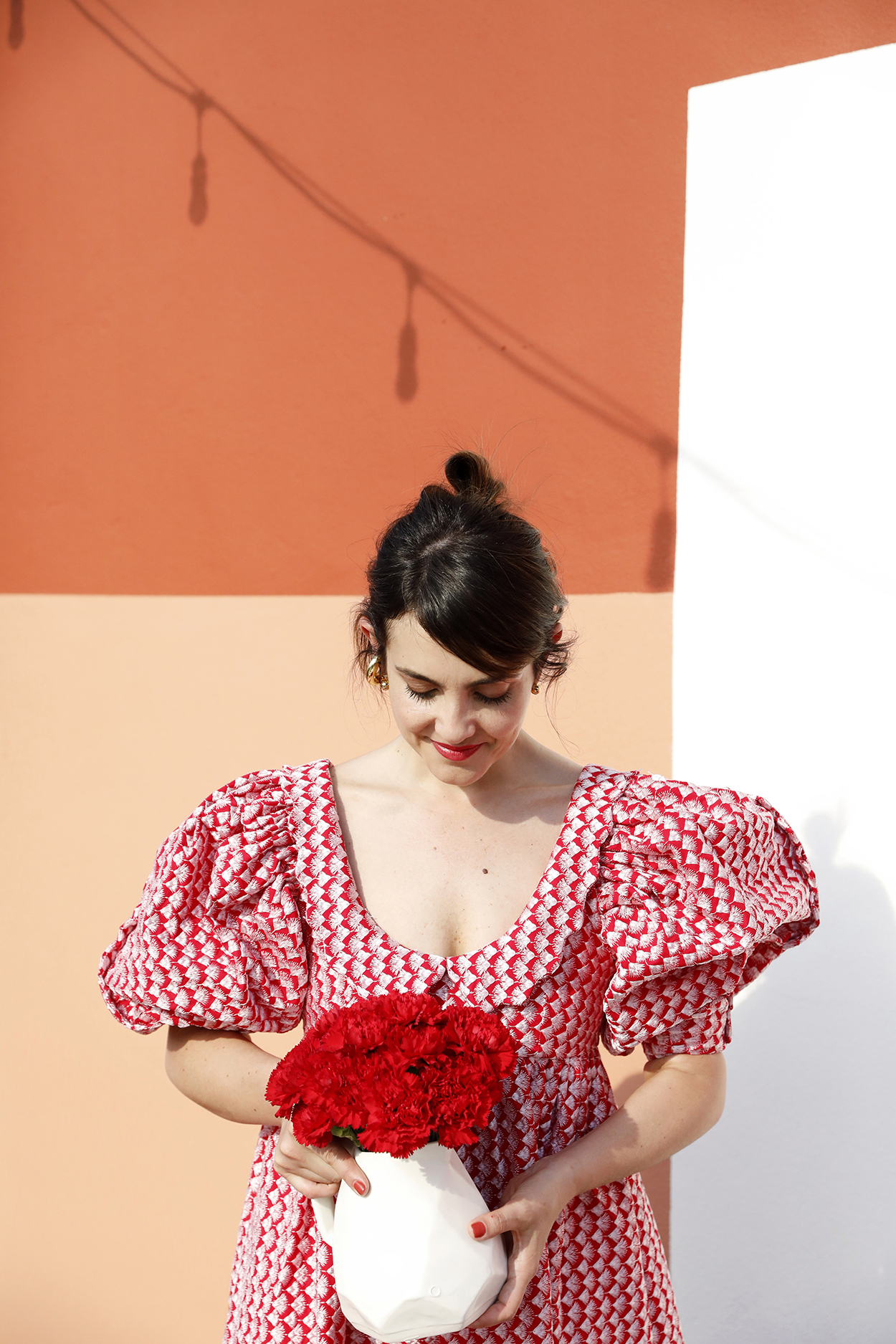 Dream dinner guests?
The late Mexican architect, Luis Barragán whose passion for light, colors and beauty inspired my Cena Rosa dinner series . And the very much alive, Luca Guadagnino who directed some of my favorite movies of all time: I am Love and Call me by Your Name. And a guest who enjoys every bite, sees the details, has seconds, and dances the night away…
What are your favorite cookbooks (besides your own!) and why?
The Zuni Café Cookbook is one I read for inspiration and brilliant techniques. The late Judy Roger's recipe writing is so well done I sometimes just read her recipes for the joy of it.
Every Day is Saturday by Sarah Copeland: simply delicious food I want to make when I'm looking for comfort, color, and crowd pleasers.
All About Braising because braising is one of my favorite ways to cook—taking the time to allow for flavors to develop, meats to get spoon tender and vegetables to become sweet jewels of flavor. Molly Stevens, the author and a mentor, hired me to test recipes in her VT kitchen when I was still in culinary school many moons ago. When I'm hosting a high pressure dinner where it all needs to work perfectly I refer to Molly's book—it never fails.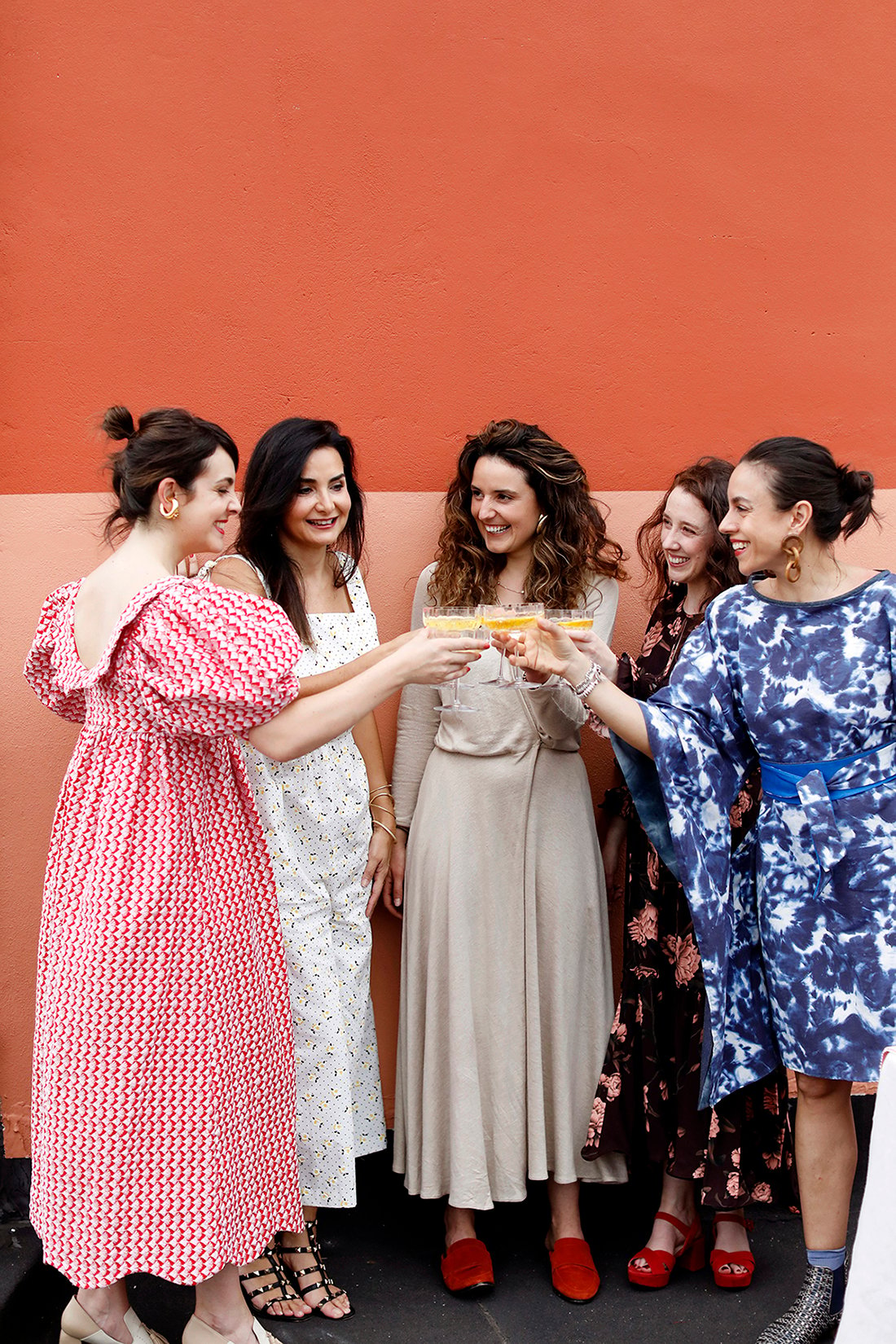 Fill in the blank:
A perfect meal should… leave me satisfied and not stuffed.
It's not a dinner party without… dessert and a bit of dancing afterwards.
Every cook should know how to… roast a chicken and a soft boiled egg to perfection.