This ajiaco soup recipe was part of our Tastemakers interview with Mariana Velásquez. Get the other recipes and read the full story here! 
Says author/chef Mariana Velásquez:
This soup was declared cultural patrimony by the mayor's office in Bogotá about 20 years ago. Cultural patrimony is "a set of goods and values that are an expression of the people.'' And this soup is quite an expression of our people. It dates back to pre-Hispanic times, where one of the first recipes for ajiáco was based on various roots and tubers accompanied by guascas—an aromatic bitter green—and venison. Although it was always thought to be of Muisca origin— the native tribe of central Colombia—according to the historian Lácidez Moreno, ajiáco has African roots. Just like humanity.
However, to current Colombians, especially Bogotánians, there is only one true ajiáco—a hearty soup made with three kinds of potatoes, corn, chicken, guasca herbs, cream, avocado, and capers.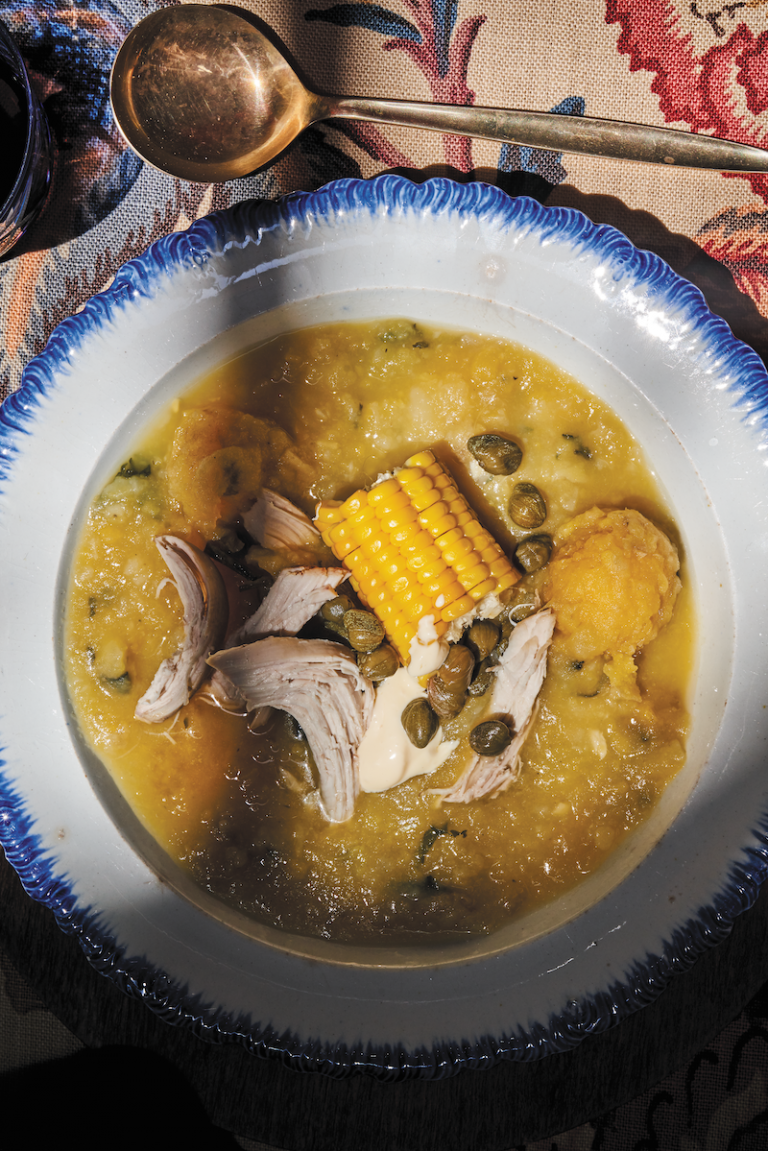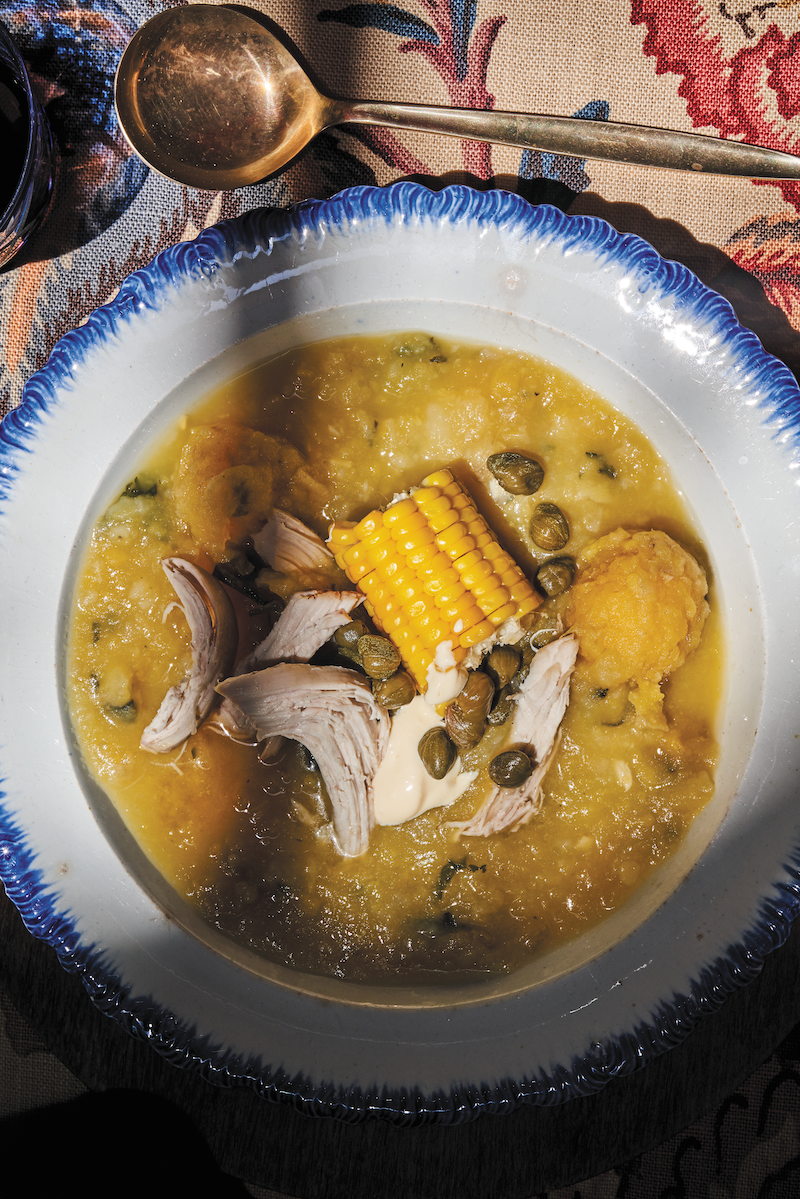 The three potatoes in the ajiaco soup each serve a purpose. The sabanera potato, which I replace with russet potatoes, dissolves into the broth, giving it its creamy quality. The second potato is called pastusa, which gives flavor and texture. In this case I use large Yukon Golds as a substitute. Finally, to get the yellow color and sweet taste, there is the Criolla potato, which you can replace with tiny gold creamer potatoes or yellow new potatoes.
Guasca is an herb also known as galisonga for New Zealanders, or gallant sol- dier in Ireland—the latter naturally my favorite of its many names. In the United States, guasca can be found at farmers markets by the name of potato weed. This fragrant herb imparts a particular taste to ajiáco and can be found in dried form online or in the spice section of the few Colombian markets around the United States. However, if guasca is not an option, it should not be a deterrent from making this comforting recipe.
Invite another pair of hands into the kitchen to help you peel the potatoes. It will go quicker, and it is a good way to spark conversation while making lunch."
From the book COLOMBIANA by Mariana Velásquez. Copyright © 2021 by Mariana Velásquez. Published by Harper Wave, an imprint of HarperCollins Publishers. Reprinted by permission.
Photos by Gentl & Hyers.
---

Ingredients
2 pounds russet potatoes, peeled and cut into ¼-inch-thick rounds

1 pound Criolla potatoes or gold creamer potatoes, peeled and sliced into

¼-inch-thick rounds

1½ pounds large Yukon Gold potatoes, peeled and sliced into ¼-inch-thick rounds

3 pounds bone-in chicken breasts, skin removed

2 teaspoons kosher salt Freshly ground black pepper

4 whole large scallions, trimmed

3 garlic cloves, peeled and smashed

3 cilantro stems, whole

5 ears corn, husked, silky threads removed, each cut into 3 to 4 pieces

10 grams dried

guasca

1½ cups heavy cream 1 cup large capers

3 to 4 ripe avocados, cut into wedges right before serving
---
Instructions
Place the russet, Criolla, and Yukon Gold potatoes, the chicken breasts, salt, pepper to taste, scallions, garlic, and cilantro in a large soup pot. Cover entirely with cold water and bring to a simmer over high heat, occasionally skimming off the foam that rises to the top. Cook at a slow simmer until the chicken breasts are cooked through but still juicy, about 45 minutes. Using tongs, lift the chicken breasts, scallions, and cilantro from the soup. Set aside the chicken breasts to cool, and discard the scallions and cilantro.

Give the soup a stir and continue cooking until the potatoes have started to dissolve and the consistency is thick and creamy, with some potato chunks remaining, 45 to 50 minutes. Turn off the heat and keep covered until right before serving.

Meanwhile, place a medium pot of salted water over high heat, bring to a boil, add the corn pieces, and bring back to a boil. Cover, turn off the heat, 

and leave for 10 minutes. Remove the corn and set aside to serve later.

When the chicken breasts are cool enough to handle, shred into large pieces and transfer to a serving platter. Tent with foil and keep warm.

About 10 minutes before serving the

ajiáco

, add the

guasca

. Heat back up over medium heat, stirring often with a wooden spoon to keep from burning at the bottom.

Ladle into bowls and serve with the chicken, heavy cream, capers, and avocado slices on the side.