Potentially unpopular opinion: The endless array of pies is the best part of any Thanksgiving. We can't get enough of the classics—pumpkin, pecan, and apple pie—and we pile our plates high with any number of wild cards (coconut cream very much so included). Of course, there's only so much room our ovens can offer, and when you can't spare the precious space, no-bake pies are your make-ahead, quick and easy solution.
Don't get us wrong: rolling out a homemade crust and reveling in the seasonal scents wafting through the kitchen is nothing short of Thanksgiving bliss. But we're definitely not opposed to giving ourselves a little grace and saving the oven for the meal's many other delicious components. Scroll on for all of our favorite recipes that'll get you in the (no-bake) pie-making mood. And let us know—which one are you dying to whip up?
No-Bake Butterscotch Pudding Pie from Crazy for Crust
Why We Love It: There's so much to love about this perfect pie. How can you not fall hard for the silky-smooth filling and brilliantly buttery crust? This recipe checks off every box on our list of pie non-negotiables (easy, caramel-y, and exquisitely creamy). Be sure to save room for a slice or two.
Hero Ingredient: Three words: two-ingredient crust. It's already been said, but it bears repeating—this pie's crust is the real deal. The magic that's responsible for making that happen? Graham crackers. The base of many an icebox cake, nutty and just-sweet-enough graham crackers make this the beauty that it is.
6-Ingredient Vegan Chocolate Silk Pie from Minimalist Baker
Why We Love It: While delicious, mud pies are characteristically capable of sending nearly anyone into a dessert-induced coma. With a raw crust made by blitzing walnuts and dates together in the food processor and a filling that takes shape with the help of silken tofu and coconut milk, this version packs all of the deliciousness without the dreaded sugar rush.
Hero Ingredient: We're pretty big on dates here. Soaked and softened in warm water, nutrient-rich dates provide a deliciously-sticky crust that sets and hardens in the freezer. No blind-baking or losing sleep over a crust that might crack.
No-Bake Lemon Pie from Betsy Life
Why We Love It: This pie is a lovely, cool, and creamy contrast to the many seasonal faves you'll likely serve post-turkey. It's also a great option if you're contributing to a potluck-style meal or if you're simply short on time.
Hero Ingredient: Hands up for the hefty half-cup pour of lemon juice that gives this pie its refreshing and citrusy bite.
No-Bake Peanut Butter Pie from Finding Zest
Why We Love It: An unexpected, but very appreciated truth about most no-bake pies: they take only minutes to whip up. This soon-to-be family favorite involves no more than 15 minutes of your time and can be covered with any topping of your choice. Peanut butter on top of more peanut butter? Never a bad decision.
Hero Ingredient: Spreading a thick layer of melted chocolate on top of the graham cracker crust brings a welcome surprise of added texture and flavor.
No Bake Oreo Pie from The First Year
Why We Love It: Cookies and cream is a classic flavor combo for a reason. There's something about the creamy filling that blends beautifully with the chocolate cookies' crunch. So that all pie enthusiasts can go up for seconds, this undeniably delectable dessert can be made gluten-free-friendly simply by swapping in a gluten-free cookie.
Hero Ingredient: Oreos, you can really do no wrong. A go-to movie snack for many that's amazingly addicting straight out of the sleeve, the cookie makes its way into nearly every layer of this eight-ingredient pie.
Banana Cream Pie from The Roasted Root
Why We Love It: Nutty, crunchy, and lusciously fluffy, this banana cream pie is easy on the eyes and minimal on the prep. Not only that, but it's also vegan, gluten-free, dairy-free, and paleo, making it the likely favorite of your dessert buffet.
Hero Ingredient: A quarter-cup of pure maple syrup gives the filling just enough sweetness without coming close to being cloying. Be sure to taste the filling after it's mixed—you can always add a little more syrup to ensure it's exactly to your liking.
Blood Orange Cheesecake from Vikalinka
Why We Love It: While it's not technically a pie, this dessert is deserving of a place at anyone's Thanksgiving table. If you're tempted to skip it because of cheesecake's label of being notoriously difficult, don't. Mixing the heavy cream with cream cheese creates a filling that, when left to set in the fridge for an hour, becomes dense and delicious. We're here for all of it.
Hero Ingredient: Refreshingly bold, blood oranges gives this cheesecake its too-good-not-to-have-more flavor. Stunning in appearance as well, the deep, ruby red oranges are a striking contrast to the top layer of chocolate ganache.
Blueberry-Lemon Icebox Cake from Saving Room for Dessert
Why We Love It: Slices of tender-crumb pound cake are layered with a lemon cream and beautifully fresh-tasting blueberry sauce. While the combo of flavors may initially seem best-suited for a summertime gathering, we'll guarantee no one will turn down a piece. Honestly, they'll probably get up for seconds shortly after finishing their first slice.
Hero Ingredient: Mascarpone cream is the unsung hero of many a no-bake dessert. With the tang of cream cheese plus a little added sweetness and acidity, mascarpone lends a unique, but balanced richness to this recipe.
Caramel Apple Pudding with Gingersnap Crust from Brown Eyed Baker
Why We Love It: This is the no-bake equivalent of everyone's favorite caramel-covered apple. Admittedly easier to consume, this take brings together all the flavors of fall plus a gingersnap crust to bridge the gap between autumn and the colder months to come.
Hero Ingredient: Childhood nostalgia comes full circle in the caramel pudding layer. The added quarter cup of caramel sauce drizzled over the entire dessert just makes it all the better.
Banoffee Pie from Erren's Kitchen
Why We Love It: Whoever first thought to combine toffee with bananas, hats off to you. The toffee comes together with a mix of sweetened condensed cream, brown sugar, butter, and the tiniest half-teaspoon of salt to offset the sweetness. Keep in mind that it's best not to make this pie too far in advance. The bananas start to brown and break down the longer they sit after being peeled and sliced, so if you're going for the greatest impact, serve immediately.
Hero Ingredient: The base of sweetened condensed milk in the caramel toffee gives it richness while also creating just about the easiest method for a fully foolproof caramel.
Chocolate Orange Pie from Spend with Pennies
Why We Love It: When chocolate is paired with orange, the result screams holiday season baking. Unexpected, but absolutely amazing, the combo takes shape in this recipe with a no-bake orange-flavored filling and chocolate cookie crust. Finish things off with shiny and sublime chocolate ganache, and you have the easiest pie that doesn't skimp on, well…anything.
Hero Ingredient: Two teaspoons of orange extract ensures a citrusy brightness that won't get covered up by the chocolate's strong flavor.
Old-Fashioned Lemon Pie from In a Southern Kitchen
Why We Love It: Zesty, lemony, and a reminder of sunnier days, this icebox pie is your answer to creating a surprising show-stopper that'll be hungrily embraced. We love serving it as a way to cut the strong and rich flavors many other parts of the meal provide.
Hero Ingredient: We've said it before and we'll say it again: using not only the juice but also the zest of a lemon punches up the flavor of any dish and dessert—and this pie is a perfect example of the technique.
Chocolate Coconut Crusted Fruit Tart from How Sweet It Is
Why We Love It: This is one of those desserts that's almost too pretty to eat. Our strategy for combating the issue? Take a picture and dig in. Berries galore top a vanilla filling and the orange and lime juice glaze seals the deal on this tart's stunning presentation.
Hero Ingredient: Sprinkling on a handful of fresh mint for garnish gives a mildly sweet and refreshing coolness that's a total treat to your taste buds.
Pumpkin Mascarpone Pie from Camille Styles
Why We Love It: Ah, the quintessential classic. Many attempts have been made to improve upon the earthy and sweet staple, and this is the reimagined recipe that succeeds. Mascarpone is a favorite ingredient among many of the recipes included in this roundup, and it shines again here giving a subtle complexity to this often simple-tasting pie.
Hero Ingredient: It's hard to name just one of the filling's warming spices as the champion of this recipe, so we'll give the honor to the perfectly-balanced blend of cinnamon, ginger, nutmeg, allspice, and clove.
Peanut Butter Pie from Pretty. Simple. Sweet.
Why We Love It: Two peanut butter pies in one roundup? We're not complaining—and the repetition is intentional. Peanut butter pie is wholesome and humble, and with a fluffy mousse filling, this recipe is a creamy and dreamy delight.
Hero Ingredient: The chocolate cookie crust perfectly complements the peanut butter filling.
Chocolate Pear Tart from Full of Plants
Why We Love It: The slightly smoky and not-too-sweet dark chocolate and maple-roasted pears are a flavor match made in heaven. Cashews, dates, and just a drop of vanilla extract are responsible for the simple but substantial crust. This tart makes for amazing leftovers the next day. No judgement if that means your post-Thanksgiving breakfast—we'll be cutting ourselves a slice, too.
Hero Ingredient: Have you ever thought to add a tablespoon of almond butter to your chocolate ganache? Pure genius. It thickens up the sometimes-too-thin sauce and adds just a little bit of creaminess.
Pistachio Cream Pie from The Recipe Critic
Why We Love It: Pistachios, quite frankly, are life. The color they give to the filling is gorgeously vibrant, and add to that the fact that this is just about the simplest recipe out there, well, we've clearly found ourselves a winner.
Hero Ingredient: We'll take this time to elaborate even more on our love of pistachios. Mild but sweet, they can show up in everything from ice cream and gelato to macarons and cake. In this recipe, the pistachio pudding shines against a (you guessed it) graham cracker crust. Sprinkle a handful of chopped pistachios on top for good measure.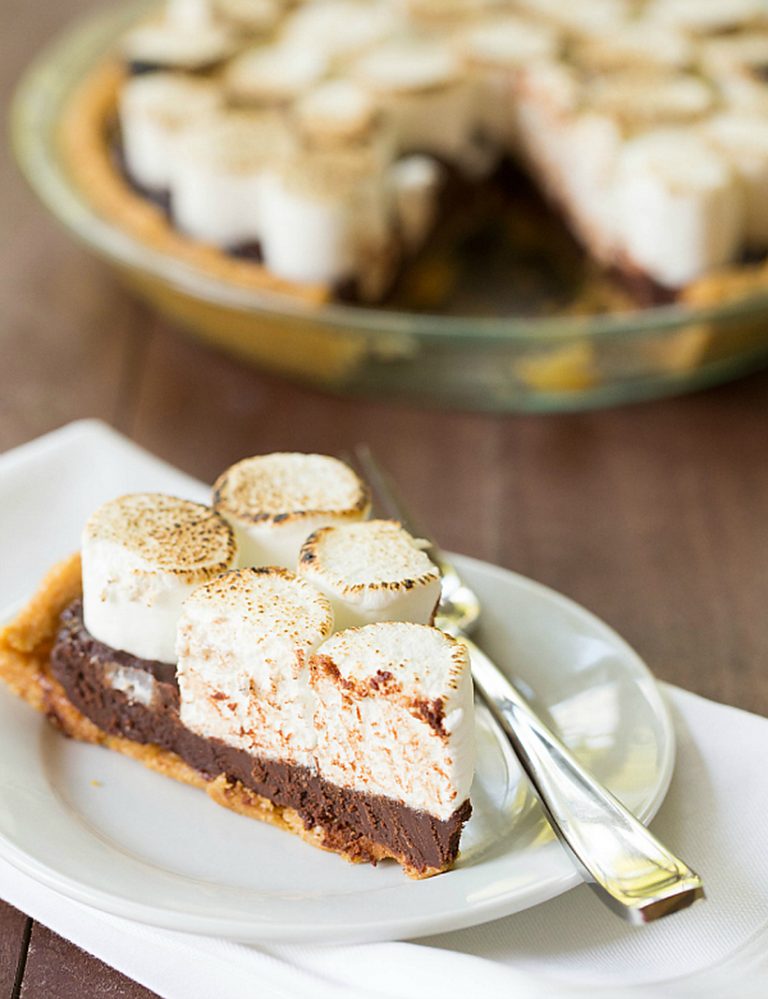 S'mores Pie from Brown Eyed Baker
Why We Love It: All the flavors of our favorite camping snack without the time and effort it takes to build a campfire. The deliciously thick chocolate ganache filling is sandwiched between a graham cracker base and a tower of toasted (re: broiled) marshmallows. Easy to make and even easier to eat, we'll definitely be digging in.
Hero Ingredient: It's really the marshmallows that make the s'mores. Break out the old kitchen torch for maximum impact.
Pumpkin Mousse Cake from Diethood
Why We Love It: Some pumpkin sweets can get old fast. PSL's run their course a week or two after they're released (we're talking early September) and many other pumpkin-flavored treats are only good once or twice throughout the autumn months. Disclaimer: That is not at all the case for this Pumpkin Mousse Cake. If you're feeling disillusioned with pumpkin-spice season, try a slice. We'll guarantee you'll fall back in love immediately.
Hero Ingredient: Is it really a pumpkin cake without the pumpkin spice? The fall-favorite spice blend gives this cake its immediately-recognizable and comforting flavor.
Raw Raspberry Tarts from B. Britnell
Why We Love It: There's something about individual desserts that's inherently elegant. Perhaps it's because everyone automatically gets their own or you don't have to the dance of portioning out the perfect slice. Whatever it is, these tarts deliver.
Hero Ingredient: With raspberries stealing the show in this three-ingredient filling, you get a vibrantly festive and fruity dessert that only looks like it took hours to make.
Pumpkin & Gingersnap Pie
Why We Love It: Truth be told, we really only crave the taste of pumpkin between the months of October and December. Maybe it's the ingredient's super-seasonality that makes us want to bake and partake in devouring pumpkin in all of its forms, but this pie does a beautiful job of celebrating the ingredient in all of its glory. The filling's light-as-air consistency paired with a subtly spicy gingersnap crust is all the deliciousness we could ever dream of wrapped up in one super-simple dessert.
Hero Ingredient: IMO, gingersnaps are a very close second to graham crackers in the contest of best cookie for a no-bake crust. And upon further reflection, this recipe makes us think gingersnaps may soon be taking the crown.
Frozen Samoa Pie from My Baking Addiction
Why We Love It: Forget what you've heard, Samoas are the very best of the best when it comes to Girl Scouts cookies. With the flavors of chocolate, caramel, and coconut, this pie is love at first bite. The shortbread cookie crust holds up against the creamy filling, but is soft texture gives instantly to any fork.
Hero Ingredient: Pecans in the crust? Groundbreaking.
Chocolate Pecan Pie from A Treats Affair
Why We Love It: Sticky and sweet, pecan pie shows up year after year at almost everyone's Thanksgiving. While the option is often overlooked as diners decide instead to go for a slice of pumpkin or apple pie, this version will have everyone rethinking that decision. The thick layer of pecan filling takes just a couple quick minutes on the stove, and the result is everything you ever dreamed pecan pie could be, and, of course, more.
Hero Ingredient: A round of applause for the semisweet chocolate that makes the ganache silky, shiny, and instantly inviting.
No-Bake Pumpkin Oreo Cheesecake
Why We Love It: Even just the title of this recipe contains many of our favorite words—"no-bake" of course earning the top spot. While we originally created this recipe for the spooky season of Halloween, the flavors in this tart can seamlessly make the transition to become everything you could ever want for your Thanksgiving feast.
Hero Ingredient: The white chocolate in the final layer of chevron-patterned ganache is sophisticated in its subtlety and makes for a conversation-starting sweet.
Raw, Vegan, Gluten-Free Pumpkin Cheesecake
Why We Love It: Here's one final option to fulfill your pumpkin spice fix. Made with entirely vegan and gluten-free ingredients, this cheesecake has all of the expected flavors and textures of the cream cheese classic, but relies instead on soaked cashews, pumpkin puree, and a little bit of coconut milk to give the filling body and heavenly heft. Your food processor, freezer, and a ready-to-be-blown-away appetite is all you need to enjoy every bit of this dessert.
Hero Ingredient: Just a pinch of ground cloves in the crust is enough to bring a noticeable heat that will warm your body all the way through—a fact we'll happily welcome with December just around the corner.
This post was originally published on November 3, 2020 and has since been updated.