Baked brie is a staple holiday appetizer that never fails to please a crowd. It's the perfect start to any meal and can tie over even the hungriest of guests. To gear up for impending holiday gatherings, we've rounded up the best baked brie recipes to make yours special. One of my favorite parts about baked brie (besides the pastry and cheese combo) is that it's possibly the easiest appetizer to set out. With a pre-made puff pastry, wheel of brie, and whatever toppings strike your fancy, you can go from oven to hors d'oeuvres in no time.
Featured image by Suruchi Avasthi.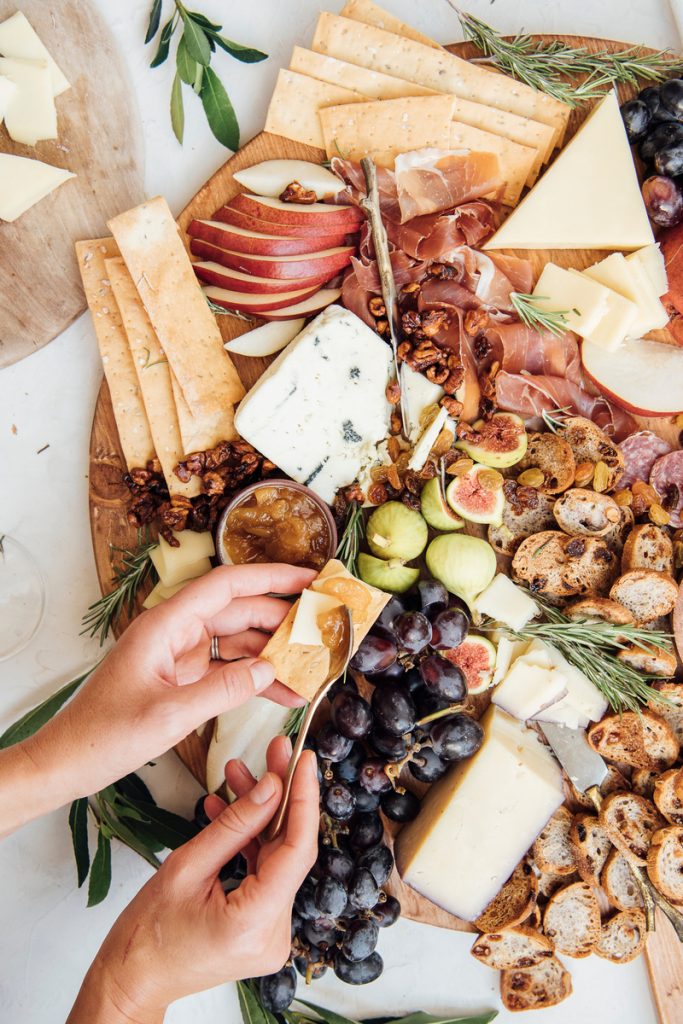 Personally, I'm a fan of all types of baked brie. Baked brie with fig jam, candied pecans, on its own… my love for the cheese knows no bounds. To me, it's all equally delicious—probably because it's composed of melty cheese wrapped in buttery, flaky dough. These best baked brie recipes cover a lot of ground, so you'll likely find your favorite style here.
It feels right to add that despite what we're told these days, cheese can do our body a lot of good. By no means is it low in calories or fat, but brie cheese in particular has a rich nutritional profile that contributes several important qualities to our bodies. With the vitamins it contains, brie can improve bone health, support immunity, and literally boost your mood. If you needed an excuse to eat more cheese, this is it.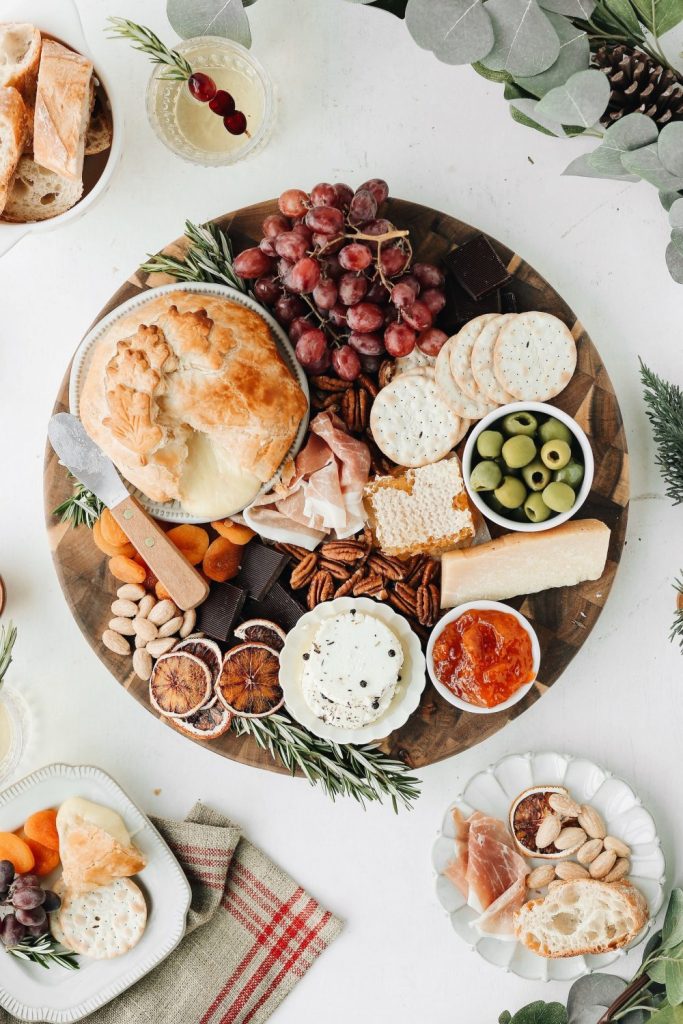 How to Bake Brie
Brie is simple to bake, but if you've ever done it before, you're probably familiar with its ooey, gooey tendencies. This meltiness is part of what makes baked brie so delicious, but it can also make a serious mess in your oven. To keep that dippable spread intact, it's important to put brie in the oven while it's cold, not at room temperature. This will keep the cheese from melting completely while cooking. Unlike the cheese though, you'll need to thaw your puff pastry (if the recipe uses it) about 30-40 minutes before cooking. This helps create the flaky, buttery layers that complement the cheese perfectly.
Can you eat the rind?
Yes! Brie rind is completely edible and even praised by cheese enthusiasts. Depending on your preferences, you can choose to leave the rind on or remove it before baking. Some people will also peel back the top once it's baked, but it totally depends on your preference. A lot of people agree that you can't really taste the rind once brie is baked, but if you can and don't like it, get it off of there! As always, it's up to you to make it how you like it.
15 Best Baked Brie Recipes to Make For Your Next Gathering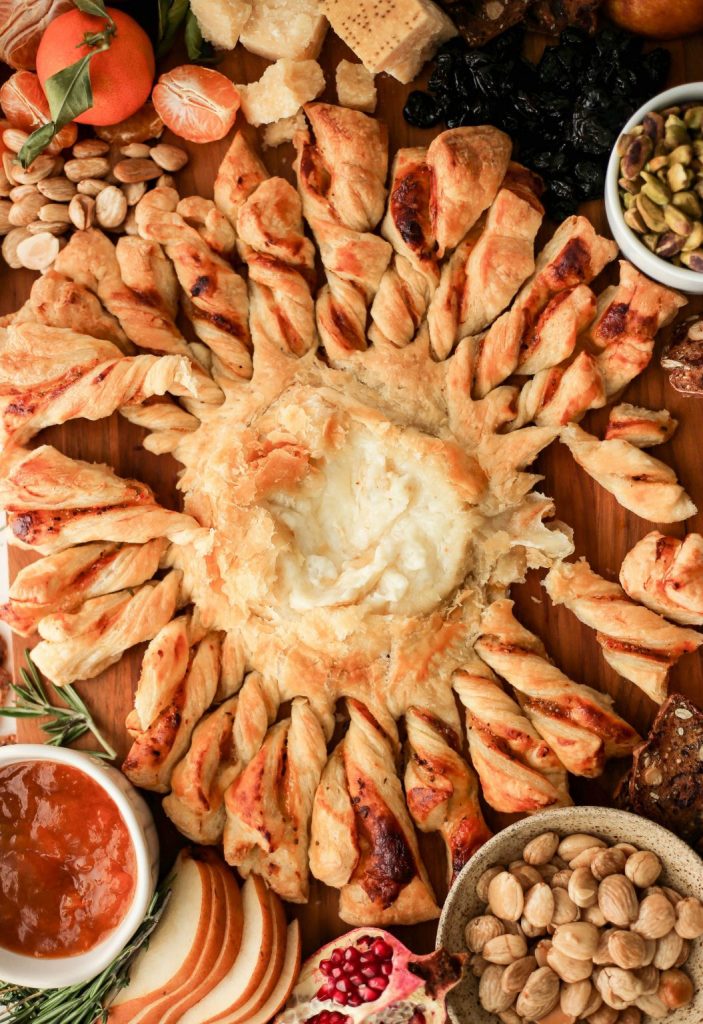 Why We Love It: This stunning centerpiece is exactly what holiday gatherings are all about. It's full of holiday flavors, colors, and comfort, and makes the perfect cocktail hour appetizer. Apricot and Brie Tarte Soleil requires a little more effort than your typical baked brie, but it's totally worth the extra elbow grease. Your guests will love it and if you assemble ahead of time, you can enjoy it too.
Hero Ingredient: The apricot preserves lend a sweetness to the pastry and cheese that's simply award-worthy.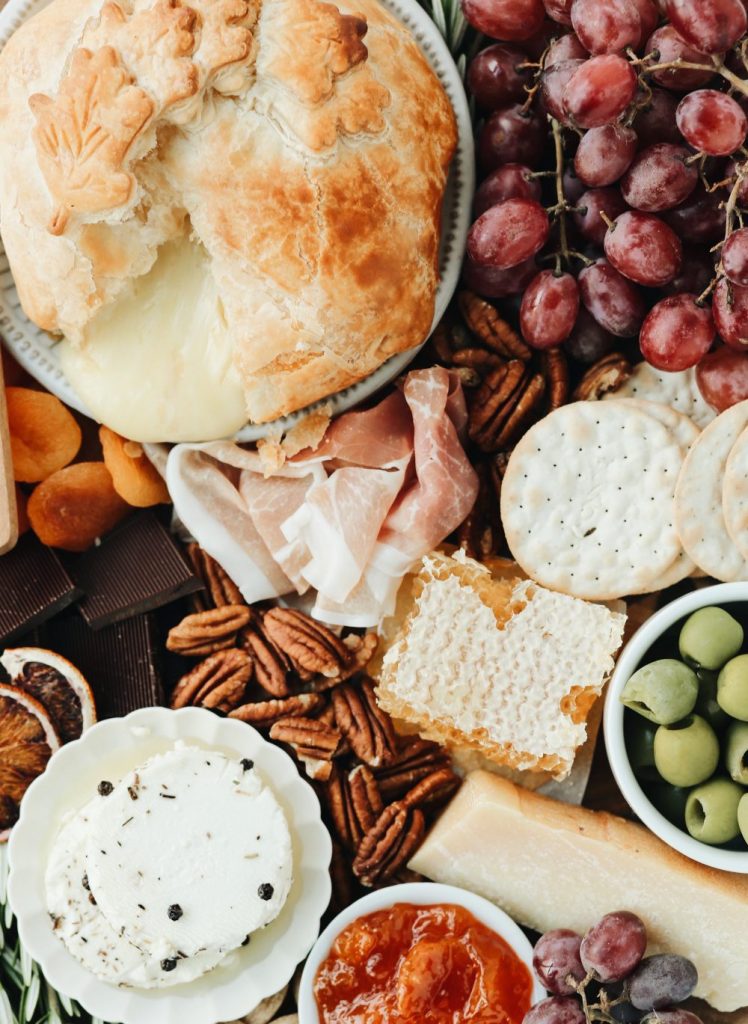 Why We Love It: This no-recipe recipe is exactly the formula you need to make holiday gatherings seamless. With baked brie as the centerpiece, there's lots of room for festive accompaniments on your grazing board. If you're looking for a straightforward baked brie recipe, we've got you covered. And if you want to kick it up a notch, you'll find just the tips you need to do so.
Hero Ingredient: The baked brie itself is super simple, so feel free to get creative with the toppings! Layer on your favorite jam, tuck in some candied pecans, or enjoy it as is. Like I said before, you can't go wrong with pastry and cheese.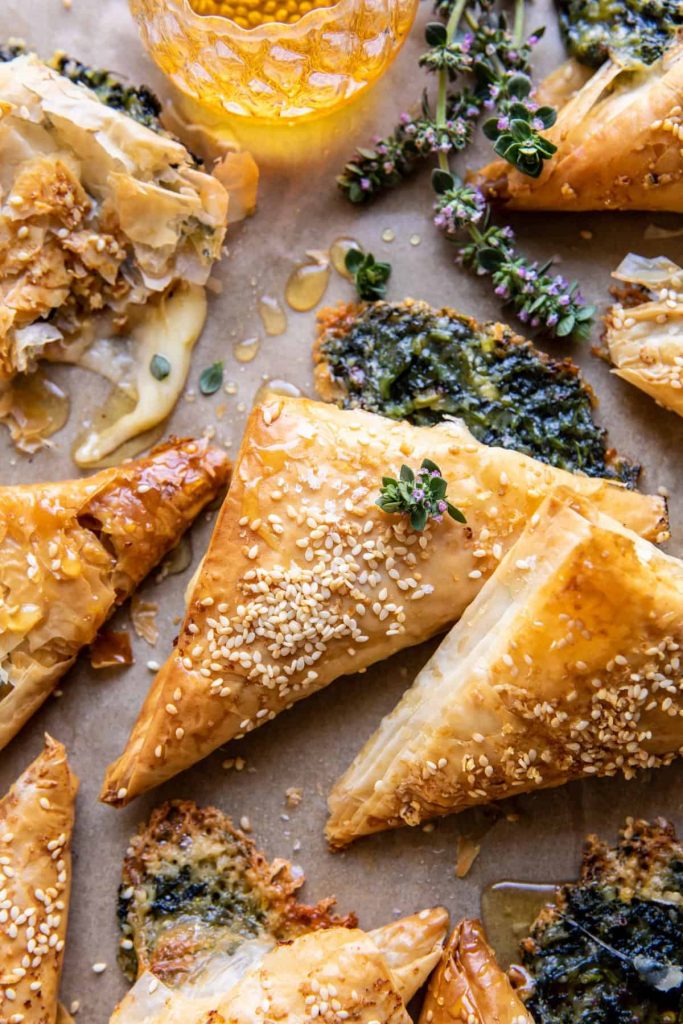 Why We Love It: Don't let phyllo dough intimidate you—these Spinach and Brie Triangles are a true delight. They've got a sweet/savory balance going on with a little drizzled honey over top to complement that savory filling. They're a little more hands-on than others on this list, but your guests will certainly be impressed.
Hero Ingredient: Sprinkle the triangles with thyme and flaky salt right when they come out of the oven. It helps everything meld together for the perfect bite.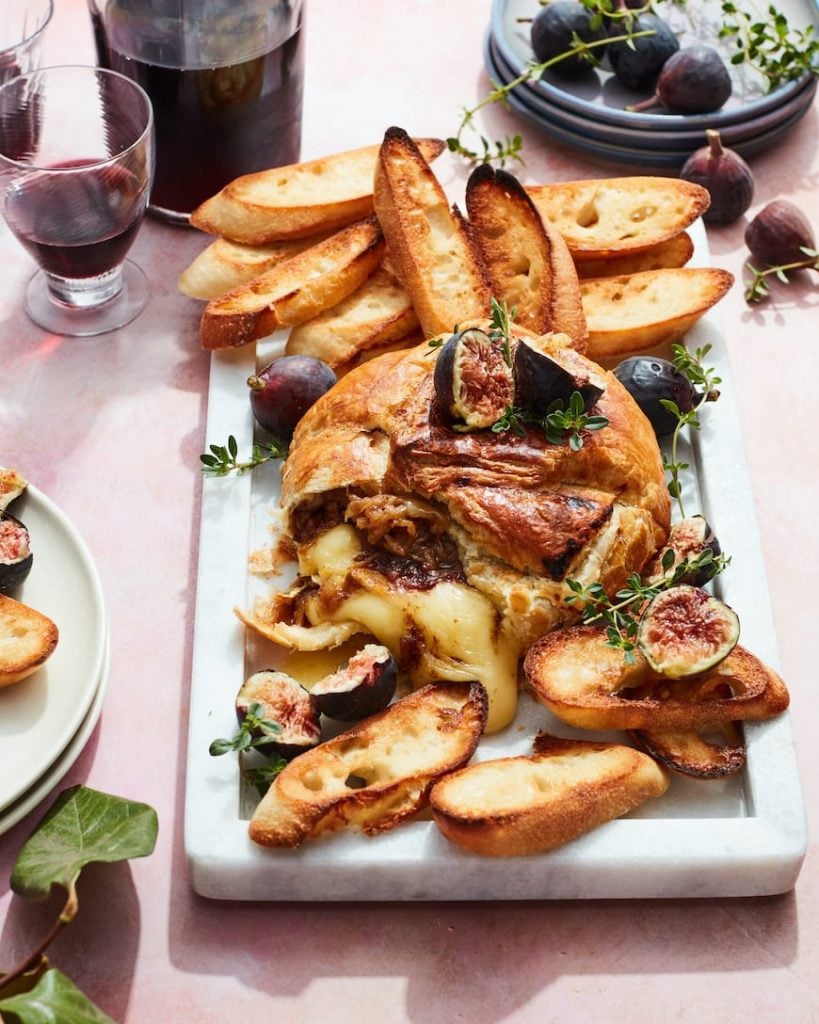 Why We Love It: Baked brie and fig jam is a tale as old as time. Much like Nancy Meyers and rom-coms, or Mariah Carey and Christmas tunes, this pairing is one that never fails to deliver. There's something about buttery pastry, melty brie, and sweet/tart fig jam coming together that can't not be good. In this recipe, that dream team is made even better with caramelized onions layered under the pastry just waiting to be savored. It's something to savor.
Hero Ingredient: The caramelized onions take the cake.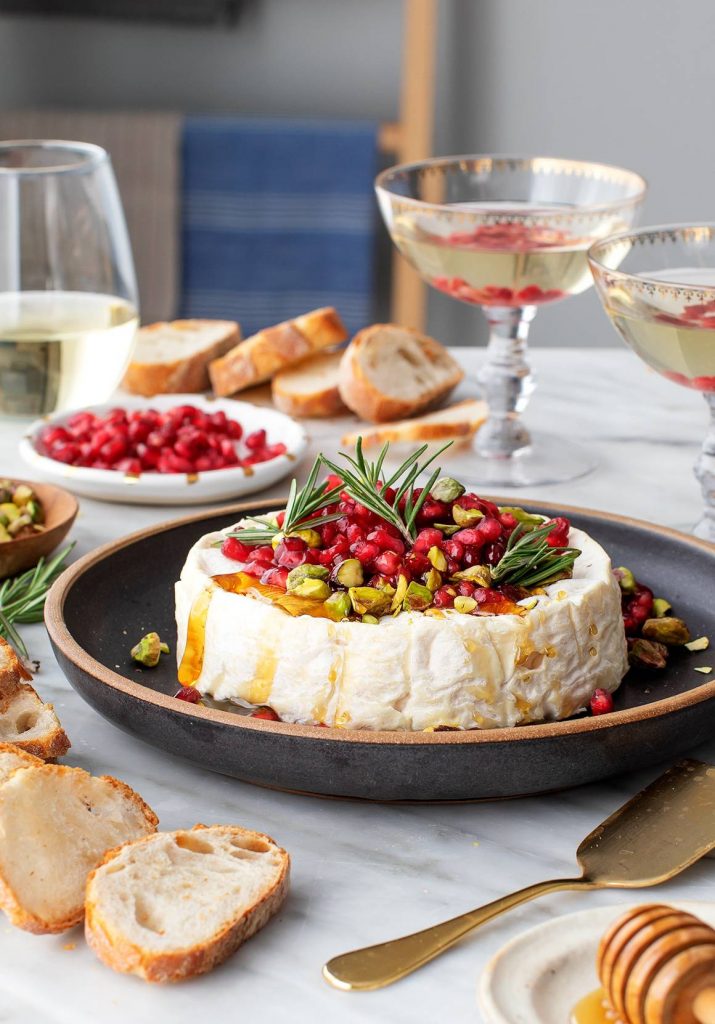 Why We Love It: If puff pastry isn't your style, this baked brie is your calling card. It's baked straight from the fridge so you get softened cheese that's more intact than some others on this list. Because of that, it's perfectly simple and ready for the toppings that accompany it. A few pomegranate arils, toasted pistachios, sprigs of rosemary, and you're set. Not to mention it's full of holiday colors and would make a gorgeous centerpiece on your table.
Hero Ingredient: Those juicy pomegranate arils are stunning for several reasons. First, they're full of color and vibrancy, which can be a nice contrast to the cheese aesthetically. They also pop in at the end with a bright flavor you can't miss. And, they're oh-so-festive for your holiday gatherings. Pomegranates for the win, if you will.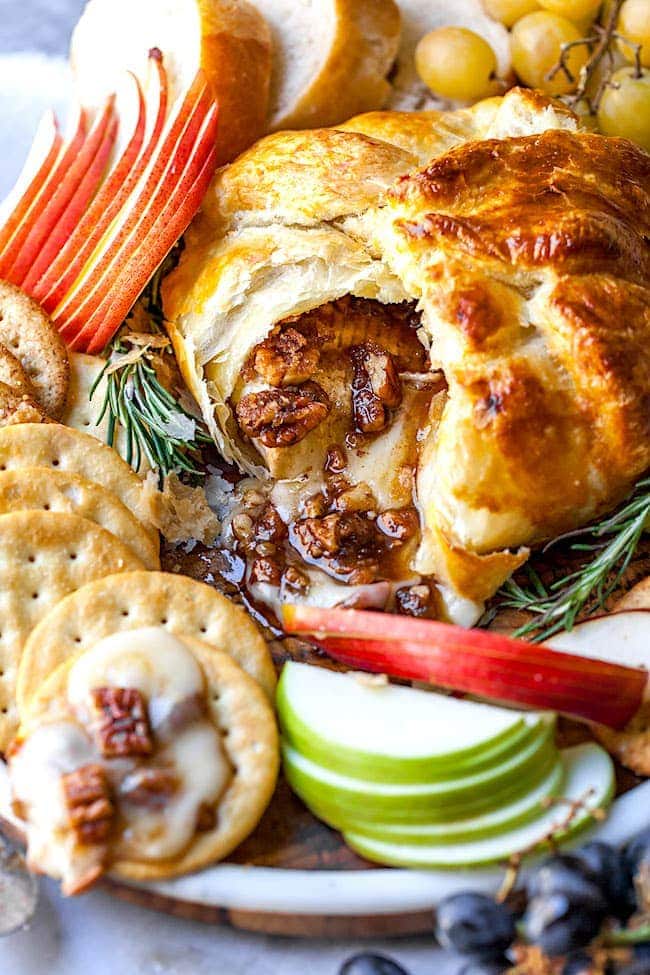 Why We Love It: This flavor combo is another one for the books. Like fig jam, candied pecans are welcome at any brie party of mine. In this recipe, the pecans sit on a small layer of maple syrup and as it cooks, those two get really familiar with each other. Once you cut into the pastry, you've got the perfect taste of creamy, nutty, sweet, warming, and winter-y in each delicious bite.
Hero Ingredient: I'm giving it to the maple syrup here. Don't knock it 'til you try it.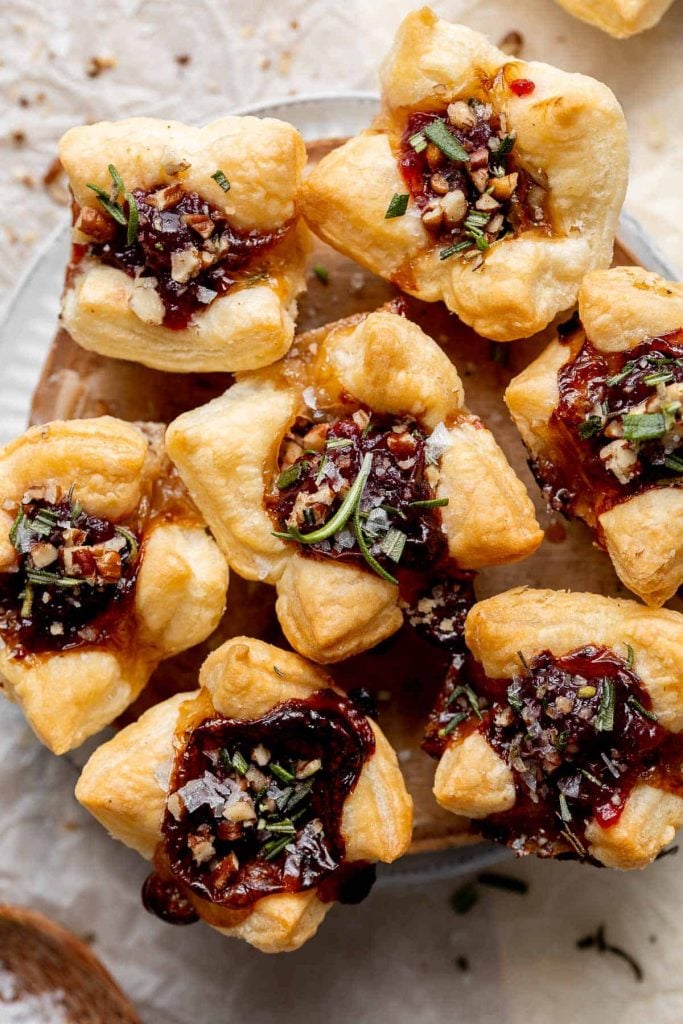 Why We Love It: I love the idea of bite-sized apps for the holidays. It helps your guests enjoy the offerings without having to commit to fixing it themselves. Plus, these bites are visually stunning and only use five (five!) ingredients. All it takes is brie, puff pastry, cranberry sauce, pecans, and rosemary, and you've got a winning appetizer for the masses.
Hero Ingredient: Hero method: you can make these ahead of time. Simply assemble the bites, store them in a mini muffin pan, cover them with plastic wrap, and chill. A few minutes before it's time to serve, pop them in the oven until golden brown. Hosting made easy.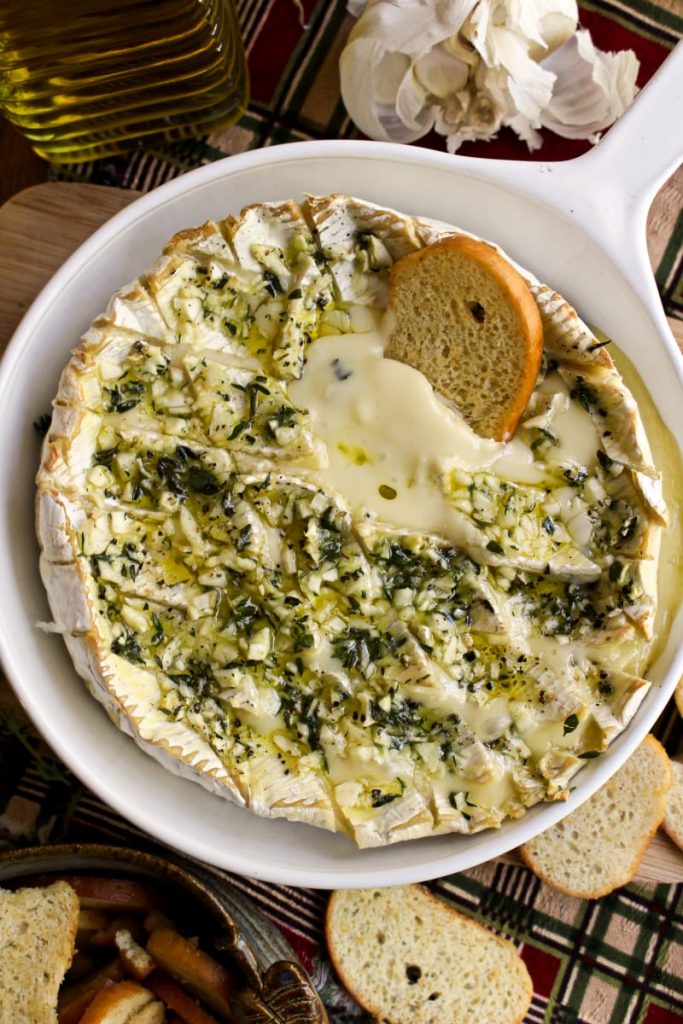 Why We Love It: For the savory lovers among us, this is your best baked brie. It's full of garlic and herb flavors that keep things satisfying and dippable. Since the rind is scored before baking, you can scoop bread or crackers right through the middle without any resistance. Are we sold yet?
Hero Ingredient: The garlic is not for the faint of heart, but it's the generous amount that takes this recipe over the top.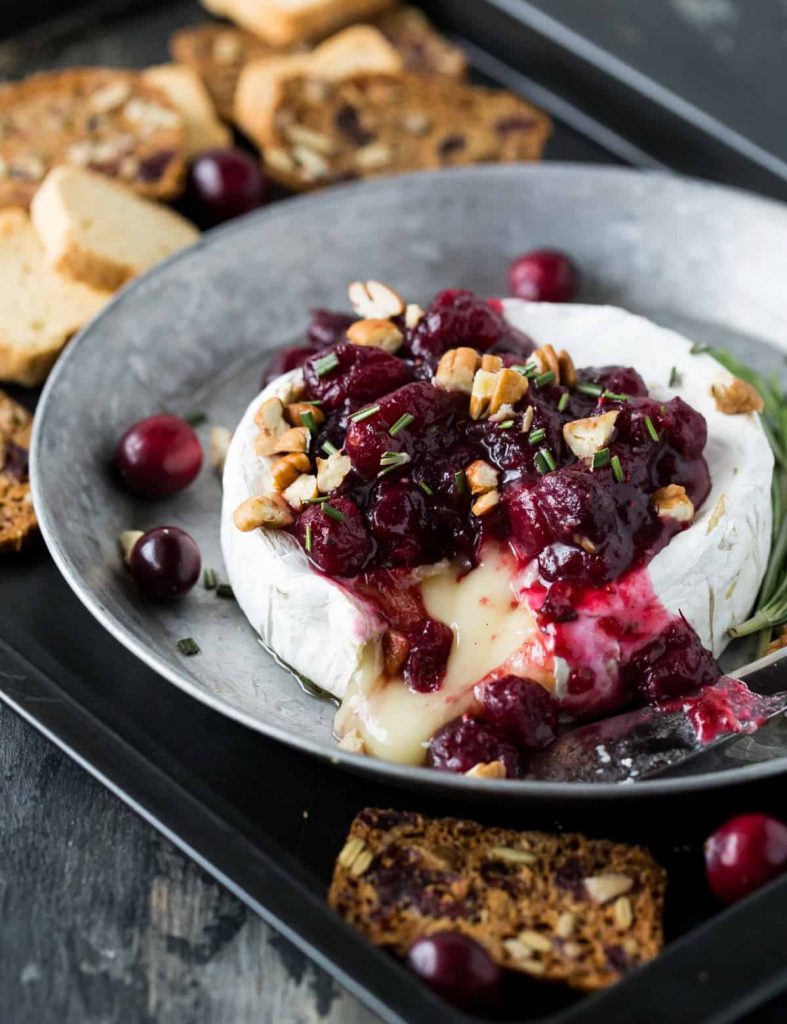 Why We Love It: Another pastry-less baked brie, this recipe combines the melty cheese with a homemade cranberry jam you'll want to eat with a spoon. The cranberries are simmered with maple syrup, pecans, butter, and rosemary to create the best topping for that brie. Bonus: it takes less than 15 minutes to throw together.
Hero Ingredient: To make things even easier, you can make the cranberry topping a few days in advance. When the time comes to serve, gently reheat it over the stove or in the microwave before spooning it over the warm brie. Yum.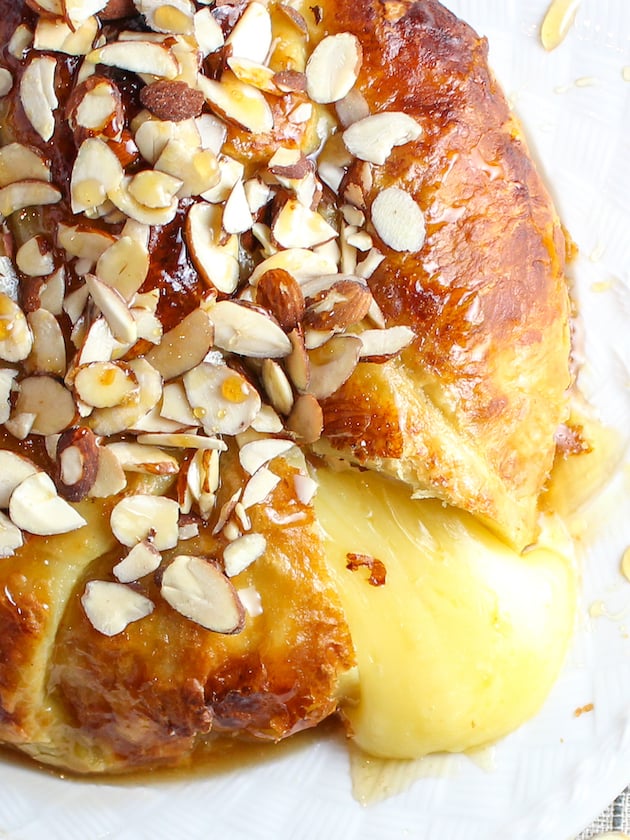 Why We Love It: The thing that sets apart this take from the other best baked brie recipes is the simple sweet/savory dynamic it's got going on. Obviously, the brie is front and center, but so are sliced almonds and drizzles of honey. It's simple in the best ways, meaning you won't spend long making it, so you can spend lots of time enjoying it.
Hero Ingredient: Using good local honey makes a world of difference. With a short ingredient list, it's always best to include your best-quality goodies.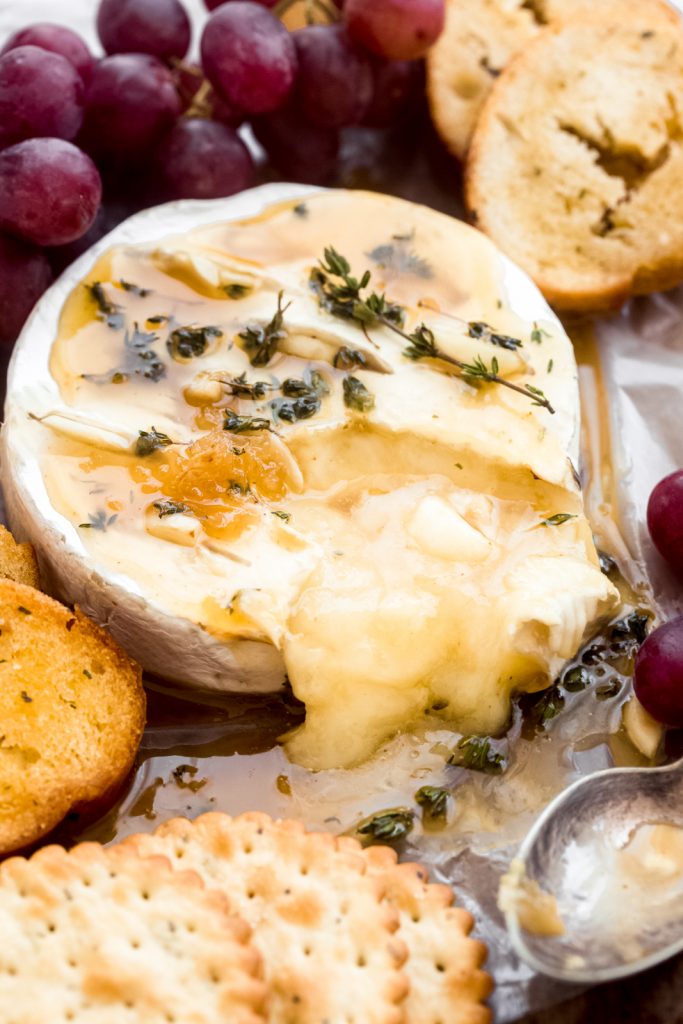 Why We Love It: This scored brie wheel has all kinds of goodness going on. First, you'll start by slitting the rind so you can insert garlic cloves throughout. As it bakes, the garlic pockets infuse the cheese with so much savory flavor that's just bursting with garlicky deliciousness. From there, the entire wheel gets a thyme honey butter bath and is ready to wow your crowd.
Hero Ingredient: Four words: thyme honey butter sauce. That's all.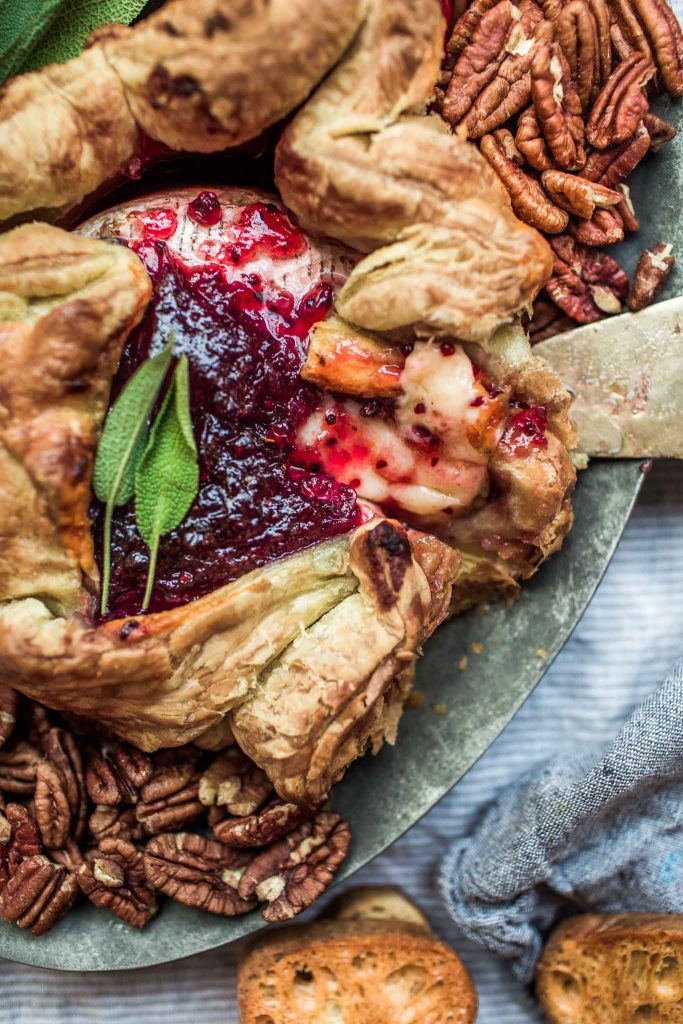 Why We Love It: Four ingredients and ten minutes are all that stand between you and this gorgeous table centerpiece. It uses puff pastry and brie (duh), plus red currant jam and egg wash to tie it all together. This is the perfect appetizer to prep a few hours in advance, store in the fridge, and pop in the oven right before your guests arrive. Any way you slice it, this classic baked brie is a winner!
Hero Ingredient: With the red currant jam, you're getting lots of tartness that balances the cheese out nicely.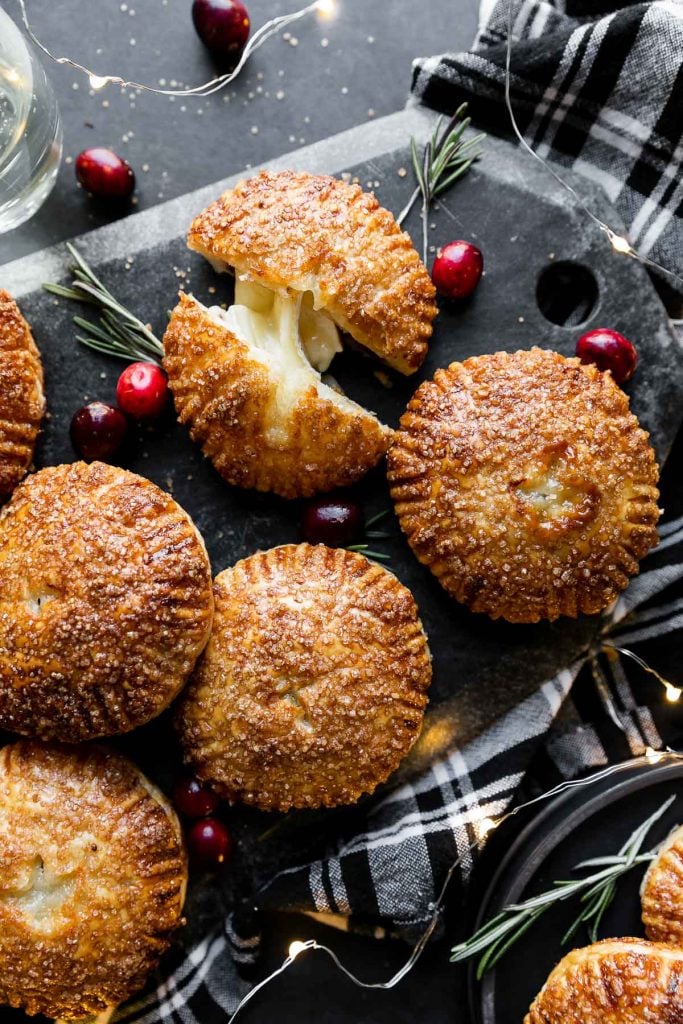 Why We Love It: More bites! And for good reason. These mini baked brie bites are like tiny pies. They're the perfect size for a handheld appetizer that your guests will love. Once you crack open that flaky pastry dough, melty brie is just waiting to be savored. Plus, they have an elevated look that totally surpasses the effort you have to put in. Win-win? I think yes.
Hero Ingredient: You can include your choice of jam, so use what you have on hand! I can't think of a single jam that wouldn't pair well with a cheese as neutral as brie.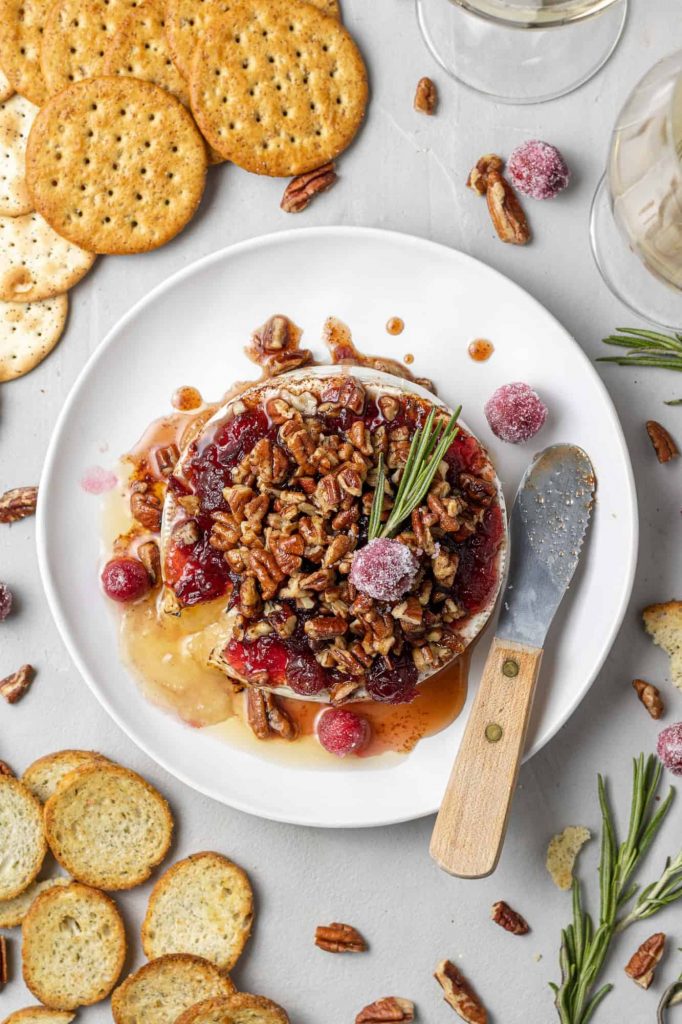 Why We Love It: Creamy brie, syrupy cranberries, and bourbon glazed pecans create a magical appetizer your guests will rave about. With light and dark brown sugar, cinnamon, nutmeg, maple syrup, and bourbon flavoring those pecans, you're in for a treat. Plus, more is more with the cranberry sauce that also headlines this baked brie.
Hero Ingredient: Sugared rosemary sprigs and cranberries make the prettiest, most festive touches on top of this baked brie. If you have some leftover, use them in cocktails, on cheese boards, or as garnishes to your holiday mains.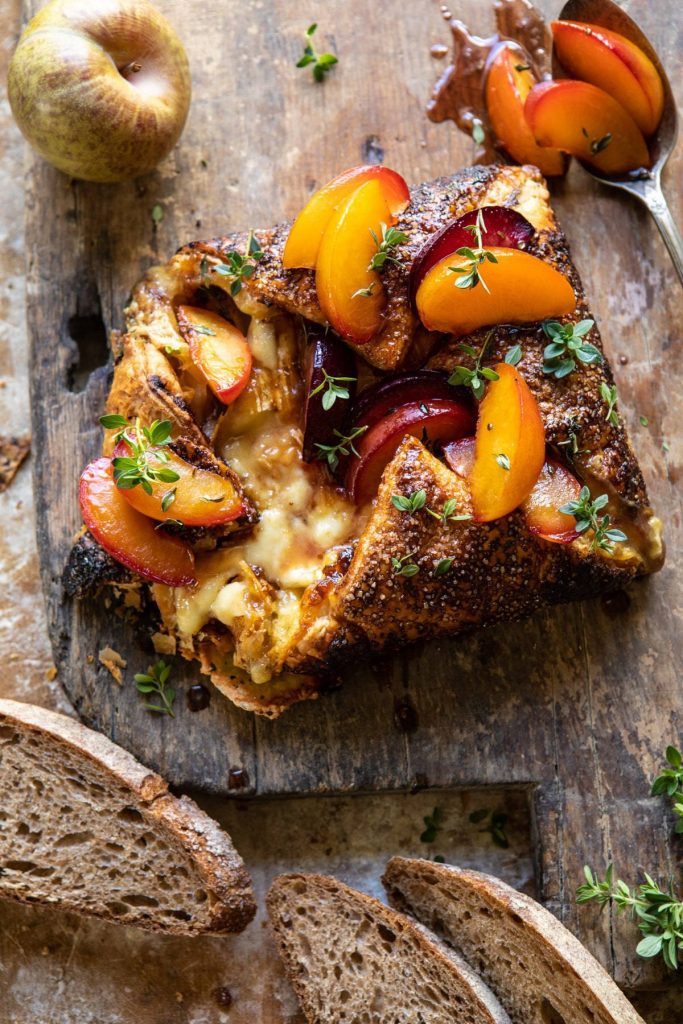 Why We Love It: This rustic yet elegant baked brie features thyme butter-roasted plumcots (a plum and apricot hybrid) and is almost too good for words. The brie is tucked away in puff pastry, which is coated in egg wash and coarse sugar to give it that deep, rich color. It's visually appealing, full of complementary flavors, and so seasonally appropriate for your next gathering.
Hero Ingredient: Those plums, you guys. They're roasted in maple syrup, thyme, and butter until soft and full of flavor. Pro tip: Be sure to spoon over any leftover pan syrup onto your brie. It's heavenly.
What are your best baked brie recipes? Share them with us in the comments!