Maybe you've heard, but we're in the golden age of dairy-free ice cream. With new brands popping up almost every month, there are endless options for the perfect lactose-free indulgence. Dairy-free ice creams often utilize coconut milk as the base, but now almond, cashew, and oat-based varieties are hitting the shelves, too. Plus, there are tons of flavors to choose from, and whether you're a vanilla stan or chocolate fan, there's something for every sweet tooth. Not sure where to start with the best dairy-free ice creams? Allow me to be your guide.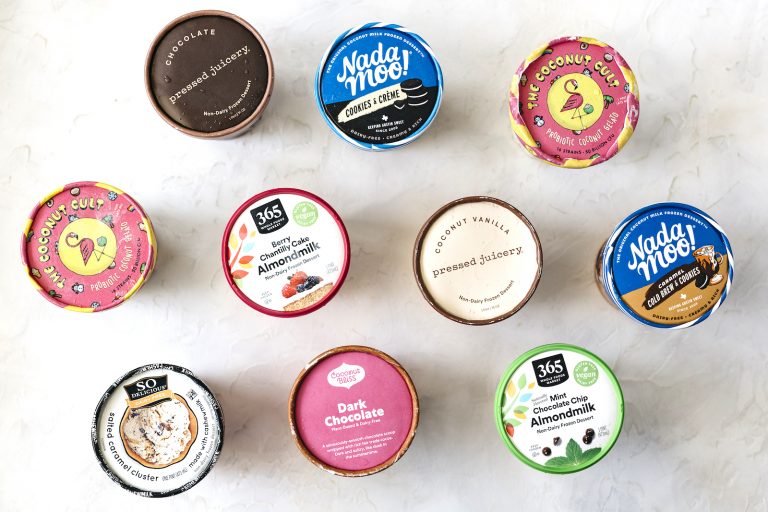 Why Dairy-Free?
We all know a perfect day is one that ends with your favorite dessert, which in my case, is ice cream. But when I had to remove dairy from my diet for health reasons years ago, I wasn't willing to sacrifice my go-to indulgence. And it turns out, many of us can't tolerate the dairy in ice cream, or in general, either. In fact, experts estimate that over 60% of humans are lactose intolerant. But thanks to modern ice cream technology, we now have dairy-free alternatives that are just as delicious, without the stomach aches.
Initially, I started churning my own dairy-free ice cream at home and experimented with different ratios, bases, and toppings. While making your own dessert is a blast, I got tired of waiting around while my ice cream maker did its thing so, that's when my quest for the best store-bought pints began. Because when we want ice cream, we want it now, right?
Since then, I've been first on the scene to test every new flavor, formula, and variety of dairy-free ice cream, and honestly, I'm thrilled to see more conventional grocery stores stock their shelves with my favorites. Now that the movement has begun, it seemed like the right time to share the best of the best. I consulted the dairy-free ice cream community for some of their favorites and recruited a team of trusted taste-testers to rate the top picks. It's not perfect, but it's honest work.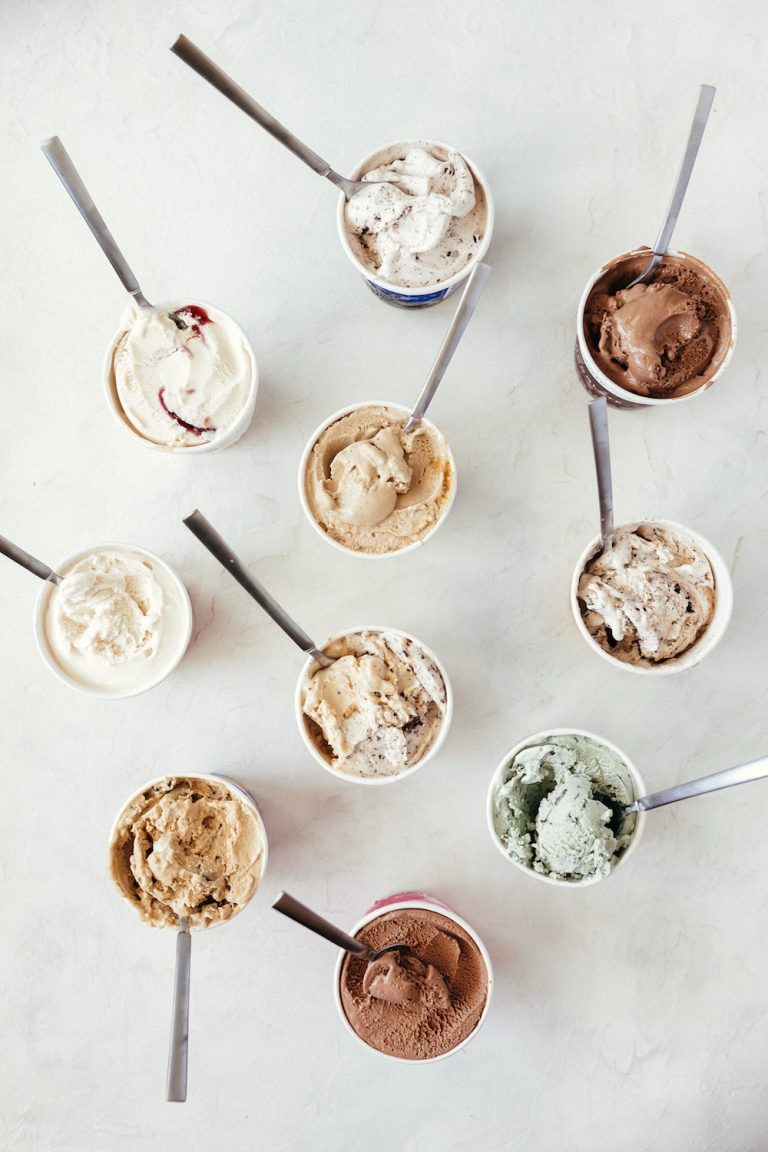 Scoring
As with our other taste-offs, (see previously: vanilla ice cream taste-off, blueberry muffin bake-off, pumpkin bread bake-off, ginger molasses cookie bake-off, and dark chocolate taste-off) we stuck to a standard scoring system. Our squad of taste testers reviewed each flavor with just one bite and rated them in terms of flavor, texture, and quality of ingredients on a scale from 1 to 5. We all agreed that the best dairy-free ice creams are undetectably non-dairy, creamy in texture, and authentic in flavor.
Billy, who ignores his lactose intolerance weekly, was setting out to find a favorite dairy-free dessert once and for all. Michael, who had never tasted dairy-free ice cream before, went in completely open-minded. Megan and Katie, who have tried almost every dairy-free ice cream on the market, had high standards for the best brands and flavors. Emily and Jessie are always honest and immediate with their feedback and don't hold back. So are you ready to find out which brand has the best dairy-free ice cream? Let's get on with it.
Disclaimer: Options and prices vary in different states and at different retailers, but these were the best brands available to me in Austin, TX. Two other brands I've loved that are not on this list are Van Leeuwen and Jeni's Ice Creams who both have delicious non-dairy/vegan flavors. Some other popular non-dairy ice creams like Ben & Jerry's and Haagen Daz were also not included here because the flavors I had access to were not gluten-free.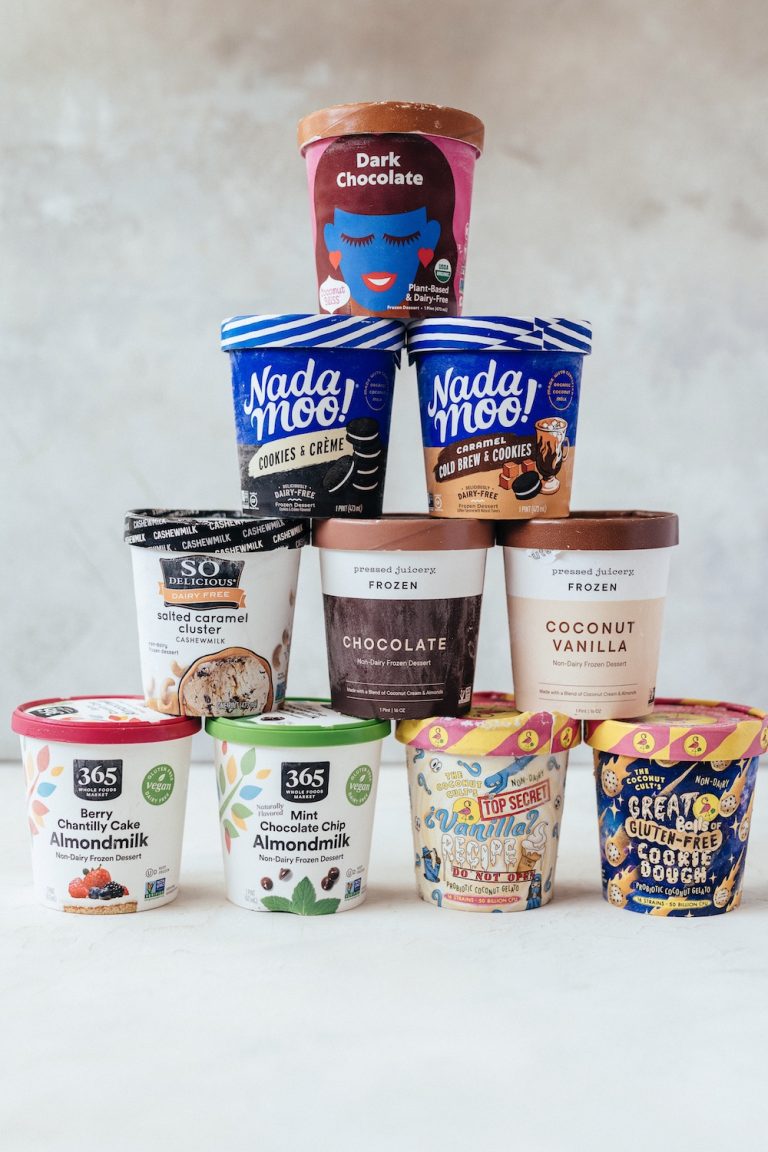 "The bite went by really fast, but it doesn't taste super vanilla-ey." – Emily
"Tastes pretty healthy. The texture was a little doughy and it was good but tasted like yogurt." – Megan
Overall impression: While I'm a sucker for great branding at the grocery store, this vanilla from The Coconut Cult is more than just a cute pint to store in your freezer. The brand is well-known for its clean, organic ingredients, and probiotic-packed desserts. While the flavor of this one was good, it did not taste authentically vanilla, and the texture didn't stack up to some of the others in the line-up. Even though it scored last place, this one received bonus points for clean ingredients and it has no gums, fillers, or cane sugar.
Flavor: Hence the name, this coconut-based "gelato" was tangy and refreshing, and almost tasted like a jar of your favorite coconut yogurt with a super subtle vanilla flavor.
Texture: The judges agreed it did not much like vanilla gelato as advertised, and not everyone is accustomed to the "zingy" texture that added probiotics bring. The Coconut Cult is a good go-to if you're looking for something sweet with guilt-free, clean ingredients, but with that comes a difference in texture that differs from your traditional ice cream.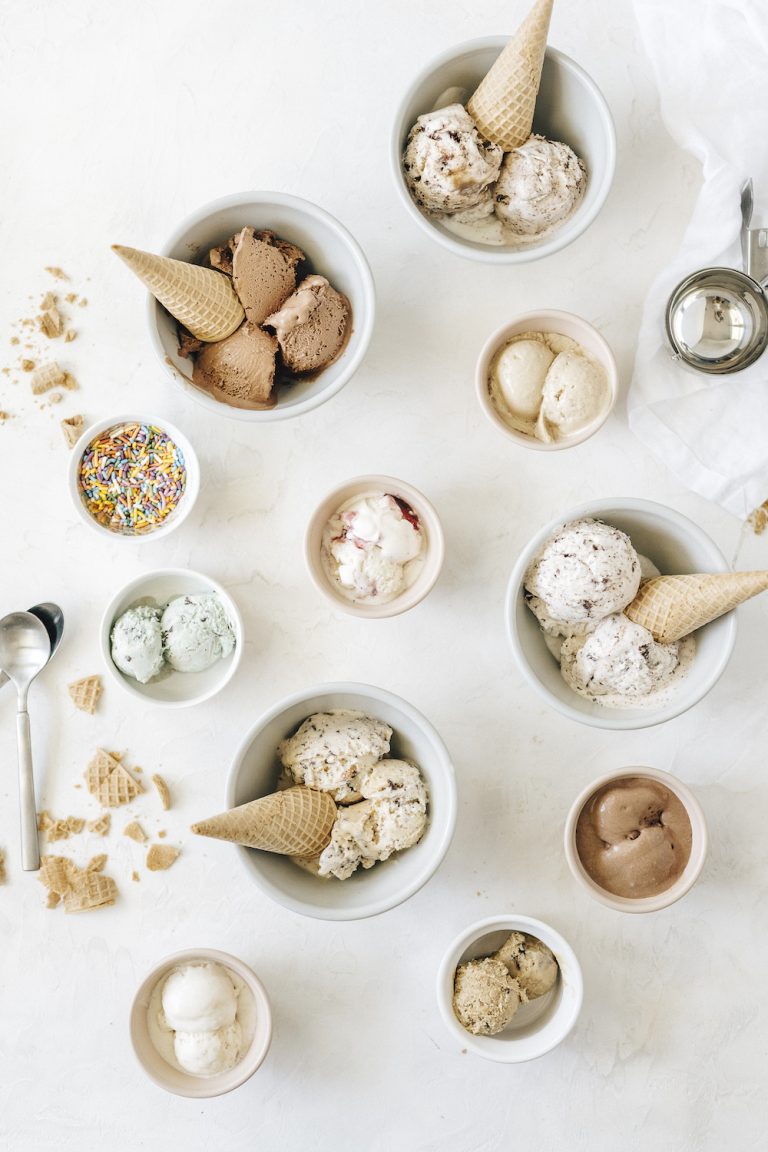 "I was intrigued to see cookie dough with a coconut twist." – Billy 
"Big coconut guy. But adding in cookie dough? Genius." – Michael
Overall impression: This one was received with mixed reviews, but I was a fan. Some rated it in their top three faves, while others weren't crazy about the texture.
Flavor: Even though it wasn't as smooth, the little cookie dough bites were absolutely delicious. Again, this one is great for someone who's looking for a healthier dessert alternative and not your traditional ice cream substitute.
Texture: It was a bit chalkier than the other pints we tried (similar to the vanilla), likely due to the lack of gums and fillers and the large chunks of vegan, gluten-free cookie dough found throughout. I did like the crunch the cookie dough bites offered though.
"I can't fathom how this ice cream doesn't have dairy." – Billy
"Suprisingly good. I don't usually like flavors like this but I liked this one." – Megan
"Do you remember the first time you had Captain Crunch? Delicious." – Michael
Overall impression: Everyone agreed that this one tasted the most like a true dairy flavor. While the flavor and texture were on point, this one scored lower simply because most of us weren't big on fruity ice cream flavors, and opt for the richer, more savory options instead.
Flavor: The flavor was sweet and fruity with rich, velvety vanilla undertones. I'm a chocolate person, but I'd enjoy a scoop of this one every once in a while.
Texture: Normally I don't opt for almond milk-based ice creams because I think the texture can feel thinner, but this one proved me wrong. This one is scooped smooth like a regular dairy ice cream.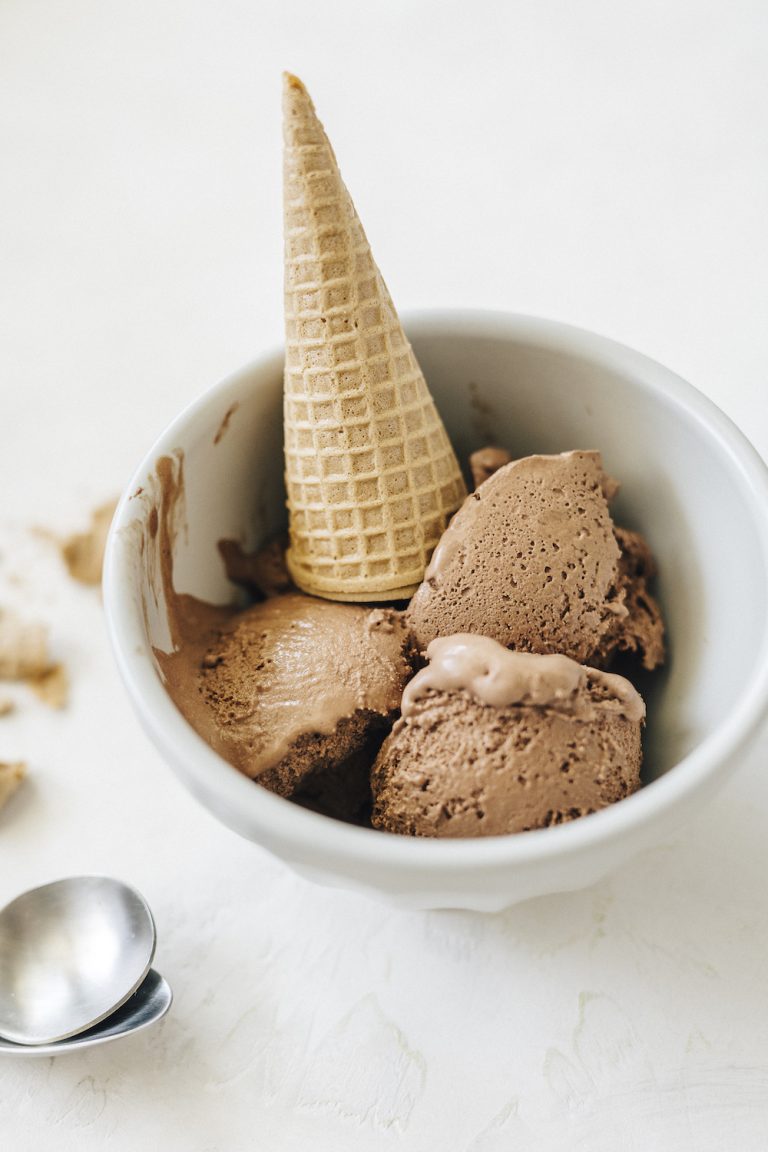 "A chocolate lovers' dream!" – Katie
"A slam dunk!" – Jessie
"Yum, frozen dove dark chocolate vibes. Reminds me of Valentine's day." – Emily 
Overall impression: Coconut Bliss really nails the dark chocolate. The flavor is super rich, which isn't for everyone, but if you're a chocolate lover, you should run (don't walk!) and grab a pint. It's absolutely delicious.
Flavor: The flavor is rich and chocolatey, almost like a dense dark chocolate truffle, with a hint of coconutty sweetness.
Texture: The texture is slightly on the icier side, but every bite is thick and refreshing.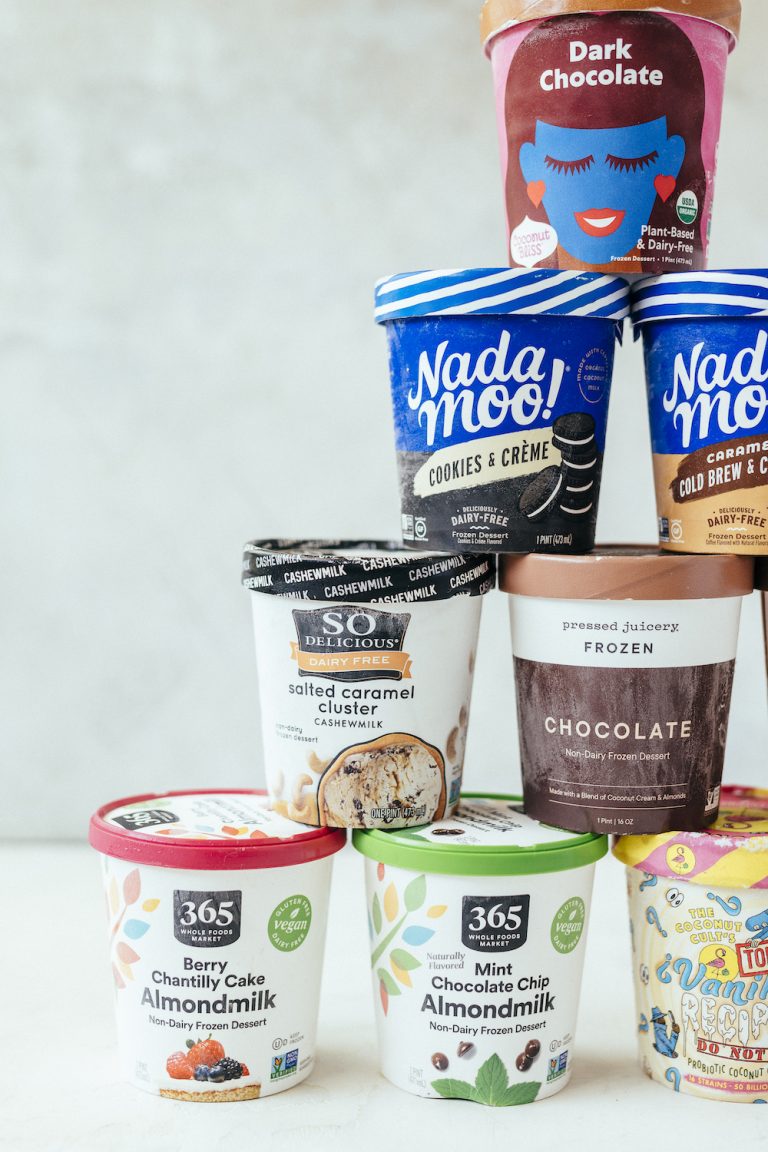 "Very pleasantly surprised by this one – the perfect amount of richness." – Katie
"Great combination of coconut and chocolate." – Jessie
Overall impression: Since this one was deemed "healthier" by our group, everyone was surprised by how much they liked it. With only a handful of ingredients and only natural sweetener from maple syrup, we were won over.
Flavor: The chocolate flavor is on point, with just the right amount of sweet and salty notes.
Texture: We all agreed that the only thing this flavor lacked was a true, creamy texture, but it didn't distract from the deliciousness of the ice cream.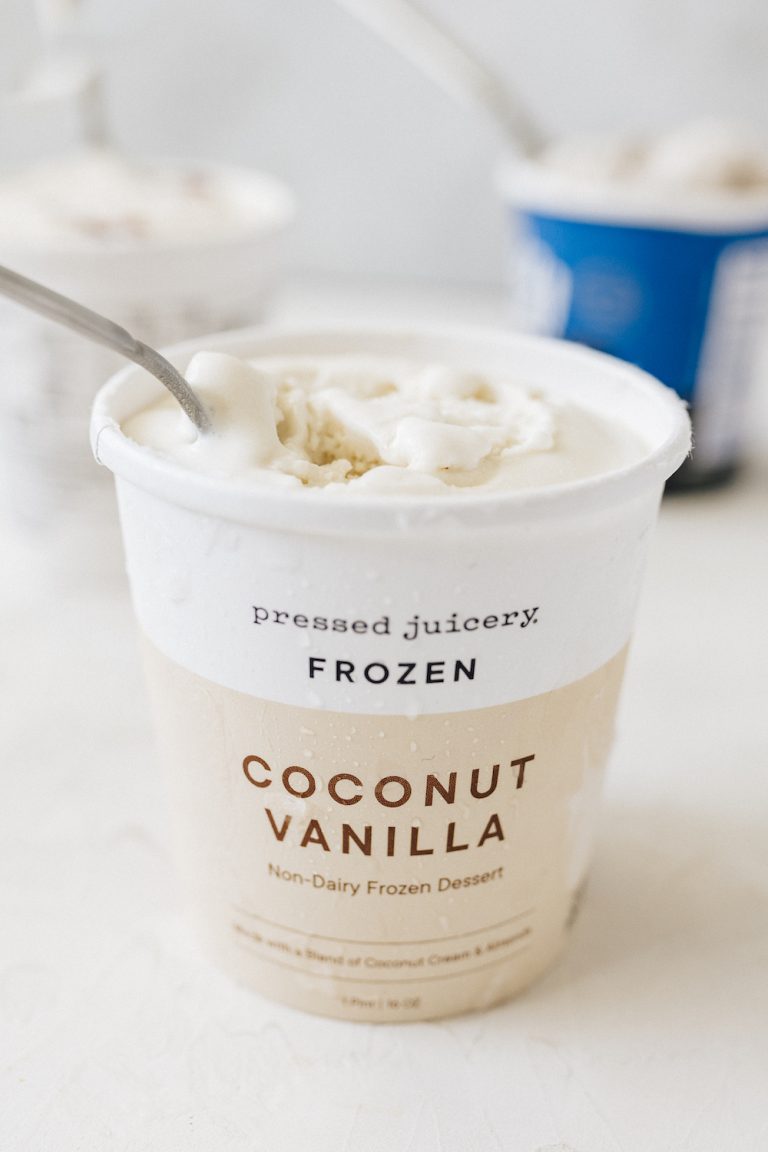 "Makes me wish I liked vanilla more because that was good!" – Jessie
Overall impression: Similar to the chocolate flavor above, this one beat our expectations. It's light, refreshing, and one of those desserts that leaves you satisfied without feeling weighed down.
Flavor: This tasted like a true vanilla ice cream with coconut undertones. The coconut flavor did not overpower, but was definitely present.
Texture: As with the chocolate flavor, the only area of improvement with this pint was the texture. It could have been a bit more smooth and creamy.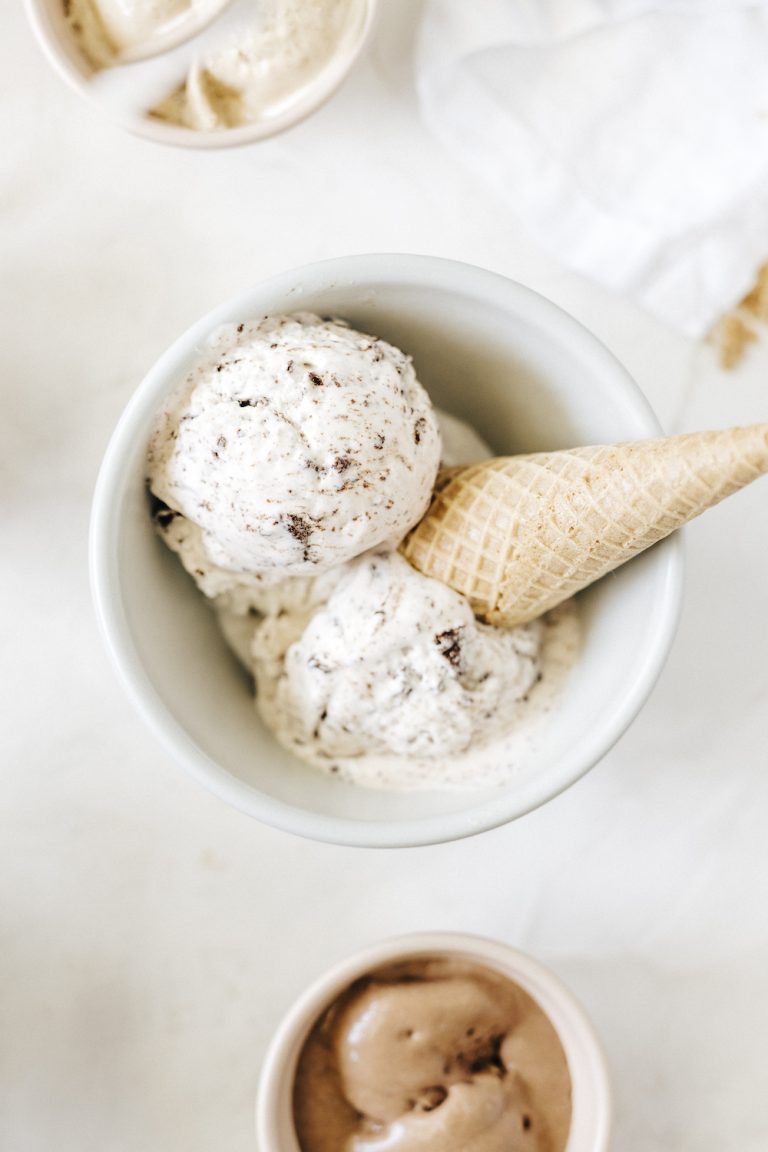 "Light and goes down smooth. It could have more cookies and cream chunks though." – Emily
"Fluffy and sweet." – Megan 
Overall impression: Nadamoo got its start in Austin, but has become one of the most well-known dairy-free ice cream brands around. They have tons of delicious coconut-based flavors, but the Cookies N' Créme is a cult favorite. We were all fans of this one, and while the flavor was delicious, the texture was even better.
Flavor: We all agreed that Nadamoo does a great job balancing out the coconut in all of their flavors. This one tasted like a classic cookies n' cream, with creamy vanilla ice cream and delicious chocolatey cookie bits in between.
Texture: The texture of this one is thick and velvety, and every bite feels fluffy and smooth.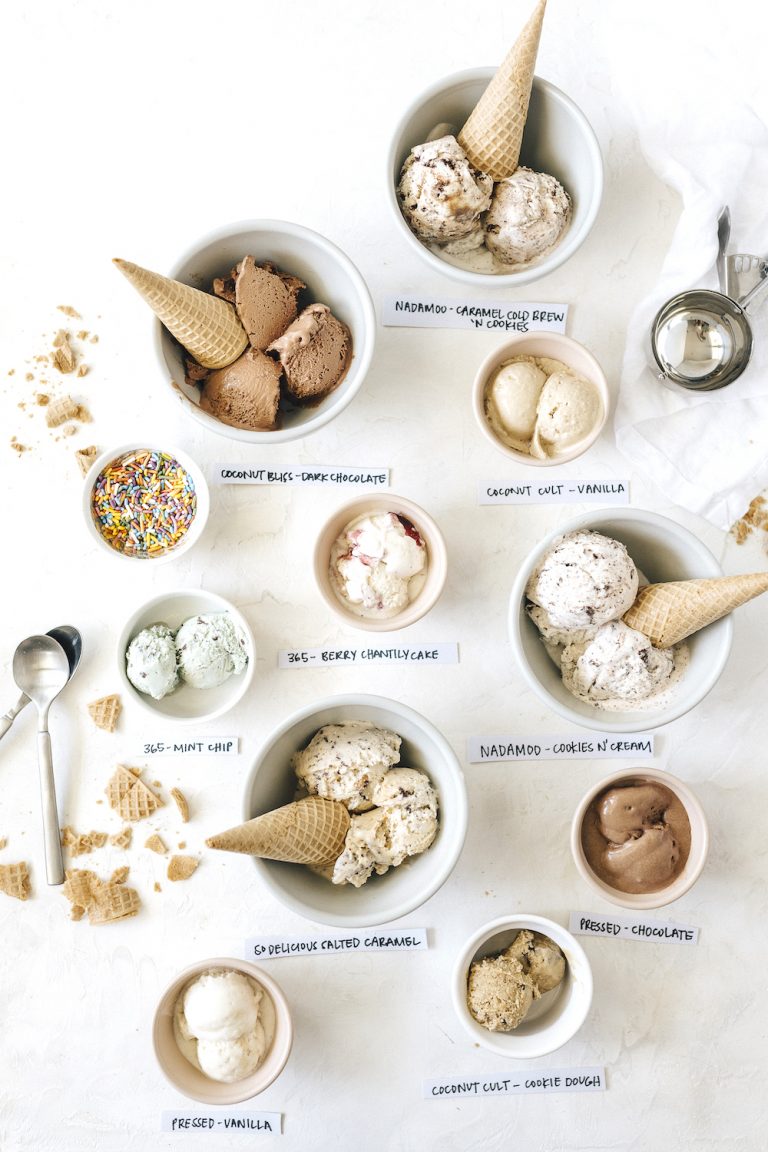 "Tastes shockingly close to regular mint chocolate chip ice cream." – Katie
"Was surprised at how much I loved this. Crisp and delicious." – Jessie
"I like it because I feel like I could eat a lot of it. Perfect crunch." – Emily
Overall impression: I was itching to try 365's line of dairy-free ice creams, after hearing rave reviews online. The mint chocolate chip was voted the best flavor by many, and we all agreed it was pretty dang good. Out of all the brands we tried, we agreed that the 365 flavors did the best job at imitating the traditional ice cream flavors we all know and love.
Flavor: The minty flavor of this one is crisp and refreshing, balanced with a great crunch from the tiny chocolate chips. We liked how this one didn't skimp on the chocolate chips, and you were sure to get a few in every bite. Delicious!
Texture: This ice cream had a great creamy texture, reminiscent of a classic mint chocolate chip ice cream.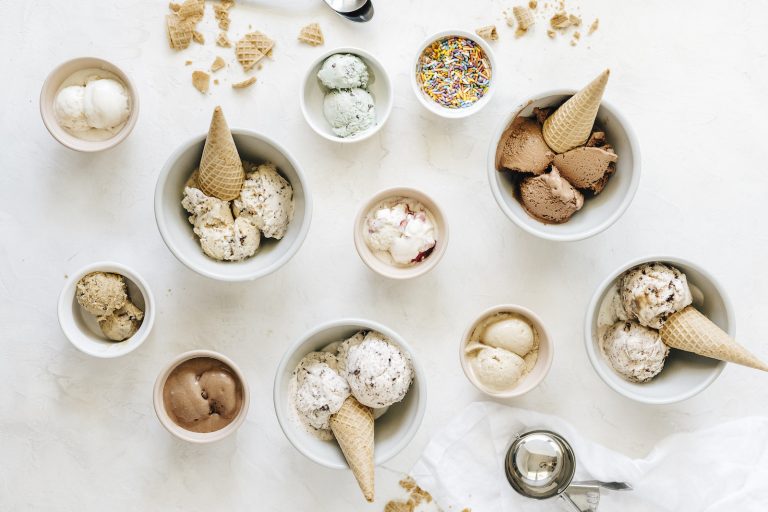 "This ice cream was everything I want in a dessert. Salty, smooth, and creamy all in one bite." – Billy
"Amazing! Hands down the best dairy-free cream on the market! Creamy, salty & sweet." – Katie
Overall impression: I had heard over and over again that this was the absolutely best dairy-free flavor around, and now I can see why. While this was a close contender for the top spot, our judges' overall indifference towards caramel scored this one in second place. If you're a fan of caramel and a more savory ice cream though, this one will blow your mind. Plus, it is the only cashew-based flavor in the mix, and the texture was unparalleled.
Flavor: This ice cream is a rare flavor masterpiece. It achieves a perfect balance of sweet and salty that I had honestly never experienced before, but will continue to dream about. Caramel, chocolate, vanilla, cashews: basically all of my favorite flavors combined into one bite.
Texture: The cashew base of this ice cream gives it a creamier, thicker texture than the others that's balanced with the smooth caramel bits and crunchy chocolate chips.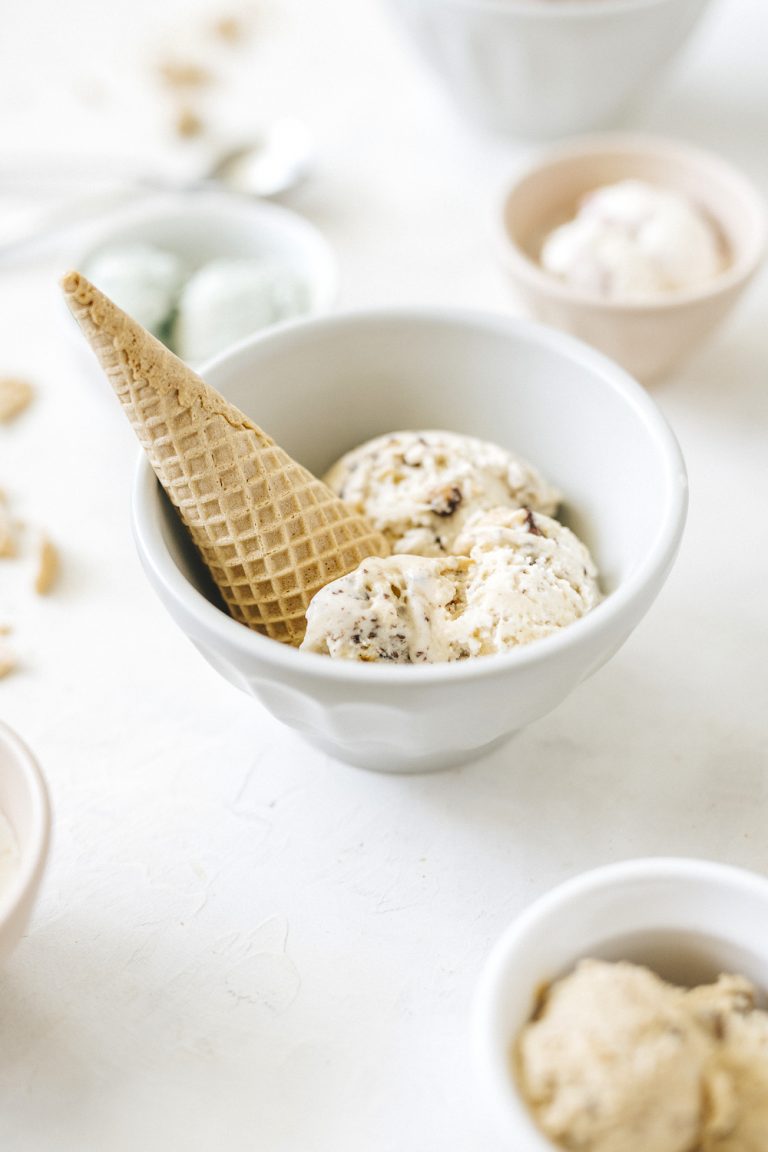 "Satisfying and delicious." – Katie
"Great combo of coffee and chocolate and bold flavor with a surprise and delight chunk of chocolate."  – Jessie
Overall impression: This ice cream was an absolute banger, and one of the most unique flavor combinations I've tried in any ice cream. True innovation.
Flavor: While our team wasn't huge on caramel in general, the caramel flavor was very subtle in this pint. It was mostly sweet and chocolately, with savory undertones and a slight espresso vibe. Digging through this pint was an adventure to find the hidden treasure of chocolate cookie chunks spread throughout.
Texture: Creamy, velvety smooth, and a little crunchy all at once. This ice cream is an experience.
Are there any dairy-free ice cream brands that are your must-trys? Share your favorite store-bought dairy-free ice cream brand below.