After a few iterations of the bake-off (cc: the best vanilla ice cream, the best blueberry muffin recipe, the best dark chocolate bars, the best pumpkin bread recipe) I've pretty much got the process down. If you're asking me to bake five different recipes on the same day and judge which one is the best? I'm the woman for the job. Just in time for the best of summer produce, I took my learnings from the pumpkin bread bake-off, planned my grocery pick up, strategized bake times and ingredient measurements, and knocked out five different zucchini bread recipes in one night to find out the answer to a very important question: What is the best zucchini bread recipe on the internet?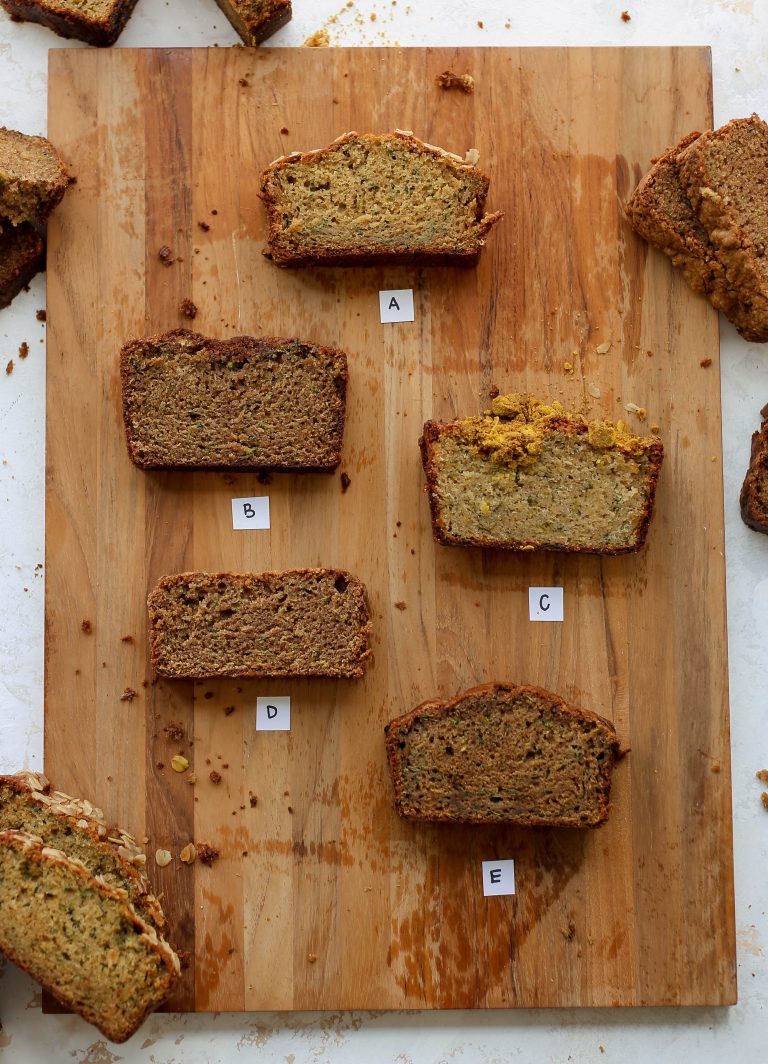 I can't say I usually give much attention to zucchini bread, and maybe that's because zucchini bread lives in banana bread and pumpkin bread's shadows. But after trying all of these recipes, I think I get it. There's a certain everyday appeal to zucchini bread that makes it less susceptible to the seasonality of pumpkin spice and aren't we all a little burnt out from all the banana bread of last year? Plus, any trip to the farmer's market during summer will probably result in a glut of zucchini that you're not quite sure what to do with.
For this bakeoff, I stuck to well-known food publications that are reliably great recipe sources and baked them all on the same night. We tested every recipe the morning after baking. I don't know about you, but I've found with many baked goods, especially bread and muffins, that the next-day test is the best way to find a winning recipe.
Rules of the road:
No Mix-Ins
Some of the recipes I baked ask for optional mix-ins like nuts or raisins, but for the sake of comparison, I wanted a clean slate for the inside of the bake. I did add oats/sugars on the top, per some recipes asks, but the ranking was based on the inside crumb/bake, plus overall appeal.
Must Follow the Recipes EXACTLY
Even if I disagreed with the baking method or measurements, I ignored my personal opinions to follow each recipe exactly as written.
Ranking Guardrails:
Testers agreed on the below guidelines for a winning zucchini loaf.
A nice rise and signature loaf slice look, with some testers asking for a distinct crust that adds a little texture to the outside of the loaf.
Not too sweet in flavor. We don't want to be overwhelmed by sweetness.
A perfectly moist crumb—no dry slices here!
A little spice flavor but not too much. Unlike a pumpkin loaf, testers preferred a cleaner flavor for the zucchini loaf.
There were some clear winners with this bake-off, and some recipes were just better than others. So without further ado, keep scrolling to find out which zucchini loaf won this bakeoff!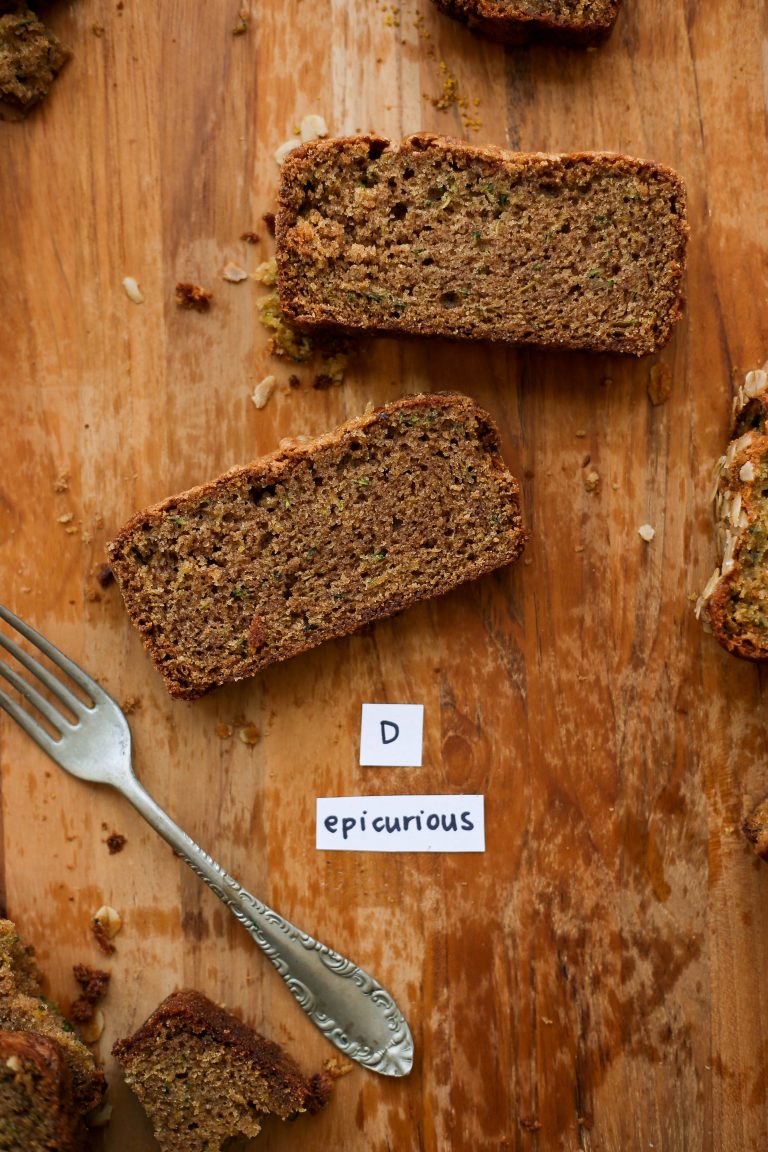 #5 Epicurious James Beard's Zucchini Bread
Unfortunately, this loaf ranked last amongst my entire group of taste testers. I actually remembered having very similar feedback on this loaf that I did with the Epicurious pumpkin bread. This loaf had the densest texture and least rise of all the loaves. The flavor leaned a little too much on the sweeter side and was very cinnamon-forward. Overall, we weren't huge fans of this recipe.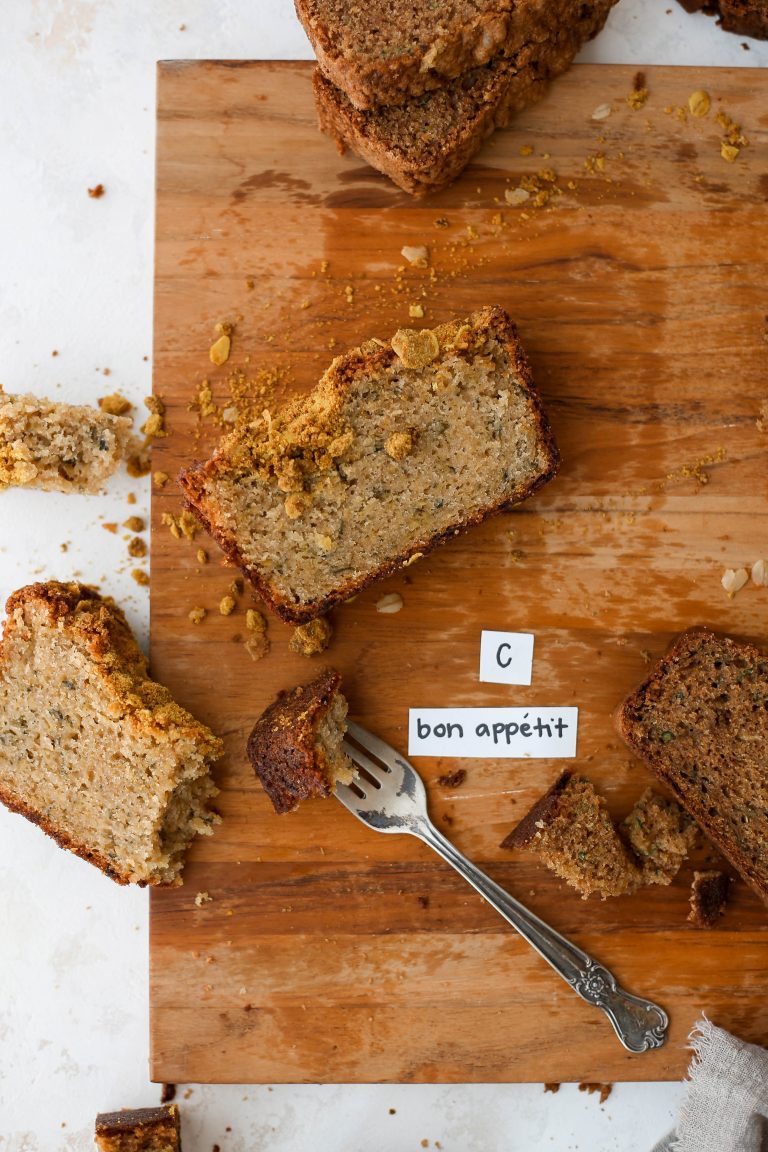 #4 Bon Appetit Ginger Cardamom Zucchini Bread
I almost hate to rank this recipe on the backend of our list. But the feedback on this loaf was that while the cardamom and subtle lemon zest with olive oil gave this recipe the most interesting flavor, it reminded us all the least of zucchini bread. This recipe almost leans a little more cake-like than loaf bread-like. The texture is slightly dense, as in everyone could only have a few bites of this loaf, but the crunch from the crumble and overall flavor gave us the most conversation. If you love cardamom as I do, you'll love this recipe. I would definitely make this loaf again.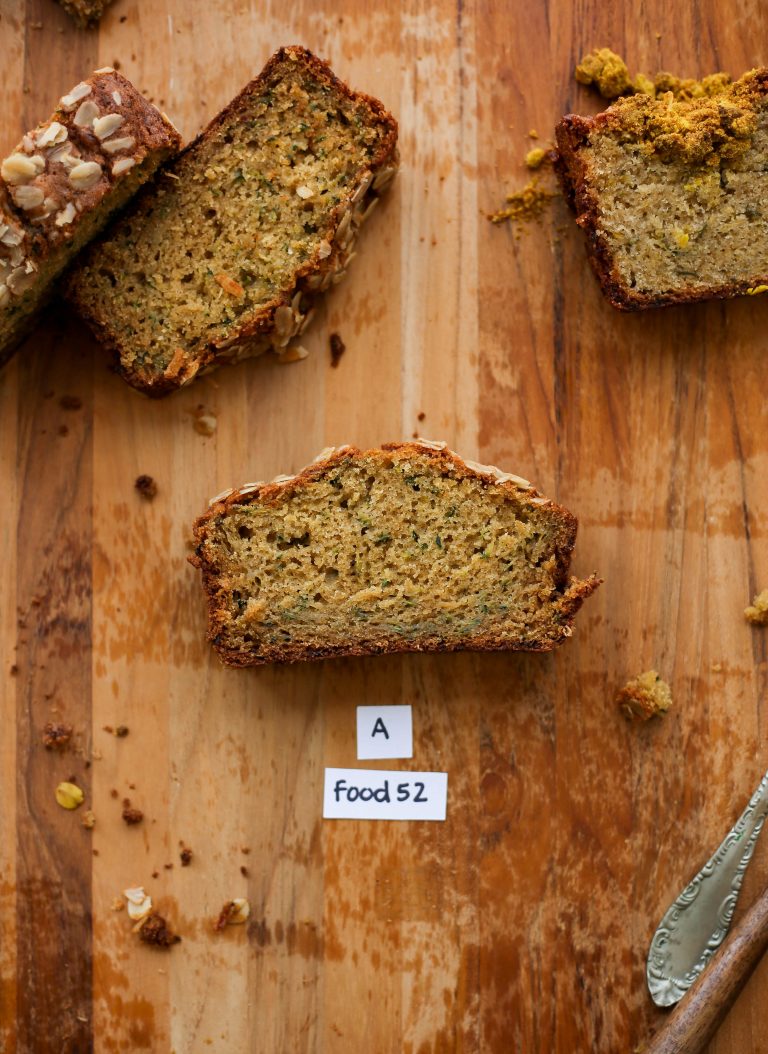 #3 Food52 Morning Person Zucchini Bread
Okay if I'm being real, this was my favorite loaf of the bunch. I liked that it was the most savory of the bunch since I don't love super, sweet bread, and the texture was out of this world moist and fluffy. The flavor was very clean and the olive oil adds this great savory note that just makes the crumb so moist. This was the loaf I ate all the leftovers of first. However, because I average scores with my testing team, I had to weigh that others didn't think this one was sweet enough to remind them of a bakery-style loaf. The recipe does call for raisins (which I hate) but I could see how in this recipe they help to create a sweeter slice that might be more reminiscent of the kind of loaf others were looking for. This is the one I will continue to make all summer long.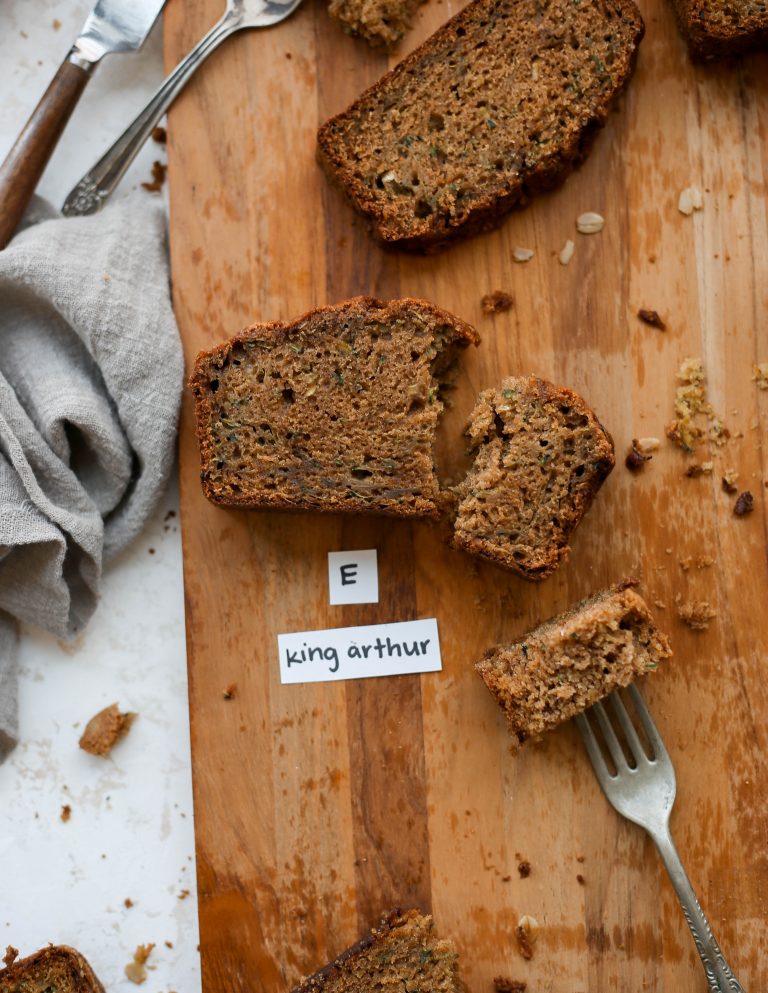 #2 King Arthur Simple Zucchini Bread
This was the good basic zucchini bread recipe that became our litmus test of comparison. This recipe resulted in a very moist slice that had a nice crunch from the brown sugar that gets sprinkled over the top. The flavor wasn't too sweet, but our testing team also didn't feel like it had any prominent flavor either. This was just a good basic loaf recipe that I would definitely bake again and all of our taste testers felt like it's the kind of loaf you expect when you say zucchini bread.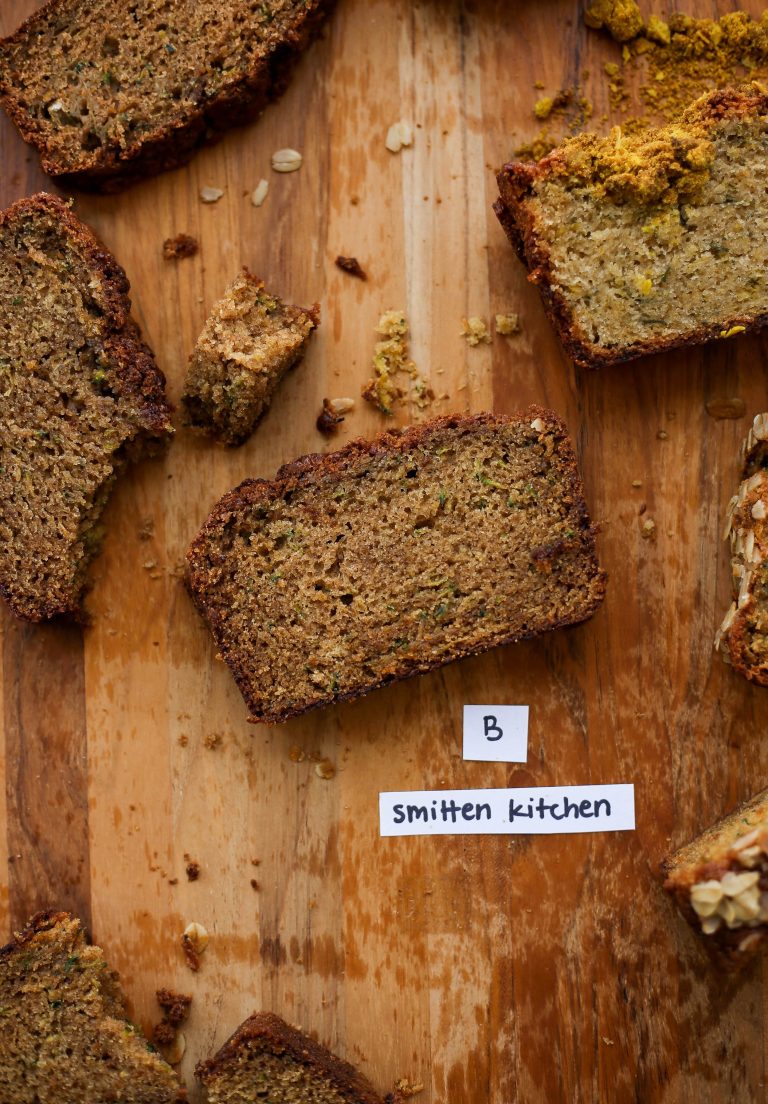 #1 Smitten Kitchen Ultimate Zucchini Bread
Should I even be surprised that Deb has created another winning recipe? Every recipe that comes out of her kitchen is truly a winner. This loaf was super moist, slightly sweet from the sugar crust on top, and was exactly what our taste-testing team was looking for out of a winning loaf. I definitely think not wringing the moisture out of the grated zucchini helped keep this loaf extra-moist, and the flavor was very subtle in cinnamon and pinch of nutmeg that gave it a little hint of something special without being overwhelming. This is the recipe we'll be making for a long time to come, and the perfect way to use up some of that leftover summer zucchini.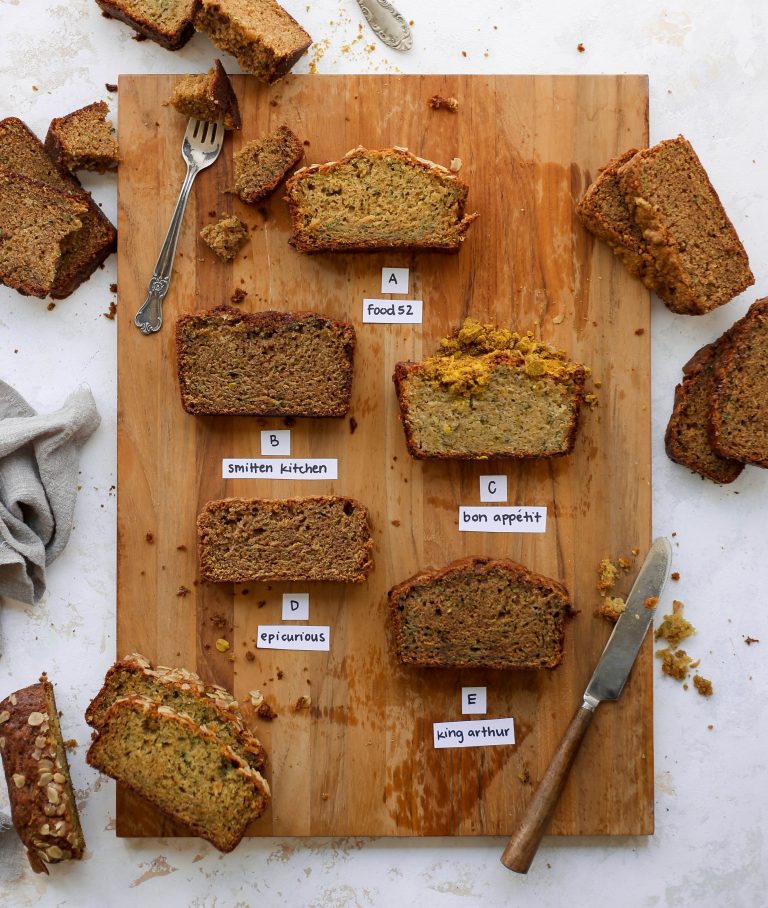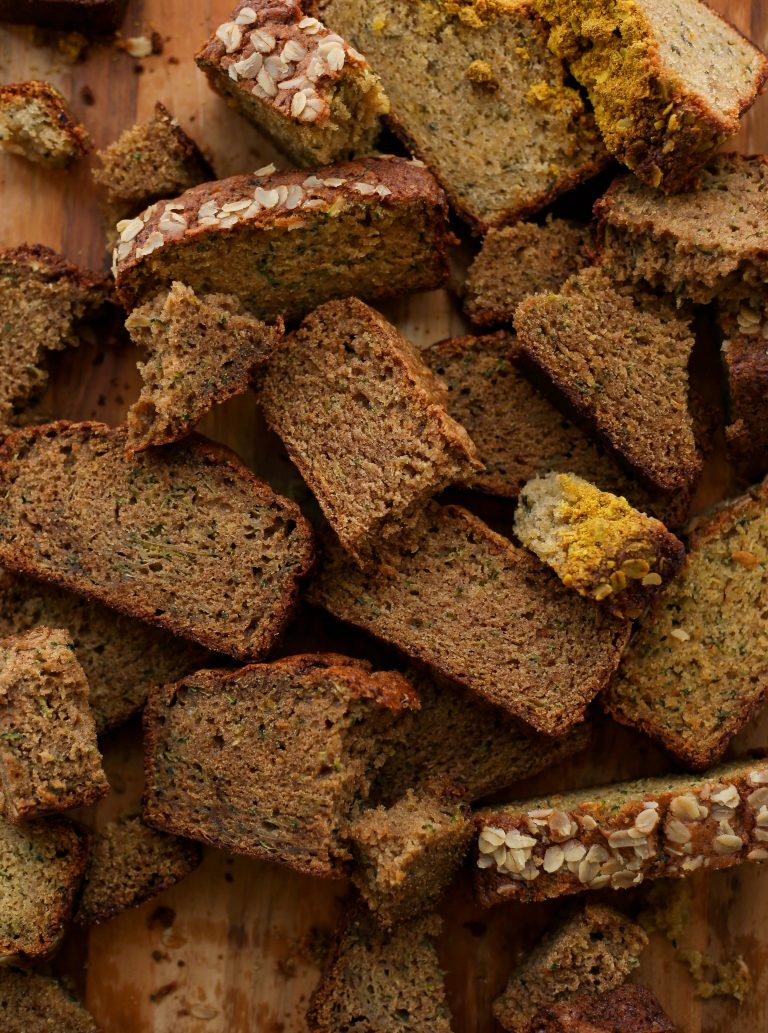 Have you tried any of these recipes? Which one is your favorite?