While I am known in my friend group for having a relentless sweet tooth (see exhibit A and exhibit B), I am also a known kale fanatic. As in, I freaking love kale. I'm the only one in our house that eats the leafy green. My dad and brother both despise it based on its texture and bitter flavor. They prefer spinach of all things, which (hot take) is just wrong. I don't mind spinach in a smoothie for an extra shot of greens, but when it comes to salads and side dishes, I am all about crunchy texture, chew, and earthy green flavor. But, all great love affairs still need some heat to keep things going, and after a few too many boring kale salads over the last few weeks, I was struggling to come up with a fun way to spice my lunchtime salad routine up. Enter: buffalo cauliflower chopped salad.
As a vegetarian, I have seen a few recipes here and there for buffalo cauliflower, but had never tried it myself. After tinkering around with a buffalo sauce that was spicy enough to give it a bit of a kick and trying a few different vegetable combinations, I can officially say that this is my new favorite salad.
Everything starts with the buffalo sauce. It's spicy and has some heat without going overboard, and it really does make an otherwise boring cauliflower really stand out. All you do for the sauce is add everything into a stovetop pot and simmer for a few minutes to let everything meld together, and then you can store it in a container once cooled so that it's ready to use when you need it. Toss your cauliflower, roast, and voila! Honestly, this cauliflower would be good on its own for a side vegetable, or even on top of a grain bowl. Basically what I'm saying is, I really love this buffalo cauliflower.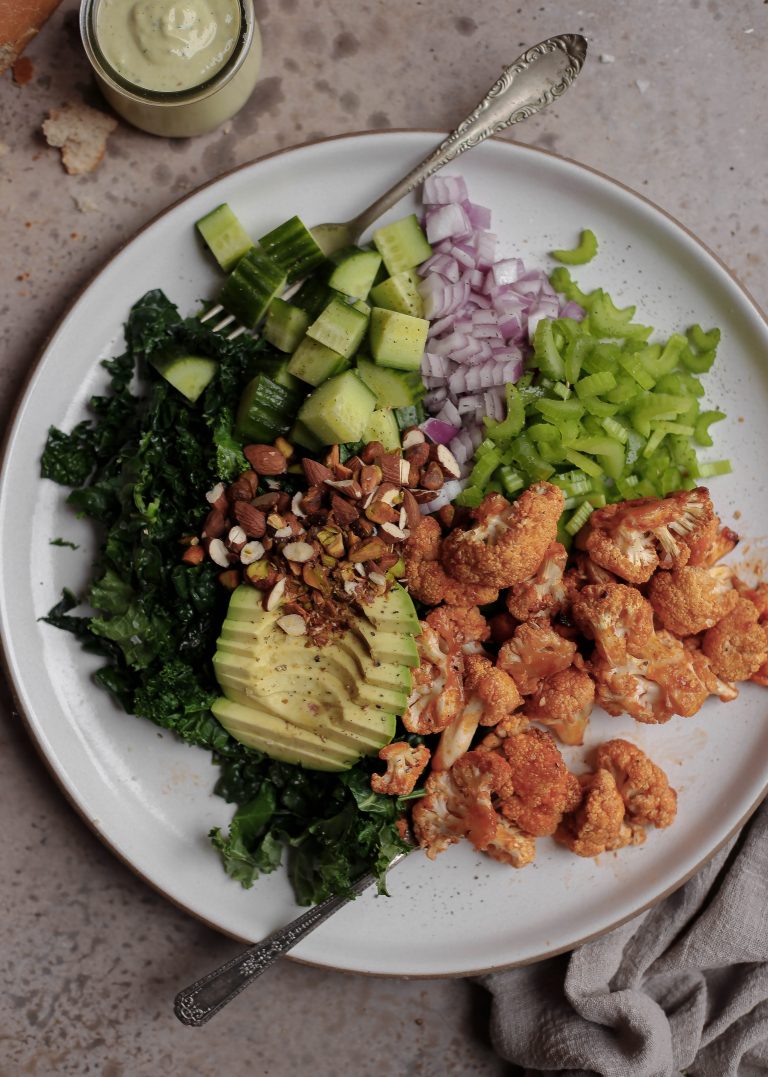 The dressing is the other star of this salad. Because the cauliflower packs some heat, I wanted to mimic the cooling effect of ranch, which we all know pairs so well with buffalo sauce. When it comes to dressings like this, I rarely measure and adjust the taste and flavors as needed as I blend. So with a base of tahini, lemon juice, olive oil, honey, a little garlic, and some basil, just blend up with a little water, taste, and adjust to your liking!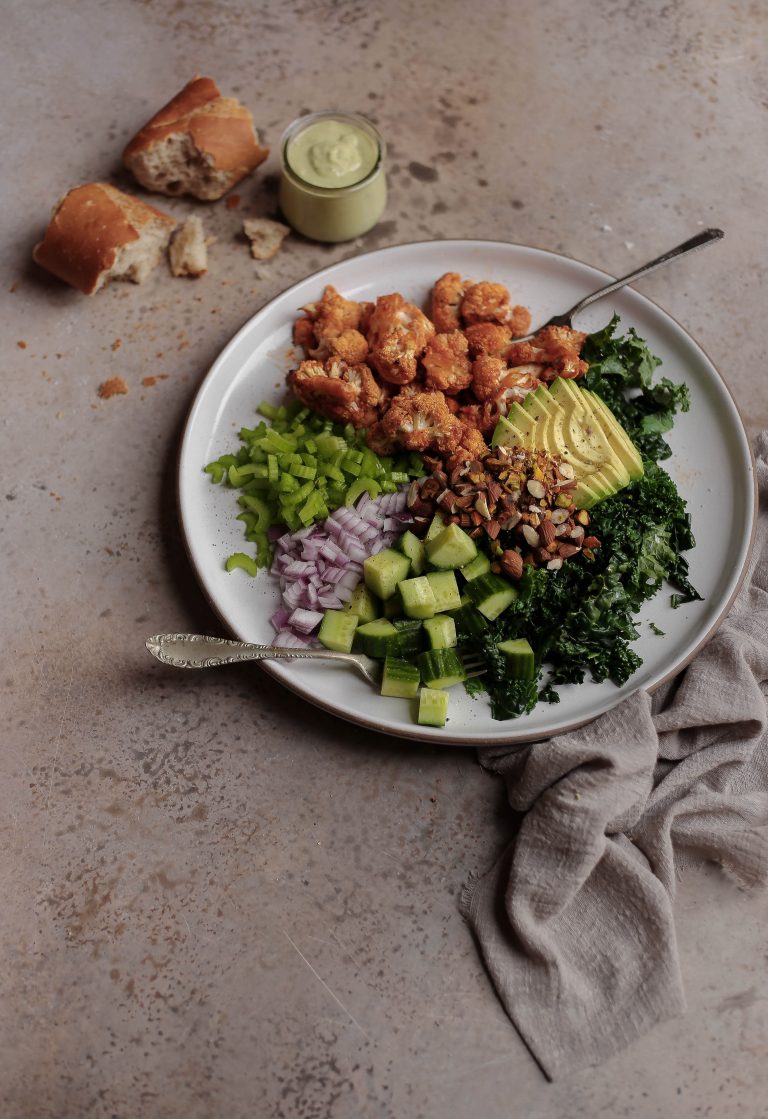 For a lunch time salad, I really wanted to pack in the vegetables here. At least for me, when I skip lunch or just have an off hand snack, I'm back in my pantry only an hour later to rummage for snacks. So to stick with the buffalo chopped salad vibe, I used cucumbers, some red onion (you could use a shallot or leave out if you have an aversion to raw onions!), celery, and kale.
Here's what I've learned about kale. I don't like it raw in salads. So what I do is chop it, and then give it a quick one-minute steam or sauté just to get that bright gem green color to show, and then it's much more pleasant to eat. You could use the massage method if you like, but the flash cook method is the one that I've really enjoyed. Top everything off with an avocado and some chopped nuts and don't forget to sprinkle some salt! You know why restaurant salads always taste better than when you make them at home? It's the salt. Always.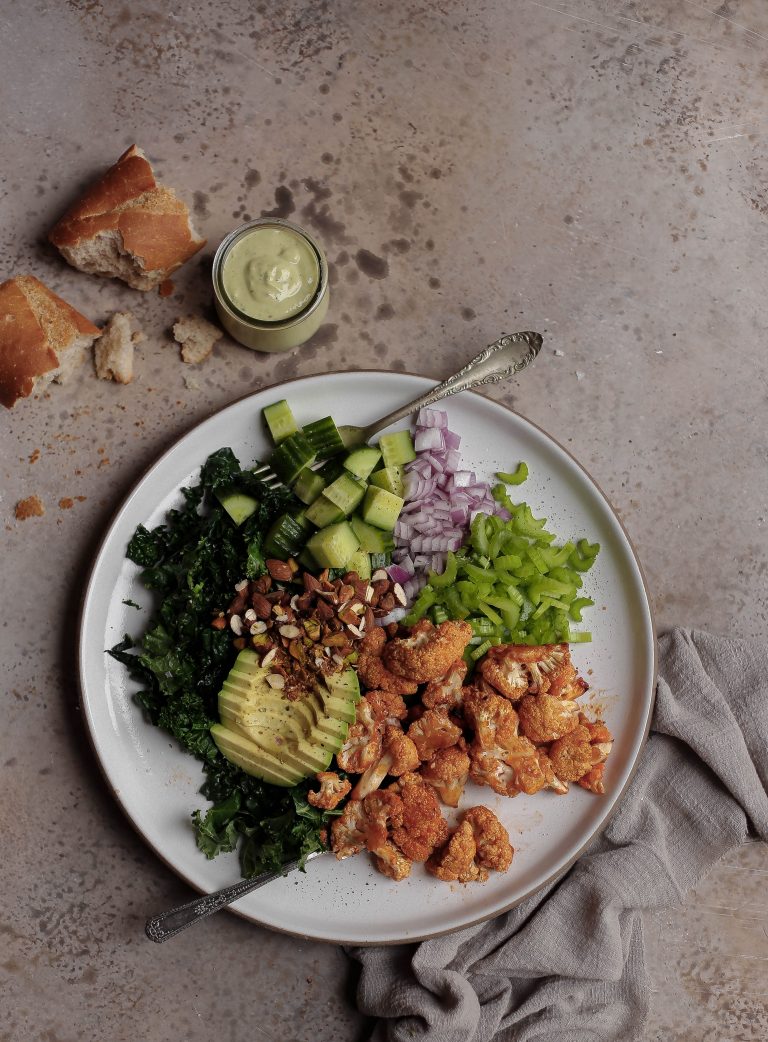 And you know what the best part of this salad is?
It's makes enough for two.
I love that it keeps well (undressed) in the fridge. So I make a whole salad, store half in a container for tomorrow's lunch, and then dress the half I'm going to eat. Time saving and delicious? Yup. I'm board.
---
Ingredients
for the buffalo sauce:
1/3 cup hot sauce
2 tbsp ghee, melted
1/4 tsp red chili powder
1/2 tsp salt
1 tbsp honey
juice of 1/2 lemon
1 small clove of garlic, sliced in half
for the dressing:
1/4 cup of olive oil
2 tbsp of tahini
big squeeze of honey
juice of 1 1/2 lemons
1/4 tsp of salt
1/8 tsp black pepper
a small bunch of fresh basil leaves
1 small clove of garlic chopped
water as needed
for the salad:
1/2 head of cauliflower, broken into florets
chopped kale or greens of choice
1/2 English cucumber, chopped
1/4 red onion, chopped
3 stalks of celery, chopped
1/2 avocado, sliced
chopped nuts of choice
salt and pepper to taste
---
Instructions
for the sauce:
In a small stove top pot, add all of the sauce ingredients. Bring up to a simmer and stir until the sauce is smooth. Remove from heat and let cool. Store in an air tight container until ready to use.
for the dressing:
Add all of the ingredients into a small blender and blend until smooth, adding a splash of water as needed to help smooth it out. Taste and adjust flavors as you like.
for the salad:
Preheat oven to 400 degrees F.
In a bowl, add the cauliflower florets and pour the buffalo sauce over. Stir until the cauliflower is evenly coated. Place into an even layer on a lined sheet tray and bake for 35 - 40 minutes until the cauliflower is cooked through, flipping halfway through.
Remove the cauliflower from oven and set aside to cool while you assemble the salad.
Add the salad ingredients into a bowl, add the cauliflower, and top with dressing. Salt and pepper to taste, enjoy!