If there's one thing to know about the Camille Styles team, it's this: we're serious about our cookies. Every Christmas, expect to see a round-up of our festive faves, and we'll forever be engaging in the soft-and-chewy vs. thin-and-crisp debate. And when Emma Zimmerman introduced us to her recipe for Chickpea Chocolate Chip Cookies, we knew we'd stumbled upon something truly special.
These are the sort of cookies you eat with careful attention to their nuance and flavor. They're buttery and indulgent but balanced by a slightly bitter nuttiness thanks to the tahini. While you might be tempted to swap in your go-to peanut butter, take our advice: don't. The unexpected tahini gives these cookies an elevated touch—perfect for when your sweet tooth strikes.
Below, Emma shares the secrets to how she turns up the volume on the classic peanut butter chocolate chip cookie. Take a peek and get to baking—this is the easy, summer picnic dessert of your dreams.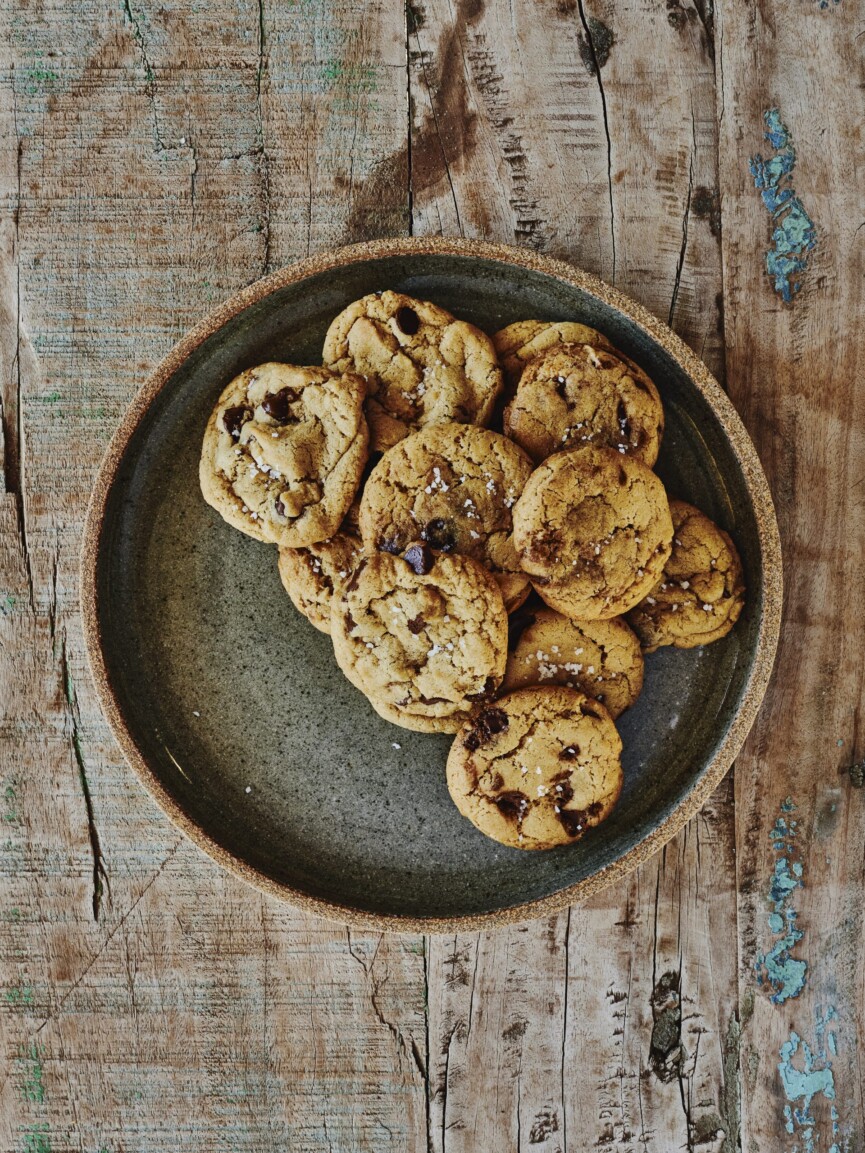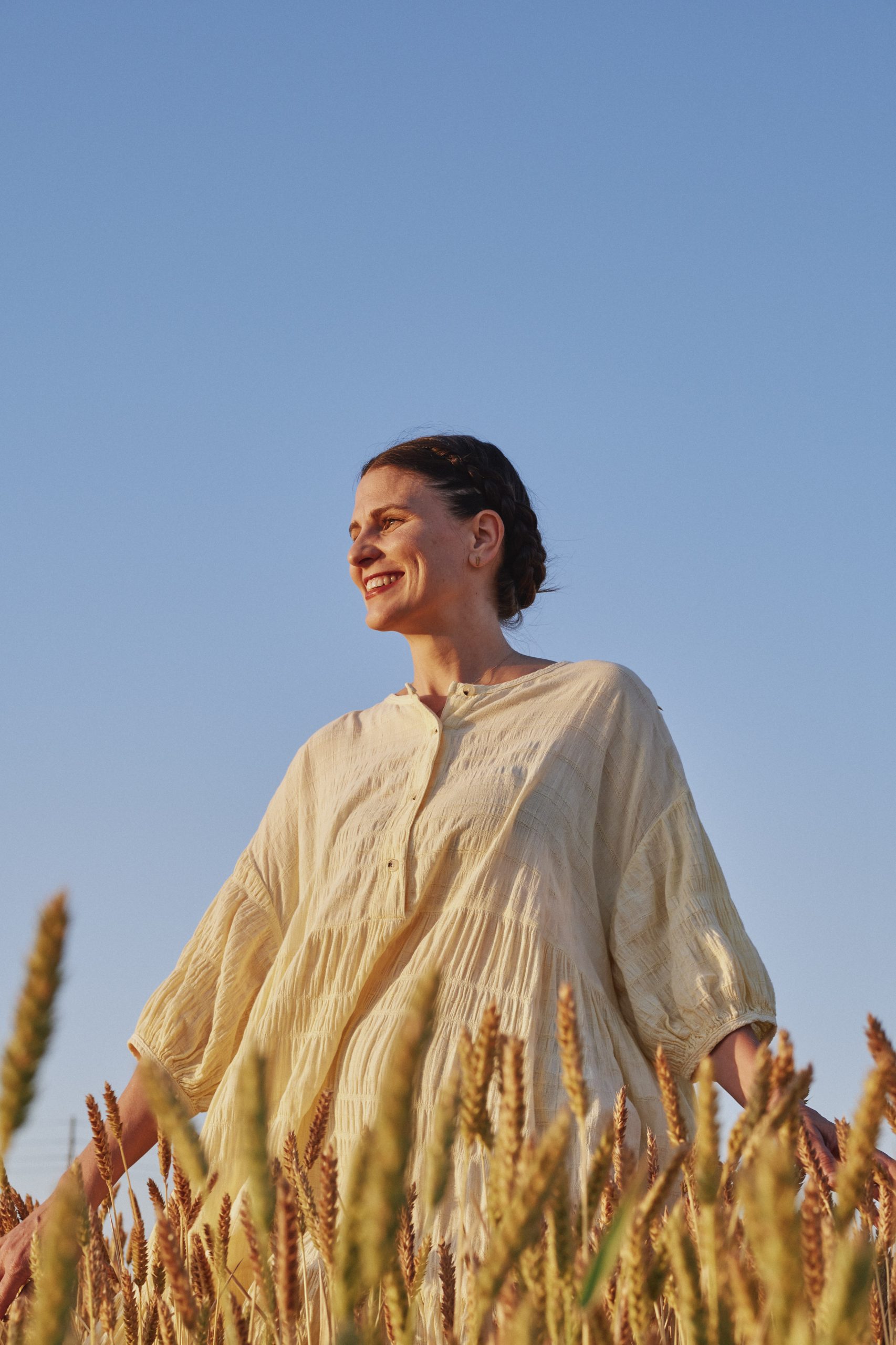 Emma Zimmerman
Emma has been at the helm of Hayden Flour Mills since 2011. Turning it from her dad's milling hobby into an award-winning business that sells its heritage grains and flour across the country. Hayden Flour Mills was one of ten winners of the Martha Stewart American Made Award in 2015 and Emma was featured in Marie Claire on a list of "Six Women Who Make Going Big in the Food World Look Like a Piece of Cake."
First, grab a sticky note and bookmark this page. Since I began developing material for this cookbook, I have made these cookies at least twenty times, but never with the intention to improve the recipe. In fact, this was the only recipe in this book that came out perfectly the first time!
I am not a proponent of 'healthy' recipes masquerading as substitutes for 'junk food.' I simply believe in real food, and this is some really delicious real food, with enough sugar and butter to satisfy any sweet tooth. The tahini and chickpea flour play off each other for a sophisticated take on the classic peanut butter chocolate chip cookie. — Emma Zimmerman
Discover Emma's recipe for Chickpea Chocolate Chip Cookies below.
Recipes excerpted with permission The Miller's Daughter by Emma Zimmerman published by Hardie Grant Books, May 2022
Chickpea Chocolate Chip Cookies
Serves 24 cookies
The unexpected, sweet and salty chocolate chip cookie your recipe arsenal needs.
---
Ingredients
210 g (71/2 oz/1 ½ cups) Chickpea Flour

60 g (2 oz/½ cup) all-purpose (plain) flour

½ teaspoon fine sea salt

½ teaspoon baking soda (bicarbonate of soda)

115 g (4 oz/½ cup) butter

325 g (111/2 oz/1 ½ cups) brown sugar

50 g (13/4 oz/¼ cup) granulated sugar

130 g (41/2 oz/½ cup) tahini (see Tip)

1 egg

1 teaspoon vanilla extract

170 g (6 oz/1 cup) dark chocolate chips

flaky sea salt, to garnish
---
Instructions
Preheat the oven to 175°C (350°F). Line two cookie sheets with parchment (baking) paper.

Combine the flours, salt and baking soda in a large bowl.

In the bowl of a stand mixer fitted with the paddle attachment, cream the butter and sugars on high speed until smooth. Reduce the speed and add the tahini, egg, vanilla and 2 tablespoons water, then mix on high speed until pale and fluffy.

Slowly add the dry ingredients and mix on low speed until combined, then gently mix in the chocolate chips.

Scoop out 1 tablespoon balls of dough and space them evenly on the prepared cookie sheets.

Chill in the freezer for 5 minutes (to reduce spreading during baking), then bake on the middle rack of the oven for 15 minutes. If the cookies have puffed up in the center, give the cookie sheet a strong tap on the countertop to flatten them.

Sprinkle lightly with flaky salt and cool for 10 minutes, then transfer to a wire rack to cool completely.
Note: The cookies are best on the day of baking but will keep in an airtight container at room temperature for up to 3 days. As with peanut butter cookies, they become quite firm after day one.
Tip: The tahini should be the consistency of honey – dripping off a spoon but not runny. If your tahini is a little dry, stir in a splash of warm water.