This citrus-marinated steak recipe was part of our Tastemakers interview with Valerie Rice. Get the other recipes and read the full story here! 
Says author and chef Valerie Rice:
"Nothing could get more California than citrus-marinated tri-tip. This triangular cut of meat from the bottom sirloin is a Central Coast specialty, and it's on regular rotation at our house during barbecue season—especially when we have guests from Europe or the East Coast. For the best flavor, seek out a well-marbled roast.
Padrón peppers are similar to shishitos but with more flavor and a tad more heat. Both grow in a bush-like fashion and often need a bamboo support to hold up the mass of leaves and yield. As it happens in the summer when you have a garden and travel plans, some things get ignored and become overripe. This is how I discovered how delicious padrón and shishito peppers are when you leave them to get red. They become sweeter as they
mature—I wish that were the case for all of us. On their own, they can be served as a simple summer appetizer."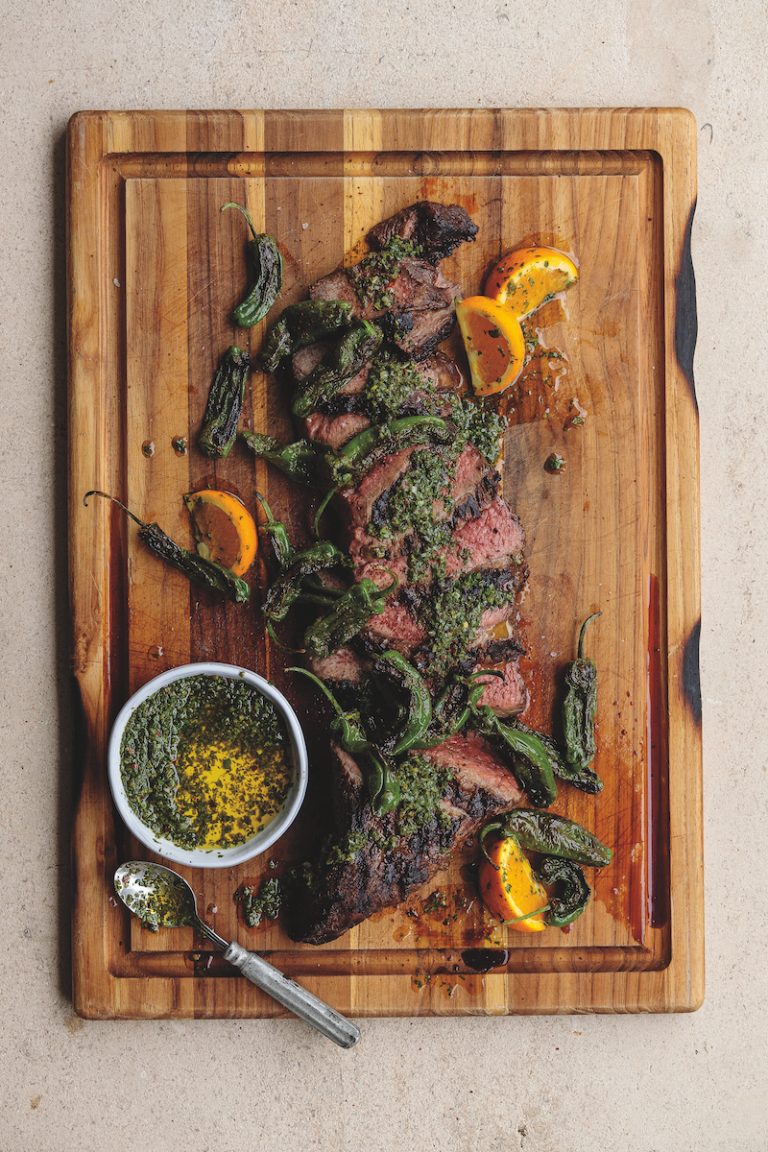 ---

Ingredients
BEEF
2 pounds trimmed well-marbled tri-tip

½ cup fresh orange juice (from 2 oranges)

¼ cup soy sauce

¼ cup olive oil

½ onion, sliced

4 garlic cloves, smashed

½

teaspoon dried red chile flakes
PADRÓN PEPPERS
2 tablespoons grapeseed oil

20 padrón or shishito peppers
½

teaspoon flaky sea salt

½

teaspoon sumac 

Orange wedges (optional)
Chimichurri Sauce
---
Instructions
FOR BEEF:
Combine tri-tip, orange juice, soy sauce, oil, onion, garlic, and chile flakes in a large resealable plastic bag. Refrigerate for at least 4 hours or overnight, turning the bag halfway through the marinating process. 

Prepare the grill for direct and indirect cooking. Pat beef dry with paper towels and season with salt and pepper. Over direct heat, sear the fat side of the beef for 2 to 3 minutes to create some caramelization. Turn the beef over and place on indirect heat (you are basically using your grill like an oven at this point). Cover and continue to cook until an instant-read thermometer inserted into the center of the beef registers 120°F for rare or 130°F for medium rare, turning occasionally, 20 to 25 minutes. Let beef rest for 15 minutes.
FOR PEPPERS:
While beef rests, prepare peppers. In a large skillet, heat oil on medium-high heat until hot. Add the peppers and sauté until they begin to blister, about 3 to 5 minutes. Add sea salt and sumac and toss to coat.  

Thinly slice the meat perpendicular to the grain. Surround with peppers, oranges (if desired), and sauce.
Raj tells me... A light, fresh cab franc from Chinon is excellent with this dish; we like Catherine & Pierre Breton Chinon "Beaumont" from the Loire and Habit Cabernet Franc from Santa Ynez Valley.